March 2, 2015
Cinnamon Roll Cheesecake
This Cinnamon Roll Cheesecake is a delicious thick and and creamy cheesecake with a ribbon of cinnamon running all through it, topped off with cream cheese icing. It's an awesome cheesecake that you'll be dying to serve for dessert – or breakfast! 🙂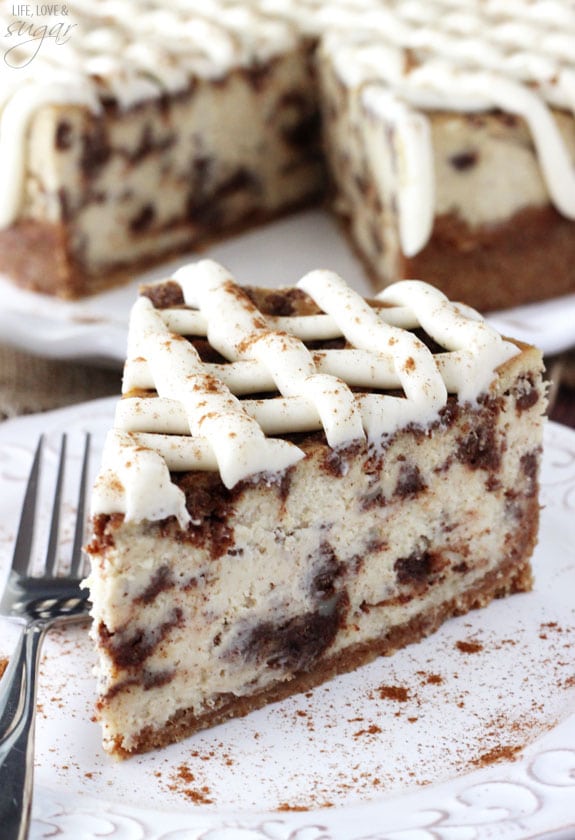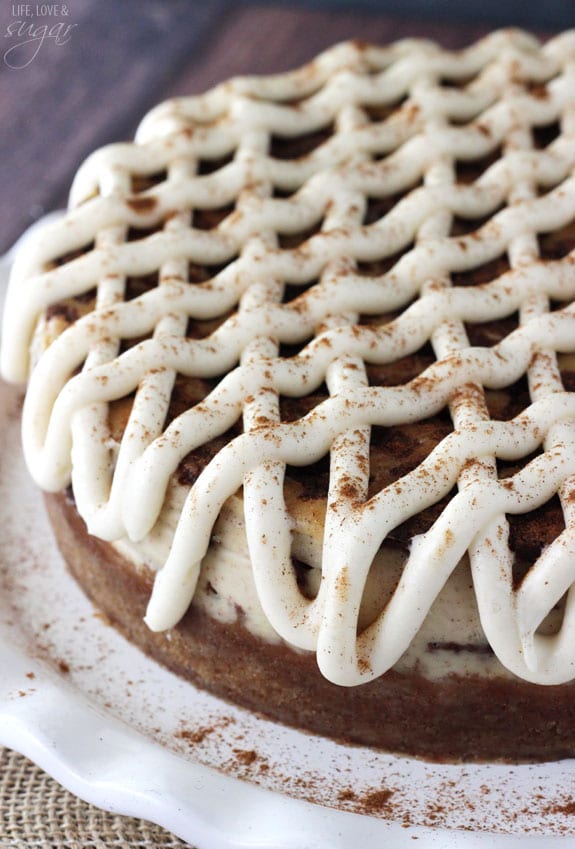 So I hope you all love cheesecakes as much as I do. There are so many options and things you can do with them and they really aren't hard to make. They can take a little time since they take a while to bake and cool, but as long as you have some time to work with, they really shouldn't be intimidating.
And they've always been one of my favorite desserts. I'm such a texture person, so I love a thick and creamy cheesecake. I used to call them "the" favorite, but I just love so many things now it's really hard for me to pick a favorite anymore. I have a bajillion favorites, as I'm sure you know by now. 🙂
As far as favorite flavors so, I am a sucker for cinnamon. And I don't go light on it. You'll find that there is no shortage of cinnamon in this cheesecake. In fact, you could reduce it, if you wanted, but it might make me a little sad.
I made a few versions of this cheesecake until I got it just right and one version actually did use about half the amount of cinnamon. While it was very good, most of my taste testers agreed with me that it was not enough cinnamon to call itself a cinnamon roll cheesecake.
So I doubled it up and I'm in love.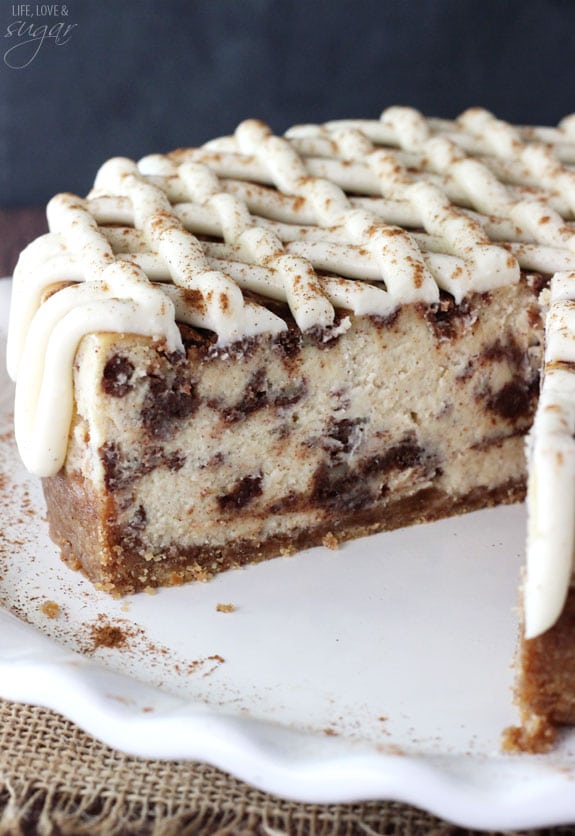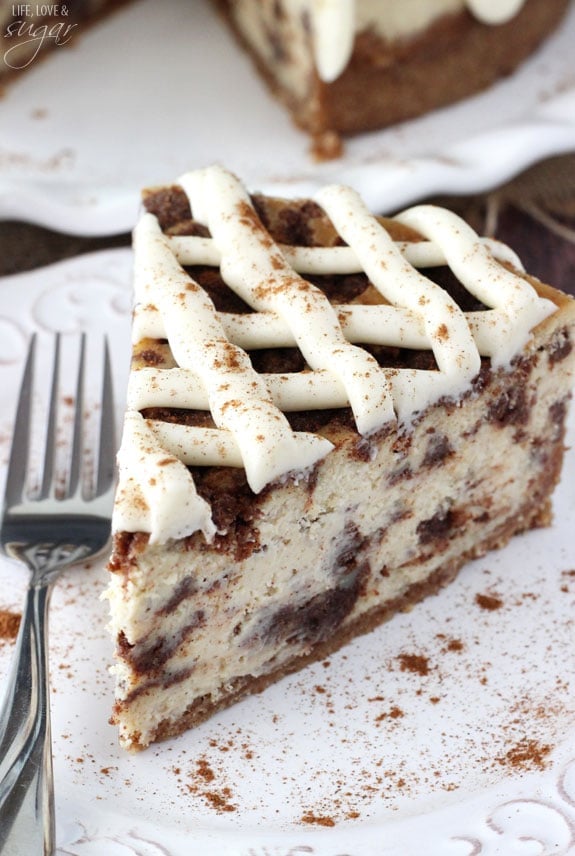 As far as the ingredients for the cinnamon filling, it's much like what you'd actually fill cinnamon rolls with. I actually started with an exact cinnamon roll filling – cinnamon, brown sugar and melted butter. But when baked into the cheesecake and cooled, it had a texture that just didn't feel right. The butter and sugar firmed up when cold and didn't quite mesh with the creamy cheesecake.
So I added some flour to help out the butter and it fits right in with the creamy cheesecake now, but still tastes just like cinnamon roll filling.
The icing is also a straight up cinnamon roll icing – with cream cheese. I'm pretty much convinced that everything in life is better with cream cheese. I love the stuff.
I piped it on in kind of a cinnamon roll way. It covers up some of the additional cinnamon on top of the cheesecake, but just so you know, the whole cheesecake is topped with a layer of cinnamon.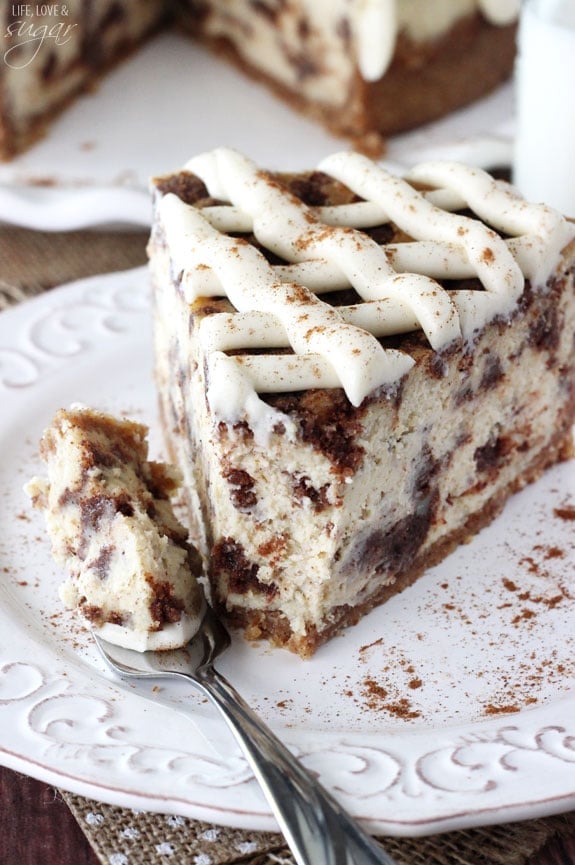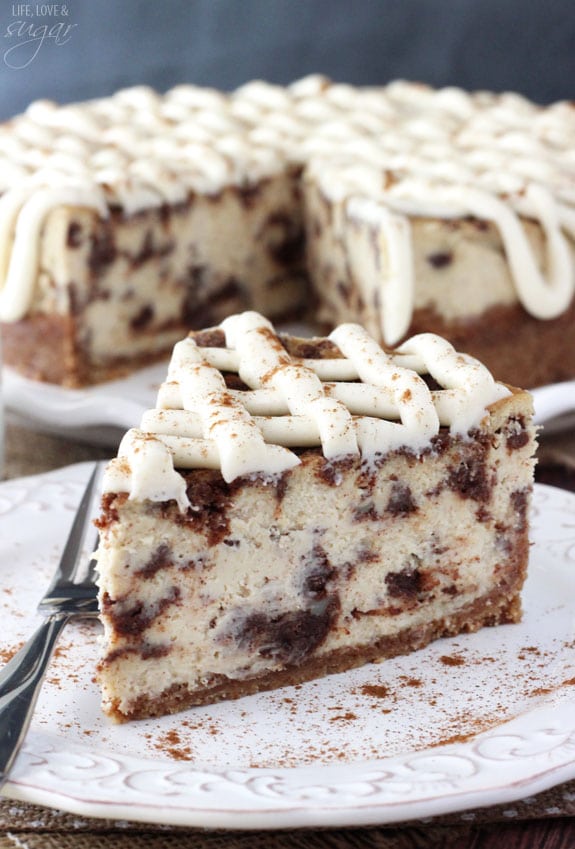 Am I making sound like cinnamon overload? It really isn't. It's actually just the right amount. My small group totally fell in love with the final product, some of them declaring it was their favorite yet. We actually all have the same problem – everything we try is our favorite. 🙂
The first step is to make the crust, of course. It's pretty standard. Crushed cookies, sugar, butter, cinnamon. Bake it all up!
But once you have the cheesecake filling and cinnamon filling made, you'll layer them on top of the crust, starting and ending with the cinnamon. You'll have four layers of the cinnamon filling and three layers of the cheesecake. The cinnamon filling is kind of thick, so you'll crumble it up to add the layers. The final layer will actually be right on top of the cheesecake.
Once it's ball baked and cooled, you seriously won't be able to resist this cheesecake. It's amazing and totally delicious. Cinnamon and cheesecake love right here.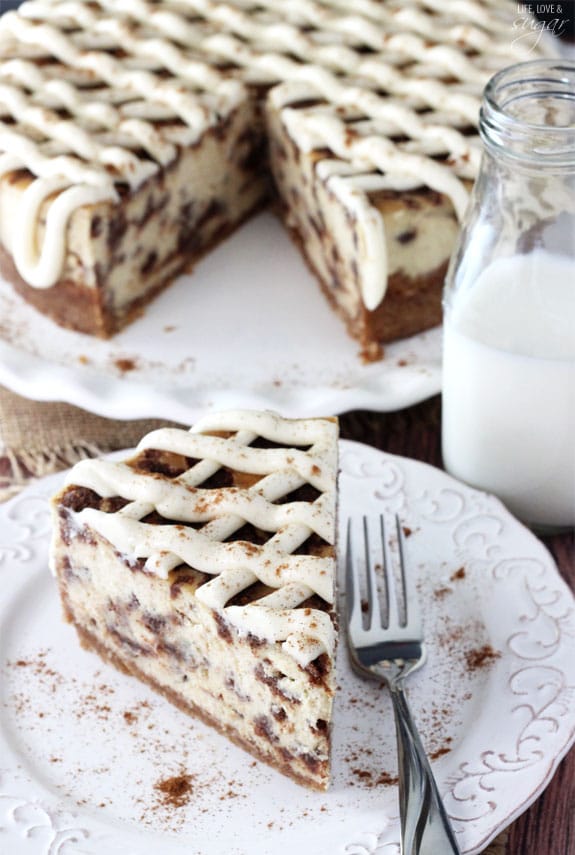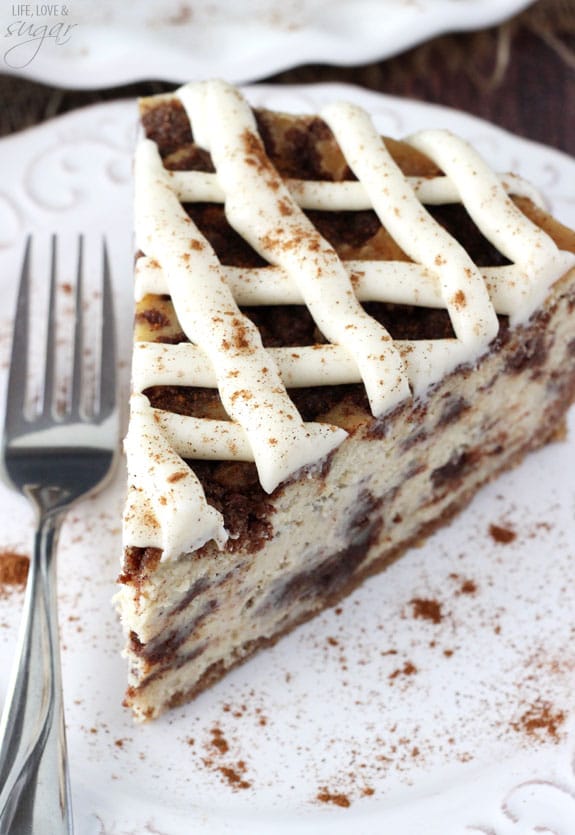 Cinnamon Roll Cheesecake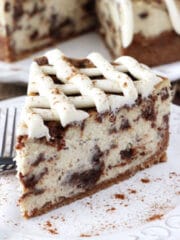 Yield:

12

-

14

Servings

1

x
Category:

Dessert

Method:

Oven

Cuisine:

American
Ingredients
CRUST
1 1/2 cup

s nilla wafer crumbs

4 tbsp

sugar

1 tsp

ground cinnamon

5 tbsp

butter, melted
CHEESECAKE FILLING
3

8-ounce packages cream cheese, softened

1 cup

sugar

3 tbsp

all purpose flour

4

eggs

1 cup

sour cream

2 tsp

vanilla extract

2 tsp

ground cinnamon
CINNAMON FILLING 
2 cup

s brown sugar, lightly packed

5 tbsp

ground cinnamon

3/4 cup

flour

12 tbsp

butter, melted
ICING
2 tbsp

cream cheese, room temperature

6 tbsp

butter, room temperature

1/2 tsp

vanilla extract

1 1/2 cup

s powdered sugar

4

–

5

tbsp milk
Instructions
CRUST
1. Heat oven to 325 degrees.
2. In a small bowl, combine crust ingredients and mix well.
3. Press mixture into the bottom and up the sides of a 9-inch springform pan.
4. Bake crust for 10 minutes then remove and set aside.
5. Cover the outsides of the pan with aluminum foil and set aside.
CHEESECAKE AND CINNAMON FILLING 
1. Reduce oven to 300 degrees.
2. In a large bowl, mix the cream cheese, sugar and flour until combined (Use low speed to keep less air from getting into the batter, which can cause cracks). Scrape down the sides of the bowl.
3. Add eggs one at a time, beating slowly and scraping the sides of the bowl after each addition.
4. Add the sour cream, vanilla extract and cinnamon. Beat on low speed until well combined. Set aside.
5. In another medium bowl, whisk together brown sugar, cinnamon and flour.
6. Stir in melted butter.
7. Break apart cinnamon mixture and sprinkle pieces over the bottom of the crust, about 1/4 of the cinnamon mixture.
8. Spread about 1/3 of the cheesecake filling over the cinnamon mixture.
9. Repeat steps 7 and 8 two more times, for a total of three layers of cinnamon and three layers of cheesecake filling.
10. Sprinkle remaining cinnamon mixture over top of cheesecake.
11. Place springform pan (covered with aluminum foil) inside another pan. Fill outside pan with enough warm water to go about halfway up the sides of the springform pan. The water should not go above the top edge of the aluminum foil on the springform pan.
8. Bake for 1 hour and 20 minutes.
9. Turn off heat and leave cheesecake in oven with door closed for 30 minutes.
10. Crack oven door and leave the cheesecake in the oven for about 5 minutes.
11. Remove cheesecake from oven and chill.
ICING
1. Combine cream cheese and butter and mix until smooth.
2. Add vanilla extract and powdered sugar and mix until smooth.
3. Add milk and mix until smooth.
4. Once cheesecake is cool and firm, remove from springform pan and place on serving plate. Cover with icing. Refrigerate until ready to serve.
Enjoy!


Recipes from friends:
Snickerdoodle Cookie Pie from Beyond Frosting
Cinnamon Roll Muddy Buddies from Crazy for Crust
Cinnabon Fudge from Shugary Sweets
You might also like:
Mini Cinnamon Roll Cheesecakes