This post may contain affiliate sales links. Please read my disclosure policy.
This Amaretto Cheesecake is the bee's knees. It's thick, creamy & full of Amaretto flavor. Finished off with homemade mousse and sliced almonds, I couldn't stop eating it!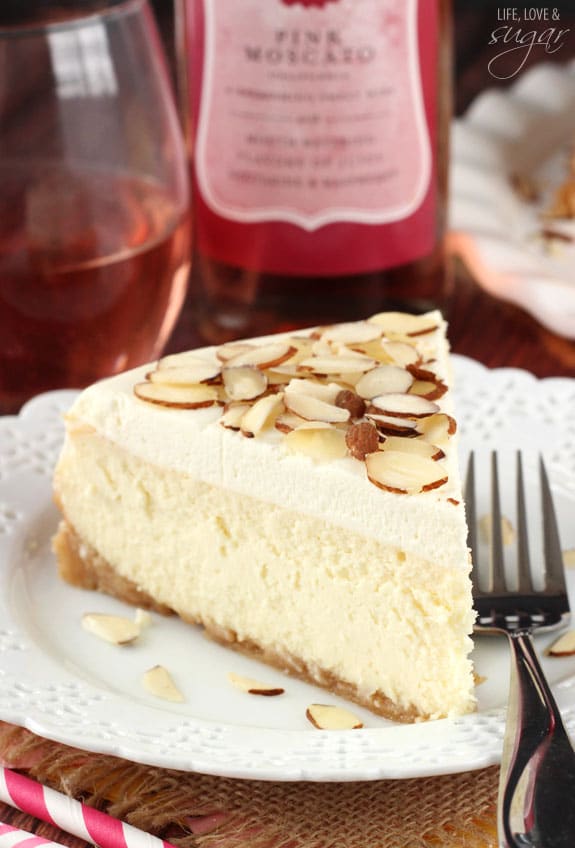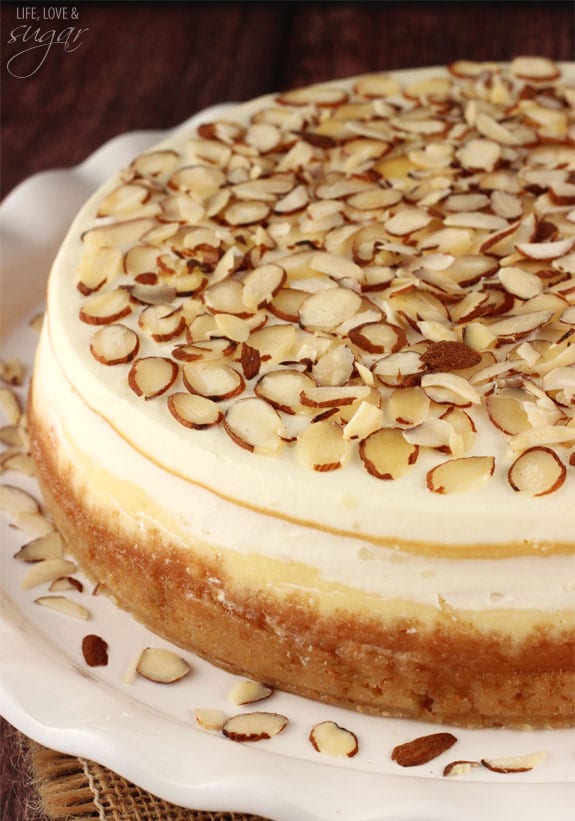 The Best Amaretto Cake Recipe
This post is sponsored by ALDI, but all opinions are my own.
So about a week ago, I told you about my trip to the ALDI test kitchen in Illinois. We tasted all kinds of awesome food, and we also got a bit of a wine education from certified Sommelier, Leslee Miller. This girl knows her stuff!
We got to taste all kinds of wine and learn about the right ways to taste them and how to pair them with foods. Being that I am not a huge wine drinker (I stick to the sweet stuff), it was a big learning experience and it was pretty interesting.
It's amazing how so many things can affect a wine. One thing we learned about was the difference between Old World and New World wines. Old World wines (from Europe) tend to smell more earthy. The taste is usually more tart and could be described as earthy as well. New World wines (outside of Europe) on the other hand are usually more fruity, though they can also have a secondary dirt-like smell. Sounds yummy, right? 😉
Given my inclination towards sweet, I'm a New World wine kinda gal.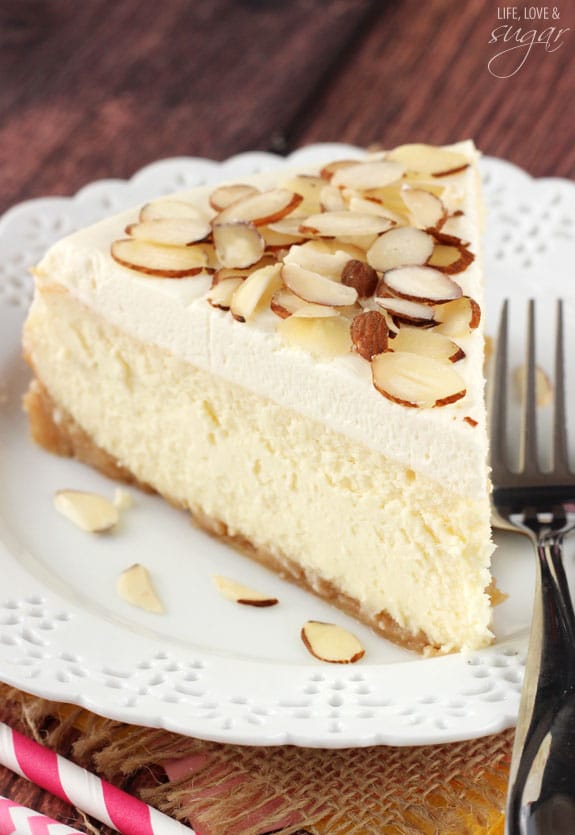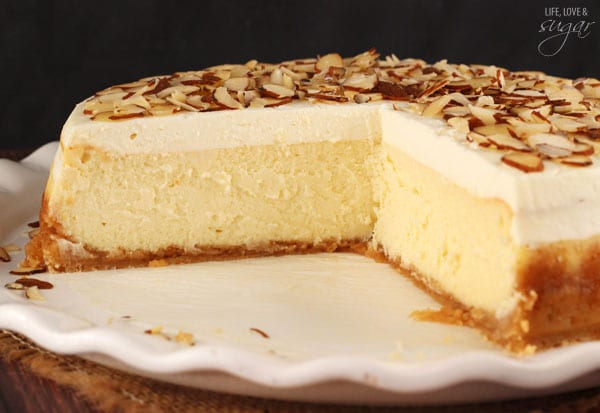 We also went over some criteria used to test wine – sight, smell, and taste.
Did you know that if you tip your glass of wine to a 45 degree angle and look at the edges of the wine, the color of it indicates its age? For white wines a lighter, clearer edge means it's a younger wine. For red wines, they generally grow lighter with age, so a dark edge would mean a younger wine. Who knew?!
As for smell, when smelling a wine you want to put your whole nose in the bowl of the glass. Smell in 90% of taste.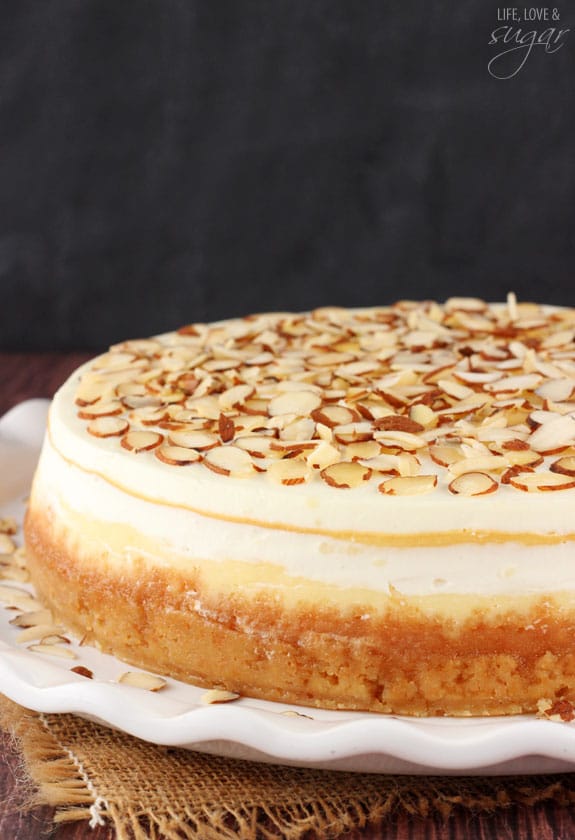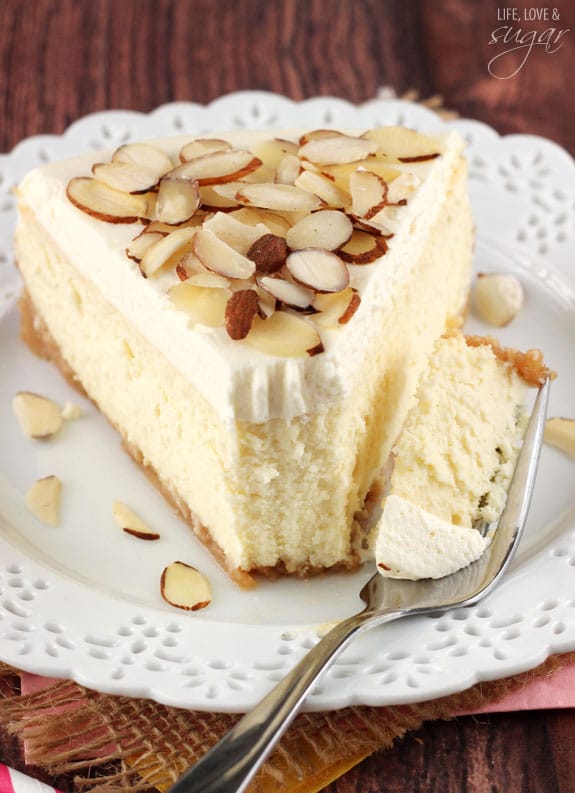 One thing that I found particularly interesting was that wines are meant to be drank out of certain shaped wine glasses. There was one wine we tried in both bowl types and it was amazing how when it was in the wrong glass, it actually smelled and tasted terrible. And in the correct glass, it was great! I never would've known that was even a thing. So cool!
Obviously my favorite part of the tasting was when we got to the dessert wine pairings. 🙂
They brought out an Amaretto cheesecake to go with this Moiselle Pink Moscato. You guys…I died. And went to heaven. They were both delicious. And together they were even better.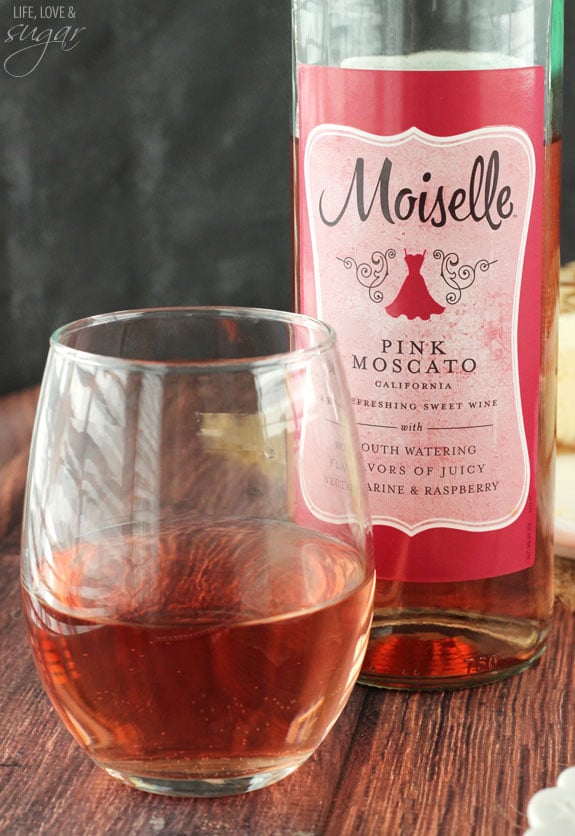 For tasting the food and wines together, we were instructed to leave some food on our tongue, then sip the wine and let the flavors come together. When we did this with the Amaretto cheesecake and Moscato, it tasted like you were eating a cherry. It was insane. And so stinking good.
So naturally I came home, got a bottle of the Moscato and made myself a cheesecake. And now I'm sharing it with you. You are welcome. 🙂
This cheesecake is absolutely amazing. Like seriously. Even you chocolate lovers won't be able to resist it. It's that good.
Of course I used the real stuff in this cheesecake – Amaretto all the way. But you could substitute for a creamer, if you'd rather it be alcohol free.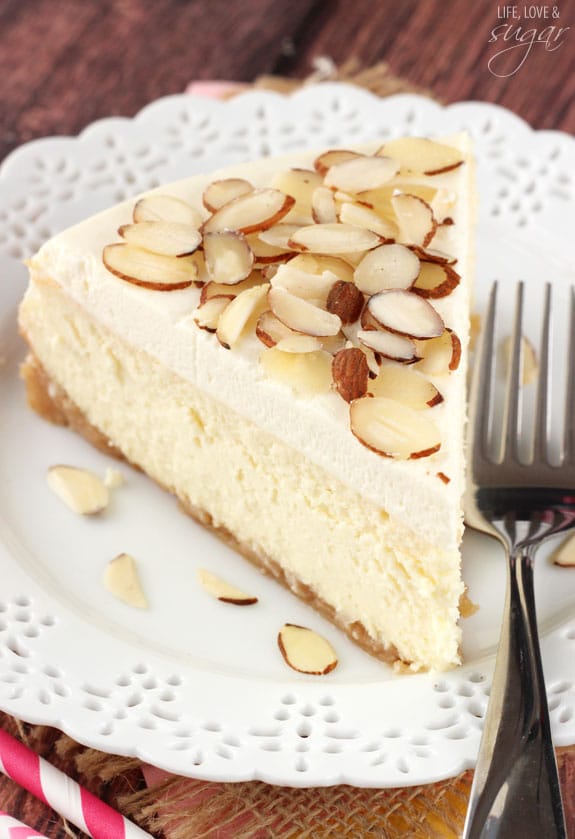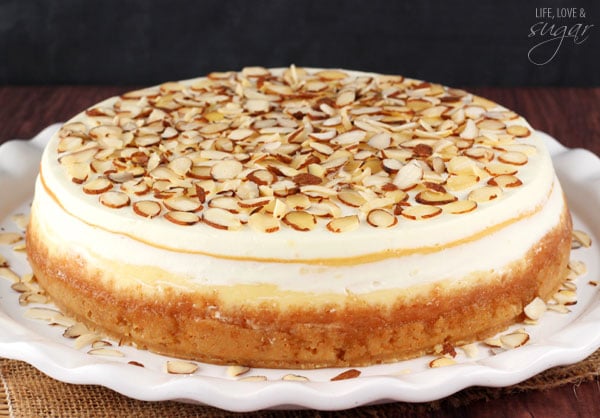 Tips for Making Amaretto Cheesecake
I know cheesecake can seem intimidating, but it really isn't hard. There are just a few things to remember.
1. Don't beat the cheesecake at high speeds or too much – it'll add air into the batter, which can cause cracks. This is why it's important to have room temperature, softened cream cheese. The softer the cream cheese, the less beating necessary.
2. Don't over-bake the cheesecake. It's done baking when there's still about a 3 inch ring in the middle that looks a little undercooked.
3. Cooling. You want to do it slowly, per the directions below.
4. A water bath. I don't love them, but they are necessary for a nice-looking cheesecake.
And now you're ready to go get your cheesecake on! Happy Eating!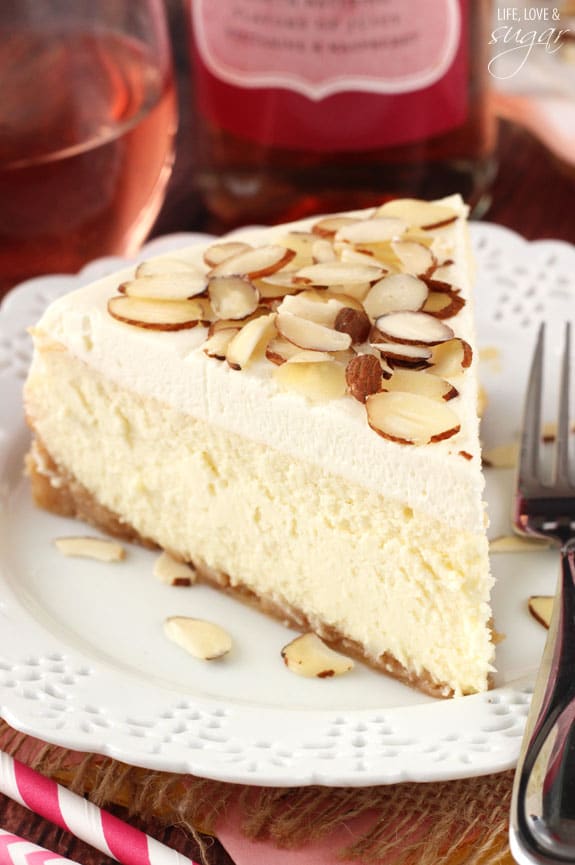 You might also like
Almond Amaretto Bundt Cake
Almond Amaretto Cupcakes
Cherry Almond Amaretto Ice Cream Cake
Raspberry Amaretto Cheesecake Trifles
Amaretto Fudge


Print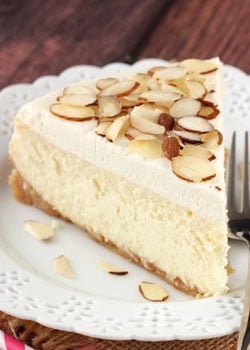 Recipe
Amaretto Cheesecake
Author:

Prep Time:

20 minutes

Cook Time:

1 hour 55 minutes

Total Time:

2 hours 15 minutes

Yield:

12

-

14

Slices

1

x

Category:

Dessert

Method:

Oven

Cuisine:

American
---
Description
This Amaretto Cheesecake is the bee's knees. It's thick, creamy & full of Amaretto flavor. Finished off with homemade mousse and sliced almonds, I couldn't stop eating it!
---
Scale
Ingredients
CRUST
1 1/4 cups

(

168g

) vanilla wafer crumbs

5 tbsp

(

70g

) butter, melted

5 tbsp

(

65g

) sugar
CHEESECAKE FILLING
24 oz

(

678g

) cream cheese, room temperature

1 cup

(

207g

) sugar

3 tbsp

(

24g

) flour

4

eggs, room temperature

1 cup

(

230g

) sour cream

1 tsp

almond extract

5 tbsp

(

75g

) amaretto liqueur
MOUSSE TOPPING
3/4 cup

(180ml) heavy whipping cream

3 tbsp

(

22g

) powdered sugar

2 tbsp

(30ml) amaretto liqueur

4 ounces

(

113g

) cream cheese, softened
sliced almonds
---
Instructions
CRUST
1. Preheat oven to 325°F (163°C).
2. In a small bowl, combine crust ingredients and mix well.
3. Press mixture into the bottom and up the sides of a 9-inch springform pan with parchment paper in the bottom.
4. Bake crust for 10 minutes then remove.
5. Cover the outsides of the pan with aluminum foil so that water from the water bath cannot get in, and set aside.
CHEESECAKE FILLING
1. Reduce oven to 300°F (148°C).
2. In a large bowl, blend the cream cheese, sugar and flour with an electric mixer until combined (Use low speed to keep less air from getting into the batter, which can cause cracks). Scrape down the sides of the bowl.
3. Add eggs one at a time, beating slowly and scraping the sides of the bowl after each addition.
4. Add the sour cream, almond extract and amaretto liqueur. Beat on low speed until well combined.
5. Pour the filling into the pan.
6. Drop the cheesecake on the counter a few times to release air bubbles that can cause cracks.
7. Place springform pan inside another pan. Fill outside pan with enough warm water to go about halfway up the sides of the springform pan. The water should not go above the top edge of the aluminum foil on the springform pan.
8. Bake for 1 hour and 40-50 minutes.
9. Turn off heat and leave cheesecake in oven with door closed for 10 minutes.
10. Crack oven door and leave the cheesecake in the oven for another 20 minutes or until set. This cooling process helps the cheesecake cool slowly to prevent cracks.
11. Remove cheesecake from oven and chill.
MOUSSE TOPPING
1. When cheesecake has chilled and is firm, make mousse topping. Add heavy whipping cream, powdered sugar and amaretto to mixing bowl and whip until stiff peaks form, for a total whipping time of about 5-7 minutes.
2. Set whipped cream aside and in another bowl, beat cream cheese until smooth.
3. Fold whipped cream into cream cheese until well combined.
4. Remove cheesecake from springform pan, then top with mousse.
5. Sprinkle cheesecake with sliced almonds and store in refrigerator until ready to serve.
---
Keywords: amaretto cake, amaretto recipe, best cheesecake recipe, homemade cheesecake recipe, creamy cheesecake recipe, homemade cheesecake, how to make cheesecake
Enjoy!