This post may contain affiliate sales links. Please read my disclosure policy.
This White Chocolate Raspberry Cheesecake is a creamy white chocolate cheesecake swirled with raspberry filling, all set in a chocolate cookie crust! It's topped with whipped cream and white chocolate shavings for an amazingly tasty treat!
Looking for more raspberry cheesecake recipes? Try my Raspberry Goat Cheese Cheesecake or these Mini Lemon Raspberry Cheesecakes!
White Chocolate Raspberry Cheesecake
White chocolate and raspberry is one of my favorite flavor combinations, especially when you combine it with a touch of chocolate. I have been wanting to make and share this recipe for so long, but I also wanted to make sure it was just right. After testing a few different ways of going about it, I'm excited to share it with you today!
This cheesecake is full of amazing flavor! The creamy white chocolate filling is swirled with a fresh raspberry filling and it's all set in a chocolate crust. The combination of flavors and textures is just perfect!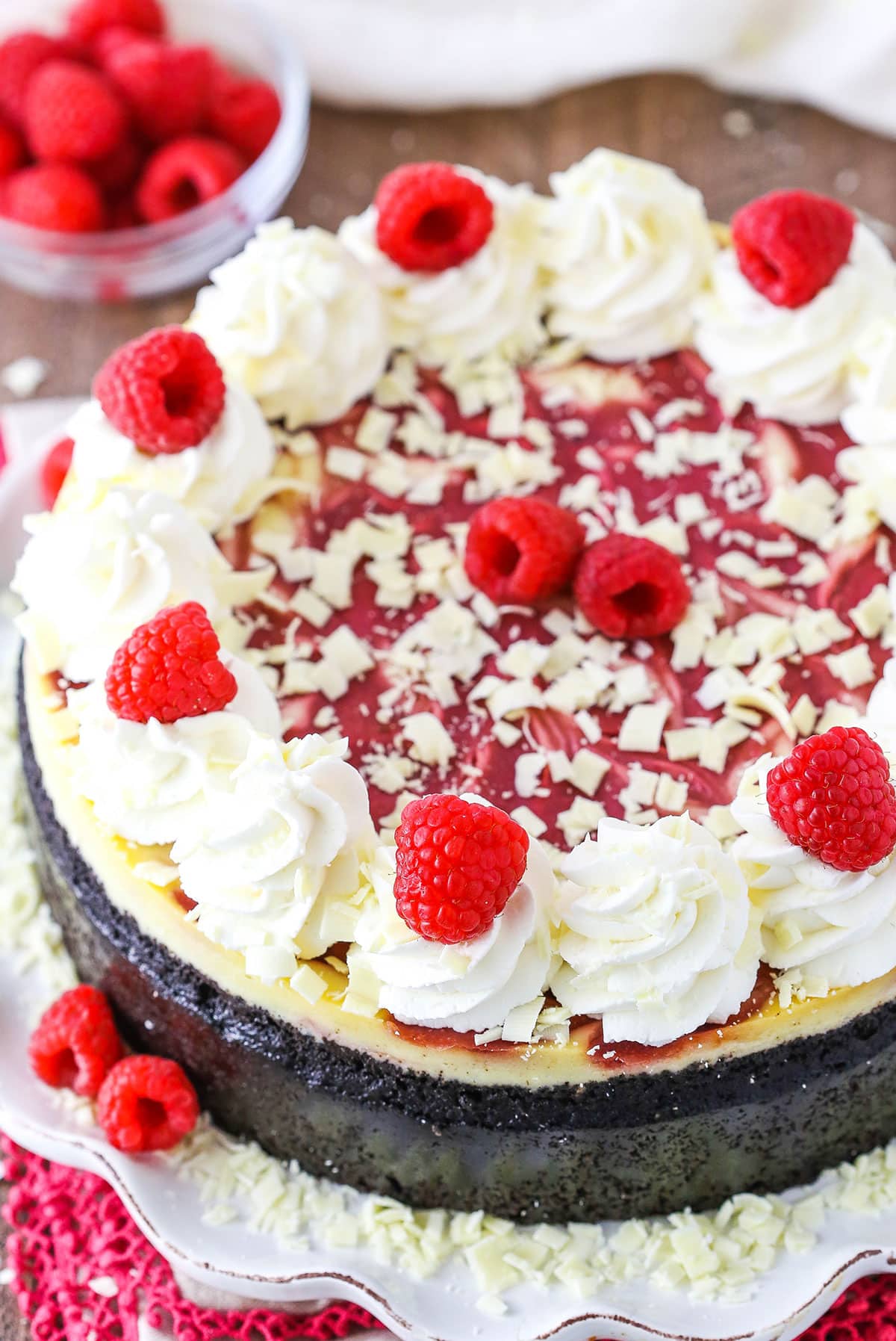 How to Make White Chocolate Cheesecake
So there are a few different things going on in this cheesecake. First, the chocolate crust. When it comes to the chocolate cookie crust, my easy Oreo cookie crust is all you need. It's straight forward and I've used it repeatedly on my cheesecakes. Works like a charm!
Next is the white chocolate, which I'd say was the biggest challenge. I knew I could melt white chocolate and add it to the filling, but kind of wanted to have more of a white chocolate swirl with big pockets of white chocolate. I've done something similar in this cheesecake with regular chocolate and had high hopes.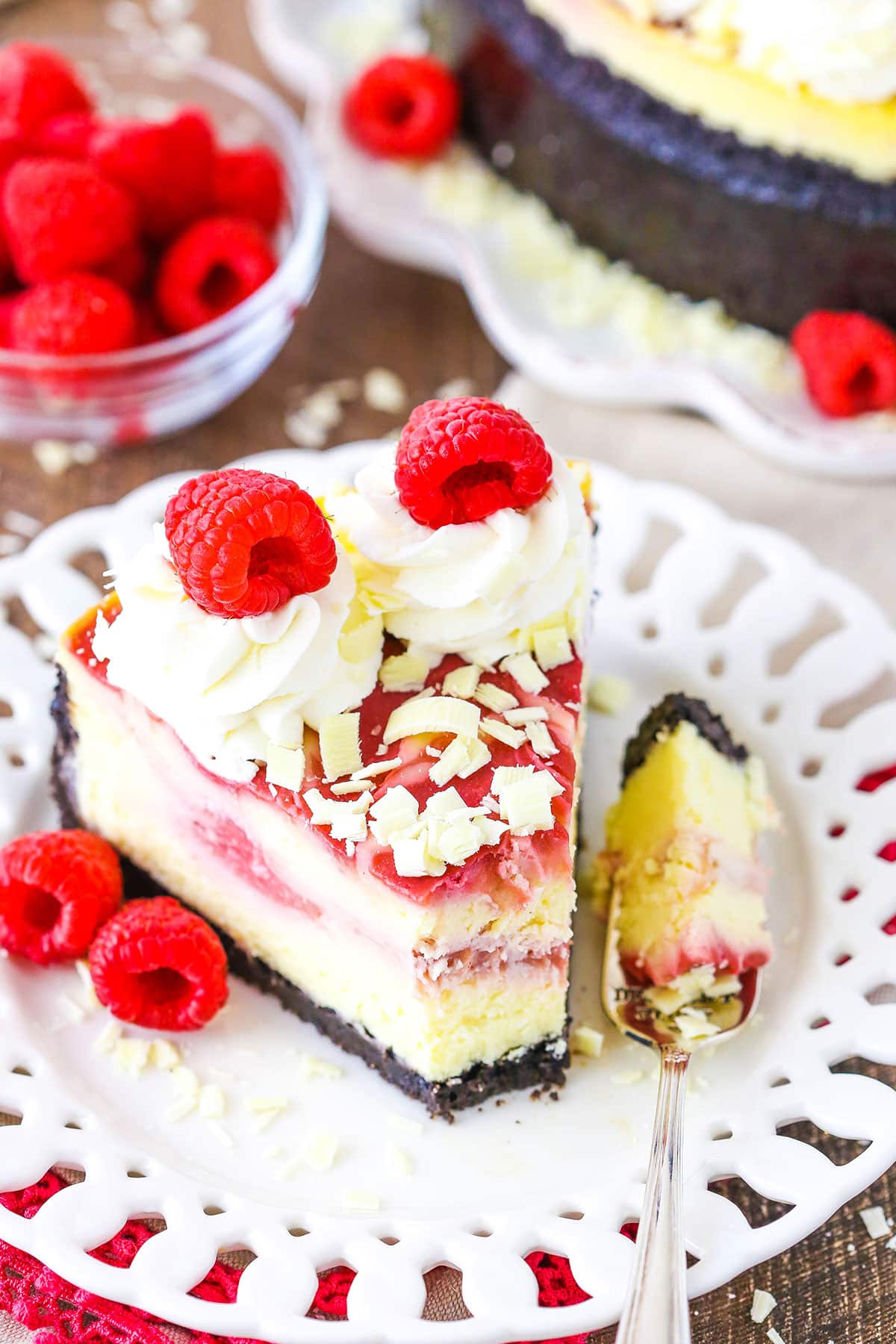 Sadly, it didn't work as I'd hoped. White chocolate doesn't contain the cocoa solids that regular chocolate has and isn't really "chocolate". The difference between them always makes it tricky to work with, even when making something like white chocolate ganache. But even accounting for the differences, I just couldn't get it to work the way I wanted.
So I went with the trusty method of adding the white chocolate to the filling – straight up. There's a full 8 ounces of white chocolate in there, to be sure you're going to get the flavor to come through.
Finally, there's the raspberry swirl. The raspberries are cooked, pureed and strained prior to adding them to the cheesecake. It creates a tasty, smooth swirl. I wanted to be sure there was plenty of raspberry, so there's two layers of raspberry filling swirled into the cheesecake.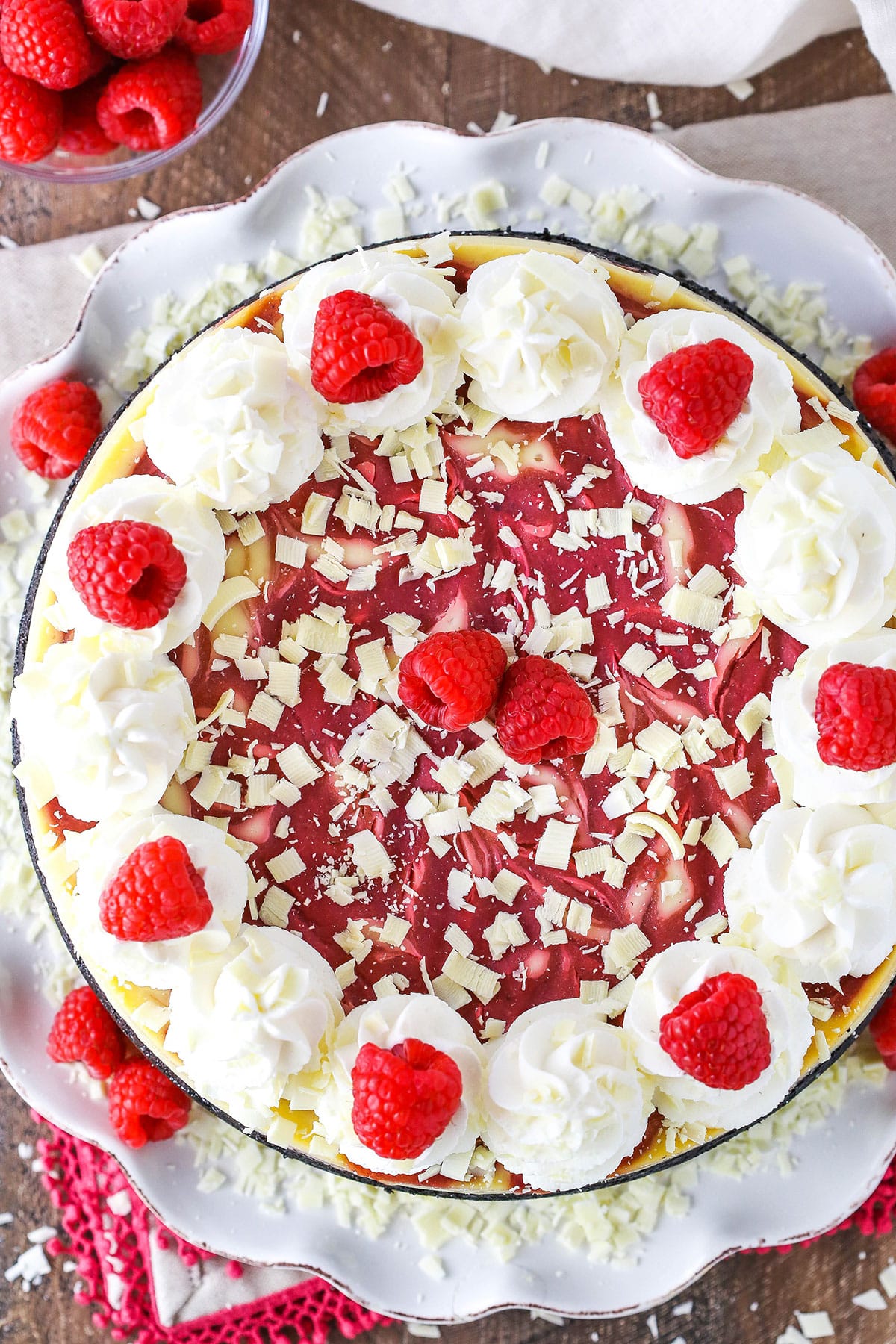 How to Prepare a Cheesecake Water Bath
As with most of my cheesecakes, this one does use a water bath. The moisture it adds to the baking process helps to keep the cheesecake from over-browning, falling in the center when it cools, and cracking. It's definitely worth the extra few steps.
To see how to set up your water bath, check out my full tutorial. It also includes tips for how to keep your water bath from leaking.
This cheesecake does have a longer baking time than my average cheesecake. With all the white chocolate and raspberry filling mixed in, there's A LOT of moisture! To get everything fully cooked, it requires some time. The moisture from the water bath adds to that time, but the cheesecake turns out much better that way.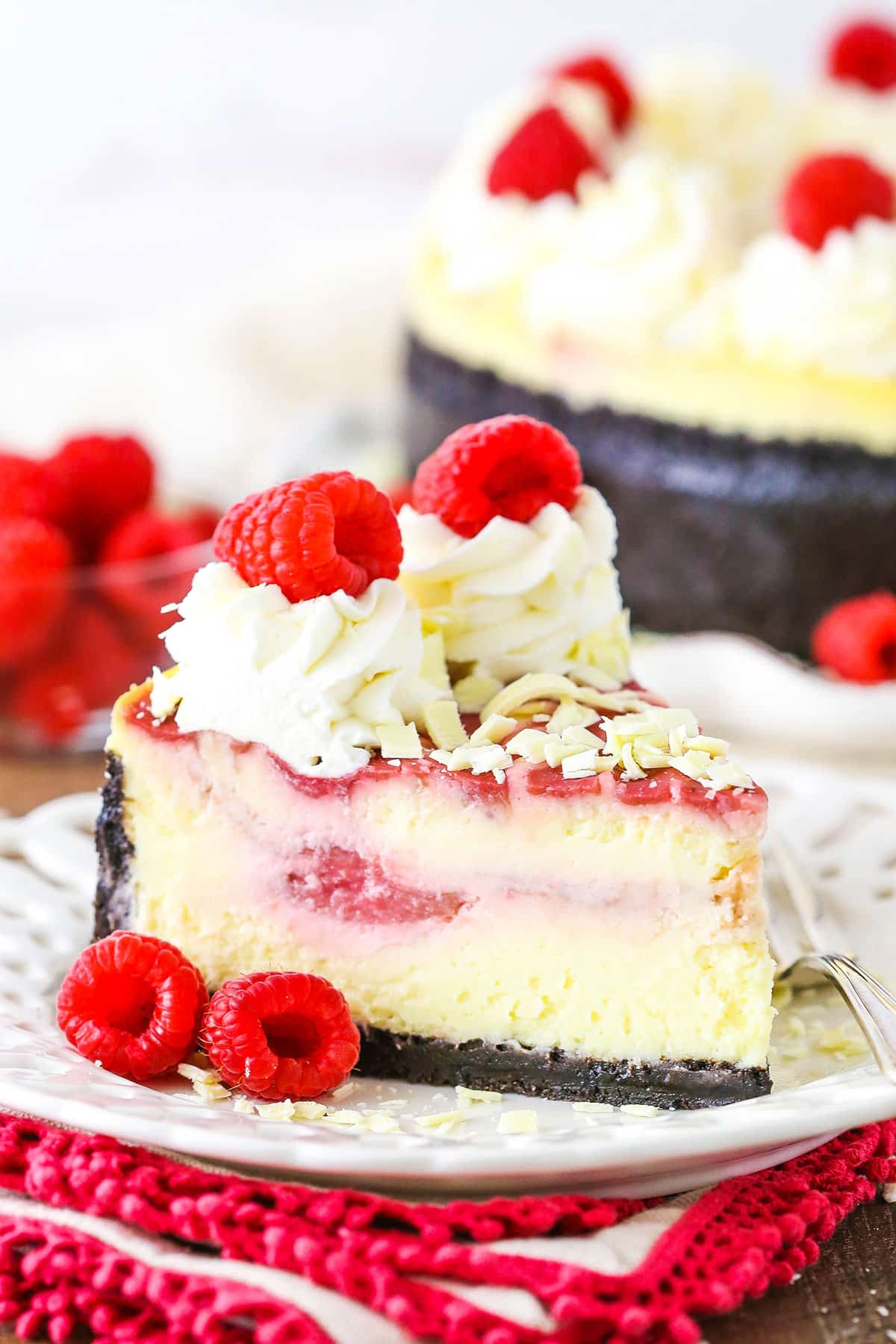 The final cheesecake is just what you'd imagine and so tasty! It reminds me of the White Chocolate Raspberry Cheesecake from The Olive Garden back in the day and The Cheesecake Factory. I'm such a sucker for cheesecake (which is why I have so many recipe variations) and this is definitely a new favorite! With the whipped cream, fresh raspberries and white chocolate shavings on top, it finishes it off perfectly! A beautiful and tasty dessert for any reason or occasion!
More Great Raspberry and Cheesecake Recipes
Raspberry Dream Cake
Raspberry Goat Cheese Cheesecake
White Chocolate Raspberry Mousse Cake
Raspberry Almond Layer Cake
Raspberry Chambord Chocolate Poke Cake
Raspberry Chocolate Layer Cake
Raspberry Cheesecake Bars
Raspberry Cheesecake Dip
[adthrive-in-post-video-player video-id="k60KOMg2″ upload-date="2019-10-07T09:00:00.000Z" name="White-Chocolate-Raspberry-Cheesecake-BLOG" description="This White Chocolate Raspberry Cheesecake is a thick, creamy white chocolate cheesecake swirled with a raspberry filling, all set in a chocolate cookie crust! It's topped with whipped cream and white chocolate shavings for an amazingly tasty treat!"]
Print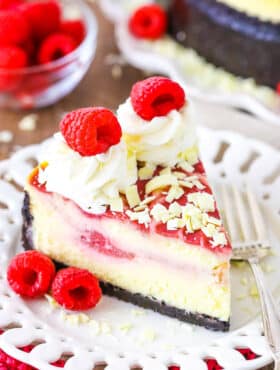 Recipe
White Chocolate Raspberry Cheesecake
Author:

Prep Time:

1 hour 45 minutes

Cook Time:

3 hours

Total Time:

4 hours 45 minutes

Yield:

12-14 slices

Category:

Dessert

Method:

Oven

Cuisine:

American
---
Description
This White Chocolate Raspberry Cheesecake is a thick, creamy white chocolate cheesecake swirled with a raspberry filling, all set in a chocolate cookie crust! It's topped with whipped cream and white chocolate shavings for an amazingly tasty treat!
---
Ingredients
Chocolate Cookie Crust
35

Oreos (3 cups | 403g Oreo crumbs)

4 tbsp

(

56g

) butter, melted (salted or unsalted is fine)
Raspberry Filling
2 1/2 tsp

cornstarch

1 tsp

fresh lemon juice

1 tbsp

warm water

2 1/2 cups

(

319g

) fresh or frozen raspberries

2 1/2 tsp

sugar
White Chocolate Cheesecake Filling
24 ounces

(

678g

) cream cheese, room temperature

1 cup

(

207g

) sugar

3 tbsp

(

24g

) all-purpose flour

1 cup

(

230g

) sour cream

1 1/2 tsp

vanilla extract

8 oz

| 1 1/3 cups white chocolate, melted and slightly cooled

4

large eggs, room temperature
Whipped Cream
1 cup

(240ml) heavy whipping cream, cold

1/2 cup

(

58g

) powdered sugar

3/4 tsp

vanilla extract
White chocolate bar, optional
---
Instructions
1. To start, make the raspberry filling. Add the cornstarch, lemon juice, and warm water to a small bowl and whisk together until the cornstarch has dissolved.
2. Combine the raspberries and sugar together in a medium to large saucepan and heat over medium heat, stirring continuously for 3 minutes as the juices release.
3. Add the cornstarch mixture and continue cooking for another 3 minutes, smashing the raspberries as they cook. The mixture should bubble a little bit and just start to thicken.
4. Puree the raspberry mixture in a food processor and then strain the puree. Set puree aside to cool.
5. To make the crust, preheat oven to 325°F (163°C). Line a 9-inch (23cm) springform pan with parchment paper in the bottom and grease the sides.
6. Combine the crust ingredients in a medium bowl. Press the mixture into the bottom and up the sides of the springform pan.
7. Bake the crust for 8-10 minutes, then set aside to cool.
8. Cover the outsides of the pan with aluminum foil so that water from the water bath cannot get in (see how I prepare a pan for a water bath). Set prepared pan aside.
9. Reduce the oven temperature to 300°F (148°C).
10. In a large mixer bowl, mix the cream cheese, sugar and flour until well combined (Use low speed to keep less air from getting into the batter, which can cause cracks). Scrape down the sides of the bowl.
11. Add the sour cream and vanilla extract and mix on low speed until well combined.
12. Add the white chocolate in three parts, stirring until combined after each. Adding it in parts helps ensure that it incorporates evenly and helps prevent clumping.
13. Add the eggs one at a time, beating slowly and scraping the sides of the bowl after each addition.
14. Add two tablespoons of the cheesecake filling to the cooled raspberry filling.
15. Fill the crust with about 3/4 of the cheesecake filling.
16. Drop spoonfuls of about 1/2 of the raspberry filling onto the cheesecake filling. Use a knife or spatula to run through the spoonfuls and swirl them around.
17. Add the remaining cheesecake filling, then drop spoonfuls of the remaining raspberry filling over the top of the cheesecake and use a knife or spatula to swirl it around.
18. Place the springform pan (covered with aluminum foil) inside another larger pan. Fill the larger pan with enough warm water to go about halfway up the sides of the springform pan. The water should not go above the top edge of the aluminum foil on the springform pan.
19. Bake for 2 hours (yes, 2 hours), or until the outer edges are set and the center 2-3 inches of the cheesecake are still jiggly. It will continue to cook as it cools.
20. Turn off heat and leave cheesecake in oven with door closed for 30 minutes.
21. Crack oven door and leave the cheesecake in the oven for about 30 minutes.
22. Remove cheesecake from oven and chill until firm, 5-6 hours or overnight.
23. Remove the cheesecake from the springform pan and place on a serving dish.
24. To make the whipped cream, add the heavy whipping cream, powdered sugar and vanilla extract to a large mixer bowl and whip on high speed until stiff peaks form.
25. Pipe the whipped cream around the outer edge of the cheesecake, then finish it off with some fresh raspberries. To add white chocolate shavings, run a vegetable peeler along the side of a white chocolate bar and sprinkle over the cheesecake.
26. Refrigerate the cheesecake until ready to serve. Cheesecake is best if eaten within 3-4 days.
Nutrition
Serving Size:

1 slice

Calories:

573

Sugar:

39 g

Sodium:

276.3 mg

Fat:

38.6 g

Carbohydrates:

50 g

Protein:

8.8 g

Cholesterol:

139.4 mg
Keywords: cheesecake recipe, raspberry cheesecake recipe, valentines day desserts, easy cheesecake, raspberry dessert, white chocolate dessert