Moist Vanilla Layer Cake
This Moist Vanilla Layer Cake is just what it sounds like – a moist, soft vanilla cake that is the newest addition to my library of vanilla recipes. 🙂 It's delicious and easy to make too!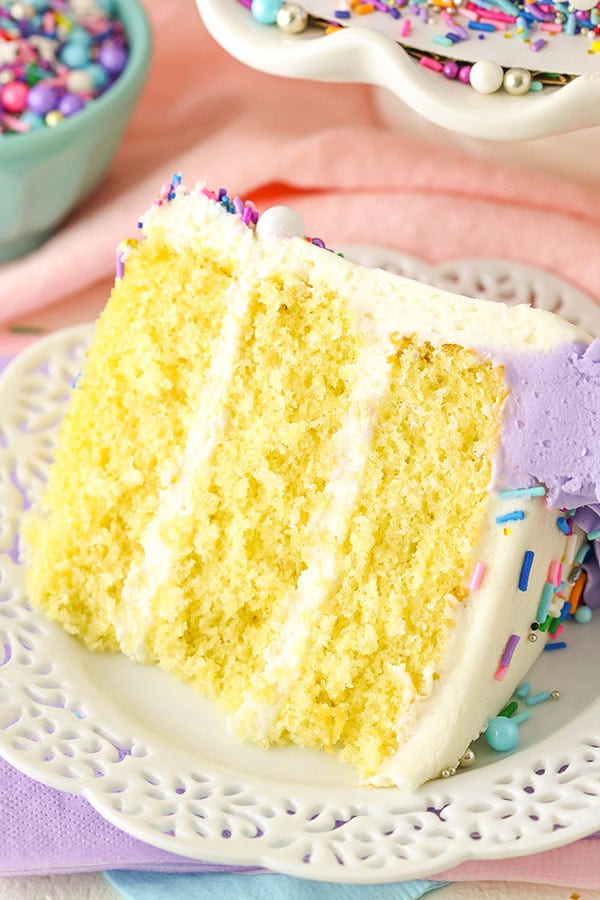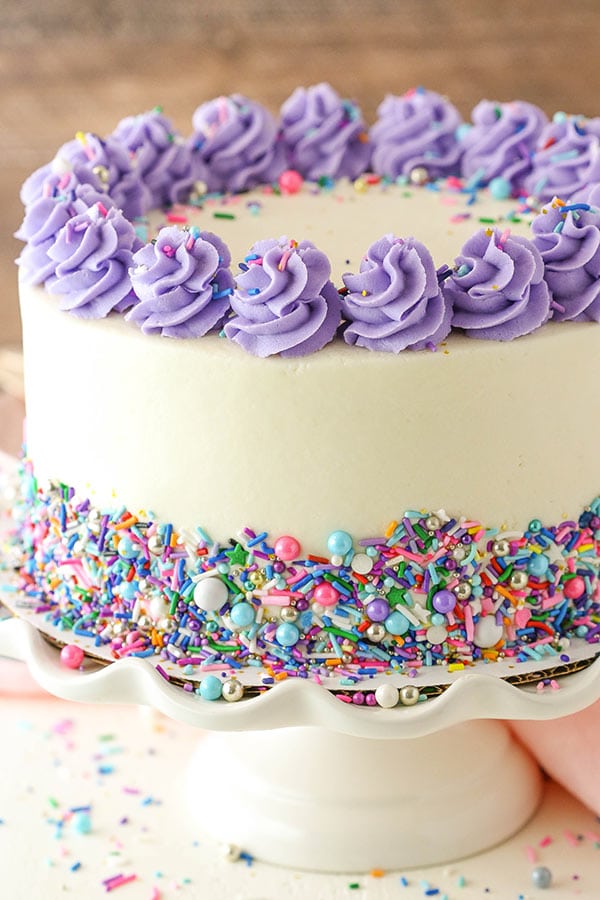 So it's basically a running joke with a few friends, my mom and the hubs that vanilla cake is like my obsession. At this point, I have a handful of vanilla cake and cupcake recipes and I won't pretend that I won't have another at some point. It could totally happen.
Here's the thing.
Vanilla is like the most illusive and yet basic and important of all the cake land. I wouldn't declare it my favorite flavor, but it's super important to have a good vanilla base in your repertoire and most people have trouble finding one they like. It's basically become my life's mission to have a vanilla recipe for everyone. And since nobody can agree on a "best" vanilla cake (just read the comments on my other vanilla cake/cupcake recipes and you'll see what I mean), I have several options. This new one is based on feedback from the others.
Before I get into this one, let's review the old ones. You never know, you might want to try those too, if you haven't already. 😉
The very first vanilla cupcake was this one, almost 4 years ago. Crazy! There are hundreds of comments and most people love them, but there are some that don't. You can sometimes get little chunks of butter in them (which is actually fine) and they are a little denser than some expect. But they are super straight forward to make, always turn out and delicious, in my opinion. However, they are on the denser side, especially when made into a cake.
So then I shared this vanilla layer cake. It's a super light cake, has a nice fluff factor and again is nice and moist. This cake has been a long standing vanilla cake around here and for the most part satisfies. It's not that fabulous as a cupcake though, in my opinion.
So then I decided I needed a new recipe. One that was great as a cake and a cupcake. So I introduced this little guy. I was sure this was it. Everyone would finally agree that this was "the one". It's like the most straight forward ever. Reminds me of a cake mix with it's ease of putting it together. Like, how does it get better than that? And yet, some people don't seem to get the right results. I can't figure it out, but it's a sad thing. Yet again, some people think I'm a genius and others think I'm crazy. Not totally unlike other parts of life. 😉
Not one to be a quitter as far as finding the one recipe above them all, I shared this one – my Favorite Moist Vanilla Cupcake. I'm still a major fan of this cupcake and it's been my go-to for some time now. Moist, fluffy, flavorful, my love. You can find it in various forms around the blog – both as a cake and as cupcakes. It's near and dear to my heart, but alas still not all are satisfied.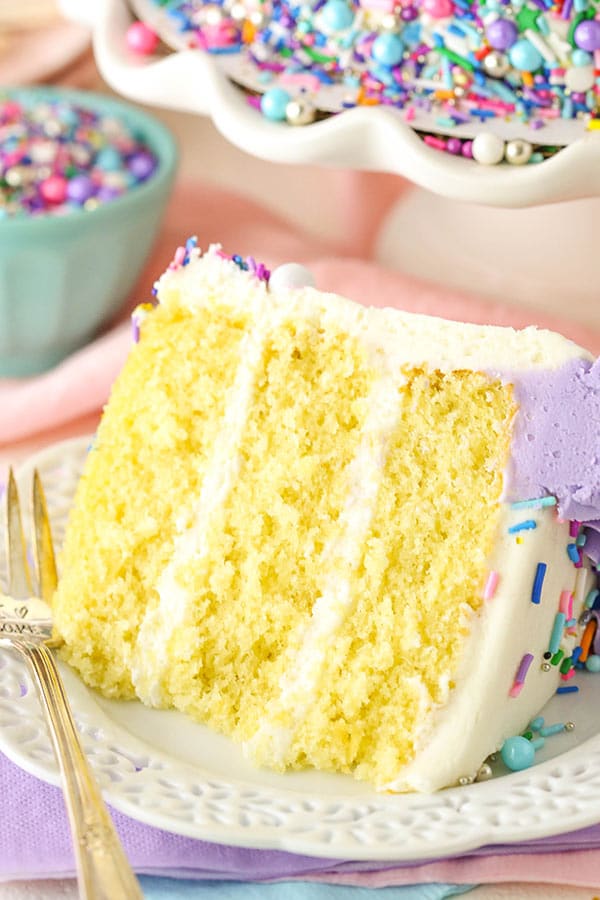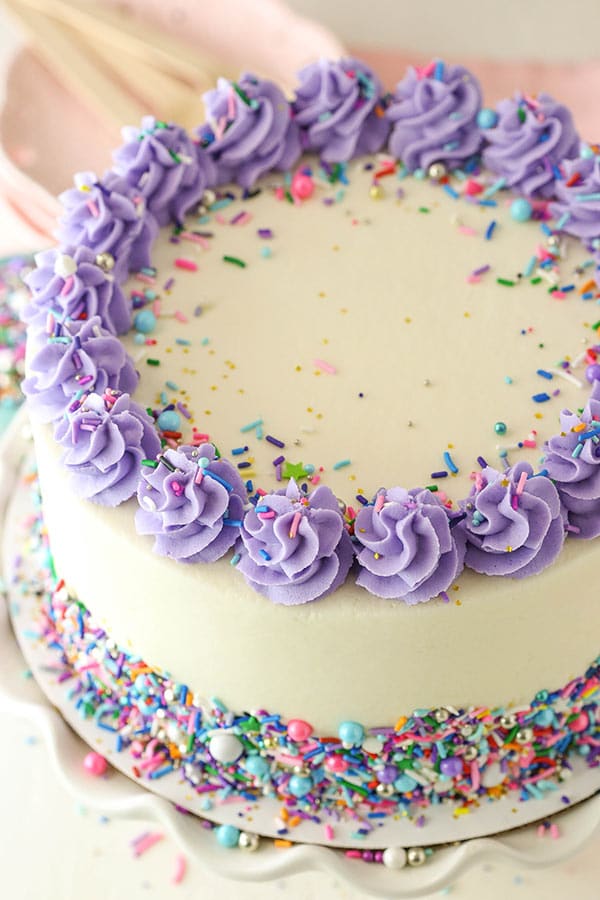 So that brings us to today's cake. I have no doubt that this will not satisfy all. But my goodness with all the choices, surely there's something here for everyone. 🙂
So what's different about this cake, you ask? Great question! First, most of the other recipes use just egg whites. This older recipe, when made as a cake, uses six. That's very sad for the yolks that are left on the sidelines wondering what they did wrong to not get picked as players in the cake-making game. So this cake uses whole eggs.
Plus, lots of people aren't into sour cream. Who knew?! I personally love the flavor and moisture it adds to cake, but I omitted it from this one for those are aren't into it. It's all about the milk in this cake!
This cake also uses butter with a little bit of oil. Oil vs butter can be a touchy topic with strong opinions, but this one is the best of both worlds. Overall, I love a butter-based vanilla cake. But there's no denying that the oil adds some nice moisture so there's a touch of it in here for a nice mix of the two.
And finally, the mixing method is somewhat simplified. It still uses the creaming method, so it's not as easy as the throw-and-go style of some of the other options, but there's a few less steps and such.
I also tested this cake as cupcakes and they turn out just as delicious – which is a wonderful thing. Any time you have a great vanilla recipe that works as both a cake and a cupcake, it's a big win.
It's hard to describe exactly how all these versions are different, but I'll say that this one is a nice blend of things that people like and dislike about some of the others. The final cake is moist, super soft and delicious, with relatively straight forward ingredients and method. It's a winner in my book, so I hope you enjoy it!
And if you feel so inclined, here are those other cake and cupcake options, if you'd like to try those out.
Perfect Moist and Fluffy Vanilla Cupcakes (the real OGs)
Moist and Fluffy Vanilla Cake (not as great in cupcake form)
Moist Vanilla Cupcakes (super straight forward)
Favorite Vanilla Cupcakes (find the cake instructions here)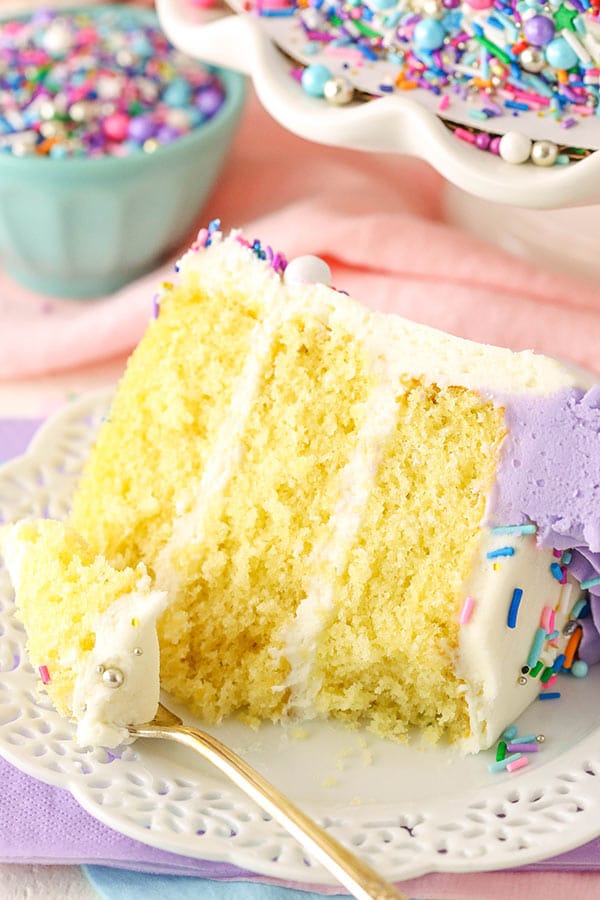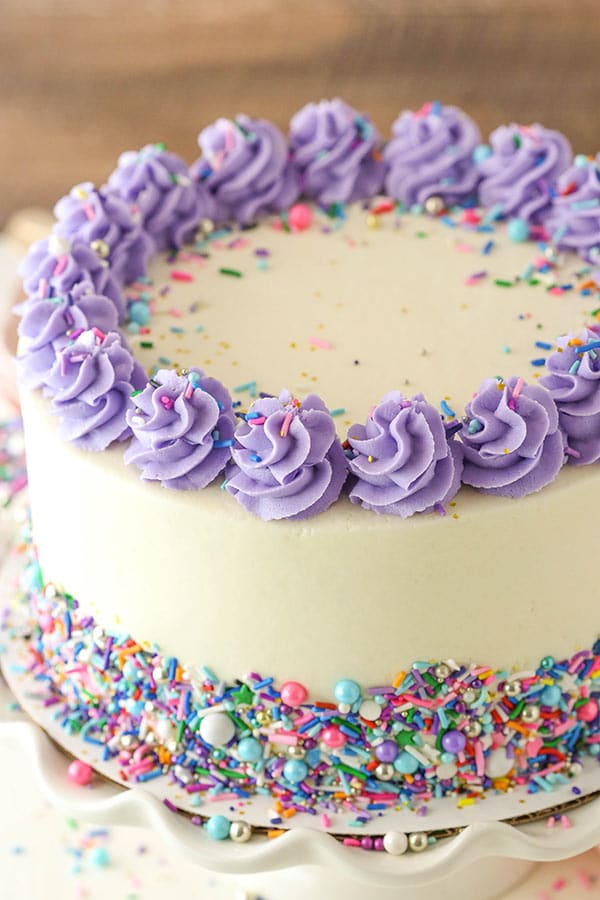 Moist Vanilla Layer Cake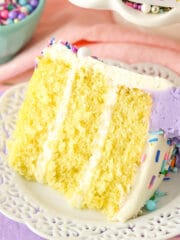 Moist Vanilla Layer Cake is just what it sounds like – a moist, soft vanilla cake that's easy to make too!
Author:
Prep Time:

1 hour 20 minutes

Cook Time:

25 minutes

Total Time:

1 hour 45 minutes

Yield:

12

-

14

Slices

1

x
Category:

Dessert

Method:

Oven

Cuisine:

American
Ingredients
VANILLA CAKE
2 1/2 cups

(

325g

) all purpose flour

2 1/2 tsp

baking powder

1/2 tsp

salt

3/4 cup

(

168g

) unsalted butter, room temperature

1 1/2 cups

(

310g

) sugar

3 tbsp

vegetable oil

1 tbsp

vanilla extract

4

large eggs

1 1/4 cups

(300ml) milk
VANILLA FROSTING
1 1/2 cups

(

336g

) salted butter

1 1/2 cups

(

284g

) shortening

12 cups

(

1380g

) powdered sugar

1 tbsp

vanilla extract

6

–

7

tbsp (90-105ml) water or milk
Violet get icing color
Cornflower blue gel icing color
Sprinkles*
Instructions
1. Prepare three 8 inch cake pans with parchment paper circles in the bottom and grease the sides. Preheat oven to 350°F (176°C).
2. Combine the flour, baking powder and salt in a medium sized bowl and set aside.
3. Add the butter, sugar, oil and vanilla extract to a large mixer bowl and beat together until light in color and fluffy, about 3-4 minutes. Do not skimp on the creaming time.
4. Add the eggs one at a time, mixing until mostly combined after each. Scrape down the sides of the bowl as needed to be sure all ingredients are well incorporated.
5. Add half of the dry ingredients to the batter and mix until mostly combined.
6. Slowly add the milk and mix until well combined. The batter will look curdled, but that's ok.
7. Add the remaining dry ingredients and mix until well combined and smooth. Scrape down the sides of the bowl as needed to be sure all ingredients are well incorporated. Do not over mix the batter.
8. Divide the batter evenly between the cakes pans and bake for 22-25 minutes, or until a toothpick comes out with a few crumbs.
9. Remove the cakes from the oven and allow to cool for about 2-3 minutes, then remove to cooling racks to cool completely.
10. To make the frosting, beat the butter and shortening together until smooth.
11. Slowly add half of the powdered sugar and mix until smooth.
12. Add the vanilla extract and 4-5 tablespoons of water or milk and mix until smooth.
13. Slowly add the remaining powdered sugar and mix until smooth. Add additional water or milk, as needed to get the right consistency of frosting.
14. To put the cake together, use a large serrated knife to remove the domes from the top of the cakes so that they're flat. These cakes don't have a large dome, but I like to make sure they're completely flat.
15. Place the first cake on a serving plate or a cardboard cake round.
16. Spread about 1 cup of frosting evenly on top of the cake.
17. Add the second layer of cake and another cup of frosting.
18. Top the cake with the remaining layer and frost the outside of the cake. Refer to my tutorial for frosting a smooth cake, if needed.
19. Press sprinkles into the sides of the cake
20. Color the remaining frosting to your desired shade. I used a mix of purple and cornflower blue gel icing color.
21. Pipe swirls of frosting around the top edge of the cake. I used Ateco tip 844.
22. Add a few more sprinkles to the top of the cake. Store in an air-tight container. Cake is best for 3-4 days.
Notes
For cupcakes, use the same temperature. Fill cupcake liners 3/4 full and bake for 13-15 minutes or until a toothpick inserted in the middle comes out with a few crumbs. This recipe should make about 24-28 cupcakes.
Keywords: best vanilla cake recipe, easy vanilla cake recipe, vanilla cake with frosting
Enjoy!