June 19, 2019
How to Make a Chocolate Drip Cake
Learn to make a chocolate drip cake with this easy method! All you need is chocolate ganache, a frosted cake and few simple tools and you'll be on your way to an impressive yet easily decorated cake!
Chocolate drip cakes create such a fun and impressive look, it's no wonder they've become so popular. With a little time and not too much effort, you can turn any cake into a statement piece. I've made quite a number of chocolate drip cakes including, but not limited to, my Reese's Peanut Butter Chocolate Cake, Red Wine Chocolate Cake, Nutella Chocolate Cake and my Best Chocolate Cake. All are some of my favorites.
So to get started, you'll need a few simple things.
Turntable
Squeeze bottle OR spoon
Frosted cake
Offset Spatula
Chocolate ganache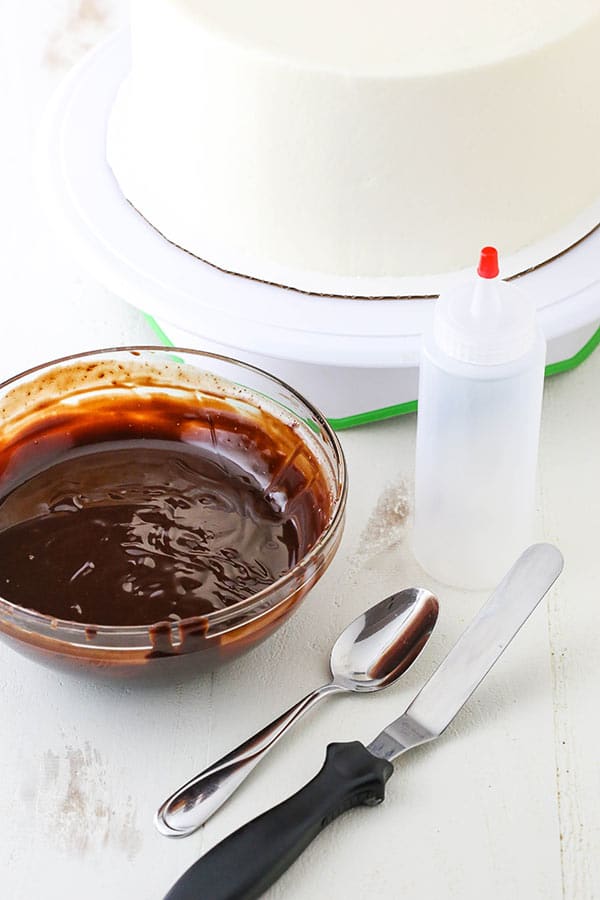 HOW TO MAKE A CHOCOLATE DRIP CAKE
There are two methods you could use for making a chocolate drip cake. I prefer the look and ease of the squeeze bottle method, but if you don't have one the spoon method will work as well.
No matter which method you use, you'll need to start by making the chocolate ganache. Feel free to check out my blog post on how to make it and learn more about adjustments you can make. Once your ganache is made, let it sit for about 10 minutes to cool a bit.
SQUEEZE BOTTLE METHOD
To use the squeeze bottle method, add the chocolate ganache to your bottle. Place the tip of the bottle just a couple centimeters above the top edge of the cake and gently squeeze the bottle to release the ganache. Release the pressure on the bottle when you've added enough of a drip, leaving just a little pressure to fill in the gap as you move to the next drip, turning the turntable as you go. Keep in mind that the more chocolate you add, the longer the drip will be. Test out a drip or two to get a feel for the amount of chocolate to use per drip, if needed.
After adding drips around the top edge of the cake, fill in the center. You want to work quickly so that the ganache doesn't firm up too much. I usually just use my squeeze bottle, but you could also just pour the chocolate into the center of the cake. You can head it can up for 10-15 seconds before adding it, if needed. Use your offset spatula to spread the chocolate ganache evenly.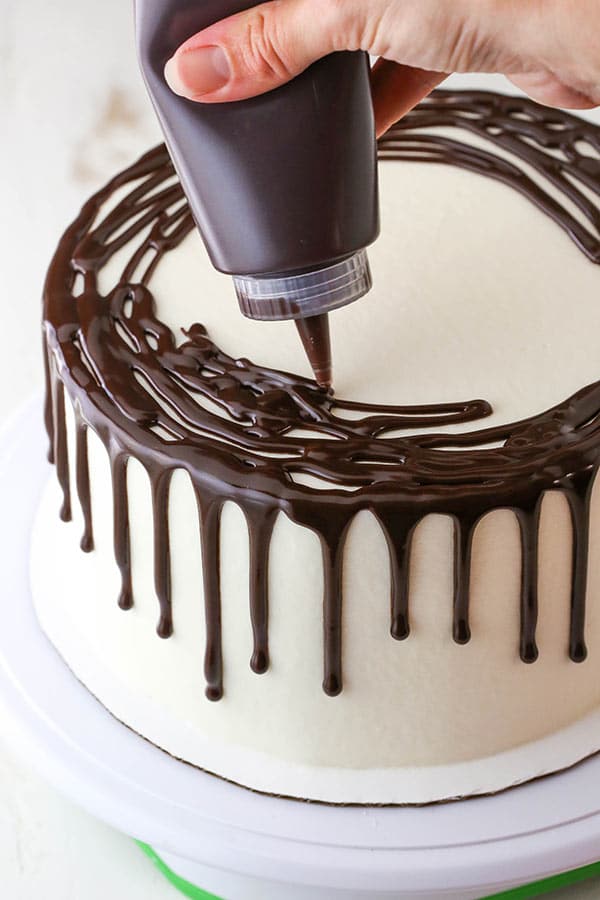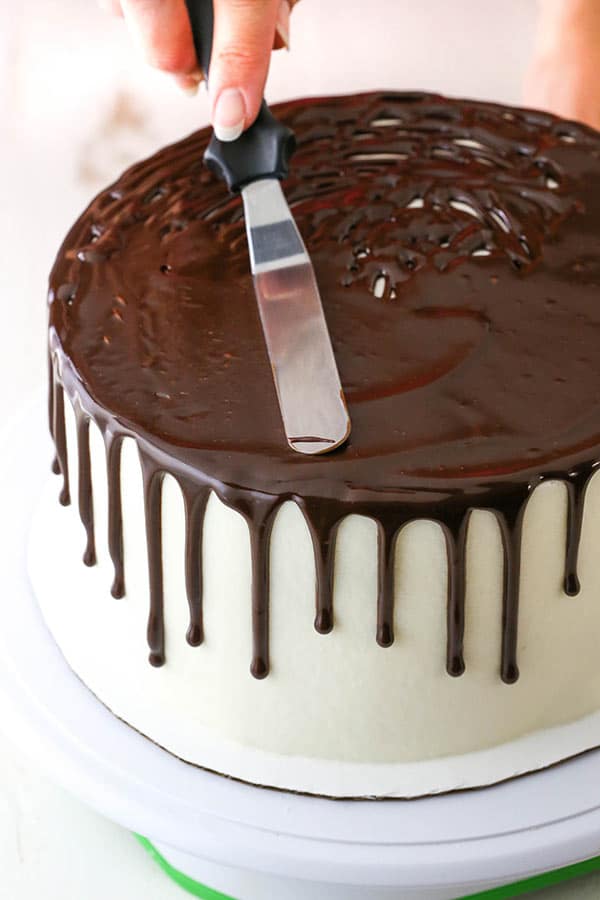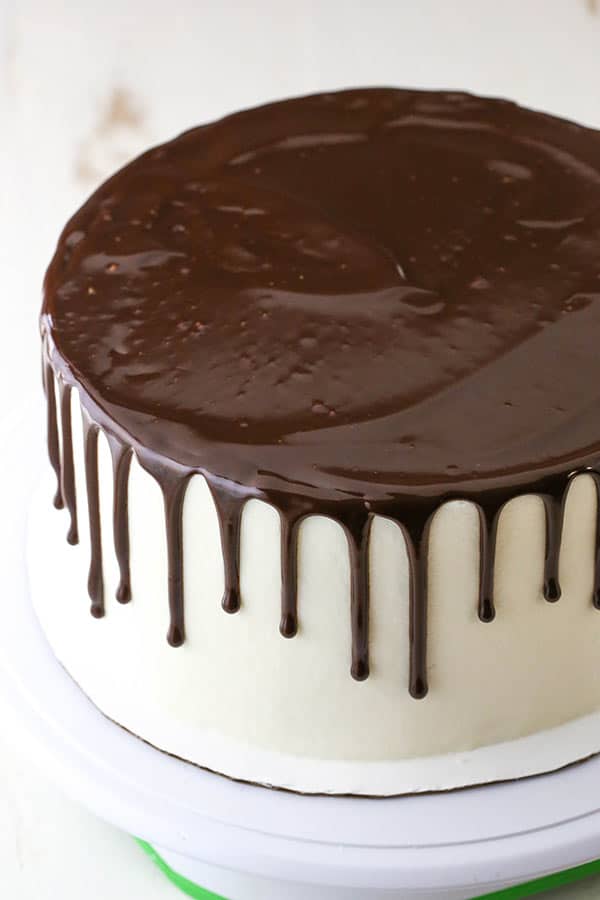 THE SPOON METHOD
If you decide you'd rather not work with a squeeze bottle, you can use a spoon. Use your spoon to add the chocolate to the edges of the cake and gently push it over the edge so that it falls, creating a drip. Continue adding drips around the outer edge until you'll gone all the way around.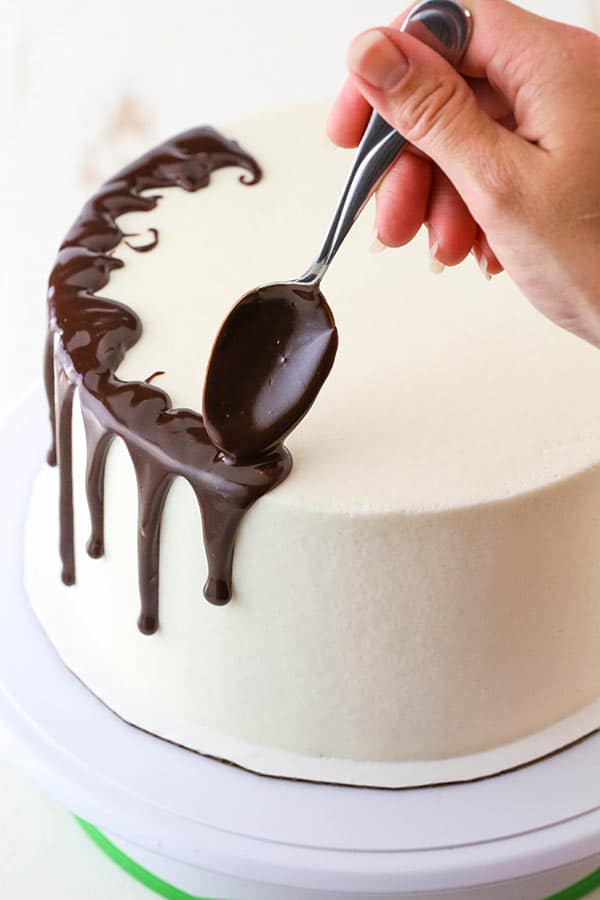 To fill in the center, pour the remaining chocolate ganache onto the top of the cake and use your offset spatula to spread it evenly.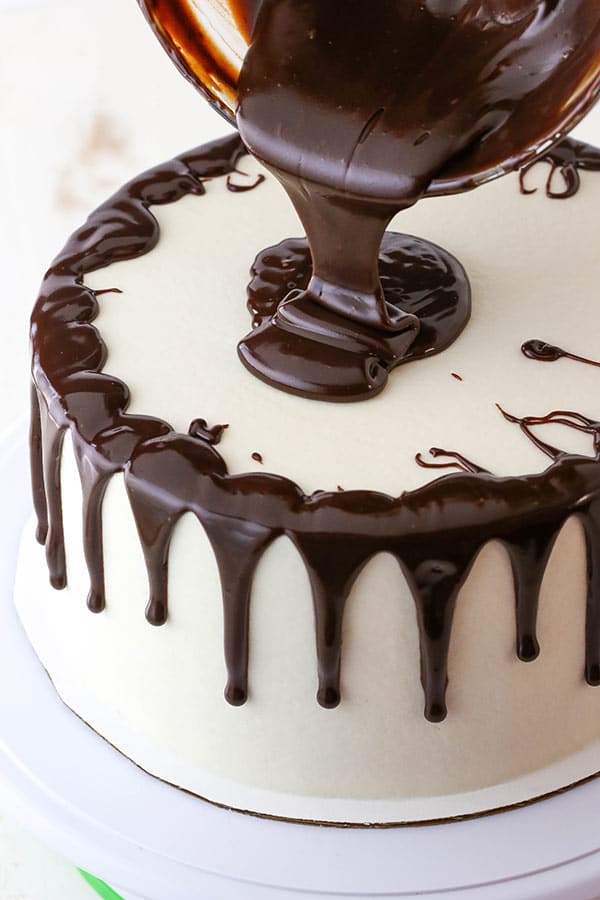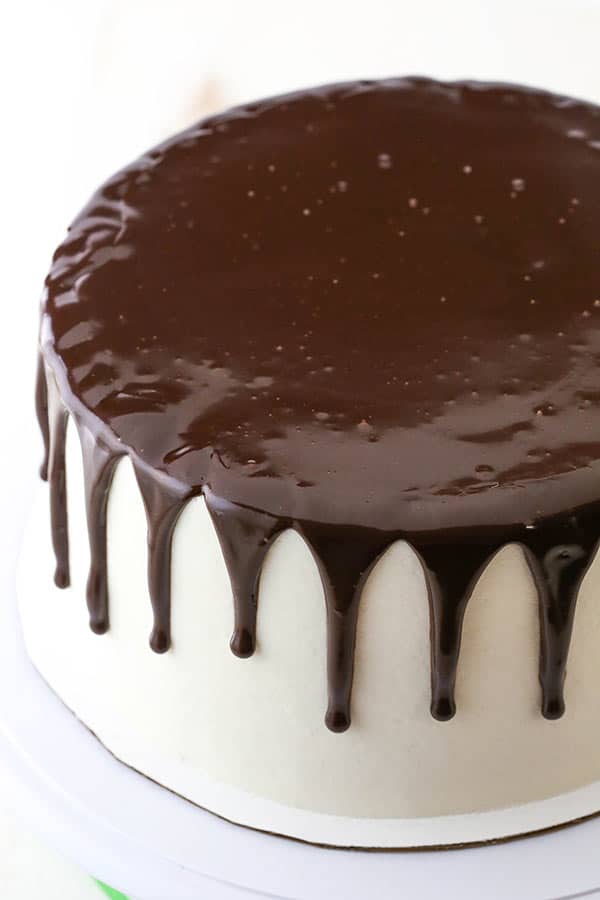 TIPS FOR THE PERFECT CHOCOLATE DRIP CAKE
As with anything, perfecting the chocolate drip look takes a little practice and few good tips. To make the perfect chocolate drip cake, there are a few things you want to keep in mind:
1. Chocolate temperature matters. The temperature of your chocolate ganache determines how thick or thin it is. After I make my chocolate ganache, I let it sit for about 10-15 minutes to thicken up just a bit before I use it for a drip cake. I don't want the chocolate to drip too far down the sides of the cake, but I also don't want it to sit in a blob at the top of the cake.
To test the temperature and thickness of my ganache, I often use a spoon to drip some down the side of a bowl to get an idea of just how quickly it drips. If it drips too quickly, I'll let it sit a little longer. If it's too slow, you could heat it back up. When it seems just about right, go for it.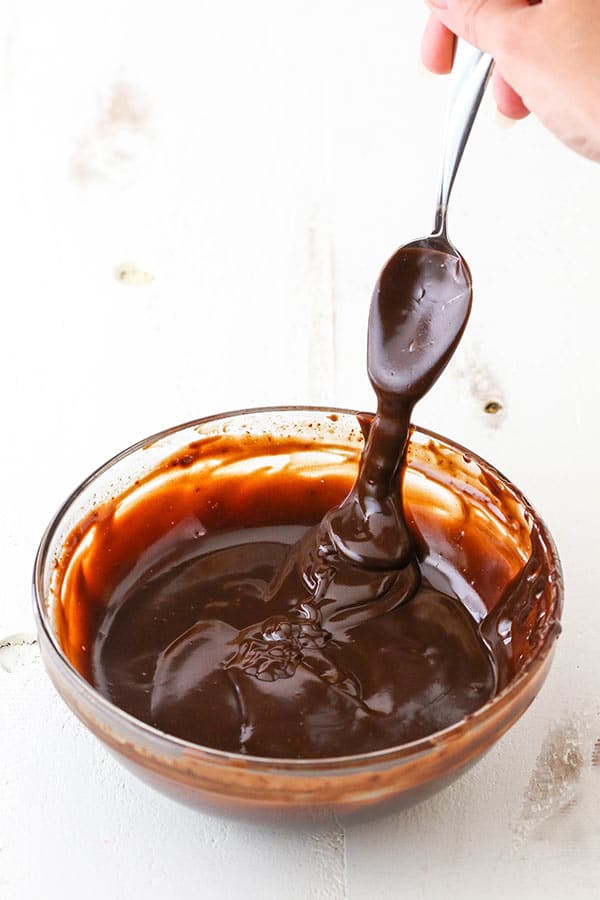 2. Cake temperature matters. When thinking about the temperature of your chocolate, you also want to keep in mind the temperature of your cake. I usually work with a room temperature cake, so testing the chocolate on the side of a room temperature bowl works. But if your cake has been in the fridge, the chocolate is going to start cooling even more quickly as soon as it touches the cold cake. In that case, you'll want your chocolate a little warmer when you use it so that it will still drip nicely.
3. Amount of heavy cream. I tend to use a little less cream in my chocolate ganache. I prefer to work with it a little thicker, but you could add an extra tablespoon or two of cream if you wanted. With the thicker ganache, you have slightly thicker drips and with thinner ganache, they'll naturally be thinner drips.
WHITE CHOCOLATE DRIP CAKE
You can also use white chocolate to make a drip cake, like on my Hot Chocolate Cake. The amount of heavy cream in your white chocolate ganache can be reduced significantly, since the white chocolate is naturally thinner when melted. Rather than half a cup of heavy whipping cream for 6 ounces of chocolate chips, you'll use 3 tablespoons of heavy whipping cream for the same amount of white chocolate.
Chocolate Drip Cake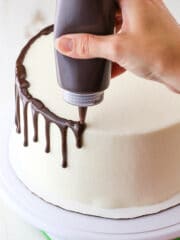 Author:
Prep Time:

5 minutes

Total Time:

5 minutes

Category:

Dessert

Method:

Microwave

Cuisine:

American
Ingredients
Semi-Sweet Chocolate
6 oz

(

1 cup

| 169g) semi sweet chocolate chips

1/2 cup

 heavy whipping cream
White Chocolate
6 oz

(

1 cup

| 169g) white chocolate chips

3 tbsp

 heavy whipping cream
Instructions
1. Add the chocolate chips to a medium sized bowl and set aside.
2. Add the heavy whipping cream to a microwave safe bowl or measuring cup and heat for about 1 minute, keeping an eye on it. If it heats up too much, it'll end up everywhere. Remove from the microwave just before it bubbles up.
3. Pour the warm cream over the chocolate chips and allow to sit for 3-5 minutes. You can cover the bowl with some clear wrap to trap in the heat, if you like.
4. Gently stir the cream and chocolate together until they come together to a smooth consistency. Try not to whisk too vigorously, which can add air bubbles to the ganache.
5. If making white chocolate ganache and you have some lumps remaining, heat in 10 second increments, stirring between, until ganache is smooth.
6. Allow ganache to cool for about 10 minutes, give or take, prior to using.
Keywords: chocolate drip cake, how to make a chocolate drip cake