This Chocolate Truffle Pie is a delicious, mousse-like pie made with chocolate ganache and mascarpone cheese! It's an easy no-bake dessert that everyone will fall in love with!
Need another decadent dessert recipe? Try my French Silk Pie or this S'mores Chocolate Pie!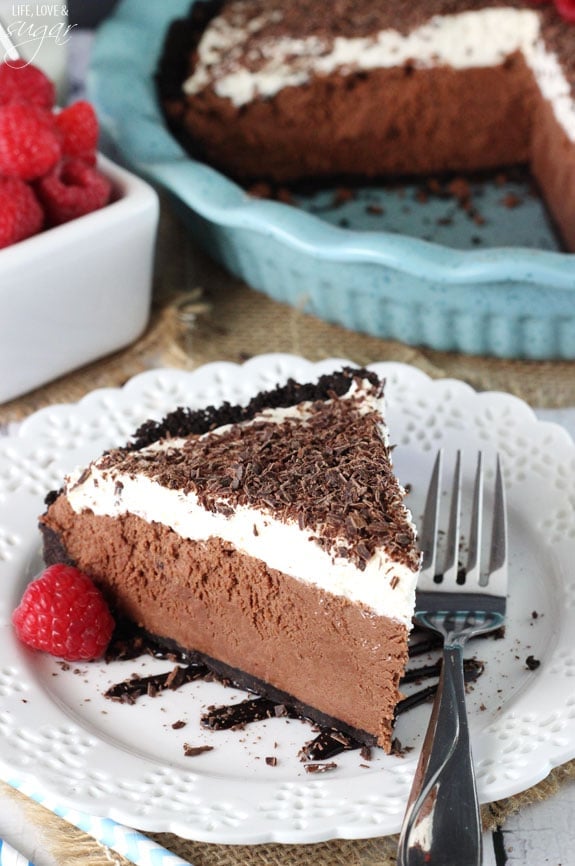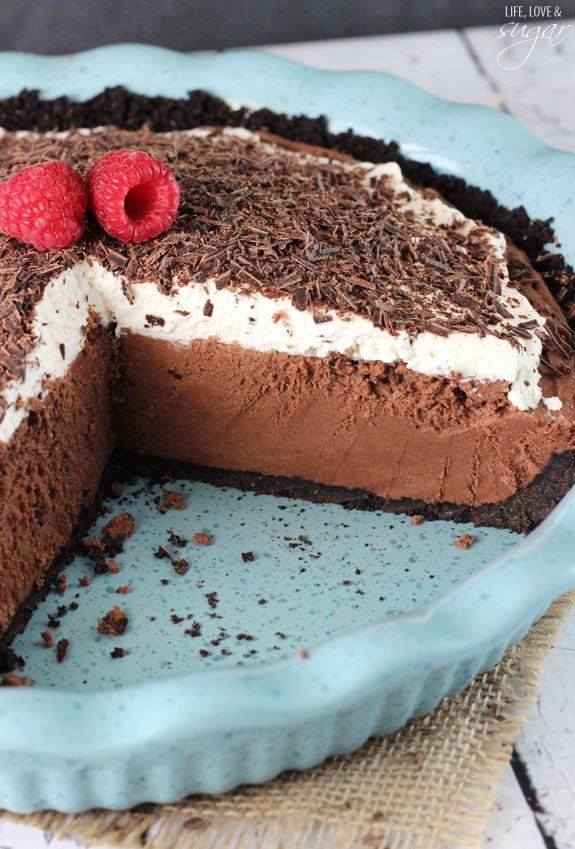 Chocolate Truffle Pie Recipe
This past Saturday was National Pet Day. Did you know? I didn't actually post a picture of Jessie anywhere or anything, so I figure I'll recognize her awesomeness now. 🙂
I've told you before that she's pretty much the best, most chill dog ever. The hubs was out of town last week, and she kept me company while he was gone. She snuggled up in bed with me at night and kept me warm.
And she's so funny on walks sometimes. If we take a rawhide bone with us for her to carry on the way back, she starts to pick up other things too. Last night the hubs and I walked her together and on the way back she decided to carry home a rock with her bone. And not just any rock, but one that was super small. Like the size of a mini reeses. She was constantly dropping it and having to pick it back up. Each time she had to put down the bone and rearrange the way she picked them back up so she could carry them. It's pretty hilarious to watch.
She'll come home with all kinds of stuff sometimes. She's come running it the back door with like 4 things before and just drops them for me. Silly pup.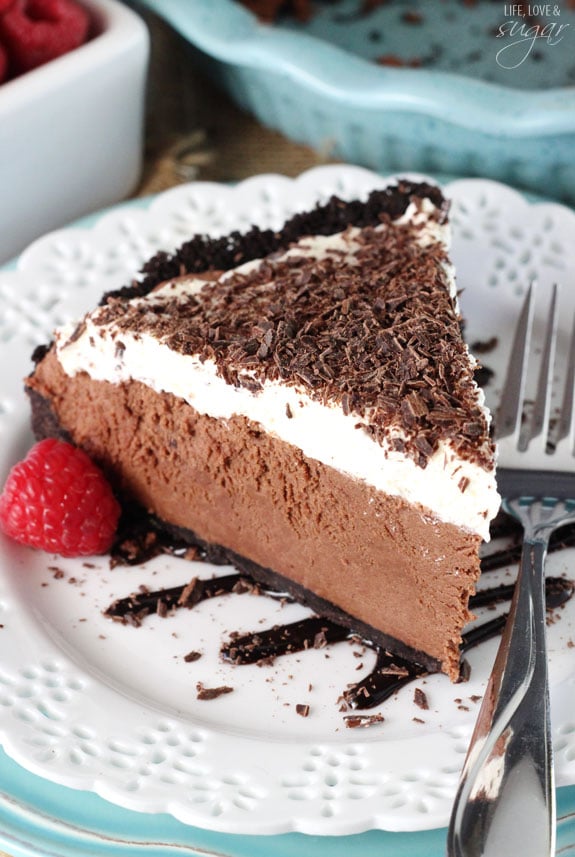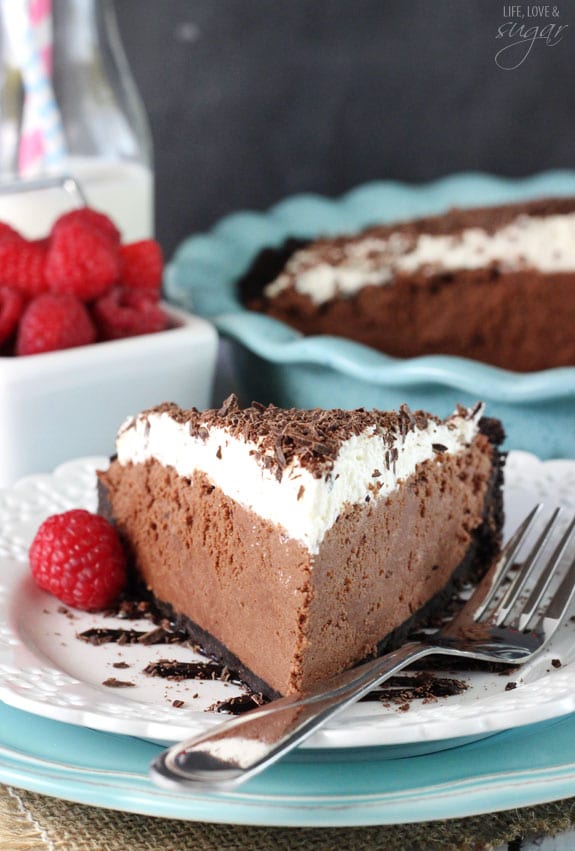 And then there was Saturday when I was walking her and had to go help a neighbor. We live in a neighborhood with several subdivisions and we were walking through one of the other ones when a senior woman tipped her motorized wheelchair and fell out of it onto the road. Fortunately she was ok, but because of her bad knees, she wasn't able to get up. The subdivision is primarily seniors and her neighbor came out to help, but wasn't strong enough to lift her. Together though, the two of us were able to get her back in her chair.
I had Jessie with me and she did so well. I had her sit in a yard and she stayed right there. She eventually walked over to us to check out what was going on, but she never wandered off or caused an issue. #prouddoggiemom
I love that sweet pup and am so glad she's ours.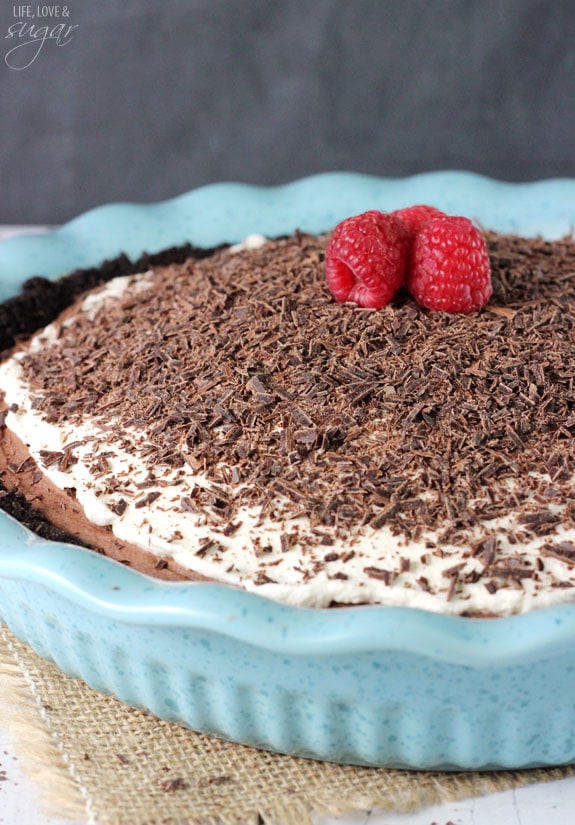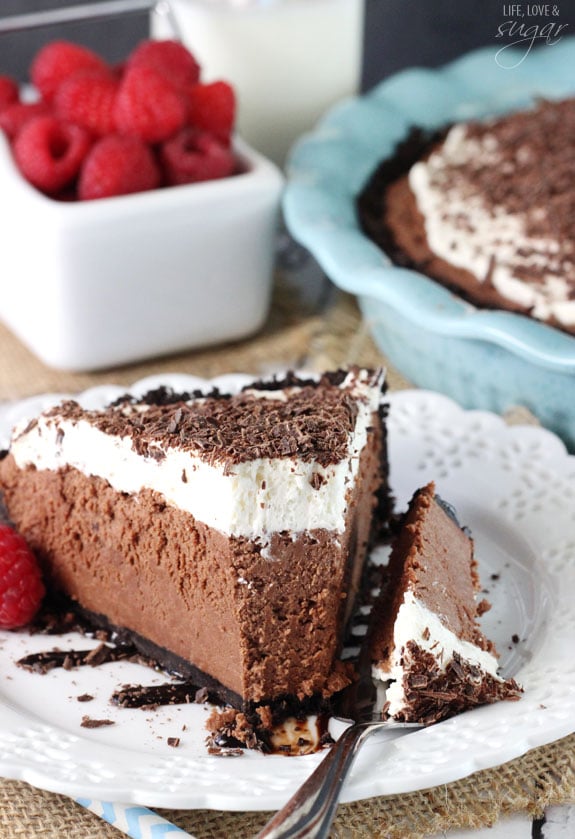 Jessie also makes a pretty excellent photo assistance – or at least she thinks she does.
It never fails that when I'm taking pictures of a dessert for the blog, she is right under my feet waiting for something to drop or for me to give her a bite. Sadly for her, she couldn't taste this pie. No chocolate for her.
More for me!
Why I Love This Easy Chocolate Pie
This Chocolate Truffle Pie is seriously tasty. It came about because I wanted a chocolate pie that used mascarpone cheese – simple as that. I love mascarpone and it's subtle flavor. I've used it in a Cannoli Poke Cake, Cannoli Icebox Cake and a Classic Tiramisu and it never fails to delight me. I though it would be delicious with chocolate in a pie crust, so I did it. And again, I love the flavor it adds.
The pie is actually fairly thick. Don't think pudding, think more like a thick mousse. It's very light in your mouth like mousse. Yet it's much firmer and almost flakey. I know flakey sounds weird, but it's hard to describe. It kind of melts in your mouth.
You'll just have to make it to know for sure, but it is delicious. Light, airy and chocolatey!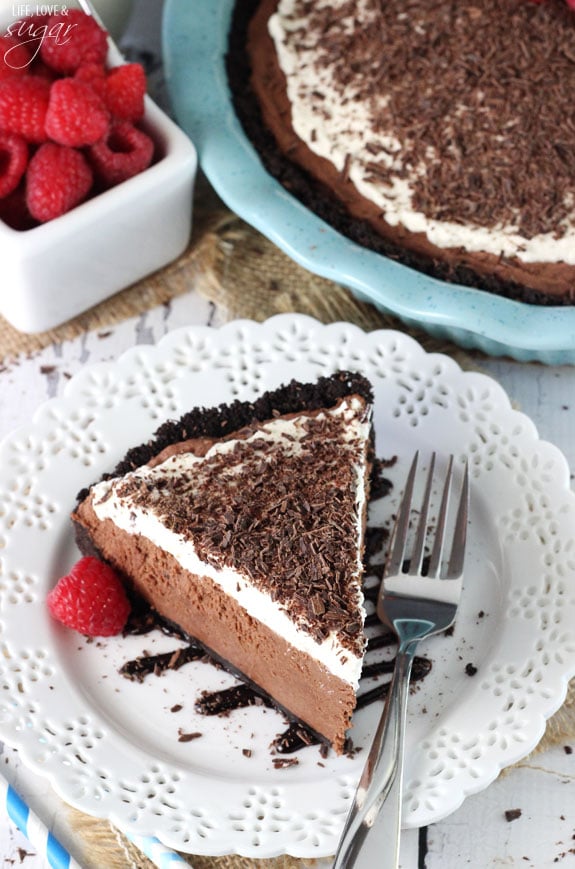 Other Chocolatey Treats
Drunken Chocolate Truffle Cake
Champagne Cupcakes with Truffle Filling
Peanut Butter Chocolate Truffle Cake
White Chocolate Truffle Cake
Strawberry Truffle Cupcakes
Dark Chocolate Pumpkin Truffles


Print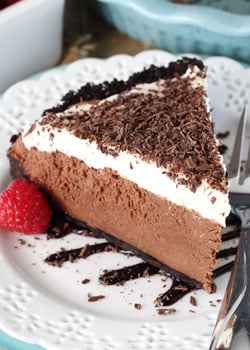 Recipe
Chocolate Truffle Pie Recipe
Author:

Prep Time:

25 minutes

Cook Time:

0 minutes

Total Time:

25 minutes

Yield:

12-15 Slices

Category:

Dessert

Method:

Microwave

Cuisine:

American
---
Description
This Chocolate Truffle Pie is a delicious, mousse-like pie made with chocolate ganache and mascarpone cheese! It's an easy no-bake dessert that everyone will fall in love with!
---
Ingredients
CRUST
2 1/2 cups

oreo crumbs

5 tbsp

butter, melted
FILLING
2 cups

heavy whipping cream, divided

1/2 cup

powdered sugar

1 tsp

vanilla extract

12 oz

semi sweet chocolate (I used Ghirardelli chocolate bars)

1/2 cup

salted butter

8 oz

mascarpone cheese, room temperature
chocolate shavings, for garnish
---
Instructions
1. Grease a 9 inch pie pan.
2. In a medium sized bowl, add melted butter to cookie crumbs and mix until combined.
3. Press cookie mixture evenly into the bottom and up the sides of the pie pan, then set aside.
4. Place 1 1/2 cups of heavy whipping cream into a large mixer bowl and whip on high until it begins to thicken.
5. Add powdered sugar and vanilla extract and continue whipping until stiff peaks form. Set whipped cream aside.
6. Place chocolate pieces, remaining 1/2 cup of heavy cream and butter into a microwave safe bowl or measuring cup. Heavy cream should mostly cover the chocolate chips.
7. Microwave mixture until cream begins to boil, about 1-2 minutes.
8. Whisk mixture until chocolate is completely melted.
9. Add mascarpone cheese to chocolate and stir until smooth.
10. Fold half of the whipped cream into the chocolate mixture.
11. Spread chocolate mixture evenly into pie crust.
12. Top pie with remaining whipped cream and chocolate shavings, if desired.
---
Nutrition
Serving Size:

1 Slice

Calories:

408

Sugar:

16.3 g

Sodium:

123.9 mg

Fat:

35.4 g

Carbohydrates:

22.7 g

Protein:

3.5 g

Cholesterol:

81.5 mg
Keywords: chocolate pie, chocolate pie recipe, easy chocolate pie recipe, easy chocolate pie, chocolate mousse pie, chocolate mousse recipe, homemade chocolate pie, how to make chocolate pie
Filed Under:
Enjoy!
This post may contain affiliate sales links. Please read my disclosure policy.