White Chocolate Truffle Cake
This post is sponsored by Baker's Joy, but all opinions are my own.
This White Chocolate Truffle Cake is delicious – and literally covered in white chocolate truffle! Yum! I could face plant right into that truffle mixture.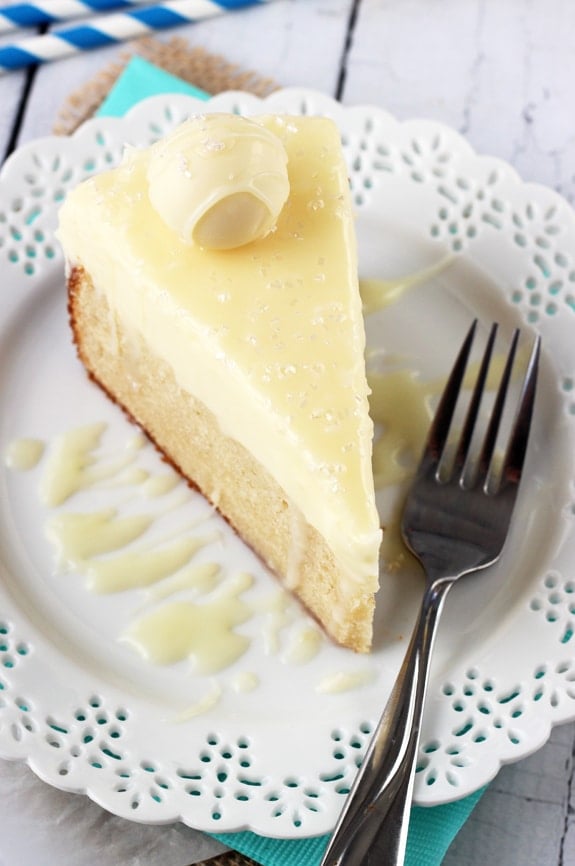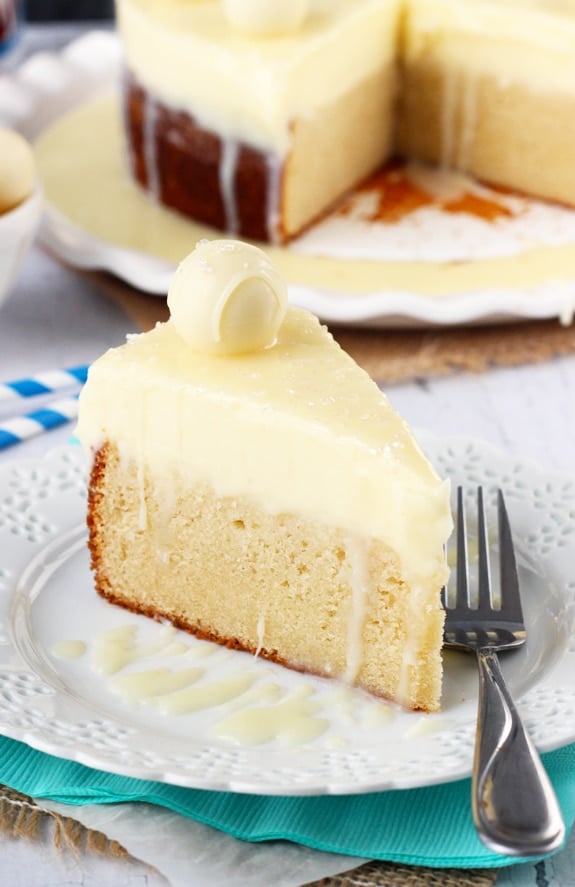 So you know all those quizzes out there that tell you what Disney princess you are, what color your aura is, what 'Friends' character you are (I'm Monica, by the way)?
Well, have you ever wondered which sweet treat you'd be?
Honestly, I don't know that you could pigeon hole me to just one. I'm pretty sure every flavor is my favorite. As long as it's got sugar in it. 🙂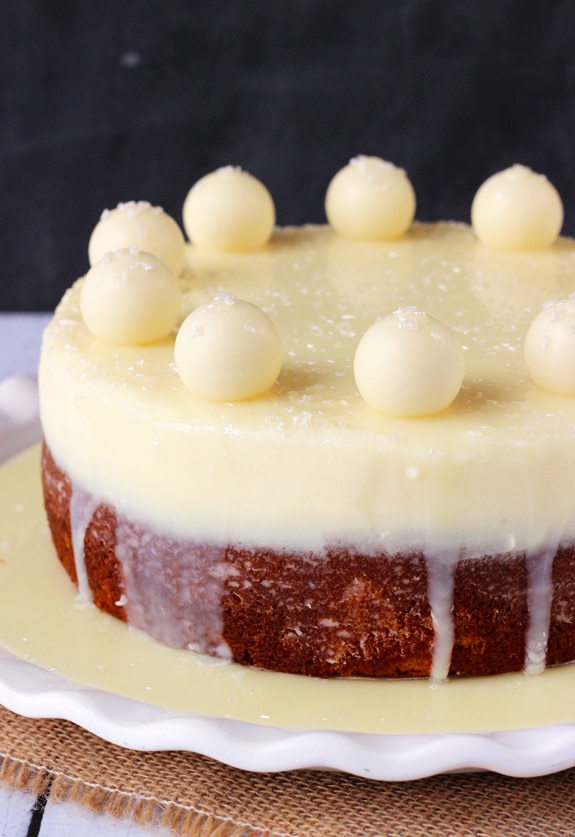 Lemon? Love it! Strawberry? Obsessed! Cookie dough? Get in my belly! Chocolate? Duh. And Funfetti? Well, I might as well bathe in it.
You get the point.
However, according to the super fun "Which Sweet Treat Are You?" quiz that Baker's Joy created, I'm an Intense Chocolate Mocha Cake. And guess what? I love it! It looks amazing!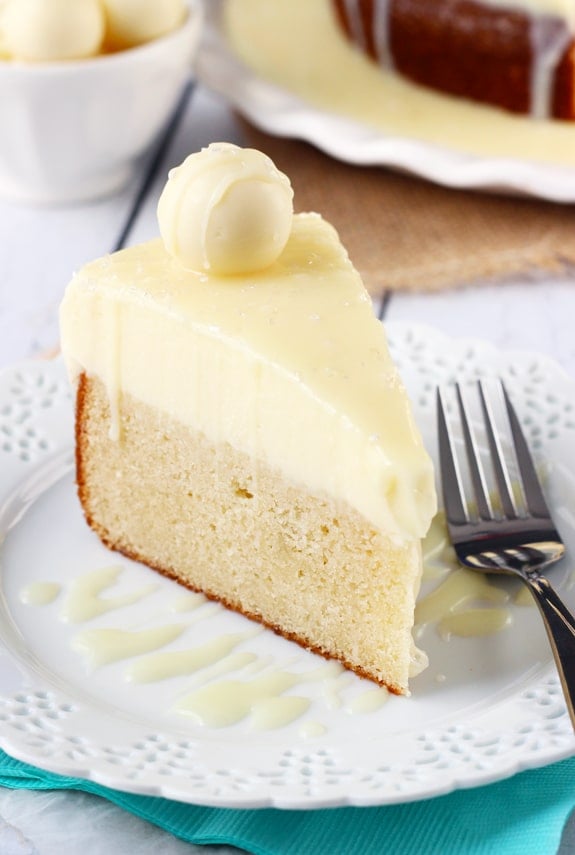 And the description seems right on – on a good day anyway. "I am bold, strong and passionate. A double shot with extra whip and not afraid to tackle any challenge. I wake up giving the proverbial 110%."
I'll take it!
You should totally go check the quiz out! It's pretty fun. Plus, they're giving away daily prizes (you can enter to win by taking the quiz every day!), a $500 Visa gift card, KitchenAid Mixer and a year's supply of Baker's Joy cooking spray. Rock on!
And if you're super cool, you'll totally turn out to be a White Chocolate Truffle Cake. Or maybe you'll match me and be bold and intense, like a Chocolate Mocha Cake.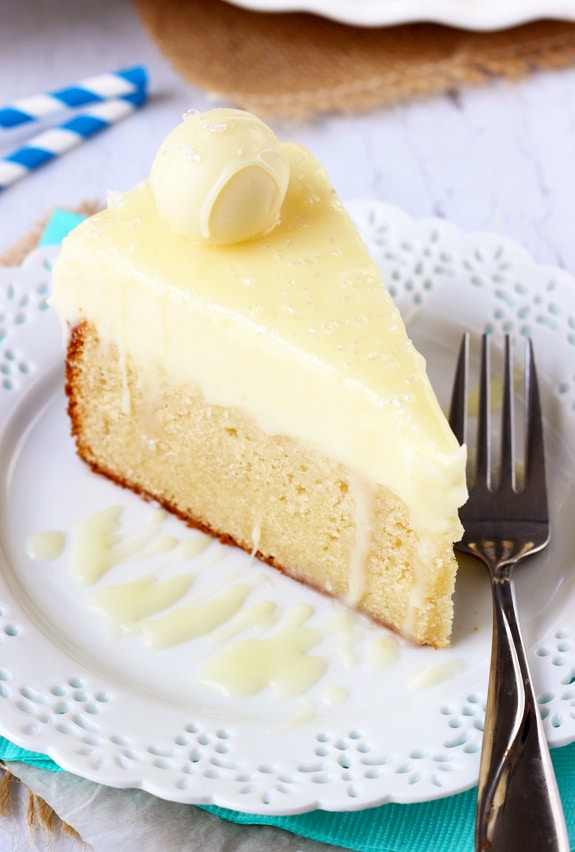 Speaking of the White Chocolate Truffle cake, would you like to know a little about it? It's quite tasty.
The cake itself is a fairly dense vanilla cake. It's a nice contrast to the soft, melt-in-your mouth truffle topping.
The truffle topping however, is where it's at. De-lish! So smooth, creamy, white chocolatey…dreamy.
And just a few simple ingredients – white chocolate, heavy cream and mascarpone cheese.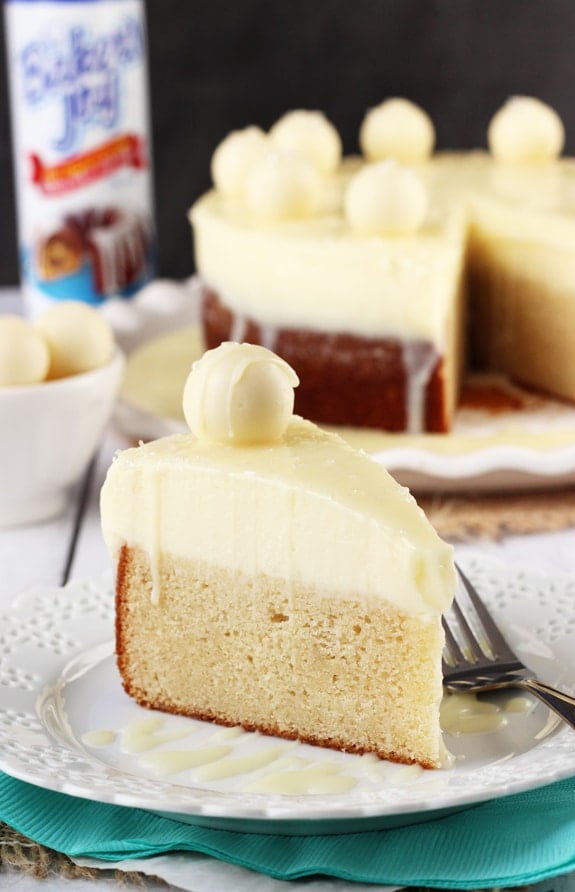 I have been loving putting mascarpone cheese in stuff recently. This won't be the last time you'll see it. 🙂
If you've never bought mascarpone cheese before, you should be able to find it with the specialty cheeses in the grocery store. usually near the deli. It's not a heavily flavorful cheese, but it adds a richness and creaminess to the truffle mixture that is heavenly.
So get to baking' and quiz takin'. You have until May 5 to take it as many times as you want and win fun prizes! Check it out.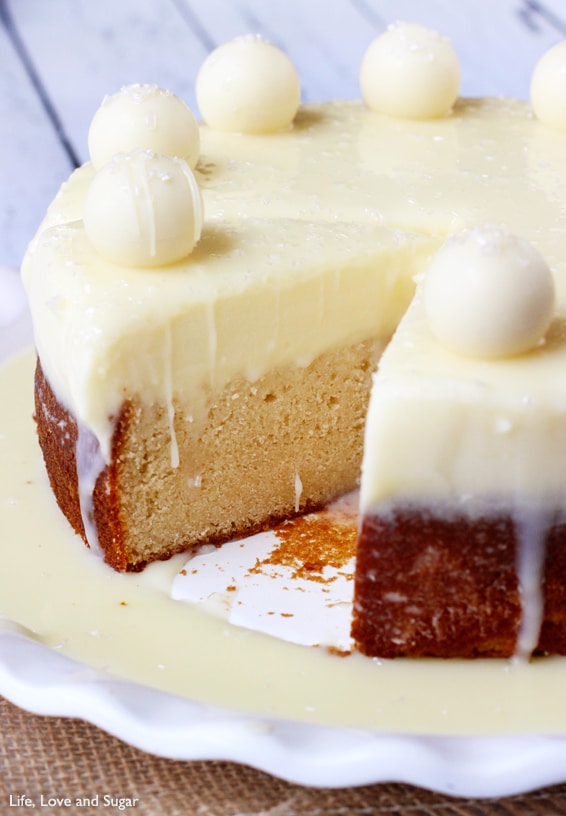 White Chocolate Truffle Cake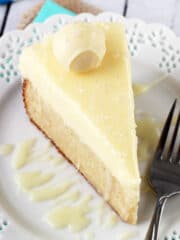 Yield:

10

-

12

Servings

1

x
Category:

Dessert

Method:

Oven

Cuisine:

American
Ingredients
CAKE LAYER
1 1/2 cup

s all-purpose flour

1 cup

sugar

1/4 tsp

baking soda

1 tsp

baking powder

3/4 cup

salted butter, room temperature

2

eggs

3 tsp

vanilla extract

1/4 cup

sour cream

3/4 cup

milk
WHITE CHOCOLATE TRUFFLE LAYER
14 oz

white chocolate chips

1 1/4 cup

s heavy cream

1 cup

mascarpone cheese
GANACHE TOPPING
9 oz

white chocolate chips

1/4

+

1/8 cup

s heavy cream

5.1 oz

bag of Lindor White Chocolate Truffles
Instructions
1. Preheat oven to 350 degrees
2. Prepare an 8×3 inch springform cake pan using a round piece of parchment paper on the bottom and Bakers Joy baking spray on the sides.
3. Whisk together flour, sugar, baking soda and baking bowl in a large mixing bowl.
4. Add butter, egg, vanilla, sour cream and milk and mix on medium speed until combined and smooth.
5. Pour batter into cake pan and bake for 45-50 minutes, or until a toothpick comes out with a few crumbs.
6. Remove cake from oven and allow to cool for about 10 minutes in the pan.
7. Remove cake from pan and finish cooling on cooling rack.
8. Once cake has cooled, use a serrated knife to cut off the cake dome.
9. Place back into springform pan, lining sides of pan with parchment paper so that it sticks up above the edge of the pan.
10. Put white chocolate chips for truffle layer into a mixing bowl.
11. Microwave heavy cream until boiling, then pour over white chocolate chips.
12. Cover bowl with clear wrap and allow to sit for 5-7 minutes.
13. Whisk mixture until smooth, then allow to cool to room temperature.
14. Add mascarpone cheese and mix until smooth.
15. Pour white chocolate mixture over cake and spread evenly. It will come above the edge of the cake pan, but your parchment paper should be high enough. Refrigerate until firm, 3-4 hours.
16. Once truffle layer is firm, remove cake from pan.
17. Add white chocolate chips for ganache to a medium sized bowl.
18. Microwave heavy cream until boiling, then pour over white chocolate chips.
19. Cover bowl with clear wrap and allow to sit for 5-7 minutes.
20. Whisk mixture until smooth, then allow to cool for 10-15 minutes. The longer it cools, the thicker it will get.
21. Pour ganache over the cake and allow to drizzle down the sizes.
22. Place Lindor truffles evenly around the edge of the cake.
23. Store in refrigerator for up to 5 days. Remove cake from refrigerator 10-15 minutes before serving.
Enjoy!

You might also like:
Raspberry Cheesecake Ice Cream Cupcakes