This No-Bake Cheesecake Recipe makes a smooth & creamy cheesecake that sets up in the refrigerator. No water bath required! It's the best cheesecake to make if you want an absolutely fool-proof recipe and are new to making these kinds of desserts.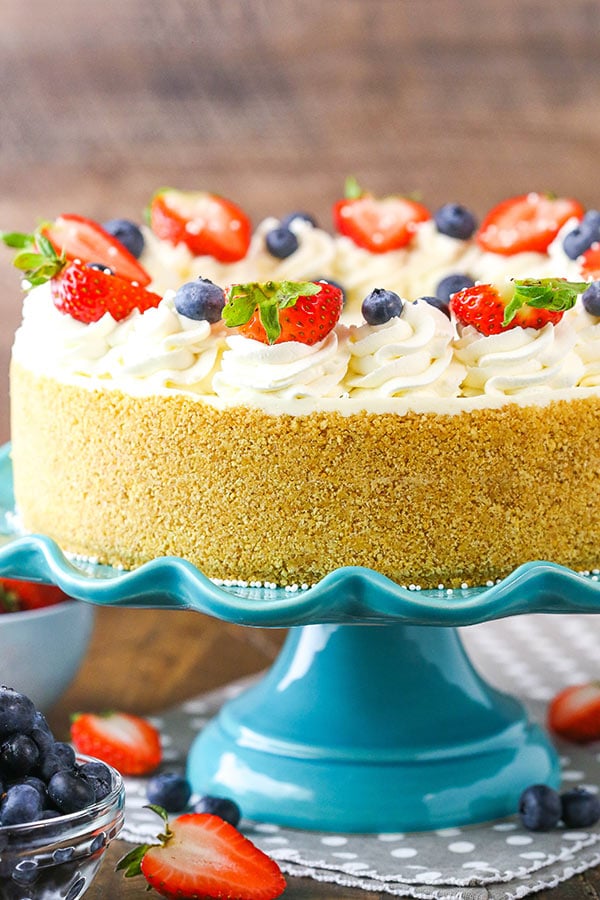 The Best No-Bake Cheesecake Recipe
I've always been a bit of a cheesecake snob. Very few cheesecakes that you'd get at a restaurant really make me happy (unless it's Cheesecake Factory), so I rarely order them. Both taste and texture are big for me. It's got to be thick and creamy and if it's too soft, it's not right.
Which is why I'm even pickier about no-bake cheesecake! We've all tasted those no-bake cheesecake box mixes, right? They're made with gelatin and totally the opposite of what I want my cheesecake to feel and taste like (sorry if you're a fan).
So when it came to making my own recipe, I knew I would be picky. It's taken a long time for me to share my favorite no-bake vanilla cheesecake because it just MUST be right! After lots and lots of testing, I'm excited to finally share my favorite recipe with you.
What Makes this Recipe So Good?
In my opinion, this is why my no-bake cheesecake recipe rocks:
The right ingredients. For me that means fresh whipped cream, no sweetened condensed milk, and no gelatin. Sweetened condensed milk simply isn't the right flavor and gelatin isn't the right texture.
No white chocolate. The other thing I decided against was white chocolate, which is often used in no-bake vanilla cheesecakes. I used melted chocolate in my no bake chocolate cheesecake and it does a wonderful job of helping to set the cheesecake. But you really do taste the white chocolate in a vanilla version and I don't want this to be a white chocolate cheesecake.
The final cheesecake is seriously perfect! It's so thick and creamy – it's about as close as it can get to being like a regular cheesecake. It firms up beautifully! And the flavor is pretty much spot on. For someone who has always kind of not been so into vanilla no bake cheesecake, this one has changed my mind! Love it!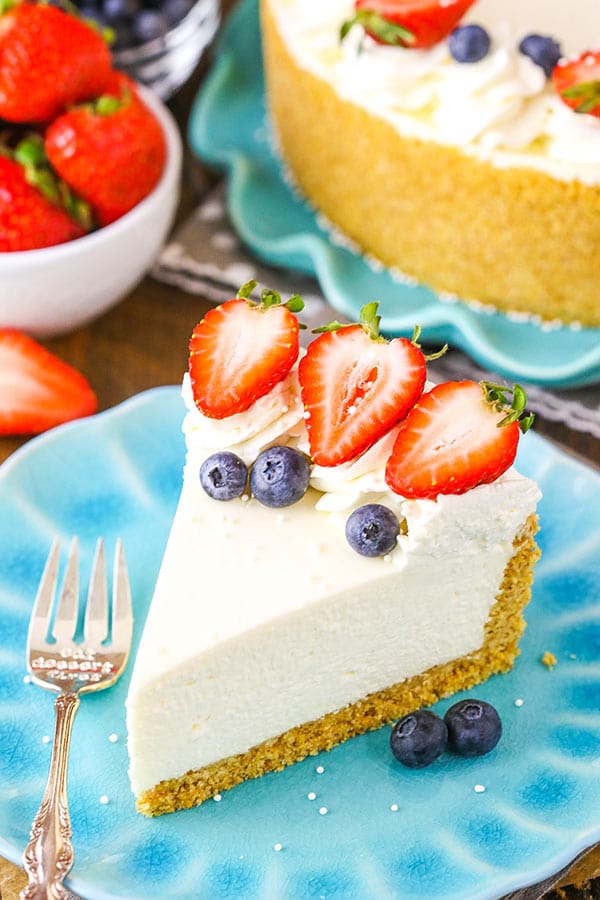 What is a No Bake Cheesecake Anyways?
A no bake cheesecake is exactly what it sounds like – a cheesecake that isn't baked. The crust and the filling firm up in the fridge without needing anything else to help hold it together. The ingredients used in the cheesecake do the work of firming things up all by themselves! It's perfect when you need something quick and easy, or don't have an oven available (or don't want to use one).
Recipe Ingredients
Here's what you'll need to make this fabulous cheesecake:
For the Crust
Graham Cracker Crumbs
Sugar
Salt
Butter
For the Cheesecake Filling
Cream Cheese
Sugar
Sour Cream
FRESH Lemon Juice – Don't use bottled lemon juice. It doesn't have the same flavor.
Vanilla Extract
Heavy Whipping Cream
Powdered Sugar – Not the same a granulated sugar, you need to use confectioners sugar here.
You may notice that the ingredients are very similar to my baked cheesecake, but without the eggs or flour and with the addition of heavy whipping cream and powdered sugar. A couple of the most important things you'll need are the sour cream and lemon juice. Let's talk about why.
Why this Recipe Works
A regular cheesecake is going to use eggs to firm up the cheesecake when baked. With a no bake cheesecake, you obviously don't want to use the eggs. But then how does the cheesecake firm up?
This no bake cheesecake firms up with the help of two things – fresh whipped cream and fresh lemon juice. Lemon juice interacts with the sour cream and effectively "curdles" it, which thickens the cheesecake. It doesn't curdle in the traditional way – you won't have a lumpy cheesecake filling – but a similar process happens and creates a firming effect. It might seem like a decent amount of lemon juice, but it really does help the cheesecake firm up and it really doesn't make the cheesecake taste like lemon.
The other key ingredient is the sour cream. It's generally pretty essential to the proper taste for cheesecake, so it's used in this no bake version and it's perfect. The tang from the sour cream also helps to subdue the potential of the lemon flavor to come through. The reaction of the sour cream and lemon juice together actually are what give this cheesecake the classic tang that we know and love in a regular cheesecake, without giving it a lemon flavor.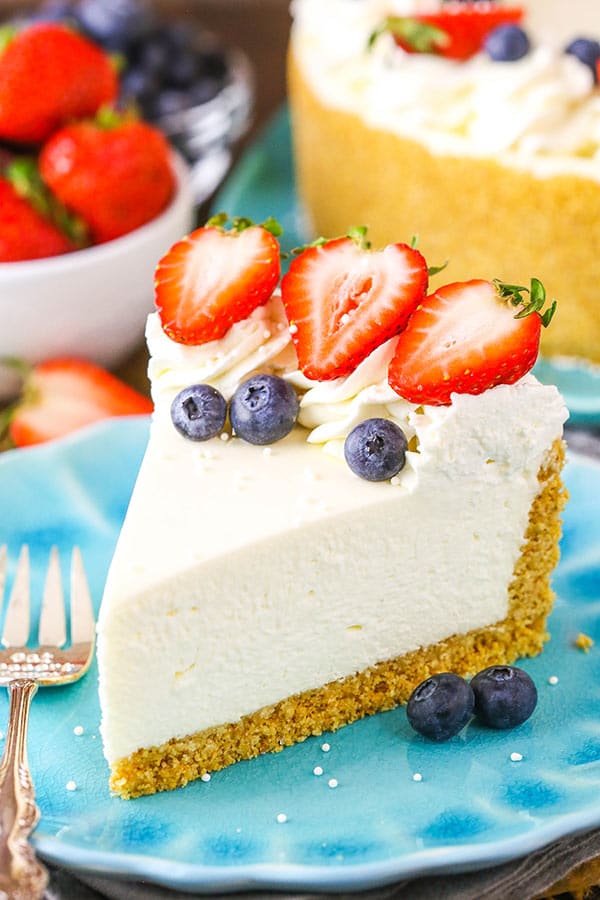 How to Make a No Bake Vanilla Cheesecake
Make the crust. So to actually make this no bake cheesecake, you'll start with the crust. Mix together all the ingredients and press them into the bottom and up the sides of the springform pan. Set it in the fridge to start to firm up while you make the filling.
Begin making the cheesecake filling. When you're ready to make the filling, be sure your cream cheese is plenty soft so you don't end up with lumps. Beat it together with the sugar until it's nice and smooth. Add in the sour cream, and mix until smooth. Then add the lemon juice. Set this mixture aside while you make the whipped cream.
Make the whipped cream. Whip the whipped cream until it's nice and stiff and then gently fold it into the cream cheese mixture so that it doesn't deflate.
Assemble and chill. Spread the filling evenly into the crust and then refrigerate it for at least 5-6 hours, or overnight. I'm a big fan of making things a day ahead, so resting overnight is my preferred amount of time.
Decorate. Once your cheesecake has set up, it's time to decorate it with swirls of whipped cream and fresh berries!
Why Use Homemade Whipped Cream?
One thing I love about making homemade whipped cream is the control you have over it, versus something like Cool Whip. By adding powdered sugar, we can thicken the whipped cream and stabilize it, so that it stays firm and so does our no bake cheesecake. No to mention, the superior taste. And since this cheesecake is all about the taste, homemade whipped cream is the way to go!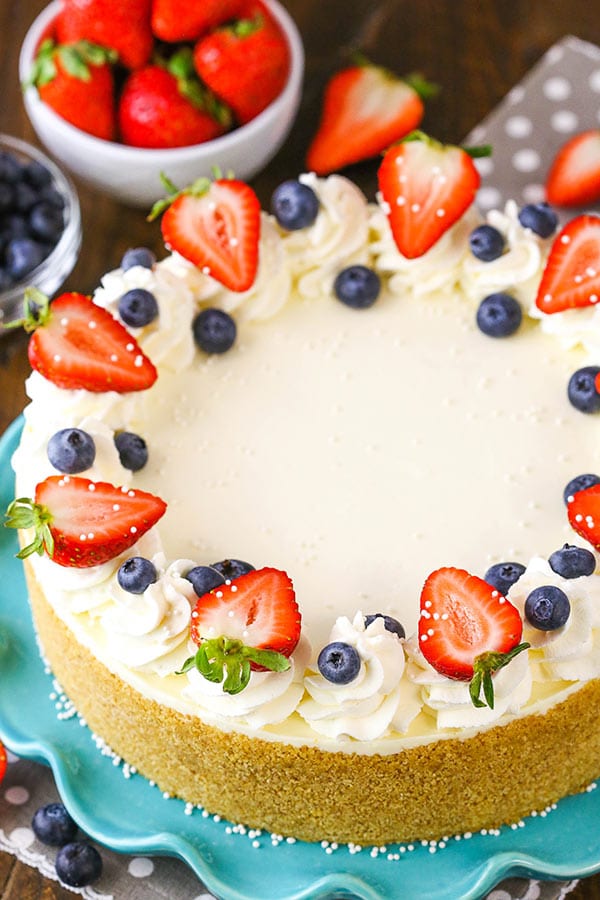 Tips for Perfect Cheesecake
Here are a few quick tips to make sure you make the best cheesecake!
Start with room temperature cream cheese, so that you don't end up with lumps.
Be sure to use the full amount of powdered sugar in the whipped cream for the filling. It stabilizes the whipped cream, therefore stabilizing the cheesecake.
Be sure to use the sour cream and the lemon juice. They react to help firm up this cheesecake and give it that classic tang that we all know and love in a good cheesecake.
Refrigerate the cheesecake for at least 5 hours before serving, overnight is even better.
Make sure to use heavy whipping cream. The higher fat content will allow the cream to whip up thicker which is needed to hold the filling together.
Serving Ideas
Speaking of toppings, what should you serve with a no-bake cheesecake? The sky is the limit! Fresh fruit is always delicious, but you could also add a yummy sauce like this homemade caramel sauce or lemon curd. YUM!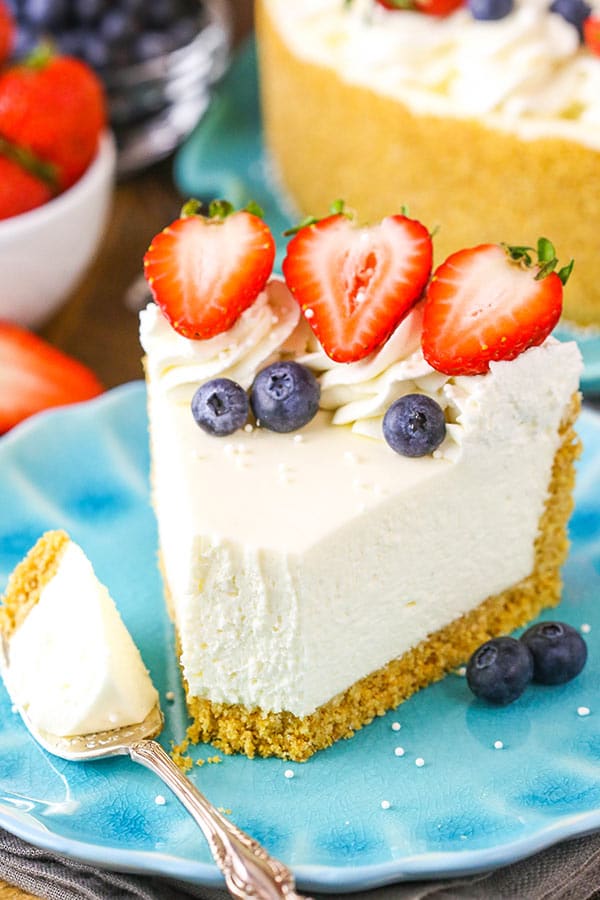 How to Store This Cheesecake
This cheesecake will last for about 4-5 days in the fridge when kept well covered. While you could continue to snack on it after that, it will be at its best for that length of time.
Can I Freeze It?
You could definitely freeze this no bake cheesecake. I would recommend leaving off any toppings, so they don't create an issue during thawing. It'd also be best to firm the cheesecake in the fridge first, then freeze it. Then you can wrap it without messing up your beautiful work. Thaw the cheesecake in the fridge when you're ready to use it and add your toppings.
Read transcript
You might also like these cheesecake recipes:
Print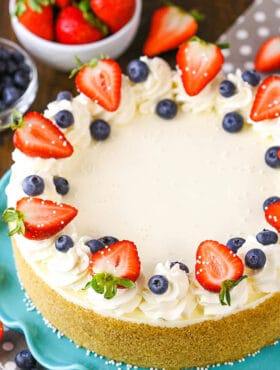 Recipe
Best No Bake Cheesecake Recipe
Author:

Prep Time:

1 hour 15 minutes

Total Time:

1 hour 15 minutes

Yield:

12-14 servings

Category:

Dessert

Method:

No Bake

Cuisine:

American
---
Description
This Easy No-Bake Cheesecake Recipe makes a perfect, smooth & creamy cheesecake that sets up in the refrigerator! .
---
Ingredients
Crust
2 1/4 cups

(

302g

) graham cracker crumbs

5 tbsp

(

65g

) sugar

1/8 tsp

salt

10 tbsp

(

140g

) unsalted butter, melted
Cheesecake Filling
24 oz

(

678g

) cream cheese, room temperature

1/2 cup

(

104g

) sugar

1/4 cup

(

58g

) sour cream

3 tbsp

fresh lemon juice

1 1/4 cups

(300ml) heavy whipping cream, cold

3/4 cup

(

86g

) powdered sugar

1 tbsp

vanilla extract
Whipped Cream Topping
1 cup

(240ml) heavy whipping cream, cold

1/2 cup

(

58g

) powdered sugar

1 tsp

vanilla extract
---
Instructions
In a medium bowl, combine the crust ingredients and mix well to combine completely.
Press the mixture into the bottom and up the sides of a 9-inch springform pan. Set in the fridge to chill.
In a large mixer bowl, beat the cream cheese and sugar together until well combined and smooth.
Add the sour cream and mix until well combined and smooth.
Add the lemon juice and mix until well combined and smooth. Set mixture aside.
In another large mixer bowl, add the heavy whipping cream, powdered sugar and vanilla extract. Whip on high speed until stiff peaks form.
Carefully fold the whipped cream into the cream cheese mixture in two parts until well combined.
Add the filling to the crust and spread into an even layer.
Refrigerate cheesecake until firm, 5-6 hours or overnight.
To finish off the cheesecake, remove it from the springform pan and set on a plate or serving platter.
Add the heavy whipping cream, powdered sugar and vanilla extract for the whipped cream topping to a large mixer bowl. Whip on high speed until stiff peaks form.
Pipe swirls of whipped cream around the edge of the cheesecake. Top the cheesecake off with your desired toppings, such as fresh fruit.
Refrigerate cheesecake until ready to serve. Cheesecake is best for 4-5 days.
Nutrition
Serving Size:

1 slice

Calories:

414

Sugar:

25.8 g

Sodium:

224.6 mg

Fat:

30.4 g

Carbohydrates:

30.6 g

Protein:

5.6 g

Cholesterol:

92.7 mg
Keywords: easy cheesecake, no bake vanilla cheesecake, best no bake cheesecake
Enjoy!
This post may contain affiliate sales links. Please read my disclosure policy.