This Salted Caramel recipe is about as simple as caramel sauce gets! It only uses 6 ingredients, and it's perfect for topping ice cream, brownies or any other dessert!
Looking for unsalted caramel sauce? Try my traditional homemade caramel recipe!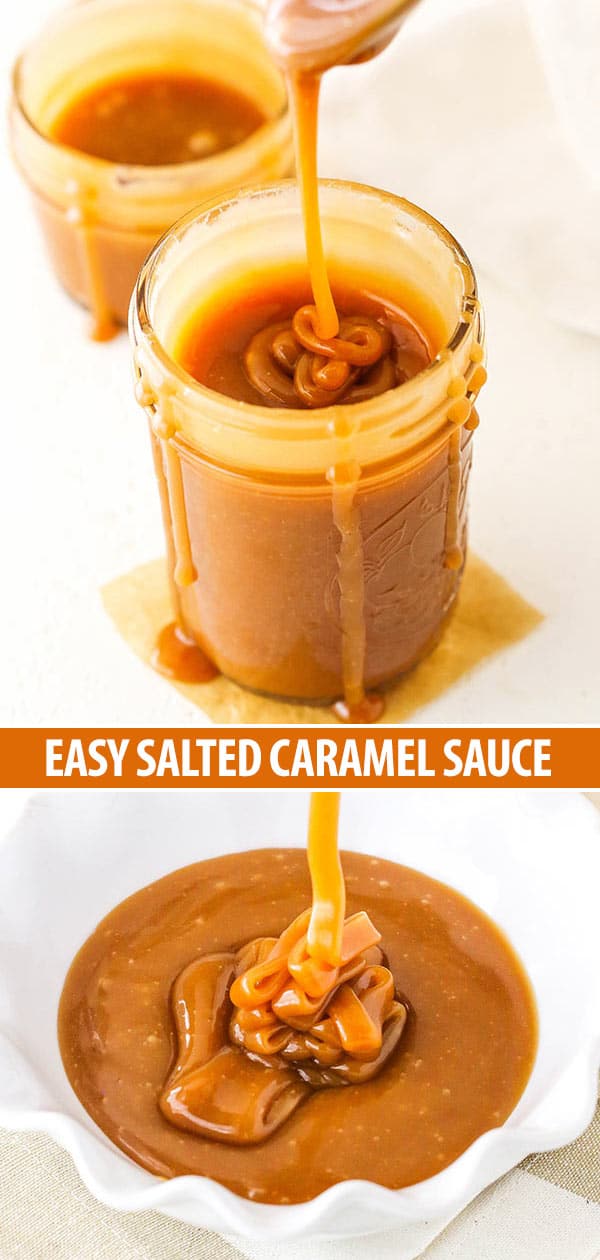 Easy Salted Caramel Sauce
Caramel is among one of my very favorite things. Whether eating it as part of a cake or straight from a spoon, it's hard to restrain myself. And there's no doubt that homemade caramel sauce is better than anything you'd buy in a store. The flavor is just…more. So good!
Being such a fan of caramel sauce, I've shared a few versions with you in the past. I have a super duper easy caramel sauce, which is really more of a toffee sauce than a true caramel, and a homemade caramel sauce that is made with the dry method. Today I'm sharing a caramel sauce that is made with the wet method. I'd say this one is kind of the compromise between the previous two. Allow me to elaborate.
The Difference Between Wet and Dry Method Caramel
As far as making the caramel sauce goes, the difference between the wet and dry method is very simple. The wet method combines water and sugar in the first step, and the dry method uses just sugar. When using just sugar, you heat the sugar and allow it to melt before proceeding with adding the butter and cream. It can be a little bit of a trickier process, sometimes leading to caramel that tastes a little burnt (if the sugar cooks for too long) and can seize up when you add the butter and sugar (if the are too cool). I've been making this caramel sauce for years and love it, but it can trip people up a little bit.
The wet method is more straight forward and – as far as caramel sauce goes – easy. Unless you walk off and don't pay attention to it, it shouldn't burn. The added water prevents the likelihood of a burning it and getting a burnt taste, and allows you to add butter and cream that are cooler without it seizing up. So that's what we're using in this caramel sauce.
Other than the difference in method, there's not a big difference in taste between the methods. Both produce a delicious caramel sauce with a nice, deep flavor that's perfect for any and all things.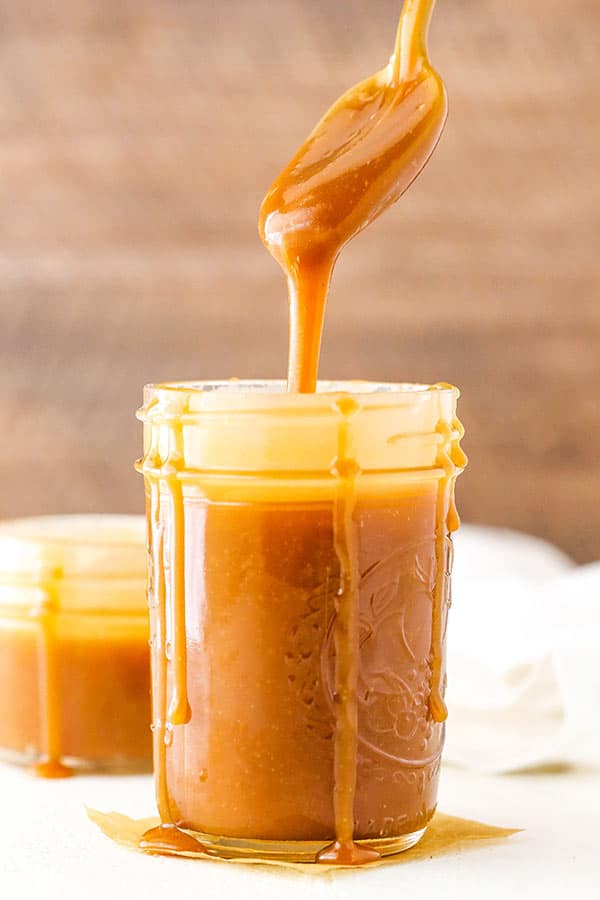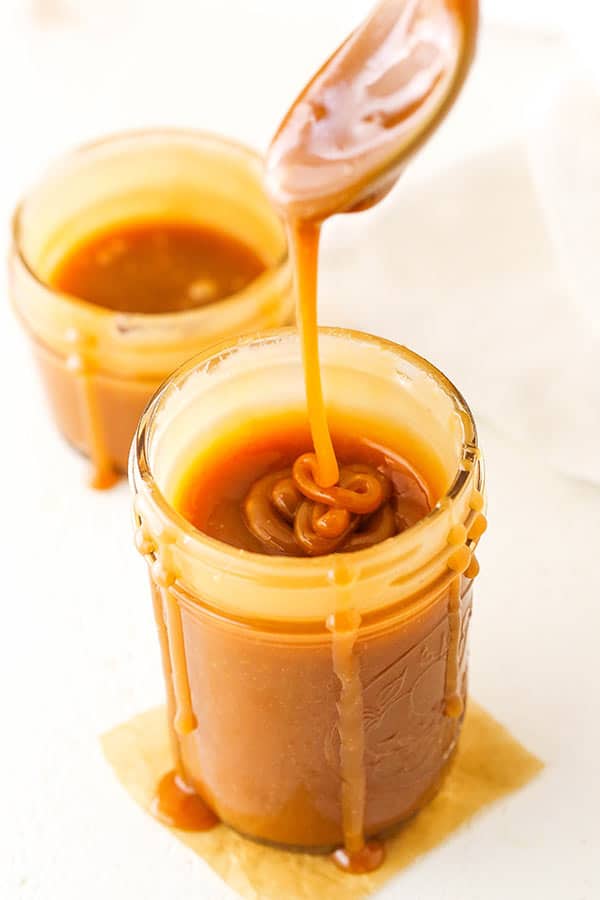 How to Make Homemade Salted Caramel Sauce
To get started, you'll need a medium to large sized saucepan. Be sure there's plenty of room, because things will bubble up quite a bit and you don't want it to overflow.
Combine the sugar and water in your saucepan and cook over medium low heat until the sugar has dissolved, stirring as needed. Add the butter and let it melt, then bring the mixture to a boil over medium heat.
At this point, stop stirring. Allow the mixture to boil and turn a golden copper color. It'll take about 10-15 minutes, depending your stove. The deeper the color, the deeper the caramel flavor. You just don't want to walk away and let it burn.
When the caramel sauce turns copper colored, remove it from the heat and immediately add the heavy whipping cream. Be careful – this is where the bubbling occurs! Whisk everything together well until comes together, then stir in the vanilla extract and some salt.
How much salt you add will largely depend on how salty you want your caramel sauce. You could add just a touch, if you don't really want it salty. Assuming you do though, I'd add about half a teaspoon of salt and then add more to your preference.
The final caramel sauce is truly delicious! And as far as caramel making goes, it's easy to make. Even better – there's no candy thermometer required. Just keep an eye on things. While I love my trusty Classic Homemade Caramel Sauce, this version is certainly is simpler for those who are less comfortable with making caramel. As you get more comfortable, do try the other too. They are both delicious and I love having two different versions in my caramel-making arsenal.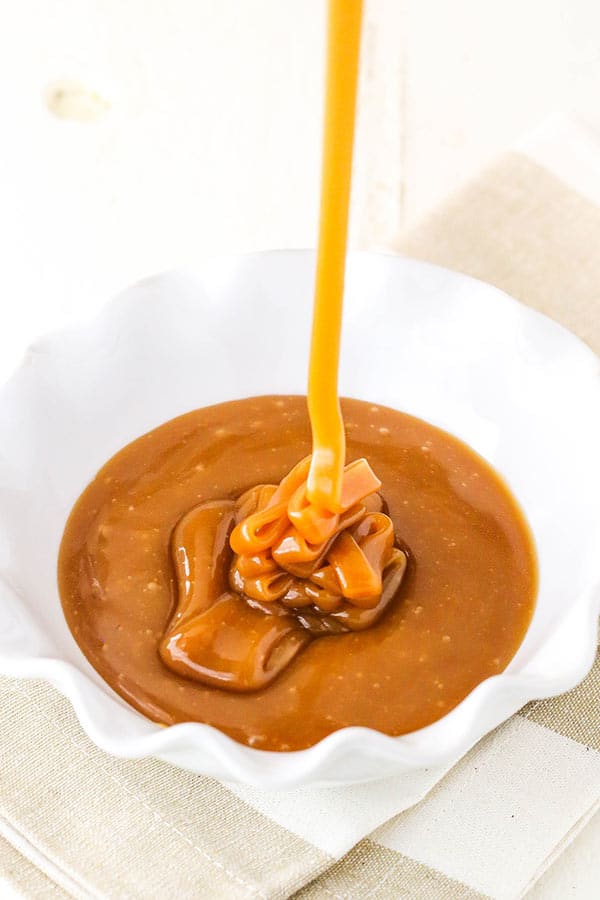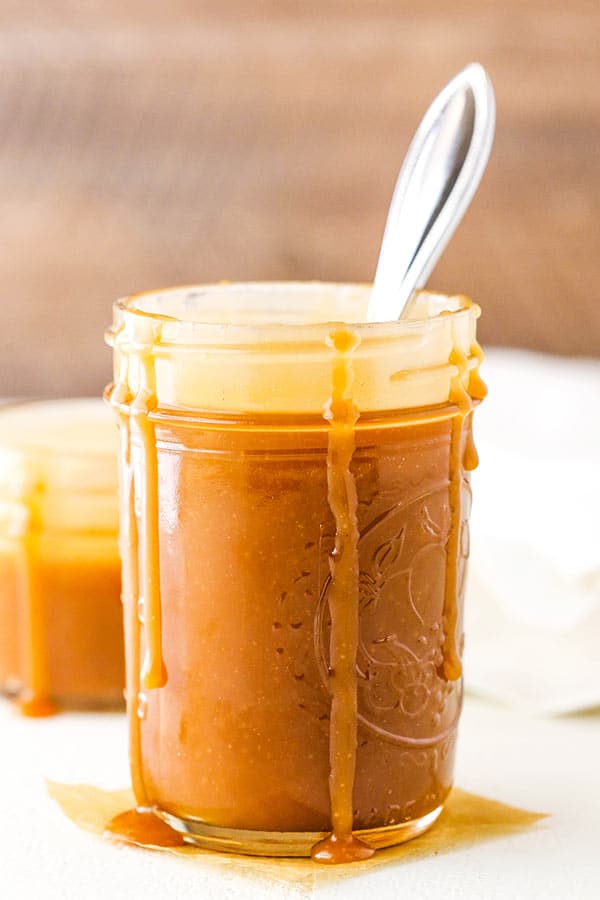 More Caramel Desserts to Love
Caramel Cheesecake Brownie Trifle
Salted Caramel Cheesecake
Easy Caramel Apple Cheesecake
Caramel Apple Pecan Layer Cake
Caramel Apple Blondie Cheesecake
Caramel Apple Cookie Cups
Salted Caramel Coconut Macaroons
Caramel Apple Trifles
Print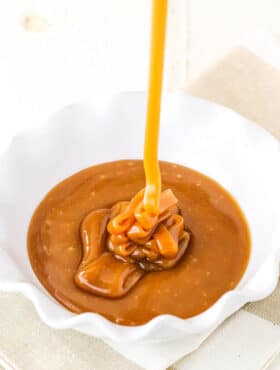 Recipe
Easy Salted Caramel Sauce
Author:

Prep Time:

5 minutes

Cook Time:

25 minutes

Total Time:

30 minutes

Yield:

about 1 1/4 cups

Category:

Dessert

Method:

Stove

Cuisine:

American
---
Description
This Easy Salted Caramel Sauce is about as simple as caramel sauce gets! It only uses 6 ingredients, and it's perfect for topping ice cream, brownies or any other dessert!
---
Ingredients
1 cup (207g) granulated sugar
1/2 cup (120ml) water
1/4 cup (56g) unsalted butter
1/2 cup (120ml) heavy whipping cream
1/2 tbsp vanilla extract
1/2 to 1 tsp salt
---
Instructions
1. In a medium to large saucier pan, combine the granulated sugar and water. Cook over medium-low heat until the sugar is completely dissolved, about 3 to 5 minutes. Add the butter and let it melt
2. Over medium heat, bring the mixture to a boil. Stop whisking and don't whisk at all during this part to help avoid crystallization. Allow to boil until the mixture turns a deep golden copper color, about 10-15 minutes, maybe longer depending on your stove. Keep an eye on it, but do not stir. If needed, you can occasionally tip the pan from side to side to help things cook evenly.
3. Remove the pan from the heat and immediately add in the heavy whipping cream in a slow, steady stream. The caramel will bubbly up quite a bit, so be careful with this step. Whisk quickly and well as you add the cream, whisking until well combined.
4. Add the vanilla extract and half a teaspoon of salt and whisk to combine. Add additional salt to your desired saltiness.
5. Allow the caramel sauce to cool. It will be fairly thin, but will thicken as it cools. Store it in the fridge for up to two weeks.
---
Nutrition
Serving Size:

- Full recipe

Calories:

1604

Sugar:

203.9 g

Sodium:

1208.4 mg

Fat:

89 g

Carbohydrates:

204.1 g

Protein:

3.9 g

Cholesterol:

256.5 mg
Keywords: easy caramel sauce, salted caramel sauce, homemade caramel sauce, how to make caramel sauce, caramel recipe for popcorn, caramel recipe for cake, salted caramel recipe
Filed Under:
Adapted from Baker by Nature.
This post may contain affiliate sales links. Please read my disclosure policy.