These White Chocolate Macadamia Nut Cookies have soft and chewy centers with lightly crisp edges! They are loaded with white chocolate chips and macadamias for the ultimate cookie!
I'm a lover of these cookies. There are few things I like in a cookie more than white chocolate. Bring it on! And when you add macadamia nuts, it's the perfect pair.
And I'm so excited to share this cookie recipe with you guys today! I've been working on sharing more and more cookies over the last several months and have been learning so much about them. I feel like most people think that cakes are harder to make than cookies, but I really do think cookies are so much more tricky.
Because of the natural fact that cookie dough is more thick than a cake batter, small differences in ingredients and how things are baked make a much bigger difference. It's kind of fascinating, frustrating and also exciting as I share today's recipe. It was tested more times than I can even count. Even when I thought I had them just right, I messed with them some more.
I can tell you that after all that testing, these cookies are just right.
I'm sure opinions on this vary, but for me they should be soft and chewy, lightly crispy on the edges and have lots of flavor! To get these important cookie qualities, let's chat about the ingredients a bit.
Butter – Obviously necessary in cookies and adds great buttery flavor to these.
Sugar – These cookies use both brown and white sugar in these. All brown sugar would be a little much, but you definitely want plenty of it to give that really classic and almost caramel-y flavor to these cookies.
Eggs – You'll find a full egg plus an egg yolk in these cookies. The extra egg yolk helps add moisture and chewiness to these cookies.
Baking soda – I'm a big fan of it in cookies. Baking powder can be appropriate sometimes, but I often find that the best and chewiest cookies use baking soda. They also stay softer and chewier for longer.
Flour – All purpose is used here and you want to be sure to measure this correctly. A food scale would be super helpful and is most accurate. Remember how I said small differences make a big difference in cookies? Flour is one of those places it makes the biggest difference.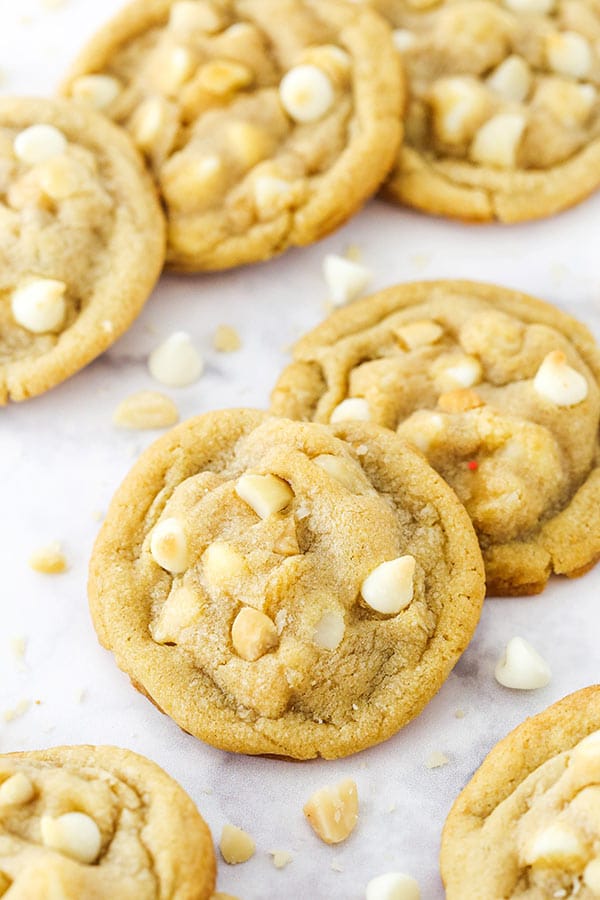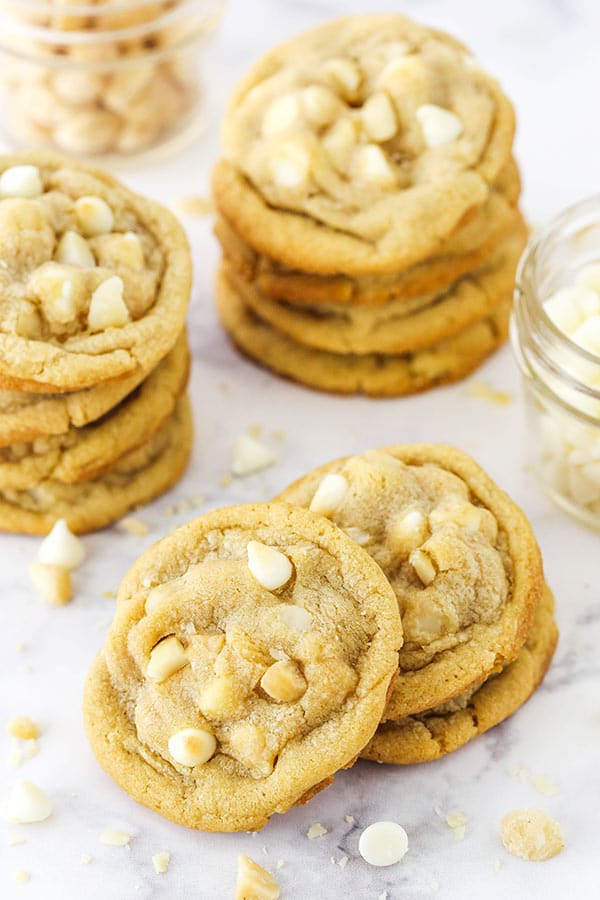 Cream your butter and sugars: First up, you'll cream your butter and sugars together until they are light in color and fluffy in texture. You should be able to really see that the change has happened. Scrape the down the sides and bottom of the bowl a few times while mixing to make sure everything is getting creamed well.
Add the eggs: Next, add the egg and egg yolk one a a time, mixing until well combined after each addition. Then add the vanilla extract.
Add your try ingredients: Add the dry ingredients and mix together just until well incorporated. You won't want to over mix.
Add some milk: Now you'll add one to two teaspoons of milk. It really just helps the dough come together at the end adds a touch more moisture to the cookies. Keep in mind that you don't want to over-do the milk. Too much can lead to cookies that over spread.
Mix in the white chocolate and macadamias: Finally, add the white chocolate chips and macadamia nuts and stir everything together. The cookie dough is quite thick, but will come together.
Chill your cookie dough: Make your cookie dough balls, then refrigerate for 2-3 hours or overnight. This step is really quite important. As the cookie dough sits, the moisture soaks in and becomes more dispersed through the dry ingredients. If you don't give this cookie dough the change to rest, your cookies will not only spread more (and not leave you with as chewy of a cookie), they'll also be more dry because the dry ingredients won't have had a chance to moisturize themselves. Not all cookies are made better by refrigeration, but these 100% are.
Bake your cookies: After refrigerating, let them sit for about an hour before popping them in the oven. Once baked, let them cool and you are finally ready to devour your cookies!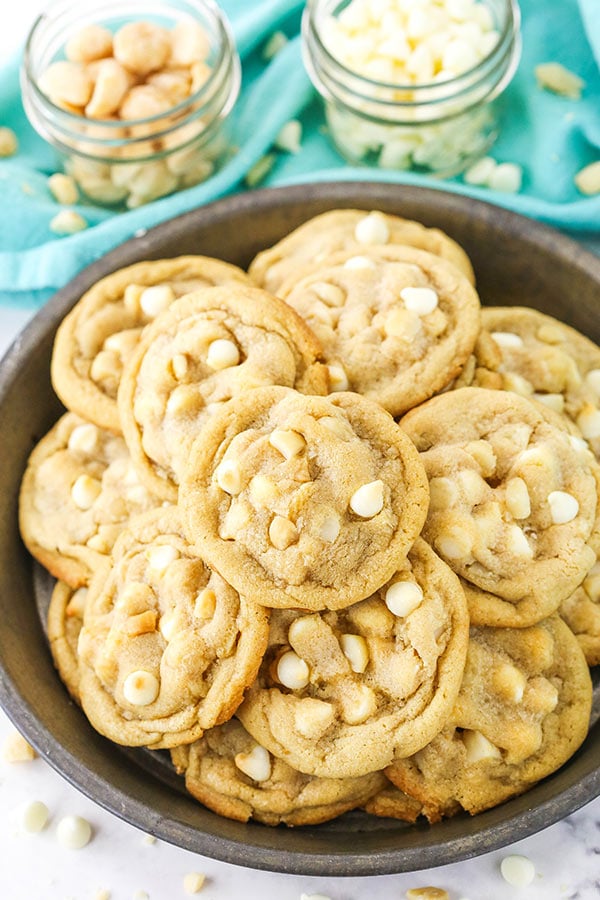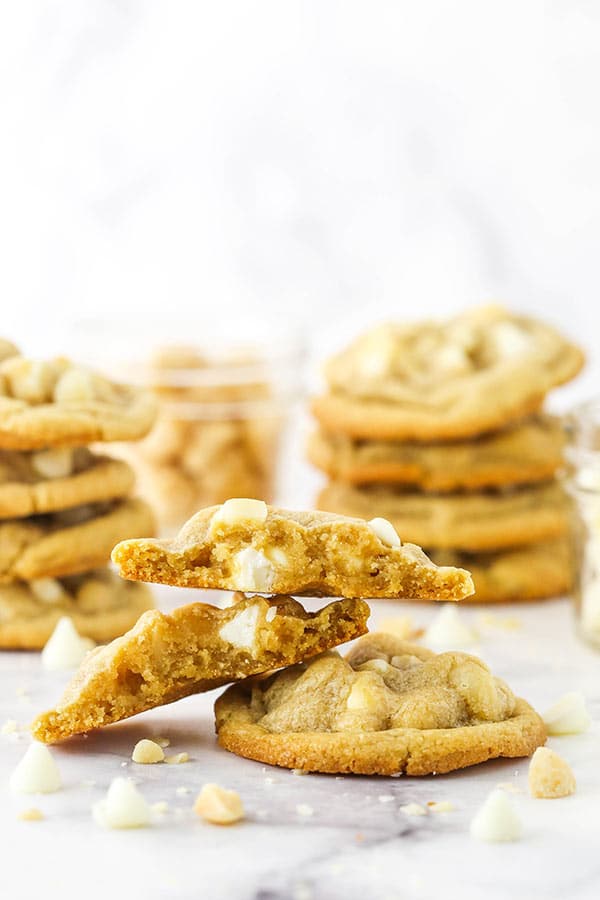 These cookies are seriously delicious! But like I mentioned before, cookies can be finicky so keep these tips to success in mind as you go.
If your cookies are spreading too much.
Cookie dough is a little too warm.
You didn't refrigerate the cookie dough. When the cookies are refrigerated, moisture is absorbed by the dry ingredients. If you skip that step, the moisture is still hanging out in there and ends up making your cookies spread more.
You added too much milk or mis-measured an ingredient. Keep in mind that even the type of sugar you use can affect moisture. If you try reducing sugars or adding more, it will affect your cookies' spread.
Your cookie dough balls might be too big – bigger balls spread more.
You added less mix-ins – the fewer white chocolate chips/nuts in a cookie, the more likely they are to spread more.
If your cookies didn't spread enough.
The number one culprit here is going to be over-measuring the flour. A food scale is always most accurate.
Cookie dough could be a little too cool.
Mix ins – if one particular cookie has a lot of mix ins, they may stay in a mound in the center of the cookie so it ends up not spreading as well. I know – a pain.
Did you reduce the sugar at all or mis-measure it? That makes a difference. Sugar adds moisture, which adds to the cookies' spread.
Did you make smaller cookie balls? They will likely spread less. Try flattening them out a bit prior to baking.
More Great Cookie Recipes:
Chewy Brown Sugar Cookies
Best Soft and Chewy Sugar Cookies
Cherry Chocolate Chip Oatmeal Cookies
Classic Chewy Snickerdoodle Cookies
Butter Pecan Cookies
Cutout Sugar Cookies Recipe
The Best Gingerbread Cookies
Read transcript
Print
Recipe
Author:

Prep Time:

3 hours 35 minutes

Cook Time:

27 minutes

Total Time:

4 hours 2 minutes

Yield:

28-30 cookies

Category:

Dessert

Method:

Oven

Cuisine:

American
---
Description
These White Chocolate Macadamia Nut Cookies have soft and chewy centers with lightly crisp edges! They use an extra egg yolk for chewiness and are loaded with white chocolate chips and macadamia nuts for the ultimate cookie!
---
Ingredients
2 1/2 cups

(

325g

) all-purpose flour

1 tsp

baking soda

1/2 tsp

salt

3/4 cup

(

168g

) unsalted butter, room temperature

1 cup

(

225g

) light brown sugar

1/2 cup

(

104g

) granulated sugar

1

large egg

1

large egg yolk

2 tsp

vanilla extract

1 1/4 cup

(

211g

) white chocolate chips

1 cup

(

120g

) roasted salted macadamia nuts, chopped

1

–

2

tsp of milk
---
Instructions
1. Combine the flour, baking soda and salt in a medium sized bowl and set aside.
2. Cream the butter and sugars together in a large mixer bowl on medium speed until light in color and fluffy. Scrape down the sides of the bowl while it's mixing a few times, as needed. You should be able to see the change in color and texture happen and know it's ready.
3. Add the egg and egg yolk one at a time and mix until well combined after each addition.
4. Add the vanilla extract and mix until well combined.
5. Add the dry ingredients and mix until the dough is just combined. Do not over mix.
6. Add a teaspoon of milk and combine on low speed just until incorporated. Use a rubber spatula to finish combing the dough and help it come together. Add an additional teaspoon of milk only if really needed to help the dough come together. You don't want to add too much liquid and end up with cookies that spread too much.
7. Stir in the white chocolate chips and macadamia nuts.
8. Create 2 tablespoon sized balls of cookie dough until all the cookie dough has been used.
9. Refrigerate the cookie dough for at least 2-3 hours or overnight. After refrigerating them, let them sit at room temperature for about an hour before baking to come closer to room temperature.
10. Preheat oven to 350°F (180°C). Line baking sheets with parchment paper or silicone baking mats.
11. Bake cookies for 8-9 minutes. Remove just as the edges begin to turn golden. Don't over bake. The cookies will be a little puffy when you take them out of the oven but will fall a bit as they cool. For tips and troubleshooting help, check out the post above or see the video.
12. Remove cookies from the oven and allow to cool on baking sheets for 4-5 minutes before transferring to a wire rack to cool completely. If the cookies have spread a little more than you like, you can use a spoon to gently push the sides in a bit.
Nutrition
Serving Size:

1 cookie

Calories:

195

Sugar:

14.9 g

Sodium:

95.1 mg

Fat:

10.7 g

Carbohydrates:

23.4 g

Protein:

2.3 g

Cholesterol:

26.1 mg
Keywords: white chocolate macadamia nut cookies, macadamia nut cookies, white macadamia nut cookies, macadamia cookies
Filed Under:
This post may contain affiliate sales links. Please read my disclosure policy.