This Chocolate Mousse Cake is a classic! With three layers of moist chocolate cake and two layers of smooth and creamy chocolate mousse, all covered in chocolate whipped cream!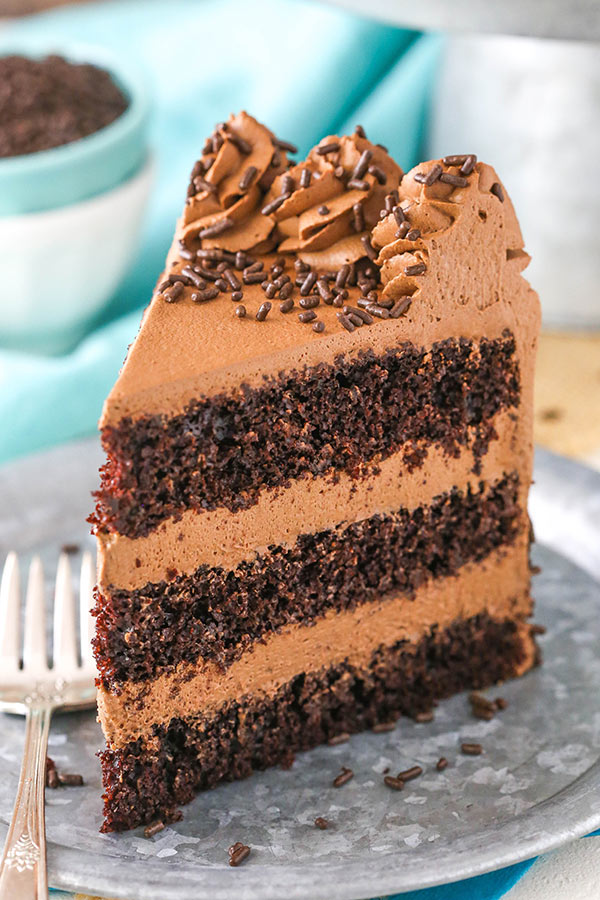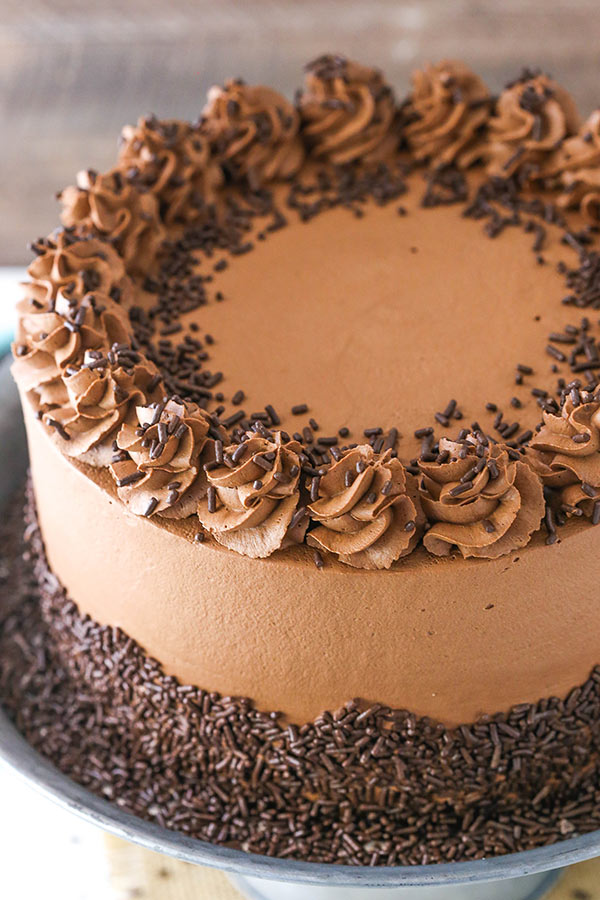 So today we are celebrating a Virtual Baby Shower for Jocelyn, of Grandbaby Cakes. You may have seen similar posts before for other friends, but basically a virtual baby shower is a way for us bloggers to virtually celebrate from afar.
I'm particularly excited to celebrate my friend Jocelyn today. I met Jocelyn for the first time several years ago and not long after that we realized we had something in common (besides the obvious blog thing and love of dessert) – a struggle with fertility. For both of us, moving forward with treatment was something we waited on and when we both realized we had decided to move forward with IVF earlier this year, it was so exciting to be able to go through it together (read her story here).
If you know Jocelyn, then you know her personality is one that will take over a room. She is SUPER positive and that didn't change one bit while going through IVF. She believed every second of the process that it would work – for both of us. She was a huge encourager for me in the process and I loved that we were able to support each other through it. Plus, since she was several weeks ahead of me in the process, I was able to ask her questions about what was coming and we celebrated all the milestones together.
I could not be more excited to celebrate her and her sweet little girl coming this January! This is one baby that it going to be loved like crazy and I can't wait to see Jocelyn be her mom!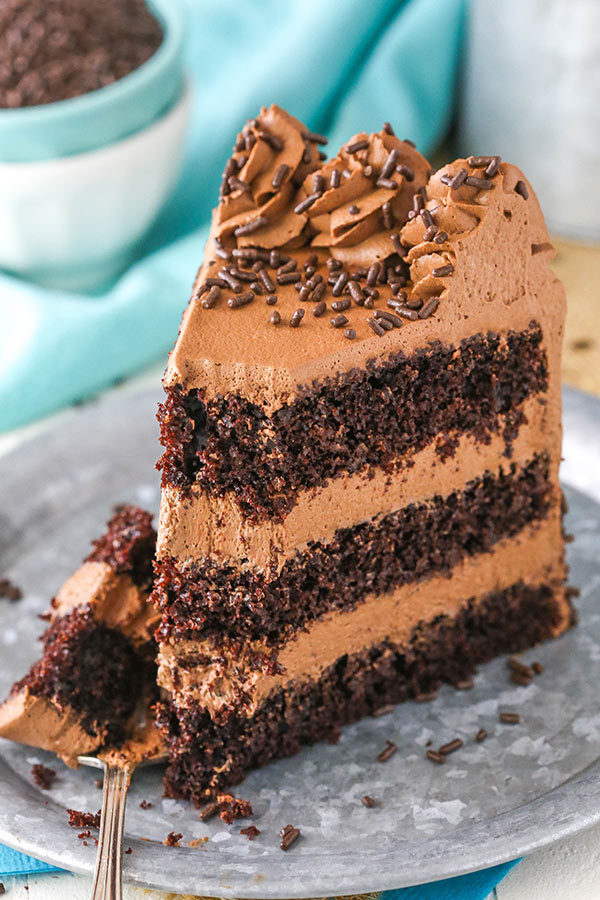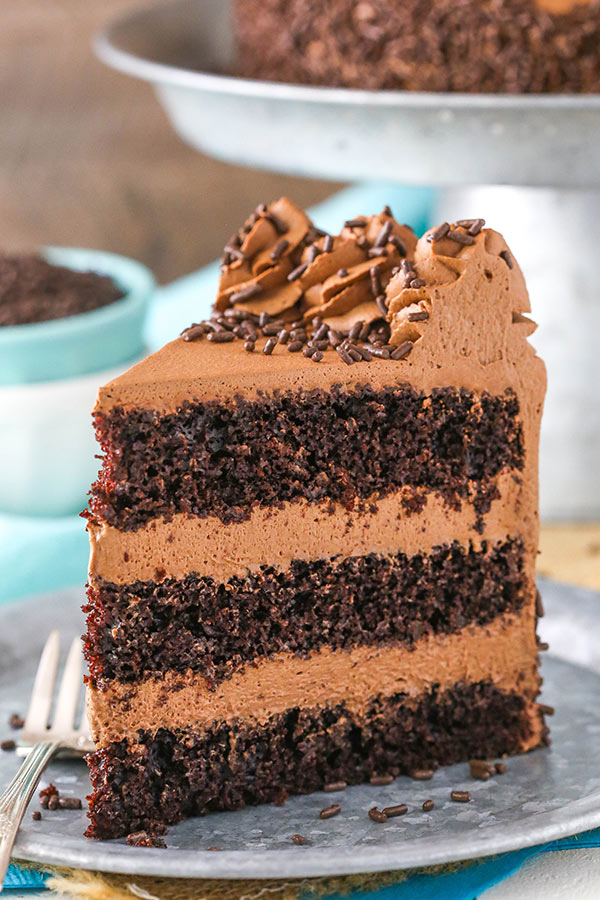 So let's talk a little bit about this cake, shall we? The cake layers themselves are wonderfully moist and delicious! Not to mention it's one of the easiest cakes to put together and get into the oven. I'm a big fan!
Once the cakes are baked and cooled, it's time for the chocolate mousse. I wanted this to be a true chocolate mousse cake, so I went with a traditional cooked chocolate mousse. Smooth, silky and delicious!
To start, you'll combine the egg yolks, sugar and heavy whipping cream in the top of a double boiler (or in a metal bowl over a pot of boil water, which is what I do). The main goal here is to slowly and gently cook the eggs without scrambling them. You want them to reach 160°F so they are safe to eat. I like to use an instant read thermometer to test the temperature of the mixture, but you could also try eyeballing it and looking for things to thicken and grow in volume. Once the egg mixture is ready, it's combined with the melted chocolate chips, cooled to room temperature, then gently combined with whipped cream.
To build the cake, you'll want to use something that will allow you to layer the cakes and mousse without it all falling apart before the mousse can firm up. I like to use a clear cake collar. It's super simple to wrap around the bottom layer of the cake, tape in place and then layer everything. Once the cake and mousse have been refrigerated, you just peel the collar back and everything is nice and even.
If you aren't into using cake collars, you can use an 8 inch pan and a mock collar. I would suggest an 8×3 inch pan, so that the tall sides help add stability while you build the cake. A springform one would be even better. You'll then create a mock collar within the pan using parchment paper. It ultimately creates the same effect as using a clear cake collar, it's just a little more work to put it together.
One the cake is all layered in your method of choice, refrigerate it until the mousse is nice and firm. Remove the cake from it's collar and then frost with a light chocolate whipped cream! It perfectly compliments the moist chocolate cake and silky smooth mousse by not being too sweet or heavy. The final combination is a heavenly classic chocolate mousse cake that is to die for!
So help us all celebrate Jocelyn today and be sure to check out the recipes from the other bloggers sharing today, found below!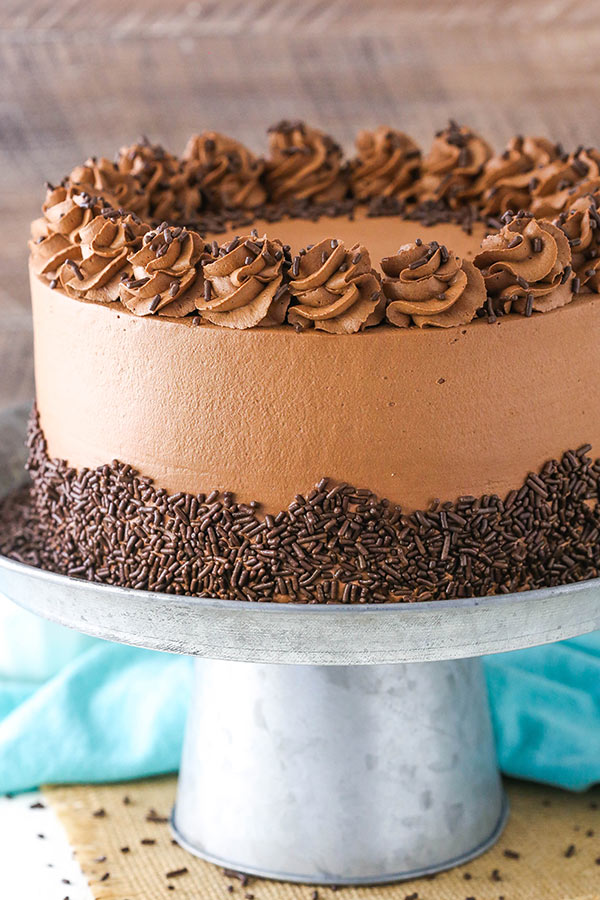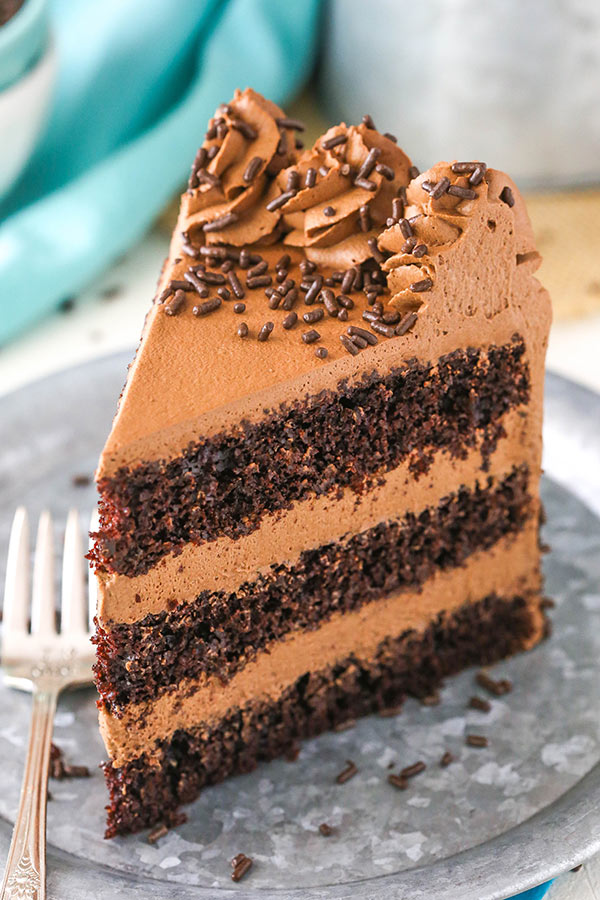 Mini Pumpkin Cheesecakes from Show Me The Yummy
Twix Cupcakes from Crazy for Crust
Chocolate Hot Fudge Mini Layer Cakes from Averie Cookies
Mini Pink Velvet Cake with Raspberry Cream Cheese from Especially Southern Dishes
Butternut Squash Cake with Coconut Frosting from Taste of Yummy
Toffee Caramel Cupcakes from Beyond Frosting
Chocolate Peanut Butter Brownie Cupcakes from Wine & Glue
Mini Amaretto Cherry Cheesecakes from Lemon Tree Dwelling
Candied Pecan and Caramel Mini Cakes from Brown Sugar Food Blog
Read transcript
Print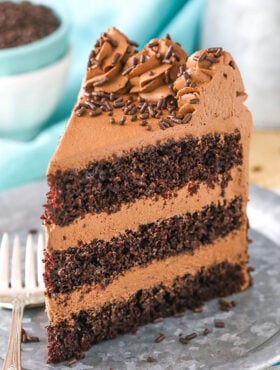 Recipe
Chocolate Mousse Cake
Author:

Prep Time:

5-6 hours (including chill time)

Cook Time:

25 minutes

Total Time:

5-6 hours 25 minutes

Yield:

12-14 Slices

Category:

Cake

Method:

Oven

Cuisine:

American
---
Description
Chocolate Mousse Cake with three layers of moist chocolate cake and two layers of smooth & creamy chocolate mousse – all covered in chocolate whipped cream!
---
Ingredients
Chocolate cake
1 3/4 cups

(

228g

) all purpose flour

2 cups

(

414g

) sugar

3/4 cup

(

85g

) natural unsweetened cocoa powder

2 1/4 tsp

baking soda

1/2 tsp

baking powder

1 tsp

salt

1 cup

(240ml) milk

1/2 cup

(120ml) vegetable oil

1 1/2 tsp

vanilla extract

2

large eggs

1 cup

(240ml) hot water
Chocolate mousse
4

large egg yolks

1/4 cup

(

52g

) sugar

1 3/4 cup

(420ml) heavy whipping cream, divided

1 1/4 cups

(

227g

) semi sweet chocolate chips

3/4 cup

(

86g

) powdered sugar
Chocolate whipped cream frosting
2 1/2 cups

(600ml) heavy whipping cream, cold

3/4 cup

(

68g

) powdered sugar

1/2 cup

(

57g

) natural unsweetened cocoa

1 tsp

vanilla extract
Chocolate Sprinkles
---
Instructions
Make the cake and chocolate mousse
Preheat oven to 350°F (176°C) and prepare three 8 inch cake pans with non-stick baking spray and parchment paper in the bottom.
Add the flour, sugar, cocoa, baking soda, baking powder and salt to a large mixer bowl and combine. Set aside.
Add the milk, vegetable oil, vanilla extract and eggs to a medium sized bowl and combine.
Add the wet ingredients to the dry ingredients and beat until well combined. Slowly add the hot water to the batter and mix on low speed until well combined. Scrape down the sides of the bowl as needed to make sure everything is well combined.
Divide the batter evenly between the prepared cake pans and bake for 22-25 minutes, or until a toothpick comes out with a few moist crumbs.
Remove cakes from oven and allow to cool for 2-3 minutes, then remove to a cooling rack to finish cooling.
When the cakes have cooled, make the chocolate mousse. Combine the egg yolks, sugar and 1/2 cup (120ml) of heavy whipping cream in the top of a double boiler (or in a metal mixing bowl set over a pot of simmering water). Do not let the water boil, or it'll get too hot. Occasionally lift the bowl to release steam. Cook the egg mixture, whisking constantly. It'll be ready when it has thickened, lightened a bit in color and has more volume. It should take about 7-10 minutes and reach 160°F (71°C). When done, remove it from the heat and set aside.
Place the chocolate chips in a medium bowl and microwave in intervals of 10-15 seconds, stirring well between each, until melted and smooth. You could also use the double boiler again.
Add the chocolate to the egg mixture and whisk until smooth. Set the mixture aside to cool to room temperature.
In a mixer bowl, whip the remaining 1 1/4 cups (300ml) of heavy whipping cream and powdered sugar until stiff peaks form.
Fold about 1/4 of the whipped cream into the chocolate mixture until combined, then fold about 1/4 of the chocolate mixture into the whipped cream. Slowly fold the remaining chocolate mixture into the whipped cream.
Build the cake
Level the tops of the chocolate cakes by using a large serrated knife.
The cake can be built in an 8×3 inch cake pan (springform would be ideal) or with a clear cake collar. If you are using a cake pan to build the cake, put a cardboard cake circle in the bottom of the pan. If not using a springform pan, you can put some plastic wrap in the bottom of the pan and up the sides and use it to lift the cake out of the pan when it's done. Line the sides of the cake pan with parchment paper. The parchment paper should stick up above the top edge of the pan, since the cake will probably be a little taller than your pan. Add the first layer of cake into the bottom of the cake pan. If you are using a cake collar, place the bottom cake on a cardboard cake circle or a serving plate and wrap the cake collar around it and secure in place.
Add about half of the chocolate mousse and spread into an even layer.
Add the second layer of cake on top of the mousse, then add the remaining mousse and spread into an even layer.
Top the cake with the final cake layer. Refrigerate the cake until the mousse is firm, 4-5 hours.
Finish it off
Make the whipped cream by adding all the ingredients to a large mixer bowl and whipping on high speed until stiff peaks form.
Remove the cake from the fridge and either remove it from the pan by removing the springform pan sides, lifting the cake out of the pan with the plastic wrap, or removing the cake collar.
Frost the outside of the cake with the chocolate whipped cream and pipe swirls around the outer top edge of the cake.
Finish off the cake with some chocolate sprinkles, then refrigerate until ready to serve. Cake is best when well-covered in the fridge for 3-4 days.
Nutrition
Serving Size:

1 Slice

Calories:

683

Sugar:

55.2 g

Sodium:

410.3 mg

Fat:

42.8 g

Carbohydrates:

73.1 g

Protein:

9.8 g

Cholesterol:

163.6 mg
Keywords: chocolate mousse cake, chocolate mousse layer cake, chocolate mousse cake filling
Filed Under:
Enjoy!
This post contains affiliate links.
This post may contain affiliate sales links. Please read my disclosure policy.