Chocolate cake recipes are timeless, classic and you can never have enough! Whether you're looking for a chocolate layer cake, bundt cake, or fudge cake, I have the perfect chocolate cake recipe for you.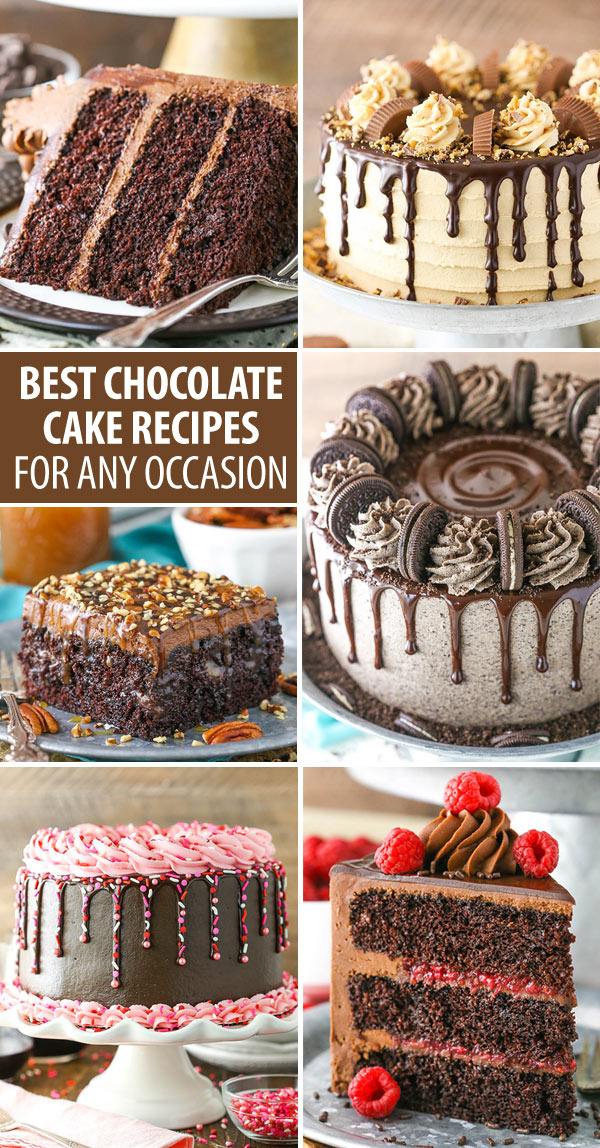 When it comes to chocolate cake, not all are created equal. Chocolate is one of the most important basic recipes you can have and it simply must be moist and it's even better if the batter is easy to put together. And of course, homemade is the way to go! Box mixes are great in a pinch, but if you truly want the best, a good homemade cake is where it's at.
Whether this will be your first time baking cake from scratch, or you've been baking them for years, allow us to answer a couple of commonly asked questions.
How do you make chocolate cake moist?
There are always several possible culprits and it can depend on the recipe, but here are my best tips:
Be sure to measure your ingredients accurately. If the recipe gives them, weight measurements are always more accurate than volume. Definitely invest in a food scale for this purpose, if you make cakes regularly. Over measuring something like flour can definitely dry out a cake.
When it comes to chocolate cake in particular, I tend to love a good oil-based cake. It adds moisture like no other.
Be careful not to over mix the ingredients. Flour contains gluten, which gives structure to baked goods like bread. The more the gluten is stretched (through mixing), the drier and tougher the end product will be.
What ingredients do I need to make chocolate cake?
The staple ingredients for a basic chocolate cake usually include:
Flour – most often, it is all-purpose or cake flour
Sugar – most often regular granulated sugar in chocolate cakes
Salt – don't underestimate the power of salt; It enhances the cake's flavor and should never be left out.
Fat – depending on the chocolate cake you are making, the fat is usually either butter or oil.
Eggs
A leavening agent (baking soda or powder)
Milk or other liquid
CHOCOLATE – Most often you'll use cocoa powder, but sometimes melted chocolate is called for.
Now that you know what is needed to bake a perfectly moist chocolate cake, all that's left is to choose one of these homemade chocolate cake recipes!

Chocolate Cake Recipes

German Chocolate Cake is one of the classic chocolate cake recipes! Moist chocolate cake paired with coconut pecan filling and chocolate frosting is just delicious together!

A super moist chocolate cake flavored with Chambord liqueur and soaked with Chambord chocolate ganache! It's topped with a fresh raspberry whipped cream.

Moist chocolate cake, chocolate truffle filling and chocolate frosting that are all infused with chocolate liqueur for a delicious "drunken" cake!

Super moist chocolate cake layered with smooth chocolate ganache and raspberry filling, all covered in a fudgy chocolate frosting!

This Chocolate Mousse Cake is a classic! Three layers of moist chocolate cake and two layers of smooth and creamy chocolate mousse, all covered in chocolate whipped cream.

If there is a chocolate and peanut butter lover in your life, this is one of the best chocolate cake recipes to make for them, ASAP.

This chocolate pavlova cake is made with chocolate meringue, whipped cream, and fresh strawberries. This is the fanciest chocolate cake recipe ever!

This chocolate cake recipe is to die for! A moist chocolate cake full of Oreo icing! And not just any Oreo icing – it is FULL of crushed up Oreos. An Oreo lover's dream.

Moist Baileys chocolate cake soaked in more chocolate and Baileys Irish Cream! It's topped with fresh Baileys whipped cream for a treat that you won't want to stop eating!

This chocolate cake recipe features super moist chocolate cake filled with caramel icing, pecans, and chocolate ganache.

This Nutella Chocolate Cake is a delicious combination of incredibly moist chocolate cake with sweet, delicious Nutella icing, all covered in chocolate ganache. Delish!

The layers on this decadent fudge cake are so beautiful and perfect, it's almost frame-worthy!

This Red Wine Chocolate Cake might be one of my favorite chocolate cake recipes ever made. It's incredibly moist!

This layer cake is such a fun flavor combination! I mean, how can you go wrong with a super moist mint chocolate cake? You really can't.

This chocolate cake recipe combines two of my favorite things, Baileys and chocolate, into one amazingly moist layer cake!

This Oreo Chocolate Poke Cake is moist, homemade chocolate cake soaked in chocolate ganache that's topped with chocolate Oreo whipped cream and loads of crushed Oreos!

This poke cake is so darn good, it's not even fair. The chocolate cake is soaked with a caramel and milk mixture, then topped with peanut butter whipped cream.

One of the most decadent, moist and delicious chocolate cake recipes EVER!  It's paired with a silky ganache glaze with a hint of peppermint flavor!

An incredibly moist Kahlua chocolate cake made from scratch that is soaked in more chocolate and Kahlua! It's topped with fresh Kahlua whipped cream and is truly an indulgent treat!

Made completely from scratch, this moist chocolate cake is soaked with caramel sauce, and topped with more chocolate, caramel, and pecans!
This post may contain affiliate sales links. Please read my disclosure policy.