February 4, 2015
Chocolate Oreo Cake
This Chocolate Oreo Cake is to die for! A moist chocolate cake full of Oreo icing! And not just any Oreo icing – it is FULL of crushed up Oreos. An Oreo lover's dream.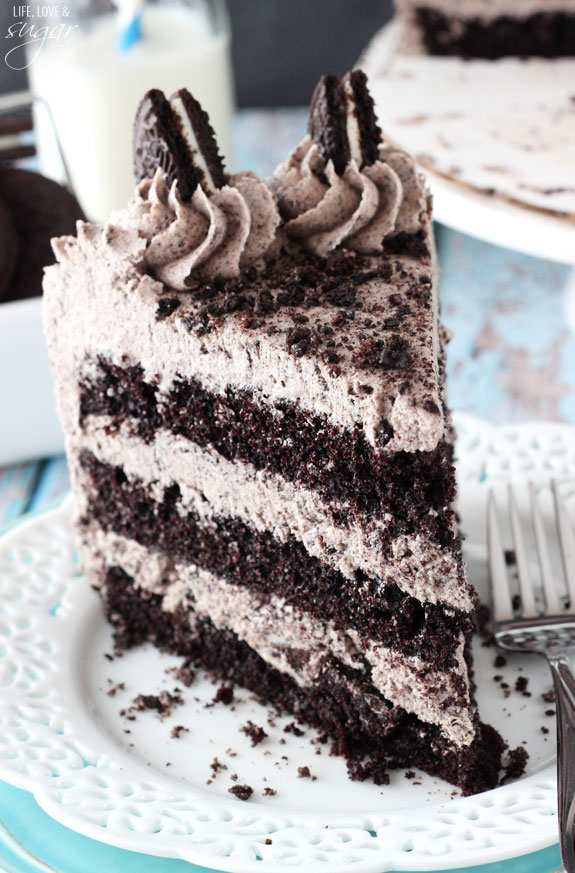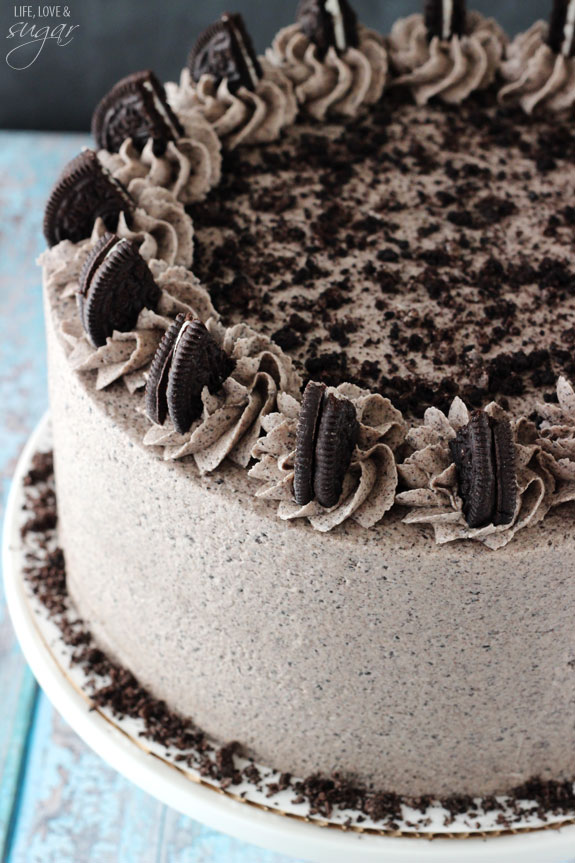 So you might remember that last year I mentioned that the hubs and I were going to South Africa, both to visit his family and for me to see the country. Well, we were supposed to go over Thanksgiving and into December, but ended up having to postpone the trip because of a delay with getting the hubs' citizenship.
It has taken a LOT longer than we expected based on some other people's experiences, but finally the hubs has the final interview and test on Monday! We can't wait for him to be done with it. Hopefully the finally "ceremony" where he'll actually receive the citizenship won't take too long – but of course we aren't holding our breath.
You can be sure that once we have the citizenship, we'll be applying for his passport and re-booking the trip.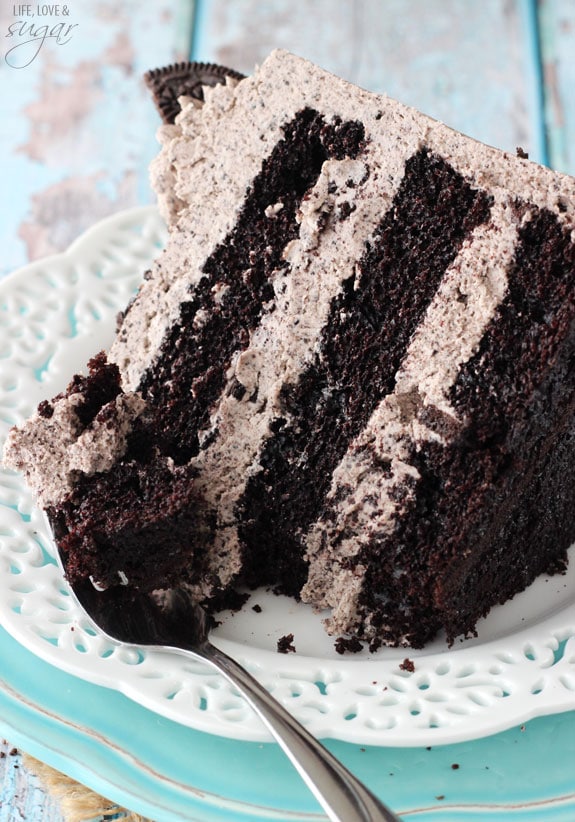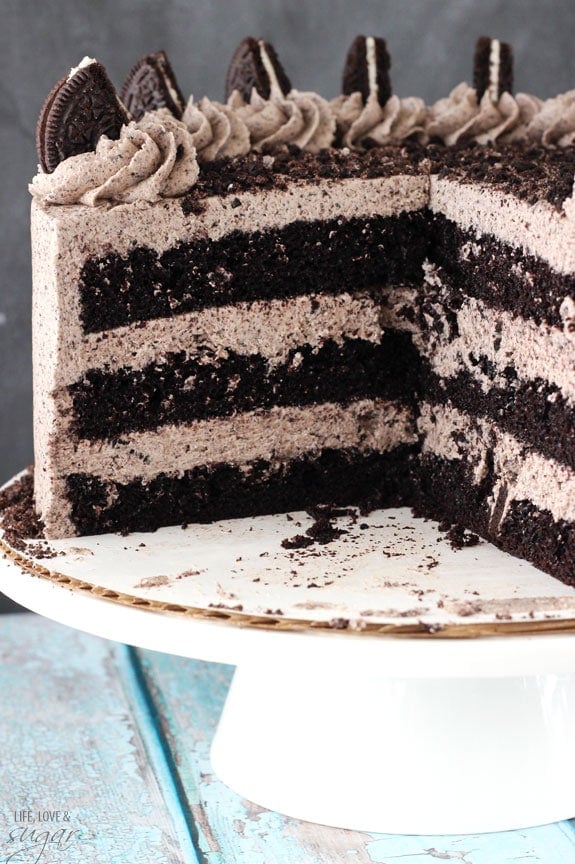 But for now, he's been studying for the test. He's pretty much grown up in the U.S., so it's not like it's stuff he hadn't learned before, but it's amazing how much of it you forget.
It came up during the Super Bowl on Sunday night. We had our small group over to watch the game and they were curious about what kind of questions were in the study guide they gave the hubs.
He went and got it and started reading out the questions. Other than the two teachers in the group, most of us had a tough time answering correctly. We had a vague idea of most answers, but probably still would've gotten them wrong. Good thing we don't have to take the test!
But I've been quizzing him the last few nights, so now we are both ready for the test!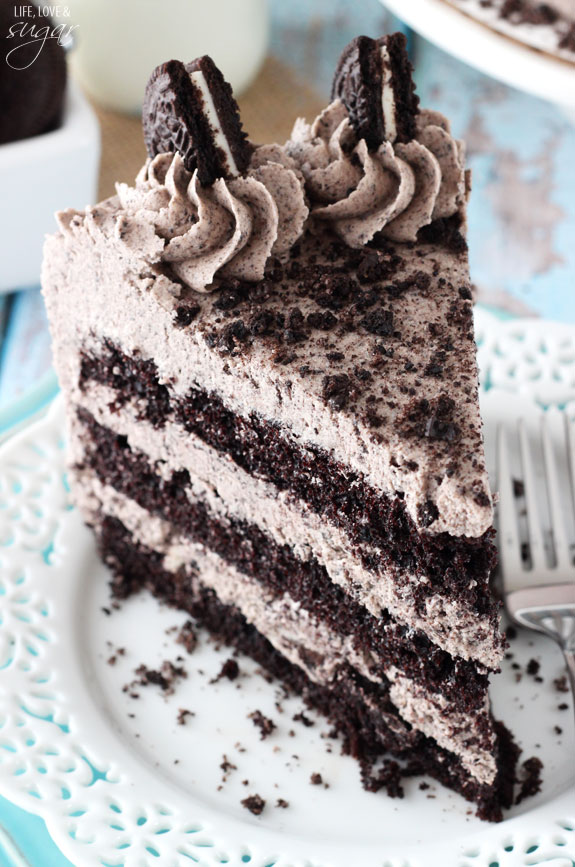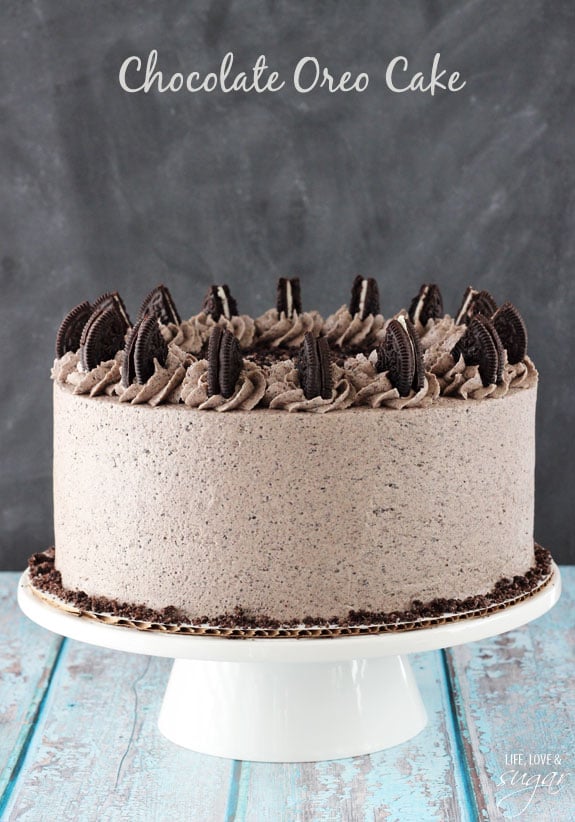 Once it's all done, it'll be time for a celebration. And celebrations call for cake. This Chocolate Oreo Cake is a fabulous celebration cake.
Oreos have been one of my favorite cookies for probably forever. I absolutely love them. The filling is the best part. I don't even bother eating a regular Oreo. Only double stuf here. I've seen the new mega stuf ones, but haven't tried them. I have been tempted so many times, but now that I bake so much I just can't. If I'm going to allow myself to taste the things I make, I cannot be downing an entire box of Oreos too.
So I decided to just add them to my cake. Problem solved. 🙂
You guys. There is literally an entire package of Oreos in this cake. DO NOT look at the nutrition facts. Just don't. Trust me. This cake is for celebrations and celebrations do not include nutrition facts.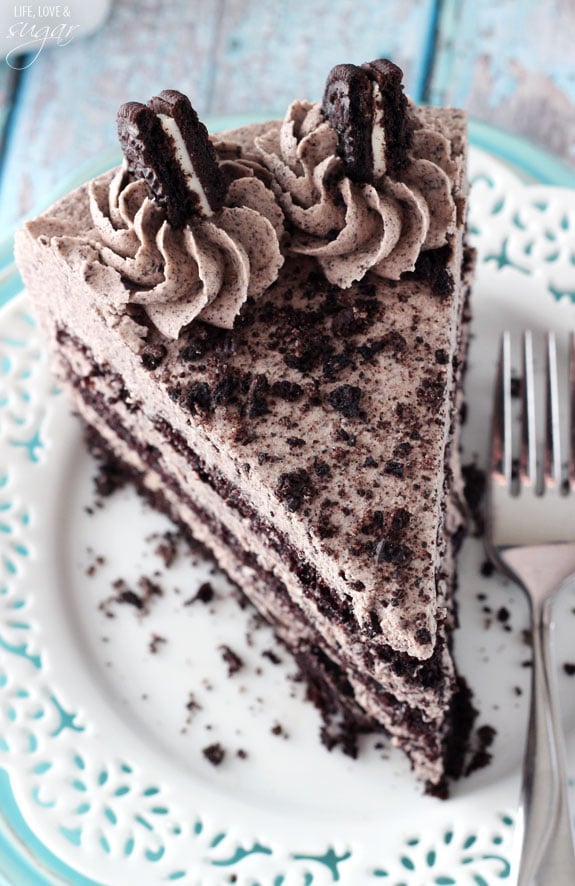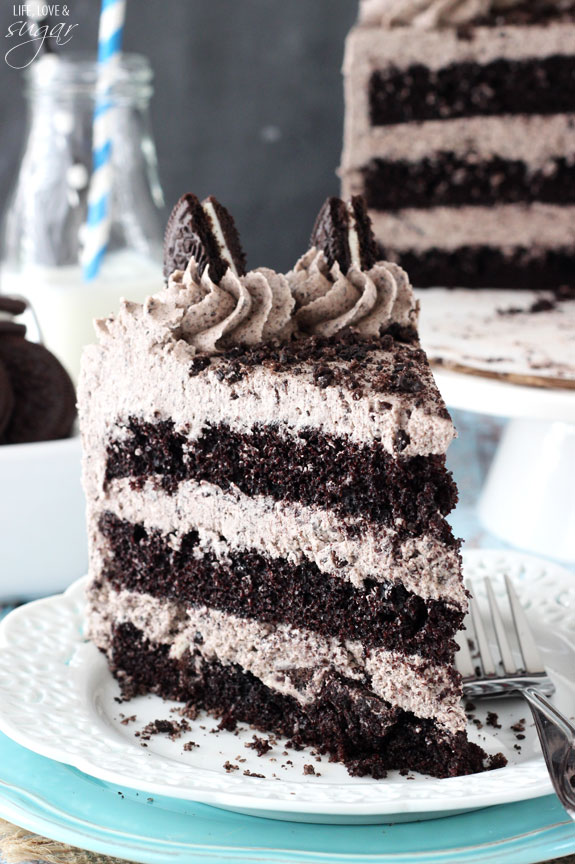 MY OTHER RECIPES
The cake layers are made with the most moist cake you'll ever have. Try it once and you'll never make another chocolate cake. It's amazing. Plus, there's no fancy mixing method – everything is all mixed together right in the bowl.
The Oreos come in with the icing. I've said it many times – I like strong flavors. So when I say I'm making an Oreo cake, there's no holding back. There are 3 cups of Oreo crumbs in the icing. Overkill? Never. Just Oreo perfection.
And to make sure there's plenty of Oreo in every bite, I made sure to have 3 layers of cake instead of two. That way there's two full layers of icing in the middle along with the icing on top. Mmmmmm.
And if that wasn't enough, I added more on top. If there's one thing I know, it's that you can't accuse me of under indulging. You're welcome. 🙂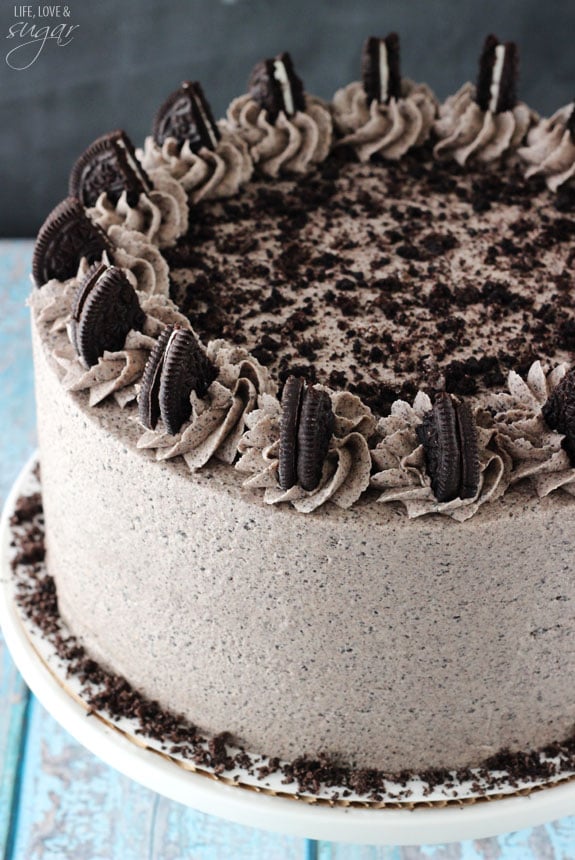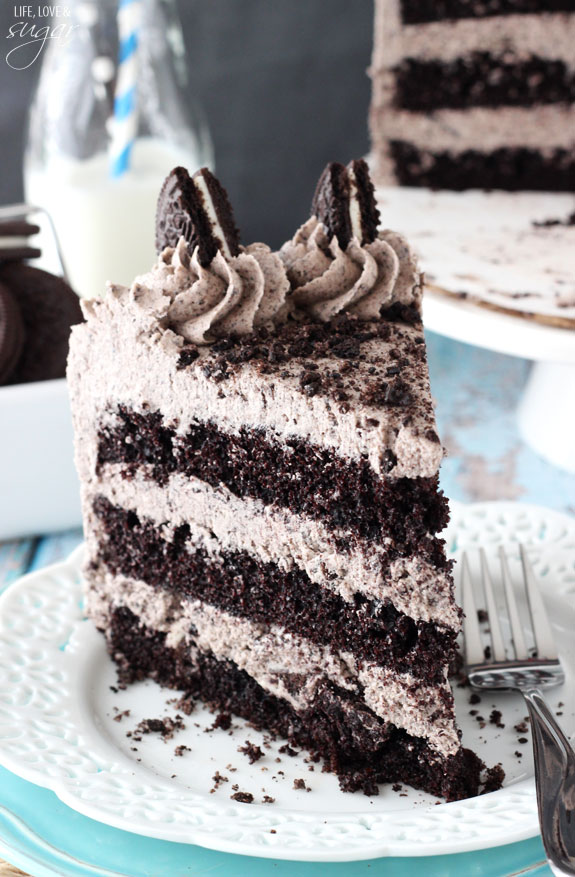 Chocolate Oreo Cake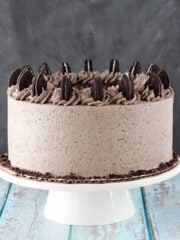 This Chocolate Oreo Cake is to die for! A moist chocolate cake full of Oreo icing! And not just any Oreo icing – it is FULL of crushed up Oreos. An Oreo lover's dream.
Author:
Prep Time:

30 minutes

Cook Time:

28 minutes

Total Time:

58 minutes

Yield:

14-16 Slices

Category:

Dessert

Method:

Oven

Cuisine:

American
Ingredients
CHOCOLATE CAKE
2 cups (260g) flour
2 cups (414g) sugar
3/4 cup (85g) Hershey's Special Dark Cocoa powder
2 tsp baking soda
1 tsp salt
2 large eggs
1 cup (240ml) buttermilk
1 cup (240ml) vegetable oil
1 1/2 tsp vanilla
1 cup (240ml) boiling water
OREO ICING
1 1/2 cups (336g) butter
1 1/2 cups (284g) shortening
8-9 cups (920g-1035g) powdered sugar
3 cups Oreo crumbs (about 30 Oreos)
1 tsp vanilla extract
6-7 tbsp (90ml-105ml) water
5 Oreos, chopped, optional
NOTE: You'll need at least one full package of Oreos. If you plan to decorate the outside of the cake with more Oreos and crumbs, as shown, you might need a second package.
Instructions
1. Prepare three 9 inch cake pans with parchment paper circles in the bottom, and grease the sides.
2. Add all dry ingredients to a large bowl and whisk together.
3. Add eggs, buttermilk and vegetable oil to the dry ingredients and mix well.
4. Add vanilla to boiling water and add to mixture. Mix well.
5. Pour into three 9 inch cakes pans and bake at 300 degrees for about 25-28 minutes, or until a toothpick comes out with a few crumbs.
6. Remove cakes from oven and allow to cool for about 10 minutes, then remove to cooling racks to cool completely.
7. Make icing while cakes cool. Beat together butter and shortening until smooth.
8. Slowly add 4 cups of powdered sugar and mix until smooth.
9. Add vanilla and Oreo crumbs and mix until smooth.
10. Add another 4-5 cups of powdered sugar and mix until smooth. Add water or milk until you get a smooth consistency.
11. Set aside about 3 1/2 cups of icing for the filling inside the cake and add chopped Oreos, if using.
12. Once cakes are cool, remove cake domes from top with a large serrated knife.
13. Place first layer of cake on cake plate. Spread 1/2 of the icing with the chopped Oreos on top in an even layer.
14. Add second layer of cake and add the rest of the of icing with chopped Oreos on top in an even layer.
15. Add final layer of cake on top and ice the outside of the cake with remaining icing.
16. Finish cake off with chopped Oreos and crumbs, if desired.
Keywords: oreo dessert recipe, chocolate cake recipe, oreo cake recipe
Enjoy!


You might also like:
Oreo Cookies and Cream Cookie Cake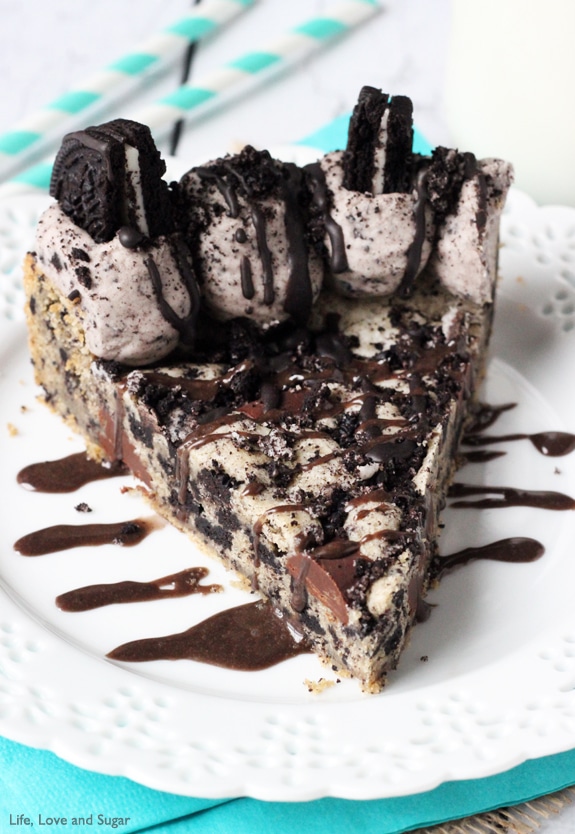 Oreo Brownie Cookies and Cream Ice Cream Cake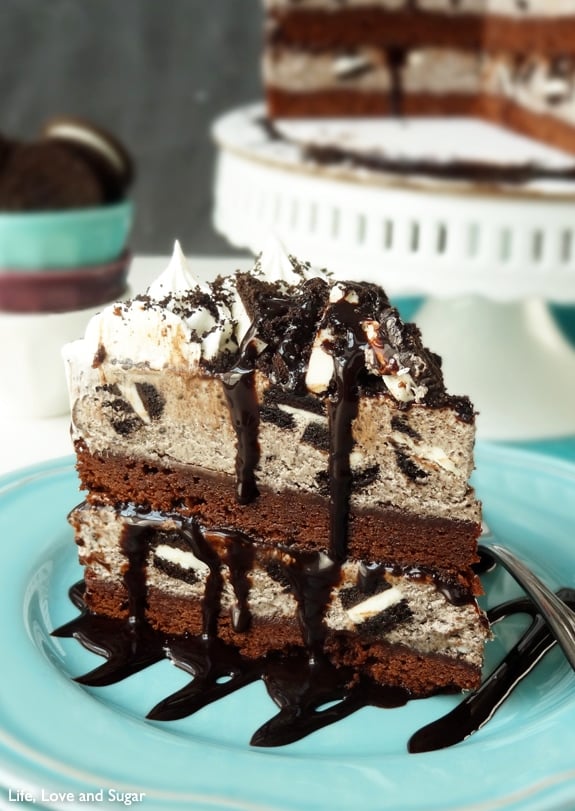 Recipes from friends:
Cookies and Cream Oreo Fudge from Crunchy Creamy Sweet
Oreo Pancakes from Grandbaby Cakes
Peanut Butter Oreo Cheesecake from This Gal Cooks