This Oreo Cookies and Cream Ice Cream Cake might just be my favorite ice cream cake yet! It's the creamiest, most tasty Oreo filled ice cream dessert ever.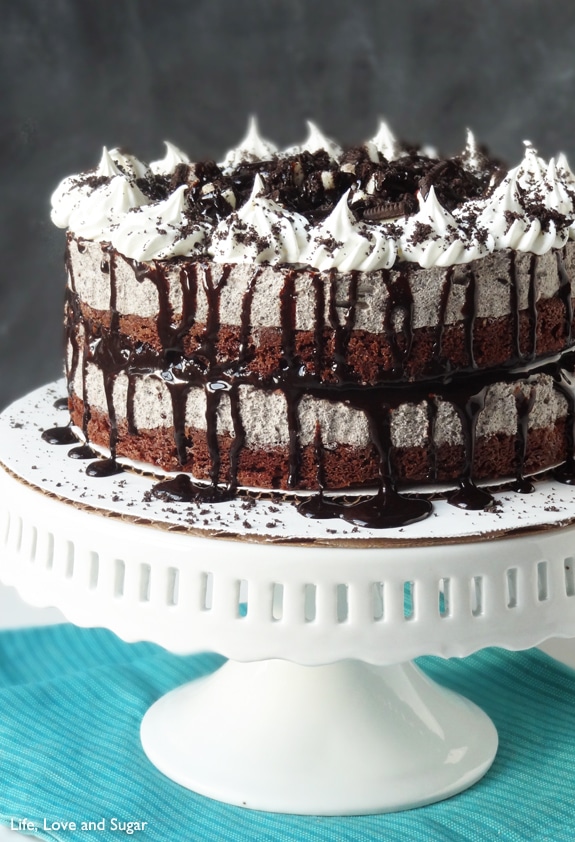 You might find it strange that I'm posting not one, but two frozen treats in the month of January, but I see no reason to boycott ice cream at any point in the year. I eat it year round! In fact, just the other day I sat in front of the lovely fire the hubs made with a carton and went to town on a left over carton of eggnog ice cream. No shame here.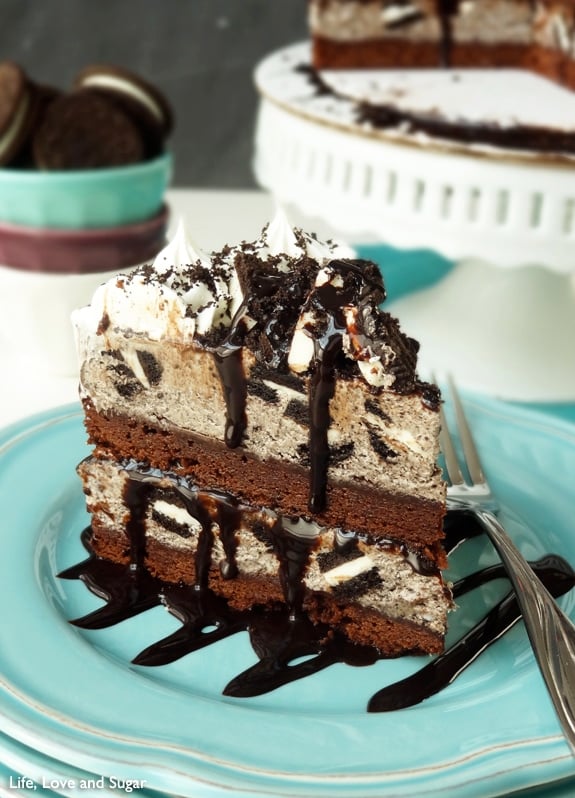 And this ice cream cake is definitely worth making, no matter the weather. I stuffed it with as many Oreos as I could without literally putting a pile of Oreos on a plate. You'll need just about a whole package. No skimping folks.
And it's not just stuffed with chunks of Oreo. Because let's be honest – that's not enough. It's full of Oreo crumbs as well to give you the full cookies and cream experience.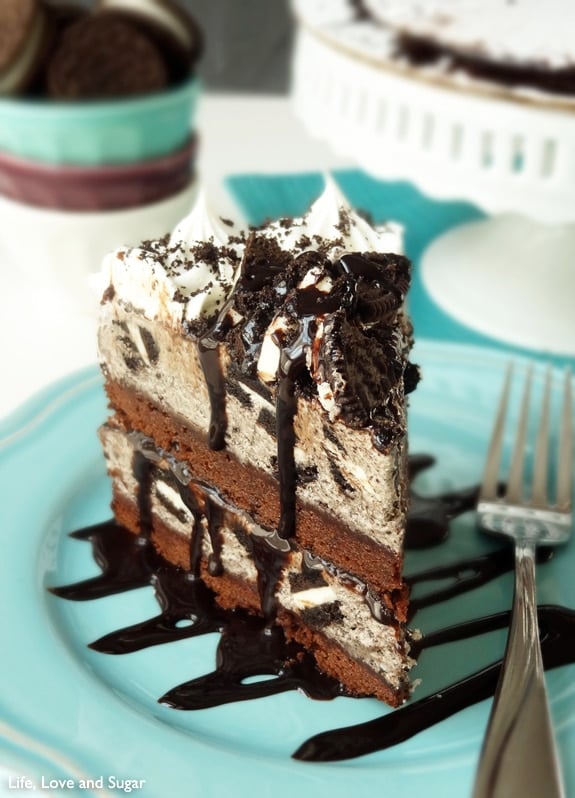 You literally can't take a bite of this without getting a mouth full of Oreo awesomeness. A truly irresistable cookies and cream dessert.
You start with my usual suspects – two layers of brownie and my favorite no-ice-cream-machine-needed ice cream base. To that ice cream base you add loads and loads of Oreo.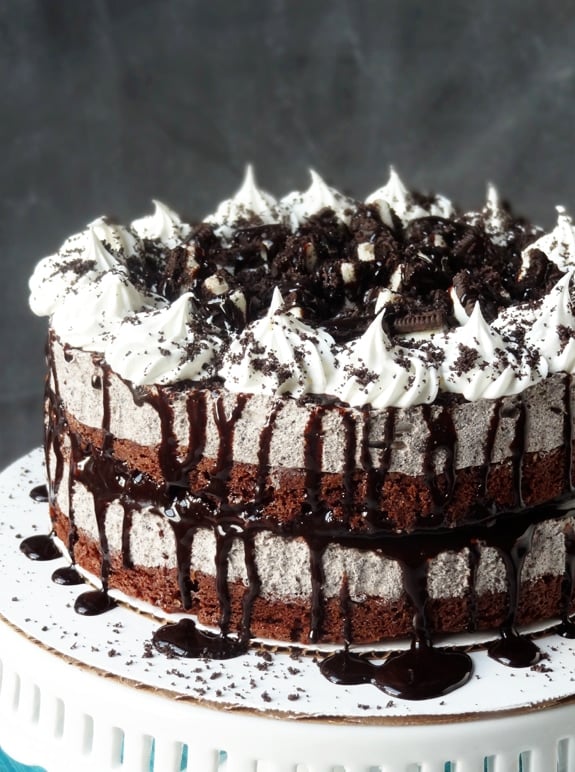 Pretty easy so far, right?
Next, you want to prepare your pan for building the cake. I've noted this in the instructions, but it's important to use the same pan to build the cake as you did to make the brownies, otherwise the brownies may be too big or small.
I usually put a cake circle in the bottom of the cake pan I used and line it with parchment paper. The cake circle makes it nice an easy to move the cake around once I take it out of the pan.
Now comes the layering – the fun part!
We've got a layer of brownie on the bottom, topped with Oreo ice cream. Add some chocolate sauce to that and you're half way there! You add the second brownie, the rest of the ice cream and then top with even more chopped Oreos, chocolate sauce and whipped cream. Bam! All done!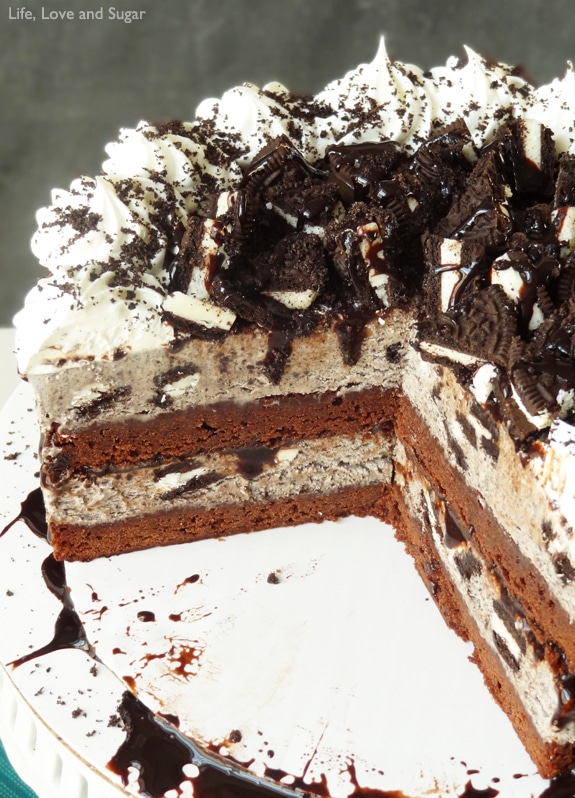 It's the most fabulous ice cream cake ever. Seriously. You can't buy this in the store people. And you won't want to stop eating it. So you know what that means – time to make the cake and grab a fork.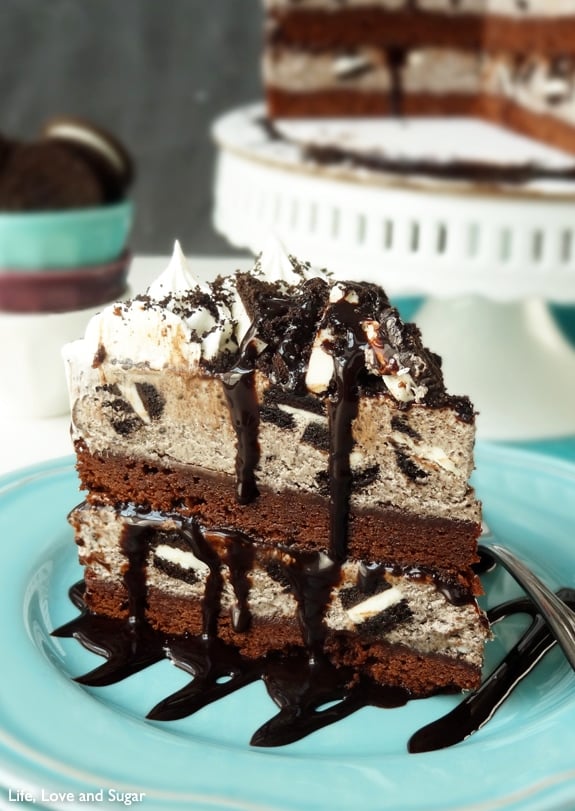 Print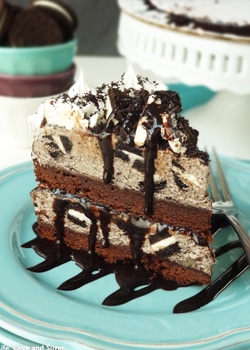 Recipe
Author:

Prep Time:

30 minutes

Cook Time:

20 minutes

Total Time:

50 minutes

Yield:

12-14 Slices

Category:

Dessert

Method:

Oven

Cuisine:

American
---
Description
This Oreo Cookies and Cream Ice Cream Cake might just be my favorite ice cream cake yet! It's the creamiest, most tasty Oreo filled ice cream dessert ever.
---
Ingredients
1

box brownie mix, plus ingredients required on box

8 oz

cream cheese, softened

1/2 cup

sugar

1/8 cup

milk

1 tsp

vanilla

8 oz

Cool Whip, thawed (OR

1

recipe of homemade whipped cream)

1 1/4 cups

Oreo crumbs (from about

16

Oreos)

7

–

10

Oreos, chopped, optional

1

20 oz bottle chocolate sundae syrup (I used Smuckers Sundae Syrup)
additional Oreos and whipped cream for the top, optional
---
Instructions
NOTE:
 An 8-inch springform pan is best for this recipe so that you can easily remove the cake once it's been assembled. If you do not have a springform pan, line your pan with clear wrap before adding your parchment paper and cake board. You can use the clear warp to lift your cake out of the pan once it's assembled and frozen.
BROWNIES:
1. Make brownie dough according to instructions on back of box.
2. Grease two 8-inch pans (preferable springform pans, see above) and line the bottoms with parchment paper to allow for easy removal. Bake at temperature on box, reducing baking time to about 20 minutes (You can also bake 1 big brownie – which would cook for the normal time – and cut it in half, but cutting a brownie in half isn't super easy).
3. When brownies are done baking, allow to completely cool.
ICE CREAM:
1. Combine cream cheese, sugar, milk and vanilla together in the bowl of a stand mixer, or with a hand mixer. Mix until completely combined.
2. Fold in the cool whip, Oreo crumbs and chopped Oreos.
ASSEMBLING IT ALL:
1. Line the sides of an 8-inch springform pan with parchment paper. The parchment paper should stick up above the top edge of the pan, since the cake will probably be a little taller than your pan. If you want, put a cardboard cake circle in the bottom of the pan.
NOTE:
 You should be using the same 8-inch pan you used for the brownies. Not all 8-inch pans are exactly the same size. Your brownie needs to fit in this pan.
2. Put the first brownie layer in the bottom of your pan.
3. Top with half of the Oreo ice cream.
4. Spread 1 cup of chocolate sauce over the ice cream and spread evenly.
5. Add second brownie to the pan.
6. Top with remaining Oreo ice cream.
7. Top with additional chopped Oreos, whipped cream and chocolate sauce, if desired.
8. Allow ice cream cake to freeze completely, 6-8 hours.
9. When frozen, remove from springform pan and remove parchment paper from sides.
10. Top with whipped cream, chopped Oreos and additional chocolate sauce, allowing it to drizzle down the sides. Freeze until ready to serve. Cake is best when stored well covered for 4-5 days.
---
Nutrition
Serving Size:

1 Slice

Calories:

603

Sugar:

52 g

Sodium:

392.1 mg

Fat:

28.9 g

Carbohydrates:

80.5 g

Protein:

6.8 g

Cholesterol:

43.5 mg
Keywords: oreo cake recipe, cookies and cream cake, cookies and cream ice cream cake, best ice cream cake, how to make ice cream cake, homemade ice cream cake, how do you make homemade ice cream cake, easy ice cream cake recipe
Enjoy!
This post includes affiliate links.
You might also like
Oreo Cookies and Cream Cookie Cake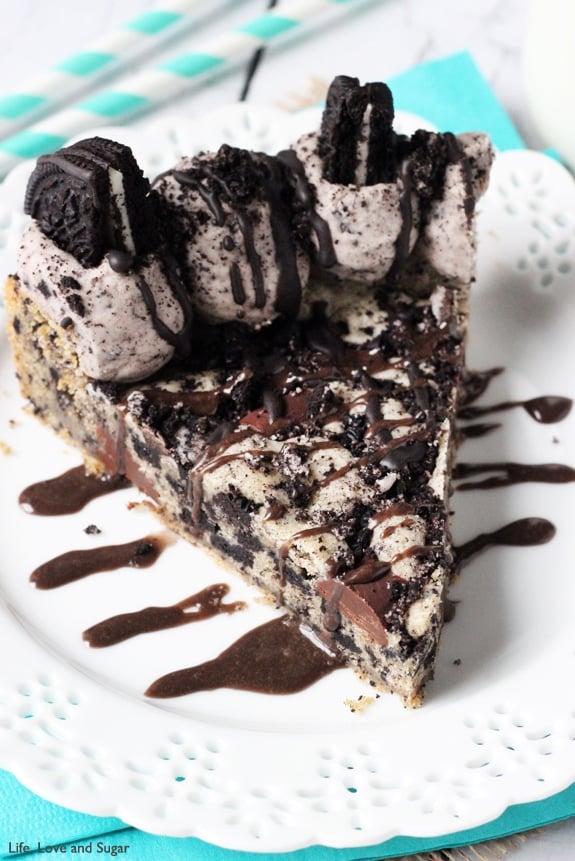 Chocolate Chip Cookie Dough Ice Cream Cake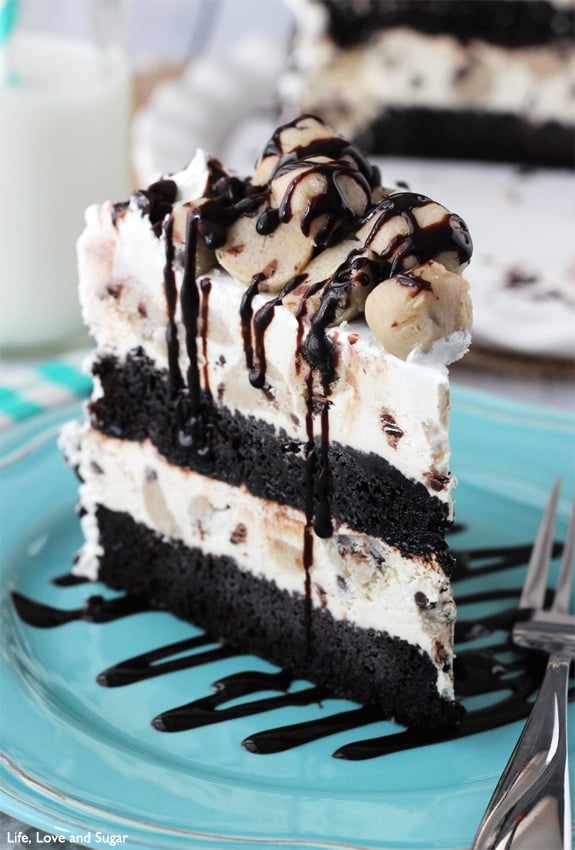 Mint Oreo Brownie Ice Cream Cake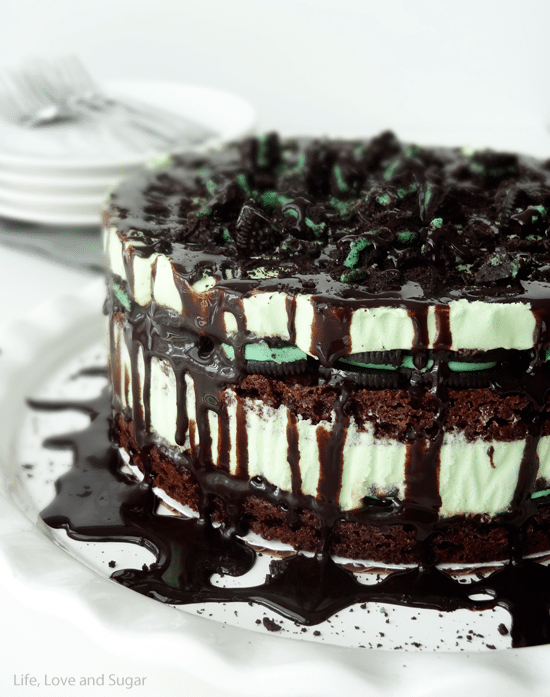 Copycat Cold Stone Birthday Cake Remix Ice Cream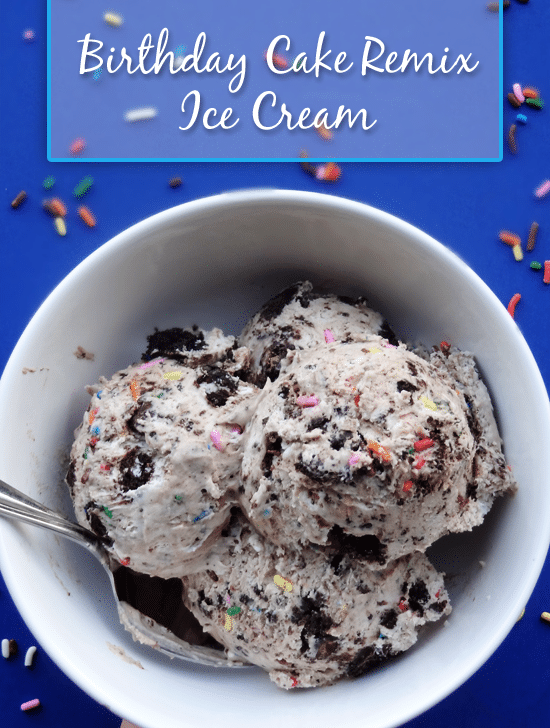 Chocolate Chip Cookie Dough Ice Cream Pie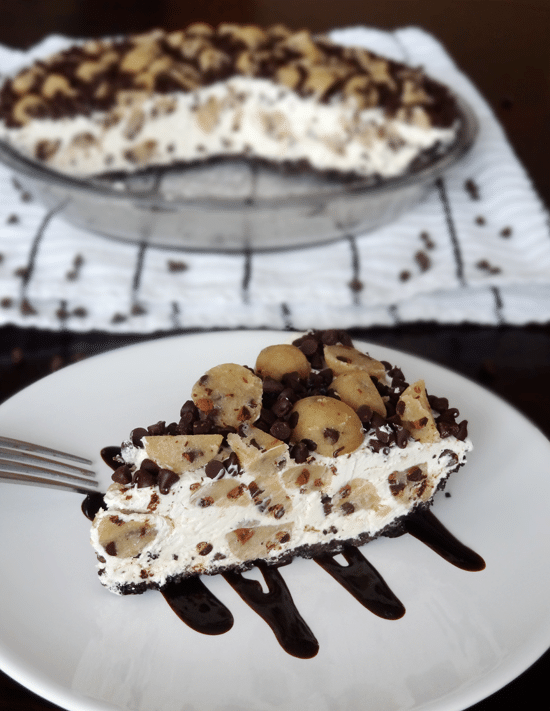 This post may contain affiliate sales links. Please read my disclosure policy.