August 13, 2013
No Bake Oreo Cheesecake
This No Bake Oreo Cheesecake is not only quick and easy to throw together, it's packed with Oreos! In fact, depending on how crazy you want to get, you will need more than 1 package of Oreos for this baby.
*post updated 10/22/16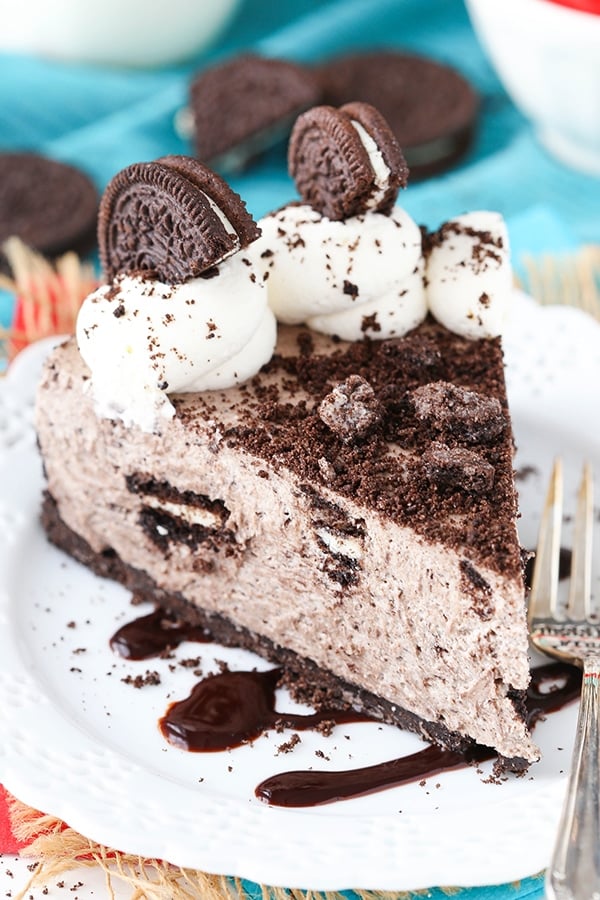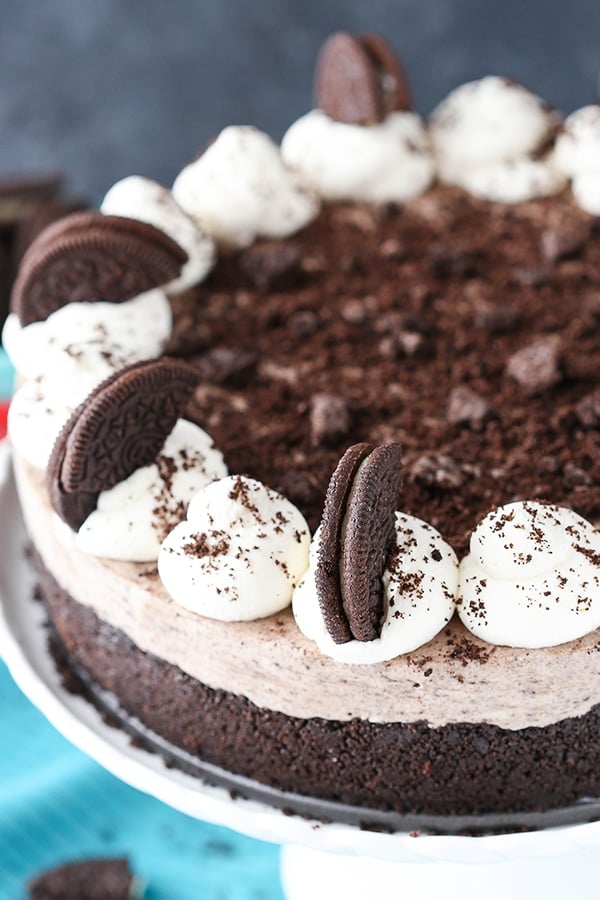 You see, I'm the kind of gal that when you tell me something is flavored a particular way I don't want to take a bite and have to go searching for the flavor.
No, I want it to practically scream at me. I don't want to be able to miss the awesomeness and I don't want you to miss it either. I've got your back.
So a bite of this cheesecake is like a big Oreo kick in the mouth. There's no holding back. You're welcome.
I mean who are we kidding, anything with Oreo is awesome. You need to cram that in as much as you can. Surely there's some way to rearrange the letters of "Oreo" and spell awesome?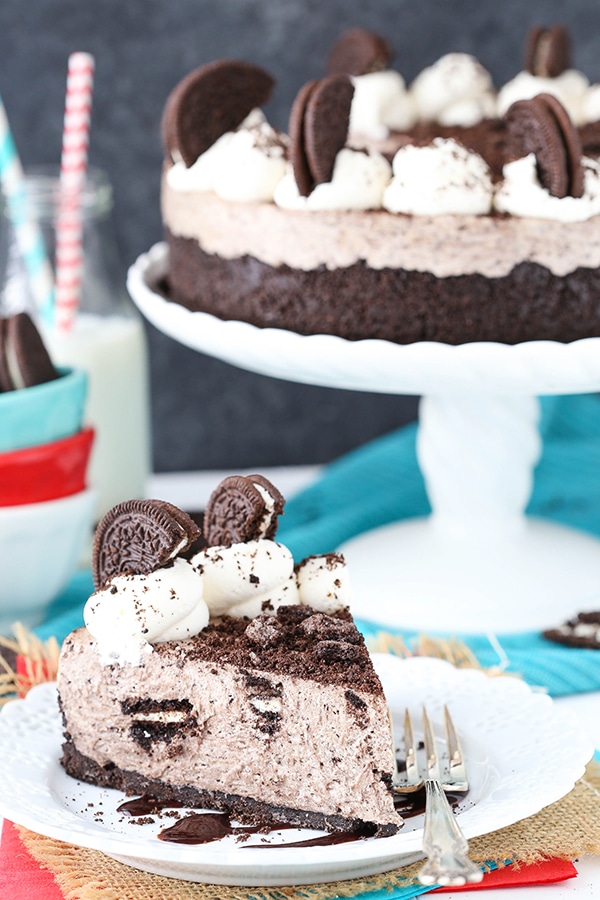 But back to the cheesecake…
My list of recipes and things I want to make is constantly growing and I can't bake fast enough to keep pace with it. An Oreo cheesecake has been on that list for some time, but when I had a specific request for it on Facebook a couple weeks ago, I decided to move it on up the list.
I'm responsive like that.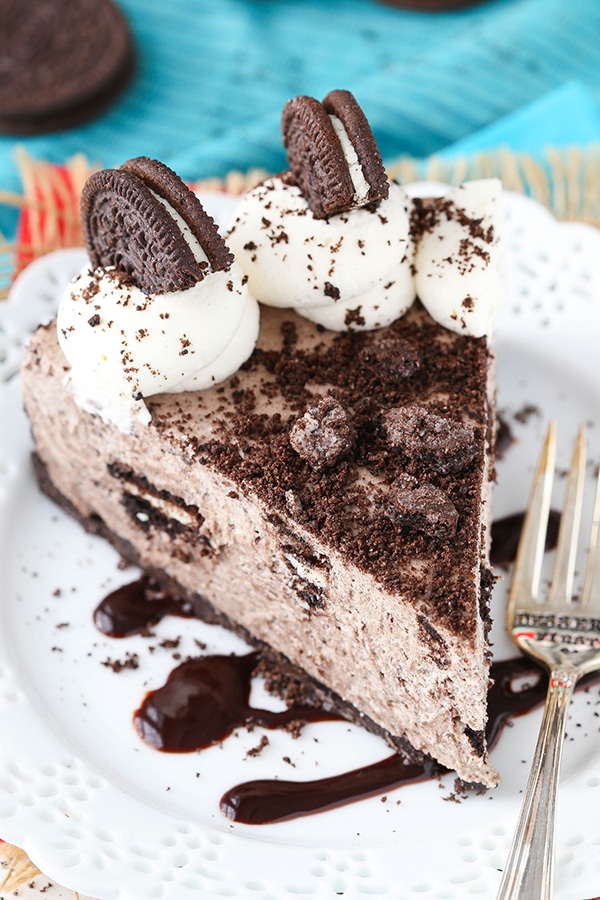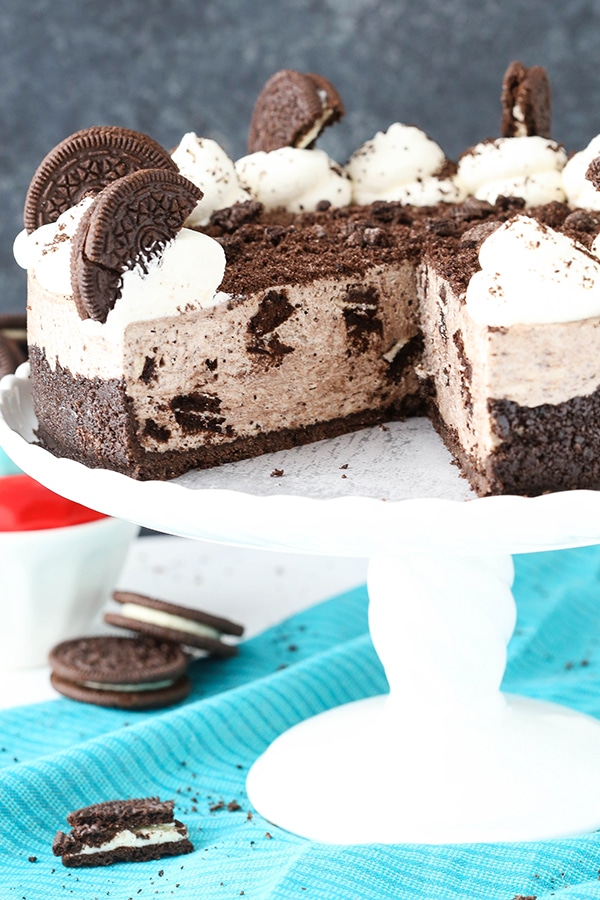 I knew I wanted the cheesecake to be thick and creamy – as close to real cheesecake texture as possible. If you know me, or have read this post on my love of cheesecake – you know cheesecake texture is important to me. Like, if it's not right why even bother?

MY OTHER RECIPES
It also needed to be as Oreo-y as possible.
Well, my friends, now I am totally in love with this recipe and want to make all kinds of no bake cheesecakes!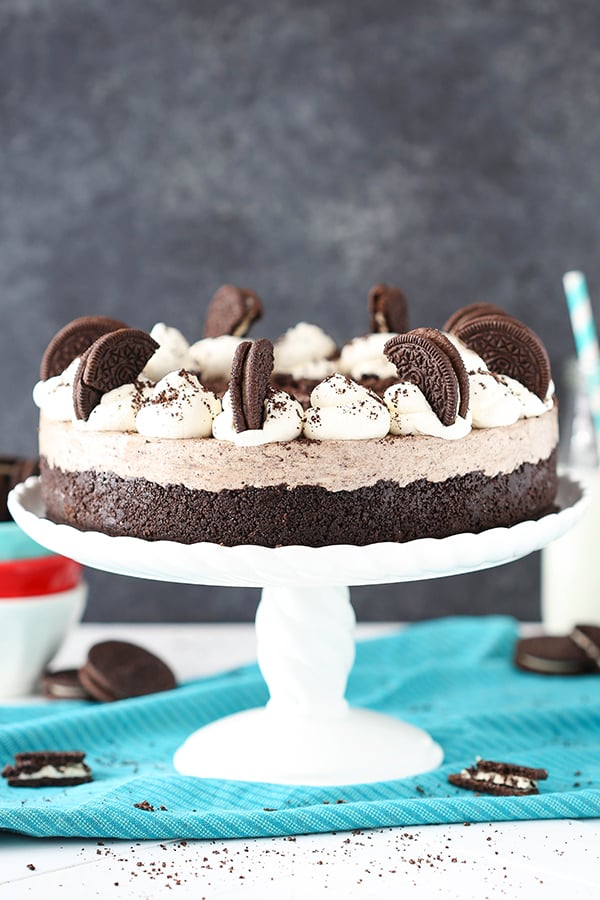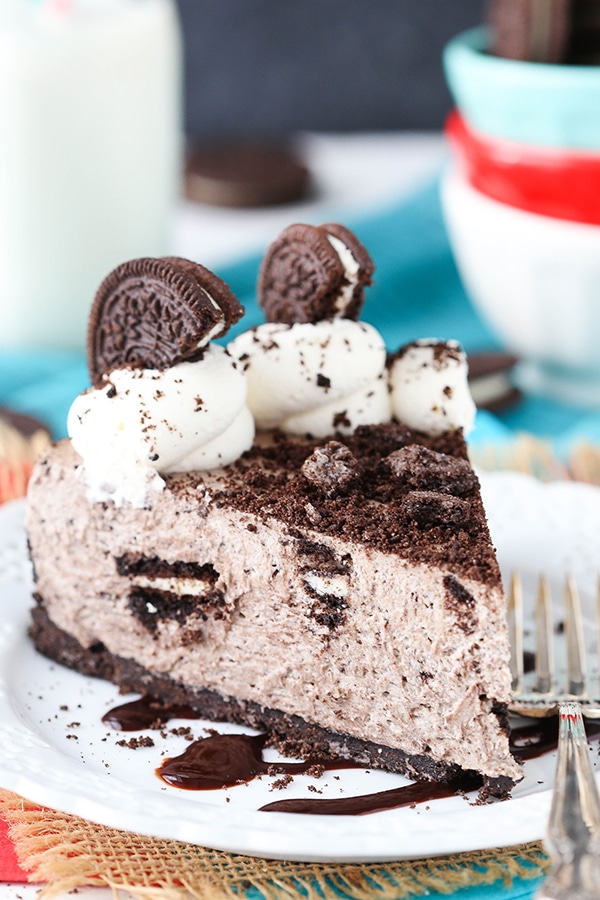 It's perfect! Not too cream cheesy, super thick and creamy, and FULL of Oreos.
Plus, it's SO easy to make. A simple and straight forward list of ingredients that basically just get combined and thrown in a pan. No oven involved. My kind of recipe.
It's seriously a winner. So delicious and Oreo-y! The hubs is in love with it and I keep hoping I'll forget it's in the fridge.
But of course that never happens. I think sugar pulls me to it like a magnet.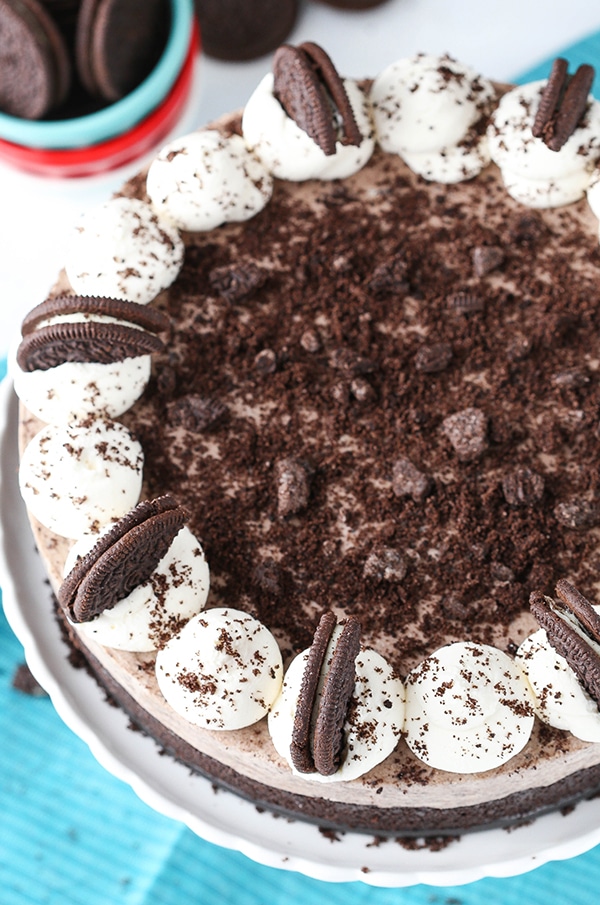 No Bake Oreo Cheesecake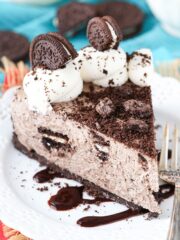 Ingredients:
Crust
2 cups (216g) Oreo crumbs (from about 20 Oreos)
1/4 cup (56g) butter, melted
Filling
1/2 cup (104g) sugar
1 tsp vanilla
1 1/2 cups (162g) Oreo crumbs (from about 16 Oreos)
7-10 Oreos, chopped, optional
Whipped Cream Topping
3/4 cup (180ml) heavy whipping cream, cold
6 tbsp (44g) powdered sugar
1/2 tsp vanilla extract
Oreo crumbs for the top, optional
Oreos, cut in half
Directions:
1. To make the crust, combine the Oreo crumbs and the melted butter.
2. Press the crumbs into the bottom and halfway up the sides of a 9 inch springform pan. Set in the refrigerator to firm.
3. To make the filling, mix cream cheese, sugar and vanilla together in a large bowl with a mixer until smooth and well combined.
4. Fold in the Cool Whip (or homemade whipped cream).
5. Add the Oreo crumbs and chopped Oreos and gently mix until well combined.
6. Spread the filling evenly into crust and smooth the top. Set in the refrigerator until firm, 4-5 hours.
7. Remove the cheesecake from the pan.
8. To make the whipped cream, add the heavy cream, powdered sugar and vanilla extract to a large bowl. Whip on high speed until stiff peaks form.
9. Pipe swirls of whipped cream around the top of the cheesecake. Top with additional Oreo crumbs and Oreo halves, if desired.
10. Refrigerate until ready to serve.
Enjoy!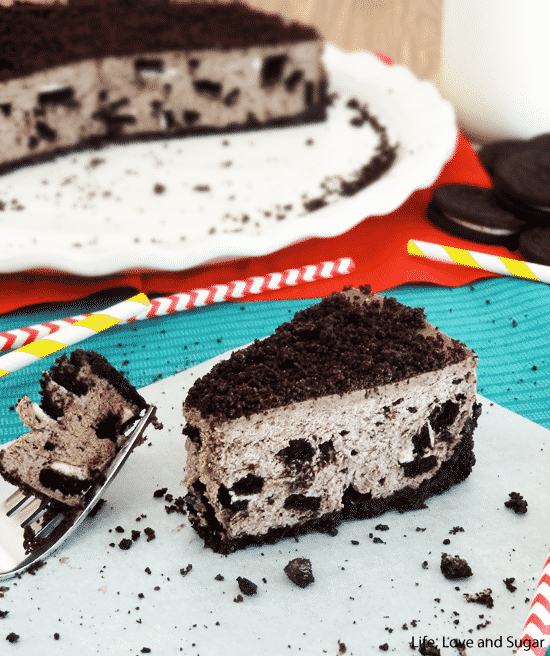 The original photo. 🙂
For more Oreo awesomeness, check out this Oreo Cookies and Cream Ice Cream Cake.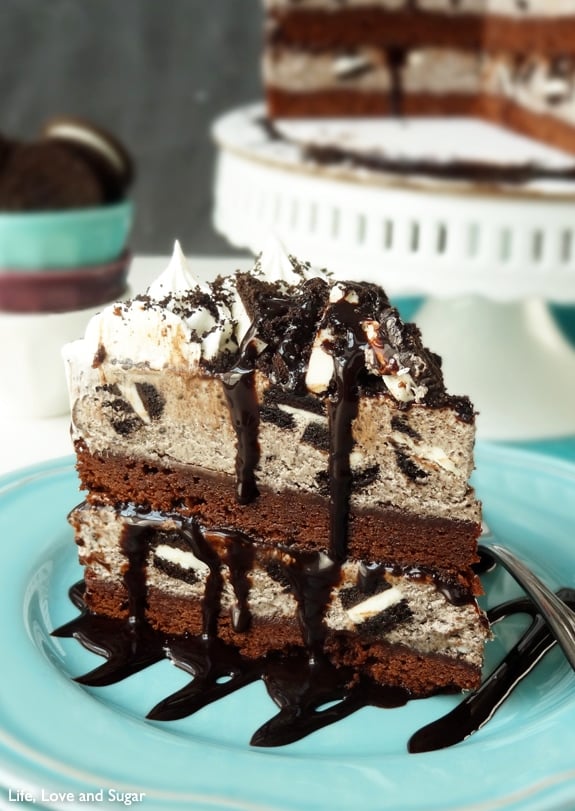 No Bake Golden Birthday Cake Oreo Cheesecake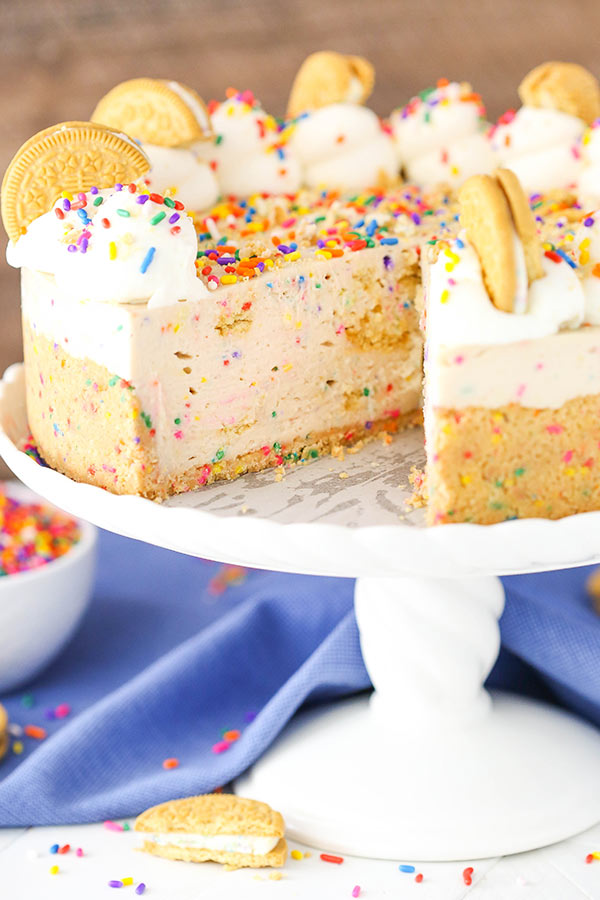 Oreo Cookies and Cream Cookie Cake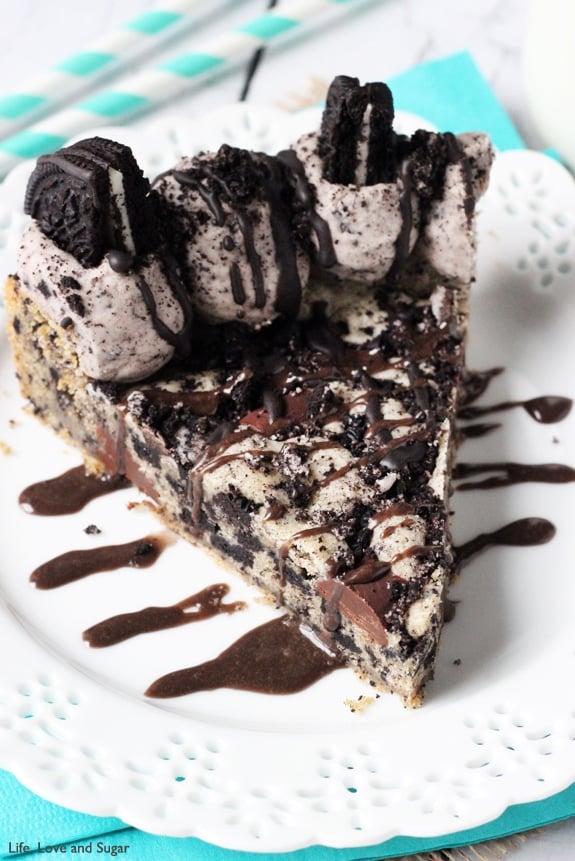 Want more no-bake treats?
No Bake Samoa Cheesecake (no Samoa cookies needed!)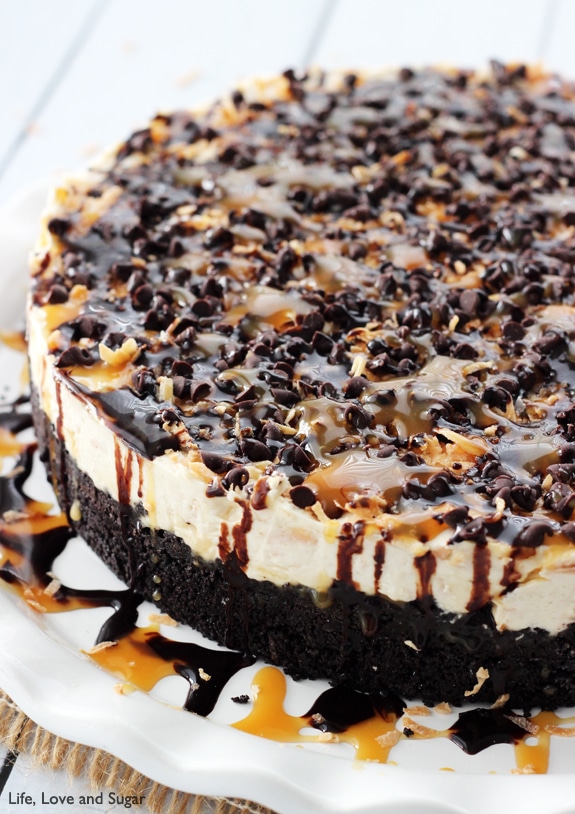 Chocolate Chip Cookie Dough Ice Cream Pie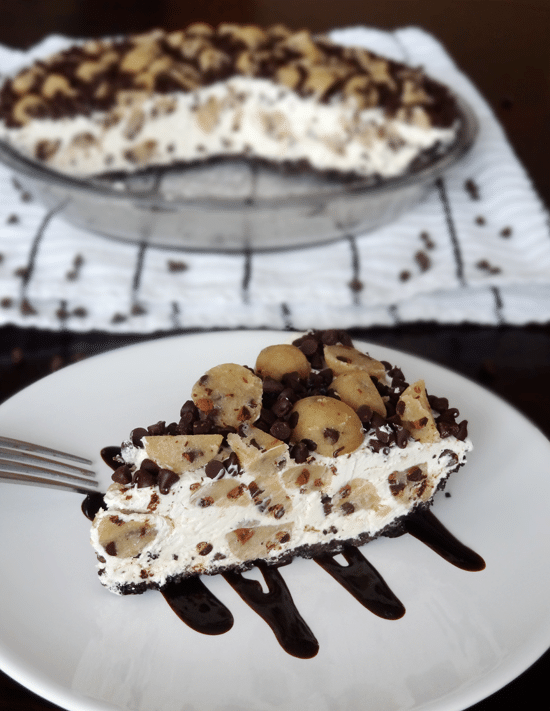 No Bake Nutella, Peanut Butter and Marshmallow Pie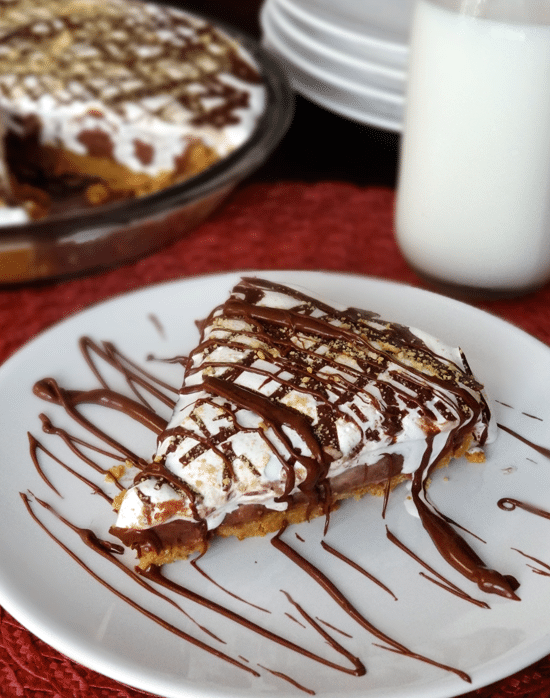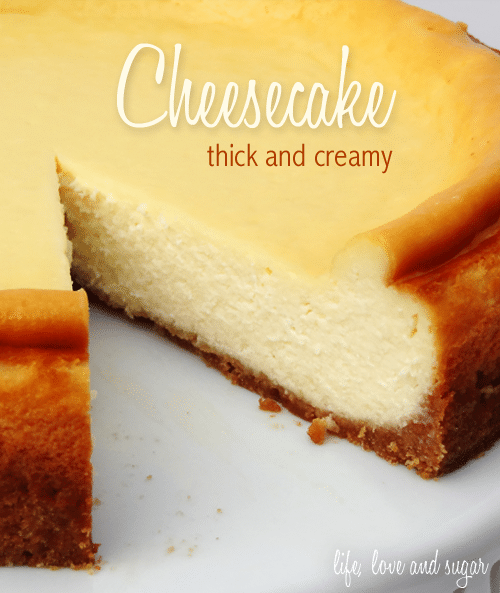 Recipes from friends:
Oreo Ice Cream Truffles from Gimme Some Oven
Easy Oreo Microwave Fudge from WonkyWonderful
Oreo Stuffed Chocolate Chip Cookies from Picky Palate