If you're looking to enjoy some lemon desserts or have lemons to use up, this list of lemon recipes has something for everyone! From cookies to cakes, cheesecakes and pies, these lemon treats are light, refreshing and delightful!
With spring right around the corner, this is the perfect time of year for lemon. It's bright yellow color and refreshing taste just scream spring. I love the bite of the tart lemon with the sweetness of a bit of sugar! Pick a dessert for Easter or a treat to share with your mom on Mother's Day! They're all sure to be a hit for any occasion.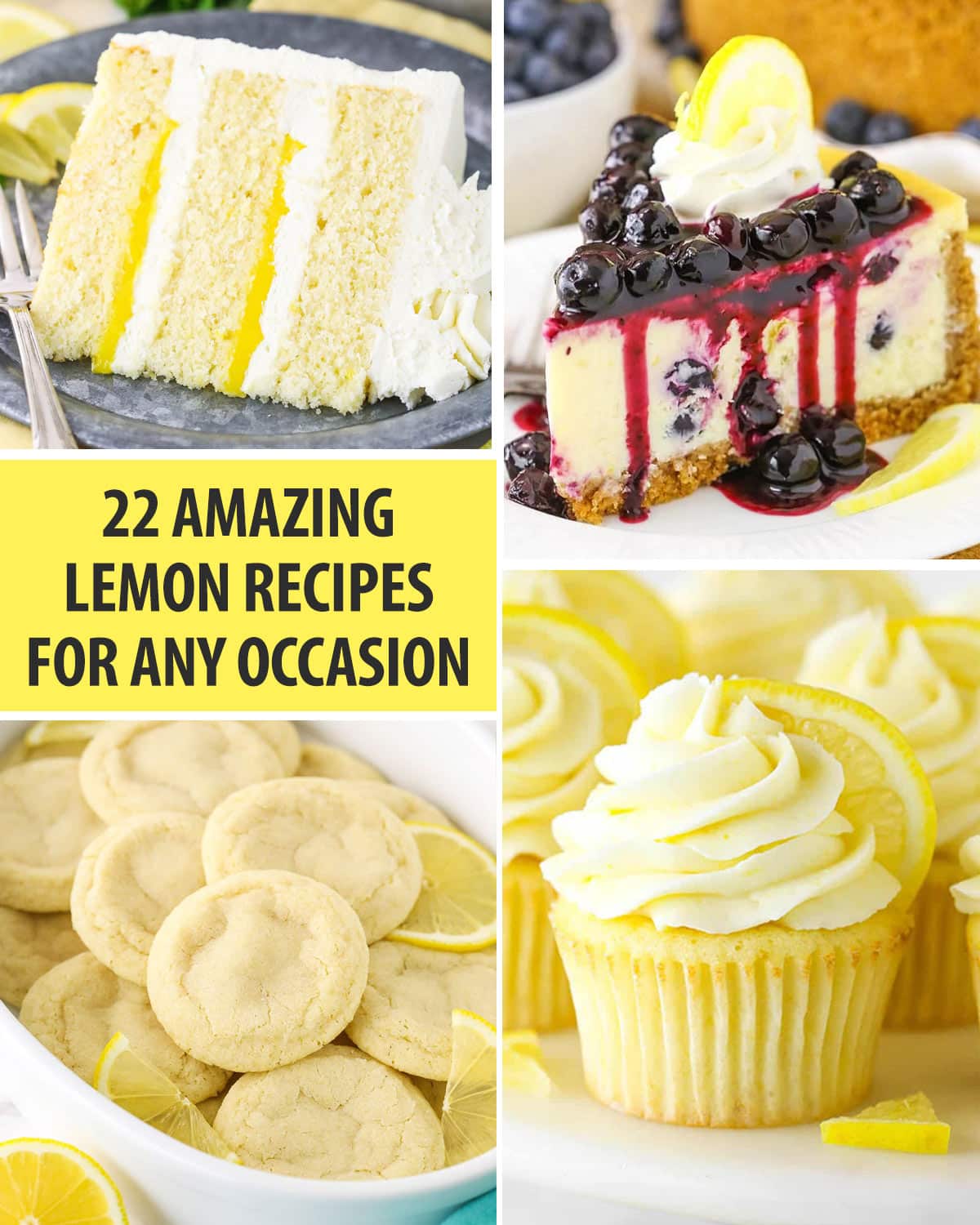 How to Choose the Right Lemons for Lemon Desserts
When choosing lemons at the store, there are some that are better than others and will lend more juice, meaning you need fewer lemons. Try to choose lemons that feel a little heavy for their size and give a little when you gently squeeze them. You can actually feel which lemons have a slightly softer, thinner skin and will release more juices and which ones have a firmer, thicker skin with less juice.
You also want to choose lemons that are bright yellow with no wrinkling or blemishes that make them not-so-ideal for zesting. Over time, you'll be able to tell easily by sight and feel which ones are just right.
Use Fresh Lemon Juice and Lemon Zest
When making lemon dessert recipes, you want to be sure to use fresh lemon juice and zest. Bottled lemon juice just isn't the same. Fresh lemon juice is much brighter and not bitter, like bottled can be. When juicing lemons, I recommend a citrus juicer to make sure you get all that tasty juice out.
For fresh lemon zest, you'll need a good zester. You want to be sure to just zest the yellow peel and not the white underneath, which can be bitter. Use your lemon zest pretty quickly, since it can dry out.
The Best Lemon Dessert Recipes
This post may contain affiliate sales links. Please read my disclosure policy.