These Lemon Coconut Macaroons are so yummy with their light lemon flavor, chewy coconut and white chocolate bottoms! You'll want to eat them all!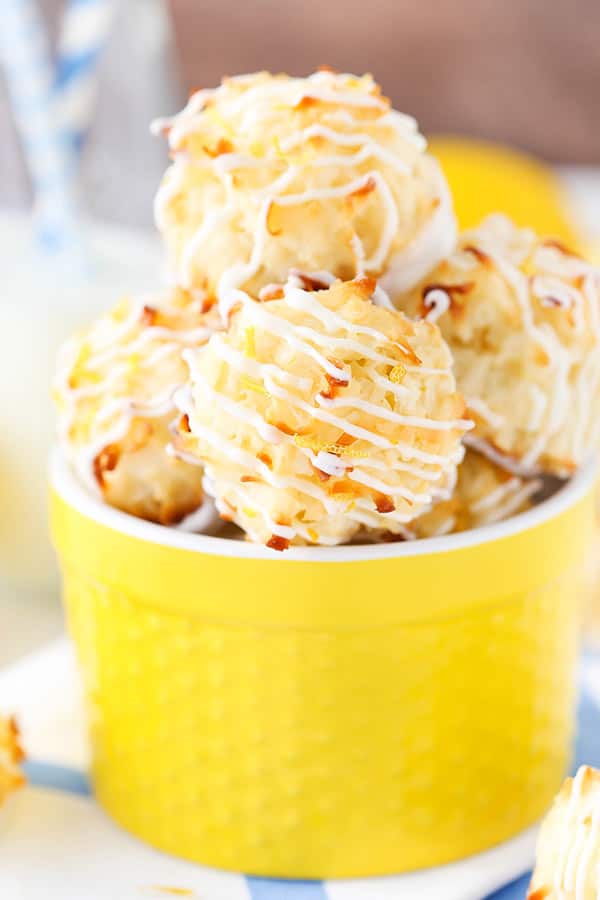 So the other day I was working a video in my office, which means I'm carrying ingredients back and forth between the kitchen and the office. All that carrying of things certainly increases the risk of me spilling something. Not to mention that my office has carpet, so spills are less fun than in the kitchen.
Well, I was working with some chocolate ganache and when I set the whisk down in the bowl, it was apparently a bit top heavy. The next thing I know the whisk comes tumbling out of the bowl and flies off the table onto the carpet, literally spraying chocolate all over me, the carpet, the table, my tripod – everything.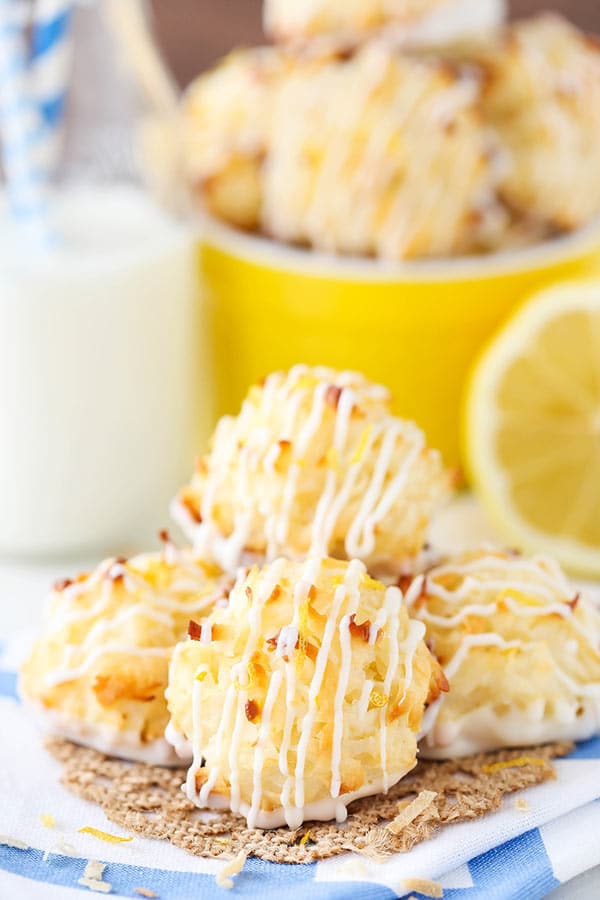 Naturally I screamed out in fear of the chocolate shower going all over my office. The hubs came quickly to see if he could help and all we could do was laugh. Such a chocolate mess! He helped me clean things up and then I went back to it.
The next thing I look down and Jessie is standing there licking my pant legs. There wasn't really any chocolate to get since I'd whipped it off, but she could still smell it and was trying to get what she could. I was a walking chocolate pop to her. Ha! Such a mess!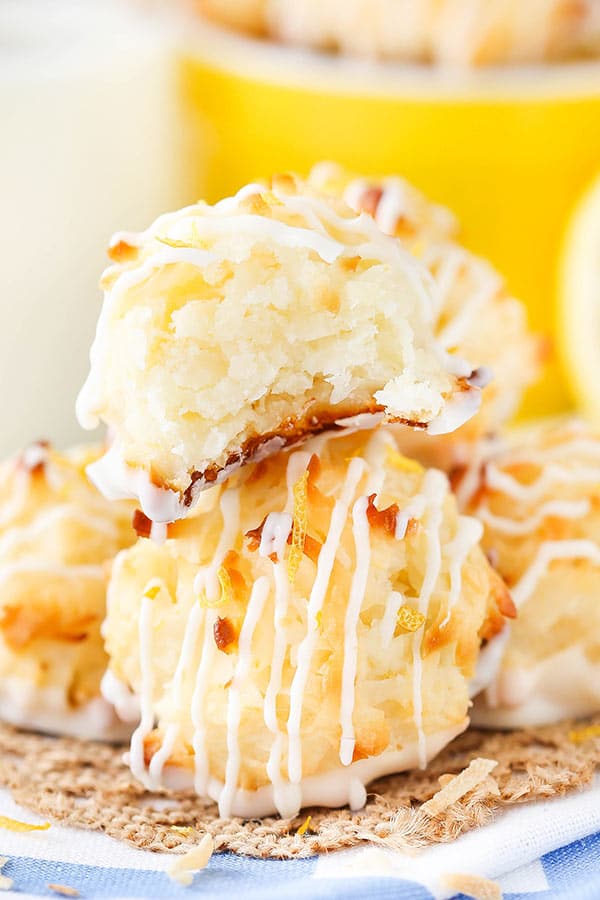 Fortunately the white chocolate coating on these macaroons didn't involve getting it all over the place. Relatively painless. 🙂 The painful part was not eating every single one of them at the same time. So good!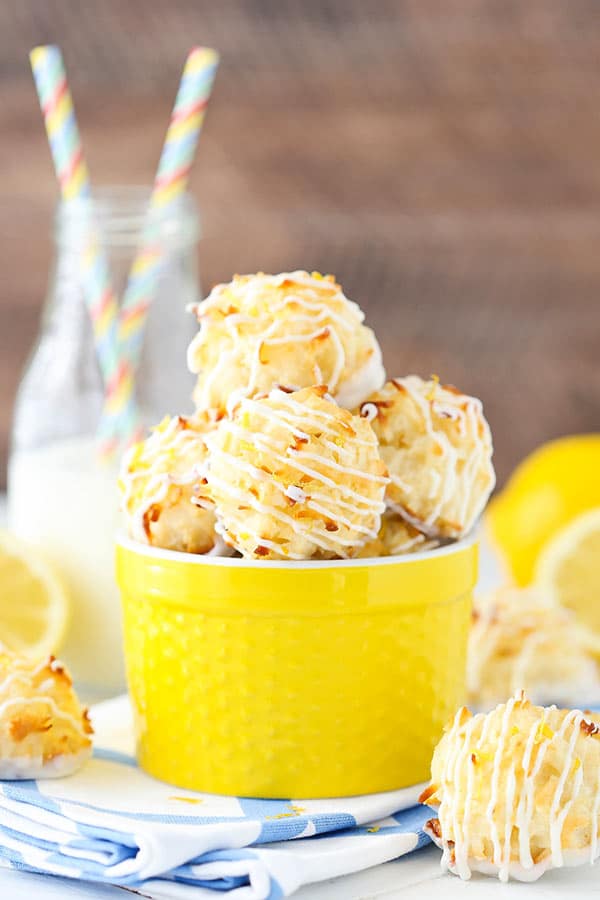 An Easy Coconut Macaroons Recipe
Coconut macaroons are a relatively new love for me. It was a while before I tried them and now I could totally eat them all the time. I love coconut flavor and it's so perfect for spring. It makes me think of warm summer days and hanging by the water. These are particularly delicious with the lemon flavor in them.
While there are a few different ways to make macaroons, these are made primarily with sweetened condensed milk and egg whites. The combination results in a cookie that sets well, but stays soft and chewy for days. I just love their texture and love that if I can maintain my self control, I can snack on them over as much as a week and they are still wonderful. Can't wait to make them again already!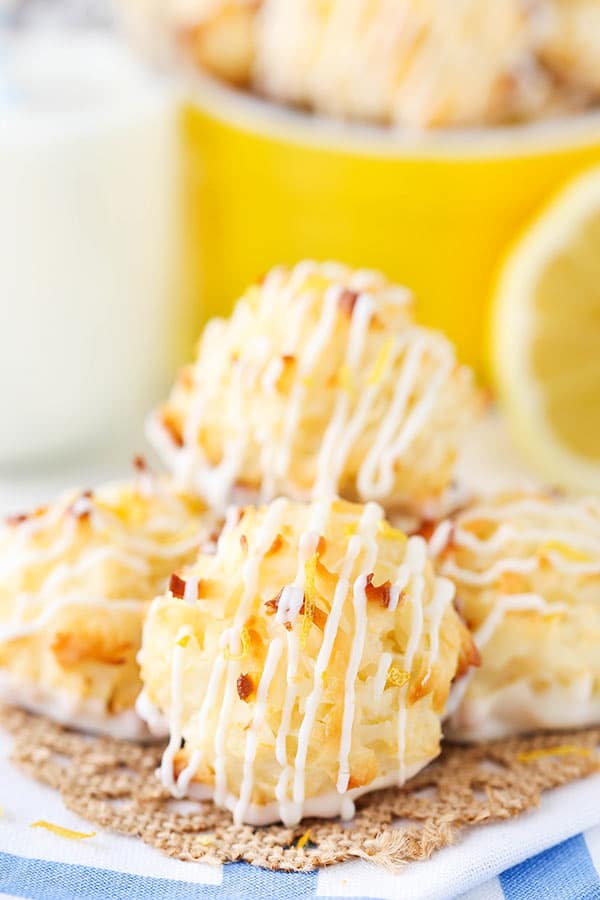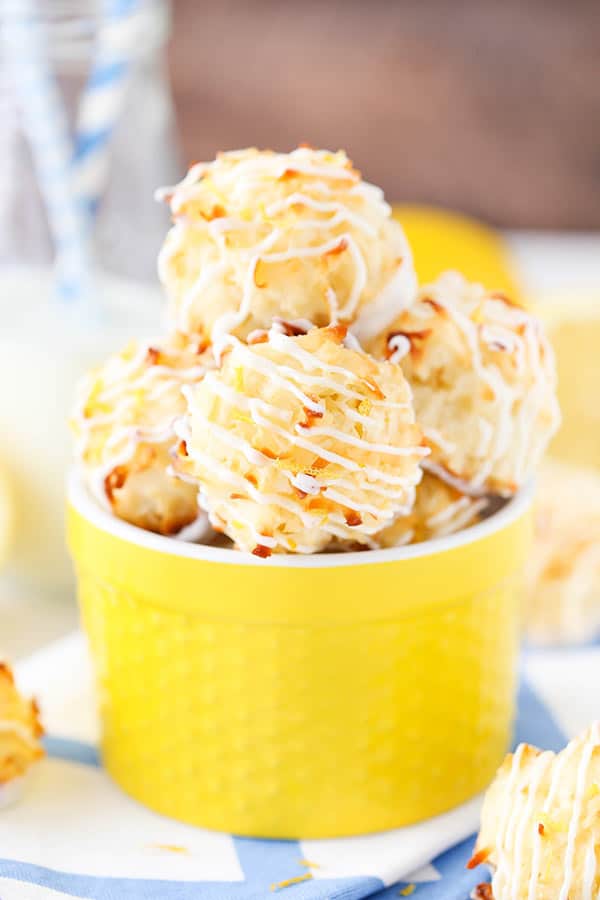 You might also like:
Coconut Cream Pie
Outrageous Chocolate Coconut Cheesecake Cake
Coconut Cream Pie Cupcakes
Coconut Macaroon Cupcakes
No Bake Salted Caramel Coconut Macaroons
Print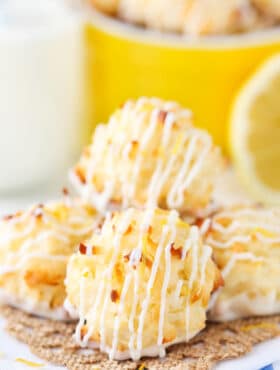 Recipe
Lemon Coconut Macaroons
Author:

Prep Time:

20 minutes

Cook Time:

30 minutes

Total Time:

50 minutes

Yield:

About 15 Cookies

Category:

Dessert

Method:

Oven

Cuisine:

American
---
Description
These Lemon Coconut Macaroons are so yummy with their light lemon flavor, chewy coconut and white chocolate bottoms! You'll want to eat them all!
---
Ingredients
14 oz

sweetened shredded coconut

14 oz

sweetened condensed milk

2 1/2 tbsp

lemon zest

3 tbsp

fresh lemon juice

1/2 tsp

vanilla extract

2

egg whites, room temperature

1/4 tsp

salt

6 oz

melting white chocolate
---
Instructions
1. Preheat the oven to 325°F (163°C).
2. Combine the coconut, sweetened condensed milk, lemon zest, lemon juice and vanilla extract in a large bowl. Set aside.
3. Add the egg whites and salt to a large mixer bowl and whip on high speed with the whisk attachment until they reach stiff peaks.
4. Carefully fold the egg whites into the coconut mixture.
5. Drop rounded tablespoons of the coconut mixture onto a cookie sheet lined with parchment paper or a silicone baking mat.
6. Bake for 25 to 30 minutes, until lightly brown. Allow to cool.
7. Melt the white chocolate according to the instructions on the package.
8. Dip of the bottom of the macaroons into the chocolate and place on parchment paper to dry.
9. Drizzle the remaining chocolate over the tops of the cookies, then sprinkle with additional lemon zest, if desired.
10. Store in an airtight container at room temperature.
---
Nutrition
Serving Size:

1 Macaroon

Calories:

312

Sugar:

37.7 g

Sodium:

171 mg

Fat:

16.1 g

Carbohydrates:

39.1 g

Protein:

4.8 g

Cholesterol:

14.5 mg
Keywords: coconut macaroons, passover dessert, passover macaroons, how to make macaroons, gluten free dessert, coconut dessert, coconut cookies
Filed Under:
Enjoy!
This post may contain affiliate sales links. Please read my disclosure policy.