This Lemon Cheesecake is smooth, thick and creamy! It's got a light lemon flavor in the cheesecake and big lemon punch from the lemon curd on top! A great combination of sweet and tart!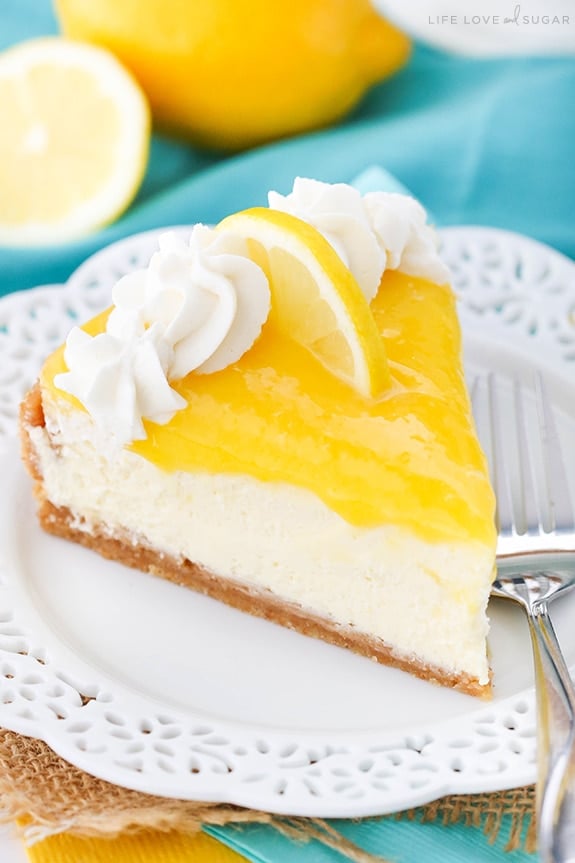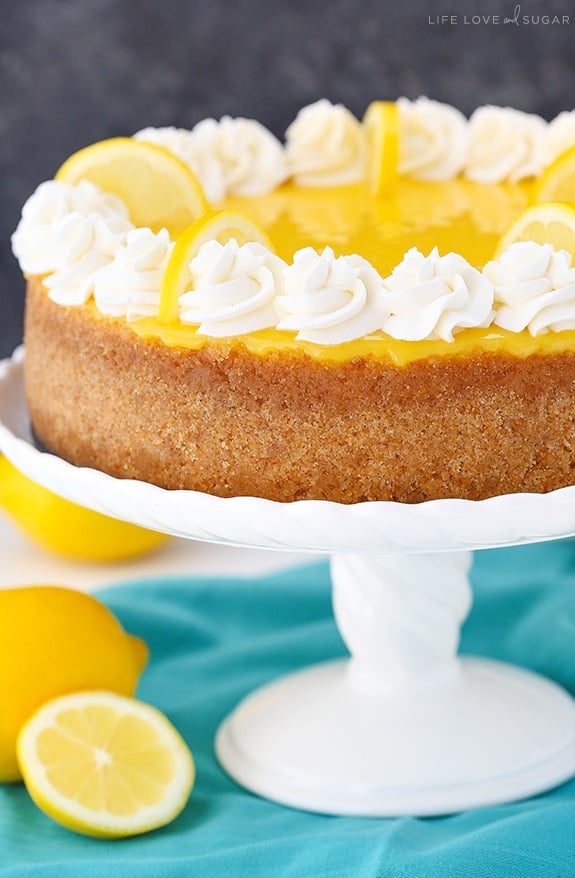 So it totally blows my mind that kids are going back to school around here this week. I mean, July literally just ended! What happened to summers lasting until Labor Day? It's nutty. Poor kiddos! And though it doesn't effect me from the stand point of having kids, I have to say I'm always bummed when the traffic comes back. We are surrounded by schools and it's just unavoidable and not super fun.
Not to mention that with school starting back, it makes me feel like I should be thinking about fall and apples and such and I'm just so not ready for that. I mean the month of August is sort of getting towards the end of summer, but not really. It's still plenty hot. So hot that Jessie has to wait until it's almost dark now for her "afternoon" walk. I just can't handle melting every afternoon. I draw the line at melting. 🙂
So I hope you're still hanging onto summer like me, because this Lemon Cheesecake feels more like summer than fall. Though truthfully, I will totally eat lemon any time of year. Yum, yum and yum. I may have broken my diet several times eating this cheesecake. May have.
If you haven't done much cheesecake baking, don't be intimidated. They can take a little time to put together purely because of the steps involved with making the crust and filling – and then of course the long bake time – but honestly, they aren't hard. And boy are they worth it! I have loved cheesecake since I was a kid and have always been picky about the texture and this one is perfect. So thick, smooth and creamy. No gelatin here, friends. No sir.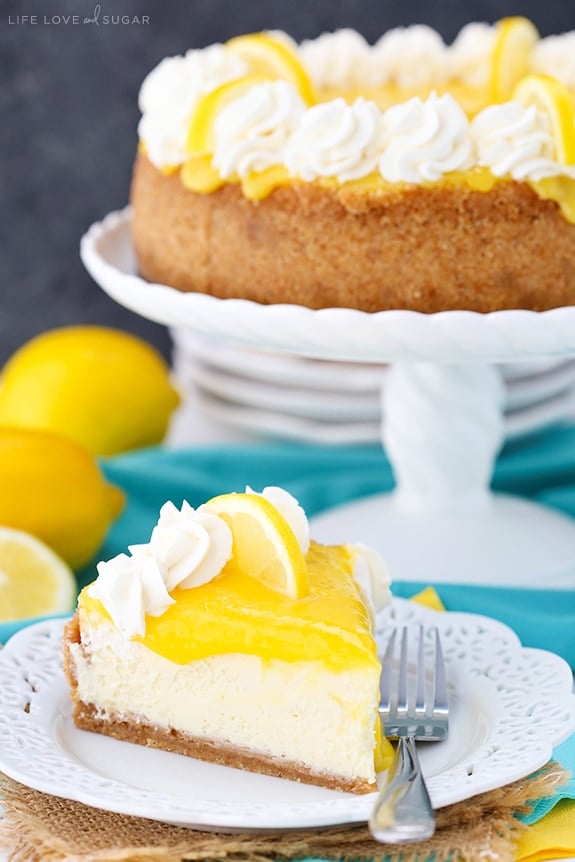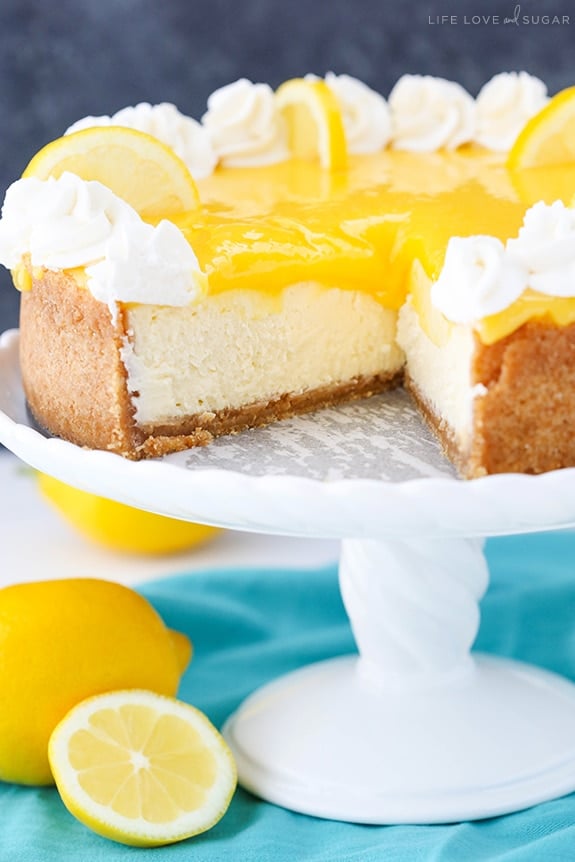 To start, I used vanilla wafer cookies for the crust. You could absolutely swap them out for graham cracker crumbs, but if you've never tried those cookies as a crust before you must. I toss a bit of sugar in there and it really is one of my very favorite crusts. It's pre-baked before adding the cheesecake filling, so you can work on the filling while it's in the oven.
The filling is a blend of all the best things in a cheesecake – cream cheese, sugar, sour cream and eggs. And then of course for this cheesecake we've got lemon zest and lemon juice. I use a very finely grated lemon zest so that it blends in well throughout the cheesecake.
The cheesecake bakes in a water bath. If you aren't familiar with setting up your pan for a water bath, check out my tutorial – how to prevent your cheesecake water bath from leaking. It really isn't hard and a water bath is SO much better than not using one. It helps keep the cheesecake moist, it keeps it from sinking in the center and it helps keep it from cracking.
The other things that are important in keeping a cheesecake from cracking are being sure to not mix the filling on a high speed (which incorporates air bubbles that cause cracks) and cooling the cheesecake slowly. I walk you through it in the instructions below so it's nice and easy.
The cheesecake is then topped with whipped cream and lemon curd. The lemon curd is to die for! So sweet and tart! I have a fair amount on top of this baby because I love it so. It firms up in the fridge, but will soften fairly quickly when out of the fridge.
I hope you love this cheesecake as much as I do! If you are a lemon fan, I have no doubt about it. Enjoy! 🙂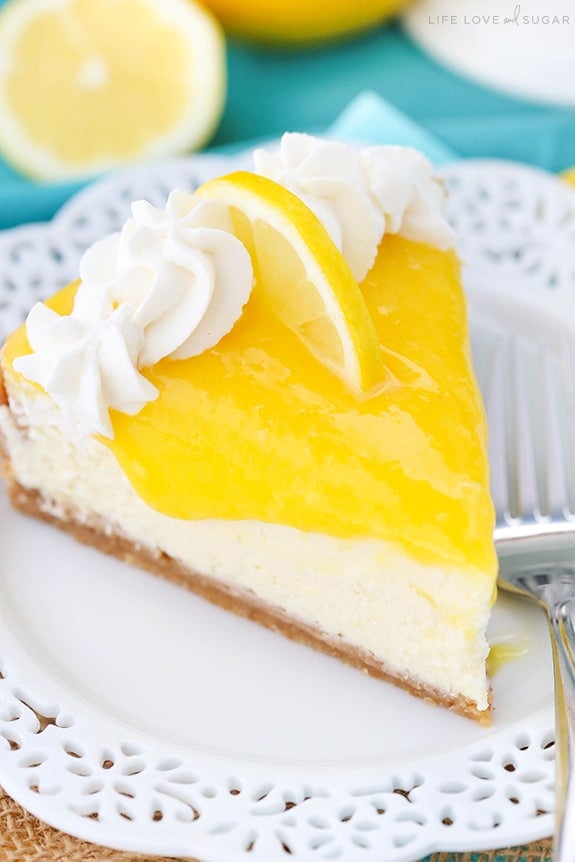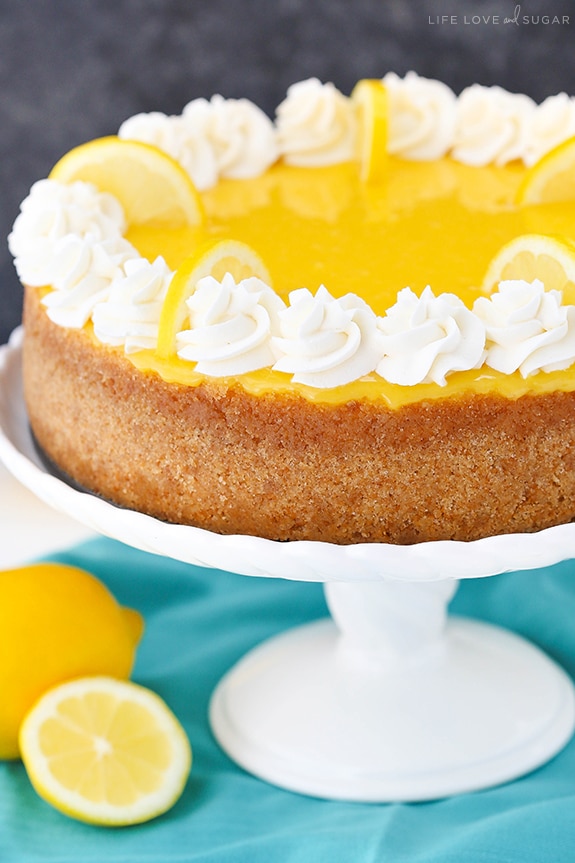 You might also like:
No Bake Lemon Cheesecake
Berry Lemon Cheesecake Cookie Cups
Lemon Blueberry Cheesecake
Mini Lemon Raspberry Cheesecakes
Lemon Berry Yogurt Trifles
Creamy Lemon Tart
Lemon Blueberry Cupcakes
Lemon Oreo Cheesecake
Print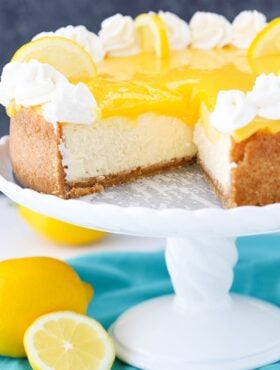 Recipe
Lemon Cheesecake
Author:

Prep Time:

1 hour

Cook Time:

1 hour 15 minutes

Total Time:

2 hours 15 minutes

Yield:

12-14 Servings

Category:

Dessert

Method:

Oven

Cuisine:

American
---
Description
This Lemon Cheesecake is smooth, thick and creamy! It's got a light lemon flavor in the cheesecake and big lemon punch from the lemon curd on top! A great combination of sweet and tart!
---
Ingredients
CRUST
2 ¼ cups

(

302g

) vanilla wafer crumbs

½ cup

(

112g

) salted butter, melted

3 tbsp

(

39g

) sugar
CHEESECAKE
24 ounces

(

678g

) cream cheese, room temperature

1 cup

(

207g

) sugar

3 tbsp

(

24g

) all purpose flour

1 cup

(240ml) sour cream

3 tbsp

(45ml) lemon juice

1 tbsp

lemon zest

4

large eggs, room temperature
LEMON CURD
6 tbsp

(90ml) lemon juice

1 tbsp

grated lemon zest

2/3 cup

(

138g

) sugar

6

large egg yolks

5 tbsp

(

65g

) salted butter
WHIPPED CREAM
3/4 cup

(180ml) heavy whipping cream, cold

6 tbsp

(

43g

) powdered sugar

1/2 tsp

vanilla extract
---
Instructions
CRUST

1. Preheat oven to 325°F (163°C). Line a 9-inch springform pan with parchment paper in the bottom and grease the sides.
2. Mix together the crust ingredients until well combined and press the mixture into the bottom and up the sides of the springform pan.
3. Bake the crust for 10 minutes, then set aside to cool.
4. Cover the outsides of the pan with aluminum foil to prepare it for a water bath. Check out my tutorial on how to prevent your cheesecake water bath from leaking. Set prepared pan aside.
FILLING
1. Reduce oven temperature to 300°F (148°C).
2. In a large bowl, beat the cream cheese, sugar and flour on low speed until well combined and smooth. Be sure to use low speed to reduce the amount of air added to the batter, which can cause cracks. Scrape down the sides of the bowl.
3. Add the sour cream, lemon juice and lemon zest and mix on low speed until well combined.
4. Add eggs one at a time, mixing slowly to combine. Scrape down the sides of the bowl as needed to make sure everything is well combined.
5. Pour the cheesecake batter into the crust and spread evenly.
6. Place the springform pan inside another larger pan. Fill the outside pan with enough warm water to go about halfway up the sides of the springform pan. The water should not go above the top edge of the aluminum foil on the springform pan.
7. Bake the cheesecake for 65 minutes.
8. Turn off the oven and leave the cheesecake in oven with the door closed for 15 minutes. Do not open the door or you'll release the heat.
9. Crack oven door and leave the cheesecake in the oven for another 20 minutes. This cooling process helps the cheesecake cool slowly to prevent cracks.
10. Remove from oven and let sit on the counter for 15 minutes, then remove the pan from the water bath and remove aluminum foil. Refrigerate cheesecake until completely cooled and firm, 6-7 hours.
LEMON CURD
1. While cheesecake cools, make the lemon curd. Combine all ingredients in a double boiler, or in a metal bowl over a pot of simmering water. Do not boil the water or the heat will be too hot. Occasionally lift the bowl off the pot to release the steam.
2. Heat while whisking constantly until mixture thickens and reaches 160°F (71°C). Refrigerate until cool and thickened.
TO FINISH OFF THE CHEESECAKE
1. When the cheesecake is cool and firm, remove from the springform pan and set on a serving plate.
2. To make the whipped cream, add heavy whipping cream, powdered sugar and vanilla extract to a mixing bowl fitted with the whisk attachment and whip until stiff peaks form.
3. Pipe swirls of whipped cream around the edge of the cheesecake.
4. Spread the lemon curd in an even layer on top of the cheesecake.
5. Refrigerate cheesecake until ready to serve. Cheesecake is best for 2-3 days.
---
Notes
I used 3 full lemons for the lemon zest and juice used in the cheesecake and lemon curd.
Nutrition
Serving Size:

1 Slice

Calories:

492

Sugar:

38.6 g

Sodium:

338.6 mg

Fat:

30.3 g

Carbohydrates:

47.7 g

Protein:

9.3 g

Cholesterol:

209.2 mg
Keywords: lemon dessert recipe, cheesecake recipe, how to make cheesecake
Filed Under:
Enjoy!
This post may contain affiliate sales links. Please read my disclosure policy.