Cheesecakes are one of my favorite desserts and they aren't super complicated to make. But they can take a little time due to the long baking process. Perhaps the toughest part is knowing just when your cheesecake is done baking. Too little time and your cheesecake is too soft in the middle. Too much time and your cheesecake could be too firm, dry and crack. So how do you know when it's just right and ready to begin the cooling process? Here's how to get a perfectly baked, creamy cheesecake every time.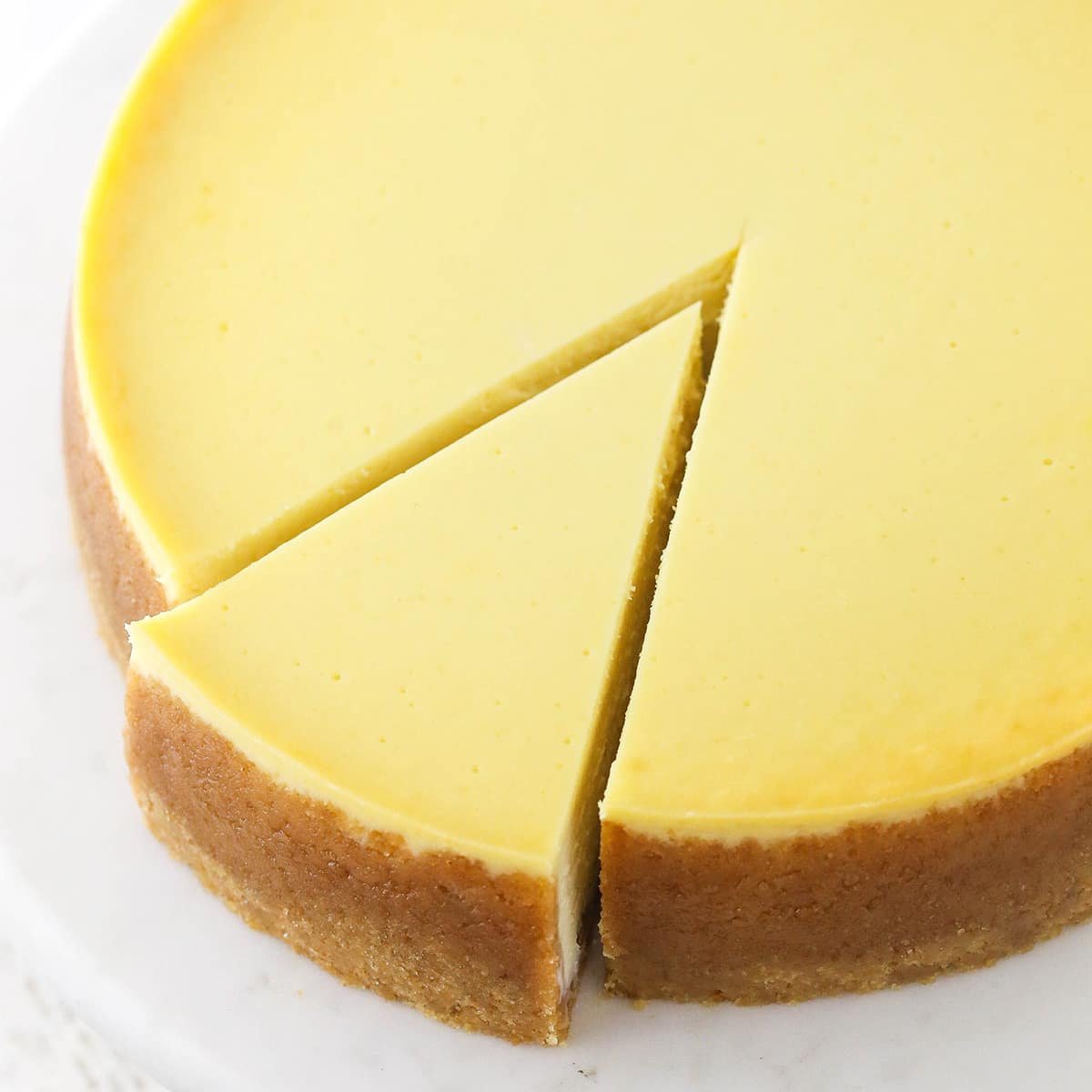 How To Tell If Cheesecake Is Done
There are a couple ways to tell if cheesecake is done. I don't recommend the standard toothpick test you'd apply to a cake, since cheesecake is a different beast. My preference is the jiggle test, but feel free to try the other method as well.
Method 1: The Jiggle/Wobble Test
This is truly the best method. You don't mess up the top of your cheesecake with this method, although it can take a little practice to get used to just the right amount of jiggle.
So how much jiggle and how to jiggle? I like to use gloves and gently shake my cheesecake pan to get it to jiggle. You want the outer 2-3 inches of the cheesecake to look more set and less jiggly, and in the center to be the party that's jiggly. It should wobble a bit, but not too much. If it looks liquid-y still and has kind of a sloshy wiggle, it's not done it. If it's just set and still jiggly, it should be good. With my cheesecakes, the next step is to actually close the oven and keep as much heat in there as you can while leaving the cheesecake in there for a little longer, typically about 30 minutes. This lets the cheesecake have a chance to finish cooking and firm up more, while also starting to cool slowly and avoid cracks. So while the cheesecake is "done" when it is still jiggly upon testing it, it should still cook a little more and firm up during the cooling process.
Method 2: Temperature Test
I don't love this method because it'll leave a hole in the top of your cheesecake, but if you truly want to be sure that it's cooked, you can stick a thermometer in your cheesecake. The safe internal temperature for a cheesecake is 150ºF. If you're going to be adding a topping to your cheesecake, the hole won't show so give this method a try. 
Watch The Video
Test It Out
Want to test out your newfound knowledge of baking cheesecake? Here are some great recipes to try:
Check out my cheesecake archives for even more!
This post may contain affiliate sales links. Please read my disclosure policy.