Triple Berry Trifle Recipe
This Triple Berry Trifle recipe is easy to make and so delicious! It's a light, no bake dessert that's filled with layers of angel food cake, pudding & fresh berries. This trifle is perfect for parties and holidays!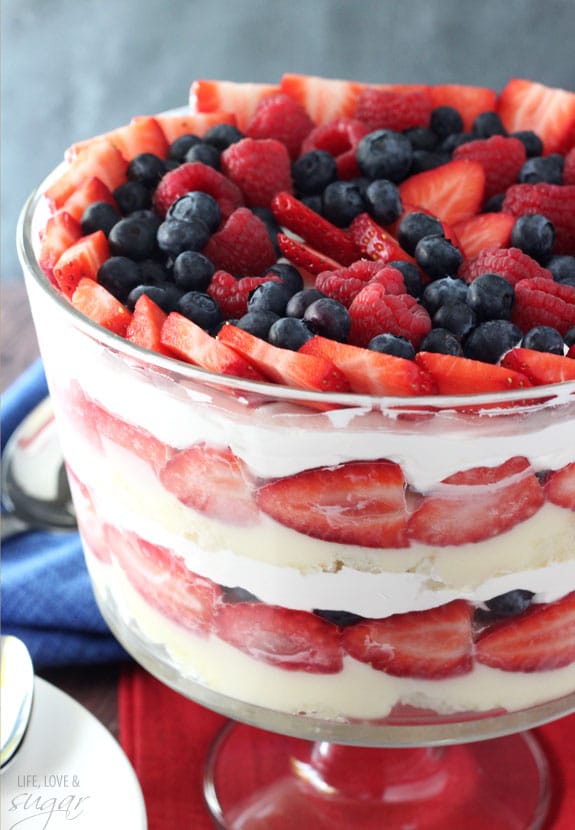 This Easy Berry Trifle Is Perfect For Summer Parties
This easy trifle recipe is completely addicting, which turns out great in this case, because it feels so guilt free. Perfect for those trying to eat a little healthier, but also great for summer and 4th of July (I like to plan ahead. 🙂 )
So I know you might be wondering why I'd post a recipe featured lots of fresh fruit smack dab in the middle of winter. Well, let me tell you, because there are many reasons.
1. This dessert is so nice and light, it seemed like a great time for it. Angle food cake is pretty light as far as cake goes, and cool whip is light and can be fat free. Pudding is pretty light. Fruit is fruit – healthy. It makes this such a great dessert option for those watching their weight. You could even make this into individual trifles.
2. Fruit was on sale at our grocery store. I had to take advantage of the sale.
3. I am dying for summer and fruit season. I love love love fruit and I love it in dessert. And as cold as it's been in Atlanta the past week (teens and 20s, which is really cold for us), I need a little summer in my life right now.
Plus, like I said, it's amazing. So why not?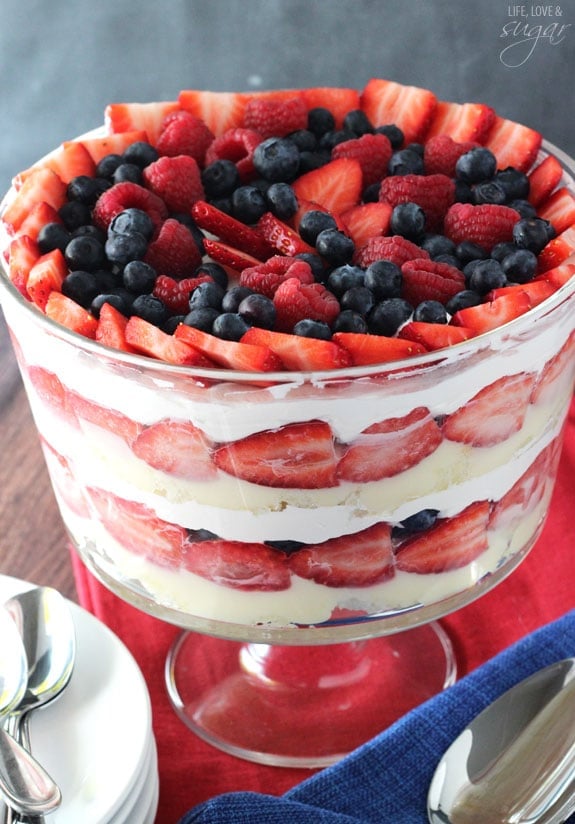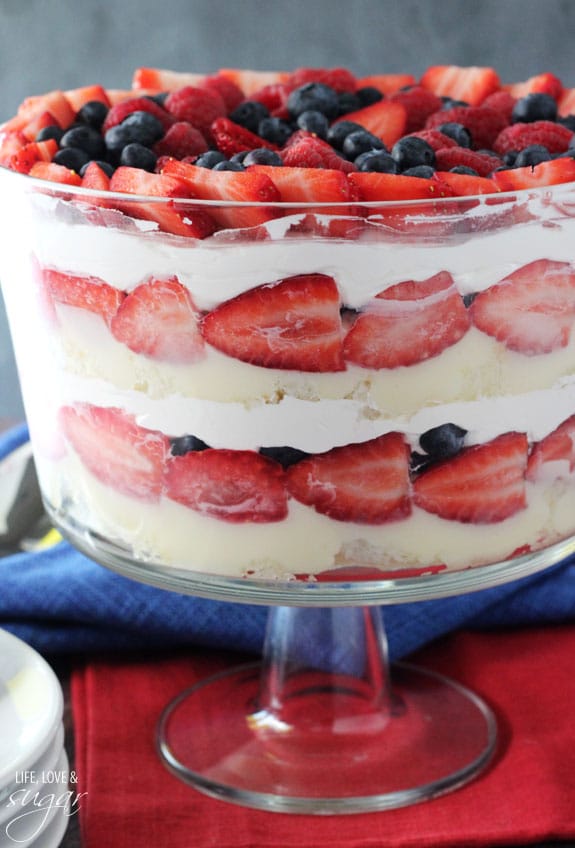 Customize This Trifle Dessert To Fit Your Taste
You could certainly replace the cheesecake flavored pudding with another flavor, like vanilla, but I absolutely love the cheesecake one. The flavor is awesome and is always a hit when I use it. You could also replace the angel food cake with pound cake, I just like the lightness of the angel food.
One of the great things about trifles is how easy they are to put together. Growing up, I actually didn't bake that much, believe it or not. I did a lot of regular cooking with my mom. She made dinner pretty much every night and I helped a lot. But she's not into baking, so I didn't so it that much either.
But we did make trifles. A friend of my mom's brought a delicious chocolatey one over one night and we fell in love with it and made it all the time. Trifles are awesome, easy and light. You can't go wrong.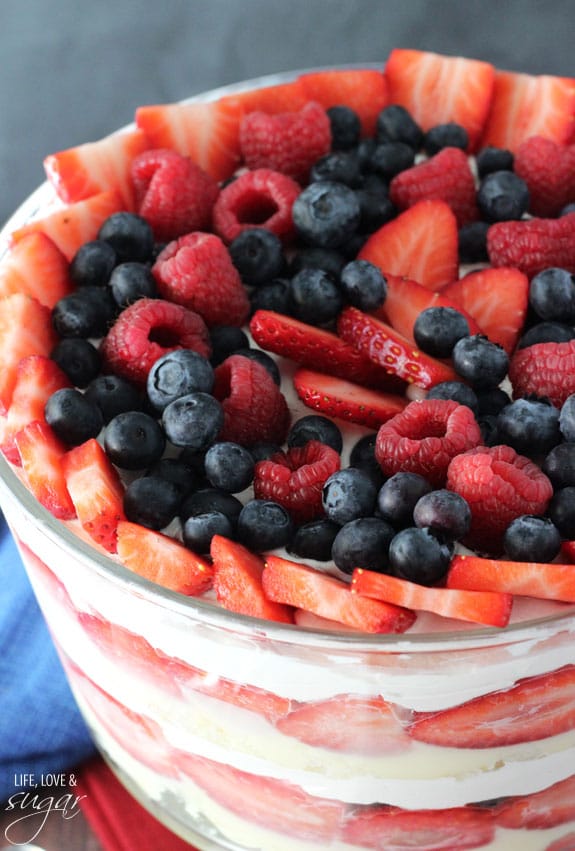 And this summery, fruity one will totally make you happy if you are stuck in a bunch of cold weather right now.
We are actually in Miami right now and can't believe how perfectly the timing of our trip worked out. We got to leave the cold behind for the weekend and are in Miami until tonight – our happy place. Some friends had their baby baptized yesterday, so we came down for that and to celebrate the hubs' birthday.
We have some really great friends down here and since we lived in Fort Lauderdale for a few years, we have some favorite spots and things to do and love to come down at least once a year. The first stop was definitely the beach – so stinkin' relaxing. Every time we're here, we wonder why in the world we left and if we should forget everything and move back. It's been about 80 degrees this weekend. Heaven.
Just down the road from our friends, there's actually the Knaus Berry Farm where you can go right now and pick fresh strawberries. They also have the most amazing cinnamon rolls. Like, crazy good. There was about an hour line to wait for them when my friend went to get them Saturday morning. But they are amazing and totally worth it, so if you're ever in the area you have to try them. I'd also recommend getting some strawberries – and making this trifle. Both are things you won't regret.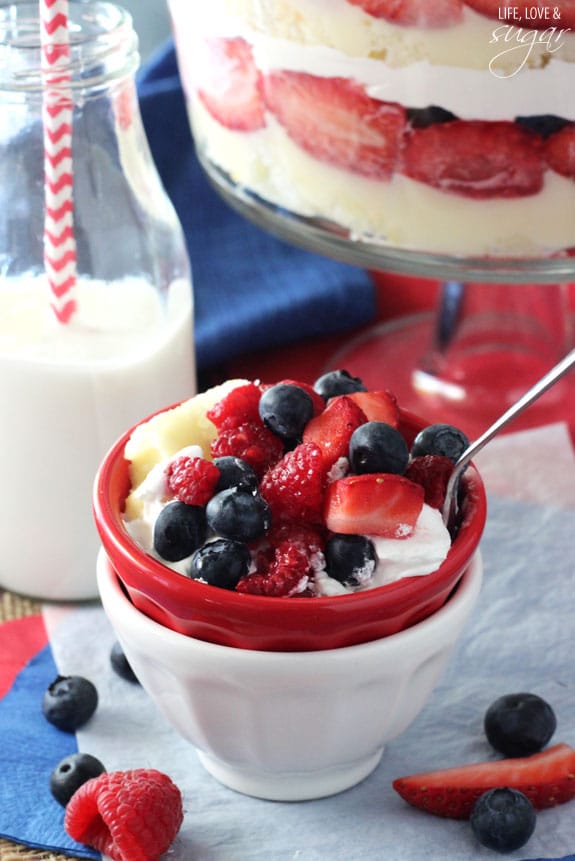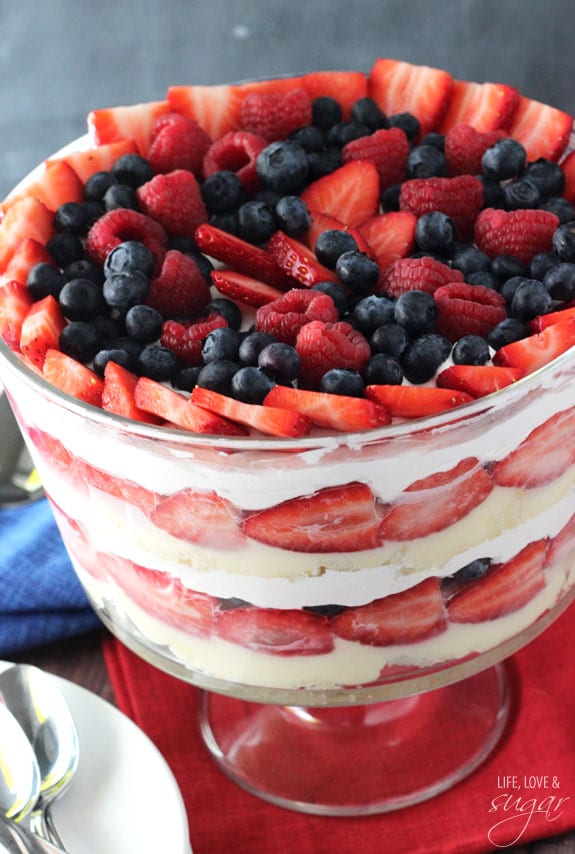 More Trifle Dessert Recipes You Might Like:
Mini Berry Custard Trifles
Peach Raspberry Sangria Trifle
Mini Tiramisu Trifles
Caramel Cheesecake Brownie Trifle
Easy Lemon Strawberry Trifle
Raspberry Amaretto Cheesecake Trifles
Triple Berry Trifle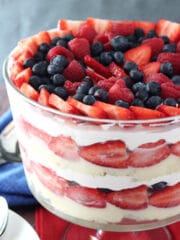 This Triple Berry Trifle recipe is easy to make and so delicious! It's a light, no bake dessert that's filled with layers of angel food cake, pudding & fresh berries. This trifle is perfect for parties and holidays!
Author:
Prep Time:

3 hours 30 minutes

Total Time:

3 hours 30 minutes

Yield:

10

-

12

1

x
Category:

Dessert

Method:

No Bake

Cuisine:

American
Ingredients
two

3.4 oz

packages instant cheesecake flavored pudding mix*

4 cups

milk
Angel food cake (about 12 oz), cut into pieces

1 cup

chopped strawberries

1 cup

blueberries

1 cup

chopped raspberries

12 oz

cool whip (or homemade whipped cream)
Instructions
1. Add pudding mix and milk to a large bowl and make according to package directions.
2. Add about half of the angel food cake pieces to the trifle dish.
3. Top with about 1/2 of the prepared pudding.
4. Top pudding with about 1/2 cup of each kind of berry.
5. Top berries with about half of the cool whip.
6. Repeat steps 2-5.
7. Finish off trifle with additional berries on top.
8. Refrigerate for about 2-3 hours, until ready to serve.
*could be replaced with vanilla flavored pudding if you can't find the cheesecake flavored pudding
Notes
Amounts of berries listed are for inside the trifle. If you want to be able to use sliced strawberries to decorate the edges of the layers and have enough berries to add to the top, you'll need additional berries. I'd recommend at last a 1 lb container of strawberries. If you want to be able to add more blueberries and raspberries to the top, then about 11-12 oz containers.
Keywords: trifle recipe, easy trifle recipe, berry trifle, fruit trifle, trifle dessert, strawberry trifle, recipes for a trifle, recipe for trifle, trifle with strawberries
Enjoy!