May 5, 2017
Oreo Cheesecake Brownie Trifle
This Oreo Cheesecake Brownie Trifle makes such a great, easy treat! It'd be perfect for a potluck or get together with friends this summer and will be sure to satisfy all the chocolate cravings!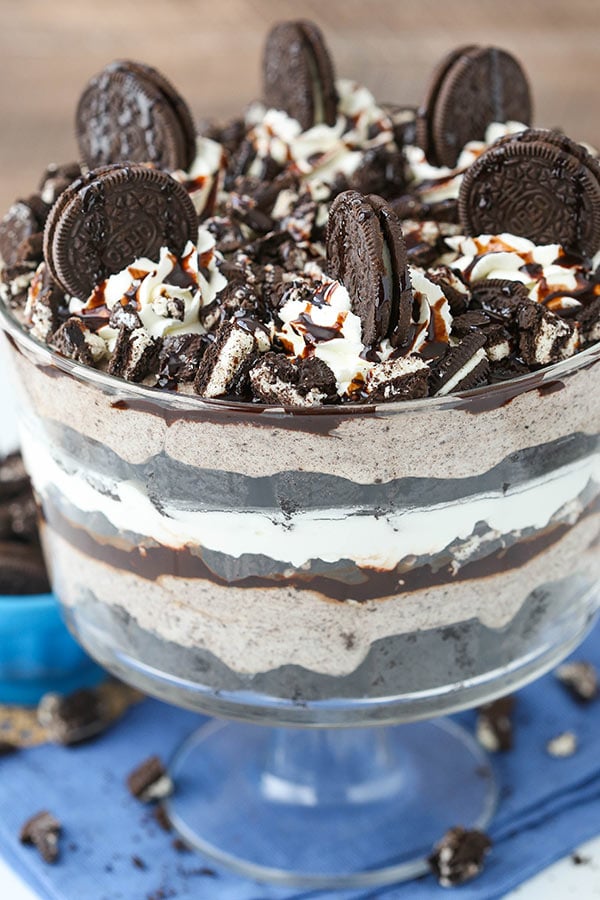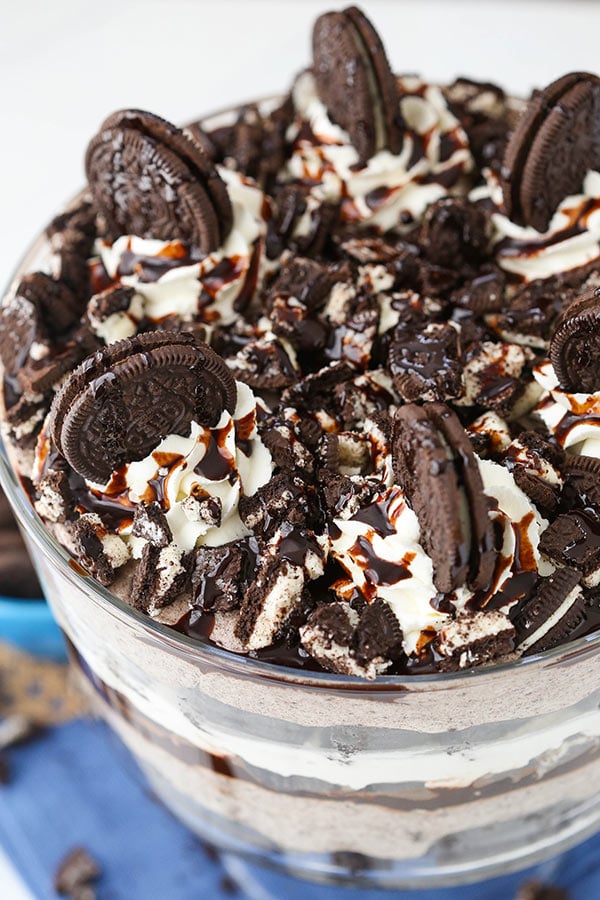 So I am a person of habit. I like doing certain routine things the same way every time. If I don't, it totally throws me off. Like getting ready in the mornings, for example. I put my makeup on in the same order every time. If I don't, I know I'll forget something and walk out of the house with half my face missing.
My routines even help when I packing for a trip because it helps me remember what to pack as I think through each routine. If it's not part of my routine, I'll likely forget to pack it.
I even go through the grocery store the same way every time. I always start on the right side of the store and work my way to the left. I also tend to go up and down the aisles beginning on the same ends. Recently when I was at the store, I only needed to pick up a few things so I didn't follow my normal patterns for a full grocery trip. I ended up on what is normally my last aisle and went down the aisle starting from a different direction. It sounds so weird but it totally threw me off! It was like I didn't know where I was and had to stop for a second to remember what I was even doing.
Perhaps I'm also just getting old and lose my thoughts as quickly as I think them, but I'll totally blame my weird aisle walking habits. 😉

MY OTHER RECIPES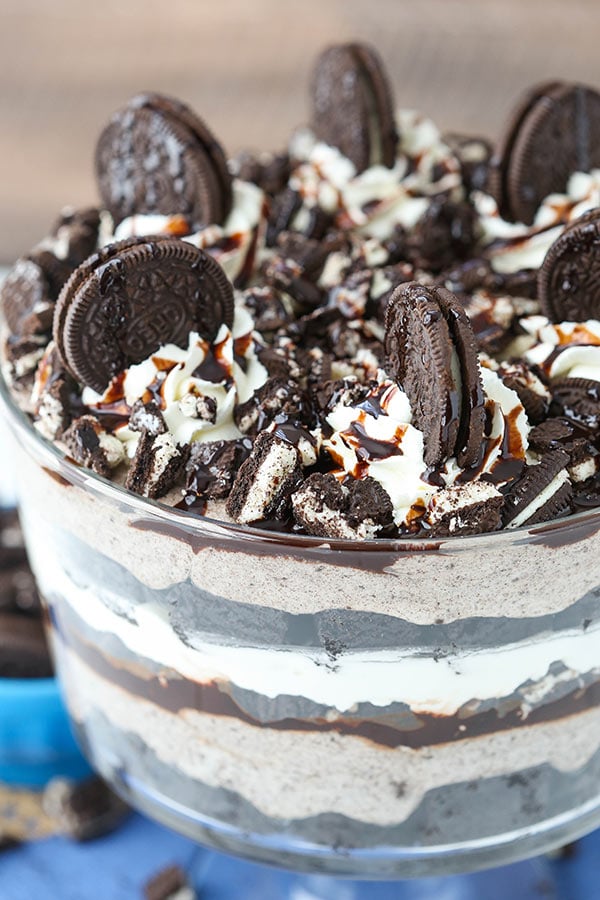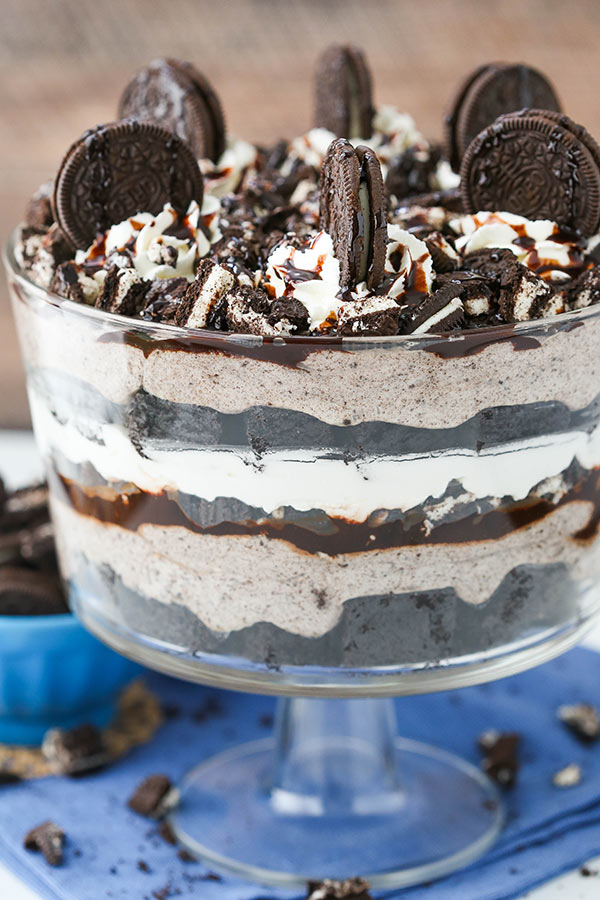 One habit I will totally own though is my dessert habit. I'm pretty sure eating dessert after every meal became habit as a kid. Even though it isn't so much the case as an adult (self-control is definitely learned), I still get to channel my dessert-loving habits into making fun desserts like this trifle.
One of my favorite cookies has always been Oreos. I mean there is just something about double stuf ones with all that goodness in there. I can't help but add them to desserts. There's my No Bake Oreo Cheesecake, Oreo Chocolate Layer Cake, Oreo Chocolate Cupcakes, Oreo Chocolate Poke Cake, the list goes on. Today we are keeping it nice and simple with this trifle that's full of brownies and no bake oreo cheesecake. YUM!
To start, you'll want to bake the brownie that you'll use in the trifle. I doubled my favorite quick and easy brownie recipe that is super easy to throw together. Once baked and cooled, chop it up into little bite sized pieces.
Next you'll want to make the Oreo cheesecake filling. It's loaded with Oreo crumbs, so you're sure to have plenty of chocolate and Oreo flavor! You'll also need some whipped cream, chocolate sauce and more Oreos – because more Oreos = more better.
The best part is how easy it is to put trifles together. Layer everything together and you're ready to go! I kind of like to give trifles a chance to sit in the fridge for a bit so things can all kind of come together, but if you're in a hurry you could certainly serve it shortly after making it. The Oreo flavor is on full blast and when paired with the chewy brownies, it's heaven in every bite.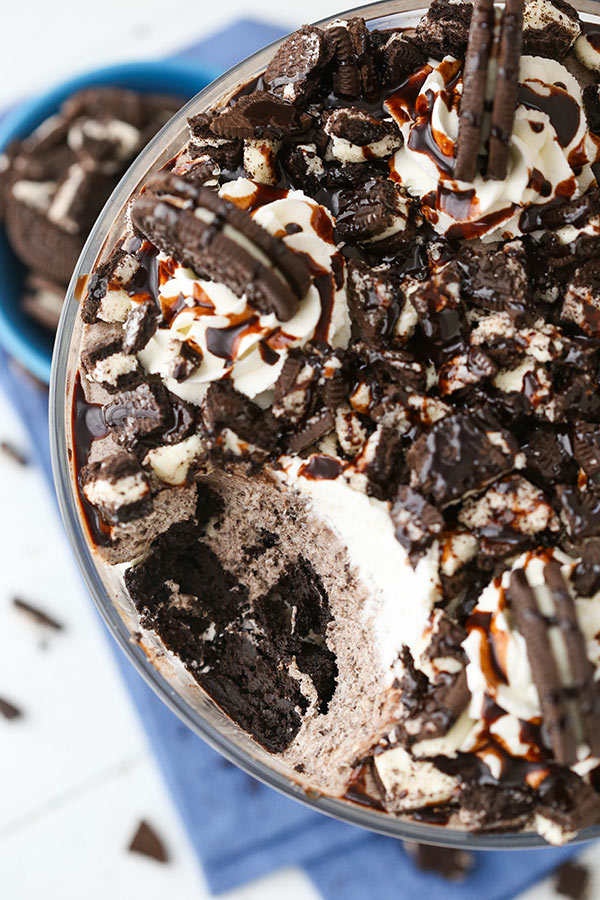 Oreo Cheesecake Brownie Trifle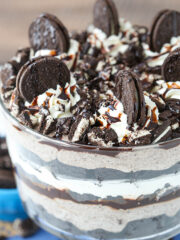 Category:

Dessert

Method:

Oven

Cuisine:

American
Ingredients
BROWNIE
1 1/2 cups (336g) unsalted butter, melted
2 cups (414g) sugar
1 tsp vanilla extract
4 eggs
1 1/2 cups (195g) flour
3/4 cup (85g) cocoa
1/2 tsp baking powder
1/2 tsp salt
OREO CHEESECAKE FILLING
16 oz (452g) cream cheese, room temperature
3/4 cup (155g) sugar
3 tbsp (45ml) milk
2 tsp vanilla extract
1 1/4 cups (300ml) heavy whipping cream, cold
1/2 cup (58g) powdered sugar
1 1/2 cups (176g) Oreo crumbs
ADDITIONAL
1 1/4 cups (300ml) heavy whipping cream, cold
1/2 cup (58g) powdered sugar
1 tsp vanilla extract
1/2 cup chocolate sauce
16-20 Oreos, chopped
Instructions
1. Preheat oven to 350°F (176°C). Grease a 9×13 inch (23×33 cm) baking pan.
2. To make the brownie, combine the butter, sugar and vanilla extract in a medium sized bowl.
3. Add eggs and mix until well combined.
4. Combine flour, cocoa, baking powder and salt in another medium sized bowl.
5. Add the dry ingredients to the egg mixture and mix until well combined.
6. Pour the batter into the prepared pan and spread evenly.
7. Bake for 24-27 minutes, or until a toothpick comes out with a few moist crumbs. Set aside to cool.
8. To make the cheesecake filling, add the cream cheese and sugar to a large mixer bowl and mix until well combined and smooth.
9. Add the milk and vanilla extract and mix until well combined. Set aside.
10. In another bowl, add the heavy whipping cream and powdered sugar to make the whipped cream. Whisk on high speed until stiff peaks form.
11. Fold about 1/3 of the whipped cream into the cream cheese mixture until combined.
12. Add the remaining whipped cream to the cream cheese mixture and fold until combined.
13. Add the Oreo crumbs and gently fold until well combined.
14. To make the additional whipped cream for layering, add the heavy whipping cream, powdered sugar and vanilla extract to a large mixer bowl. Whisk on high speed until stiff peaks form.
15. To layer everything together, but the brownie into small pieces. Add about half of the brownie pieces to the bottom of the trifle dish.
16. Add about half of the cheesecake filling in an even layer on top of the brownies.
17. Add about 3/4 of the chopped Oreos in an even layer on top of the cheesecake filling, then drizzle with chocolate sauce.
18. Add a little more than half of the whipped cream, reserving enough to pipe some on the top of the finished trifle.
19. Add another layer of brownies and cheesecake filling.
20. Finish off the trifle with some swirls of the remaining whipped cream, the remaining chopped Oreos and another drizzle of chocolate sauce.
21. Refrigerate trifle until ready to serve. I like to let it all set together for a few hours before serving. Trifle is best when covered for 3-4 days.
Enjoy!