Reeses Peanut Butter Fudge Brownies
These Reeses Peanut Butter Fudge Brownies are a peanut butter and chocolate dream! With a brownie on the bottom, reeses-filled peanut butter fudge in the middle and a layer of chocolate on top, you won't be able to stop at just one!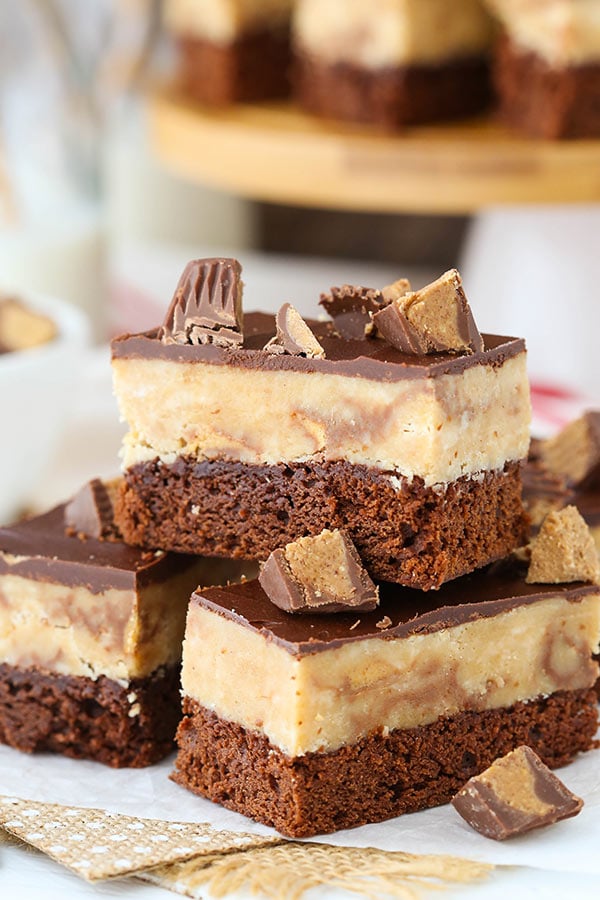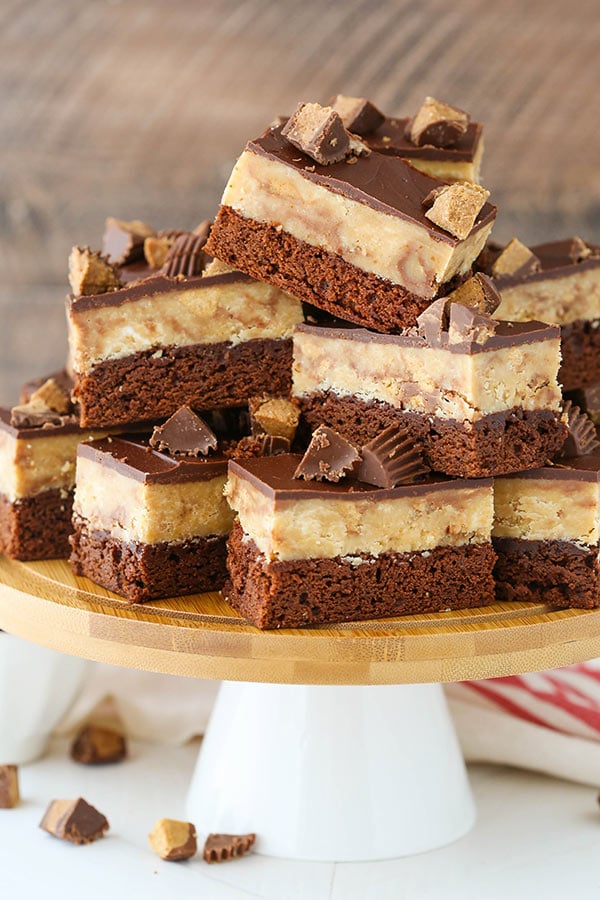 So back in the day, when the hubs and I were freshly married, had few big responsibilities and lived by the beach in Fort Lauderdale, we lived in a tiny little condo that we rented. We loved every bit of it because it was walking distance to the beach, restaurants and bars, but it had one big flaw – no dishwasher. But I got pretty used to hand wishing things so it didn't really bother me.
Then we moved to Georgia and bought a house. Enter the dishwasher. Such a wonderful thing. However I'd gotten so used to hand washing things, that it kind of carried over and I found myself hand washing a good bit of our dishes. Some thought I was nutty, but it was all fine by me.
Well. Enter a blog and allllllthedishes. So many dishes. Endless. Now? If it won't ruin it to put in the dishwasher, the dishwasher is where it's going! Plus, at a KitchenAid event last year, they told us that dishwashers actually use less water than washing by hand. You don't have to tell me twice!
I've now gotten quite lazy with my dishwashing and I don't regret it one bit. I was quite proud of myself last night after running the dishwasher twice just to avoid hand washing. I have a dishwasher and I know how to use it. 🙂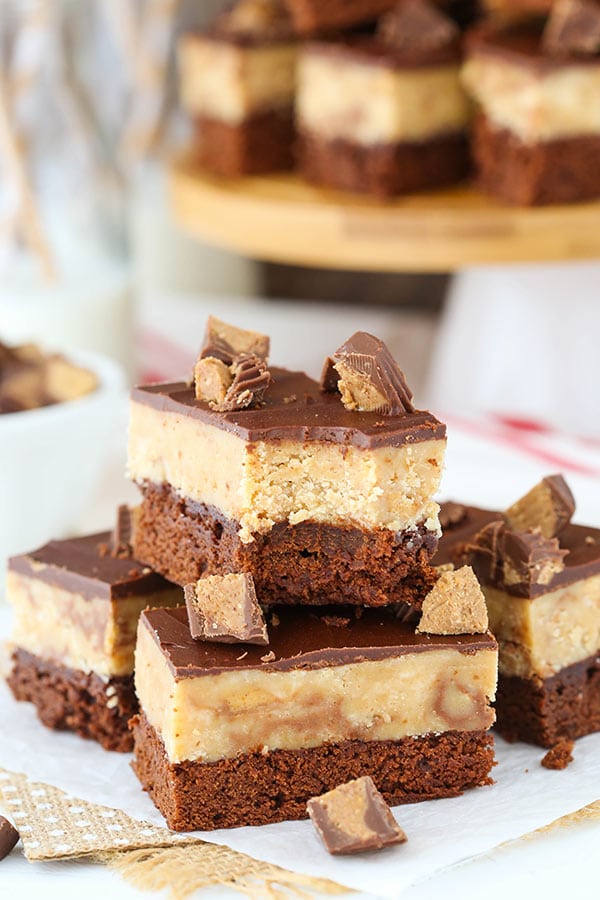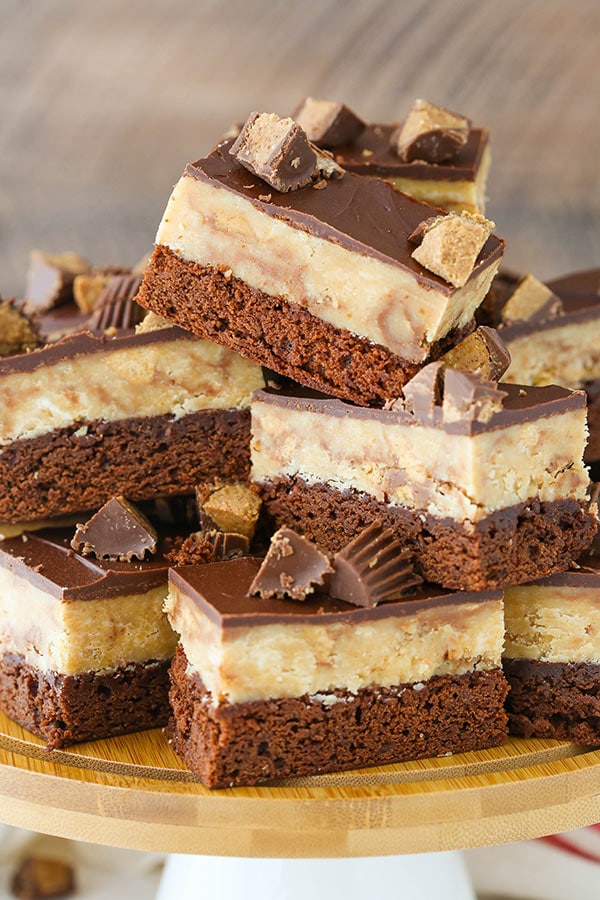 Besides, less hand washing means more time for making tasty treats like these Reeses Peanut Butter Fudge Brownies. If you've tried my Nutella or Baileys versions before, than you'll be familiar with the general process of making these. The biggest difference is that instead of regular chocolate chips, you'll use white chocolate chips and peanut butter.
The first thing you'll do is make the brownie. One of the things I love about this brownie batter is how easy it is to make. You can see in the video just above the recipe below that I don't even bother with my mixer. Just a bowl and a whisk! Combine the dry ingredients, then the wet, then combine them all together. Easiest brownies ever!
Next is the fudge. It's made with white chocolate chips, sweetened condensed milk and peanut butter. Everything is combined in a double boiler (or in a bowl over a pot of simmering water) and melted together. The mixture will begin to thicken as the white chocolate melts into it. It ends up quite thick by the time it's all melted and might even seem a little crumby. Stir in the Reeses and then pour the mixture on top of the baked brownie.
As you press the fudge mixture together on top of the brownies, it'll all come together and form a lovely peanut butter fudge that is studded with reeses! Yum!
On top of that, there's a little layer of melted chocolate and some additional chopped Reeses to finish it off!
These are bars are heaven for a peanut butter and chocolate lover! The chewy brownie with the fudge on top is one of my favorite things and this version does not disappoint!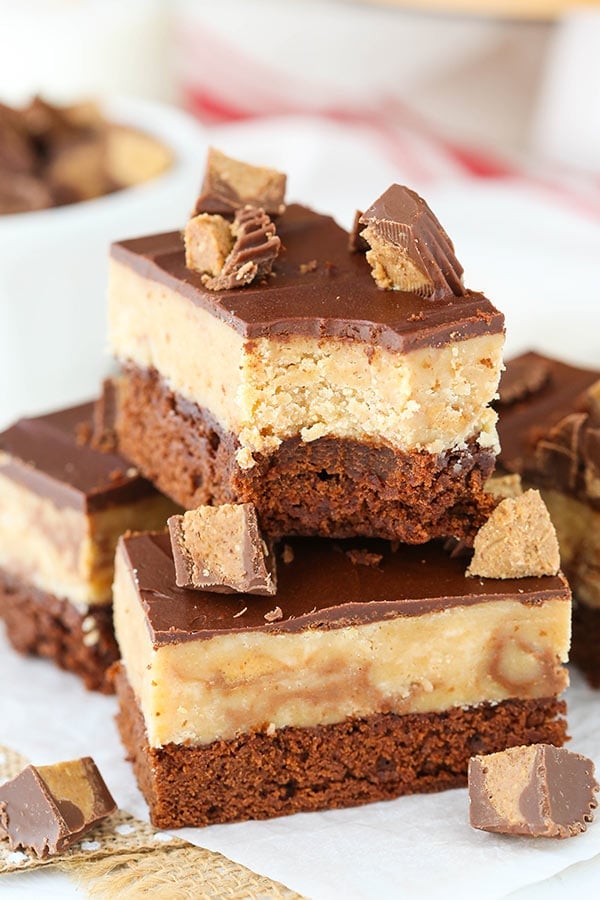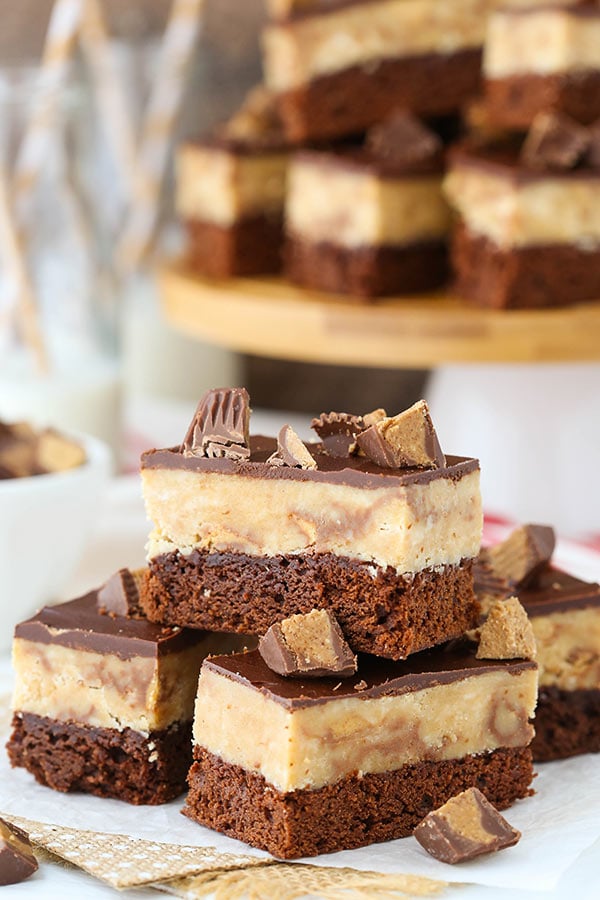 Reeses Peanut Butter Fudge Brownies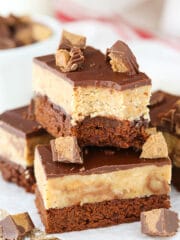 Yield:

16

-

20

Brownies

1

x
Category:

Dessert

Method:

Oven

Cuisine:

American
Ingredients
BROWNIE
3/4 cup

(168g) unsalted butter, melted

1 cup

(207g) sugar

1 tsp

vanilla extract

2

large eggs

3/4 cup

(98g) all purpose flour

6 tbsp

(43g) natural unsweetened cocoa

1/4 tsp

baking powder

1/4 tsp

salt
PEANUT BUTTER FUDGE
2 cup

s (

12 oz

| 340g) white chocolate chips

1 cup

(240ml) sweetened condensed milk

1 cup

(280g) peanut butter

1 cup

(145g) chopped reeses (about

8

full sized)
TOPPING
1 cup

(

6 oz

) semi sweet chocolate chips

1 tbsp

shortening

1/2 cup

(73g) chopped Reeses
Instructions
TO MAKE THE BROWNIE:
1. Preheat oven to 350°F (176°C). Grease a 9×9 baking pan or line it with parchment paper or aluminum foil, which you can use to remove the brownies from the pan when they are done.
2. In a medium sized bowl, combine the flour, cocoa, baking powder and salt. Set aside.
3. In another medium sized bowl, combine the butter, sugar and vanilla extract.
4. Add the eggs and mix until well combined.
5. Add the dry ingredients to the egg mixture and mix until well combined.
6. Pour the batter into the prepared pan and spread evenly.
7. Bake for 18-20 minutes, or until a toothpick comes out with a few moist crumbs.
TO MAKE THE FUDGE AND TOPPING:
8. Combine the white chocolate chips, sweetened condensed milk and peanut butter in a metal or glass bowl. Set the bowl over a pot of simmering water (or use a double boiler).
9. Stir the mixture continuously until everything is melted and smooth. The fudge mixture will start out thinner, but thicken as the white chocolate melts. It'll even seem a little crumbly when finished. It's ok.
10. Remove the fudge from the heat and gently stir in the chopped reeses.
11. Pour the fudge mixture on top of the brownies and press into an even layer. The fudge mixture should start to come together as you press it onto the brownie.
12. Set brownies in refrigerator to set, 4-5 hours.
13. For the topping, add the chocolate chips and shortening to a microwave safe bowl. Microwave in 15 second increments until the chocolate and shortening are melted and smooth.
14. Spread chocolate into an even layer over the fudge, then sprinkle with chopped Reeses.
15. Cut brownies into bars. Store brownies in an airtight container in the refrigerator. Brownies are best for 3-4 days, but should be ok for up to 5-6 days.
Enjoy!


You might also like: