April 8, 2015
Reeses Chocolate Peanut Butter Tart
This Reese's Chocolate Peanut Butter Tart is so delicious! It's made with ganache, so it's super smooth. It might also be one of the easiest things I've ever made. Boy do I love a good no bake dessert!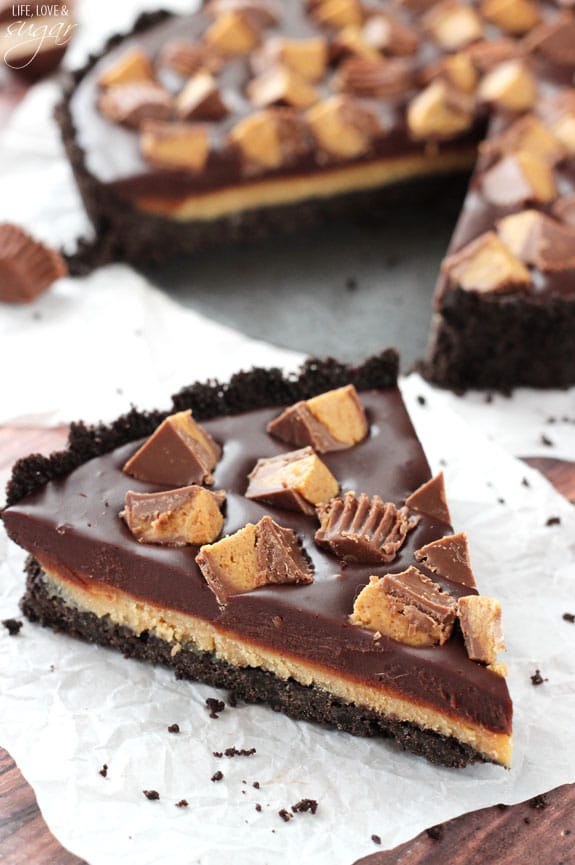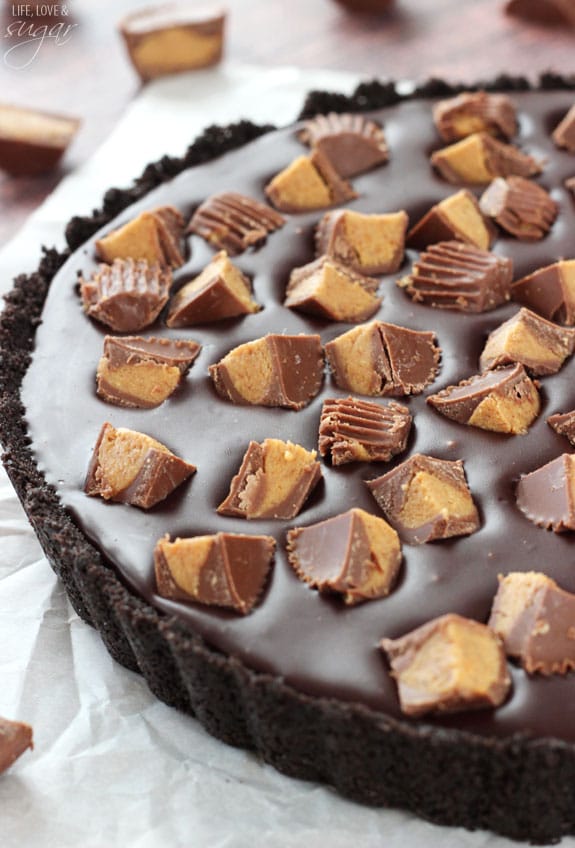 So the last few days, my mom has been visiting. The hubs has been out of town, so we've been enjoying some girl time.
Honestly, she's been spoiling me a bit. First of all, she brought crab legs for dinner one night and we had sushi last night. Two of my favorite things. #spoiled
And as usual, she's been cleaning my house. In fact, she claims that's the real reason she's here. I won't even tell you all that she's done, but I will tell you that everything she cleans, she cleans better than me. It's a gift. For both of us.
When she's here cleaning, we always laugh over how funny it is that we can be so different when it comes to cleaning and baking. I much prefer baking and making the mess and she feels super satisfied when it's clean. We've decided that makes us the perfect pair. 🙂
And in return for her cleaning, I'm doing something for her that she doesn't care for – baking.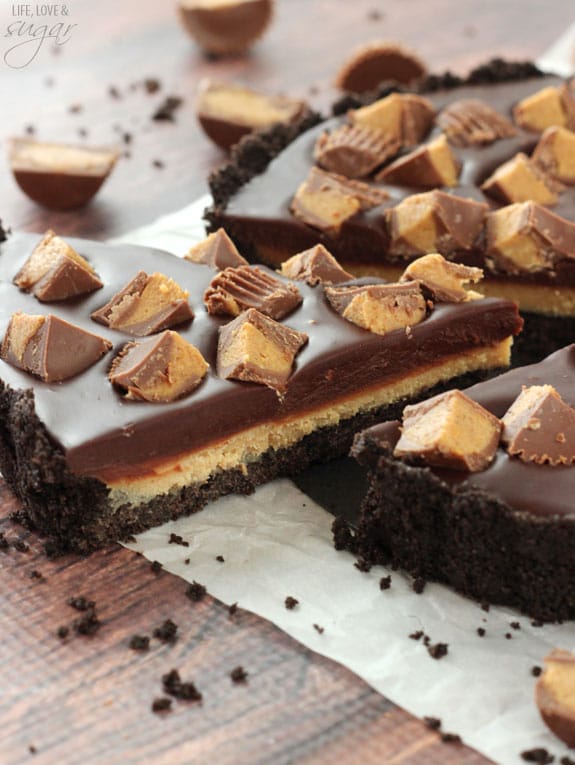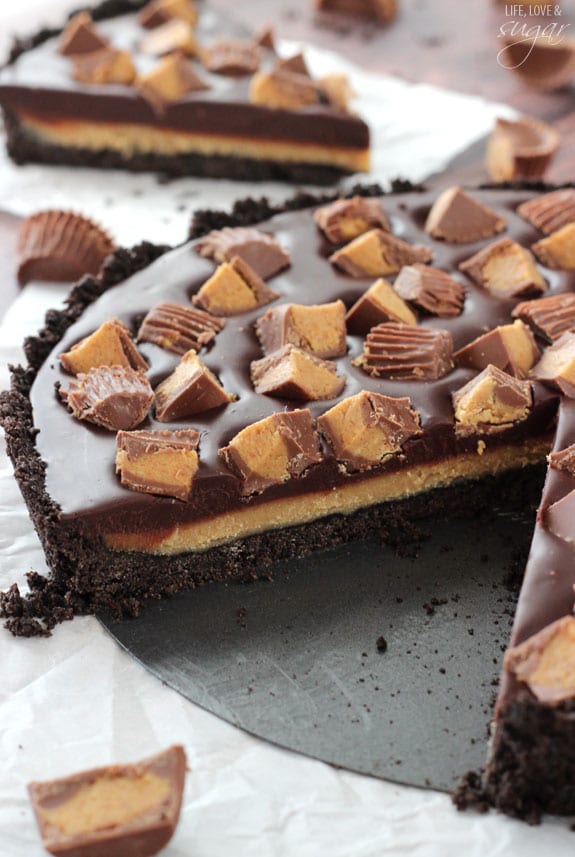 She is not a baker. She is a cook. Believe it or not, I actually grew up cooking with her. I have always loved desserts, but making them is something that I began doing as an adult. I actually used to cook – a lot.
So this weekend, my parents are meeting up with some friends and she's been asked to bring dessert. Since she is not into making dessert (like, at all) she was a little bewildered at what to bring.
Then my dad pointed out she'd be here with me, so she could just bring her cake carrier (that is reserved for my desserts) and bring stuff home. So in exchange for her general awesomeness and cleaning skills, I am making her desserts.
The craziest part? She thinks it's a fair trade.
Don't tell her, but I totally have the better end of the deal. 😉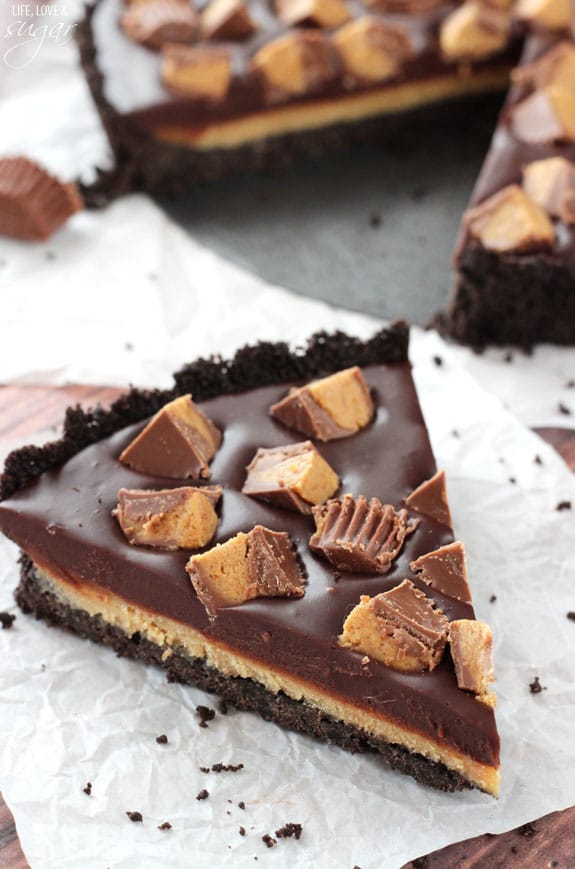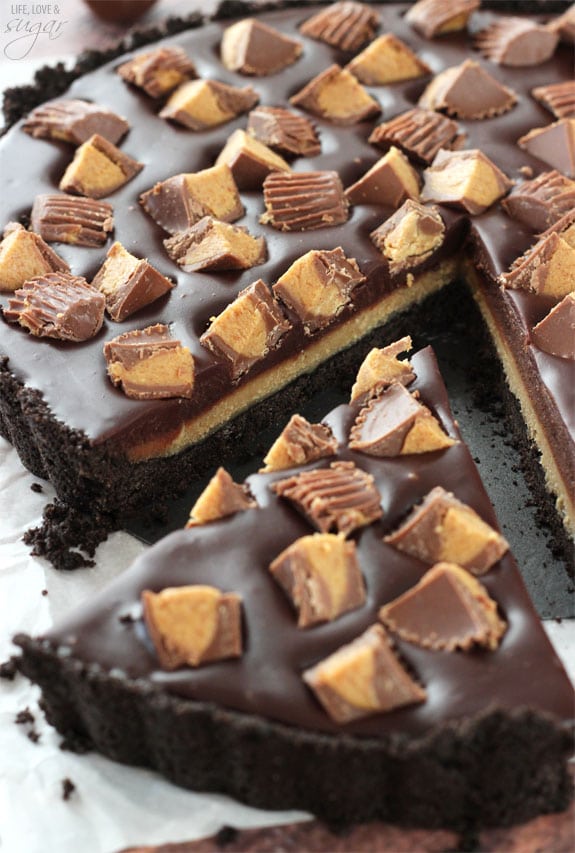 This isn't one of the deserts I made her, though I did make her another kind of tart, in addition to some other things.
This Reese's Chocolate Peanut Butter Tart is seriously amazing. It was even more delicious than I thought it'd be. You could kind of think of it like a big Reese's cup, but maybe better with the addition of an Oreo crust.
You'll want to have a 9 inch tart pan with a removable bottom. The removable bottoms are quite handy.
Press the Oreo crust into the pan, then make the peanut butter ganache. To do that, just put your peanut butter chips and whipping cream in a heat proof bowl in the microwave and heat them until the cream boils. Whisk it until smooth, then pour in the crust and spread evenly.
You'll refrigerate it until it's firm enough that when you add the chocolate ganache on top, they remain separate layers. You could mix them, if you wanted, and not have to worry about the refrigeration time at this point, but I liked them as separate layers.
Once it's firm enough, repeat the ganache making process with the chocolate chips. Top it with Reese's and refrigerate until firm.
So. Darn. Easy. And you wouldn't believe the rave reviews I got. It might just be the most bang I've ever gotten for my dessert-making-bucks. Easy and a massive hit! Cha-ching!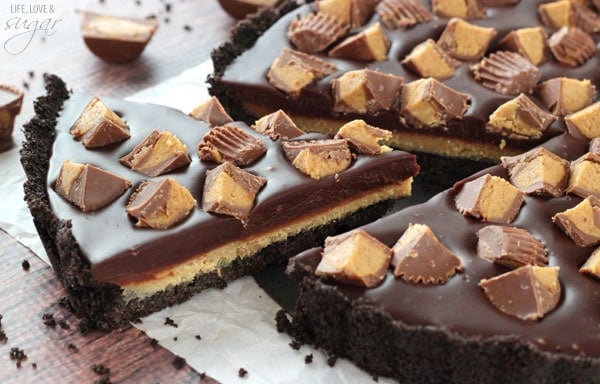 You might also like:
Peanut Butter Chocolate Buckeye Cupcakes
Peanut Butter Chocolate Chip Macaroons
Mini Reeses Peanut Butter Cheesecakes
Peanut Butter Layer Cake
Reeses Peanut Butter Fudge Brownies
No Bake Peanut Butter Cheesecake Dip
Reeses Chocolate Peanut Butter Tart
Yield:

10

-

12

Slices

1

x
Category:

Dessert

Method:

No Bake

Cuisine:

American
Ingredients
1 1/2 cup

s oreo crumbs

4 tbsp

butter, melted

6 oz

peanut butter chips

1 cup

heavy whipping cream, divided

6 oz

chocolate chips

12

–

15

mini Reese's, quartered
Instructions
1. Add melted butter to cookie crumbs and mix until combined.
2. Press cookie mixture evenly into the bottom and up the sides of a greased 9 inch tart pan, with removable bottom, then set aside.
3. Put peanut butter chips into a microwave safe bowl. I used a glass measuring cup.
4. Add 1/2 cup of heavy whipping cream to bowl. Heavy cream should mostly cover the peanut butter chips.
5. Microwave mixture until cream begins to boil, about 1-2 minutes.
6. Remove from microwave and whisk until smooth.
7. Pour peanut butter ganache into crust and spread into an even layer. Refrigerate for about 15 minutes, or until fairly firm.
8. Put chocolate chips into a microwave safe bowl.
9. Add remaining 1/2 cup of heavy whipping cream to bowl. Heavy cream should mostly cover the chocolate chips.
10. Microwave mixture until cream begins to boil, about 1-2 minutes.
11. Remove from microwave and whisk until smooth.
12. Pour chocolate ganache over peanut butter ganache and spread into an even layer.
13. Top with quartered mini Reese's.
14. Refrigerate until firm, about an hour.
Enjoy!