This Chocolate Lover's Cheesecake recipe is full of chocolate flavor for the ultimate chocolate lover! The thick and creamy chocolate cheesecake is topped with homemade chocolate ganache, chocolate whipped cream and even more chocolate for decoration!
And if you love chocolate cheesecakes, you won't want to miss out on this Guinness Chocolate Cheesecake or this decadent German Chocolate Cheesecake recipe. So much chocolate!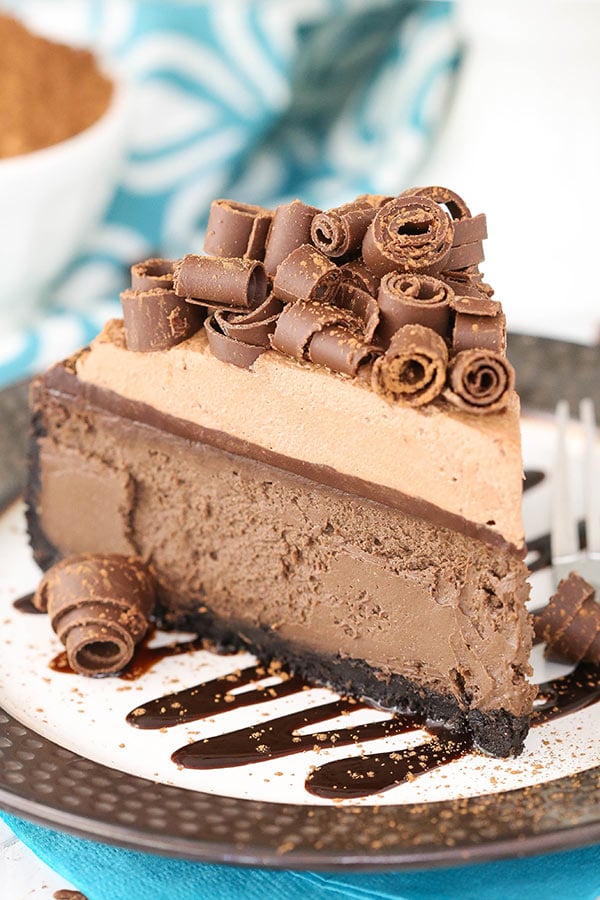 The Best Classic Chocolate Cheesecake Recipe
Today is all about the classic chocolate cheesecake. When the craving hits, this baby is the perfect cure. I'm pretty particular about what makes the perfect cheesecake consistency for me and this cheesecake fits the bills. Thick, creamy, so good!
How To Make The Cheesecake Crust
To start out we've got the crust. I often like to use Oreos for a chocolate crust, but I switched it up this time. I went with a pure chocolate cookie – these chocolate wafer cookies to be specific. Sometimes the extra moisture from the filling of the Oreos can make the crust more sticky, so this time I went with something more straight forward. If you want to use Oreos, you can remove the filling and keep the same amount of butter. If you leave in the filling, you'll want to reduce the butter so that it's just enough to pull the crumbs together.
The crust is pre-baked, then the pan should be prepared for a water bath. I am a true believe in water baths, despite the fact that they are more of a pain. Without it, you get a drier cheesecake that cracks and falls in the center and tends to brown around the edge. It's ok, but not my idea of the perfect cheesecake. If you're putting in all the effort, why not just add that little extra to make it great?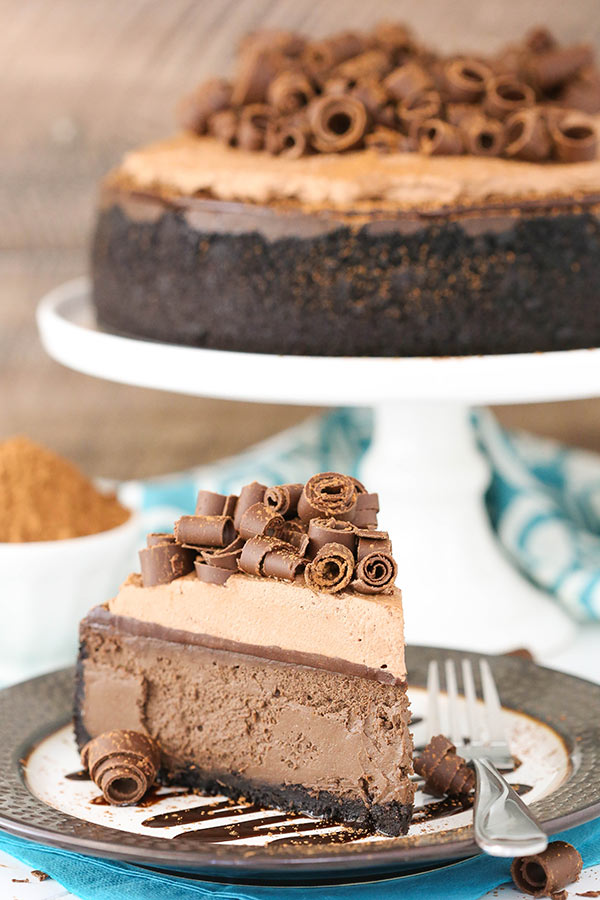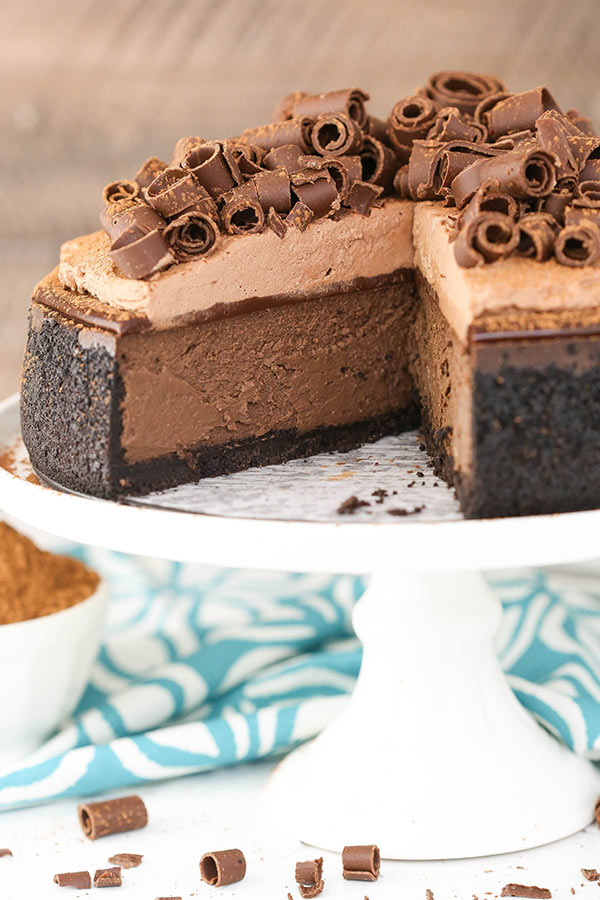 For the filling, I used a mix of two kinds of cocoa – both regular unsweetened and Hershey's Dark Cocoa blend. I love both of them and you could certainly just use one or the other, but I loved mixing them together for a richer chocolate cheesecake that wasn't super rich. There really isn't a wrong way, just a preference.
When mixing everything for the filling together, be sure to mix on a lower speed and not to over-mix things. Another culprit to cracks in a cheesecake is air bubbles that are added when mixing and mixing at a high speed.
Once the cheesecake is baked, it's topped with chocolate ganache and chocolate whipped cream. We are seriously layering on the chocolate here, friends. Because why not?!? You could certainly choose to forgo them if you want, but why?
How To Decorate This Chocolate Cheesecake
The final topping and decoration is the chocolate curls. They look great and I'm a fan, but you could also just add some sprinkles or a drizzle of chocolate sauce. No wrong way here! If you need a little help making chocolate curls, you will soon be in luck – I've got a tutorial coming your way soon!
This chocolate cheesecake is sure to be a hit! With several layers of chocolate, there's no shortage of awesome here. The next time you need to get your chocolate on, you know where to go. 🙂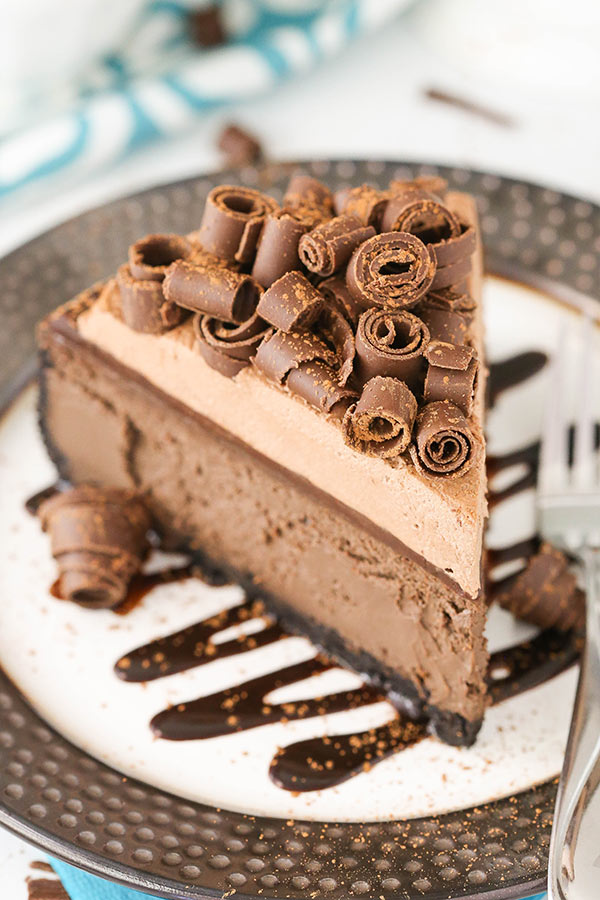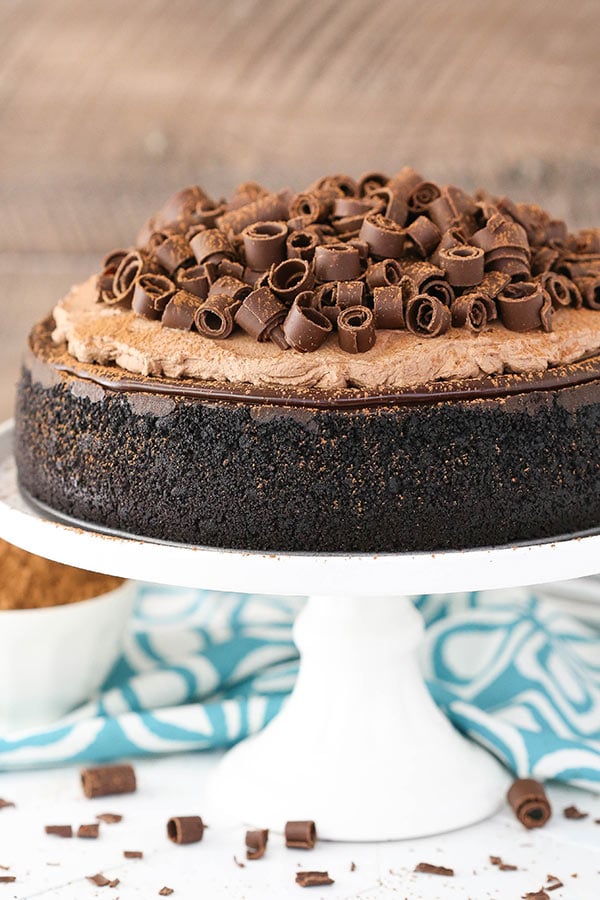 Read transcript
You might also like:
No Bake Baileys Cheesecake
Hot Chocolate Cake
Outrageous Chocolate Coconut Cheesecake
Best Chocolate Cake
Mini Baileys Chocolate Cheesecakes
Easy Moist Chocolate Cake
Vanilla Bean Cheesecake
Print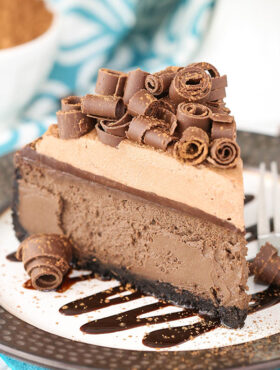 Recipe
Chocolate Lover's Cheesecake
Author:

Prep Time:

30 minutes

Cook Time:

1 hour 10 minutes

Total Time:

1 hour 40 minutes

Yield:

12-14 Slices

Category:

Dessert

Method:

Oven

Cuisine:

American
---
Description
This Chocolate Lover's Cheesecake recipe is full of chocolate flavor for the ultimate chocolate lover! The thick and creamy chocolate cheesecake is topped with homemade chocolate ganache, chocolate whipped cream and even more chocolate for decoration!
---
Ingredients
CHOCOLATE CRUST
CHOCOLATE CHEESECAKE
24 oz

(

678g

) cream cheese, room temperature

1 cup

(

207g

) sugar

3/4 cup

(

85g

) natural unsweetened cocoa*

1 cup

(

230g

) sour cream

1 tsp

vanilla extract

4

eggs, room temperature
CHOCOLATE GANACHE
6 oz

(

1 cup

) semi-sweet chocolate chips

1/2 cup

(120ml) heavy whipping cream
CHOCOLATE WHIPPED CREAM
1 cup

(240ml) heavy whipping cream, cold

5 tbsp

(

37g

) powdered sugar

3 tbsp

(

21g

) natural unsweetened cocoa

1/2 tsp

vanilla extract
---
Instructions
CRUST
1. Preheat oven to 325°F (163°C). Line a 9-inch (23cm) springform pan with parchment paper in the bottom and grease the sides.
2. Combine the crust ingredients in a small bowl. Press the mixture into the bottom and up the sides of the springform pan.
3. Bake the crust for 10 minutes, then set aside to cool.
4. Cover the outsides of the pan with aluminum foil so that water from the water bath cannot get in (see how I prepare my pan for a water bath). Set prepared pan aside.
CHEESECAKE
1. Reduce oven temperature to 300°F (148°C).
2. In a large bowl, beat the cream cheese, sugar and cocoa on low speed until well completely combined and smooth. Be sure to use low speed to reduce the amount of air added to the batter, which can cause cracks. Scrape down the sides of the bowl.
3. Add the sour cream and vanilla extract and mix on low speed until well combined.
4. Add the eggs one at a time, mixing slowly to combine after each addition. Scrape down the sides of the bowl as needed to make sure everything is well combined.
5. Pour the cheesecake batter evenly into the crust.
6. Place the springform pan inside another larger pan. Fill the outside pan with enough warm water to go about halfway up the sides of the springform pan. The water should not go above the top edge of the aluminum foil on the springform pan.
7. Bake for 1 hour 5 minutes. The center should be set, but still jiggly.
8. Turn off the oven and leave the door closed for 30 minutes. The cheesecake will continue to cook, but slowly begin to cool as well.
9. Crack the door of the oven for 30 minutes to allow the cheesecake to continue to cool slowly. This process helps prevent cracking.
10. Remove the cheesecake from the oven and water bath wrapping and refrigerate until firm, 5-6 hours or overnight.
11. When the cheesecake is cool and firm, remove from the springform pan and set on a serving plate.
12. To make the chocolate ganache. Put the chocolate chips in a heat proof bowl.
13. Microwave the heavy whipping cream until it just begins to boil, then pour it over the chocolate chips. Allow it to sit for 2-3 minutes, then whisk until smooth.
14. Pour the ganache onto the cheesecake and spread into an even layer.
15. To make the chocolate whipped cream, add the heavy whipping cream, powdered sugar, cocoa and vanilla extract to a large mixer bowl. Whip on high speed until stiff peaks form.
16. Spread the whipped cream on top of the chocolate ganache.
17. Add chocolate curls to the top of the cake and sprinkle with cocoa, if desired. Refrigerate until ready to serve. Cheesecake is best for 3-4 days.
* I used half natural unsweetened cocoa and half Hershey's Special Dark Cocoa.
Nutrition
Serving Size:

1 Slice

Calories:

534

Sugar:

34.3 g

Sodium:

342 mg

Fat:

35.6 g

Carbohydrates:

48.8 g

Protein:

10.5 g

Cholesterol:

132.5 mg
Keywords: chocolate dessert recipe, cheesecake recipe, best cheesecake recipe, chocolate cheesecake recipe, easy cheesecake recipe, ganache recipe, how to make chocolate cheesecake
Filed Under:
Enjoy!
This post contains affiliate links.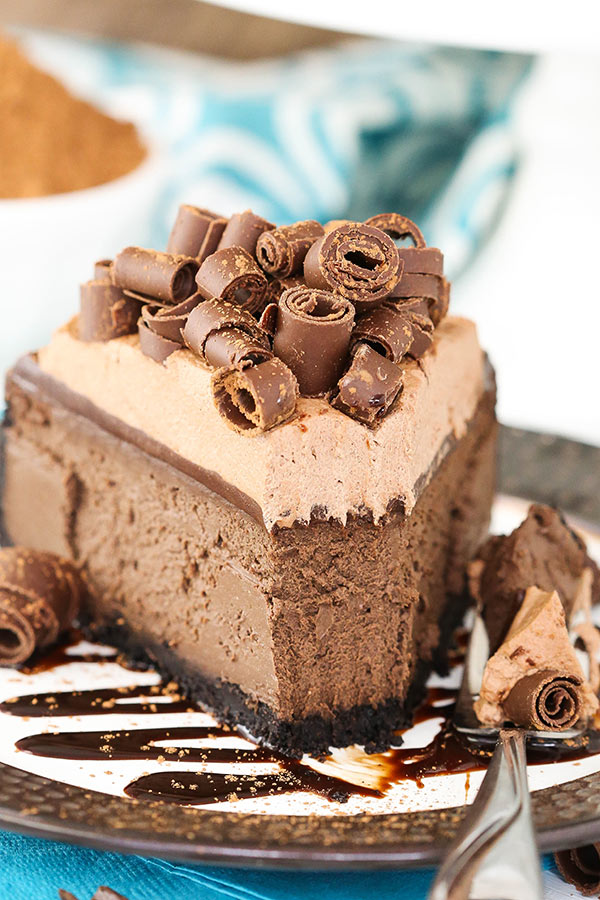 This post may contain affiliate sales links. Please read my disclosure policy.