Trust me when I say you should make this S'mores Cheesecake. The combination of thick and creamy chocolate cheesecake, melty toasted marshmallows and a crunchy graham cracker crust is totally to die for!
Want another irresistable s'mores dessert recipe? Check out my tasty S'mores Chocolate Pie!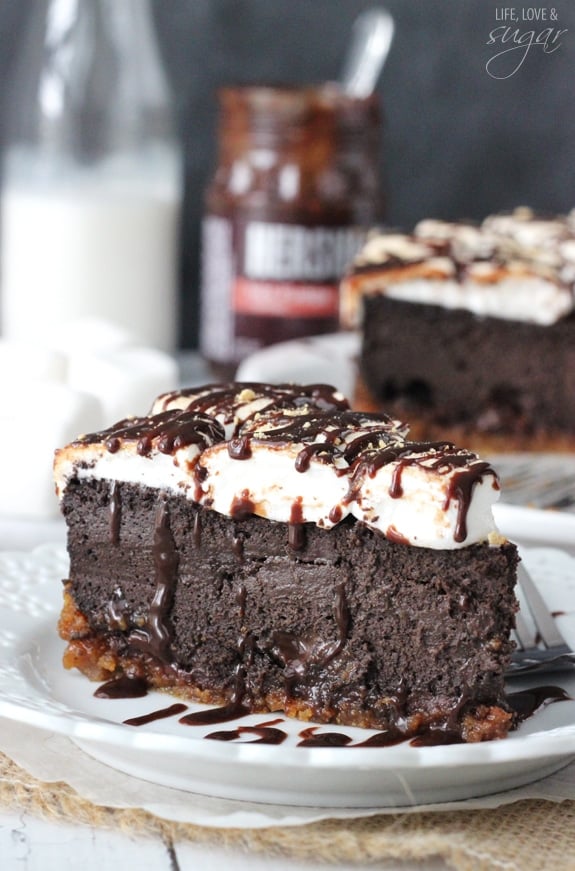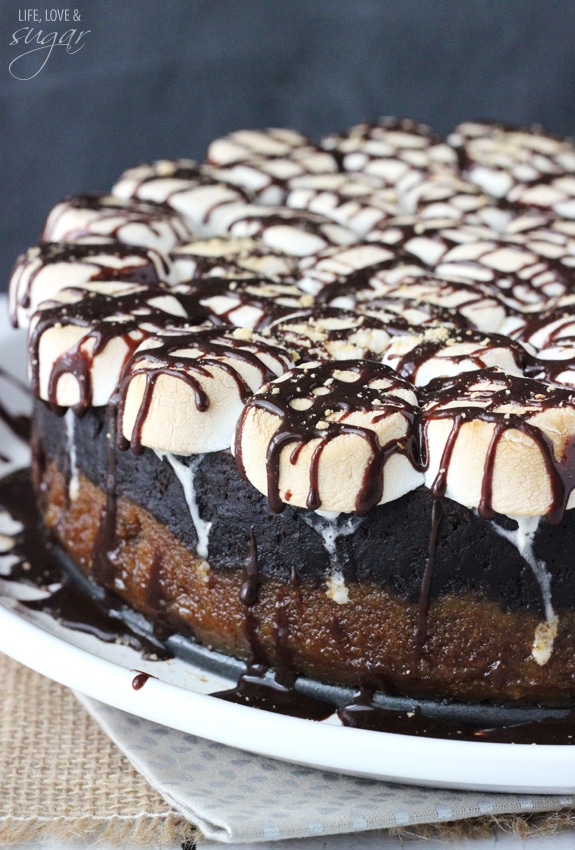 S'mores Cheesecake Recipe
Get pumped because this week is S'mores Week!! A bunch of wonderful bloggers will be bringing you s'mores inspired desserts all week long!
So it rained here a good bit of the weekend. It finally stopped Sunday, but it stayed wet and dark and cloudy even when the rain stopped. Fortunately it wasn't also cold.
But all that rain meant indoor activities which meant a lot of chillaxin' on the couch and checking out stuff on Netflix.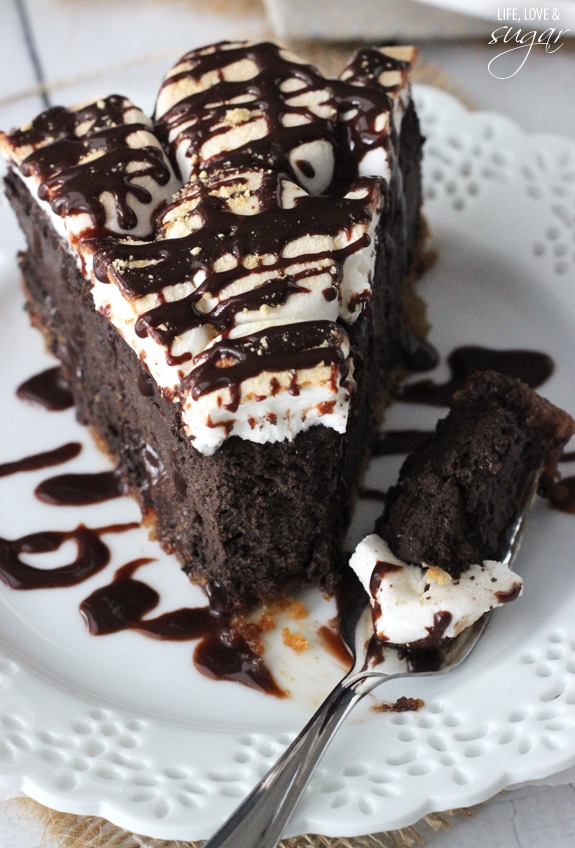 Saturday morning, the hubs slept in. I didn't. I don't seem to be able to do that anymore and it makes me sad. Between my inability to be able to sleep late and my back still bothering me, I was up early.
So I baked and watched Dirty Dancing. 🙂 A serious classic. I've been watching it since I can't even remember when. I was 3 when it came out and I may have been watching it since then.
Since I was so young when I started watching it, I had no idea of all the stuff that was going on. I just loved the dancing. But it still amazes me that I feel like very time I watch it, I realize another little thing that happened that I didn't pick up on before. It just makes me love the movie more and more.
I've been listening to the soundtrack all week too. I go through phases with this stuff. 🙂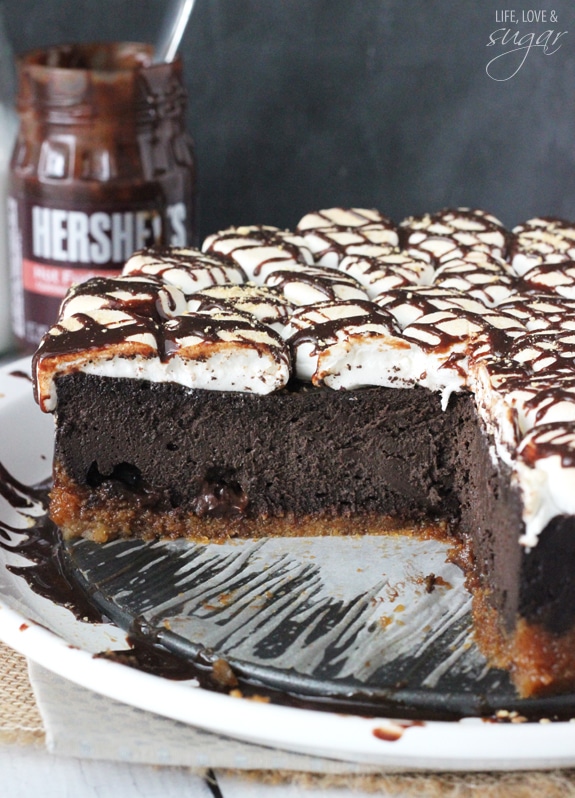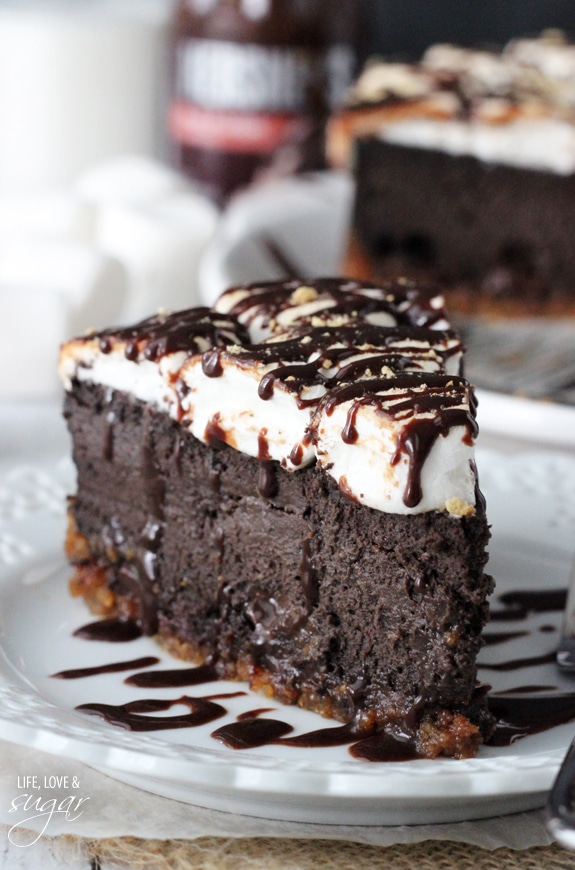 Another phase I'm going through? S'mores. My kitchen has been full of marshmallows, chocolate and graham crackers galore! This cheesecake was first up!
Tips for Making a S'mores Cheesecake
I put marshmallows and chocolate sauce in the bottom of the cheesecake to give it extra gooey and melty-ness. It's hard to tell because they kind of blend into the cheesecake, but if you look at the bottom, you can see how extra awesome it looks.
Because of the marshmallows baking into the cheesecake, they bubble up a little while it bakes which will leave small cracks on the top of the finished cheesecake, but those get covered up with melted marshmallows, so it's all good. You could leave them out if you want (if won't change the cooking time), but I do recommend you keep them. Serious yum.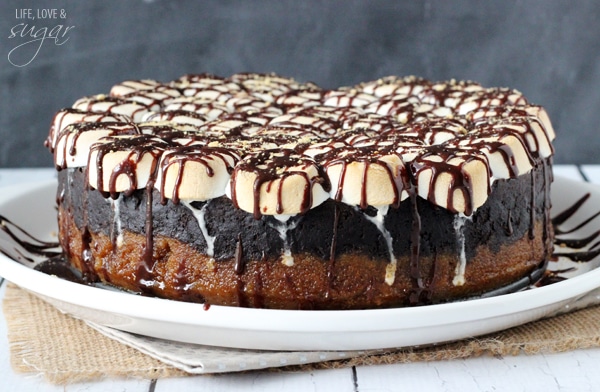 Once the cheesecake has cooled, the marshmallows get melted in the oven on convection bake. The cheesecake will warm up a bit, but honestly that's one of the things I love about this cheesecake. It warms up just enough to be s'mores-like, but still has a little chill in the center. Perfection.
Even after I chilled it again and the marshmallows got cold, I'd microwave my pieces for about 10-15 seconds. Can't beat melty marshmallows. You just can't.
A bite of this cheesecake is just heavenly. The chocolate cheesecake is rich, super chocolatey, smooth and creamy. And when paired with melty marshmallows and a sweet graham cracker crust, it's completely irresistible.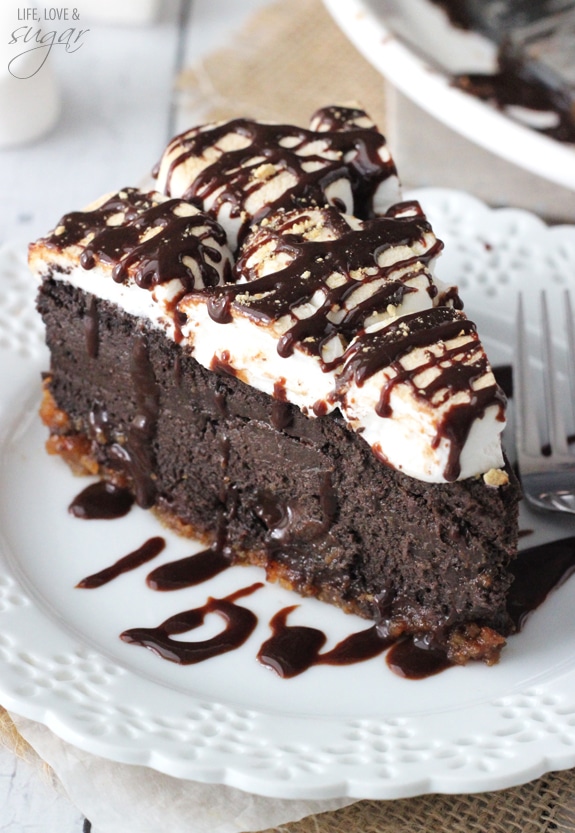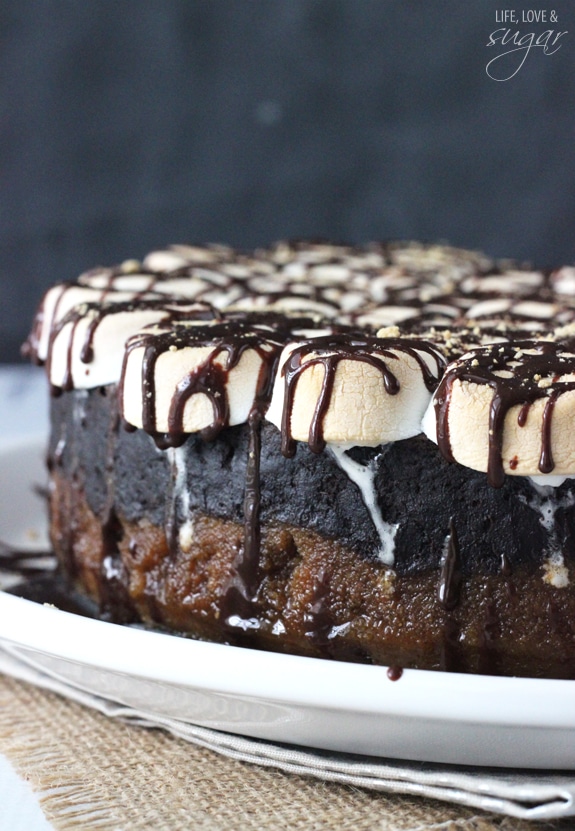 Print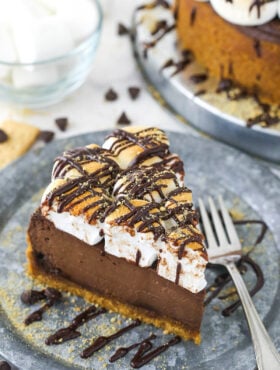 Recipe
Smores Cheesecake
Author:

Prep Time:

1 hour 20 minutes

Cook Time:

2 hours 30 minutes

Total Time:

3 hours 50 minutes

Yield:

14

Category:

Dessert

Method:

Oven

Cuisine:

American
---
Description
Enjoy an ooey, gooey campfire smore in decadent cheesecake form with this easy recipe! A classic graham cracker crust surrounds a rich chocolate filling topped with toasted marshmallows and chocolate ganache. You simply have to try this Smores Cheesecake!
---
Ingredients
For the Crust
1 1/4 cup

graham cracker crumbs

5 tbsp

sugar

5 tbsp

butter, melted
For the Filling & Topping
24 oz

cream cheese, room temperature

1 cup

sugar

2 tbsp

flour

3/4 cup

Hershey's Special Dark Cocoa powder

4

eggs, room temperature

1 cup

sour cream

1/2 tsp

vanilla extract

1 1/2 cups

mini marshmallows

1/2 cup

hot fudge topping, warm, plus more for topping (I used Hershey's Hot Fudge Topping )

45

–

50

large marshmallows, for topping
---
Instructions
Make the Crust
Heat oven to 325°F.
In a small bowl, combine crust ingredients and mix well.
Press mixture into the bottom and up the sides of a 9-inch springform pan with parchment paper in the bottom.
Bake crust for 10 minutes then remove.
Cover the outsides of the pan with aluminum foil so that water from the water bath cannot get in, and set aside.
Make the Filling
Reduce oven to 300°F.
In a large bowl, blend the cream cheese, sugar, flour and cocoa with an electric mixer until combined (Use low speed to keep less air from getting into the batter, which can cause cracks). Scrape down the sides of the bowl.
Add eggs one at a time, beating slowly and scraping the sides of the bowl after each addition.
Add the sour cream and vanilla extract. Beat on low speed until well combined.
Add the mini marshmallows in an even layer in the bottom of the pan, on top of the crust.
Pour the hot fudge topping over marshmallows, then pour the cheesecake filling into the pan.
Place springform pan inside another pan. Fill outside pan with enough warm water to go about halfway up the sides of the springform pan. The water should not go above the top edge of the aluminum foil on the springform pan.
Bake for 1 hour and 35 minutes. Marshmallows may boil up through the top.
Turn off heat and leave cheesecake in oven with door closed for 20 minutes.
Crack oven door and leave the cheesecake in the oven for another 20 minutes or until set.
Remove from oven and refrigerate until firm, 4-5 hours.
Once the cheesecake is completely chilled, preheat oven to 350 degrees on convection bake.
Remove the springform pan sides from cheesecake and place the cheesecake on a cookie sheet.
Top the cheesecake with a layer of large marshmallows.
Bake for about 10-12 minutes, or until marshmallows begin to brown.
Remove the cheesecake from the oven and drizzle with more hot fudge and sprinkle on some graham cracker crumbs.
Cheesecake can be served warm out of the oven (which I recommend), or refrigerated and served cold.
---
Notes
Makes 12-14 slices.
To Store: Store cheesecake in an airtight container in the fridge and enjoy within 4-5 days.
To Freeze: Leave off topping & place fully set cheesecake on a cardboard round. Wrap tightly in plastic wrap and freeze in an airtight container or storage bag for 1-2 months. Thaw in the fridge overnight before adding the topping and enjoying.
Nutrition
Serving Size:

1 Slice

Calories:

518

Sugar:

44.1 g

Sodium:

295.5 mg

Fat:

26.5 g

Carbohydrates:

64.1 g

Protein:

8.4 g

Cholesterol:

119.1 mg
Keywords: smores cake, chocolate cheesecake, smores dessert
Enjoy!
More Amazing S'mores Desserts
This post may contain affiliate sales links. Please read my disclosure policy.