This Guinness Chocolate Cheesecake is made with a chocolate filling, Oreo cookie crust, Baileys ganache topping and Guinness chocolate whipped cream! It's so smooth, creamy and such a decadent cheesecake recipe!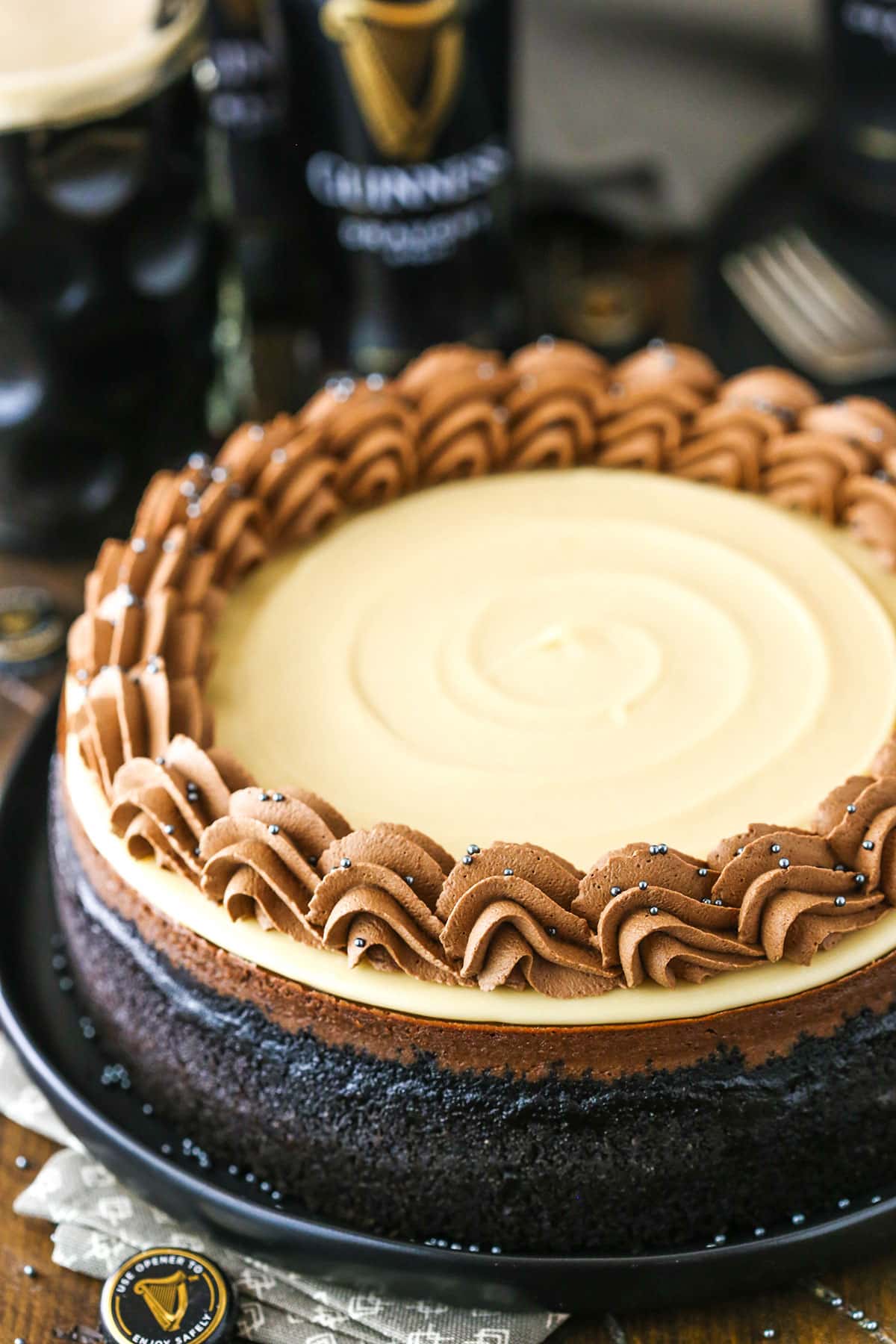 GUINNESS CHOCOLATE CHEESECAKE RECIPE
I have been so excited to share this cheesecake with you! The flavors are amazing it's so perfect for St. Patrick's Day. Even though I'm not a beer drinker and definitely don't enjoy drinking Guinness, beer gives food and desserts some awesome flavor!
When it comes to Guinness and chocolate, Guinness works similarly to when you add coffee to chocolate. It totally amplifies the chocolate flavor, and even though you might not be able to identify Guinness right off hand, there's no doubt that there's a beer-y-ness to the cheesecake. So good!
When you combine the deep flavor of the cheesecake with the smooth Baileys ganache topping, it's wonderful. And then the Guinness chocolate whipped cream – swoon! I'm in love with the whole combination!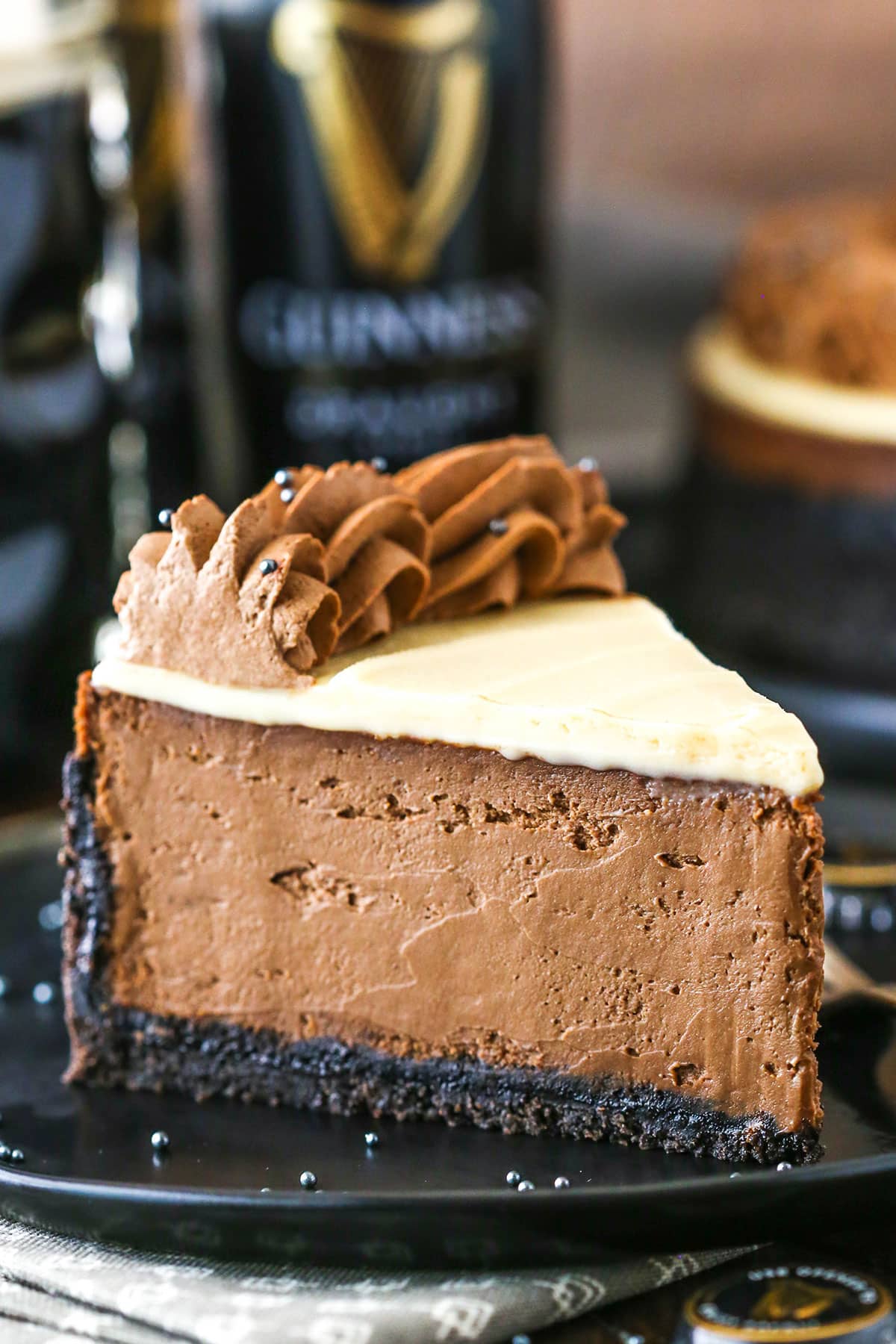 HOW TO MAKE GUINNESS CHOCOLATE CHEESECAKE
To get started with the Guinness Chocolate Cheesecake, you'll want to make the crust. Oreo cookies (with the filling still in) make up the base and when crushed into crumbs are combined with a little butter. Bake it and set it aside.
For the filling, you'll start by cooking down the Guinness. I've done something similar with other flavors in desserts, most often with champagne. It works really well to reduce the amount of liquid you're working with, while piling up the flavor. In this case, we cook one and a half cups of Guinness down to a half cup. Lots of Guinness flavor!
The other nice thing about cooking the Guinness down is that it removes the "bubbliness" of the Guinness, which can definitely screw up the chemistry of a baked good! Rather than ending up with a cheesecake that's more like a mousse, this cheesecake stays thick and creamy and like that classic cheesecake texture that we know and love.
The reduced Guinness should be cooled and then added to the cheesecake filling. The filling is made with your usual suspects – cream cheese, sugar, sour cream, eggs, a bit of vanilla and of course, chocolate! We've got two kinds of chocolate going on in here – both melted chocolate and a little powdered cocoa. The combo of the two gives a wonderfully rich chocolate flavor and an even creamier texture.
BAKING CHEESECAKE WITH A WATER BATH
This Guinness Chocolate Cheesecake is baked in a water bath. I feel like that's a word that a lot of people don't want to hear, but it truly isn't hard and only takes a few extra minutes to prepare the pan and put it in another pan of water. The extra steps are totally worth it for a cheesecake that doesn't crack, stays super creamy, doesn't fall in the middle when it cools and doesn't brown too much around the edges.
And if you're concerned about leaking pans, I have a great tutorial to show you how I like to prevent my water bath from leaking. Works every time!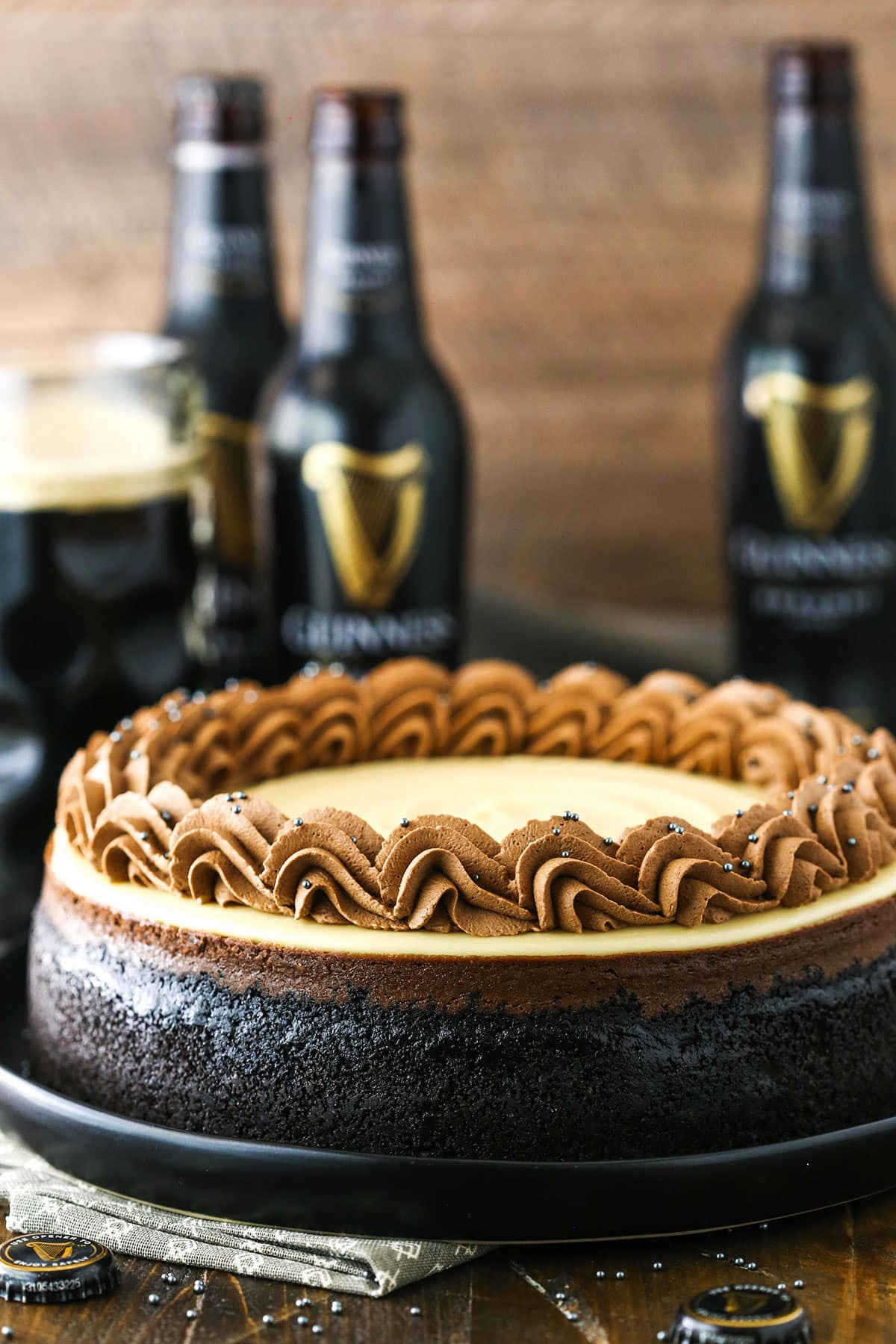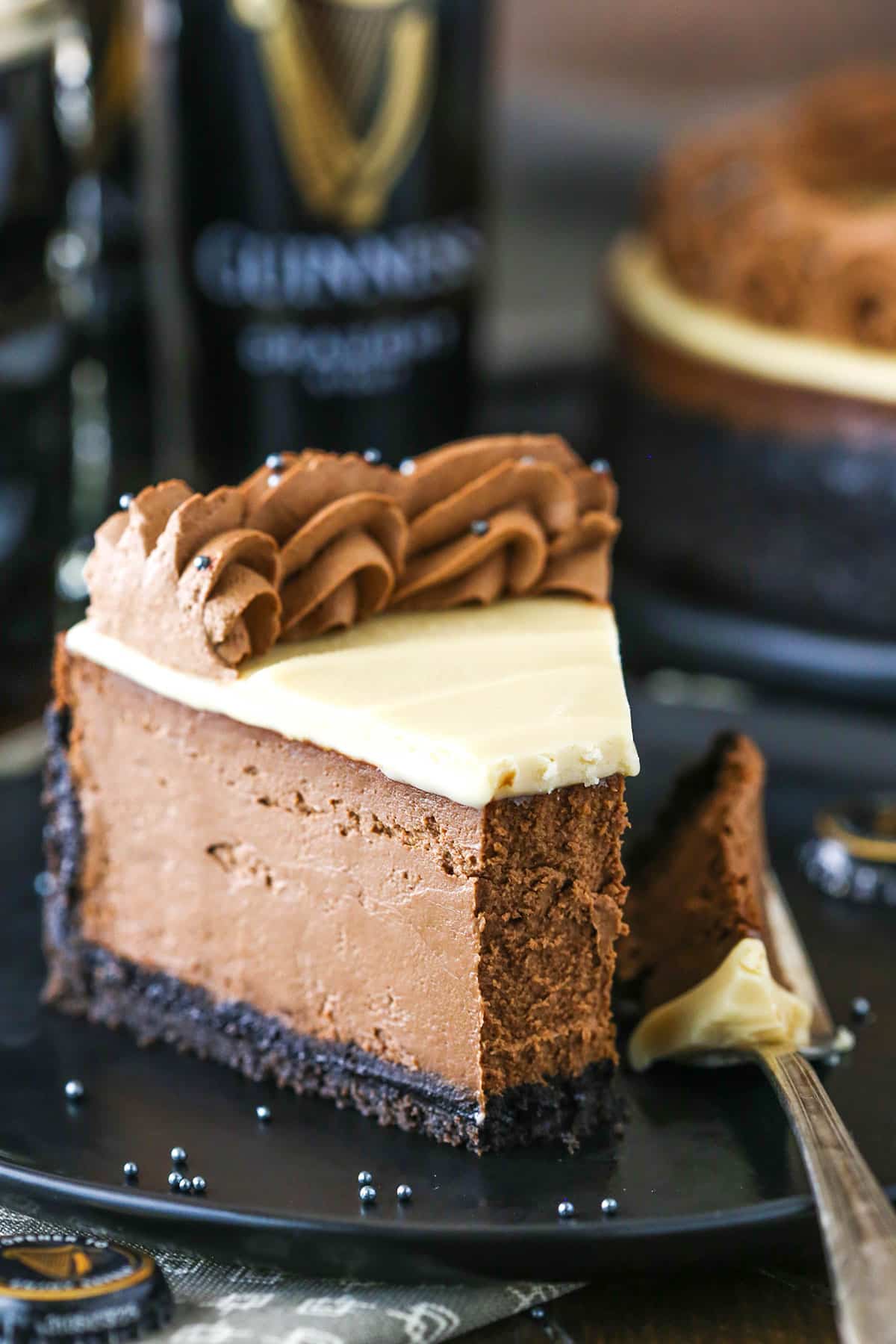 BAILEYS WHITE CHOCOLATE GANACHE
Once the cheesecake is baked and cooled, it's topped with a lovely Baileys white chocolate ganache. Some Baileys and heavy whipping cream are heated until just boiling, then poured over white chocolate. Whisk it until it's nice and smooth and if you need to heat it a little more to get it there, you definitely can.
I like to let my ganache cool a bit before I add it to the cheesecake. This ensures that as it spreads out to the edges of the cheesecake, it's thick enough to not drip over the sides. However, if you want to go for that look, you totally could.
The finishing touch is the Guinness chocolate whipped cream! It's like the icing on the cake!
A FUN GUINNESS DESSERT RECIPE
The final Guinness Chocolate Cheesecake is heavenly! The cheesecake, ganache and whipped cream are so perfect together. It's a wonderful way to enjoy Guinness in a tasty dessert and such a fun dessert for celebrating St. Patrick's Day. I hope you love it as much as we did!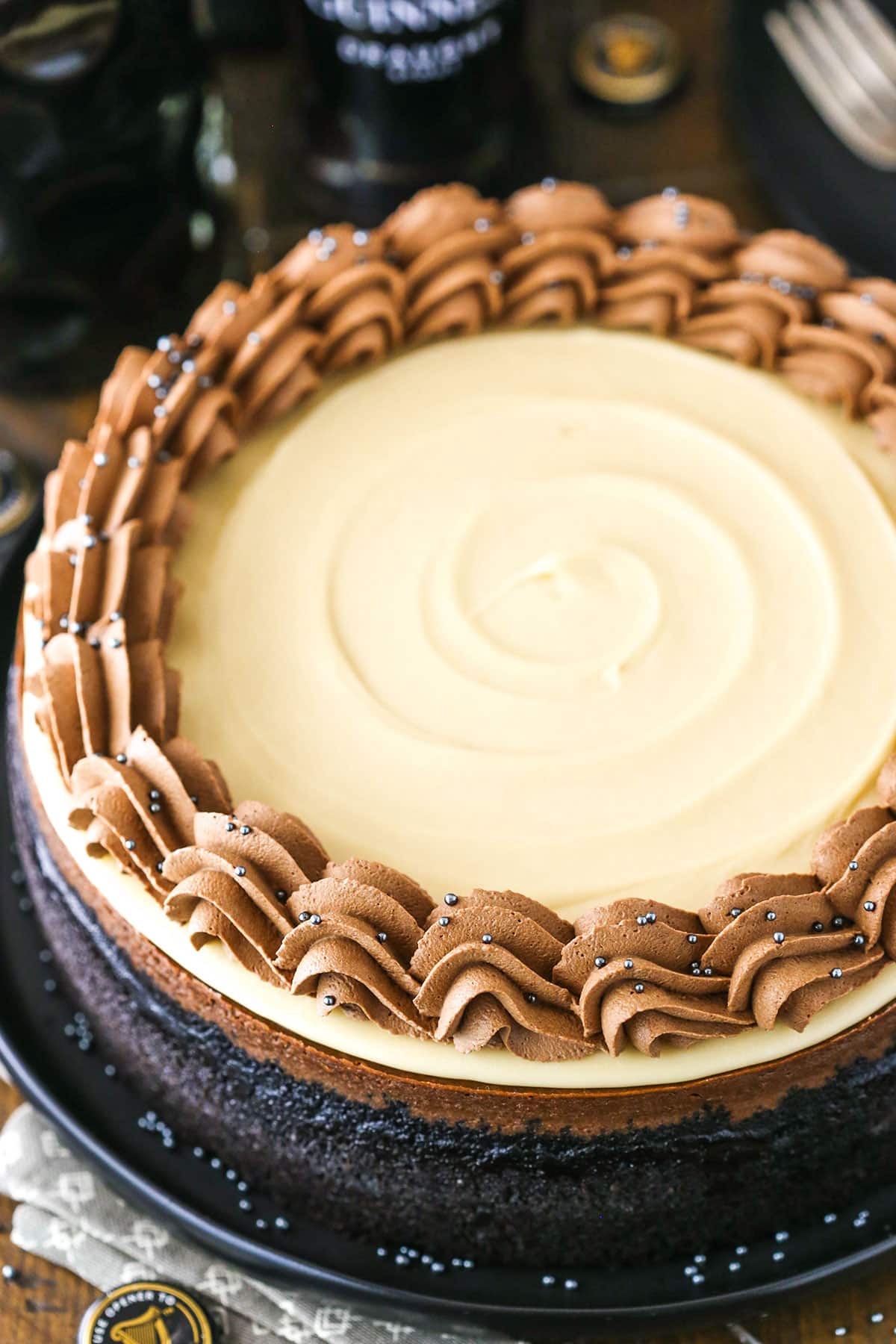 You might also enjoy:
Guinness Chocolate Brownies
Guinness Chocolate Mousse Cake
Guinness Chocolate Cupcakes
Mini Baileys Chocolate Cheesecakes
Baileys Chocolate Poke Cake
Print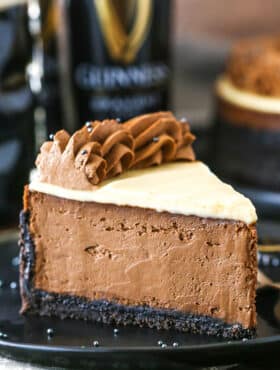 Recipe
Guinness Chocolate Cheesecake
Author:

Prep Time:

1 hour 45 minutes

Cook Time:

2 hours 50 minutes

Total Time:

4 hours 35 minutes, plus cooling

Yield:

12-14 slices

Category:

Cheesecake

Method:

Oven

Cuisine:

American
---
Description
This Guinness Chocolate Cheesecake is made with a Guinness-filled chocolate filling, Oreo cookie crust, Baileys ganache topping and Guinness chocolate whipped cream! It's so smooth, creamy and such a decadent cheesecake recipe!
---
Ingredients
CRUST
3 cups (403g) Oreo cookie crumbs (35–40 Oreos)
5 tbsp (70g) salted butter, melted
FILLING
1 1/2 cups | 12 oz Guinness Stout Beer
8 oz semi sweet chocolate, chopped
24 oz (678g) cream cheese, room temperature
1 cup (207g) sugar
1/4 cup (29g) natural unsweetened cocoa powder
3/4 cup (173g) sour cream
1 tsp vanilla extract
4 large eggs, room temperature
Baileys Ganache
7 oz white chocolate chips
4 1/2 tbsp (67ml) Baileys Irish Cream
1 1/2 tbsp (22ml) heavy whipping cream
Guinness Chocolate Whipped Cream
1/2 cup (120ml) heavy whipping cream, cold
2 tbsp (30ml) Guinness Stout Beer
2 tbsp (14g) natural unsweetened cocoa powder
1/4 cup (29g) powdered sugar
---
Instructions
CRUST

1. Preheat oven to 325°F (163°C). Line a 9-inch (23cm) springform pan with parchment paper in the bottom and grease the sides.
2. Combine the crust ingredients in a small bowl. Press the mixture into the bottom and up the sides of the springform pan.
3. Bake the crust for 10 minutes, then set aside to cool.
4. Cover the outsides of the pan with aluminum foil so that water from the water bath cannot get in (see how I prepare a pan for a water bath). Set prepared pan aside.
FILLING
5. Add the Guinness to a medium sized saucepan and cook over medium heat. Allow the beer to come to a gentle simmer and continue to simmer, stirring consistently to keep it from burning, until it has reduced to 1/2 cup, about 20 minutes. To measure, pour the puree into a measuring cup. If it's more than 1/2 cup, add it back to the pan and continue to reduce it.
6. When the Guinness has reduced, pour it into a small bowl and set it in the fridge to cool to room temperature.
7. When ready to proceed with the filling, set oven temperature to 300°F (148°C).
8. Add the chopped chocolate to a small bowl and heat in 10-15 second increments until melted and smooth, then set aside to cool a bit. You don't want to add it when it's too hot or you'll get some small chunks of chocolate in your batter.
9. In a large bowl, beat the cream cheese, sugar and cocoa on low speed until well completely combined and smooth. Be sure to use low speed to reduce the amount of air added to the batter, which can cause cracks. Scrape down the sides of the bowl.
10. Add the sour cream and vanilla extract and mix on low speed until well combined.
11. Add the eggs one at a time, mixing slowly to combine after each addition. Scrape down the sides of the bowl as needed to make sure everything is well combined.
12. Add the cooled chocolate and mix until well combined.
13. Add the cooled Guinness and mix until well combined.
14. Pour the cheesecake batter evenly into the crust.
15. Place the springform pan inside another larger pan. Fill the outside pan with enough warm water to go about halfway up the sides of the springform pan. The water should not go above the top edge of the aluminum foil on the springform pan.
16. Bake for 1 hour 40 minutes. The center should be set, but still jiggly.
17. Turn off the oven and leave the door closed for 30 minutes. The cheesecake will continue to cook, but slowly begin to cool as well.
18. Crack the door of the oven for 30 minutes to allow the cheesecake to continue to cool slowly. This process helps prevent cracking.
19. Remove the cheesecake from the oven and water bath wrapping and refrigerate until firm, 5-6 hours or overnight.
20. When the cheesecake is cool and firm, remove from the springform pan and set on a serving plate.
TOPPING
21. To make the ganache, place the white chocolate chips in a medium heat proof bowl.
22. Combine the heavy whipping cream and Baileys in a glass measuring cup heat just until it begins to boil.
23. Pour the hot liquid over the white chocolate chips and allow to sit for 2-3 minutes, then whisk until smooth. If not completely melted and smooth, heat in 10 second increments, stirring between each until fully melted.
24. Allow the ganache to cool a bit (about 5 minutes, until thickened but still pourable and spreadable), then pour the ganache onto the top of the cheesecake and spread evenly.
25. To make the whipped cream, add the heavy whipping cream, Guinness, cocoa and powdered sugar to a large mixer bowl. Whip on high speed until stiff peaks form.
26. Pipe the whipped cream onto the top of the cheesecake. I used Ateco tip 847.
27. Refrigerate until ready to serve. Cheesecake is best for 4-5 days.
---
Nutrition
Serving Size:

1 Slice

Calories:

538

Sugar:

44.8 g

Sodium:

329.5 mg

Fat:

31.4 g

Carbohydrates:

55.5 g

Protein:

10 g

Cholesterol:

110.5 mg
Keywords: Guinness Chocolate Cheesecake, Guinness Dessert Recipe, Guinness and Baileys Cheesecake, chocolate cheesecake, chocolate cheesecake recipe, how to make chocolate cheesecake
Categories
Enjoy!
This post may contain affiliate sales links. Please read my disclosure policy.