This Homemade Strawberry Cake is full of sweet, fresh strawberry flavor! Moist strawberry cake layers are paired with a strawberry cream cheese frosting for the ultimate strawberry cake!
Homemade Strawberry Cake
Strawberry cake is a favorite of mine and always has been. As a kid, strawberry cake (from a mix) with cream cheese frosting was a fave. I even made it into a strawberry cupcake a while back.
Then I decided the only thing better than that would be to have a strawberry cake made from scratch with all the flavor coming from real strawberries, so made I made this cake. And while it is delicious, I've learned a few things since then and knew I could make it even better.
How, you ask? A reduction. I first started reducing champagne to use in recipes several years ago, starting with these Mini Strawberry Champagne Cheesecakes. I wanted plenty of champagne flavor, but just adding it as is wasn't enough. So I started reducing that. Then I discovered that method would work well with strawberry puree and used it for a Chocolate Covered Strawberry Cheesecake, No Bake Strawberry Cheesecake and even Strawberry Whipped Cream.
So finally I decided to revisit my strawberry cake and try it out with a strawberry reduction.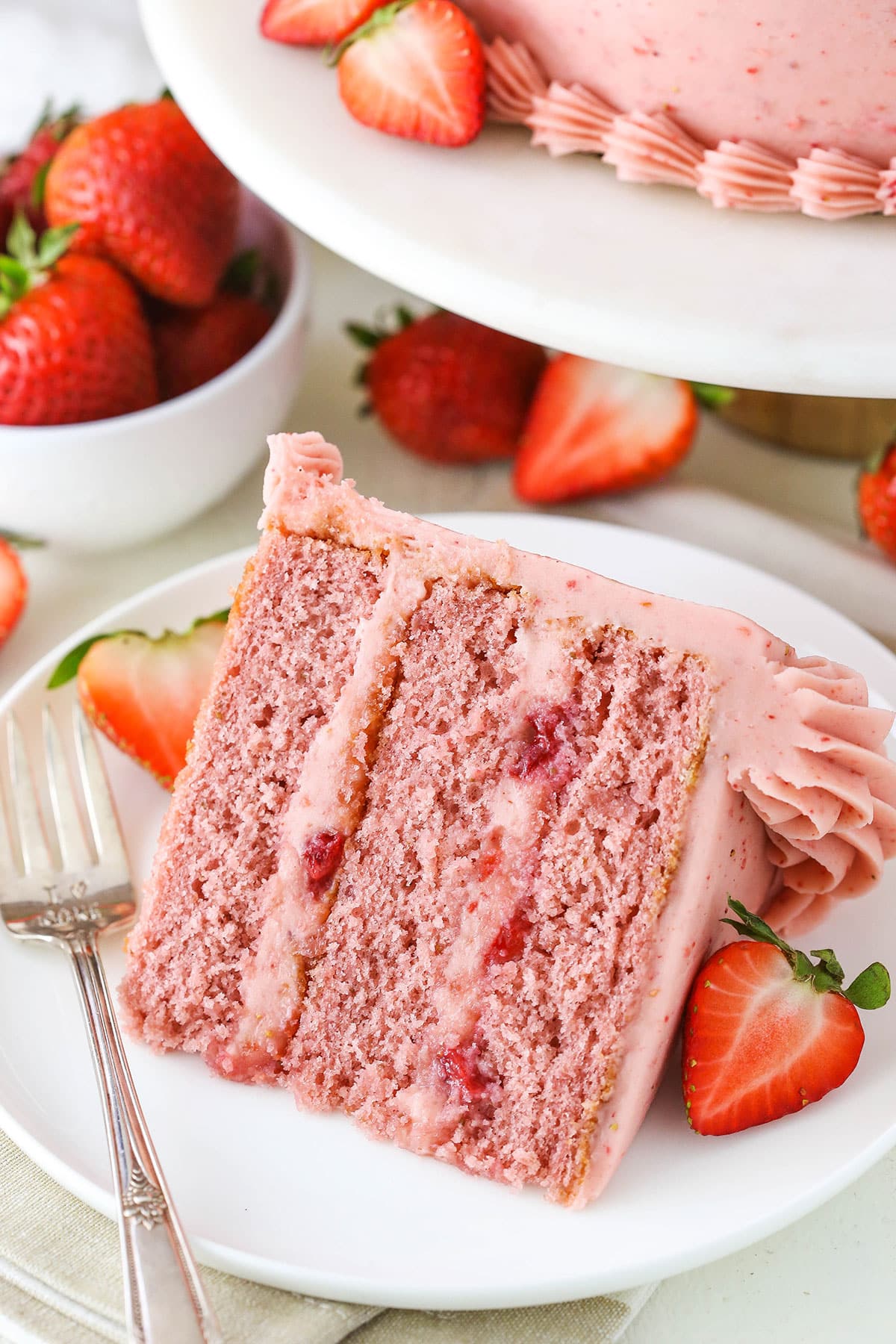 How to Make Homemade Strawberry Cake
To make this amazing Strawberry Cake, you'll start off with your strawberries, puree them and then cook them until reduced by half. Ultimately you'll pack one pound of strawberries into these cake layers in the form of three fourths cup of strawberry reduction. Rock on!
From there, you'll actually use the reverse creaming method in this cake, as opposed to the regular creaming method, which you see most often around here.
Reverse Creaming Method
While working with a new mixing method can seem a little intimidating at first, this method is super simple and is totally worth learning something new. I've actually kind of fallen in love with it, so you'll see it around here more. Basically it goes like this:
1. Combine the wet ingredients, aside from the butter.
2. Combine the dry ingredients.
3. Slowly mix the butter into the dry ingredients.
4. Add the wet ingredients to the dry ingredient/butter mixture in two parts.
Not only is this method easy, it produces the loveliest crumb and cake texture. It's so tender and silky. I love it! That said, it has a tight crumb, so you don't expect it to be a fluffy cake. It's on the more dense side, but it's not overly heavy.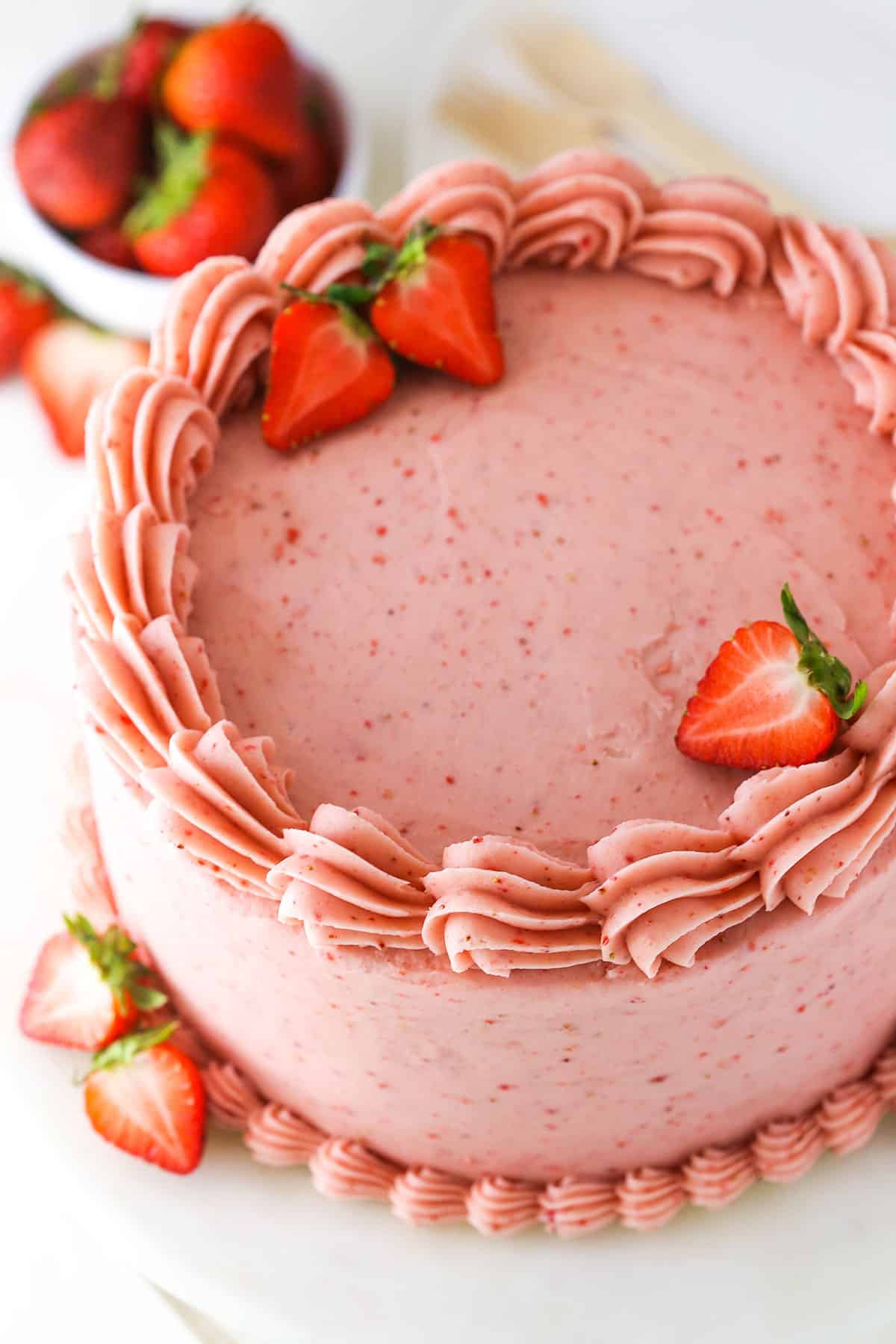 So for this particular cake, you'll combine the strawberry reduction with the rest of the wet ingredients. I added the milk and sour cream to it right away to help it cool down more quickly (impatience!), then added everything else once it was room temperature. You'll divide the wet mixture into two parts and set them both aside.
From there, combine the dry ingredients and then slowly add the butter one tablespoon or so at a time. The mixer should be on low speed and will eventually the mixture will start to resemble wet sand.
Then you'll add some of the wet ingredients and turn the mixer up to medium high and beat for about a minute. This is when the air is incorporated into the batter and it gets wonderfully light and fluffy! Next, add the rest of the wet ingredients and mix well. At this point I added a little bit of extract pink color to the batter, just to get a nicer shade of pink. You could leave it out though.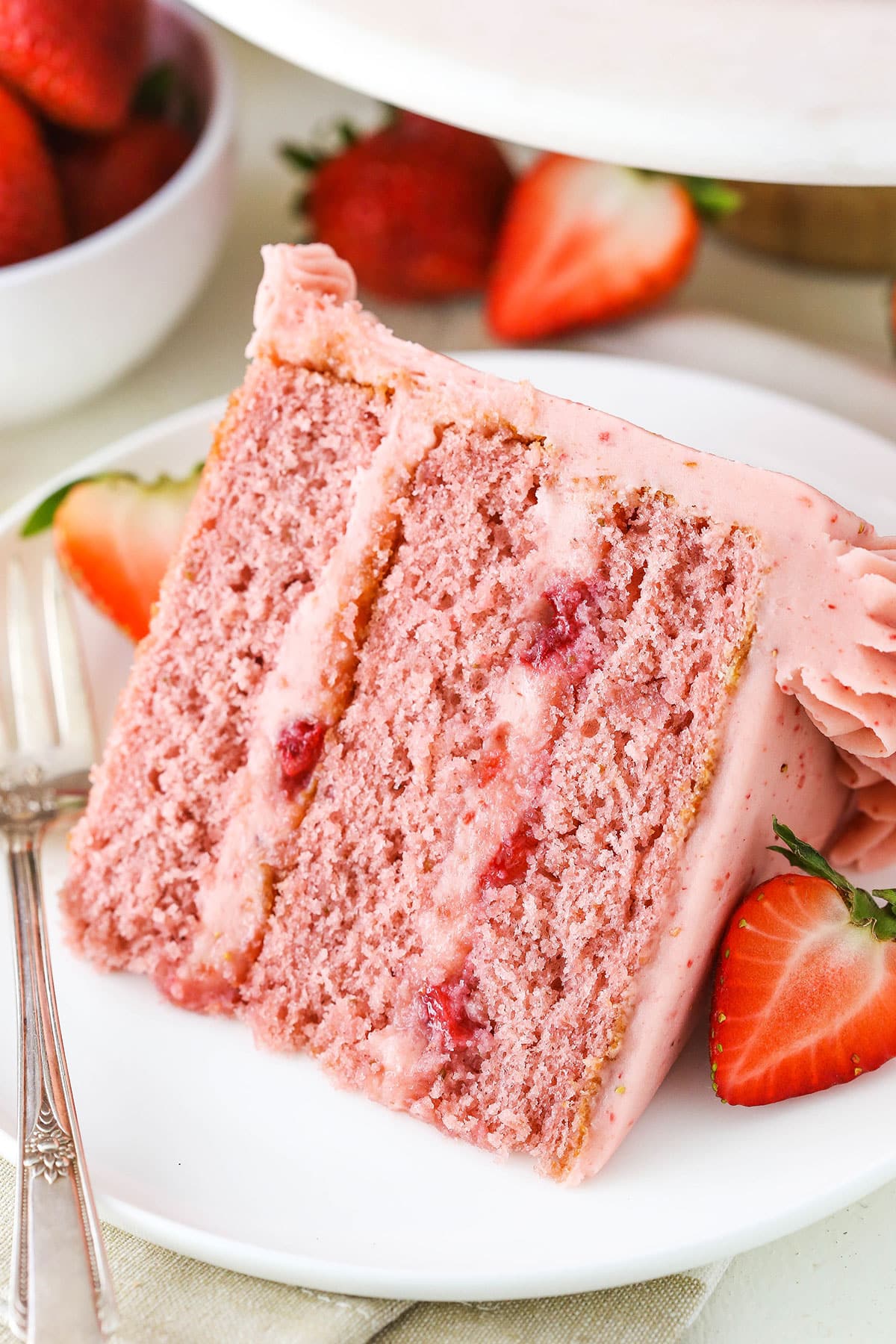 Strawberry Cream Cheese Frosting
Once your cake is baked and cooled, it's time to slather it in the best strawberry frosting! For the strawberry flavor, I used freeze dried strawberries. As mentioned before, I love cream cheese frosting with strawberry cake. You could certainly use regular cream cheese frosting, but I decided to add even more strawberry flavor.
Adding strawberry puree (even reduced puree) to the frosting is going to add too much liquid for the cream cheese frosting to hold up well. To fix that – freeze dried strawberries to the rescue! They add LOTS of great flavor without adding liquid, which is just what is needed.
If you've really got your heart set on using strawberry puree for the frosting, I suggest using a regular buttercream. Check out my vanilla buttercream frosting and add some strawberry puree (reduced would give you even more flavor) in place of the milk. Another alternative would be to lighten things up with strawberry whipped cream.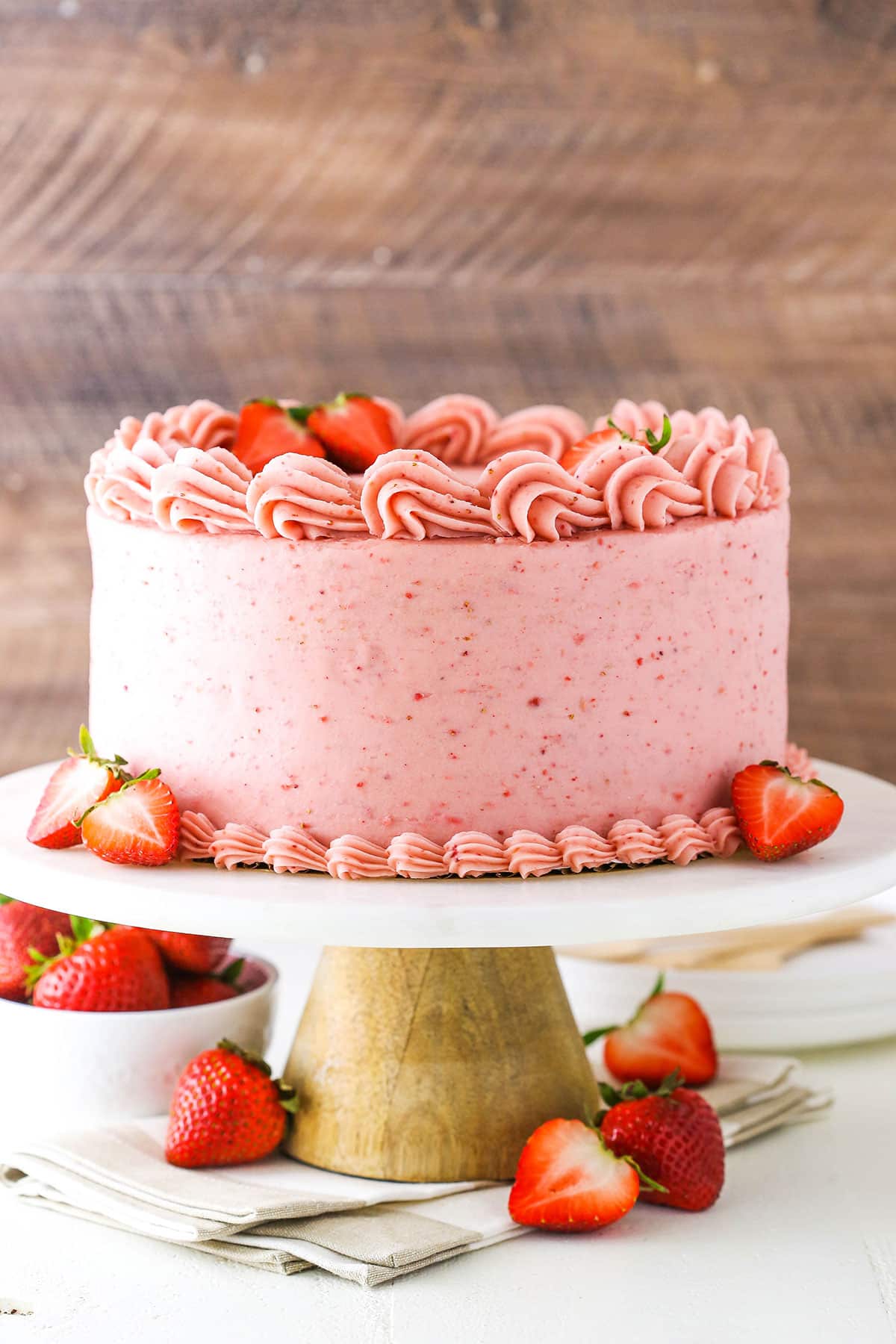 The Best Strawberry Cake
This Homemade Strawberry Cake is soft, moist and full of strawberry flavor! It's exactly what you're looking in a strawberry cake. And if you've never tried the creaming method, this is a great chance to try it. You'll fall in love with the ease of the method and the tender cake it gives you. It's not particularly light and fluffy, because it has a tight crumb. You might even describe it as dense, but it's not heavy. It is tender and full of flavor! Enjoy!
More Strawberry Desserts To Try
Strawberry Poke Cake
Strawberry Shortcake Cake
Strawberries and Cream Cheesecake Cake
Strawberries and Cream Cupcakes
Strawberry Cheesecake
Strawberry Pound Cake
No Bake Strawberry Cheesecake
Shop The Post

Print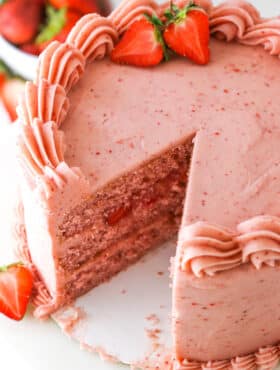 Recipe
Homemade Strawberry Cake
Author:

Prep Time:

2 hours 15 minutes

Cook Time:

51 minutes

Total Time:

3 hours 6 minutes

Yield:

12-14 slices

Category:

Dessert

Method:

Oven

Cuisine:

American
---
Description
This Homemade Strawberry Cake is full of sweet, fresh strawberry flavor! Moist strawberry cake layers are paired with a strawberry cream cheese frosting for the ultimate strawberry cake! The texture isn't light and fluffy, but instead tender with a tight crumb. You might even find it a little dense, but not too heavy.
---
Ingredients
Strawberry cake
3 cups

(

400g

) of quartered strawberries*

3/4 cup

(

173g

) sour cream

1/4 cup

(60ml) milk

4

large eggs

1 tsp

vanilla extract

2 1/2 cups

(

325g

) all purpose flour

1 1/2 cups

(

310g

) sugar

2 tsp

baking powder

1/2 tsp

baking soda

1/2 tsp

salt

3/4 cup

(

168g

) unsalted butter, room temperature

7

–

9

drops pink food color, optional
Strawberry cream cheese frosting
2 cups

(

46g

) freeze dried strawberries*

16 oz

(

452g

) cream cheese, room temperature

3/4 cup

(

172g

) unsalted butter, room temperature

10 cups

(

1150g

) powdered sugar

1 tsp

vanilla extract
Pinch of salt

3/4 cup

chopped strawberries
---
Instructions
To make the cakes
To make the strawberry reduction, add the strawberries to a food processor or blender and puree until smooth. You should have about 1 1/2 cups of puree.
Add the puree to a medium sized saucepan and cook over medium heat. Allow the mixture to come to a slow boil, stirring consistently to keep it from burning, until it has thickened and reduced to 3/4 cup, about 20-25 minutes. To measure, pour the puree into a measuring cup. If it's more than 3/4 cup, add it back to the pan and continue cooking.
When the puree has thickened and reduced, pour into a large measuring cup and allow to cool to at least room temperature. This strawberry mixture can be made ahead, if you like, and stored in the fridge.
Preheat oven to 350°F (176°C) and prepare three 8 inch cake pans with parchment paper in the bottom and baking spray on the sides.
Combine the strawberry reduction, sour cream, milk, eggs and vanilla extract in a large bowl, then separate about 1 cup of the mixture into another bowl or measuring cup. About 1 1/2 cups should remain in the other bowl. Set both aside.
In a large mixer bowl, combine the flour, sugar, baking powder, baking soda and salt.
With the mixer on the lowest speed, add the butter about a tablespoon at a time, allowing it to incorporate before adding the next tablespoon. As you add more butter, the mixture will start to clump together a bit a should end up resembling wet sand.
Add the larger of the reserved egg mixture (about 1 1/2 cups) to the dry ingredients/butter mixture. Stir on the lowest speed until it's incorporated, then scrape down the sides of the bowl.
Increase the speed to medium high and beat until light and fluffy, about 45 seconds to one minute. Scrape down the sides of the bowl.
Turn the speed down to low and slowly add the remaining egg mixture in a slow stream until incorporated.
Scrape the sides of the bowl, then turn speed back up to medium high and mix until well combined, about 10-15 seconds.
Divide the batter evenly between the three cake pans and bake 24-26 minutes or until a toothpick inserted comes out with a few crumbs.
Remove cakes from the oven and allow to cool for 2-3 minutes, then remove to cooling rack to cool completely.
For the frosting
To make the frosting, add the freeze-dried strawberries to a food processor and grind into a powder. It should give you a little more than half a cup of strawberry powder.
In a large mixer bowl, beat the cream cheese and butter together until smooth.
Slowly add half of the powdered sugar and the vanilla extract and mix until smooth.
Slowly add remaining powdered sugar and strawberry powder and mix until smooth. Add some salt, to taste. Set aside.
To put the cake together, use a large serrated knife to remove the domes from the top of the cakes so that they're flat. Refer to my tutorial, if needed. Place the first cake on a serving plate or a cardboard cake round.
Add about 1 cup of frosting to the top of the cake layer and spread evenly. Add about half of the chopped strawberries and press into the frosting.
Add the second layer of cake, another cup of frosting and the remaining chopped strawberries.
Top the cake with the remaining layer and frost the cake with the remaining frosting. Refer to my tutorial for frosting a smooth cake, if needed.
Pipe the shell border around the top and bottom of the cake. I used a large closed star tip for the top – Ateco 847. For the border around the bottom of the cake, I used Wilton tip 22.
Add a few strawberries on top for decoration and refrigerate until ready to serve. Cake is best when stored well covered and eaten within 3-4 days.
Notes
NOTE: I used a full pound of strawberries for the puree for the cake layers and additional strawberries for between the cake layers. Your strawberries MUST have great flavor in order for your cake to have any flavor. If your strawberries are lacking, your cake will be too.
If you'd prefer not to use freeze dried strawberries, you can use fresh strawberries. Just check out my Homemade Strawberry Frosting.
Nutrition
Serving Size:

1 slice

Calories:

696

Sugar:

95.1 g

Sodium:

291.4 mg

Fat:

23.2 g

Carbohydrates:

116.8 g

Protein:

8.1 g

Cholesterol:

101.5 mg
Keywords: strawberry cake, strawberry layer cake, homemade strawberry cake
This post may contain affiliate sales links. Please read my disclosure policy.