May 23, 2018
Strawberries and Cream Cupcakes
These Strawberries and Cream Cupcakes are made with my favorite vanilla cupcake recipe. They have fresh cream filling with chopped strawberries and the most amazing strawberry frosting!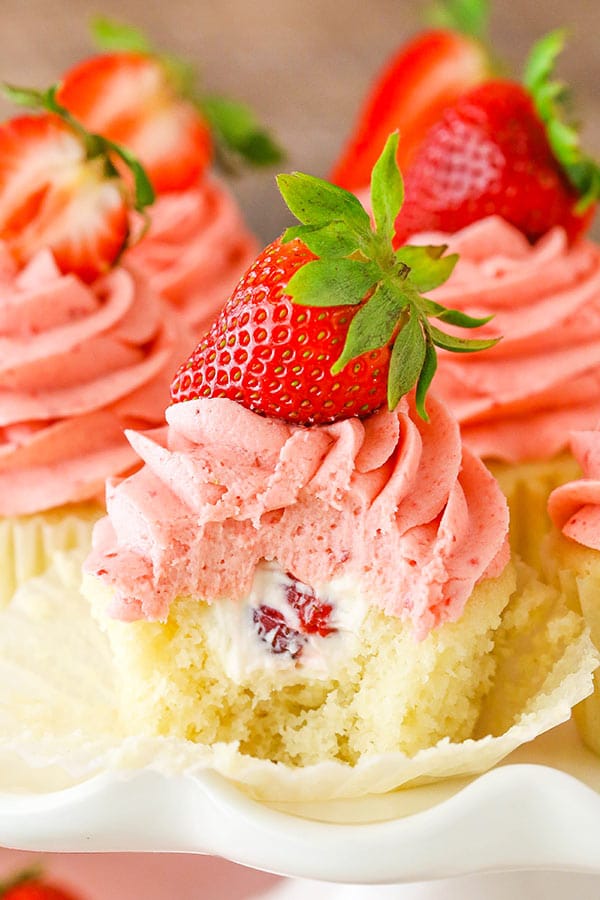 Strawberries and Cream Cupcakes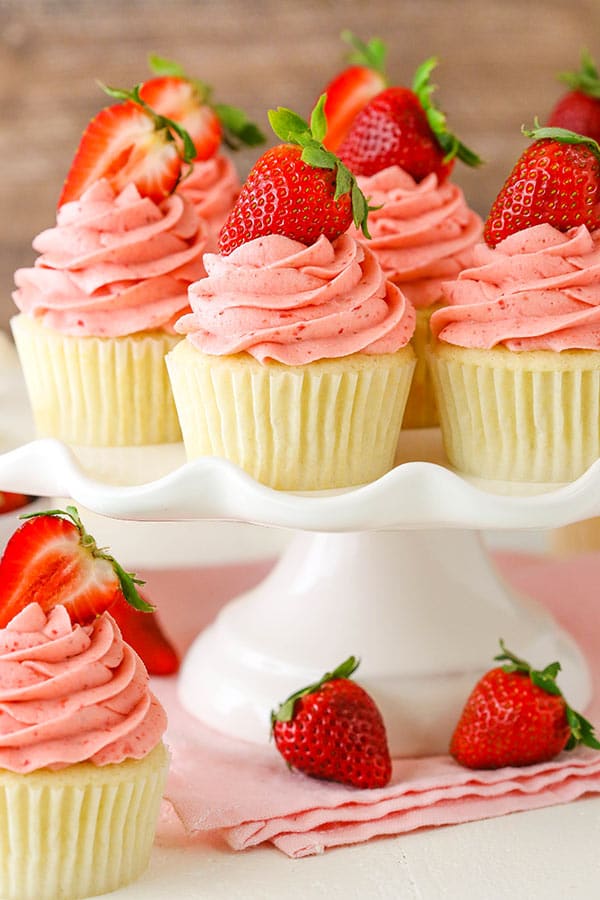 I always look forward to strawberries being in season. I love their smell, I love their taste and I love to bake with them. They are especially good dipped in whipped cream too. A big ole' bowl of strawberries and some whipped cream and I'm good to go! And these cupcakes are much like eating just that – in cupcake form.
How to Make Strawberry Filled Vanilla Cupcakes
The cupcakes start with my favorite moist vanilla cupcakes. They use the classic creaming method of creaming the butter and sugar together, adding air to the batter that helps make a light cupcake.
The cupcakes also use one of my favorite ingredients – sour cream. I love the moisture it adds to cupcakes, as well as the additional flavor.
You'll notice only egg whites in these cupcakes as well. They add structure to the cupcakes to help them hold up to all the wonderful moisture from the sour cream and milk.
Finally, the dry ingredients are added alternatively with the liquid to help the liquid ingredients properly incorporate into the batter. Once the cupcakes are baked and cooled, cut out the cores so that they can be filled. I like to use a cupcake corer, but a knife would work as well.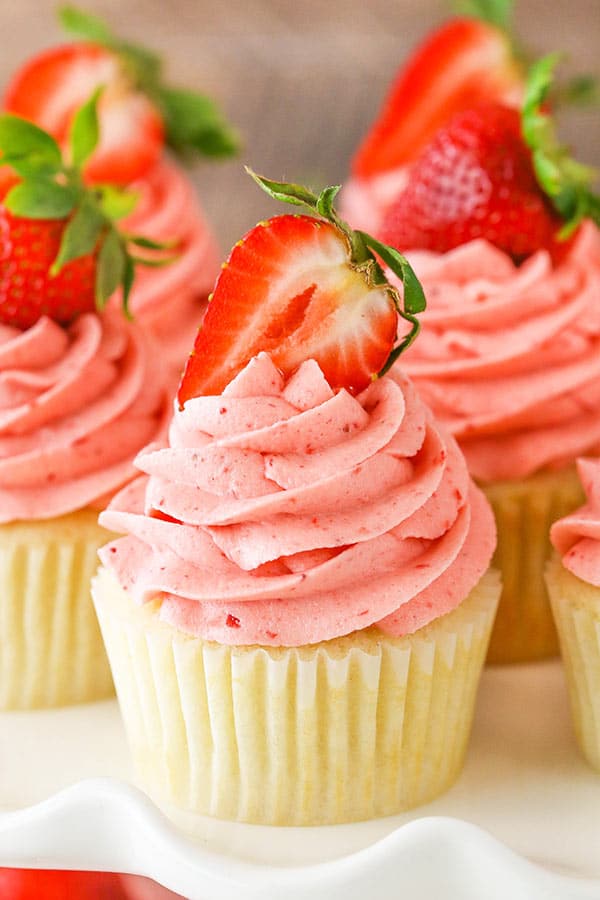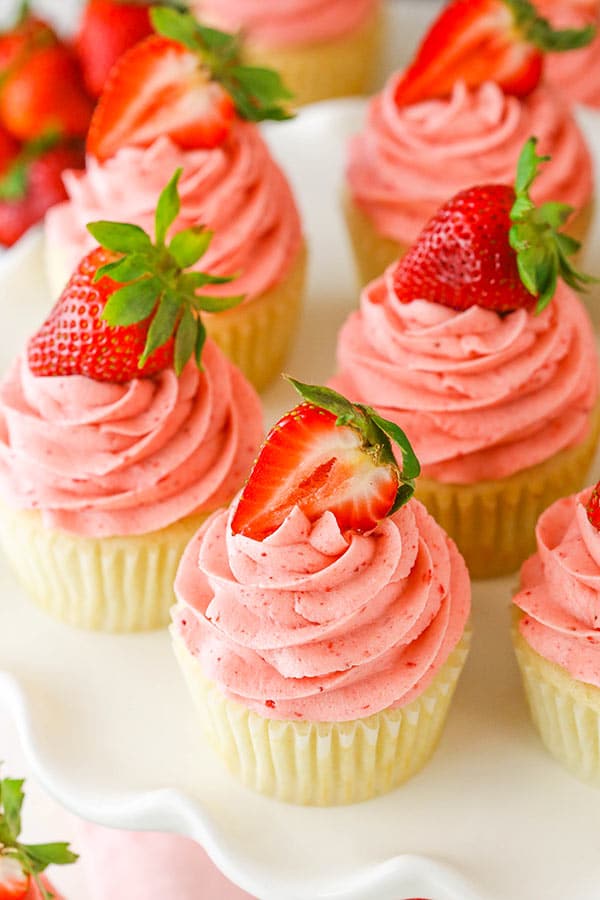 How to Make Strawberry Cupcake Filling
For the filling, I used one of favorite cream fillings. It's whipped cream with a little cream cheese added and some vanilla extract. Powdered sugar is used both to sweeten the cream and to stabilize it. I often hear people say they reduce the amount of powdered sugar used, but be careful doing that. The cream may not end up being as firm.
I added chopped strawberries to the cream, as well. I LOVE the extra pop of strawberries it gives. It's a small addition that makes a big difference!
The cupcakes are finished off with the most amazing strawberry frosting! It was declared "the best strawberry frosting I've ever had" by all who tasted these cupcakes. So good! It's made using freeze dried strawberries to give it plenty of strawberry flavor without thinning out the frosting too much from adding a bunch of strawberry puree. If you'd like to go the puree route, you totally can. I have a frosting like that here. But I definitely recommend trying the freeze dried strawberries.
The final cupcake just melts in your mouth! The moist vanilla cupcake, fluffy cream filling with bursts of strawberries and amazing strawberry frosting are a dangerously delicious combination! All who had them totally fell in love and despite my best efforts, I couldn't resist eating several. These are definitely a new favorite for summer that I know you'll want to make over and over!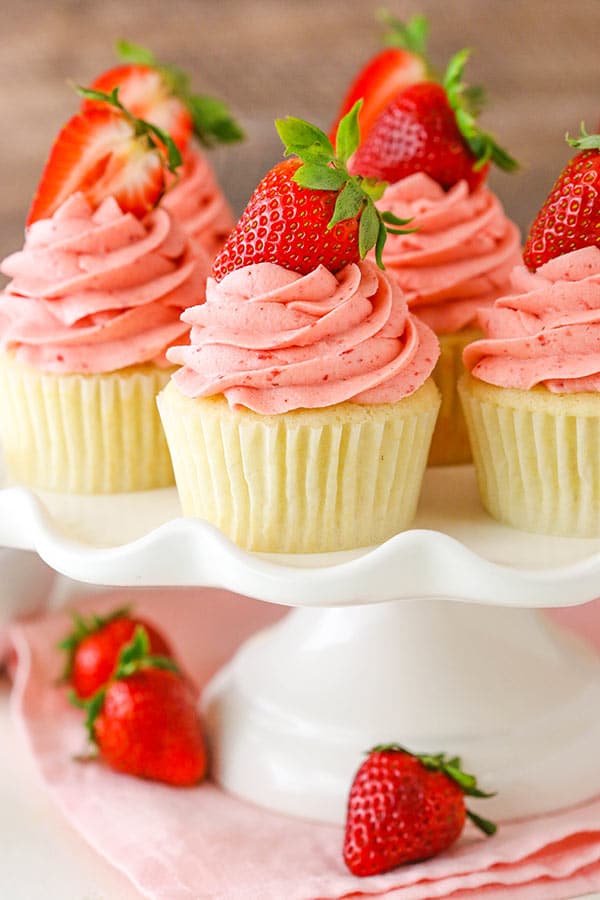 Strawberries and Cream Cupcakes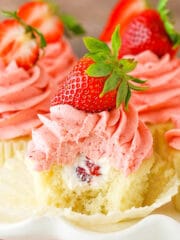 Yield:

12

-

14

Cupcakes

1

x
Category:

Dessert

Method:

Oven

Cuisine:

American
Ingredients
VANILLA CUPCAKES
6 tbsp

(84g), unsalted butter, room temperature

3/4 cup

s (155g) sugar

6 tbsp

(86g) sour cream

2 tsp

vanilla extract

3

large egg whites, room temperature

1 1/4 cup

s (163g) all purpose flour

2 tsp

baking powder

¼ tsp

salt

6 tbsp

(90ml) milk

2 tbsp

(30ml) water
STRAWBERRY FROSTING
1 cup

freeze-dried strawberries

1 cup

(224g) unsalted butter, room temperature

4 cup

s (460g) powdered sugar

3

–

4

tbsp (45-60ml) water or milk
Pinch of salt
Fresh berries, for topping
FILLING
1/2 cup

(120ml) heavy whipping cream, cold

1/4 cup

(29g) powdered sugar

1/2 tsp

vanilla extract

3 oz

cream cheese, room temperature

1/2 cup

chopped strawberries
Instructions
1. Preheat oven to 350°F (176°C) and prepare a cupcake pan with cupcake liners.
2. In a large mixing bowl, cream butter and sugar together until light in color and fluffy, about 3-4 minutes. Do not skimp on the amount of creaming time.
3. Add sour cream and vanilla extract and mix until well combined.
4. Add egg whites in two batches, mixing until well combined after each. Scrape down the sides of the bowl as needed to be sure all ingredients are well incorporated.
5. Combine dry ingredients in a separate bowl, then combine the milk and water in a small measuring cup.
6. Add half of the dry ingredients to the batter and mix until well combined. Add the milk mixture and mix until well combined. Add remaining dry ingredients and mix until well combined. Scrape down the sides of the bowl as needed to be sure all ingredients are well incorporated.
7. Fill the cupcake liners about halfway. Bake for 15-17 minutes, or until a toothpick inserted comes out with a few crumbs.
8. Remove cupcakes from oven and allow to cool for 2-3 minutes, then remove to cooling rack to finish cooling.
9. While the cupcakes cool, make the frosting. Add the freeze dried berries to a food processor and grind into a powder. Set aside.
10. Add the butter to a large mixer bowl and mix until smooth.
11. Add about half of the powdered sugar and mix until smooth
12. Add up to 3 tablespoons of water or milk and the salt and mix until smooth.
13. Add the remaining powdered sugar and powdered berries and mix until well combined and smooth. Add additional water or milk, as needed. Set frosting aside.
14. To make the filling, add the heavy whipping cream, powdered sugar and vanilla extract to a large mixer bowl. 15. Whip on high speed with the whisk attachment until soft peaks form.
15. Add the cream cheese and continue whipping until stiff peaks form. It'll happen quickly.
16. Stir in the chopped strawberries.
17. When the cupcakes have cooled, use a cupcake corer or small knife to remove the centers of the cupcakes.
18. Fill the centers with the cream filling.
19. Pipe the frosting onto the cupcakes. I used Ateco tip 844.
20. Top the cupcakes with a strawberry, then refrigerate until ready to serve. Cupcakes are best served at room temperature.
Enjoy!


This post contains affiliate links.