August 30, 2017
Favorite Moist Vanilla Cupcakes
These Vanilla Cupcakes are moist, light & fluffy! There are a couple different recipes on my site for Vanilla Cupcakes, but these are my all-time favorite classic vanilla cupcakes!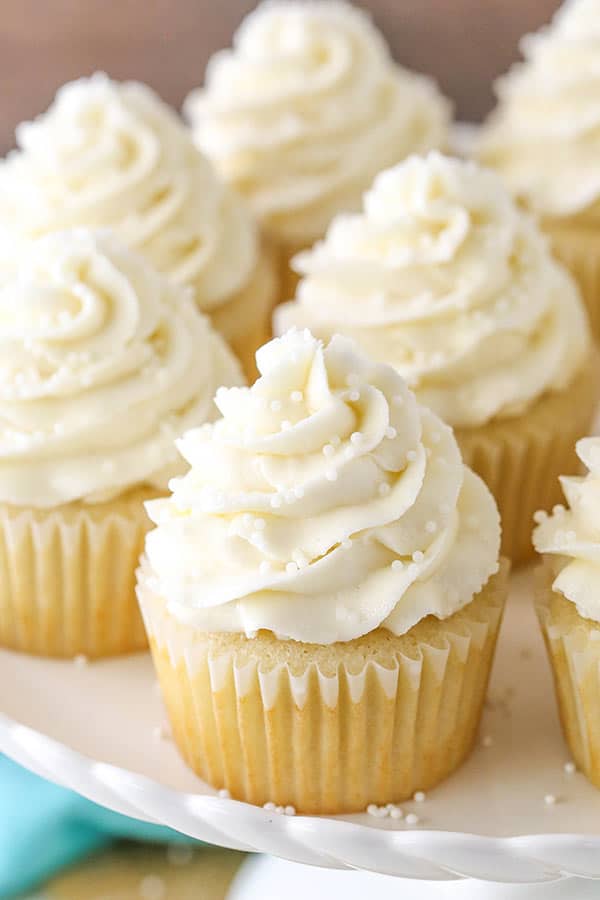 Easy Vanilla Cupcakes with Vanilla Frosting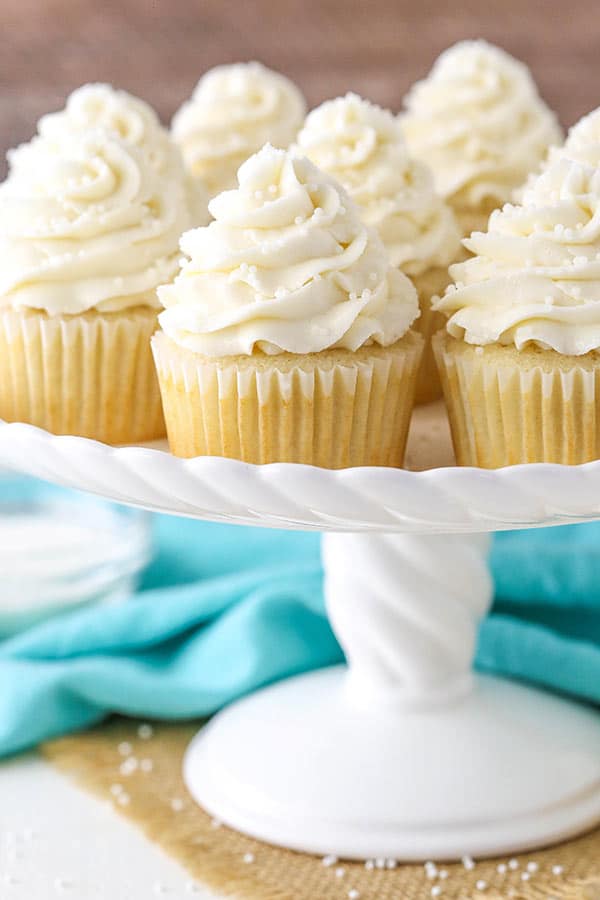 So here's the funny thing about recipes – not everyone has the same opinion about them. What makes the "perfect" vanilla cupcake for one, may not be the same for another. It's sometimes tough, because I want a recipe that everyone loves. I've got my original vanilla cupcake and the new one I shared earlier this year and both are awesome! But which one is your favorite totally depends on the person. Both have rave reviews, and yet I'm still searching for that one that's perfect for everyone.
I'm not really convinced that even exists, but this is my latest installment in the vanilla cupcake wars with myself. 🙂 It's totally a real war. I figure between these three options, surely there's one that tickles your fancy.
I have made these cupcakes over and over and over and they are always a hit. You can actually find them in various forms already on the blog and those are a hit, so I decided it was time to actually call attention to them in their full vanilla form. I like giving options, so this one should definitely be on your radar. They are a little different than both of my other vanilla cupcake recipes, so let's chat about them a bit.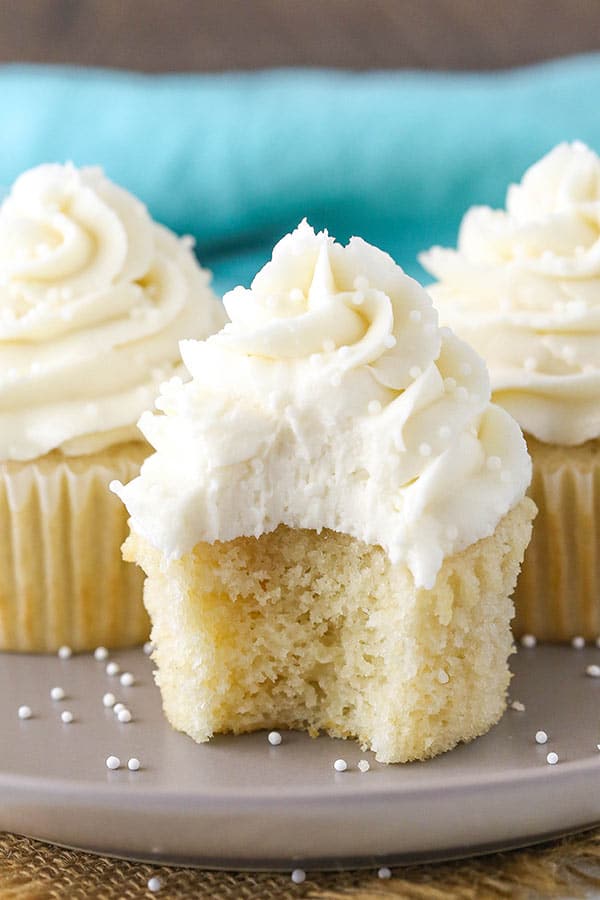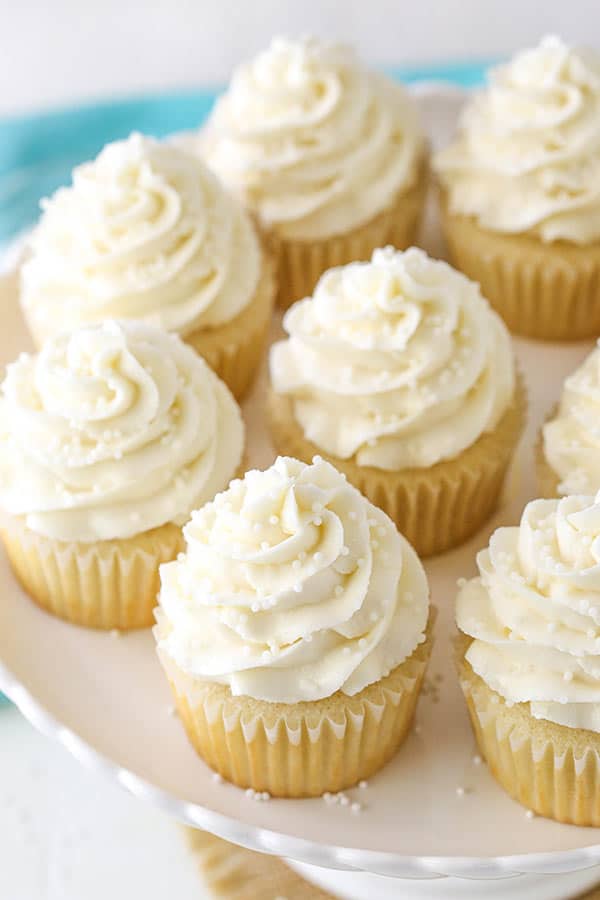 While the other cupcakes utilize a more simple method of just being able to mix all the ingredients together (also one uses oil, instead of butter), these use the more traditional method of creaming. It's actually a very important step, because creaming the butter and sugar together adds air to the batter that helps make them wonderfully fluffy. So be sure to not skimp on the creaming time, or you'll be disappointed by dense cupcakes.
The remaining ingredients and steps are relatively straight forward. As with the other vanilla cupcake versions, the ingredients are all fairly standard ones you will hopefully have on hand. No crazy flours or anything.
MY OTHER RECIPES
After creaming the butter and sugar, you'll add a couple teaspoons of vanilla and some sour cream. Vanilla is obviously important for a good vanilla cupcake and I always love the flavor and moisture that sour cream adds to a cupcake. It's one of those ingredients that I really do stand by. Love it.
Next are the egg whites, followed by alternating adding the dry ingredients and milk and water. Again, all relatively straight forward. Just unlike other versions, these have more of a method to their madness – I mean brilliance. 😉
The final cupcake is super moist and fluffy and truly a favorite of mine. They are my go-to. When topped with vanilla frosting (or any other flavor frosting for that matter), they are delicious and absolutely make my ideal vanilla cupcake. I hope you love these as much as we do!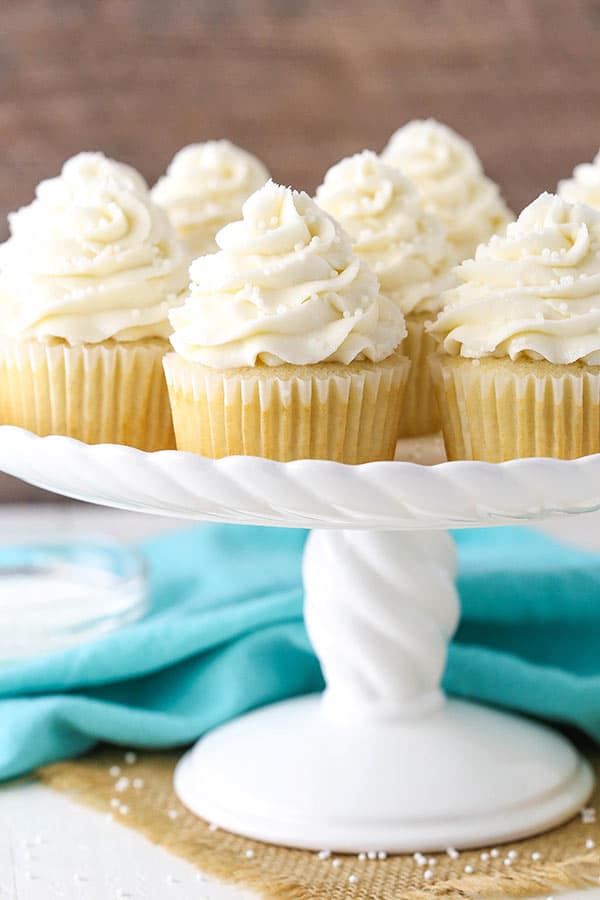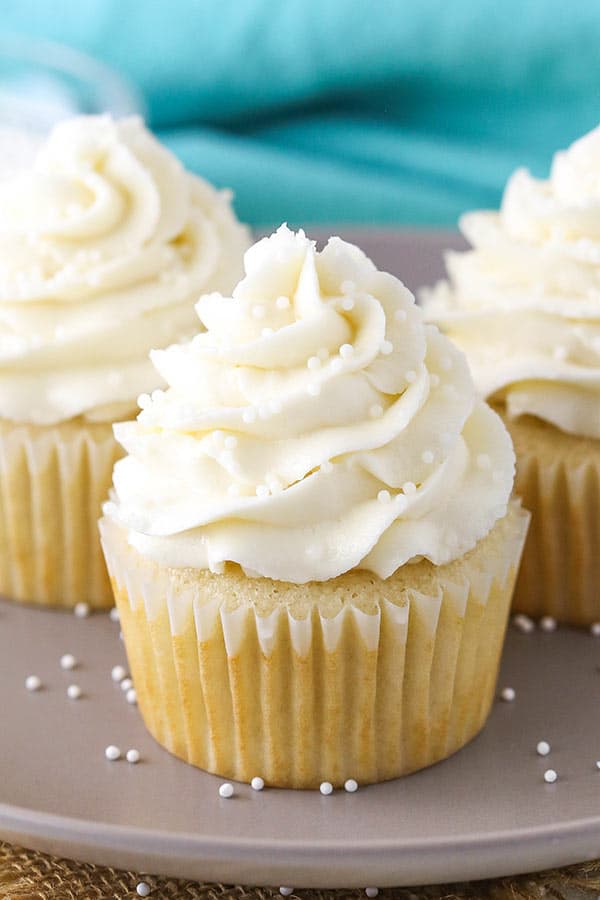 Favorite Moist Vanilla Cupcakes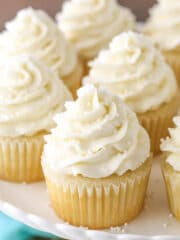 These Vanilla Cupcakes are moist, light & fluffy! If you are looking for a totally foolproof, easy & perfect classic vanilla cupcake recipe this is it!
Author:
Prep Time:

15 minutes

Cook Time:

15 minutes

Total Time:

30 minutes

Yield:

12-14 Cupcakes

Category:

Dessert

Method:

Oven

Cuisine:

American
Ingredients
VANILLA CUPCAKES
6 tbsp (84g), unsalted butter, room temperature
3/4 cups (155g) sugar
6 tbsp (86g) sour cream
2 tsp vanilla extract
3 large egg whites, room temperature
1 1/4 cups (163g) all purpose flour
2 tsp baking powder
¼ tsp salt
6 tbsp (90ml) milk
2 tbsp (30ml) water
VANILLA FROSTING
1/2 cup (112g) salted butter, room temperature
1/2 cup (95g) shortening
4 cups (460g) powdered sugar
1 1/2 tsp vanilla extract
2-3 tbsp (30-45ml) water or milk
Instructions
1. Preheat oven to 350°F (176°C) and prepare a cupcake pan with cupcake liners.
2. In a large mixing bowl, cream butter and sugar together until light in color and fluffy, about 3-4 minutes. Do not skimp on the amount of creaming time.
3. Add sour cream and vanilla extract and mix until well combined.
4. Add egg whites in two batches, mixing until well combined after each. Scrape down the sides of the bowl as needed to be sure all ingredients are well incorporated.
5. Combine dry ingredients in a separate bowl, then combine the milk and water in a small measuring cup.
6. Add half of the dry ingredients to the batter and mix until well combined. Add the milk mixture and mix until well combined. Add remaining dry ingredients and mix until well combined. Scrape down the sides of the bowl as needed to be sure all ingredients are well incorporated.
7. Fill the cupcake liners about halfway. Bake for 15-17 minutes, or until a toothpick inserted comes out with a few crumbs.
8. Remove cupcakes from oven and allow to cool for 2-3 minutes, then remove to cooling rack to finish cooling.
9. While the cupcakes cool, make the frosting. Combine the butter and shortening in a large mixer bowl and mix until smooth.
10. Add 2 cups of powdered sugar and mix until smooth.
11. Add the vanilla extract and 1 tablespoon of water or milk and mix until smooth.
12. Add the remaining powdered sugar and mix until smooth.
13. Add the remaining water or milk as needed and mix until smooth.
14. Pipe the frosting onto the cupcakes. I used Ateco tip 844.
Keywords: vanilla cupcakes recipe, best vanilla cupcakes, easy vanilla cupcakes recipe, vanilla frosting recipe
Enjoy!


You might also like:
Moist Vanilla Cupcakes (oil based)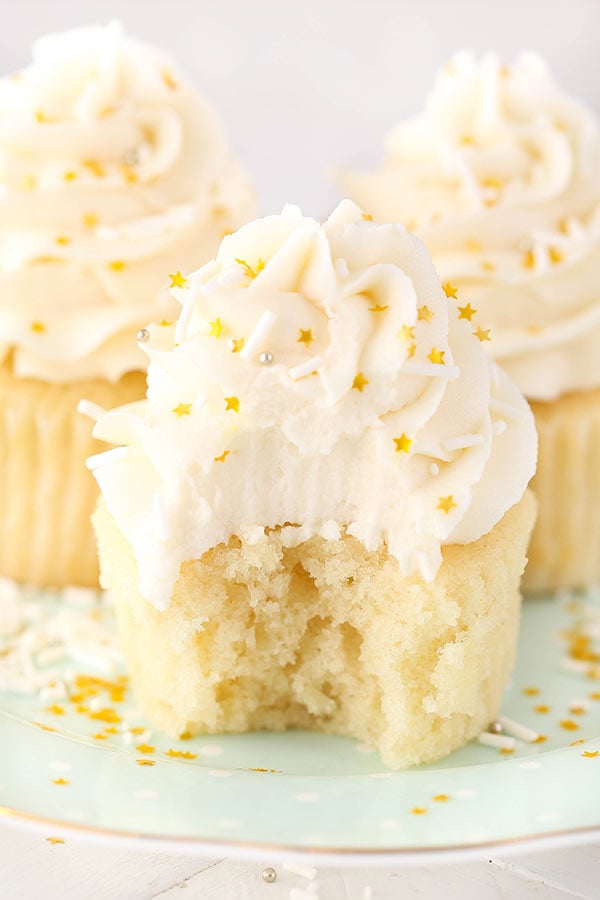 Moist and Fluffy Vanilla Cupcakes (butter based, a little denser)