This Rose Water Vanilla Layer Cake is my new favorite! It's a moist and fluffy vanilla cake with rose water buttercream frosting and it's SO good! It's such an unusual and unexpectedly wonderful flavor – I'm dying for you to try it!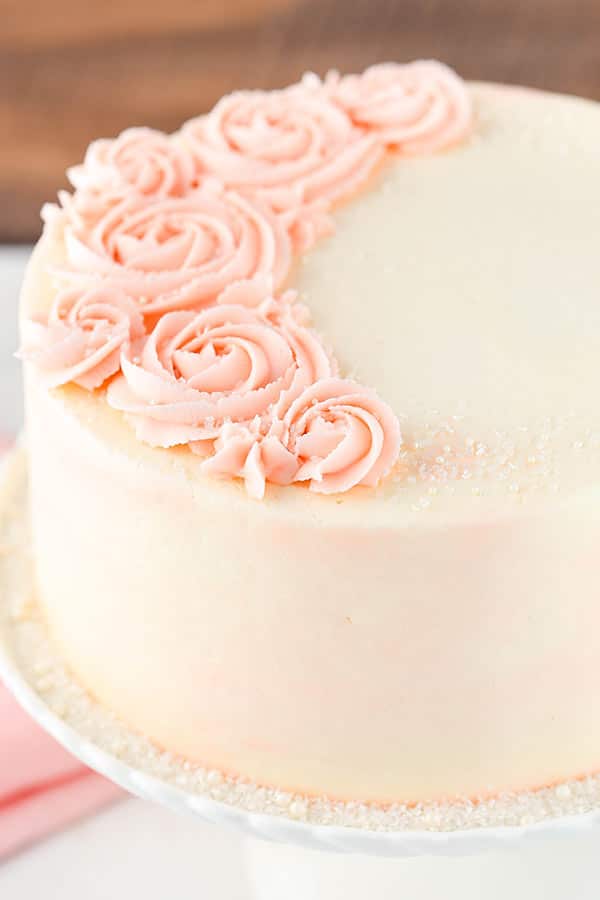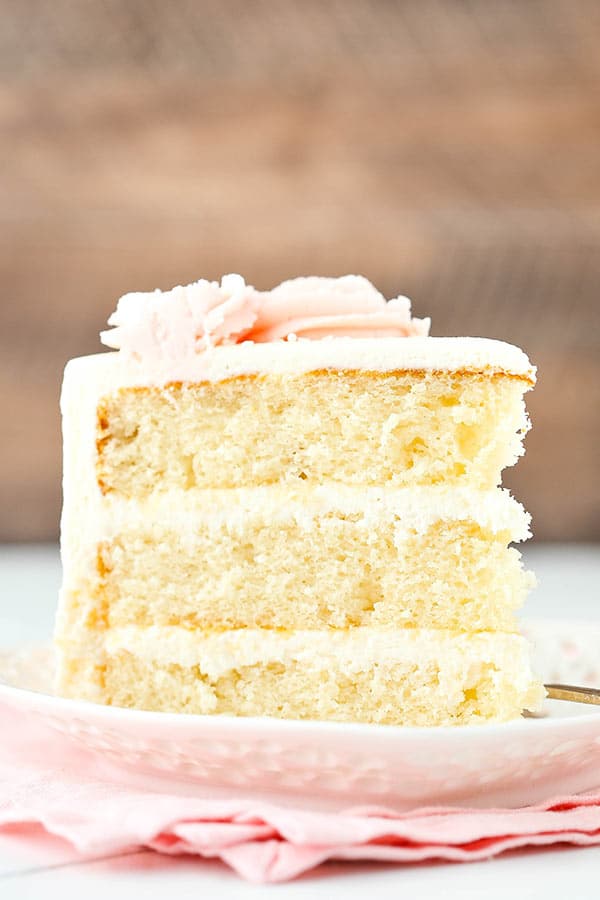 So Valentine's Day is approaching. Are you ready? Have you even though about it yet? I totally get it if you haven't. It is still January. However I'm planning ahead for you and sharing this cake, which is perfect for Valentine's Day! Edible? ✔️ Pretty? ✔️ Pink? ✔️ Flowers? ✔️ ✔️
This cake has flowers in both the cake and on top of the cake! Two check marks! Yay! 😉
And since Valentine's Day is all about the love, I have to tell you a love story. One of my favorite things about relationships (whether it be mine or someone else's) is the cute little things that couples just do. You know, the things that are unspoken and people just do for each other because they've been together and know their routine. Everyone's got them and some of them are super cute.
Well, I went for lunch with my parents over the weekend and my dad ordered a milkshake. When they brought the milkshake over, he was excited but then quickly looked disappointed with himself. He immediately passed it across the table over to my mom, who then asked for a spoon. Looking at me, she noticed my confused look. I mean, it's his milkshake – why did he pass it to her?
"He doesn't like the whipped cream and always forgets to ask for milkshakes without it, so I eat it off for him," she said, very matter-of-fact.
Ha! I mean I guess you could say it's a win-win since she gets the whipped cream, but I thought it was so darn cute that they didn't even miss a beat. As soon as the milkshake hit the table, they both knew what to do. There's whipped cream? Mom springs to action eating it. Adorbs! I mean if that's not true love, I don't know what is! 😉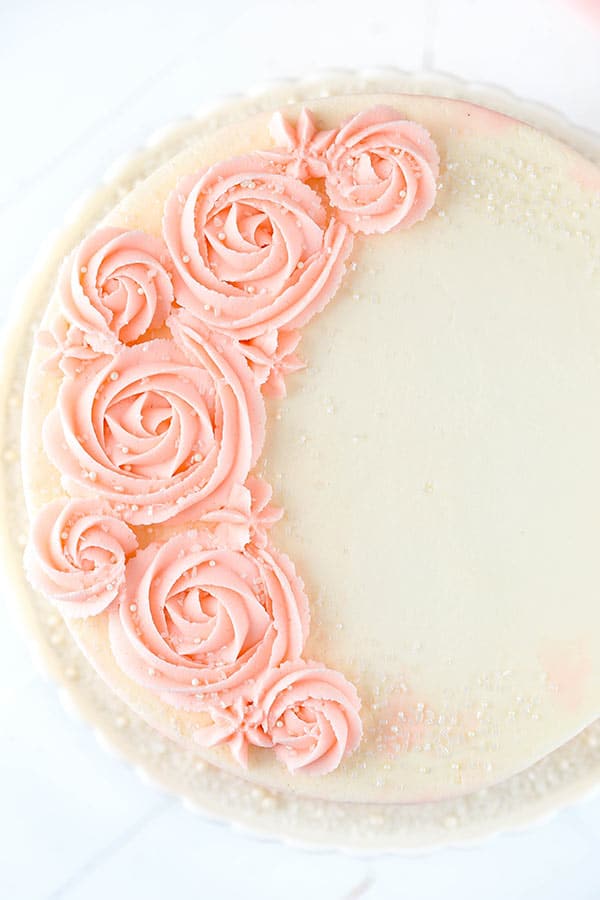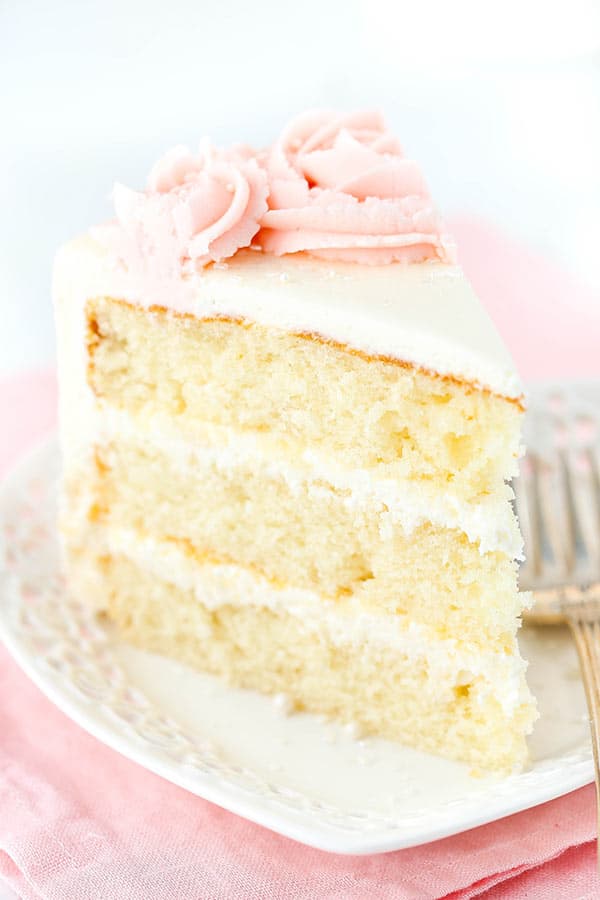 True love is also this cake. 🙂 At least it is for me. I have seen this rose water (which is meant for baking) many times in the store and have always been curious about what it tastes like. Does it actually taste like a rose? And if it doesn't, what does it taste like? I couldn't imagine it, so I had to try it.
I paired it with a lovely, light and fluffy vanilla cake. Not knowing exactly what to expect, that seemed the best course of action. The cake is relatively straight forward to make, beginning with using the creaming method. The method incorporates air into the batter that gives it lift so it's light and fluffy. Be sure to fully cream the butter and sugar together for several minutes before moving onto the next step, or you might end up with a denser cake that you're supposed to. That'd be sad.
Next is the really fun part! The frosting! With rose water! It's my usual decorator-style buttercream. I like to use a combination of butter and shortening because I prefer the taste and texture and then it stays nicer (more firm and less oily) at room temperature. If you prefer all butter, be my guest. The only thing you can't change is the rose water! It's SO good! I used about a tablespoon and it's just enough to give a lovely flavor, without being overpowering.
Ok, so what does it takes like?! Well first off, it smells very floral. When you smell it, you'll be sure it's going to taste like soap…or something florally…like perfume. But it doesn't! My first reaction was that it tastes like sweethearts – the Valentine's Day candy! YES!! I love those things! And I wasn't the only one to get that taste from it. I took it to small group and a couple others thought the same thing. Not everyone though. Some thought it was more floral than that, but everyone liked it. Even for those that thought it was more floral-y, they loved the sweet, refreshing taste of it. It's honestly hard to describe if you don't think it tastes like sweethearts (which I do). But it's just so good! Nobody disliked it! It's so fun and so unique, you seriously have to try it! It's for research – and for Valentine's Day. 😉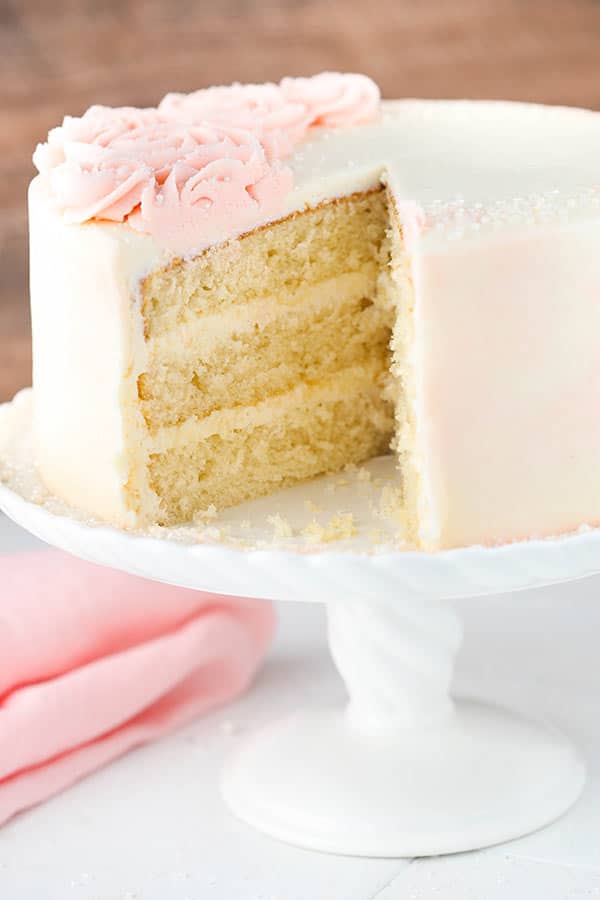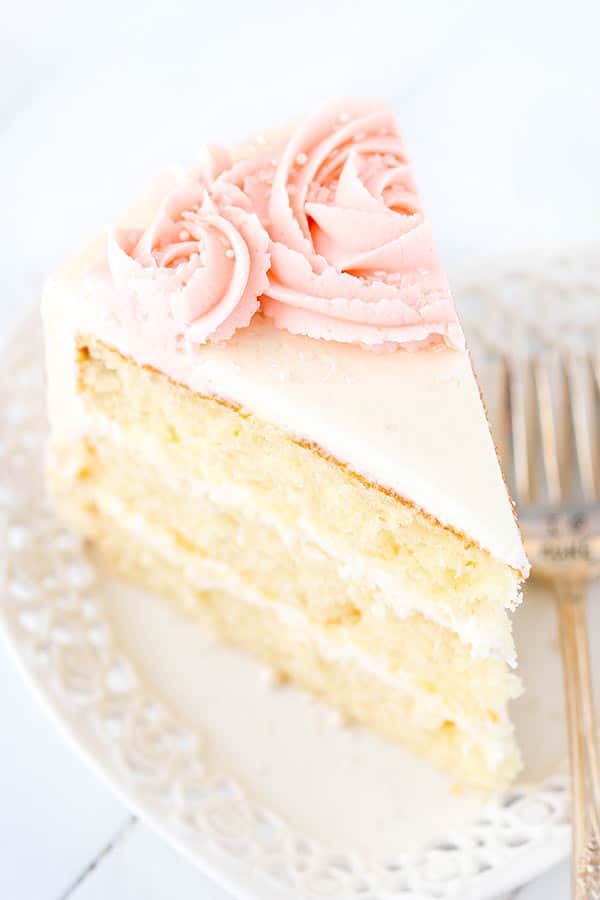 Read transcript
Print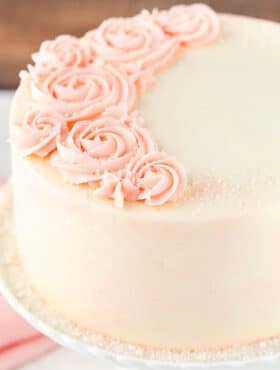 Recipe
Rose Water Vanilla Layer Cake
Author:

Prep Time:

45 minutes

Cook Time:

23 minutes

Total Time:

1 hour 8 minutes

Yield:

12-14 Slices

Category:

Dessert

Method:

Oven

Cuisine:

American
---
Description
This Rose Water Vanilla Layer Cake is my new favorite! It's a moist and fluffy vanilla cake with rose water buttercream frosting and it's SO good!
---
Ingredients
VANILLA CAKE
3/4 cup

(

168g

) unsalted butter, room temperature

1 1/2 cups

(

310g

) sugar

3/4 cup

(

173g

) sour cream, room temperature

1 tbsp

vanilla extract

6

large egg whites, room temperature

2 1/2 cups

(

325g

) all purpose flour

4 tsp

baking powder

½ tsp

salt

3/4 cup

(180ml) milk, room temperature

1/4 cup

(60ml) water, room temperature
ROSE WATER BUTTERCREAM
1 1/2 cups

(

336g

) salted butter

1 1/4 cups

(

237g

) shortening

10 1/2 cups

(

1208g

) powdered sugar

1 tbsp

 rose water

1 tsp

vanilla extract

5

–

6

tbsp water or milk
Ivory icing color
Pink icing color
---
Instructions
TO MAKE THE CAKE LAYERS:

1. Prepare three 8 inch cake pans with parchment paper circles in the bottom and grease the sides. Preheat oven to 350°F (176°C) .
2. In a large mixing bowl, cream butter and sugar together until light in color and fluffy, about 3-4 minutes. Do not skimp on the creaming time.
3. Add sour cream and vanilla extract and mix until well combined.
4. Add egg whites in two batches, mixing until well combined after each. Scrape down the sides of the bowl as needed to be sure all ingredients are well incorporated.
5. Combine dry ingredients in a separate bowl, then combine the milk and water in a small measuring cup.
6. Add half of the dry ingredients to the batter and mix until well combined. Add the milk mixture and mix until well combined. Add remaining dry ingredients and mix until well combined. Scrape down the sides of the bowl as needed to be sure all ingredients are well incorporated.
7. Divide the batter evenly between the cakes pans and bake for about 21-23 minutes, or until a toothpick comes out with a few crumbs.
8. Remove the cakes from the oven and allow to cool for about 2-3 minutes, then remove to cooling racks to cool completely.
TO MAKE THE BUTTERCREAM:
9. In a large mixer bowl, beat the butter and shortening together until smooth.
10. Slowly add half of the powdered sugar and mix until smooth.
11. Add the rose water, vanilla extract and 4-5 tablespoons of water or milk and mix until smooth.
12. Slowly add the remaining powdered sugar and mix until smooth. Add additional water or milk, as needed.
13. Color the frosting with the ivory icing color. You will add the pink color later.
TO ASSEMBLE THE CAKE:
14. To put the cake together, use a large serrated knife to remove the domes from the top of the cakes so that they're flat. Place the first cake on a serving plate or a cardboard cake round.
15. Spread about 1 cup of rose water frosting evenly on top of the cake.
16. Add the second layer of cake and another cup of rose water frosting.
17. Top the cake with the remaining layer and frost the outside of the cake. Refer to my tutorial for frosting a smooth cake, if needed, or watch the video above.
18. Color the remaining frosting with a little bit of pink icing color.
19. To create the light watercolor effect, use an offset spatula to add a thin layer of pink frosting around the cake. I added a fairly full layer and then removed as much as I wanted. You could also just add the pink frosting in certain spots and smooth it from there. Again, watch the video above for an example.
20. Use the remaining pink frosting to pipe rosettes around the top edge of the cake. I used Ateco tip 844, but Wilton 1M or 2D would work as well.
21. Sprinkle the cake with some sparkling sugar sprinkles, if desired.
---
Nutrition
Serving Size:

1 Slice

Calories:

930

Sugar:

96 g

Sodium:

282.5 mg

Fat:

50.6 g

Carbohydrates:

116 g

Protein:

6.4 g

Cholesterol:

84.7 mg
Keywords: rose water dessert, vanilla cake recipe, best vanilla cake recipe, birthday cake, anniversary cake, celebration cake
Filed Under:
Enjoy!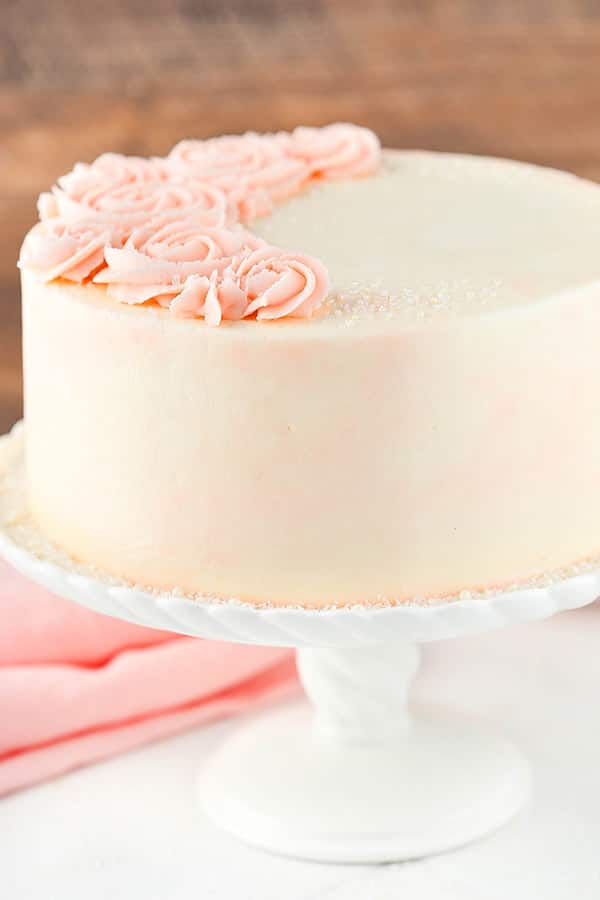 This post may contain affiliate sales links. Please read my disclosure policy.