This Vanilla Bean Cheesecake is a classic cheesecake recipe! A graham cracker crust is filled with a smooth, thick and creamy vanilla bean cheesecake topped with homemade vanilla bean mousse!
If you love classic and traditional cheesecake recipes, you'll want to add this easy Classic Cheesecake Recipe and this classic Mini Cheesecakes recipe to your list of favorite dessert recipes.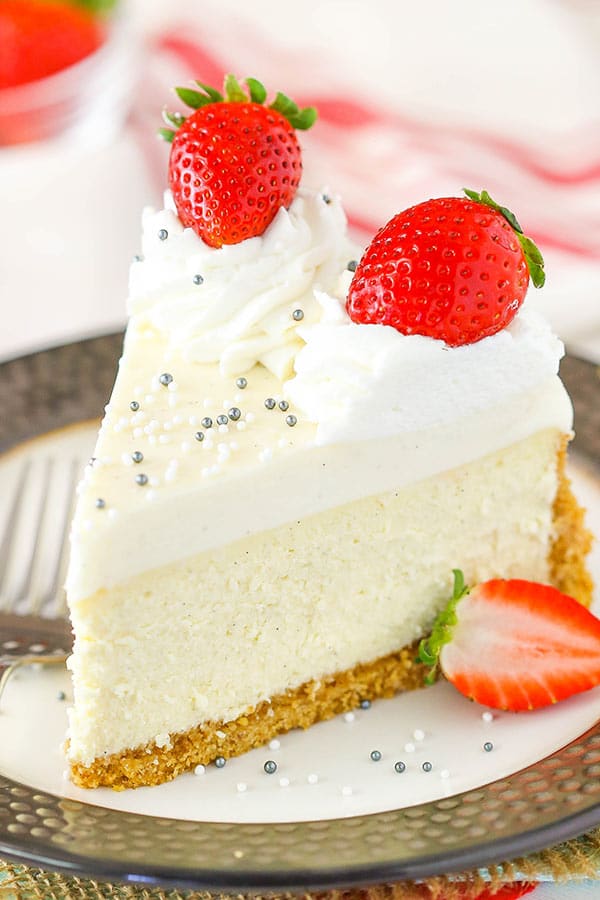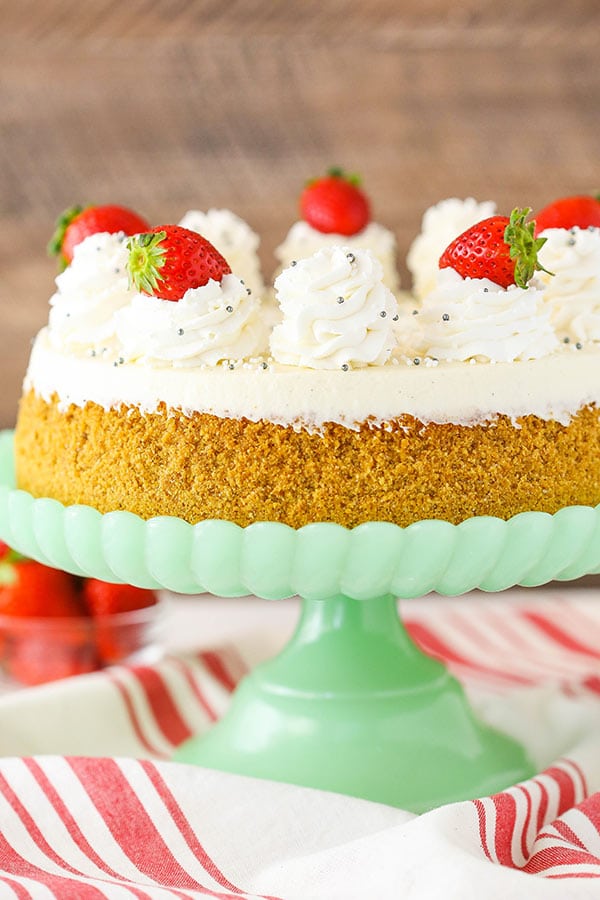 So yesterday, I totally earned the "Aunt of the Year" award. My brother and sister-in-law were at the Atlanta Falcons game (they are fans – booooo!), so we watched their two girls along with my mom. The night before, the family had all been hanging out at dinner when I realized I'd forgotten to bring the girls the cake I'd worked on Friday. I had really wanted to give it away and knew they were the perfect recipients.
So when they came to watch football at our house, the first thing they asked for was the cake I'd promised them. I told them we were going to eat this cake the way my mom taught me. I sat them down on the couch in front of the football game, put the cake on the table in front of them, handed them each a big fork and said, "Now dig in!"
It only took 0.15 seconds before their eyes got big in excited surprised and they did just that – dug in! For two girls, they ate WAY more cake than I expected – and had quite a sugar high. Then they washed it down with some Coke. Then I sent them home with grandma (my mom) and told her she was welcome.
Best Aunt Ever! HA!
You'll get to check that cake out soon, but I'll give you a hint of what to look forward to – a cheesecake cake. And they're smart girls – they loved the cheesecake layer.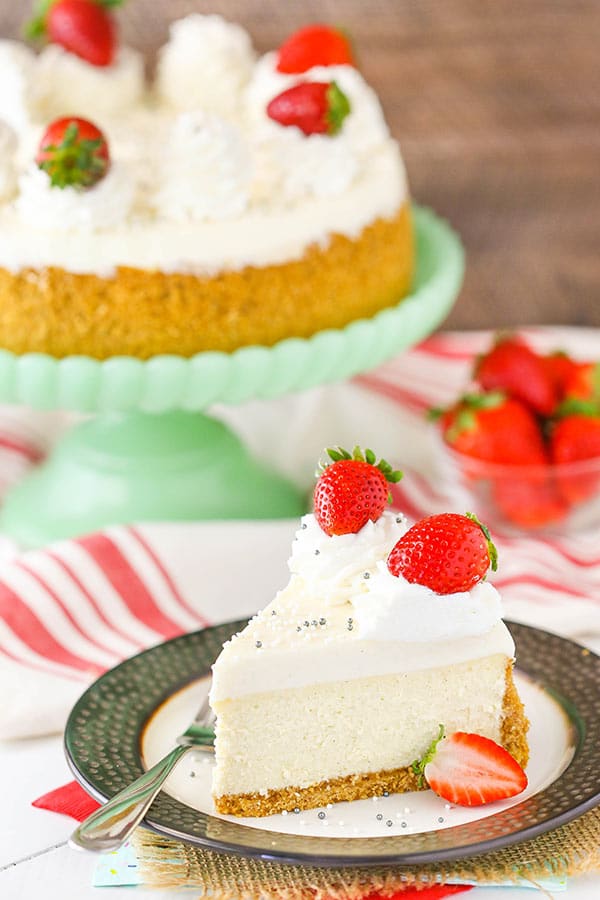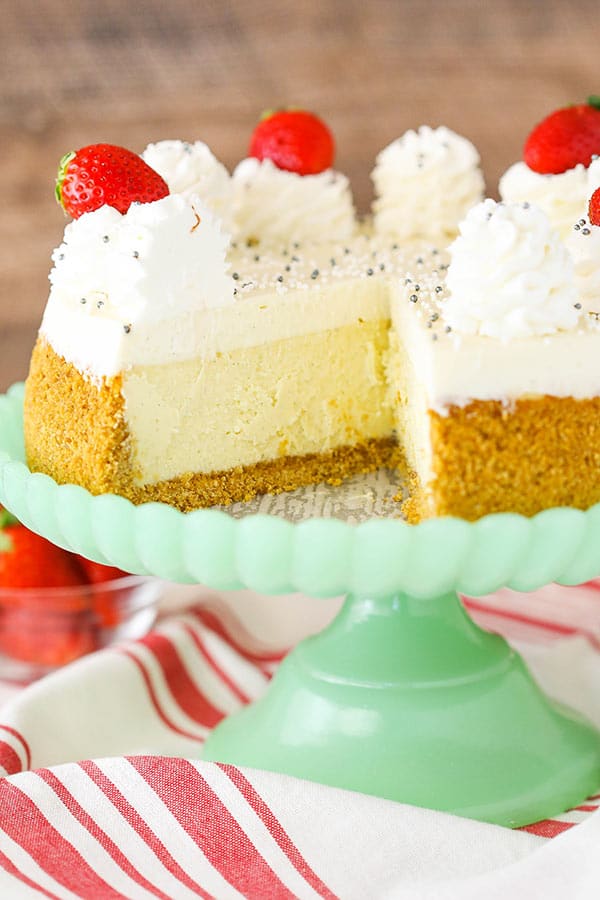 The Best Classic Vanilla Cheesecake Recipe
The cheesecake layer of that cake is not totally unlike this delicious cheesecake, however this one comes with a crust, vanilla bean and mousse. It speaks for itself.
The crust is your classic graham cracker crust with a little sugar and some melted butter to hold it all together. The crust is baked, then the pan prepared for a water bath. I totally understand if you're thinking water baths suck. They do. They're a pain. But they are SO worth it! You get a much creamier and pretty cheesecake. Without it cheesecakes tend to be drier, brown around the edges, crack and fall in the center. I mean, that's ok, but not really ideal for the time you put in. Take the extra few minutes to do the water bath – it's worth it.
The filling of the cheesecake is flavored with vanilla beans and vanilla extract. I like to use both. I don't find vanilla bean to lend a super strong vanilla flavor one it's own, but when combined with vanilla extract, it amplifies the vanilla and creates the most pure and lovely vanilla flavor. I'm a fan.
When mixing the ingredients for the filling, just be sure not to mix things together at a high speed. That can incorporate more air bubbles into the batter, which can rise to the top when baking and create cracks.
How To Make Homemade Vanilla Bean Mousse
The topping is a delightful and light vanilla bean mousse. It's super easy to make once the cheesecake has been baked and cooled. Just make the white chocolate ganache by melting white chocolate chips with heavy whipping cream. Let the ganache cool to room temperature, then add the whipped cream to it. Easy peasy. I like to remove the cheesecake from the pan, then add the mousse. Spread it into a nice even layer on top of the cheesecake, then use an offset spatula to run around the edge of the cheesecake and mousse to make it nice and straight on the sides.
To finish off the cheesecake, I used some whipped cream swirls and fresh strawberries for a pop of color. The sprinkles are also a nice decoration, but not necessary. This cheesecake is just as a cheesecake should be – full of flavor, creamy and thick – just the way I like it! And the vanilla bean flavor is right on!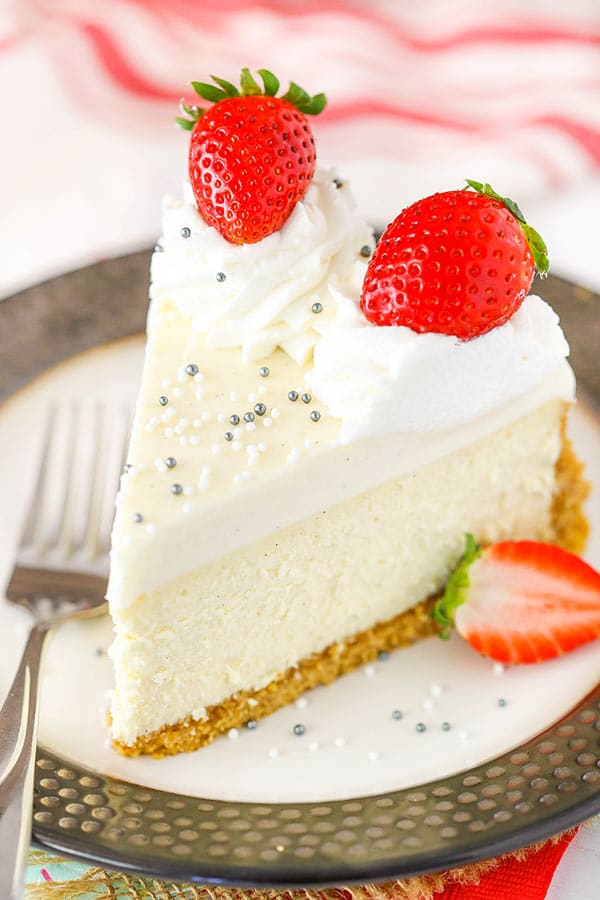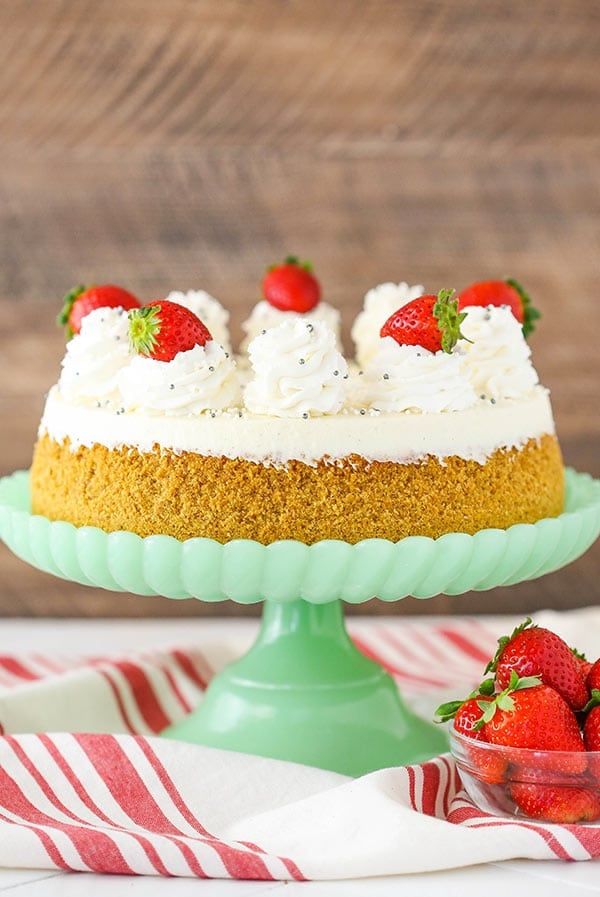 Print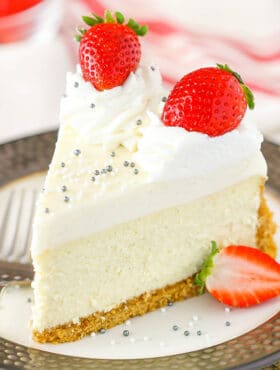 Recipe
Vanilla Bean Cheesecake
Author:

Prep Time:

30 minutes

Cook Time:

1 hour 30 minutes

Total Time:

2 hours

Yield:

12-14 Slices

Category:

Dessert

Method:

Oven

Cuisine:

American
---
Description
This Vanilla Bean Cheesecake recipe is a classic! Graham cracker crust filled with a smooth, thick & creamy vanilla bean cheesecake + homemade vanilla bean mousse!
---
Ingredients
CRUST
2 ¼ cups

(

302g

) graham cracker crumbs

½ cup

(

112g

) salted butter, melted

3 tbsp

(

39g

) sugar
CHEESECAKE
24 ounces

(

678g

) cream cheese, room temperature

1 cup

(

207g

) sugar

3 tbsp

(

24g

) all purpose flour

1 cup

(

230g

) sour cream, room temperature

2 tbsp

vanilla bean paste

1 tbsp

vanilla extract

4

large eggs, room temperature
MOUSSE
1 cup

(

172g

) white chocolate chips

1 cup

(240ml) heavy whipping cream, divided (

1/4 cup

in the ganache, 3/4 for whipped cream)

6 tbsp

(

44g

) powdered sugar

1 1/2 tsp

vanilla bean paste

1 tsp

vanilla extract
WHIPPED CREAM
1/2 cup

(120ml) heavy whipping cream

1/4 cup

(

29g

) powdered sugar

1/2 tsp

vanilla extract
Strawberries, optional
Sprinkles, optional
---
Instructions
CRUST

1. Preheat oven to 325°F (163°C). Line a 9-inch (23cm) springform pan with parchment paper in the bottom and grease the sides.
2. Combine the crust ingredients in a small bowl. Press the mixture into the bottom and up the sides of the springform pan.
3. Bake the crust for 10 minutes, then set aside to cool.
4. Cover the outsides of the pan with aluminum foil so that water from the water bath cannot get in (see how I prepare my pan for a water bath). Set prepared pan aside.
CHEESECAKE
1. Reduce oven temperature to 300°F (148°C).
2. In a large bowl, beat the cream cheese, sugar and flour on low speed until well combined and smooth. Be sure to use low speed to reduce the amount of air added to the batter, which can cause cracks. Scrape down the sides of the bowl.
3. Add the sour cream, vanilla bean paste and vanilla extract and mix on low speed until well combined.
4. Add the eggs one at a time, mixing slowly to combine after each addition. Scrape down the sides of the bowl as needed to make sure everything is well combined.
5. Pour the cheesecake batter into the crust.
6. Place the springform pan inside another larger pan. Fill the outside pan with enough warm water to go about halfway up the sides of the springform pan. The water should not go above the top edge of the aluminum foil on the springform pan.
7. Bake for 1 hour 15 minutes. The center should be set, but still jiggly.
8. Turn off the oven and leave the door closed for 30 minutes. The cheesecake will continue to cook, but slowly begin to cool as well.
9. Crack the door of the oven for 30 minutes to allow the cheesecake to continue to cool slowly. This process helps prevent cracking.
10. Remove the cheesecake from the oven and water bath wrapping and refrigerate until firm, 5-6 hours or overnight.
MOUSSE
1. Place the white chocolate chips in a small heat proof bowl.
2. Heat 1/4 cup of the heavy whipping cream in a glass measuring cup just until it begins to bowl.
3. Pour the hot liquid over the white chocolate chips and allow to sit for 2-3 minutes, then whisk until smooth. If it doesn't get completely smooth, microwave in 10-15 second increments, whisking between each, until smooth. Set ganache aside to cool to room temperature.
4. Place remaining 3/4 cup of heavy whipping cream, powdered sugar, vanilla bean paste and vanilla extract in a large mixer bowl and whip on high speed until stiff peaks form.
5. Gently fold about 1/3 of the whipped cream into the cooled white chocolate ganache.
6. Gently fold the remaining whipped cream into the ganache into two parts, until well combined.
ASSEMBLY
1. Remove the cheesecake from the springform pan, then spread the mousse on top of the cheesecake. Run an offset spatula around the edge of the cheesecake to smooth out the overhang of mousse around the edges.
2. To make the whipped cream for the swirls on top, add the heavy whipping cream, powdered sugar and vanilla extract to a large mixer bowl and whip on high speed until stiff peaks form.
3. Pipe swirls of whipped cream around the edge of the cheesecake. Top with strawberries and sprinkles, if desired.
4. Refrigerate cheesecake until ready to serve. Cheesecake best for 3-4 days.
---
Nutrition
Serving Size:

1 Slice

Calories:

543

Sugar:

38.3 g

Sodium:

411.9 mg

Fat:

32 g

Carbohydrates:

53.9 g

Protein:

9.7 g

Cholesterol:

133.7 mg
Keywords: vanilla cheesecake recipe, vanilla dessert recipe, easy cheesecake recipe, classic cheesecake recipe, how to make cheesecake, vanilla bean cheesecake, best cheesecake recipe
Filed Under:
Enjoy!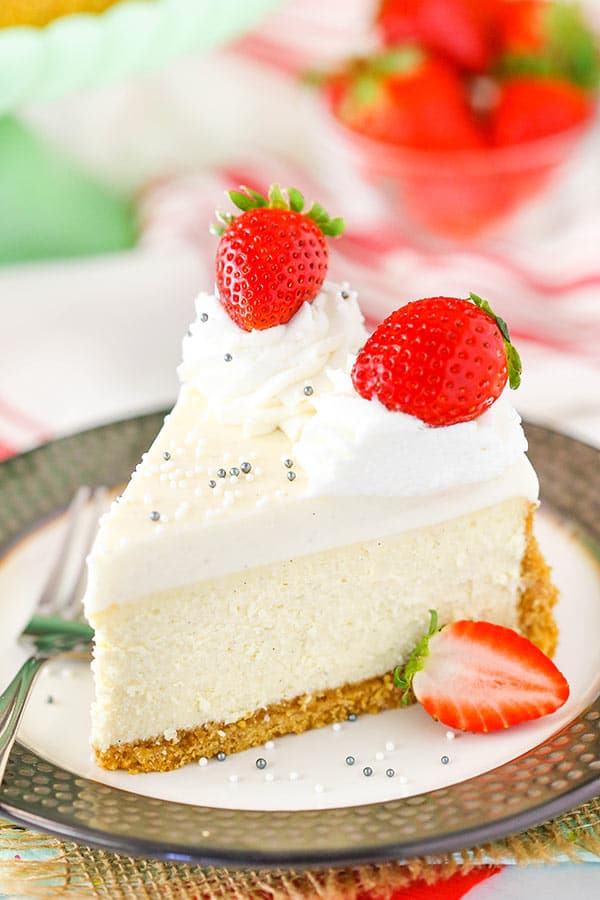 This post may contain affiliate sales links. Please read my disclosure policy.