This Strawberry Champagne Layer Cake has layers of moist champagne cake and fresh strawberry frosting! It's covered in champagne frosting and fun, festive sprinkles for a cake that's perfect for New Year's Eve!
Looking for more New Year's Eve dessert ideas? Try these easy Champagne Cupcakes!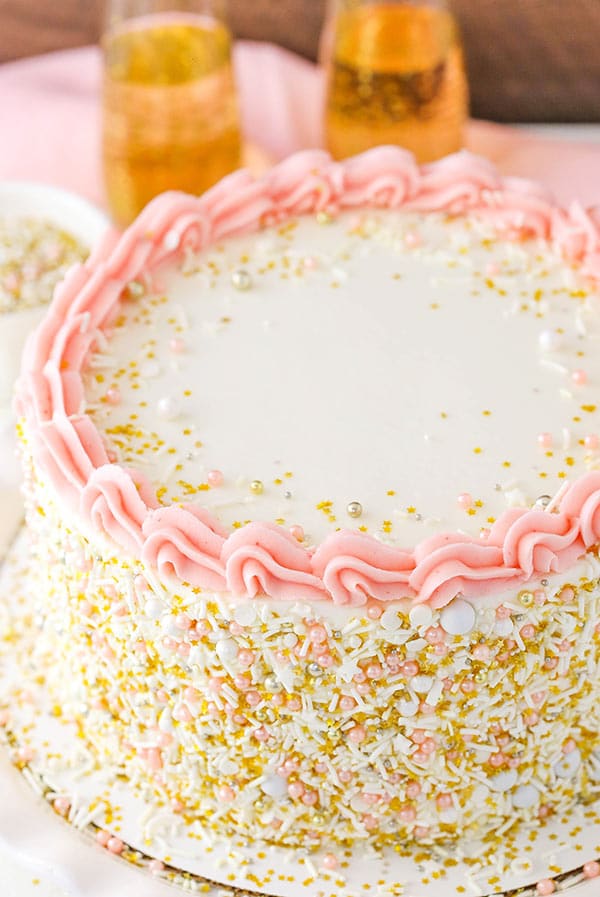 New Year's Eve Strawberry Champagne Layer Cake
Is it too soon to talk about New Years when Christmas hasn't even happened yet? I hope not! I assume by now you've Christmas totally taken care of and covered right? 😉 Ha! I know I don't! If you need a last minute dessert idea, here's a peppermint cheesecake brownie trifle or gingerbread cheesecake trifle, an easy salted honey pie that I LOVE and some no bake salted caramel coconut macaroons to consider.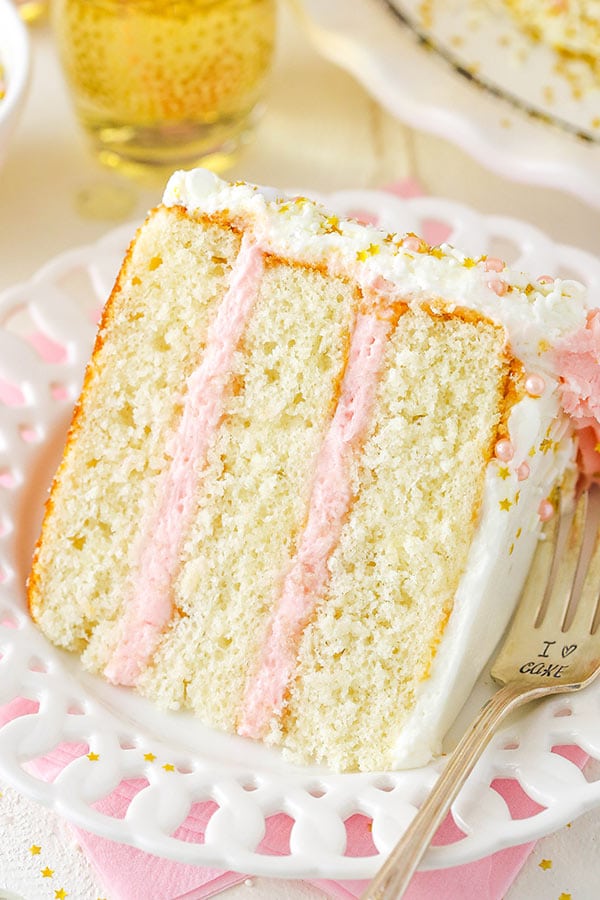 But back to this cake – even if we aren't quite ready for New Years, if you're like me then you may have already started to think about the food. Dessert, at the very least. 🙂
And this cake is totally celebration appropriate. New Years, a birthday, even Valentine's Day or some day where champagne must be included – this cake is perfect! Between the bubbly and the sprinkles, it's celebration in cake form.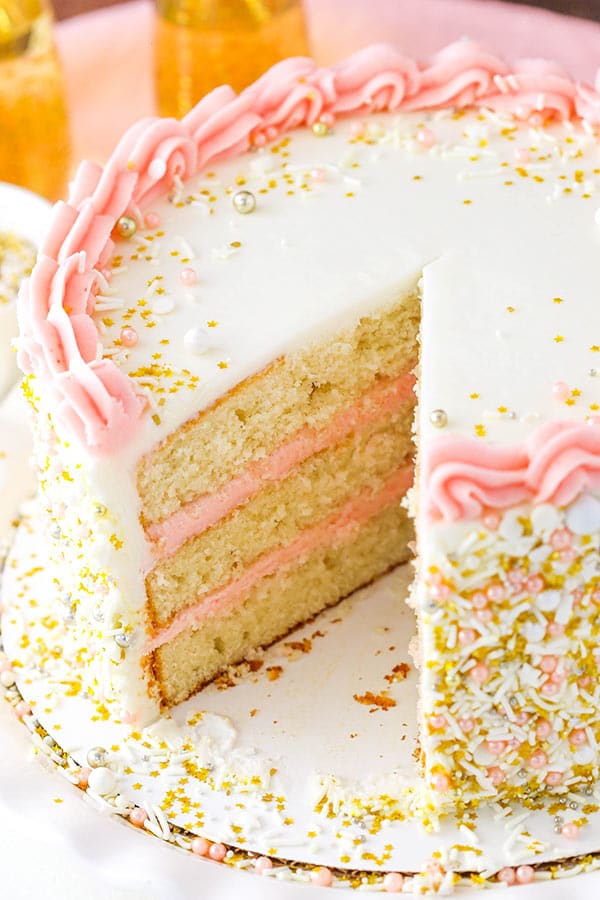 How to Make this Strawberry Champagne Layer Cake
So to put the cake together, you start with the champagne. I like to double up on the champagne and then cook it down over the stove to strengthen the flavor. What's the point of adding champagne to a cake if you can't taste it? So add the champagne to a saucepan and just cook it over medium heat until goes from 2 1/4 cups to 1 cup. You don't need to boil it, just heat it and watch the steam rise. Check it occasionally by pouring it back into a measuring cup and seeing where it's at until you only have 1 cup, then set it aside to cool.
Next it's time to mix the batter. It starts with the creaming of the butter and sugar, which you never want to skimp on as far as time is concerned. You should actually see the texture of the butter/sugar mixture thicken and fluff up and it'll all lighten in color. It's important for adding air to the batter so that it has a nice fluffy texture.
Then you've got some sour cream, which adds nice flavor and moisture, and some vanilla extract. The egg whites add structure to the cake, then there's the dry ingredients, champagne and milk.
Once the cakes are baked and cooled, it's time for the frosting! I used a mix of strawberry frosting in the layers and champagne frosting on the outside of the cake. The strawberry frosting gets all of it's pink color from the strawberries themselves. You'll puree some strawberries in a food processor and strain it to remove the pulp and seeds. Then when it's added to the frosting, you get a nice smooth pink frosting with the lovely shade of pink. Love it! The champagne frosting uses some of the cooked down champagne that wasn't added to the cake.
Once the cake is frosted, you want to add the sprinkles right away. It's a crusting buttercream, so if it sits for even 15 minutes or so, sprinkles will have trouble sticking to the cake.
As for my sprinkle mix, I used this white and gold mix from Sweetapolita, then added these pink sugar pearls. If you don't want to use the Sweetapolita mix though, you could make your own. Here's a few options to check out:
Gold and white sprinkles
White pearls
Silver pearls
Pink pearls
White nonpareils
The final cake is not only fun and pretty, it's delicious! Strawberries and champagne are totally meant for each other! We were big fans of the combination. If you get a chance to try it, I hope you love it!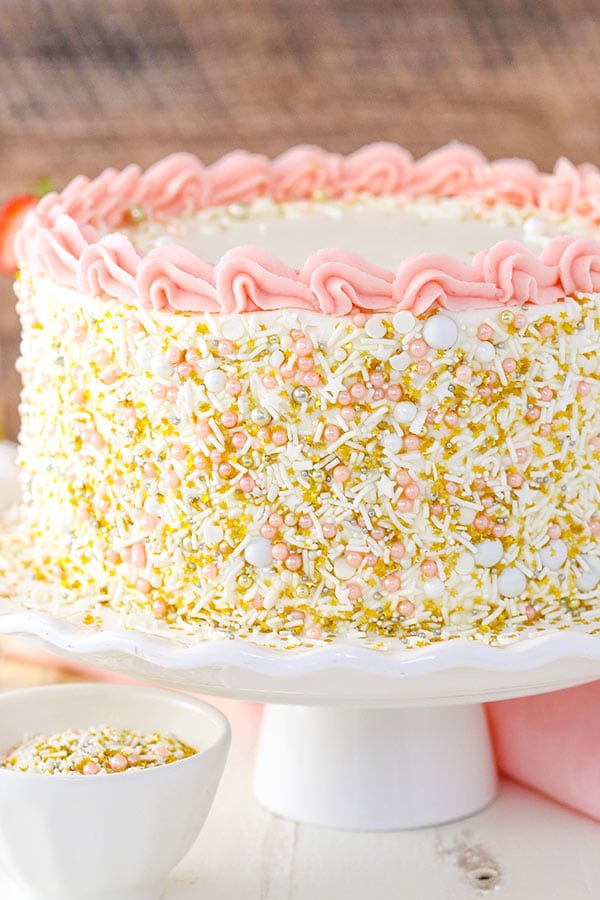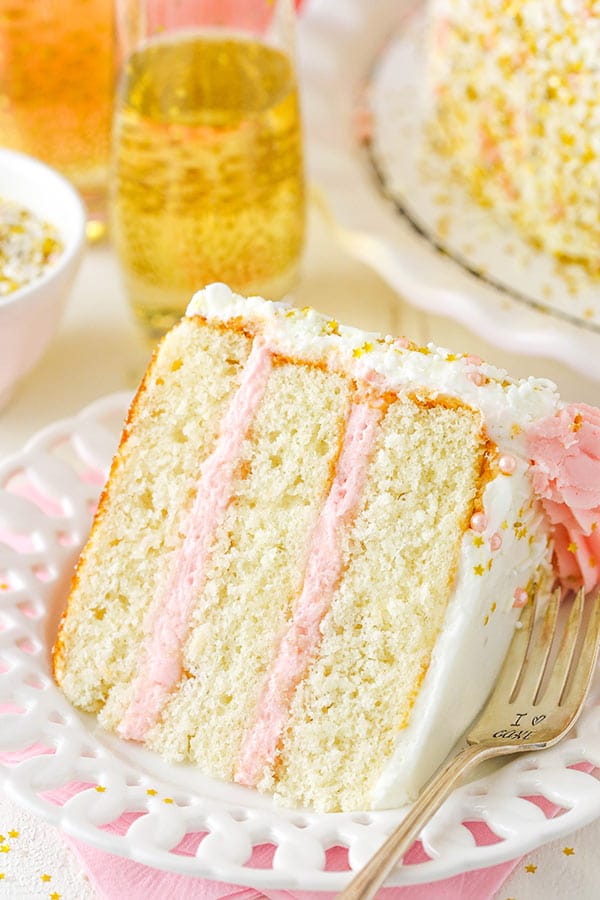 Print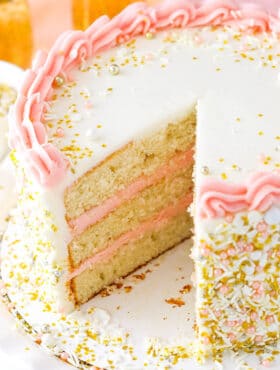 Recipe
Strawberry Champagne Layer Cake
Author:

Prep Time:

35 minutes

Cook Time:

25 minutes

Total Time:

1 hour

Yield:

14

Category:

Dessert

Method:

Oven

Cuisine:

American
---
Description
Made with layers of soft, moist champagne cake and a combination of fresh strawberry buttercream and silky champagne frosting, this delectable cake will turn heads at any celebration. Whether it's a graduation, a 21st birthday or a holiday weekend, it's a great time to indulge in this Strawberry Champagne Layer Cake!
---
Ingredients
For the Champagne Cake
2 1/4 cups

(540ml) champagne, divided

3/4 cup

(

168g

) unsalted butter, room temperature

1 3/4 cups

(

362g

) sugar

1/4 cup

(

58g

) sour cream

1 tsp

vanilla extract

6

large egg whites, room temperature

2 1/2 cups

(

325g

) all purpose flour

4 tsp

baking powder

1/2 tsp

salt

3/4 cup

(180ml) milk
For the Strawberry Buttercream Frosting
2/3 cup

(

93g

) chopped strawberries

1/2 cup

(

112g

) salted butter, room temperature

1/2 cup

(

95g

) shortening

4 1/2 cups

(

518g

) powdered sugar
For the Champagne Buttercream Frosting
---
Instructions
Make the Cake Layers
Add all of the champagne to a medium sized saucepan and cook over medium heat until you've got 1 cup remaining. Don't boil. To measure how much champagne remains, pour into a glass measuring cup. Add it back to the pan if it needs longer to cook down. When done, refrigerate until cool.
Prepare three 8-inch cake pans with parchment paper circles in the bottom and grease the sides. Preheat oven to 350°F (176°C).
In a large mixing bowl, cream the butter and sugar together until light in color and fluffy, about 3-4 minutes. Do not skimp on the creaming time.
Add sour cream and vanilla extract and mix until well combined.
Add egg whites in two batches, mixing until well combined after each. Scrape down the sides of the bowl as needed to be sure all ingredients are well incorporated.
Combine dry ingredients in a separate bowl, then combine the milk and 3/4 cup of the cooked and cooled champagne to a small measuring cup.
Add half of the dry ingredients to the batter and mix until well combined. Add the champagne mixture and mix until well combined. Add remaining dry ingredients and mix until well combined. Scrape down the sides of the bowl as needed to be sure all ingredients are well incorporated.
Divide the batter evenly between the cakes pans and bake for about 23-27 minutes, or until a toothpick comes out with a few crumbs.
Remove the cakes from the oven and allow to cool for about 2-3 minutes, then remove to cooling racks to cool completely.
Make the Strawberry Frosting
Puree the strawberries in a food processor. Strain the puree through a fine mesh sieve to remove the seeds.
In a large mixer bowl, beat the butter and shortening together until smooth.
Slowly add half of the powdered sugar and mix until smooth.
Add 3-4 tablespoons of strawberry puree and mix until smooth.
Slowly add remaining powdered sugar and mix until smooth. Add additional strawberry puree, as needed to get the right consistency. Set aside.
Make the Champagne Frosting
Beat the butter and shortening together until smooth.
Slowly add half of the powdered sugar and mix until smooth.
Add 3 tablespoons of champagne and mix until smooth.
Slowly add remaining powdered sugar and mix until smooth.
Add remaining cooked-down champagne (from the cake), as needed. If you run out of champagne and the frosting is still too thick, add a touch of water or milk. You want the frosting to be a little bit sticky, so that the sprinkles stick easily later.
Assemble the Cake
Use a large serrated knife to remove the domes from the top of the cakes so that they're flat. Place the first cake on a serving plate or a cardboard cake round.
Set aside about 1/2 cup of strawberry frosting, then spread about half of the remaining strawberry frosting evenly on top of the cake layer.
Add the second layer of cake and another cup of strawberry frosting.
Top the cake with the remaining layer and frost the cake with the champagne frosting. Refer to my tutorial for frosting a smooth cake, if needed.
Press the sprinkles into the sides of the cake. Do this immediately, before the frosting crusts and the sprinkles will no longer stick.
Use the strawberry frosting that was set aside before to pipe shells around the edge of the cake. I used Ateco tip 844, but Wilton 1M or 2D would work as well.
Sprinkle the top of the cake with some additional sprinkles, if desired.
Notes
Makes 12-14 slices.
To Store: Keep cake in an airtight container at room temperature for up to 24 hours. Can be transferred to fridge for 2 more days if needed.
To Freeze: Flash-freeze cake on a baking sheet until frosting is frozen solid. Then wrap it tightly in plastic wrap, transfer it to a freezer-safe container store. Unwrap and thaw before enjoying. Frozen cake lasts for up to 3 months.
Keywords: pink champagne cake, homemade strawberry cake, 21st birthday cake
Enjoy!
This post contains affiliate links.
This post may contain affiliate sales links. Please read my disclosure policy.