January 27, 2017
Red Velvet Cheesecake Cookie Cups
These Red Velvet Cheesecake Cookie Cups are soft, chewy and full of classic red velvet flavor with a cheesecake filling! They are delicious little cookies, perfect for Valentine's Day and sharing!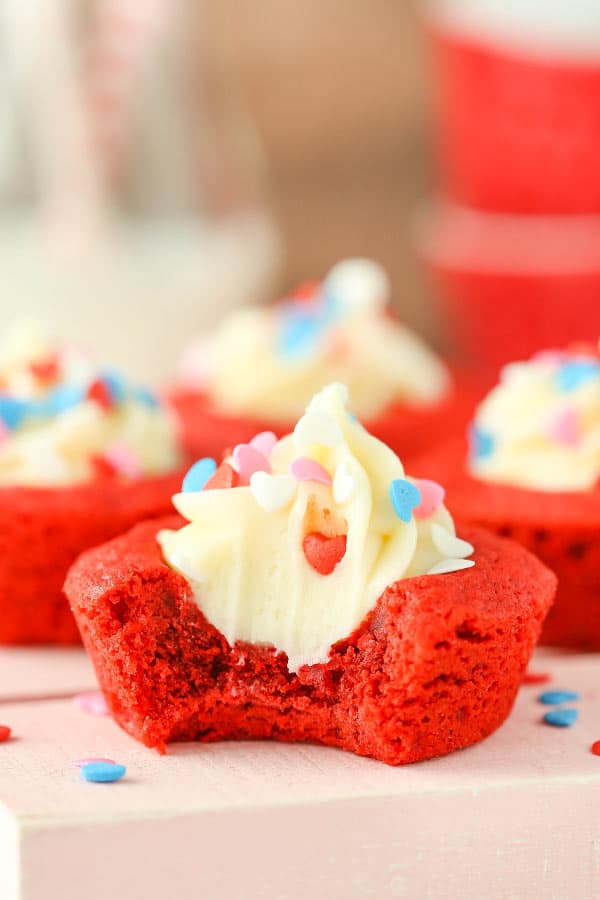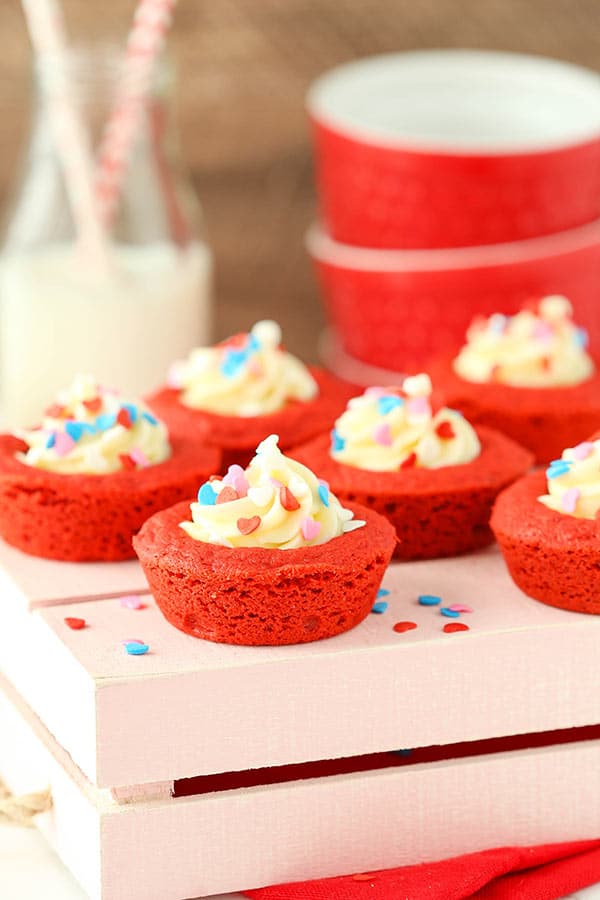 So I'm pretty sure Valentine's Day is the universe's way of making everyone break their New Year's Resolutions. If you've made it this long and your goal was to lose weight, you are sure to get some kind of edible treat from someone for the holiday which will leave you in quite a conundrum. For me, I already have so many treats around the house at all times, the last thing I need is more of them. 🙂
I'm asked all the time how I "stay so thin" when having a dessert blog like this and here's the truth: I don't. It may appear that way, but the truth is that I'm just in a constant cycle of gaining and losing. A vicious cycle, in fact. I always say that this time the cycle will break, but then I make another delicious cake and can't stand to spit out another bite after tasting it. It's always too good! It's a rough life. 😉
Anywho, I'm getting my butt back in the gym since I'm currently on a "losing" cycle and this time I WILL break the cycle. I know it! HA!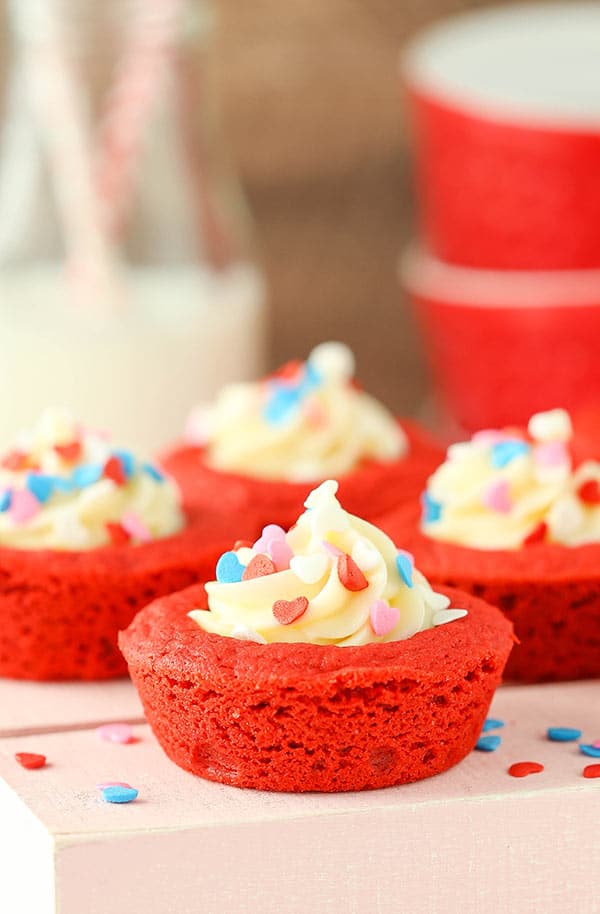 I mean I have very little chance of success with treats like these around my house. My sweet tooth is too serious. And these? Just a few bites and then they're gone and you don't even realize you ate one! But don't let that deter you. They're worth it, of course. 😉
They are also easy to make – right in a cupcake pan. When you pull them out of the oven, use the underside of a measuring tablespoon to press the center down for the little cup in the middle. Just be sure to grease the pan well so they come out easily. I like to let them cool in the pan too so when I pop them out they hold their shape. Fill them with the cheesecake filling and you've got a quick, easy and delicious treat!
If you love red velvet and are looking for a tasty treat to share (or keep to yourself), these are wonderful! I love the light tang that the vinegar gives these cookies and it goes so well with the cheesecake filling. Classic red velvet combo right there!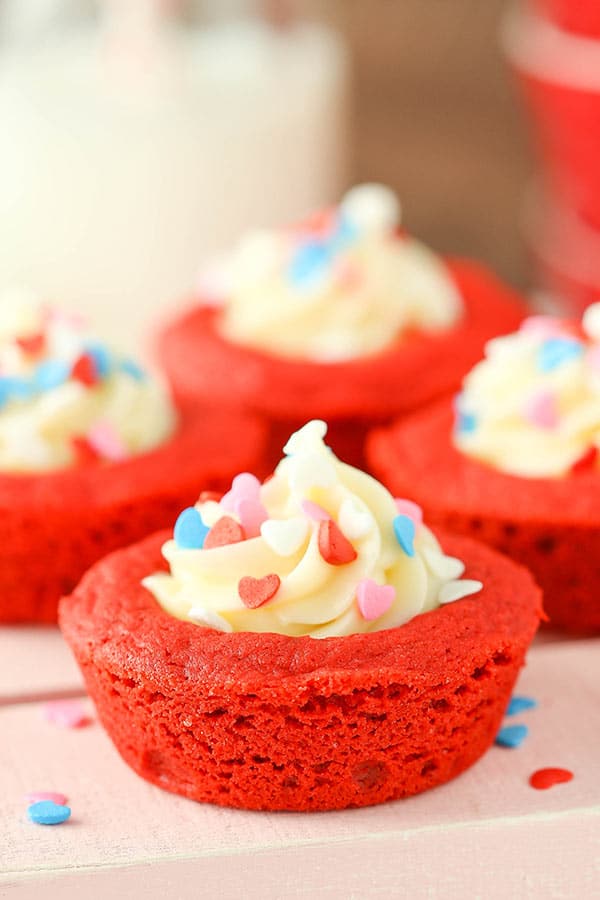 Red Velvet Cheesecake Cookie Cups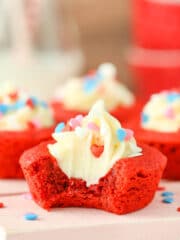 Yield:

22

-

24

Cookie Cups

1

x
Category:

Dessert

Method:

Oven

Cuisine:

American
Ingredients
RED VELVET COOKIE CUPS
3/4 cup

(168g) unsalted butter, room temperature

1 cup

(207g) sugar

1

egg

1 tsp

vanilla extract

2 tsp

vinegar

1 1/2 tbsp

red food color (less than

1 ounce

)

2 1/4 cup

s + 2 tbsp (309g) all-purpose flour

2 tsp

cornstarch

1 tsp

baking soda

1 tbsp

natural unsweetened cocoa powder

1/4 tsp

salt
CHEESECAKE FILLING
12 oz

(339g) cream cheese, room temperature

2 1/4 cup

s (259g) powdered sugar

1 1/2 tsp

vanilla extract
Sprinkles
Instructions
1. Spray cupcake pan with non stick cooking spray. Preheat oven to 350°F (176°C).
2. Cream butter and sugar together for 3-4 minutes, until light and fluffy.
3. Add the egg, vanilla extract, vinegar and red food color and mix until well combined.
4. Combine the flour, cornstarch, baking soda, cocoa powder and salt in a medium bowl, then add to the wet ingredients and mix until well combined.
5. Makes balls of about 2 tbsp of dough. Press cookie dough in bottom and about 1/3-1/2 way up the sides of each cupcake cup, forming a cup shape.
6. Bake for 10-12 minutes, or until the edges are set and the centers look a little undercooked.
7. Remove from oven and allow to cool for about 5 minutes, then remove to cooling rack to finish cooling. The centers should fall a bit while cooling, but if the centers aren't cupped enough to add filling, use the underside of a measuring tablespoon to press the center down a bit.
8. Once cookie have cooled, make the cheesecake filling. Beat the cream cheese until smooth.
9. Add the powdered sugar, vanilla extract and icing color and mix until smooth.
10. Pipe the cheesecake filling into the cookie cups and top with sprinkles. Cookie cups should be refrigerated until served.
Enjoy!


You might also like:
Red Velvet Cheesecake Chocolate Chip Cookie Bars

Layered Red Velvet Cheesecake Bundt Cake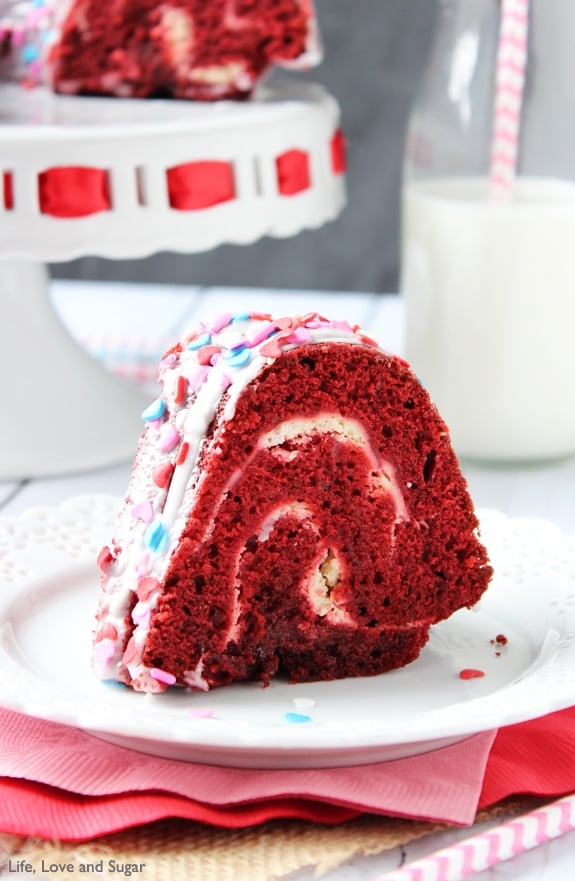 Red Velvet Cheesecake Shortbread Trifle