This Red Velvet Cheesecake is one of the smoothest and creamiest cheesecakes I've ever made. It's insanely good and has that light tanginess that's so loved in a red velvet dessert. The cream cheese whipped cream topping finishes it off perfectly!
If you love this red velvet cheesecake recipe, you should totally try my Red Velvet Cheesecake Cake as well!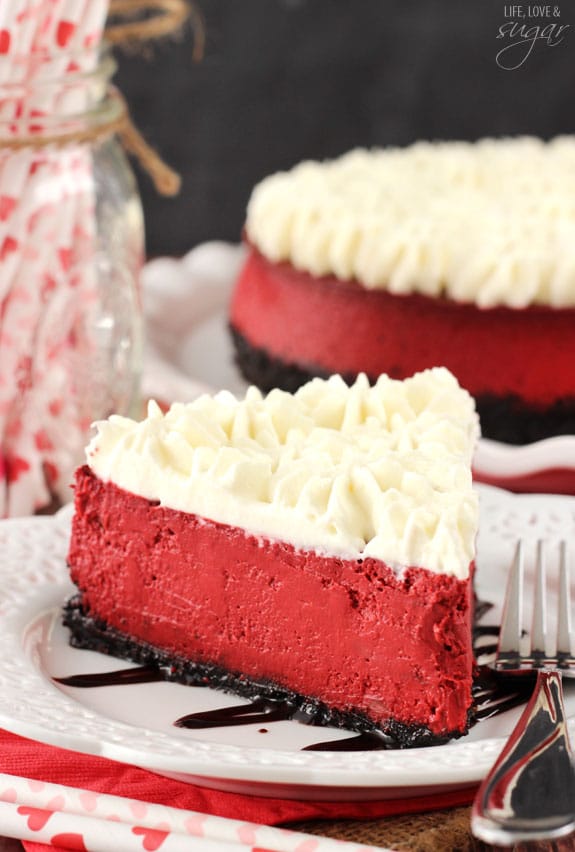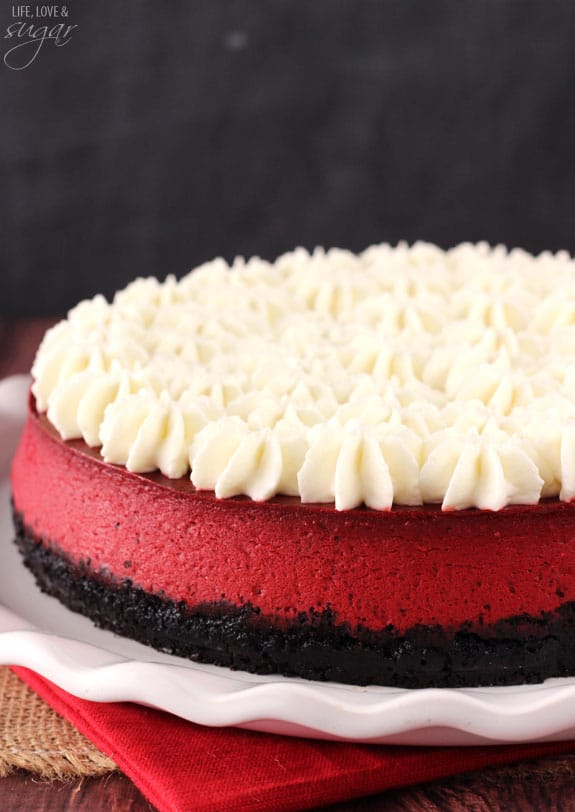 Red Velvet Cheesecake Recipe
Red velvet is one of those flavors that people seem to either love or hate. Some people are just like, red what? That's a cake? And some people think it's basically the same thing as chocolate. It's kind of like the mystery cake flavor.
What I really love about it is the tang from the buttermilk and the slight flavor of the vinegar. I don't know how to exactly describe the vinegar taste since it's not like you're actually eating vinegar, because that would be gross. But it ads a very specific flavor that I've come to really love in red velvet.
I didn't grow up eating red velvet, but as I've tasted it at various places over the last few years and made a number of desserts with it, I've come to love it.
As a cheesecake, it's wonderful.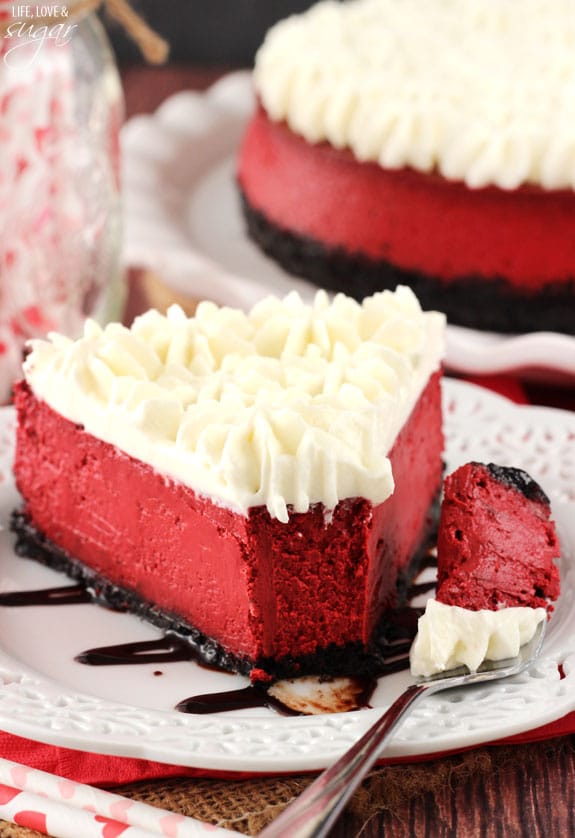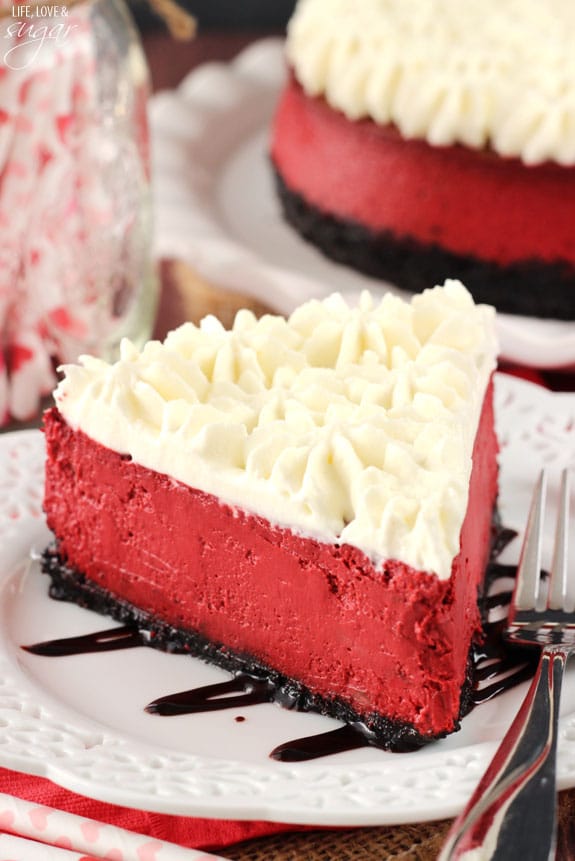 How to Make a Red Velvet Cheesecake
I went with a chocolate crust to start. Though red velvet really only has a very small amount of chocolate in it, I think the chocolate crust compliments it nicely.
For the cheesecake, I started with my usual base and went from there. It's a wonderful base that has been turned into many a cheesecake flavors.
I added a little cocoa, some buttermilk, vinegar and of course, the red coloring.
One thing to keep in mind when mixing the filling is to not over mix the batter and to not mix at a high speed. Both can add additional air to the batter, which is a common culprit of cracks.
And as much as I hate it, this recipe calls for a water bath. I'm never a fan of extra steps, but when they are necessary, I do them. For a nice, smooth, not cracked cheesecake, you'll want to make sure a water bath is used.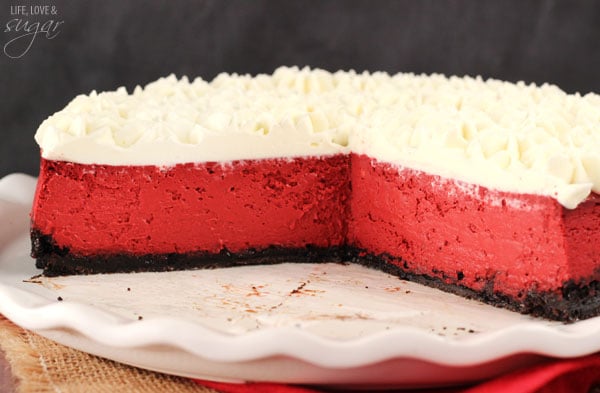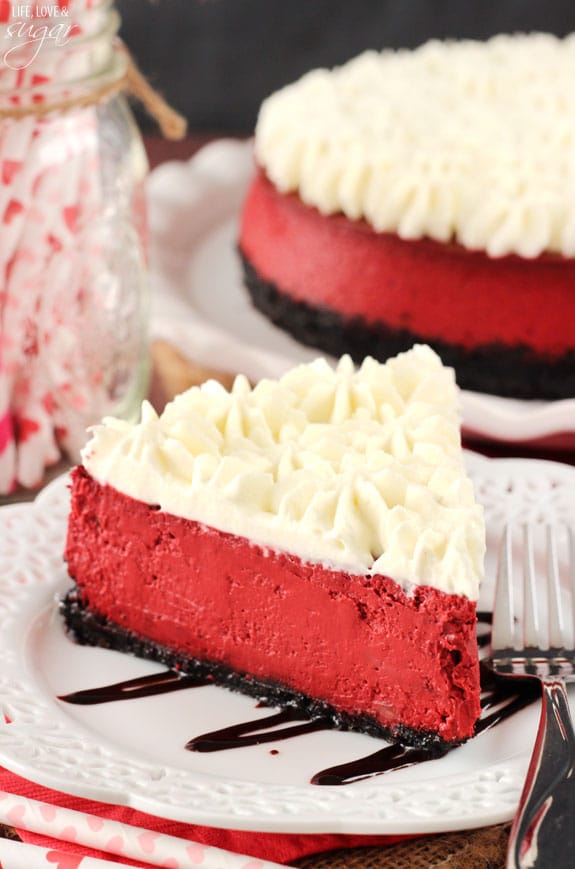 For the whipped cream, I used basically the same Cream Cheese Whipped Cream that I used on my Red Velvet Ice Cream Cake. I absolutely fell in love with it and couldn't wait to make it again.
I like to make my whipped cream with plenty of powdered sugar. It thickens the whipped cream and keeps it from wilting and melting. It also sweetens it up, and when have I ever complained about that?
To give it the cream cheese flavor, I add 1/2 cup of whipped cream cheese icing. Not regular canned icing, but the whipped canned icing. It's lighter and fluffier and incorporates well into the whipped cream. I love it. I'd imagine regular cream cheese could be beaten until smooth and added as well, but I didn't try it.
This cheesecake was a hit. As soon as I took my first bite, I was in love. Take it from me, you'll have a hard time stopping at just one piece.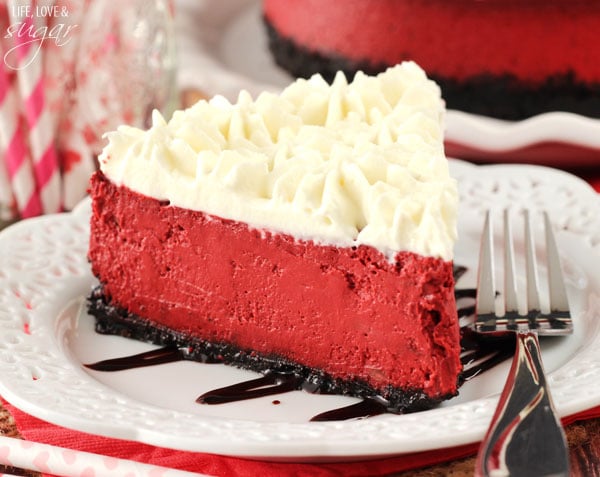 You might also like
Red Velvet Cheesecake Cake
Red Velvet Berry Trifle
Red Velvet Cheesecake Swirl Brownies
Red Velvet Ice Cream Cake
Strawberry Red Velvet Waffle Parfaits


Print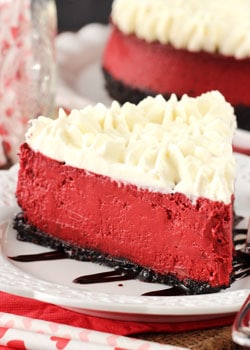 Recipe
Red Velvet Cheesecake
Author:

Prep Time:

25 minutes

Cook Time:

1 hour 55 minutes

Total Time:

2 hours 20 minutes

Yield:

12-14 servings

Category:

Dessert

Method:

Oven

Cuisine:

American
---
Description
This Red Velvet Cheesecake is one of the smoothest and creamiest cheesecakes I've ever made. It's insanely good and has that light tanginess that's so loved in a red velvet dessert. The cream cheese whipped cream topping finishes it off perfectly!
---
Ingredients
CRUST
2 cups

Oreo crumbs (about

20

Oreos)

4 tbsp

butter, melted
CHEESECAKE FILLING
24 oz

cream cheese, room temperature (three

8 oz

packages)

1 cup

sugar

3 tbsp

cocoa

4

eggs, room temperature

1 cup

sour cream

1/4 cup

buttermilk

2 tsp

vinegar

1 tsp

vanilla extract

2 ounces

red food color
CREAM CHEESE WHIPPED CREAM 
---
Instructions
CRUST
1. Heat oven to 325 degrees.
2. In a small bowl, combine crust ingredients and mix well.
3. Press mixture into the bottom and up the sides of a 9-inch springform pan with parchment paper in the bottom.
4. Bake crust for 10 minutes then remove.
5. Cover the outsides of the pan with aluminum foil so that water from the water bath cannot get in, and set aside.
CHEESECAKE FILLING 
1. Reduce oven to 300 degrees.
2. In a large bowl, blend the cream cheese, sugar and cocoa with an electric mixer until combined (Use low speed to keep less air from getting into the batter, which can cause cracks). Scrape down the sides of the bowl.
3. Add eggs one at a time, beating slowly and scraping the sides of the bowl after each addition.
4. Add the sour cream, buttermilk, vinegar, vanilla extract and red food color. Beat on low speed until well combined.
5. Pour the filling into the pan.
6. Drop the cheesecake on the counter a few times to release air bubbles that can cause cracks.
7. Place springform pan inside another pan. Fill outside pan with enough warm water to go about halfway up the sides of the springform pan. The water should not go above the top edge of the aluminum foil on the springform pan.
8. Bake for 1 hour and 45 minutes.
9. Turn off heat and leave cheesecake in oven with door closed for 30 minutes.
10. Crack oven door and leave the cheesecake in the oven for another 20 minutes or until set.
11. Remove cheesecake from oven and chill.
WHIPPED CREAM 
1. Freeze metal bowl and whisk for 15-20 minutes to get them good and cold.
2. Remove bowl from freezer and add whipping cream.
3. Whip until cream starts to thicken, then add powdered sugar.
4. Continue whipping until stiff peaks form, about 5-7 minutes.
5. Stir in the cream cheese icing.
6. Spread or pipe whipped cream on top of cheesecake. Keep cheesecake refrigerated until ready to serve.
---
Keywords: red velvet cheesecake recipe, red velvet cake recipe, red velvet recipe, best cheesecake recipe, red velvet cheesecake, best red velvet cake, homemade cheesecake
Enjoy!
This post may contain affiliate sales links. Please read my disclosure policy.