This Red Velvet Ice Cream Cake might just be my new favorite cake, period. I couldn't decide if I want to give it all away so that I couldn't eat it all or just give in and eat it every last bite. The longer it stayed in the house, the more I ate.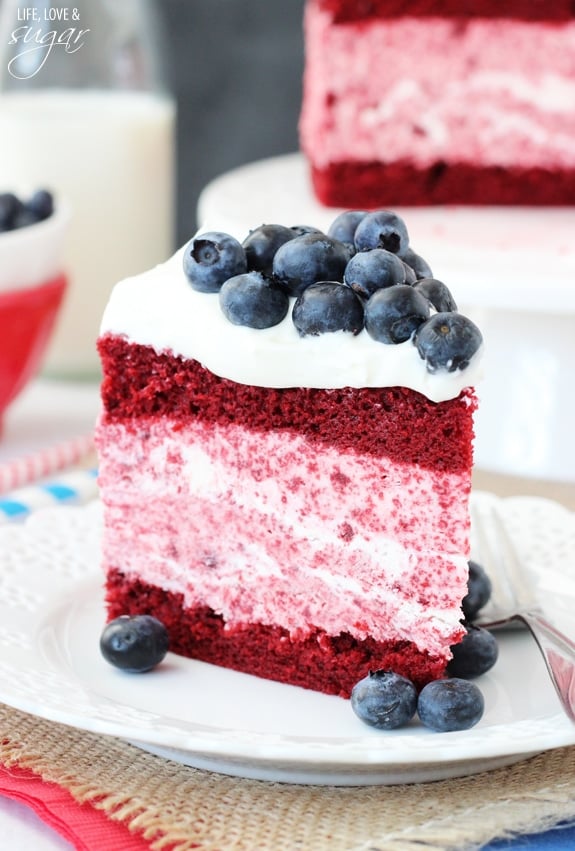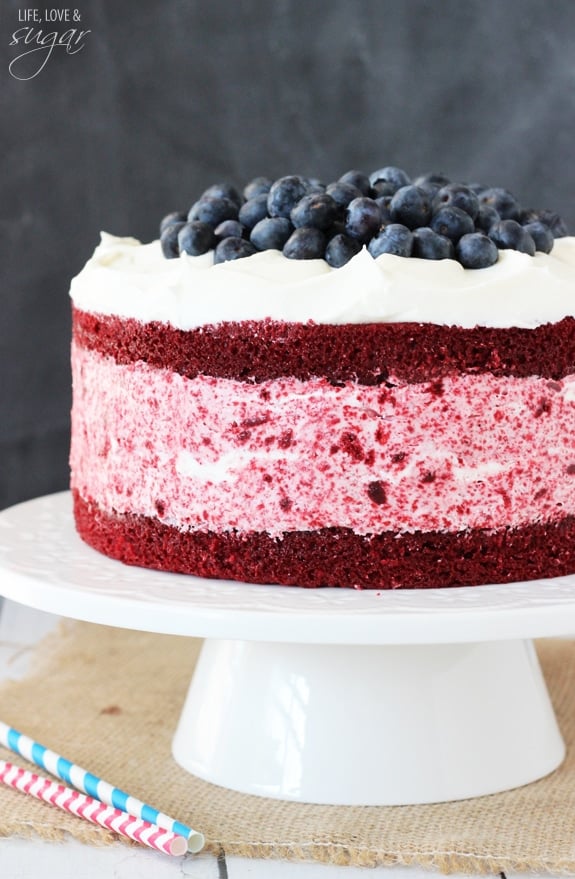 One of my great taste testers said, and I quote, "You told me it was good, but you didn't tell me it was this good!"
Well friends, you can't tell me I didn't tell you now. It is that good!
I utilized my favorite, super moist red velvet cake, originally Bakerella's Red Velvet Cake recipe, but with a tad more cocoa. The cake alone is amazing. The cake layers sandwich ice cream that is just full of red velvet cake crumbs, as well as a whipped cream cheese icing.
Heaven in a massive frozen sandwich, I tell you.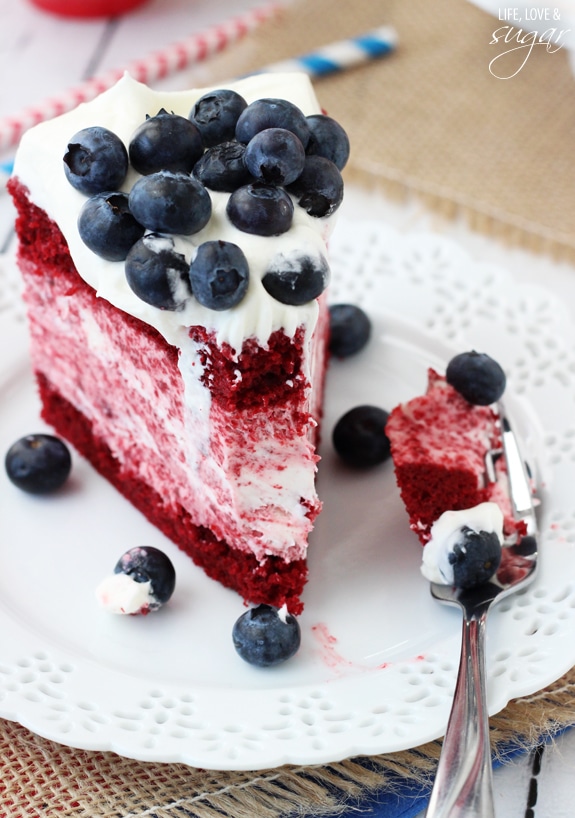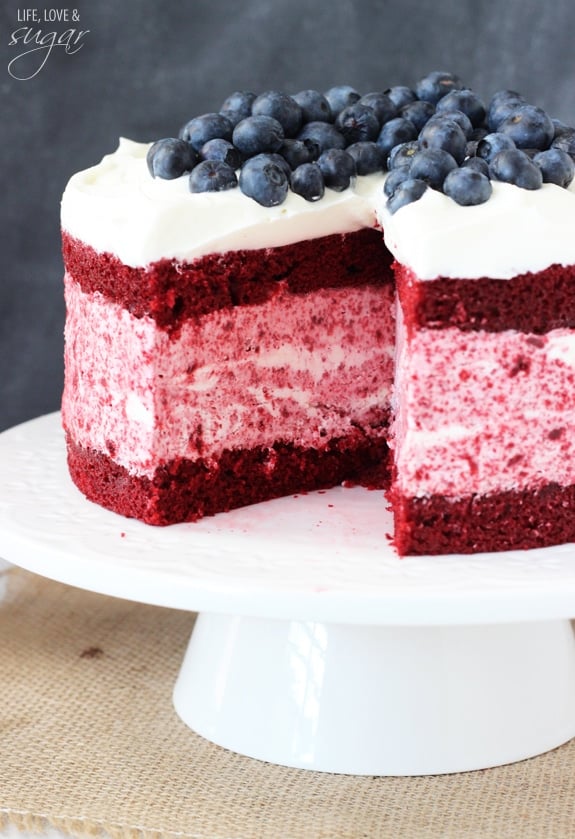 Most store-bought red velvet ice creams are just disappointing because they lack enough cake and cream cheese flavor. This ice cream does not disappoint.
And the stuff on top? Well that is a cream cheese whipped cream that completely fulfilled all my hopes and dreams. It's amazing stuff. I'm already dreaming about eating it again.
And the blueberries add the perfect amount of blue for this Red Velvet Ice Cream Cake to be an excellent choice for the 4th of July, or any other patriotic holiday. Plus, blueberries go surprisingly well with red velvet cake and the cream cheese whipped cream on top. Who knew?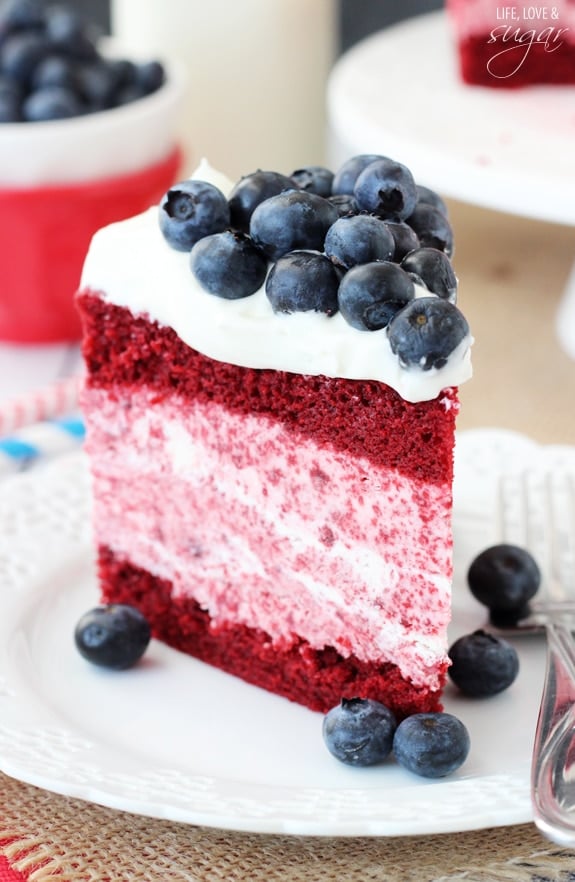 I actually put this cake together on a Saturday during a girls night. It was super fun.
Most of the girls from our small group came over for drinks and food and they requested some kind of baking lesson. I have a feeling there are more of those in my future.
Since this cake needed to be put together, it became the demonstration.
We made homemade whipped cream, cut off cake domes, checked out how I set up the pan, put the layers together, and made this crazy ice cream without an ice cream maker. I mean honestly, ice cream without an ice cream maker is pretty much the best thing ever.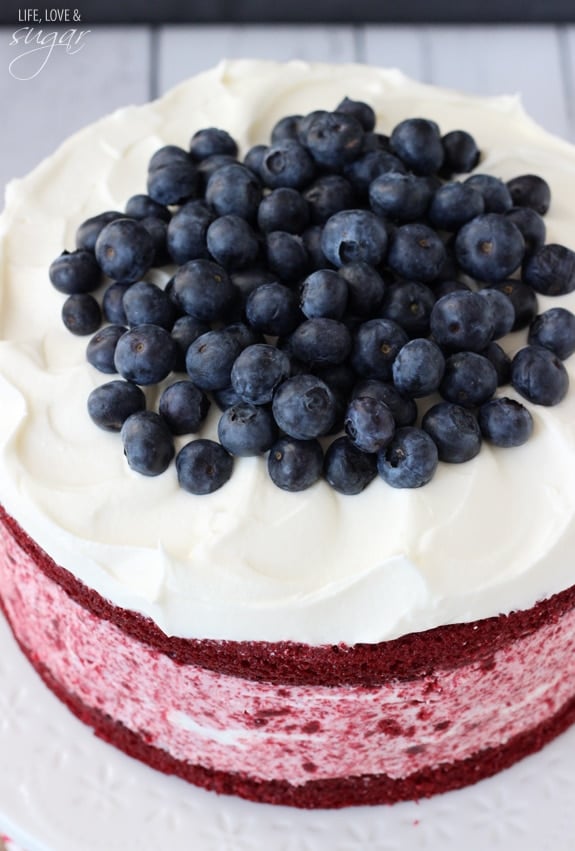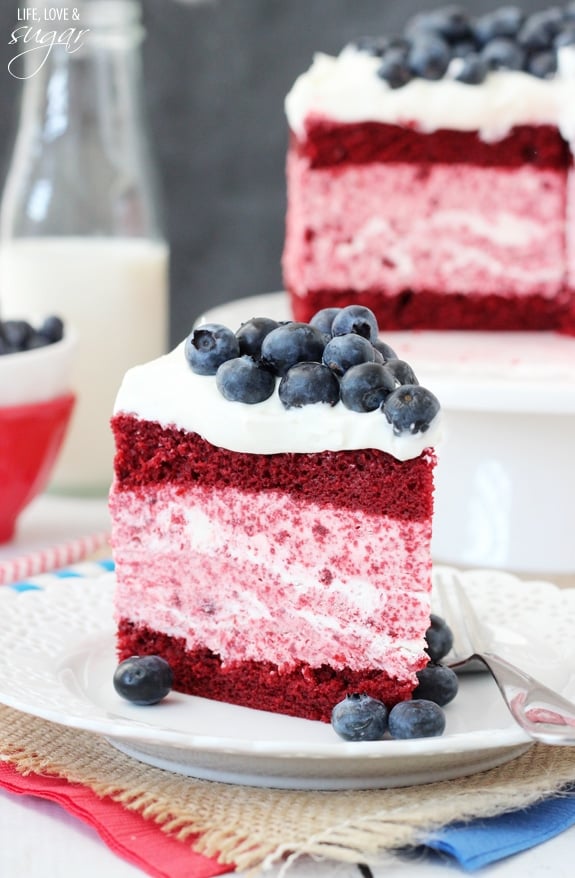 They asked questions and checked things out as I was doing them. It all seems such second nature to me now, it was fun to see what kinds of questions they had. Honestly, prior to starting to bake a few years ago they were all similar questions to what I would've asked, I just forget now until someone asks. It was actually pretty fun.
And this beautiful baby was the fruits of our labor.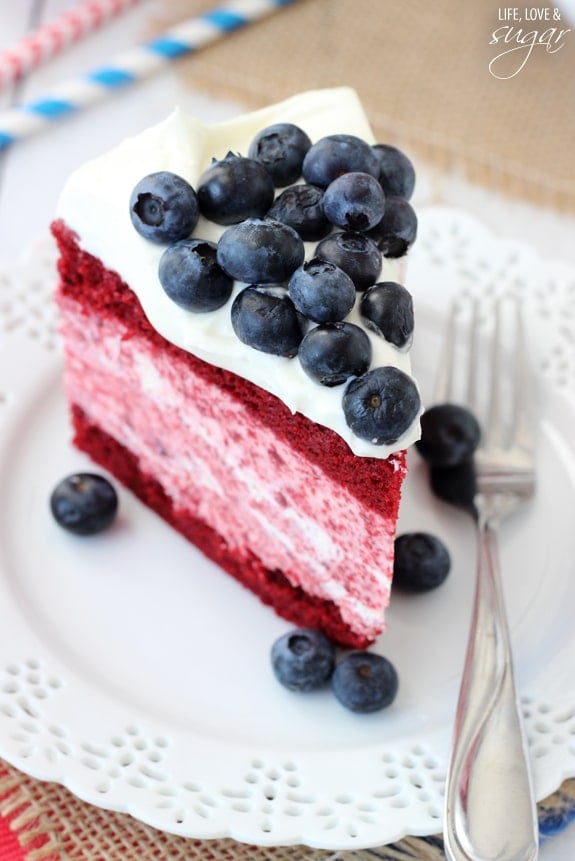 It was actually the second version so even though I let it freeze overnight, they still got to taste it because I had the first version in the freezer still. All the same stuff, just put together a little differently. We'd already had some other desserts I'd made, but when they got a taste of this, they couldn't resist having more. 🙂
I know you'll love it too!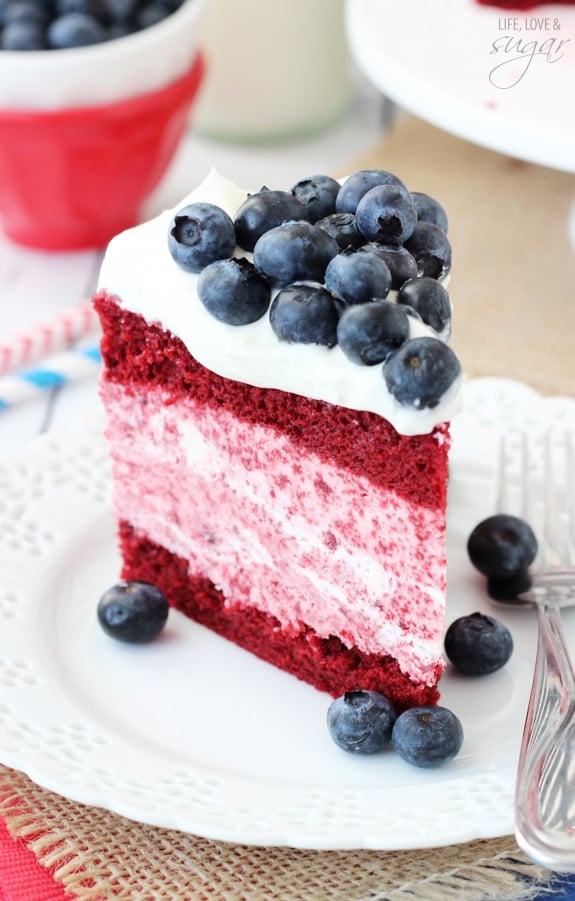 Print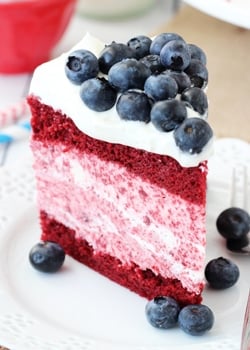 Recipe
Red Velvet Ice Cream Cake
Yield:

10-12 Servings

Category:

Dessert

Method:

Oven

Cuisine:

American
---
Ingredients
CAKE
1

egg

1/2

+

1/8 cup

oil

1/2

+

1/8 cup

buttermilk

1/2 tbsp

vinegar

1/2 tsp

vanilla

1 oz

red food coloring

1 1/4 cups

flour

1 cup

sugar

1 tbsp

cocoa

1/2 tsp

baking soda
ICE CREAM
8 oz

cream cheese, room temperature

1/2 cup

sugar

1/8 cup

milk

1 tsp

vanilla extract

8 oz

Cool Whip (or homemade whipped cream)
cake crumbs (from cutting off tops of cakes)

12 ounce

can cream cheese frosting (I used a whipped icing)
TOPPING
3/4 cup

heavy whipping cream
remainder of cream cheese icing

3/4 cup

blueberries
---
Instructions
NOTE: An 8-inch springform pan is best for this recipe so that you can easily remove the cake once it's been assembled. If you do not have a springform pan, line your pan with clear wrap before adding your parchment paper and cake board. You can use the clear warp to lift your cake out of the pan once it's assembled and frozen.
TO MAKE THE CAKE:
1. Whisk together all wet ingredients in a large bowl until combined. Set aside.
2. In a large mixing bowl, whisk together all dry ingredients until combined.
3. Add wet ingredients to dry ingredients and mix on medium high until completely combined.
4. Pour into two prepared 8 inch cake pans.
5. Bake at 350 degrees for 19-21 minutes or until a toothpick inserted comes out with just a few crumbs.
6. Allow to cool for a few minutes in the pans and then remove to a wire rack to finish cooling.
ONCE CAKE HAS COOLED, MAKE THE ICE CREAM:
1. Mix cream cheese, sugar, milk and vanilla extract together until well combined.
2. Fold in the cool whip.
3. Cut the domes (the rounded tops) off of the cakes with a long serrated knife. Crumble the tops of the cakes into the ice cream mixture and stir until well incorporated.
ASSEMBLING IT ALL:
1. Line the sides of an 8-inch springform pan with parchment paper. The parchment paper should stick up above the top edge of the pan, since the cake will be a little taller than your pan. If you want, put a cardboard cake circle in the bottom of the pan.
NOTE: You should be using the same 8-inch pan you used for the cake. Not all 8-inch pans are exactly the same size. Your cake needs to fit in this pan.
2. Put the first cake layer in the bottom of your pan.
3. Pour a third of the ice cream mixture on top of the cake and spread evenly.
4. Add 1/2 a cup of cream cheese icing on top of the ice cream and spread evenly, working it lightly into the ice cream.
5. Add another third of the ice cream mixture on top of the icing and spread evenly.
6. Add another 1/2 a cup of cream cheese icing on top of the ice cream and spread evenly, working it lightly into the ice cream.
5. Top with remaining ice cream and spread evenly, smoothing out the top.
6. Top with second layer of cake.
7.. Allow ice cream cake to freeze completely, 5-6 hours or overnight.
8. Once frozen, remove cake from springform pan and remove parchment paper from sides.
ADDING THE TOPPING:
1. Freeze metal bowl and whisk for 15-20 minutes to get them good and cold.
2. Remove bowl from freezer and add whipping cream.
3. Whip until stiff peaks form, about 5-7 minutes.
4. Stir in the remaining cream cheese icing.
5. Spread whipped topping on top of cake and top with blueberries. You can add blueberries right before serving, if you prefer them to be un-frozen.
6. Store cake in freezer for 4-5 days. Allow to sit for about 15 minutes to soften before serving.
---
Nutrition
Serving Size:

1 Slice

Calories:

519

Sugar:

47.3 g

Sodium:

184.9 mg

Fat:

30.8 g

Carbohydrates:

59.1 g

Protein:

4.3 g

Cholesterol:

52.6 mg
Filed Under:
Enjoy!
Red Velvet Cheesecake Bundt Cake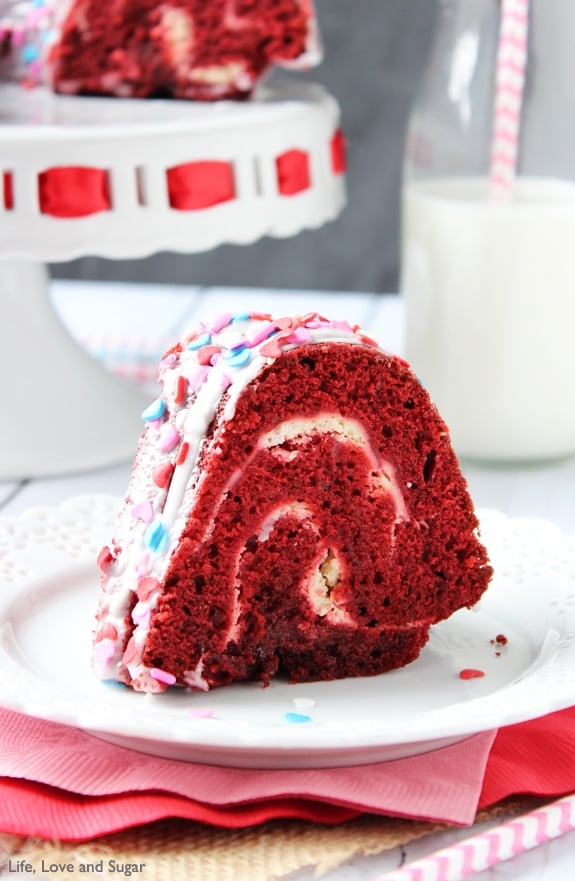 Red Velvet Cupcakes with Cream Cheese Icing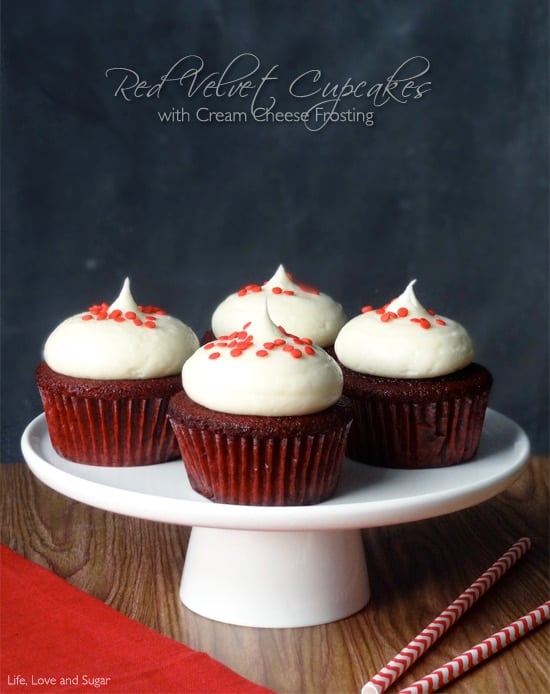 Strawberry and Blueberry Cheesecake Icebox Cake

Strawberry and Blueberry Oatmeal Cheesecake Cookie Bars

This post may contain affiliate sales links. Please read my disclosure policy.