September 29, 2014
Neapolitan Ice Cream Cake
This Neapolitan Ice Cream Cake is a tasty combination of chocolate cake and strawberry and vanilla ice cream. It's reminiscent of the neapolitan ice cream sandwiches I ate as a kid and I didn't want to stop eating it.
It's been a while since I've posted an ice cream cake. I figured it was time to fix that. After making my Neapolitan Millionaire Cake and being reminded of how tasty the flavor combination is, it seemed like the perfect new version to make.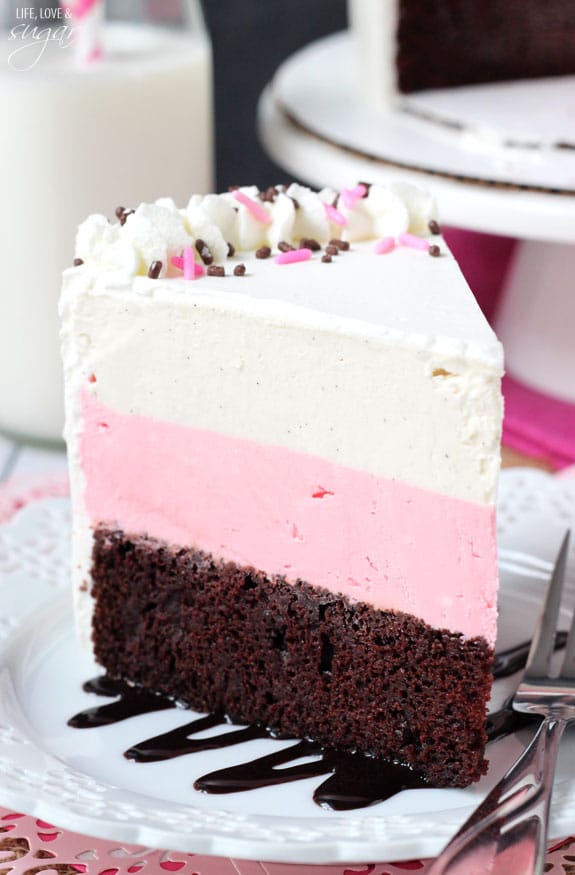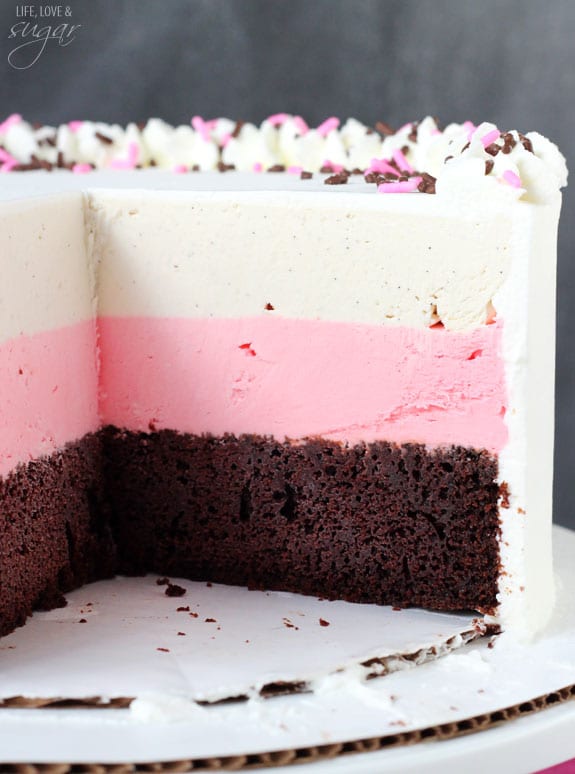 So on Friday night, a totally awful thing happened. My phone died. I dropped it and it cracked and it wouldn't turn on again. It was lost forever and along with all my info and ability to connect with the world.
Ok, so that might be extreme, but I felt naked and disconnected.
I'm so used to having everything right at my fingertips, it was kind of awful to not have it. And the hubs wasn't home, so I wanted to call him and freak out but I couldn't. We don't have a landline. So I brilliantly Facebook messaged him from my laptop since I knew it'd notify him on his phone. He assured me it'd be fine and I relaxed. Good thing I have him. 🙂
Despite the issues celebs have been having with their iCloud account photos being hacked, I have to say I was thankful for those auto backups at that moment. I have some great photos from recent outings like our trip to the beach that I would have been super sad to lose forever.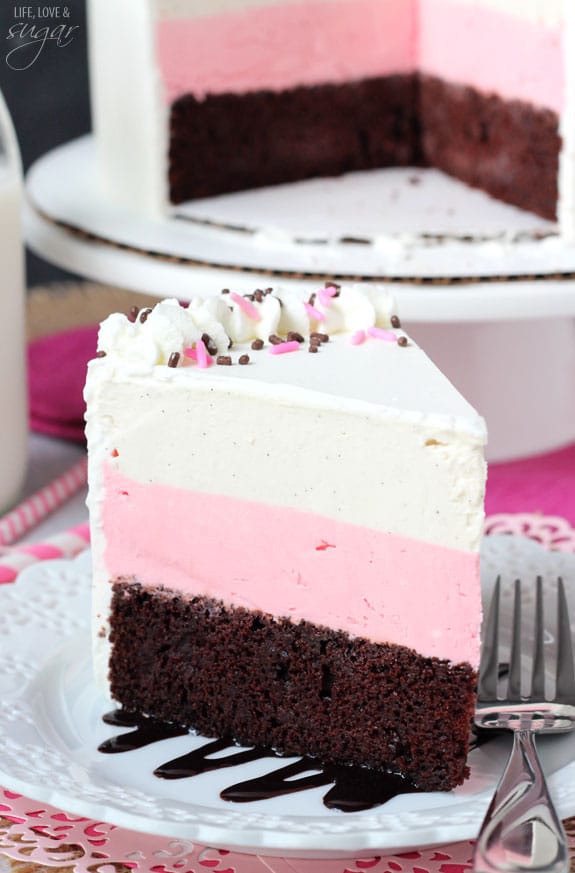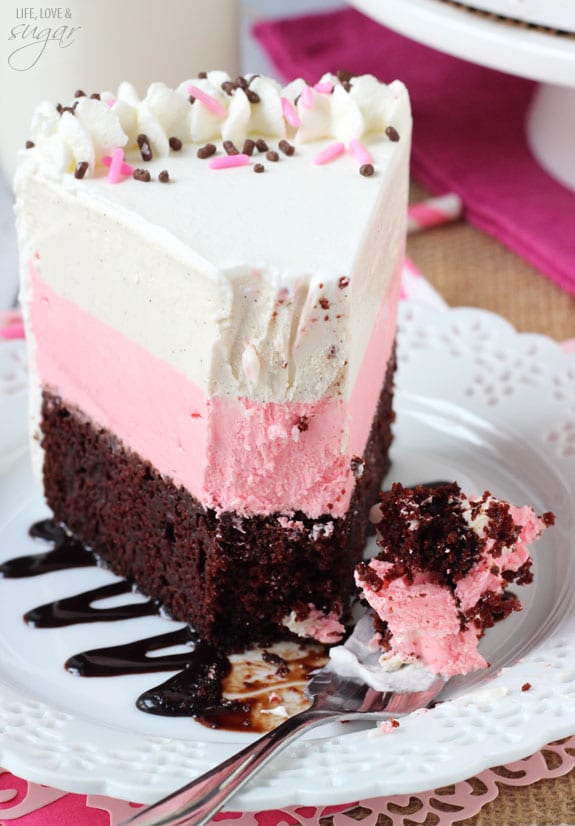 Fortunately I have a super handy hubs. I know I've bragged about him before, but he never fails to impress me. That night he managed to get my phone number switched over to his old phone, so I was somewhat back in business. I was able to set most things back up the next day.
I still feel a little naked since my contacts haven't been updated. I have no phone numbers except the ones from those who have called or texted me over the weekend. Hopefully Verizon can get my phone numbers off my old one, I just haven't gone by to try yet.
Fortunately I still had one more piece of this ice cream cake tucked away in the freezer to help me feel better. It's super tasty and makes all the problems in the world fall away. The strawberry layer is my fave and always has been in any neapolitan dessert.
The ice cream layers are made without an ice cream machine, making it a simple ice cream cake to make. The ice cream is also nice and thick before being frozen. Once the chocolate cake is made and cooled, the ice creams can be layered without having to freeze one and then layer the other and freeze again, which is a great time saver.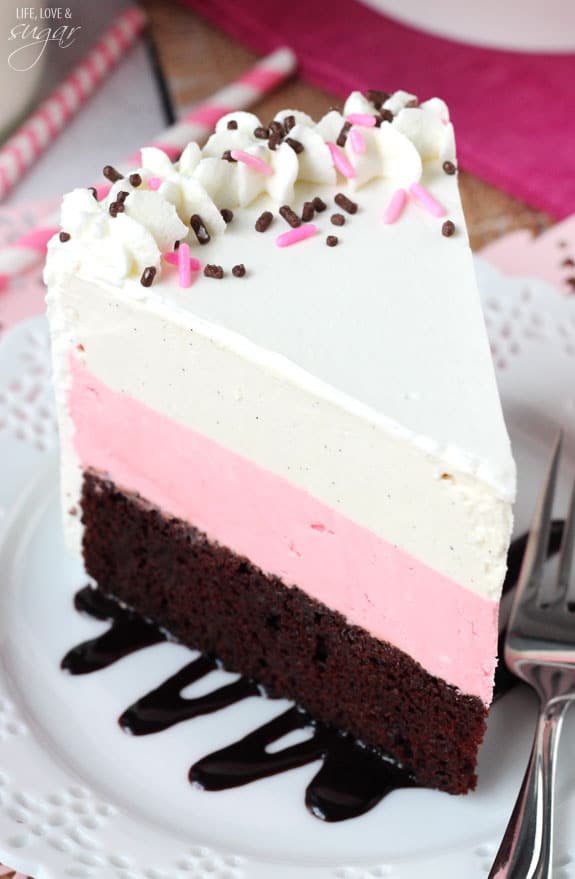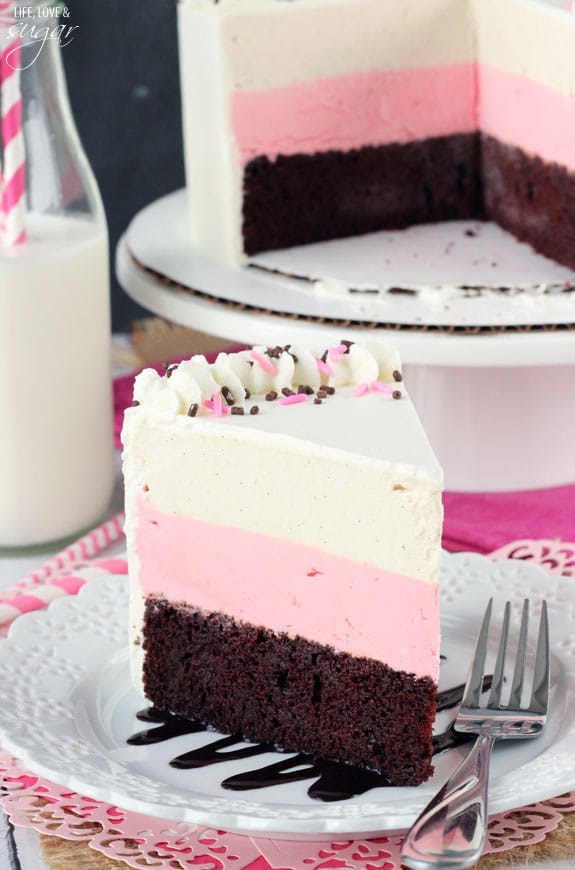 You really can't beat a combination of ice cream and cake. And rather than make a cake and serve it with a scoop of ice cream, why not combine them into one fabulous cake? Don't mind if I do.
Neapolitan Ice Cream Cake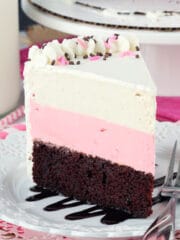 Yield:

12

-

14

Slices

1

x
Category:

Dessert

Method:

Oven

Cuisine:

American
Ingredients
CHOCOLATE CAKE
1 cup

flour

1 cup

sugar

1/4

+

1/8 cup

cocoa powder

1 tsp

baking soda

1

large egg

1/2 cup

buttermilk

1/2 cup

vegetable oil

3/4 tsp

vanilla extract

1/2 cup

boiling water
STRAWBERRY ICE CREAM
8 oz

cream cheese, softened

1/2 cup

sugar

1/8 cup

milk

4 tsp

strawberry extract

8 oz

Cool Whip (or homemade whipped cream)
about

20

drops red food coloring
VANILLA BEAN ICE CREAM
8 oz

cream cheese, softened

1/2 cup

sugar

1/8 cup

milk

2 tsp

vanilla bean paste

2 tsp

vanilla extract

8 oz

Cool Whip (or homemade whipped cream)
WHIPPED CREAM ICING 
3/4 cup

whipping cream

1/2 cup

powdered sugar

1/2 tsp

vanilla extract
Instructions
NOTE: 8-inch springform pans are best for this recipe so that you can easily remove the cake once it's been assembled. If you do not have a springform pan, line your pan with clear wrap before adding your parchment paper and cake board. You can use the clear warp to lift your cake out of the pan once it's assembled and frozen. You want to make your cake layers in the same pan you'll use for layering the ice cream and cake together so that they cake layers fit in the final pan you use for layering.
CHOCOLATE CAKE:
1. Preheat oven to 300 degrees
2. Put all dry ingredients in a large bowl and whisk together.
3. Add eggs, buttermilk and vegetable oil to the dry ingredients and mix until smooth.
4. Add vanilla to boiling water and add to mixture.
5. Mix at medium speed until smooth.
6. Pour into one 8-inch pan and bake 40-42 minutes.
7. Remove from oven and let cool for 5-10 minutes in pans, then remove to cooling rack to finish cooling.
8. Once cooled, cut off cake dome with a long serrated knife.
STRAWBERRY AND VANILLA ICE CREAM:
1. Once the cake has cooled, make the strawberry ice cream. Combine the cream cheese and sugar in the bowl of a mixer until smooth. Add the milk and strawberry extract and mix until completely combined.
2. Fold in the cool whip and food color, then set aside.
3. To make the vanilla ice cream, combine the cream cheese and sugar in the bowl of a mixer until smooth. Add the milk, vanilla bean paste and vanilla extract and mix until completely combined.
4. Fold in the cool whip.
ASSEMBLING IT ALL:
1. Line the sides of an 8-inch springform pan with parchment paper. The parchment paper should stick up above the top edge of the pan, since the cake will probably be a little taller than your pan. If you want, put a cardboard cake circle in the bottom of the pan.
NOTE: You should be using the same 8-inch pan you used for the cake. Not all 8-inch pans are exactly the same size. Your cake needs to fit in this pan.
2. Put the chocolate cake in the bottom of your pan.
3. Top cake with the strawberry ice cream and spread into an even layer.
4. Carefully add vanilla ice cream and spread into an even layer.
5. Allow ice cream cake to freeze completely, 6-8 hours.
6. When frozen, remove cake from springform pan and remove parchment paper from sides.
7. To make icing, put mixing bowl and whisk attachment in freezer for about 10 minutes.
8. Remove bowl and whisk from freezer and whip cream on high until it begins to thicken.
9. Add vanilla extract and powdered sugar and whip on high until thick and creamy.
10. Ice cake and freeze until serving.
Enjoy!

You might also like:
Hot Fudge Swirl Ice Cream Cake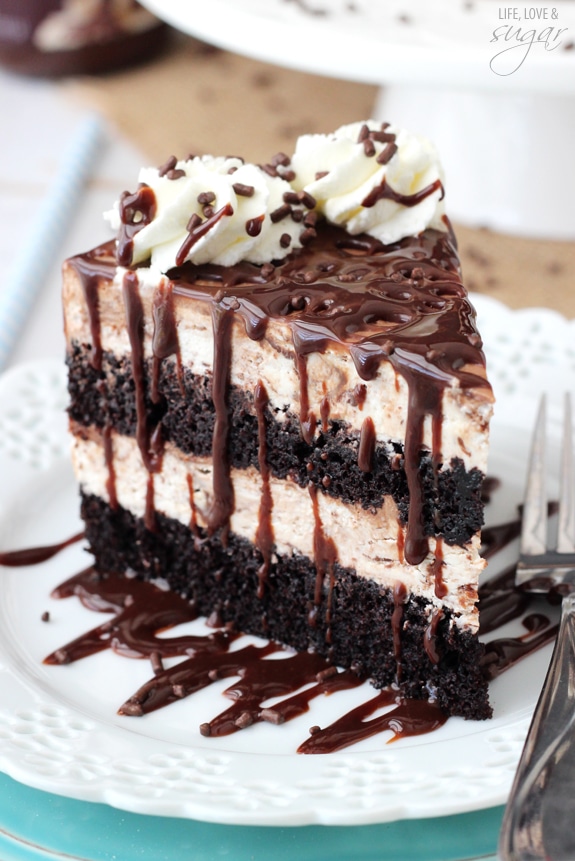 Cherry Almond Amaretto Ice Cream Cake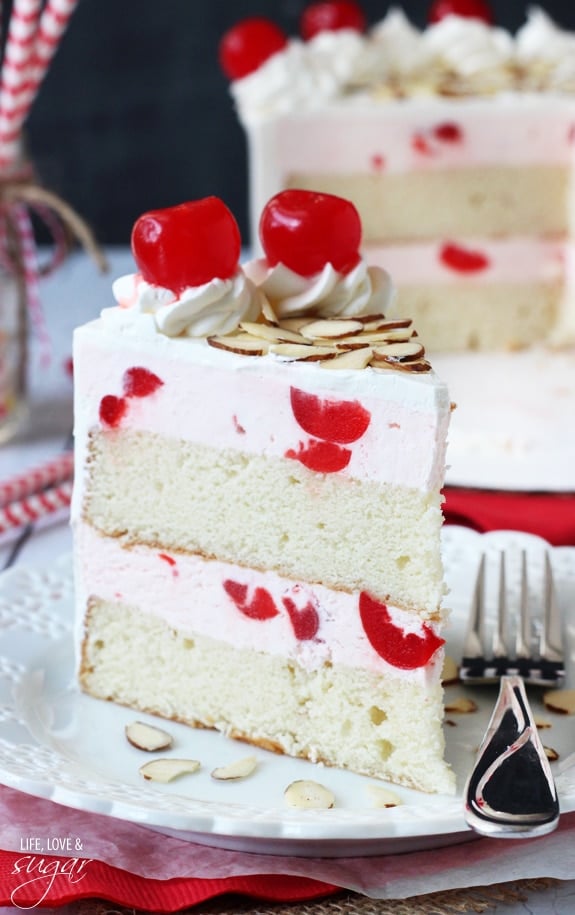 Neapolitan No Bake Cheesecake from Grandbaby Cakes
Neapolitan Ice Cream Cake Roll from Crazy for Crust
Neapolitan Krispie Treats from Shugary Sweets