This Neapolitan Cake is a delicious twist on the iconic neapolitan ice cream! You'll fall in love with the yummy flavors all over again – they taste even better in cake form. You're welcome!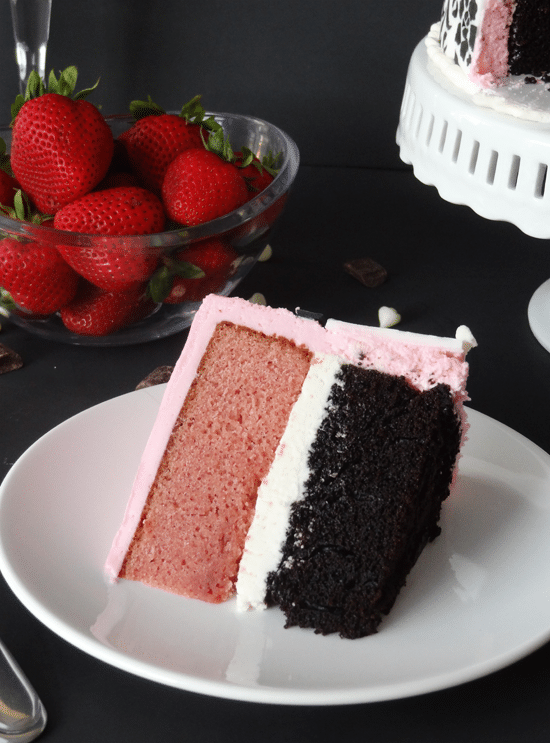 Neapolitan Cake
It's our 4 year wedding anniversary! So I made a cake! But first, a few words about that wonderful day. 🙂
I know everyone says this about their wedding day, but this was seriously the best day ever! I married a wonderful man, we had all of the most important people in our lives in one room and had a blast with them all and I got to see the fruits of my mom and I's labor all come together to create a beautiful day! I want to go back and relive it all. Not everyone feels this way, but I would totally do it all again. It was all worth it. Fortunately I have awesome pictures and an amazing wedding video that the hubs has to watch with me every year. 🙂
Probably the most important part was all the people we had with us. I know that was what my husband loved the most. He is originally from South Africa, so most of his family still lives there and he doesn't see many of them often, if at all. He had a number of relatives come all the way here for the wedding and it meant so much to both of us. I know he worries that he will never have the chance to see his grandparents together like that again. We desperately want to get to South Africa for a trip, but have yet to do it.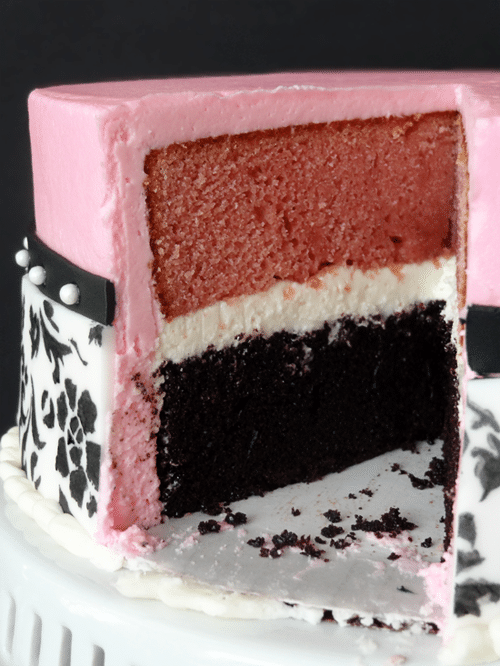 On top of that, having so many people who have influenced us over the years in so many ways all celebrate with us was such an honor. So many great people and amazing friends! I know some people look back at their wedding party and haven't kept in touch with many people, but the lovely ladies in my wedding were family. Technically 4 of them are friends and 1 is my cousin, but all of them are my sisters. For life. And sharing that day with my parents and grandmother was exceptionally awesome as well. They are all my best friends.
And after just over a year a half of planning with my mom (no wedding planner!), it was awesome to see everything come together. I am a person that is very into the details. There was a lot of DIY too. Seeing it the day of the wedding was special for my mom and I. Not only was it beautiful, but people still tell us how much fun it was! Again, I'd go back and do it all again and so would she.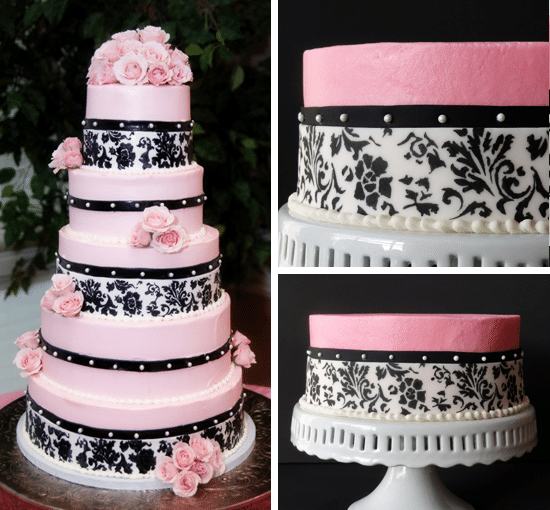 Wedding cake on left, my cake on right
One of the details that I naturally love is the cake. Of course. I searched high and low for just the right design and Gail from Cheesecake etc did an amazing job of creating it. That cake is actually the inspiration for this recipe and post.
Last year I really wanted to make a replica of one of the tiers of our cake but wasn't able to. This year I went for it! And not just the look of the outside of the cake, but the inside too. We had a few different types of cake, but the layer we cut into and the topper both were chocolate cake on the bottom and pink tinted vanilla pound cake on top with Baileys buttercream in the middle.
I decided not to do the same flavor combo, but still wanted the colors. You can tell from the picture below how much I loved the inside of the cake. I had actually forgotten she was going to color it and when I saw it I got really excited. Clearly I have a cake problem. 🙂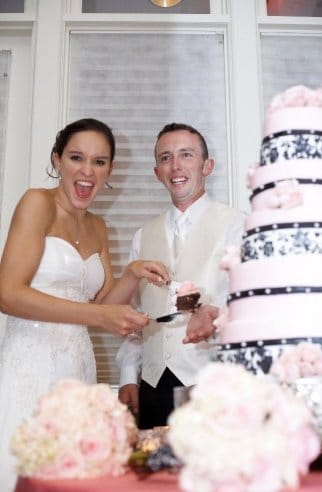 Photo by Fort Mill Photography
So for the chocolate cake I used my favorite recipe. It is the moistest chocolate cake you will EVER have. Really. Really really. I've used it before in other recipes on the blog and if you haven't made it before, you desperately need to.
I tried a new recipe for the pink layer. I figured strawberry made perfect sense for a pink cake, so I decided on vanilla icing and the neapolitan cake was born.
I spent forever looking for the right recipe. I didn't want to use jello. I really wanted to use actual strawberries. I also wanted a cake with whole eggs. I hate throwing away parts of eggs. I know I could use them for something, but when I have a whole cake to decorate, the last thing I want to do is try to bake something additional.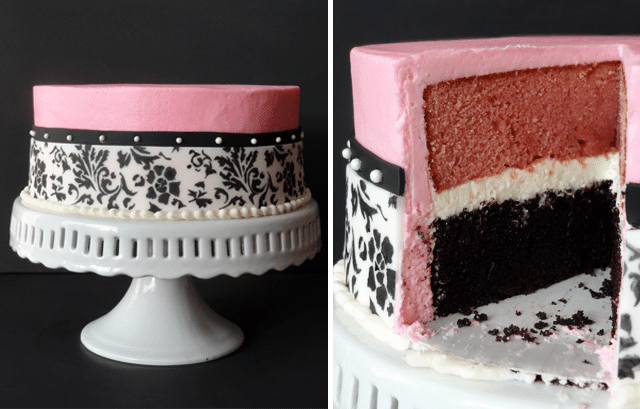 I found this recipe from Confections of a Foodie Bride. It's a great recipe! Denser than I expected, but the strawberry flavor is awesome! I definitely had to add some red food coloring to get it as pink as I wanted but that's fine by me.
And to finish it off – vanilla buttercream. Even though the outside of the cake is pink, it's vanilla flavored. It's a beauty isn't it? A Happy Anniversary dessert to the hubs and I! Thanks for hanging in there with me friends. Here is your recipe! 🙂
Print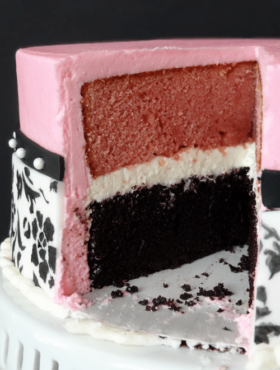 Recipe
Neapolitan Cake
Author:

Prep Time:

30 minutes

Cook Time:

1 hour 35 minutes

Total Time:

2 hours 5 minutes

Yield:

12

-

14

Slices

1

x

Category:

Dessert

Method:

Oven

Cuisine:

American
---
Description
This Neapolitan Cake is made with a layer of chocolate cake and strawberry cake and filled with vanilla frosting! It's the iconic ice cream flavor in cake form!
---
Scale
Ingredients
CHOCOLATE CAKE
1 cups

cake flour

1 cups

sugar

1/4

+

1/8 cup

Hershey's Special Dark Cocoa powder

1 tsp

baking soda

1/2 tsp

salt

1

large eggs

1/2 cup

buttermilk

1/2 cup

vegetable oil

3/4 tsp

vanilla

1/2 cup

boiling water
STRAWBERRY CAKE
24 oz

fresh, very ripe strawberries, hulled

1

–

2

tsp sugar, optional

1/4 cup

water

1/2 cup

milk, room temperature

4

eggs

2 tsp

vanilla

2 1/4 cups

cake flour

1 3/4 cups

sugar

4 tsp

baking powder

1 tsp

salt

3/4 cup

unsalted butter (

1 1/2

sticks), room temperature
red food color, optional
VANILLA BUTTERCREAM
1 cup

butter

1 cup

shortening

8 cups

powdered sugar

2 tsp

vanilla extract

3

–

5

tbsp water
---
Instructions
CHOCOLATE CAKE:
Preheat oven to 300 degrees
1. Put all dry ingredients in a large bowl and combine.
2. Add eggs, buttermilk and vegetable oil to the dry ingredients.
3. Add vanilla to boiling water and add to mixture.
4. Mix at medium speed.
5. Pour into an 8-inch pan and bake about 50-55 minutes or until done.
STRAWBERRY CAKE:
NOTE:
 You can also make this cake without cooking down the strawberries or using frozen strawberries. For those instructions, look at the 
original recipe
.
1. Toss hulled and slice strawberries with sugar (if using) and set aside at room temperature for an hour or two, until nice and juicy.
2. Put strawberries and water in a small sauce pan and simmer for about 15-20 minutes, until the strawberries are very soft.
3. Pour strawberry mix into a fine strainer over a bowl. With a rubber spatula, press the strawberries through the strainer until you have all the juice. Discard the pulp.
4. Pour juice back into the saucepan and simmer to reduce liquid down to 1/2 cup.
5. Combine strawberry juice, milk, eggs and vanilla in a small bowl and mix well.
6. Combine flour, sugar, baking powder and salt in a large bowl and mix well.
7. Add butter to dry mixture and mix until combined into moist crumbs.
8. Add wet ingredients and mix until full combined.
9. Add food coloring, if desired. To get my shade of pink, I used about 15 drops.
10. Pour into an 8-inch pan and bake at 350 degrees for about 30-40 minutes, or until done.
VANILLA BUTTERCREAM:
1. Beat the shortening and butter until smooth.
2. Slowly add half the powdered sugar. Mix until combined.
3. Mix in the vanilla extract and 3 tbsp water.
4. Add the rest of the powdered sugar and mix until smooth. Add more water to get the right consistency.
TO ASSEMBLE:
1. Level both cakes so that they are flat on top and bottom.
2. Start with chocolate cake on the bottom and spread about 1/4 of the icing onto it.
3. Place the strawberry cake on top of the icing.
4. Using an offset spatula, fill in any gaps in the icing around the center.
5. Ice the outside of the cake with the remaining icing.
---
Keywords: neapolitan cake, the best chocolate cake recipe, moist chocolate cake recipe, homemade chocolate cake recipe, strawberry cake recipe, strawberry cake recipe from scratch, strawberry chocolate cake, vanilla buttercream recipe, vanilla buttercream
Enjoy!
This post may contain affiliate sales links. Please read my disclosure policy.