Vanilla Buttercream Frosting
Today I'm talking all about Vanilla Buttercream Frosting. I get regular questions about it, so I figure why not just chat about it a bit? A good basic vanilla buttercream recipe is one of the most important things, and I do mine a little differently than most.
Let's start a by talking a little about how I arrived at my ideal vanilla frosting.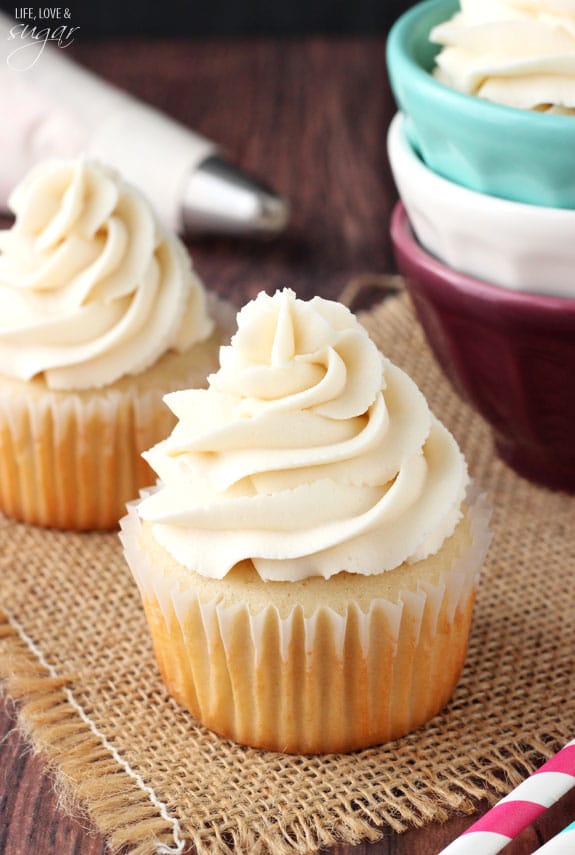 The Traditional Vanilla Buttercream Frosting Recipe
When I started making cakes about 4 years ago, I started by taking Wilton classes at a Michael's craft store. Taking that class and having to make frosting was literally the very first time I'd made frosting from scratch. Hard to believe, right? Fact.
Wilton's recommended frosting used all shortening. It was a very sweet frosting, super thick and kind of…oily or something. Shortening can be that way. Not ideal. All shortening was out. But don't hate on the shortening! Not yet! We are coming back to it!
Knowing that I needed to have a wonderful vanilla frosting that wasn't all shortening, I set about finding it. Remember, I was a newbie to frosting from scratch so it was a learning experience. And let me note that if you've never made frosting from scratch before, do not be scared of it. It is literally the easiest thing you'll ever make.
I next tried making an all butter buttercream. I had my parents and the hubs taste test the two next to each other. We agreed that while the all shortening version was too sweet and funky, the all butter was SO butter-y. Like just shy of eating a stick of the stuff. Too much for us.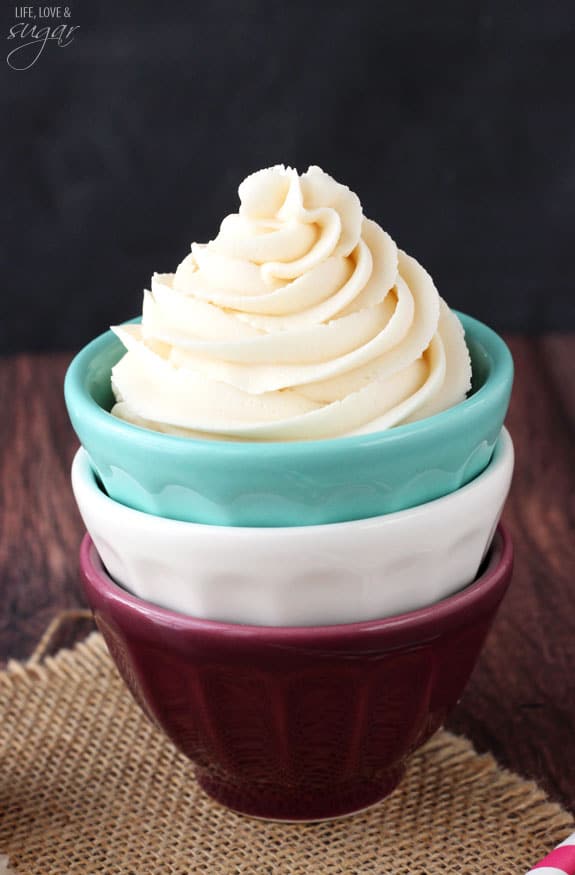 How I Make Vanilla Buttercream Frosting
So what did I do? I combined them. Half shortening, half butter. Best decision ever! Using both cuts down on the butter-y taste, but not so much that you lose it completely. Using butter also makes a less stiff frosting, but still thick enough.
In another break from the norm, I use salted butter. If I were to use all butter, I'd go half unsalted/half salted. With half shortening and half butter, I use all salted butter. I love the extra flavor from the salt. It also cuts down on the sweetness, since there's naturally quite a bit of powdered sugar to thicken the frosting.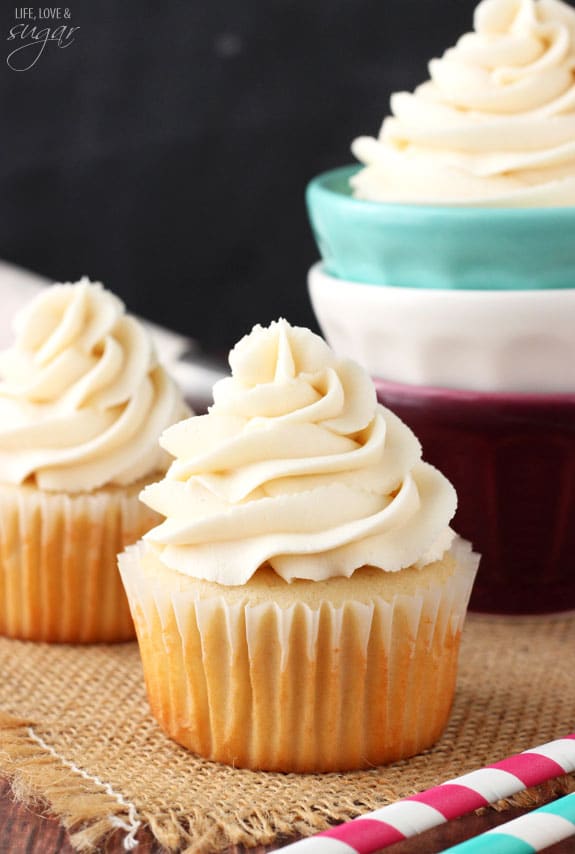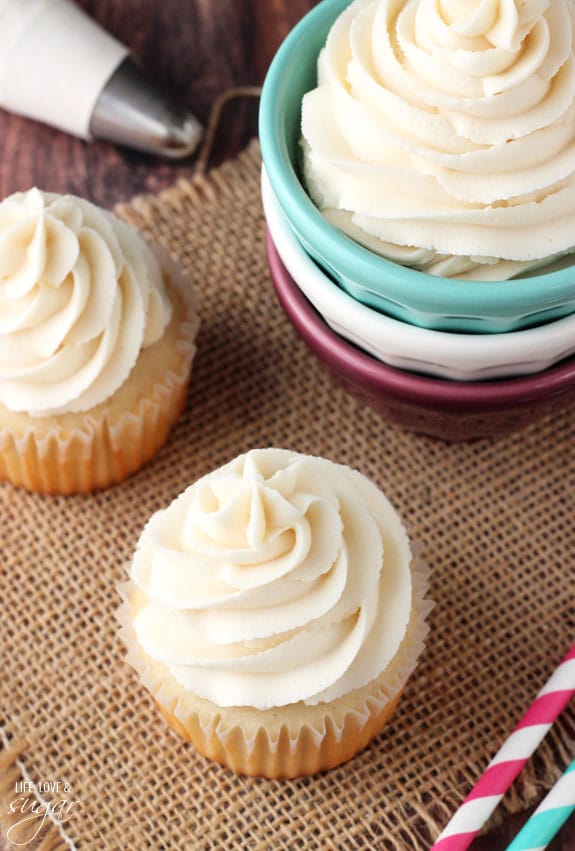 The shortening is as important as the butter. On top of cutting down the butter, shortening makes a frosting that will stand up a little better in warm weather – which is a plus in the summer.
I have to tell you that the combo of shortening and butter is the way to go. I regularly have people tell me how good the frosting is and they're super surprised when I tell them it has some shortening in it. You don't even know it's there.
I'm asked a lot if the shortening can be replaced with butter, and of course the answer is always yes. Definitely, you can, if you truly don't like shortening even after trying it. 🙂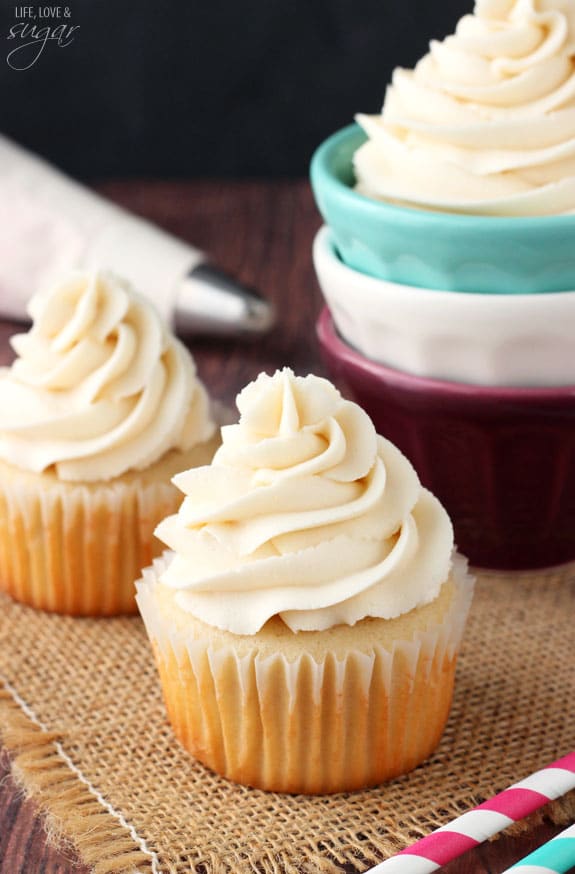 How Much Powdered Sugar to Use in Buttercream Frosting
The other thing people ask about is the amount of powdered sugar used. Four cups of powdered sugar is pretty standard for 1 cup of butter, or in this case a butter/shortening combo equal to 1 cup. It might seem like a lot of sugar, and you can reduce it, but you will have a thinner frosting with less volume. Less volume means it won't cover as many cupcakes, etc. so you might need more frosting. Thinner isn't bad depending on how you will be using the frosting. Thicker stands up and holds shape better.
Water or Milk in Buttercream Frosting?
The other quick thing I'll note about the recipe – I mention using water or milk. The frosting will get nice and thick after adding all the powdered sugar. The additional liquid helps thin it out to your liking. You can add a little more or a little less. The amount listed is just generally what I use. You can use milk or water. Honestly, I go with water. I like to leave my cakes out (not refrigerated) so I figure water is better. And truthfully, it's so little that nobody will notice if it's water or milk.
I use some variation of this frosting in most of my recipes. It's so easily adapted to different flavors. Add 1/2 cup of cocoa and a little more water or milk, and you've got a delicious chocolate icing. You can add all kinds of extracts, peanut butter, the options are endless! I use it for cupcakes and cakes. I am always told how good it is. You might not like the idea of shortening, but please, please at least try it. If you try it and still think all butter is better, go for it. But at least try this way. You might just be surprised. 🙂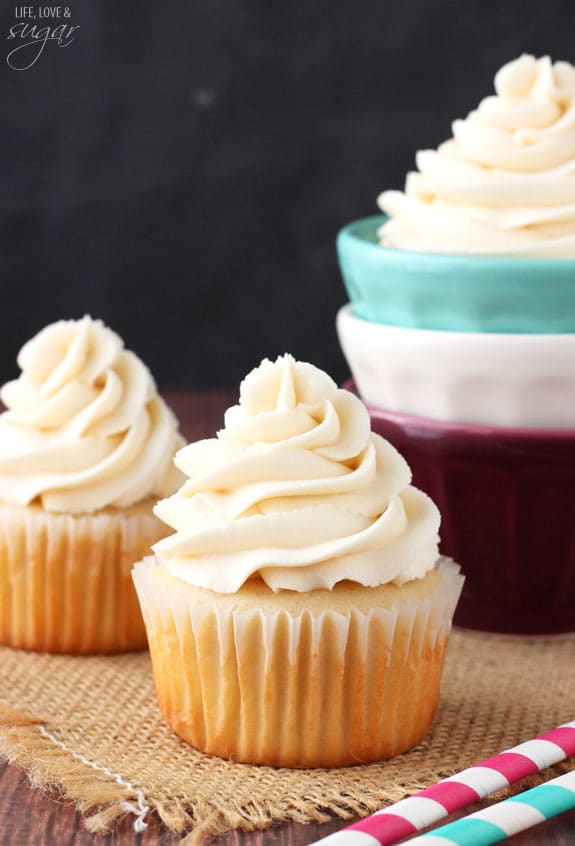 You might also like these frosting recipes:
Homemade Strawberry Frosting – 2 Ways
Cream Cheese Frosting
Fudgy Chocolate Buttercream Frosting
Stabilized Mascarpone Whipped Cream
Easy Strawberry Whipped Cream – 2 Ways
Chocolate Ganache
SHOP THE POST

Vanilla Buttercream Frosting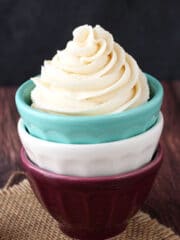 A good basic vanilla buttercream recipe is one of the most important things, and I do mine a little differently than most. This easy Vanilla Buttercream recipe is perfect for cakes and cupcakes.
Author:
Prep Time:

15 minutes

Cook Time:

0 minutes

Total Time:

15 minutes

Yield: about

2 1/2 cup

s

1

x
Category:

Dessert

Method:

No Bake

Cuisine:

American
Ingredients
1/2 cup

(115g) salted butter, room temperature

1/2 cup

(95g) shortening

4 cup

s (480g) powdered sugar

2

–

3

tbsp (30-45ml) water or milk

1 tsp

vanilla extract
Instructions
1. Combine butter and shortening and mix until smooth.
2. Add 2 cups of powdered sugar and mix until smooth.
3. Add vanilla extract and 1-2 tbsp of water or cream and mix until smooth.
4. Add remaining powdered sugar and mix until smooth.
5. Add a little more water or milk until desired consistency is reached.
Notes
You can add different extracts to change up the flavor. You can also add 1/4-1/2 cup of cocoa and a little more liquid to get a chocolate icing. For a peanut butter icing, add 3/4 cup of peanut butter.
Keywords: Vanilla Buttercream Frosting recipe, how to make buttercream frosting, best buttercream frosting, easy buttercream frosting, best cupcakes frosting, best frosting for cake
Enjoy!