Vanilla Buttercream Frosting
This Vanilla Buttercream Frosting is creamy, sweet and easily adjustable! It's one of my favorite buttercream frosting recipes because it's so simple to make. This is the best buttercream frosting for piping onto cakes, cupcakes and more!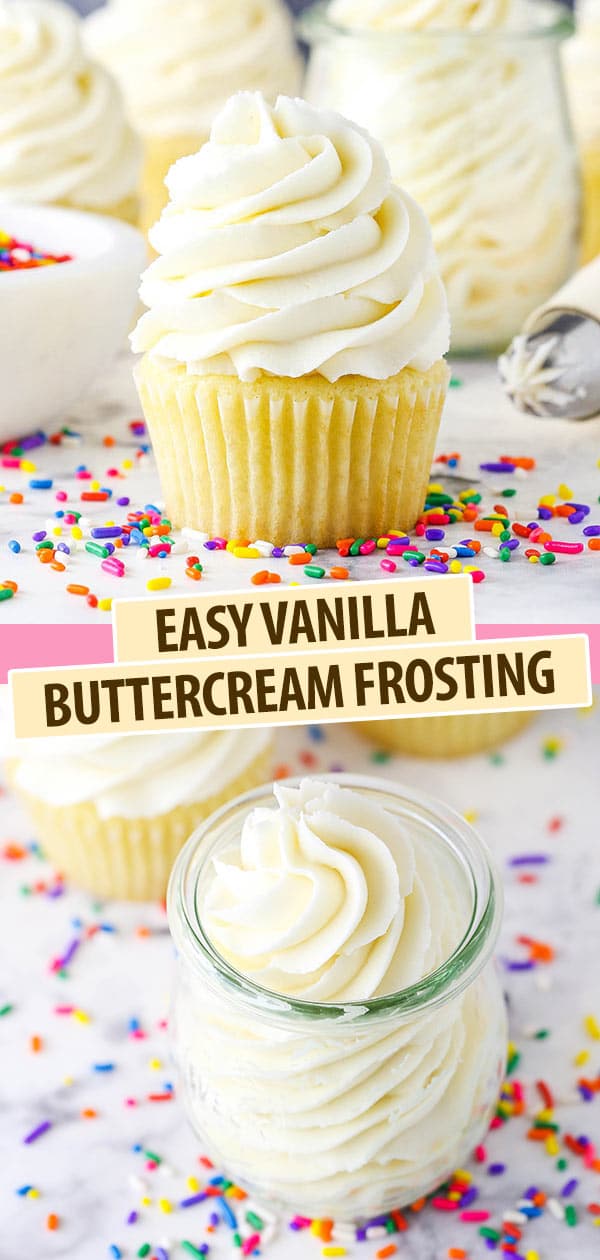 An Easy Vanilla Buttercream Frosting
So this post has actually been on my site for more than 5 years now and today I'm giving it an update. I get SO many questions about buttercream and direct people here often. I feel like the information that was here wasn't as helpful as it needed to be, so today that changes.
Plus, in the last 5 years I've made SO MUCH BUTTERCREAM and my opinions have changed slightly, so I feel like those things are worth sharing. All that said, my recipe is still the same. But hopefully you'll find everything else included with it even more helpful than before.
Let's get started!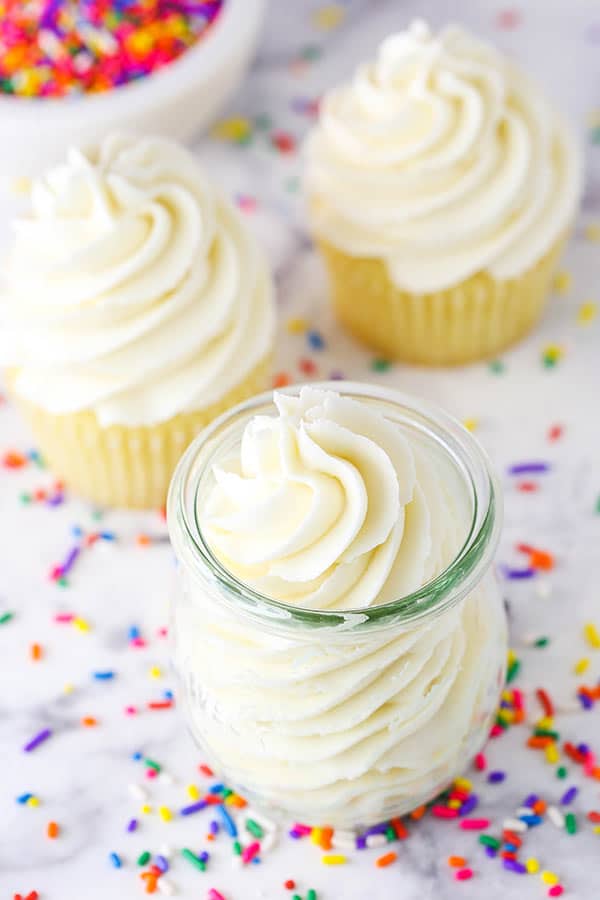 Buttercream Frosting Ingredients
The ingredients used in a classic vanilla buttercream often vary only a little. The ratio of things is primarily what changes, but I do tend to use one ingredient that is a little bit different.
Butter – Naturally the most important since we are making BUTTERcream. In the past, I've said that I like to use a mix of salted and unsalted butter (or salted butter and shortening – see next ingredient), but this is one thing that has changed a little lately. I'd recommend using all unsalted butter and then adding salt to taste. You most definitely don't want to use all salted butter – it gives the buttercream a very strong salty butter flavor and you really don't want that. So – you'll need room temperature unsalted butter.
Shortening – This is one ingredient that often leads to questions. "Can I substitute it for more butter?" Yes. "Why do you use it? It's gross." Well, that's a longer answer. Let's talk about it a bit.One reason I often use some shortening is for consistency purposes. When a cake doesn't need to be refrigerated because of a filling or something, I like to leave my cakes at room temperature. I just prefer their texture that way. When an all-butter buttercream is left at room temperature for a full day or overnight, I find that it kind of releases moisture that I don't care for. When I use some shortening, that doesn't happen.Another thing about shortening is that if you live in a warm climate or are making cakes that will be outdoors, shortening can be really helpful because it's not as susceptible to heat, like butter.And then the original reason that I started using some shortening was that I always found the buttery taste of an all-butter buttercream to be too much. But of course, this is another area where my opinion has changed a bit. Butter has grown on me. Lately I find myself enjoying an all-butter buttercream. Just be sure to use unsalted butter, like I said before.
Powdered Sugar – Also something I get a lot of questions about. This recipe uses a full 4 cups of powdered sugar to 1 cup of butter/shortening. The high amount of powdered sugar make this buttercream stable and pipe-able. This recipe covers roughly 12 cupcakes for me when frosting them quite generously, which I do. So when I frost cakes, which I also do quite generously, I double and sometimes even triple this recipe. That means anywhere from 8-12 cups of powdered sugar. A lot? Yes. But if you reduce it, you totally change the consistency of the frosting, which is super important – especially when frosting cakes and cupcakes. To read more about frosting consistency, check out this post.
Vanilla Extract – Naturally, this adds flavor. But the great thing about this buttercream is that it's so adaptable. Swap out this extract for another and you've got another flavor. Score!
Heavy Cream or Water – I tend to use water, but cream also works well. Again, I like to leave my cakes at room temperature when I can, so I usually just go with water. That said, the high amount of fat in buttercream should keep buttercream that uses heavy cream fine at room temperature for a day or two.
Salt – Since unsalted butter is recommended, you'll want to add salt to taste. I think this is really a big personal preference with this recipe. The salt can help cut back on the sweetness a bit. Too much though and it gets quite salty.

How To Make Vanilla Buttercream Frosting
This buttercream is super quick and easy to make!
First, add your butter (and shortening, if using) to your mixer and beat until smooth and creamy. Again, be sure it's all at room temperature.
Next, you'll add about half of the powdered sugar. It doesn't have to be exact.
Then add your extract and some water or cream. Basically, we want to add some liquid to keep the buttercream from getting super thick as we continue to add the powdered sugar. I usually add one tablespoon of liquid, plus the extract at this point.
Add the rest of the powdered sugar and mix until smooth.
At this point, you'll want to add additional liquid as needed. How much you'll add may depend a little on what you're using your buttercream frosting for, but generally 2-4 tablespoons is plenty. Again, you can refer to my post on frosting consistency for a little more help on when to add more liquid and how much is too much.
Finally, add a little salt. Start with a pinch and go from there.
How to Decorate Cakes and Cupcakes with Buttercream
If you're looking for help decorating your cakes and cupcakes, I've got tutorials for both. My How to Frost a Smooth Cake tutorial is so well loved and an all time most viewed post. The video has more than a million views on YouTube. I really get into the details of how to actually frost your cake, so check it out. My tutorial for How to Frost Cupcakes is wonderful too. I show you 9 ways to frost cupcakes with 6 different piping tips. You can find links to all the tools I use in those posts, but here are some of my favorite piping tips.
Ateco tip 844 – A go-to for piping onto cupcakes and for borders around cakes.
Ateco tip 808 – A wonderful large round piping tip.
Ateco tip 847 and Ateco tip 849 – Similar to the 844, but larger. I used the 847 tip on the cupcakes in these photos.
Sprinkles – Not exactly a piping tip, but who doesn't love them?
Piping bags – Because you need these too.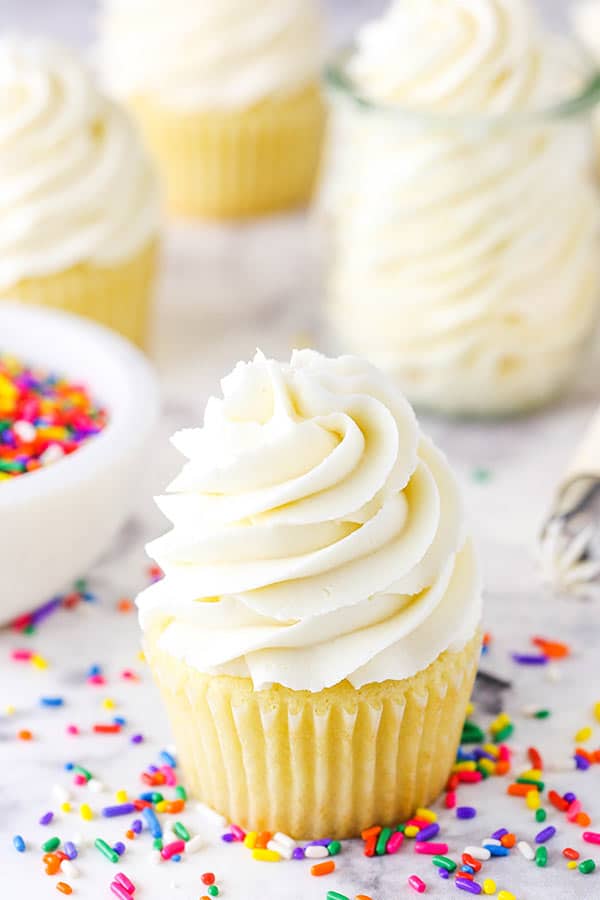 Frosting FAQs
Can I make buttercream ahead?
Absolutely! Make it and leave it on the counter overnight, or refrigerate it for up to a month.You can even freeze it for up to 3 months.
Why is my buttercream grainy?
Most likely this has to do with your powdered sugar. There's no other ingredient that would be grainy. If you do experience this, you'll want to try sifting your powdered sugar. I've never needed to do that, but if you don't use your powdered sugar much and it's been sitting for some time or you live in a humid environment, it may get kind of clumpy and then you'll want to sift it.
Can I reduce the amount of powdered sugar?
Yes and no. Sure you can reduce it. Who's to stop you? You'll end up with a buttercream frosting (technically). But this question is really one of consistency.
I've been asked before if it was ok to reduce 8 cups of powdered sugar to 2 cups. If we talk about ratios here, then there's 2 cups of butter for those 8 cups of powdered sugar. So if you reduce the powdered sugar to 2 cups without also adjusting the butter, it'll be like eating straight butter with a touch of powdered sugar. Can you do it? Sure. Would I ever recommend it? Absolutely not. Not only would that taste bad (in my opinion), but the consistency would be totally off and it might not stay well on the cake it's meant to go on. Not to mention that you couldn't pipe it.
So I go back to recommending you check out my post on buttercream frosting consistency. Whether or not you can (or should) reduce it depends on how you want to use your frosting (and how you want it to taste).
And if you truly aren't a fan of using much powdered sugar, then I might suggest checking out another kind of buttercream. This is an American Buttercream which gets it volume and stability from powdered sugar, so it's hard to avoid. Swiss Meringue Buttercream gets its volume from egg whites that are cooked, so maybe check that out. I don't currently have a recipe to recommend, but am working on it.
Ready to Make the Best Buttercream Frosting Ever?
So there it is! Vanilla Buttercream Frosting. Super easy and totally delicious. I hope this updated post helps! As always, if you have questions, leave them below and I'll do my best to help.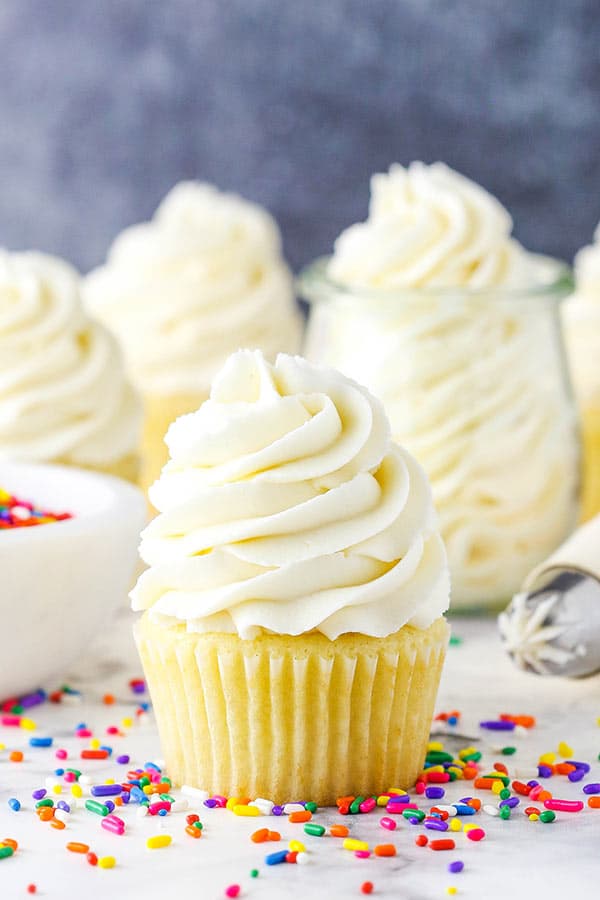 You might also like these frosting recipes:
Homemade Strawberry Frosting – 2 Ways
Cream Cheese Frosting
Fudgy Chocolate Buttercream Frosting
Stabilized Mascarpone Whipped Cream
Easy Strawberry Whipped Cream – 2 Ways
Chocolate Ganache
Read transcript
Vanilla Buttercream Frosting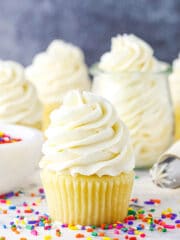 This Vanilla Buttercream Frosting is creamy, sweet and easily adjustable! It's a must-have recipe that's super easy to make and pipes perfectly onto cakes and cupcakes!
Author:
Prep Time:

15 minutes

Cook Time:

0 minutes

Total Time:

15 minutes

Yield: about

2 1/2 cups

1

x
Category:

Dessert

Method:

No Bake

Cuisine:

American
Ingredients
1/2 cup

(

115g

) unsalted butter, room temperature

1/2 cup

(

95g

) shortening (or additional butter)

4 cups

(

460g

) powdered sugar

1 tsp

vanilla extract

2

–

3

tbsp (30-45ml) water or heavy cream
Salt, to taste*
Instructions
1. Combine the butter and shortening in a large mixer bowl and beat until smooth and creamy.
2. Add about half of the powdered sugar and mix until smooth and well combined.
3. Add the vanilla extract and 1 tablespoon of water or cream and mix until smooth and well combined.
4. Add the remaining powdered sugar and mix until smooth and well combined.
5. Add more water or cream until desired consistency is reached, then add salt to taste.
Notes
For the salt, start by adding a pinch or two and add more to your taste. I wouldn't suggest adding more than 1/8 tsp.
You can add different extracts to change up the flavor. You can also add 1/4-1/2 cup of cocoa and a little more liquid to get a chocolate icing. For a peanut butter icing, add 3/4 cup of peanut butter.
Keywords: Vanilla Buttercream Frosting recipe, how to make buttercream frosting, best buttercream frosting, easy buttercream frosting, best cupcakes frosting, best frosting for cake
Enjoy!