This post may contain affiliate sales links. Please read my disclosure policy.
This Chocolate Ganache Recipe is so easy to prepare with only two ingredients – chocolate and heavy whipping cream! It's such a simple and delectable dessert topping!
The Ultimate Chocolate Ganache
Back when I first started baking from scratch, there were two things I was intimidated to make for the first time – chocolate ganache and homemade whipped cream. Looking back it seems so funny because both are made with so few ingredients and come together quickly. They are seriously the two easiest things to make, but make the most amazing toppings. Why it took me so long to try either of them is just silly.
What to use Chocolate Ganache for
Chocolate ganache is so versatile and can be uses in many ways. It's kind of like a cross between a glaze and a frosting. Depending on the temperature and thickness of your ganache, it can be used as both or either.
I love to use chocolate ganache to top cheesecakes like my Chocolate Covered Strawberry Cheesecake and Kahlua Coffee Brownie Cheesecake, drizzle over cakes and ice cream cakes like my Chocolate Raspberry Layer Cake and Peanut Butter Chocolate Ice Cream Cone Cake and have even piped it onto desserts, like my Boston Cream Pie Cheesecake. The options are endless.
How to Make Chocolate Ganache
So to make chocolate ganache, you'll need your chocolate and heavy whipping cream. To be honest, I typically use chocolate chips, but you can also use a good quality baking bar. I've used Ghirardelli bars before and they work very well. If you use a baking bar, you'll just want to chop up the chocolate into smaller pieces. You want them small enough that they'll melt fairly easily with the addition of the warm cream. Think chocolate chip sized.
When it comes to the cream, I tend to add a little less than some do. I prefer my ganache a tad thicker and prefer working with it that way, but you can always add an extra tablespoon or two if you want to thin it out a little more.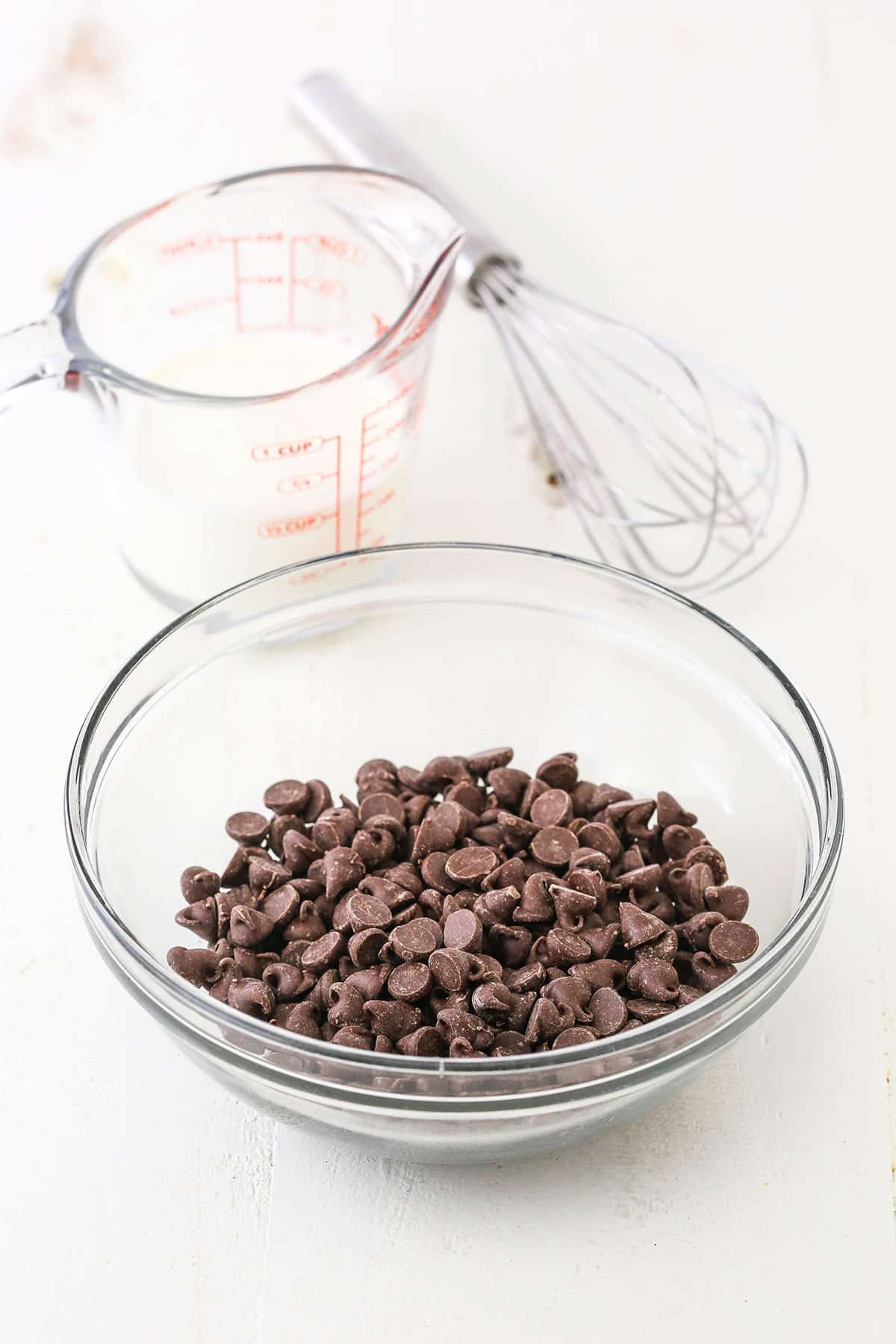 To get started, add your chocolate chips to a medium sized bowl and then heat up your heavy whipping cream. I heat my cream in a glass measuring cup right in the microwave, but you could also do it in a pot over the stove. If you use the microwave, it won't need long – maybe a minute – but don't pop it in the microwave and walk away. You want it to get nice and hot, but once it starts to bubble, remove it from the microwave quickly or it'll bubble up and over the cup and go everywhere!
Yes, I learned that the hard way.
When your cream is warmed, pour it over the chocolate chips and let it sit for 3-5 minutes. You can cover the bowl with clear wrap if you like, to trap in the heat.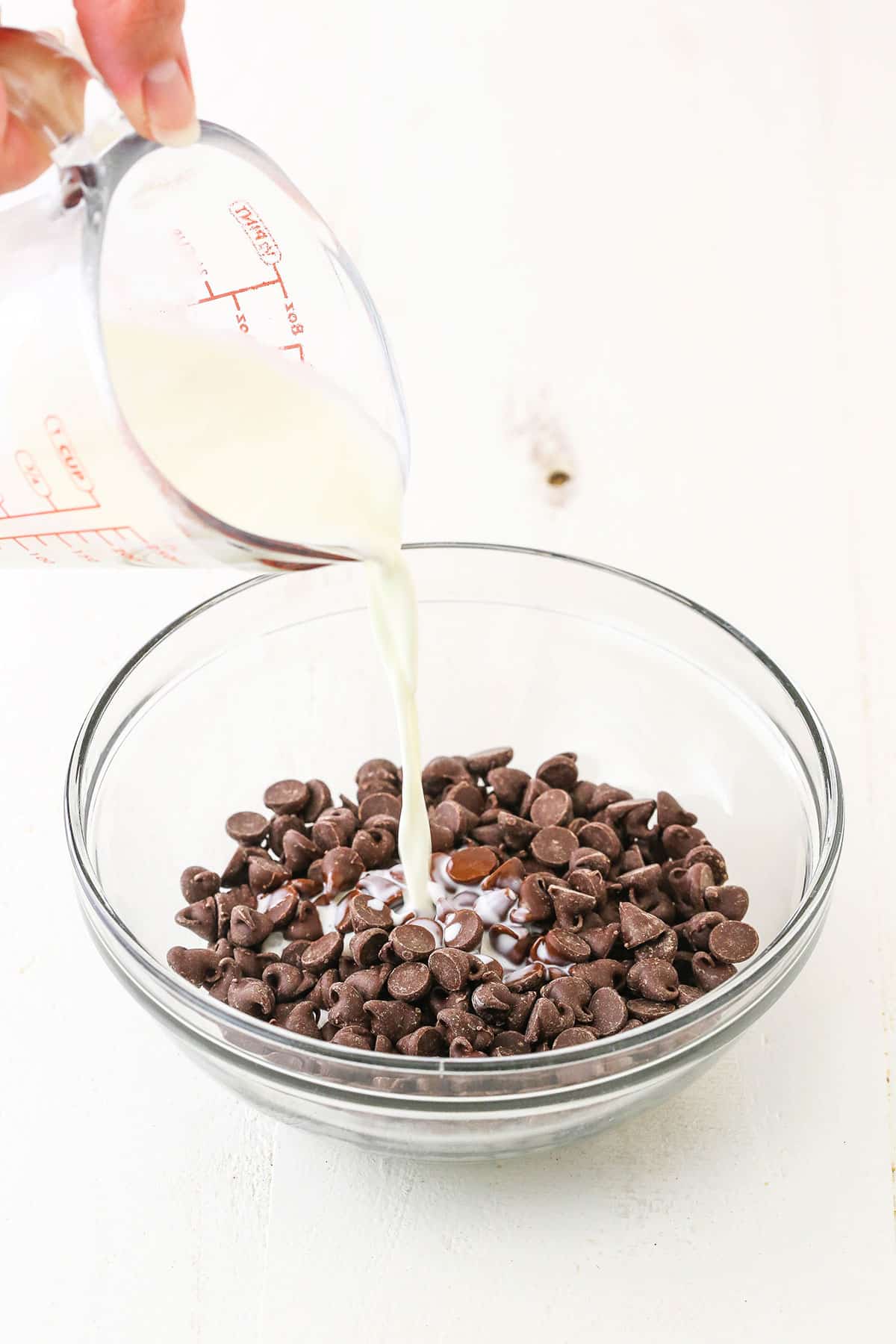 Slowly whisk the chocolate ganache and cream together. You don't want to do it too quickly, or you'll end up with more air bubbles in your ganache. Stir it gently until it all comes together to a nice, smooth consistency, then it's ready to be used.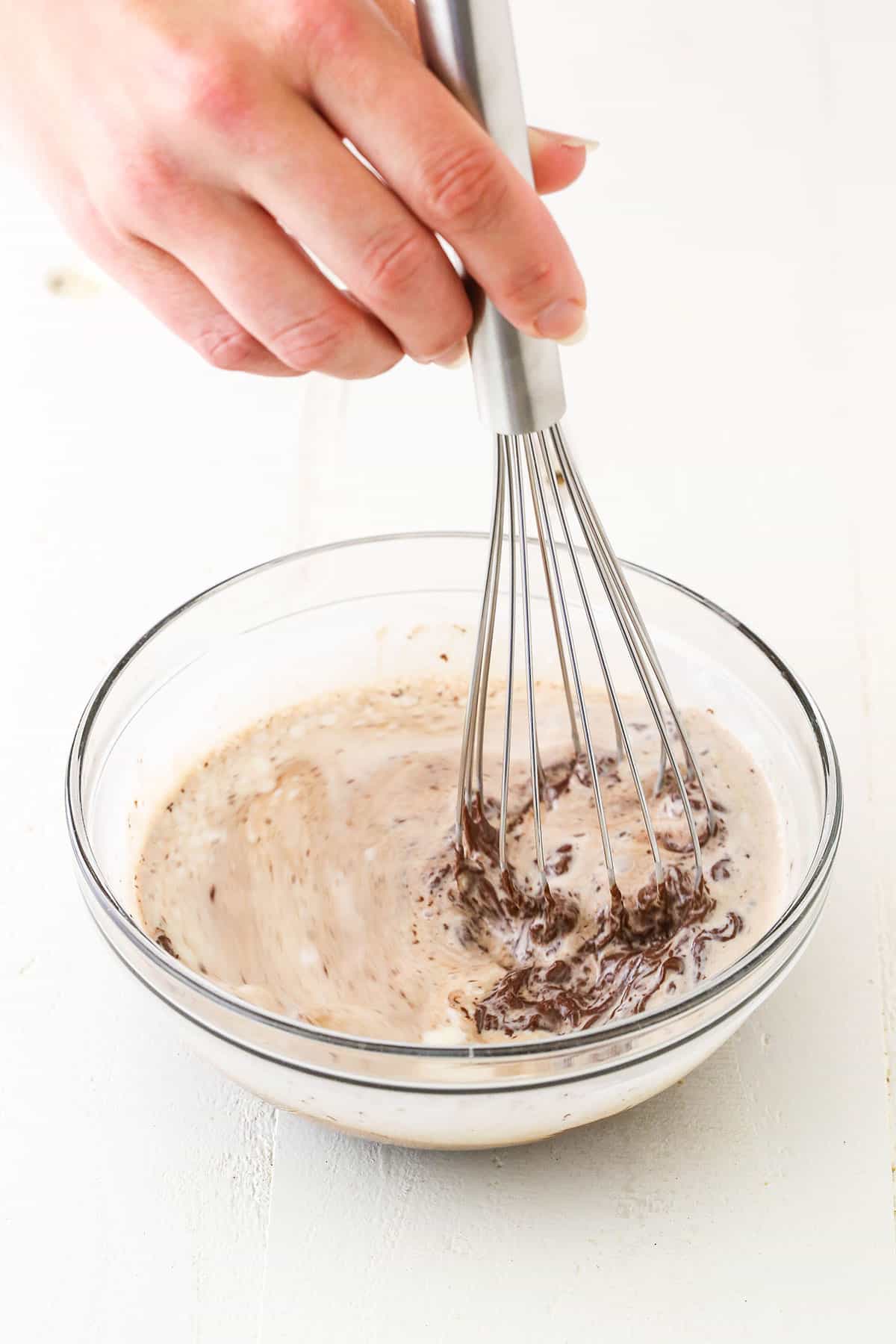 How to Work With Chocolate Ganache
Temperature is important when it comes to applying chocolate ganache to a dessert. The warmer it is, the thinner it is and the cooler it is, the thicker. That may seem obvious, but depending on how you're using it you'll want it one way or the other.
When you use it for things like topping cheesecakes and cakes, it's best to let it cool for about 10 minutes or so. It should still be nice and pourable, but not so thin that it doesn't stay where you put it.
If piping it or whipping it, you'll want to refrigerate it first. To whip it, simply add it to a mixer bowl fitted with a whisk attachment and whip it. It'll lighten in color and fluff up and be ready to use. When I pipe it, I often add a touch of corn syrup to it so that even when it's cool, it's still a nice consistency for piping.
The bottom line is temperature matters. If it seems a little thick, you can warm it back up and if it seems a little thin, let it cool down. After you work with it a bit, you'll get more comfortable with working with it.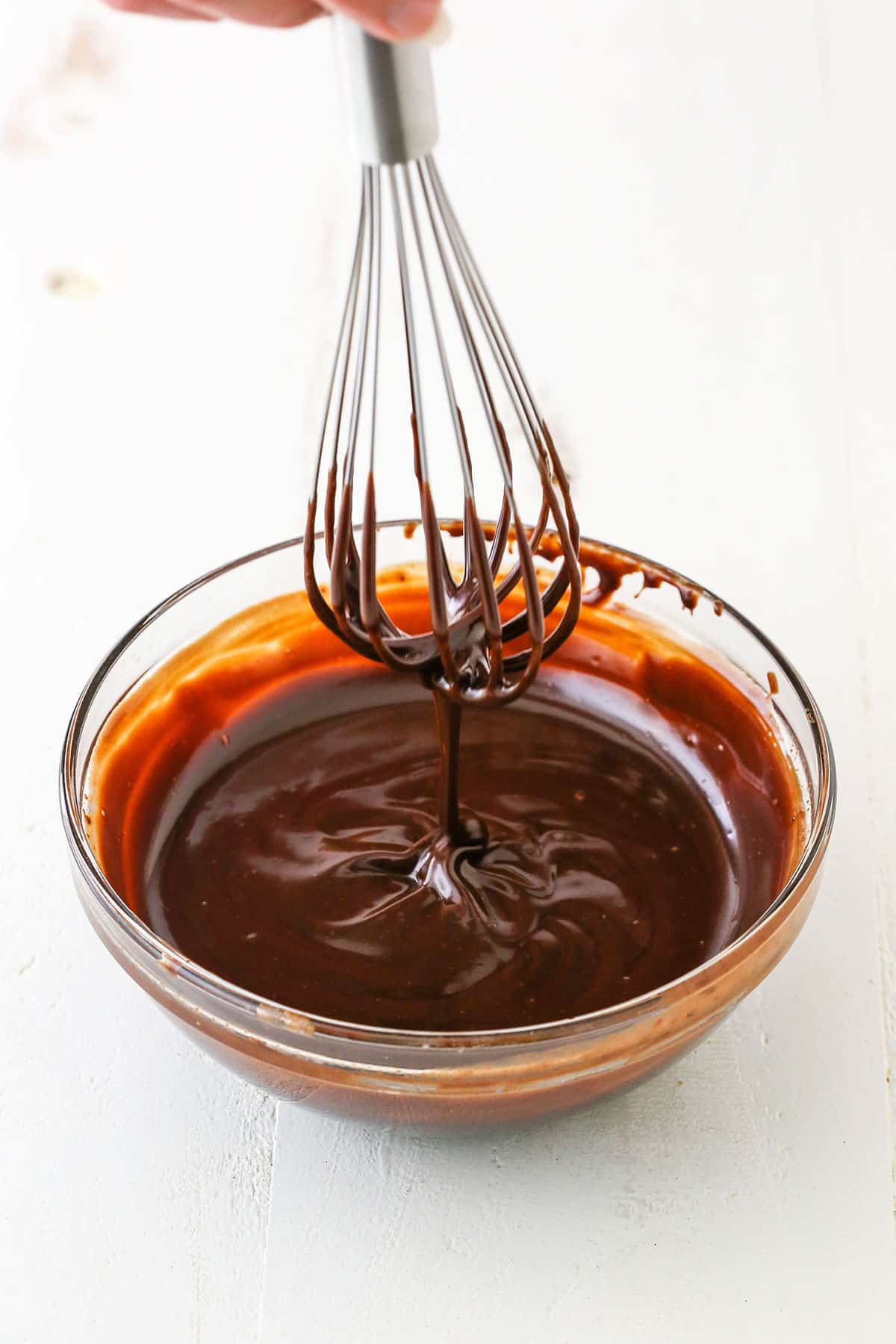 The Difference Between Chocolate Ganache and Chocolate Frosting
The primary difference between ganache and buttercream frosting is the ingredients. Buttercream has a butter base to which you add powdered cocoa (usually) and powdered sugar to add flavor and volume. Ganache is strictly chocolate that is melted and thinned out with cream. Both can be used as frostings, but ganache is like eating pure, softened chocolate (because it is!) and frosting is well, frosting. It's flavored with chocolate, but actually contains more butter and sugar than chocolate.
However you use chocolate ganache, you're going to love this recipe! It's so versatile and once you try it, you'll use it all the time!
MORE GREAT RECIPES WITH CHOCOLATE GANACHE
Best Chocolate Cake
Boston Cream Pie Cupcakes
Peanut Butter Chocolate Layer Cake
Raspberry Chocolate Layer Cake
Baileys Chocolate Cupcakes
Chocolate Cheesecake
Chocolate Oreo Cake
Print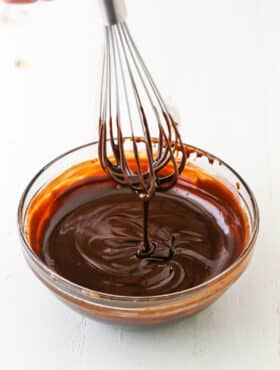 Recipe
Chocolate Ganache
Author:

Prep Time:

5 minutes

Total Time:

5 minutes

Category:

Dessert

Method:

Microwave

Cuisine:

American
---
Description
This Chocolate Ganache is so easy to prepare with only two ingredients – chocolate and heavy whipping cream! It's such a simple and delectable dessert topping!
---
Ingredients
6 oz (169g | 1 cup) semi sweet chocolate chips
1/2 cup (120ml) heavy whipping cream
---
Instructions
1. Add the chocolate chips to a medium sized bowl and set aside.
2. Add the heavy whipping cream to a microwave safe bowl or measuring cup and heat for about 1 minute, keeping an eye on it. If it heats up too much, it'll end up everywhere. Remove from the microwave just before it bubbles up.
3. Pour the warm cream over the chocolate chips and allow to sit for 3-5 minutes. You can cover the bowl with some clear wrap to trap in the heat, if you like.
4. Gently stir the cream and chocolate together until they come together to a smooth consistency. Try not to whisk too vigorously, which can add air bubbles to the ganache.
5. Use the ganache on cakes, cheesecakes, cupcakes, cookies, etc. For glaze/toppings for cakes, cheesecakes, ice cream and such, I like to let the ganache sit for about 10 minutes, then apply it. If you'd like it a firmer consistency for whipping or piping, refrigerate it until firm. It can be whipped after it's chilled. For piping, let it soften out of the fridge for 10-15 minutes, then stir it with a spoon. If it seems workable, but still holds it's shape, it's ready for piping.
---
Notes
I tend to use chocolate chips for my chocolate ganache, but you can also use a good, high quality chocolate bar or baking chocolate.
Nutrition
Serving Size:
Calories:

3154

Sugar:

304.4 g

Sodium:

491.1 mg

Fat:

206.6 g

Carbohydrates:

305.4 g

Protein:

33.3 g

Cholesterol:

241.6 mg
Keywords: chocolate ganache, chocolate ganache recipe, chocolate ganache for cake, chocolate ganache cake, chocolate ganache filling, how to make chocolate ganache, chocolate ganache frosting, chocolate ganache on cake
Categories