This post may contain affiliate sales links. Please read my disclosure policy.
This Strawberry Shortcake Icebox Cake is an easy dessert that's perfect for summer! Made with fresh strawberries, a berry cream filling and soft ladyfingers, it's light, simple and layered to perfection!
Looking for a traditional strawberry shortcake recipe? Try my easy strawberry shortcake recipe with homemade biscuits and homemade whipped cream!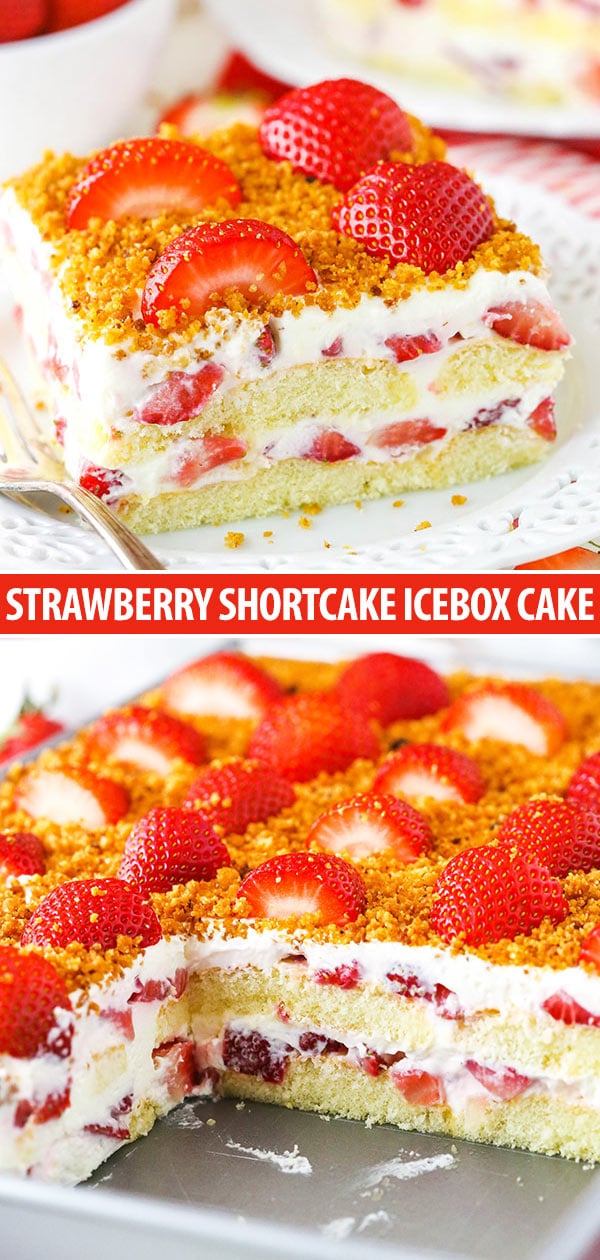 Strawberry Shortcake Icebox Cake
So the boys are at a super fun and cute age. They are running around like crazy and super playful. They love being outside and their legs are covered in scrapes. Typical little boys.
They are also at a kind of in-between age where they aren't talking yet (oh my gosh it should happen ANY DAY NOW!), but they understand you pretty well. Even though they understand you though, they are getting little minds of their own.
Well I took them to the store over the weekend for a few things – exciting things like storage boxes and groceries. In order to have two of them in the cart, I use a buggy bench (brilliant invention!) for one of them, which means Brooks was in the main part of the cart with everything else. It seemed like every thing I put in the cart ended up in his mouth or being thrown out onto the floor because he didn't want it in his way. Oh yea – that big plastic storage box? I ended up just having to carry it and push the cart one handed. The little bugger.
And then as I'm checking out, Ashton's turning around as far as he can from the front of the cart and grabbing Brooks' face. They are a big, adorable mess and they make shopping for anything more interesting and time consuming.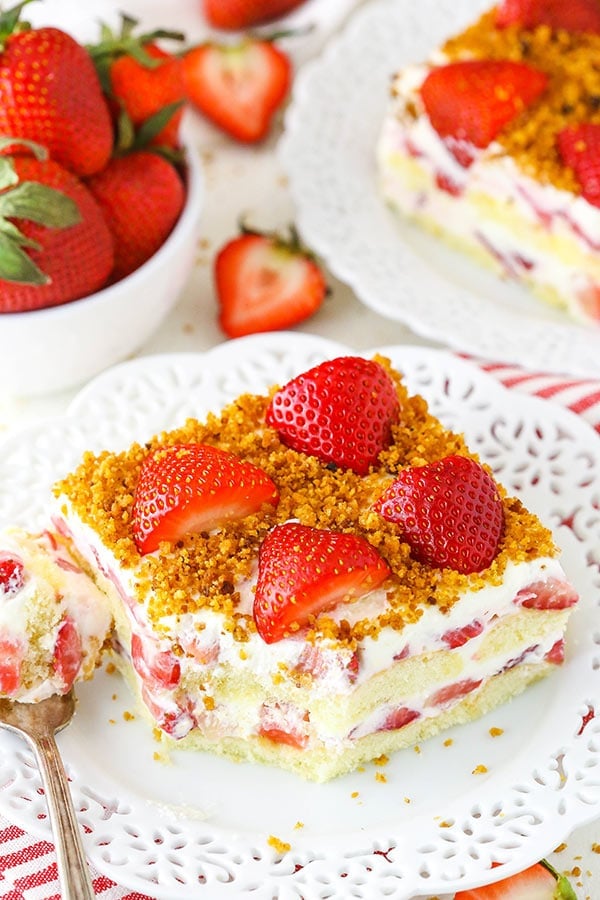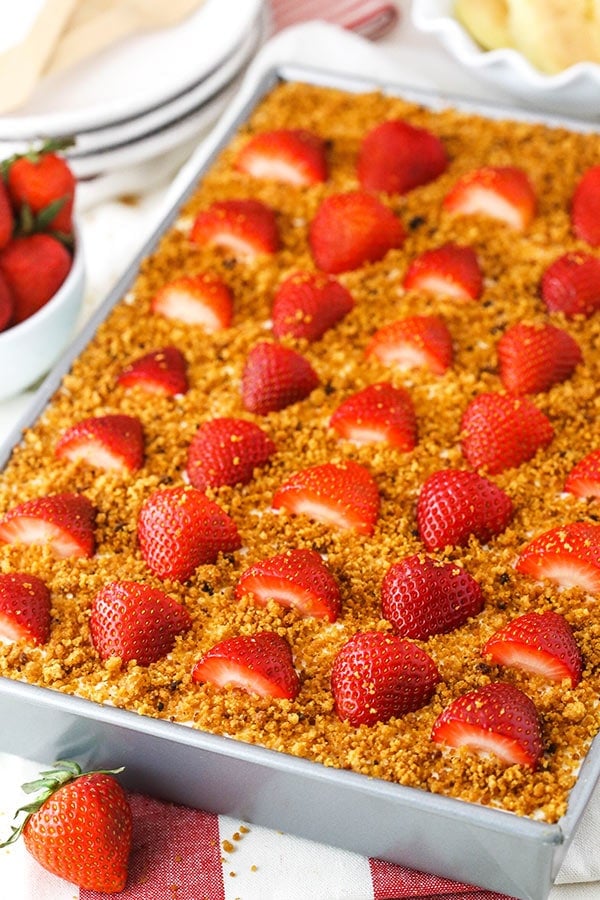 How to Make Strawberry Shortcake Icebox Cake
Fortunately making this Strawberry Shortcake Icebox Cake isn't nearly as complicated as shopping with twin one year olds. In fact, it's about as easy as it gets!
To get started, you'll chop up your strawberries and combine them with a little sugar. Let them sit a bit while you making the cream filling.
The filling is a combination of cream cheese, sugar and whipped cream. The whipped cream is folded into the cream cheese mixture and then the strawberries are added. Super quick and simple!
Ladyfingers are used between the filling layers to mimic the shortcake part of strawberry shortcake. They are perfect in this dessert because they are soft and cake-like, but you don't have to worry about baking them! Love it!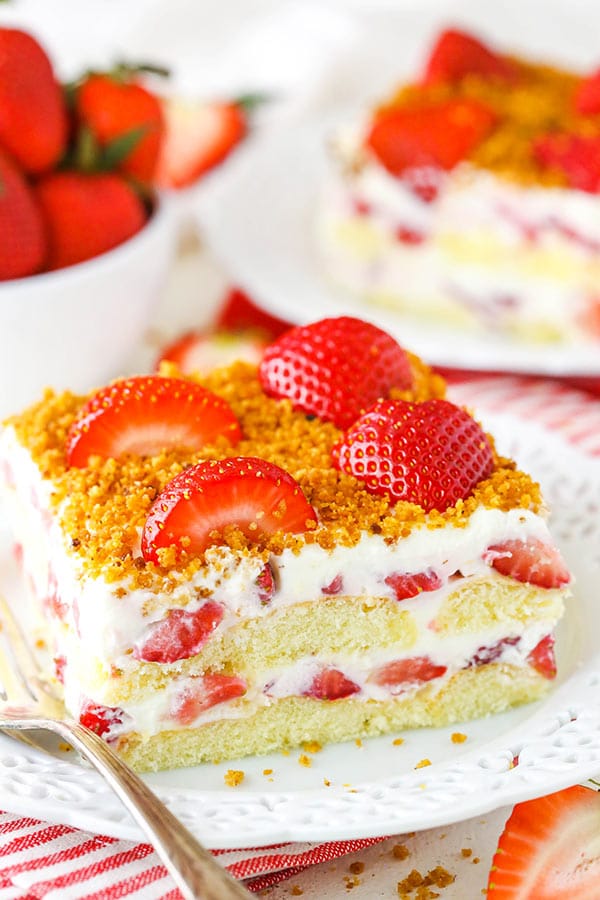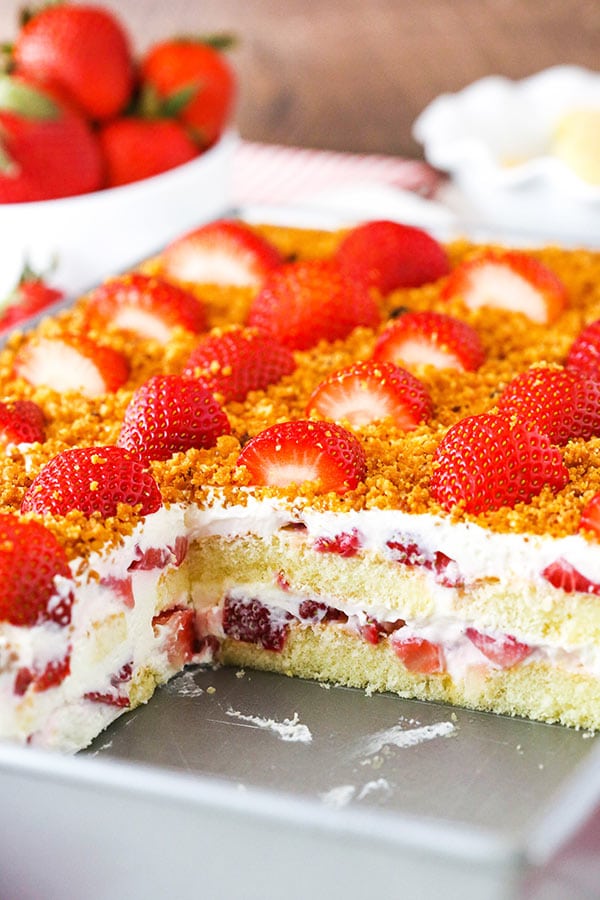 You'll end up with two layers of ladyfingers and two layers of filling. Of course, if you aren't able to find the soft ladyfingers in your area, there are substitutions you can use. I would probably suggest using shortbread cookies, but any vanilla cookie would work well. If you do end up using a cookie, you'll just want to dip them in a little milk before adding them to the icebox cake. It'll help them soften up as the icebox cake firms up.
Once everything is layered together, refrigerate it until the filling firms up. The topping can be added at any point – when the cake is chilling, or just before serving. It's a little graham cracker crumble that adds a bit of crunch to the top. Just combine some graham cracker crumbs, sugar, a touch of salt and melted butter. I like to toast it in the oven a bit so that it crisps up and stays crispier while on the cake, but you could skip the baking step if you wanted to. In leu of the topping, you could also just cover the top of the cake with more strawberries. Totally up to you!
Icebox Cake is the Perfect No Bake Dessert for Summer
This Strawberry Shortcake Icebox Cake is the perfect dessert for summer and is (pretty much) no bake – making it super simple to put together. It's a great, easy way to serve strawberry shortcake and would be a great addition to a summer potluck. I hope you enjoy it!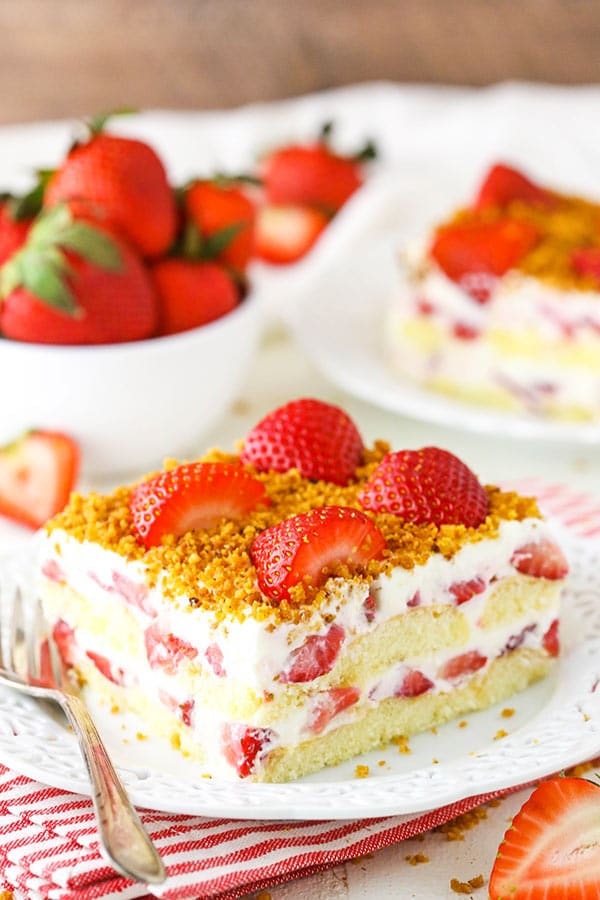 Read transcript
More Strawberry Shortcake Desserts
Strawberry Shortcake Cake
Easy Strawberry Shortcake Recipe
Strawberry Shortcake Cheesecake
Strawberry Shortcake Trifle
Strawberry Shortcake Popsicles
Print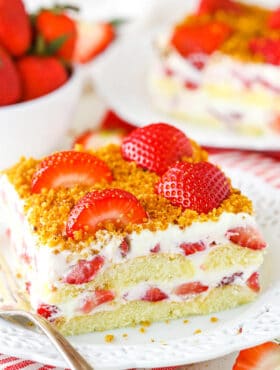 Recipe
Strawberry Shortcake Icebox Cake
Author:

Prep Time:

1 hour 10 minutes

Cook Time:

5 minutes

Total Time:

1 hour 15 minutes

Yield:

15

1

x

Category:

Dessert

Method:

No Bake

Cuisine:

American
---
Description
This Strawberry Shortcake Icebox Cake is an easy dessert that's perfect for summer! Made with fresh strawberries, a berry cream filling and soft ladyfingers, it's light, simple and layered to perfection!
---
Scale
Ingredients
Strawberries
2

lbs fresh strawberries, washed, hulled and chopped

3 tbsp

(

24g

) sugar
Filling
8 oz

cream cheese, room temperature

1/4 cup

(

52g

) sugar

2 3/4 cups

(ml) heavy whipping cream, cold

1 1/4 cups

(

144g

) powdered sugar

2 tsp

vanilla extract

6 oz

ladyfingers*
Graham Cracker Crumble Topping
1/3 cup

(

89g

) graham cracker crumbs (about 3 graham cracker sheets)

1 tbsp

(

13g

) sugar
Pinch of salt

2 1/2 tbsp

unsalted butter, melted
Strawberries, for decorating
---
Instructions
1. Combine the chopped strawberries and sugar and set aside while you make the rest of the filling.
2. Add the cream cheese and sugar to a large mixer bowl and beat until well combined and smooth. Set aside.
3. In another large mixer bowl, combine the heavy whipping cream, powdered sugar and vanilla extract and whip on high speed until stiff peaks form.
4. Add about 1/3 of the whipped cream to the cream cheese mixture and gently fold to combine. Continue adding another third of the whipped cream to the cream cheese mixture until all has been combined.
5. Add the strawberries (without the juices) to the cream cheese mixture and gently fold together.
6. Place a full layer of ladyfingers in the bottom of a 9×13 inch cake pan.
7. Add about half of the strawberry cream cheese mixture to the top of the ladyfingers and spread into an even layer.
8. Add another full layer of ladyfingers on top of the strawberry layer, then add the remaining strawberry cream cheese mixture and smooth into an even layer.
9. Place the icebox cake into the fridge to set, about 4-5 hours.
10. While the cake is in the fridge, make the graham cracker topping. Preheat oven to 350 degrees.
11. Combine the crumbs, sugar, salt and melted butter and stir together until well combined.
12. Spread the mixture evenly onto a parchment paper or silicone baking mat lined cookie sheet and bake for 5-7 minutes, until the edges of the mixture start to brown.
13. Remove from oven, allow to cool for a few minutes, then break into crumble pieces.
14. Once the crumble is cooled, sprinkle on top of the icebox cake along with some additional strawberries. Let the icebox cake continue to set in the fridge until you are ready to serve it.
15. Icebox cake is best for 2-3 days, or as long as the strawberries stay fresh.
Notes
I used two 3 oz packages of the softer, more sponge cake-like ladyfingers. Not the firm ones. I find them in the bakery section of our grocery store. If you're unable to find them in your area, you could substitute them with Nilla Wafer cookies or shortbread cookies. If you use the cookies, I'd suggest dipping them in milk quickly before adding them to help them soften up, like I did in my Raspberry Almond Icebox Cake. You could also use angel food cake.
The graham cracker crumble could be baked or not baked. I like it baked because it gives it a little more crunch that stays crunchy even in the fridge, but it would be fine either way.
Keywords: strawberry shortcake recipe, easy strawberry shortcake recipe, best strawberry shortcake recipe, strawberry shortcake cake recipe, strawberry shortcake recipe from scratch, homemade strawberry shortcake, no bake cake, no bake dessert, no bake dessert recipe, strawberry icebox cake
This post contains affiliate links.