June 4, 2014
Strawberry and Blueberry Cheesecake Icebox Cake
This Strawberry and Blueberry Cheesecake Icebox Cake has become a new family and friend favorite. It boasts a very simple list of ingredients and it's no bake, which are both big selling points in my book. And if your experience with it is anything like mine, you'll have people hounding you for the recipe.
I made this for Memorial Day. It was the perfect time to make it really – it will now serve double duty. A festive, holiday appropriate dessert – which doesn't often happen in a food blogger's home where holiday appropriate desserts are made a month or more in advance – that can still be posted for another upcoming holiday. Score!
I made it the night before Memorial Day while my mom was putting dinner together for that night (Sunday). That means I had my mom, dad, husband and sister all hovering to see what in the world I was making.
I saw the kind of questioning looks I was getting too. Like –
"She calls herself a food blogger? What is that? Surely that can't be very good."
I'd never made this before and had only ever seen it in my mind, so I won't lie, they started to make me question myself a bit.
I mean, I had two containers of golden oreos, two packages of cheesecake flavored pudding, whipped cream, strawberries and blueberries.
To the untrained baker (which is basically everyone in my family), it looks like a disaster waiting to happen. Like, what could I possibly make with those easy ingredients that could be that great?
To me though, it looked like the makings of sheer bliss.
Guess who was right. 🙂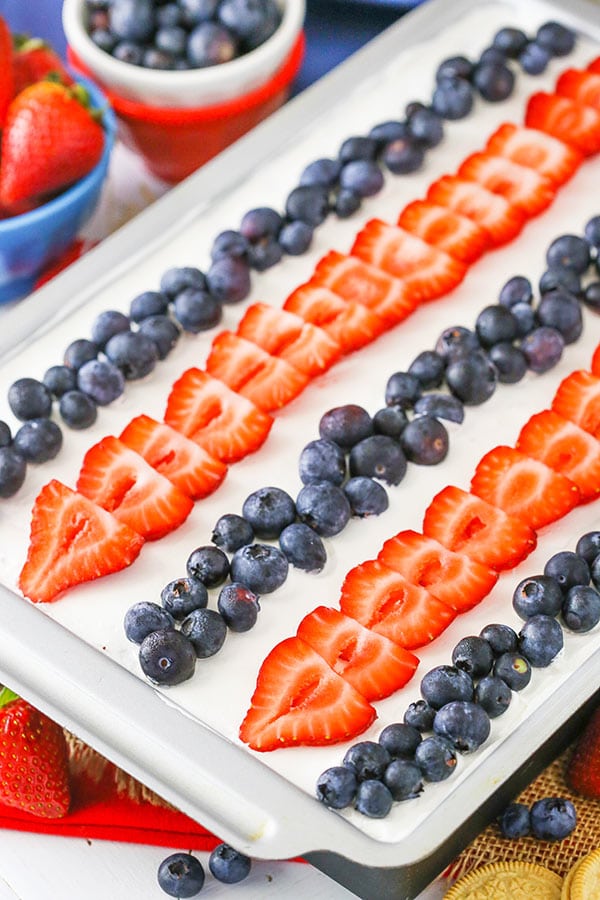 I got up the next morning while many were still sleeping and completely butchered the thing while taking pictures. That's another thing that always happens in a food blogger's home – you never get a dessert that doesn't already have a slice or bite or something taken out of it. You can't be offended easily. Fortunately, I've gotten pretty decent at putting things back together.
As my mom came down the stairs, I had finished with the photos, so I walked over to her with a forkful. I normally get the, "Not before my coffee!" but she didn't fight me.
And boy was she glad she didn't. Turns out it goes excellent with coffee! And it goes excellent with my mom too. Talk about a fan! 🙂
And then my sister, who will tell you any day of the week that she doesn't like sweets, tried it – and she loved it! Like really loved it! As the rest of our family came over later in the day, she and my mom kept telling everyone they had to try it.
Some friends were there too. They had it and loved it.
Now, they all want the recipe and no longer think I'm completely crazy. My fabulous-ness has been restored.
Well here it is! So easy that even my mom is willing to make it. 🙂
She has already declared that it will be served for the fourth of July and she made me promise to tell you that she said, "You HAVE to make it!"
Now that she has spoken, I'd say you better get on it. She can be scary when you don't listen to her. 🙂
Strawberry and Blueberry Cheesecake Icebox Cake
Yield:

16

-

20

Slices

1

x
Category:

Dessert

Method:

No Bake

Cuisine:

American
Ingredients
two

3.4 oz

packages cheesecake flavored pudding

4 1/2 cup

s (

1080

ml) milk, divided
two

15.25 oz

boxes golden Oreos

1

lb package strawberries, washed and sliced

1 pint

blueberries

12 oz

Cool Whip (or homemade whipped cream)
Instructions
1. Make both cheesecake flavored puddings according to directions on package, using 4 cups of the milk. Set aside.
2. Put remaining 1/2 cup milk into a small bowl.
3. Dip Oreos in milk quickly and then place into the bottom of a 9×13 pan, making a single layer.
4. Spread half of the cheesecake pudding on top of the Oreos.
5. Add a single layer of strawberry slices on top of the cheesecake pudding.
6. Spread half of the Cool Whip on top of the strawberries.
7. Dip remaining Oreos in milk quickly and place on top of the Cool Whip, in a single layer.
8. Top Oreos with remaining cheesecake pudding.
9. Add a layer of blueberries, reserving about 1/3 cup for the topping.
10. Top with remaining Cool Whip.
 11. Chop the remaining strawberry slices and add those and the remaining blueberries to the top of the cake.
12. Refrigerate for at least 4 hours or overnight.
Notes
If you'd like to use homemade whipped cream, I recommend 1 3/4 cup (420 ml) heavy whipping cream, 3/4 cup (86g) powdered sugar and 1 tsp vanilla extract.
Enjoy!

You might also like:
Strawberry and Blueberry Oatmeal Cheesecake Cookie Bars