This post may contain affiliate sales links. Please read my disclosure policy.
Funfetti Cake Batter Ice Cream Pie is made with homemade no churn ice cream and a layer of rainbow chip frosting. This no bake dessert is so delicious and easy to make!
If you like eating ice cream pie as much as I do, you should also check out my recipes for Chocolate Cherry Ice Cream Pie and Chocolate Chip Cookie Dough Ice Cream Pie.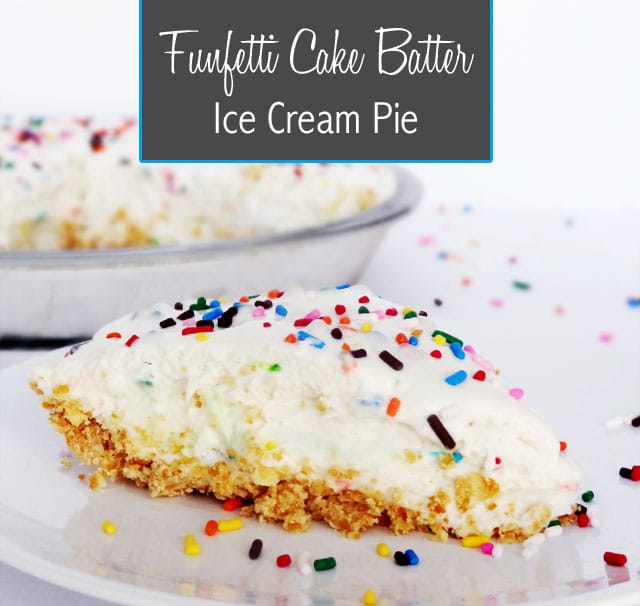 Funfetti Cake Batter Ice Cream Pie
So with all the awesome Funfetti and rainbow chip treats around our house right now, my scale has been getting a little mad at me. In an effort to not actually break the scale, I was working on my fitness at the gym this morning. Normally that's at about 5:30 in the morning. But today it was about 8:30 a.m.
I'm pretty lucky this week. I work for a smaller company and most of our people were going to be traveling to see clients this week, so I get to work from home for the week. Hence the later work out time. Rock on!
The only thing is, my husband just left his old job and starts a new job tomorrow. So this morning he was hanging around the house. He is one of those skinny people that can eat anything and never get fat. It's so not fair. Especially since I'm the one that loves all things unhealthy.
So I'm almost dying, I mean working out on the StairMaster and I get a phone call from him. I normally don't keep my phone with me when I work out, but I had forgotten my reading material (People mag) and I had my phone so that I could pin stuff on Pinterest with torturing myself on a machine.
So I answer, and he's checking to make sure his phone was working. It's new since he just left his job. Ok.
About 10 minutes later, another call.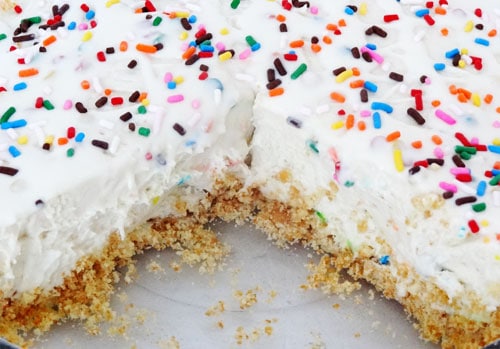 I don't really like to be bothered when I'm working out. I don't like to go to the gym with a friend. I'm actually working out. Not just looking pretty on a machine. Which means I can't really talk. I'm breathing heavily here!
So I answer, sounding somewhat annoyed. And half dead.
"Hey, what's up?"
I hear nothing. I check again to make sure.
"Hello? You there?"
Nothing. So I hang up and call him back to see what he needs. It must be important if he's calling twice during my work out.
"Hey babe! What's up?" he says.
"Just on the StairMaster," I say, not so thrilled.
"Ok, never mind."
"What babe?"
"Nothing, don't worry about it"
"Come on. You've gone through the trouble of calling and now me calling you back. What is it?"
"Can you pick me up an Egg McMuffin on the way home?"
Silence.
"Yea, ok. Bye."
Seriously?!? I'm workin' on my fitness here and you are bugging me for an Egg McMuffin. Stupid, skinny husband. 🙂
Not really, I love him.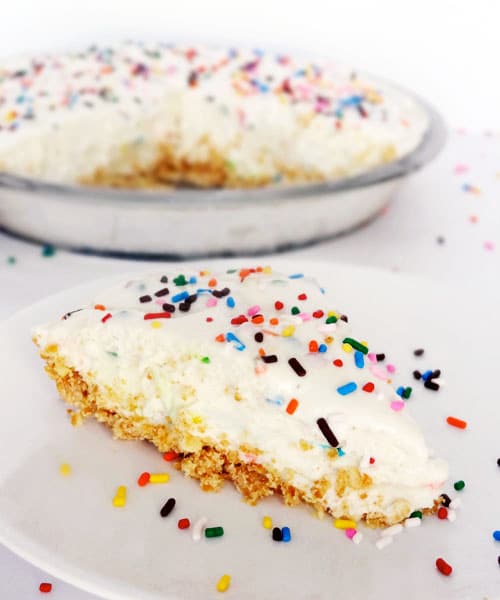 Anyways, back to the reason I'm in this predicament – Funfetti Week!
Today's recipe is AWESOME. Especially if you're more into ice cream than you are cake. Funfetti Cake Batter Ice Cream Pie – with ribbons of rainbow chip icing, of course.
And my husband went pretty crazy over it! It truly tastes like Funfetti cake, but in ice cream form.
I tried to give some of it away to our neighbors because – let's face it – I need to not eat it. But he freaked out. He did not want to share. Now I'm the one working overtime at the gym.
Oh well, it's just one week. 🙂
Print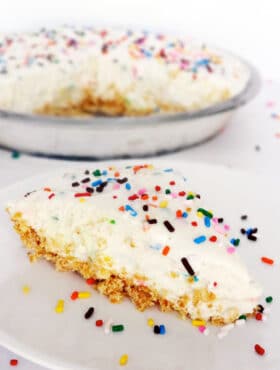 Recipe
Funfetti Cake Batter Ice Cream Pie
Author:

Prep Time:

40 Mins

Total Time:

40 minutes

Yield:

10

-

12

Slices

1

x

Category:

Dessert

Method:

No Bake

Cuisine:

American
---
Description
Funfetti Cake Batter Ice Cream Pie is made with homemade no churn ice cream and a layer of rainbow chip frosting. This no bake dessert is so delicious and easy to make!
---
Scale
Ingredients
CRUST
32

nilla wafers (About

1 cup

)

1/4 cup

butter (melted)
FILLING
1/4 cup

milk +

6 tbsp

1 3/4 cup

cake mix, toasted

8 oz

cream cheese, softened

1/2 cup

sugar

8 oz

Cool Whip, thawed

1

can rainbow chip icing

1

–

2

tbsp sprinkles
---
Instructions
CRUST:
1. Crush the nilla wafers into a fine crumb.
2. Mix the nilla wafer crumbs with the melted butter.
3. Press into the bottom of a greased 9 or 10 inch pie pan. Press the crumbs up the sides as much as it will go. Set in the freezer while you make the filling.
FILLING:
1. Mix cake mix and 6 tbsp of milk together. It will be thick.
2. Mix the cream cheese, milk, cake mix mixture and sugar together with an electric mixer. Mix until smooth.
3. Gently fold in Cool Whip.
4. Remove pie crust from freezer and add half of the pie filling into the crust.
5. Add a layer of rainbow chip icing.
6. Add the remaining pie filling.
7. Heat about 1/4 cup rainbow chip icing for about 5-7 seconds, until pourable.
8. Pour rainbow chip icing over top of pie and add sprinkles.
9. Freeze overnight.
---
Keywords: funfetti cake mix recipes, recipes with funfetti cake mix, cake mix desserts, Ice cream pie, ice cream pie recipe, recipe for ice cream pie, no bake pie, no bake pie recipes, no bake desserts, easy no bake dessert
Enjoy!
Modified from Sally's Baking Addiction Skinny Frozen Mint Chocolate Chip Pie
More Funfetti Recipes You Might Like:
Funfetti Cake Batter French Toast Casserole {With Rainbow Chip Icing}
Funfetti Cake Batter Rice Krispie Treats with Rainbow Chip Icing and White Chocolate
Funfetti Cake Batter Cinnamon Roll Casserole {With Rainbow Chip Icing}
Funfetti Cake Batter Pancakes with Rainbow Chip Icing Syrup
Funfetti Cake Batter Blondies with Rainbow Chip Icing Syrup