April 1, 2015
Strawberry Ice Cream Cake
This Strawberry Ice Cream Cake is so delicious and perfect for spring and summer! The vanilla cake is so soft and light, and the strawberry ice cream is creamy and so strawberry-y! With the beautiful strawberries on top and around the edge to finish it off, I'm in love.
Fruit is kind of like nature's art. I mean think about it. Fruit, for the most part, is beautiful. It's so colorful. It comes in so many shapes and sizes. You can file it onto a cake and call it decorated. Beautiful.
Plus, it delicious. If there's anything better than outer beauty, it's inner beauty. And inside most fruit, you find sweet delicious-ness. Double the beautiful.
I'm poetic, I know.
But seriously. I love decorating cakes and sweets with fruit. It's the easiest way to make a beautiful dessert that just screams fun and life. Fruit makes me happy and so does this Strawberry Ice Cream Cake.
Plus, it's pink inside.
The ice cream base recipe is my favorite to use for ice cream cakes. It requires no ice cream machine and is thick even before freezing, which allows you to stack the ice cream cake without having to freeze the ice cream first, speeding up the process. It's delicious and people always think it's store bought ice cream. The main ingredients are cream cheese and whipped cream (I used Cool Whip) and you'd never know it. You can't taste the cream cheese, but it adds a great creaminess.
The cake layers are made first, then the ice cream, then it's all stacked together and frozen.
You'll want to bake the cakes in 8 inch pans. If you have a springform pan, that'd be helpful. I don't, so I use regular 8×3 inch pans. When it's time to put everything together, I use the same 8×3 inch pan so that I have taller sides. I line the pan first with clear wrap that extends up the sides of the pan, which is used to lift the cake out of the pan once it's frozen.
Then add a cardboard cake circle for the cake to rest on and wrap parchment paper around the inside edges of the pan, which also extend 1-2 inches above the top edge of the pan. The fully cake will be taller than the pan, so the parchment paper extends the sides of the pan, allowing you to stack the cake.

MY OTHER RECIPES
Place the first layer of cake in the pan. Then, before adding the ice cream, place thin slices of strawberries around the outer edge of the cake. They should be standing up and resting on the sides of the cake pan. They should line up with the first/bottom layer of cake you just added. Once that's done, spoon the ice cream onto the cake and spread into an even layer, keeping the strawberries in place. Top the ice cream with the second layer of cake and freeze it. I usually leave it overnight.
Once it's frozen, use the clear wrap to lift it out of the pan and place it on your cake plate. Top it with whipped cream (homemade or Cool Whip) and top it off with strawberries. You can just pile them on, or make them into kind of a strawberry flower like I did. Nature's art, I tell you. 😉 I started with the outside circle of strawberry slices and worked my way in the to center.
This cake is seriously to die for. The cake is soft and delicious and the ice cream is so creamy and full of strawberry flavor.
To give the ice cream that great strawberry flavor, I actually used some homemade strawberry pie filling. It's made on the stove prior to adding to the ice cream base. I tried to make the ice cream without the extra step of making the pie filling, but if you use straight strawberry puree, you get an ice-y ice cream and you don't want that. Not as tasty. But done the right way, this ice cream is so creamy and irresistible. Hard to put the fork down and walk away.
So if you love strawberry, like I do, and you want to make tasty nature art, be sure to make this beautiful and fun Strawberry Ice Cream Cake. 😉
Strawberry Ice Cream Cake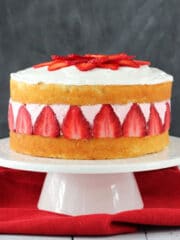 Yield:

12-14 Servings

Category:

Dessert

Method:

Oven

Cuisine:

American
Ingredients
CAKE LAYERS
1 2/3 cups all purpose flour
1 cup sugar
1 1/2 tsp baking powder
3/4 cup butter, room temperature
3 egg whites
1 tbsp vanilla extract
1/2 cup sour cream
1/2 cup milk
STRAWBERRY PIE FILLING 
1/2 cup strawberry puree
2 1/2 tbsp water
1/4 cup sugar
1 tbsp cornstarch
ICE CREAM
8 oz cream cheese, room temperature
1/2 cup sugar
2 tbsp milk
1/2 tsp vanilla extract
1 tsp strawberry extract
1/2 cup homemade strawberry pie filling, recipe above
8 oz Cool Whip (or homemade whipped cream)
2-4 drops red food color
strawberry slices, for edge
TOPPING
4 oz of Cool Whip
strawberry slices
NOTE: You'll need one full 16 oz package of strawberries. You could need a second package, depending on the number of strawberries and sizes. If you want to make sure you have nice looking strawberries for the sides and top, I'd recommend a second package so that you can pick and choose the nicest ones.
Instructions
NOTE: An 8-inch springform pan is best for this recipe so that you can easily remove the cake once it's been assembled. If you do not have a springform pan, line your pan with clear wrap before adding your parchment paper and cake board. You can use the clear warp to lift your cake out of the pan once it's assembled and frozen.
MAKE THE CAKE LAYERS:
1. Preheat oven to 350 degrees.
2. Grease two 8 inch cake pans (preferably springform pans, see above) and line the bottoms with parchment paper.
3. Whisk together flour, sugar and baking powder in a large mixing bowl.
4. Add butter, egg whites, vanilla extract, sour cream and milk and mix on medium speed until smooth.
5. Split batter evenly between the two cake pans.
6. Bake 19-21 minutes or until a toothpick comes out with a just a few crumbs.
7. Allow to cool for 3-5 minutes, then remove to cooling rack to finish cooling.
8. Once cooled, level the cake by removing the dome from the top of the cake using a large serrated knife.
ONCE CAKE HAS COOLED, MAKE THE STRAWBERRY PIE FILLING AND ICE CREAM:
1. Add water to strawberry puree.
2. Combine sugar and cornstarch in a saucepan. Stir in strawberry puree.
3. Cook over medium heat, stirring constantly until mixture thickens and comes to a boil, about 15 to 20 minutes.
4. Allow to boil for 1 minute, then remove from heat.
5. Allow to cool for about 5 minutes.
6. Once pie filling has cooled, mix cream cheese, sugar, milk, vanilla extract, strawberry extract and pie filling together until well combined.
7. Fold in the Cool Whip and red food color.
ASSEMBLING IT ALL:
1. Line the sides of an 8-inch springform pan with parchment paper. The parchment paper should stick up above the top edge of the pan, since the cake will probably be a little taller than your pan. Put a cardboard cake circle in the bottom of the pan. If not using a springform pan, you can put some plastic wrap in the bottom of the pan and up the sides and use it to lift the cake out of the pan when it's done.
NOTE: You should be using the same 8-inch pan you used for the cake. Not all 8-inch pans are exactly the same size. Your cake needs to fit in this pan.
2. Put the first cake layer in the bottom of your pan.
3. Place thinly slice strawberries around the outer edge of the cake. They should be standing up, leaning against the sides of the cake pan, in line the out edge of the bottom cake layer.
4. Spoon the ice cream on top of the cake and spread into an even layer, keeping the strawberries in place.
5. Top ice cream with the second layer of cake.
6. Allow ice cream cake to freeze completely, 6-8 hours.
7. When frozen, remove from springform pan and remove parchment paper from sides. OR lift cake out of pan using clear wrap and remove parchment paper from side. Place cake on cake plate.
8. Top cake with additional Cool Whip and sliced strawberries. To make the flower pattern shown in the pictures, start by creating the outer circle of strawberries, then work your way into the center one circle at a time, with each one overlapping the previous one a bit.
9. Freeze until ready to serve. Best after 3-5 days.
Enjoy!

Recipes from friends:
Strawberry Tart from Grandbaby Cakes
Glazed Strawberry Bread from Sally's Baking Addiction
Strawberry Rhubarb Crisp from Well Plated
You might also like:
Strawberry Shortcake Cheesecake