This Hot Fudge Swirl Ice Cream Cake is a wonderful blend of rich chococlate cake and no-churn ice cream! Chocolate and vanilla come together perfectly for this classic frozen dessert!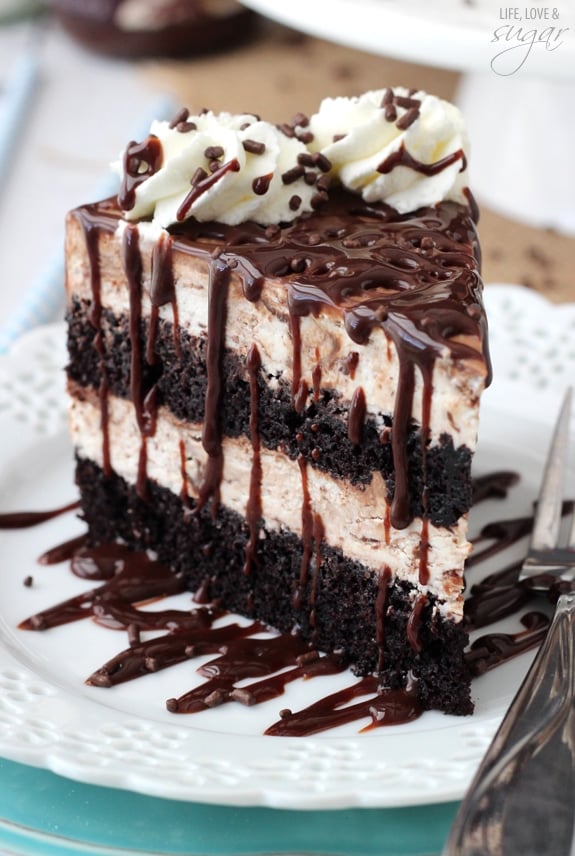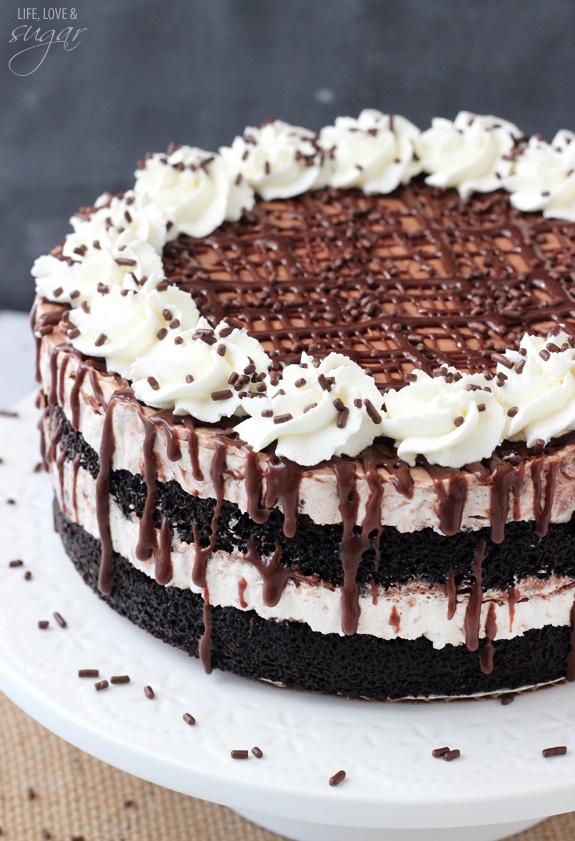 Hot Fudge Swirl Ice Cream Cake
Last night I had dinner with my dad and older brother's family. We got on the subject on birthdays, as my dad's birthday is Sunday and my nieces' birthdays are coming up soon. My nieces will be 8 and 10.
Naturally, I'm the designated cake maker so I asked them what they were considering for their cakes this year. Last year one had my chocolate cake and the other my carrot cake.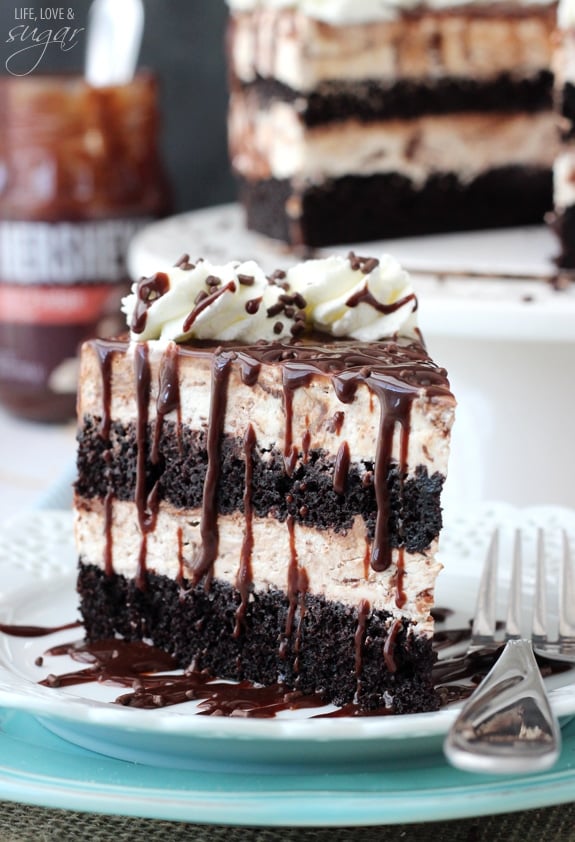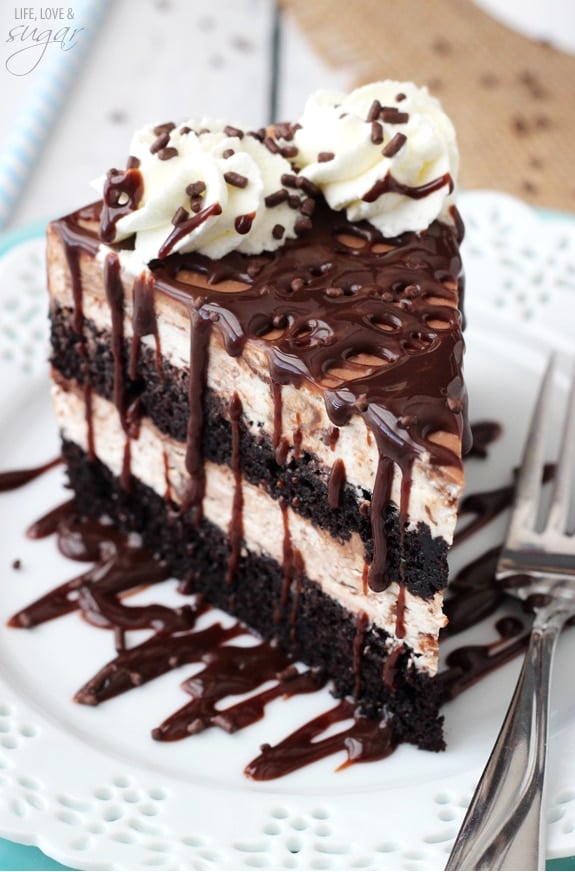 The younger one always comes up with the craziest stuff and has requested a red jello mermaid – covered in chocolate icing.
I couldn't help but laugh. 🙂
I think we might be able to talk her out of the icing, but it looks like I'm going to need a mermaid mold.
The older one wants my cookie cake, covered in all the sports she plays – lacrosse, basketball, tennis, swimming and one other…I forgot. Gonna have to write them all down…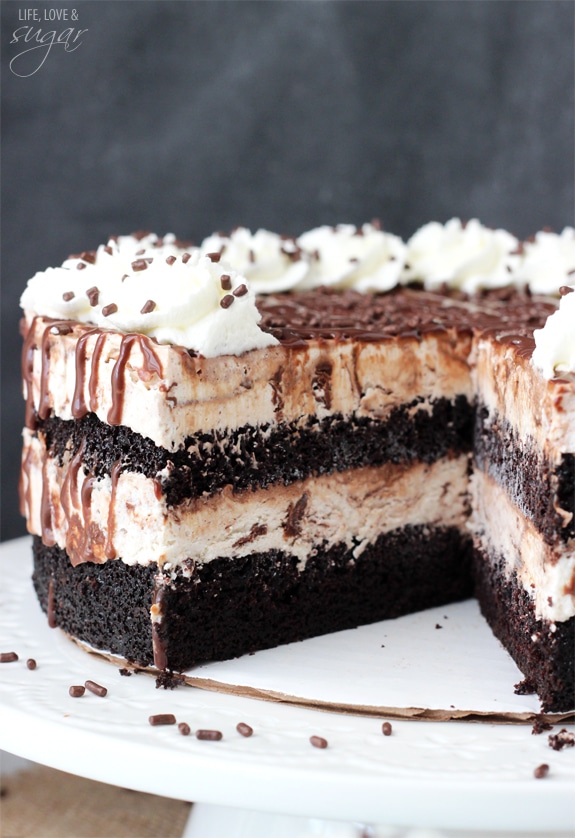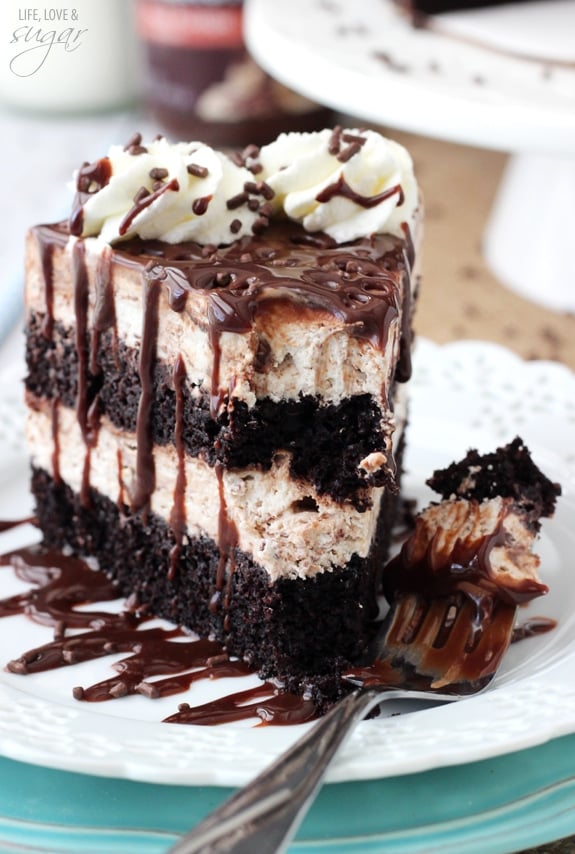 My sister in law asked how big we could make it. I have quite a few sizes of cake pans, since I've made some big layered cakes, so I said however big you want. To which my niece said, "Gimme the biggest one you got!" with a big ol' smile.
I think it's going to be a 14 incher. That's a big cookie cake.
Her birthday isn't until September, so I have some time. I'll be sure to instagram that monster. 🙂
This ice cream cake actually served as a birthday cake for a kid in one of the hubs' tennis camps when I made it a few weeks ago. He saw it and knows I give stuff away as soon as I can (so I don't eat it all), so he quickly claimed it for his kids. Of course, there was one slice missing. #husbandofafoodbloggerproblems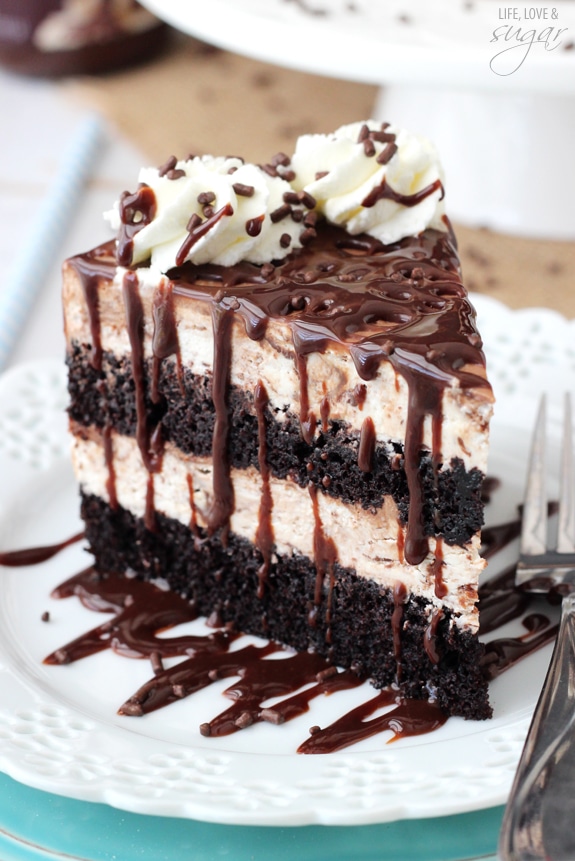 It was a big hit! It appears to be the hubs' new fave. He gets a little leary of all the extra add-ins and over the top stuff. Some of the classics, like my chocolate chip cookies, and now this ice cream cake are his favorites.
I guess that makes us a good pair. He prefers simple, I like over the top (Peanut Butter Cookie Dough Brownie Layer Cake), full of awesome flavor (Baklava Poke Cake), piled high with awesomeness (Snickers Cheesecake).
So today I went a little more on the classic side, but have no fear. Next week, I have one crazy, over the top treat coming your way. And I can't wait!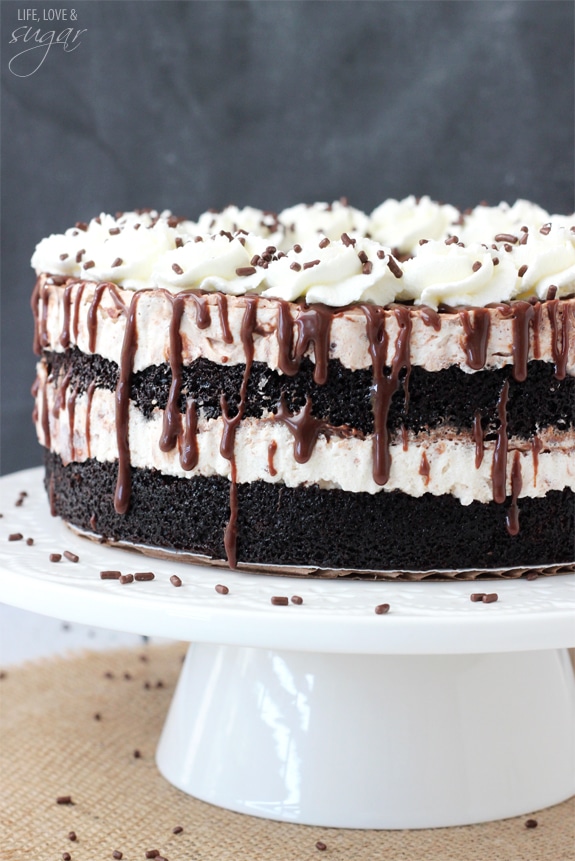 In the meantime, this ice cream cake is perfect for the summer that is winding down. It's actually been in the 60s here a few mornings this week. Crazy!
You might also like
Chocolate Chip Cookie Dough Ice Cream Cake
Black Forest Ice Cream Cake
Oreo Cookies and Cream Ice Cream Cake
Snickers Peanut Butter Brownie Ice Cream Cake
Best Chocolate Cake
Best Chocolate Ice Cream
Shop the recipe

Print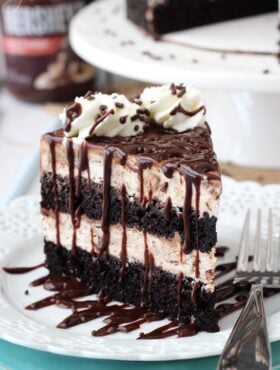 Recipe
Hot Fudge Swirl Ice Cream Cake
Author:

Prep Time:

35 minutes

Cook Time:

25 minutes

Total Time:

1 hour

Yield:

12-14 Slices

Category:

Dessert

Method:

Oven

Cuisine:

American
---
Description
This Hot Fudge Swirl Ice Cream Cake is a wonderful blend of rich chococlate cake and no-churn ice cream! Chocolate and vanilla come together perfectly for this classic frozen dessert!
---
Ingredients
CHOCOLATE CAKE
1 cup

flour

1 cup

sugar

1/4

+

1/8 cup

Hershey's Special Dark Cocoa powder

1 tsp

baking soda

1

large egg

1/2 cup

buttermilk

1/2 cup

vegetable oil

3/4 tsp

vanilla

1/2 cup

boiling water
VANILLA ICE CREAM
8 oz

cream cheese, softened

1/2 cup

sugar

1/8 cup

milk

2 tsp

vanilla extract

8 oz

Cool Whip (OR

1

recipe of homemade whipped cream)

1/4

–

1/2

cup mini chocolate chips, optional

1 cup

 hot fudge
TOPPING
Additional Hot Fudge, if desired
---
Instructions
NOTE: 8-inch springform pans are best for this recipe so that you can easily remove the cake once it's been assembled. If you do not have a springform pan, line your pan with clear wrap before adding your parchment paper and cake board. You can use the clear warp to lift your cake out of the pan once it's assembled and frozen. You want to make your cake layers in the same pan you'll use for layering the ice cream and cake together so that they cake layers fit in the final pan you use for layering.
CHOCOLATE CAKE: 
1. Preheat oven to 300 degrees
2. Put all dry ingredients in a large bowl and whisk together.
3. Add eggs, buttermilk and vegetable oil to the dry ingredients and mix until smooth.
4. Add vanilla to boiling water and add to mixture.
5. Mix at medium speed until smooth.
6. Pour into 2 8-inch pans and bake 25-30 minutes.
7. Remove from oven and let cool for 5-10 minutes in pans, then remove to cooling rack to finish cooling.
8. Once cooled, cut off cake domes with a long serrated knife. You don't have to do this step, but it will give you more even layers.
VANILLA ICE CREAM:
1. Once the cake has cooled, make the ice cream. Combine cream cheese, sugar, milk and vanilla together in the bowl of a stand mixer, or with a hand mixer. Mix until completely combined.
2. Fold in the cool whip and mini chocolate chips.
3. Lightly fold in 1/2 cup hot fudge. Don't let it mix into the cream cheese mixture too much, or it'll be chocolate ice cream.
ASSEMBLING IT ALL:
1. Line the sides of an 8-inch springform pan with parchment paper. The parchment paper should stick up above the top edge of the pan, since the cake will probably be a little taller than your pan. If you want, put a cardboard cake circle in the bottom of the pan.
NOTE: You should be using the same 8-inch pan you used for the cake. Not all 8-inch pans are exactly the same size. Your cake needs to fit in this pan.
2. Put the first cake layer in the bottom of your pan.
3. Top with half of the ice cream.
4. Add 1/4 cup of hot fudge and gently work it into the vanilla ice cream to create more of a swirl.
5. Add second cake to the pan.
6. Top with remaining ice cream.
7. Add remaining 1/4 cup of hot fudge and gently work it into the vanilla ice cream again to create a swirl.
8. Allow ice cream cake to freeze completely, 6-8 hours.
9. When frozen, remove from springform pan and remove parchment paper from sides.
8. Drizzle with additional hot fudge sauce and top with whipped cream.
---
Nutrition
Serving Size:

1 Slice

Calories:

496

Sugar:

46.6 g

Sodium:

319.1 mg

Fat:

23.5 g

Carbohydrates:

67.5 g

Protein:

6.2 g

Cholesterol:

34.7 mg
Keywords: hot fudge cake, fudge cake, best ice cream cake, chocolate ice cream cake, ice cream cake recipe, homemade ice cream cake, how to make ice cream cake
Enjoy!
This post contains affiliate links.
This post may contain affiliate sales links. Please read my disclosure policy.