This Cake Batter Fudge Brownie Ice Cream Cake combines many of my favorite things – funfetti cake batter, brownies, fudge sauce and ice cream! It's a wonderful combination of flavors and textures.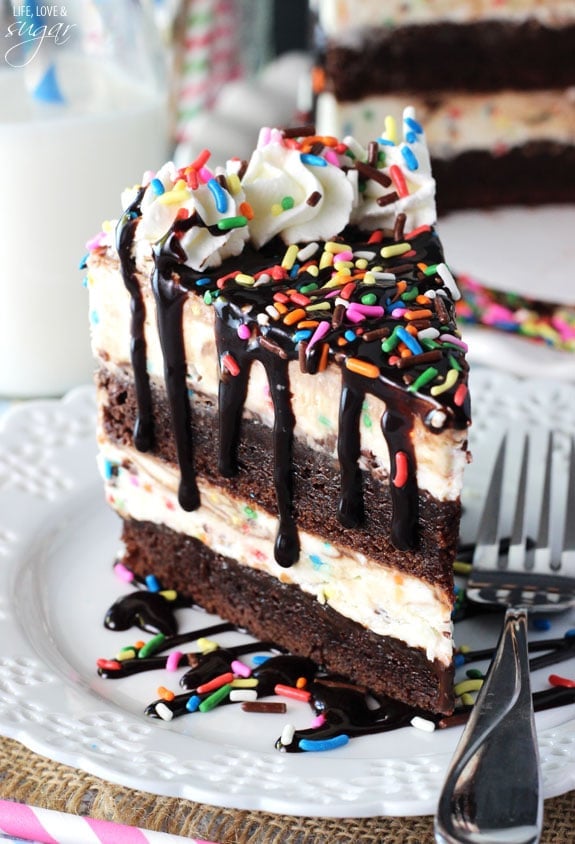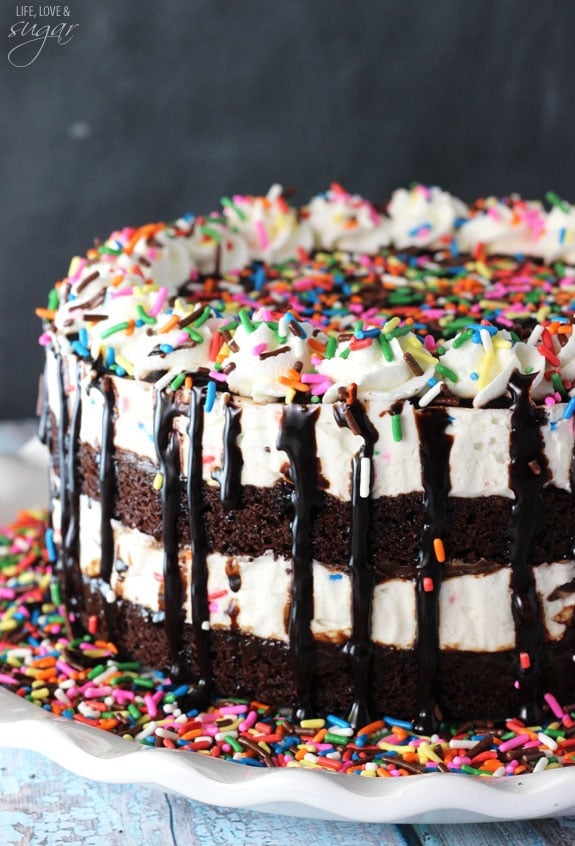 Cake Batter Fudge Brownie Ice Cream Cake
So the hubs and I contacted a fence company about installing a fence for Jessie back near the beginning of December. We'd hoped to have it installed by Christmas, when we had 5 dogs staying at our house, but it didn't happen. They were definitely on the slow side and we've had a fair amount of rain over the last few weeks.
Well when we left for Miami last Friday, they'd still only put the fence posts up. We've been really ready for it to be done so that we can stop thinking about it and let Jessie use it. She's had an electric fence since we got her, but she's kind of gotten used to the fact that she can get out. We've left the collar off a few times we she got out and she now assumes she can come and go.
So before we'd even left, we started wondering and hoping that we'd arrive home to a finished fence. On Monday, it came up about 100 billion times as we got ready to fly home. We even decided to place bets on whether it was done or not.
Of course then the hubs got nervous about if he'd win or not. Next thing I knew, he was telling me that if we both were wrong (I said it'd be done, he said they'd done more work but it still wasn't done) and they'd done nothing else, that it meant we both would get the things we bet for.
We proceeded to argue about how betting works.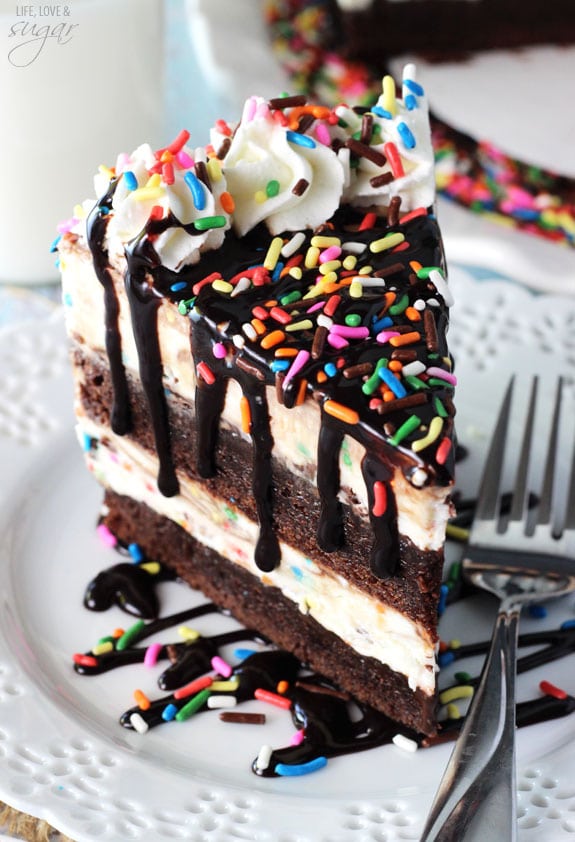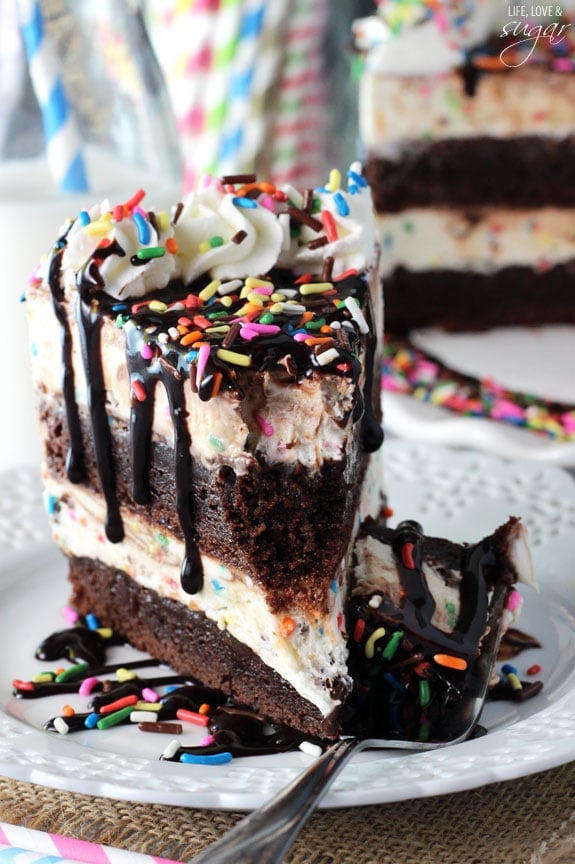 Correct me if I'm wrong, but if both people lose, don't they both lose out on what they bet for? As in nobody wins, so nobody gets a prize? I'm quite sure I'm right, but it was fun to argue.
It didn't matter anyways, because he won fair and square. They'd done more work, but not finished. However, they came yesterday and after more than a month, it's finally done! YAY!
Now we have to wait 30 days and the hubs gets to stain the wood.
Notice how I said the hubs will stain it? I'm am so not interested in that job. 🙂
I am interested in this cake however. Especially eating it.
If you've made any of my other ice cream cakes (and there are many), then you know that they aren't hard, but there are a few steps.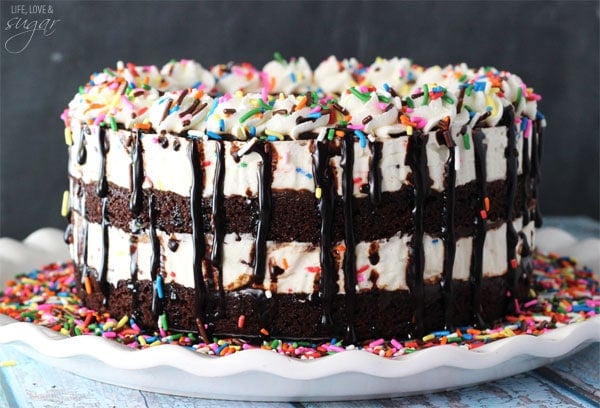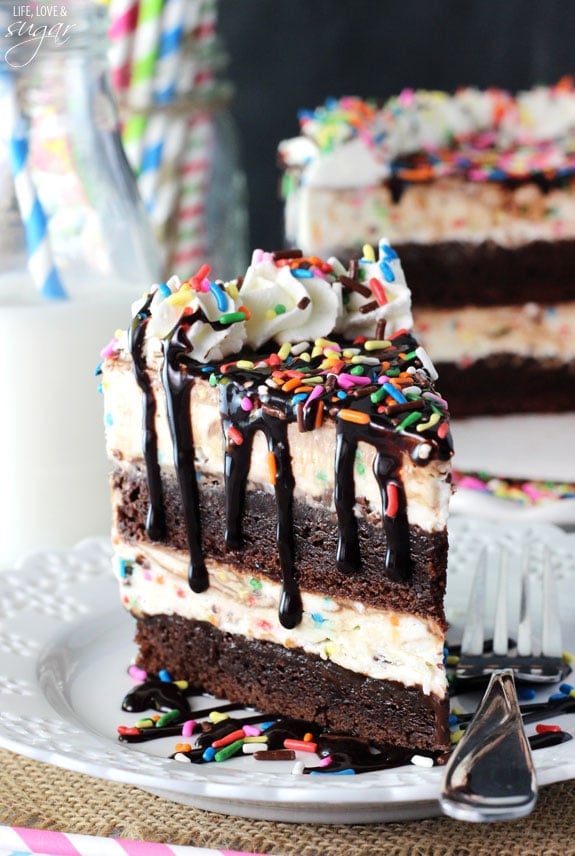 How to Make This Yummy Cake
I start out with a box brownie mix. You could make your own from scratch, but I choose not to complicate things. I get the box that's big enough for a 9×13 pan, since you'll need two 8 inch brownies. The bigger the box, the better really. More brownie could never be a bad thing.
Once the brownies are made and cooled (and there are some notes below about the pan you use to bake them – important notes), you'll make the ice cream. One of the things I love about the ice cream recipe is that it doesn't use an ice cream machine. It's great for a number of reasons.
1. It's so easy and there's no waiting for the ice cream to freeze before you can add it to the cake. It's thick on it's own and great for layering with the brownies.
2. Despite being oh-so-easy, it's also delicious and nobody ever knows that it's not store-bought or traditionally made. I've had people ask before about the cream cheese, and trust me, you don't even taste it.
Once the ice cream is made, everything is layered together and frozen. It's really quite simple.
I like to line my pan with some clear wrap (I use the the new Saran Wrap Press and Seal because it's thick and strong) and use that to lift the frozen cake out of my pan when it's ready. Then I add more chocolate sauce, whipped cream and sprinkles. Of course, if you have a springform pan, that works even better and eliminates the need for the clear wrap. There's more about that in the notes for the recipe.
I love the smooth, creamy cake batter ice cream paired with the chewy brownies. I've always loved brownies in my ice cream, so I absolutely love it as layers in an ice cream cake. And of course I'm obsessed with cake batter.
This Cake Batter Fudge Brownie Ice Cream Cake is definitely my new fave!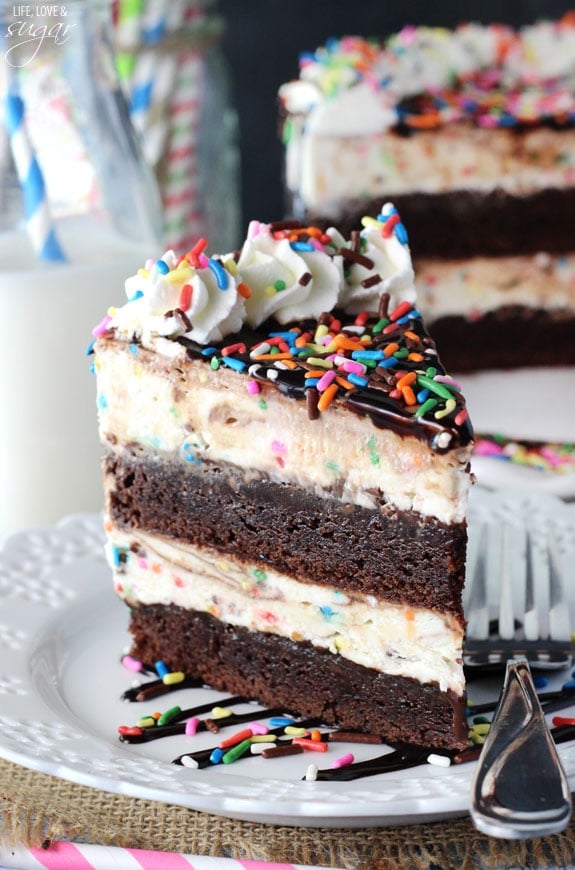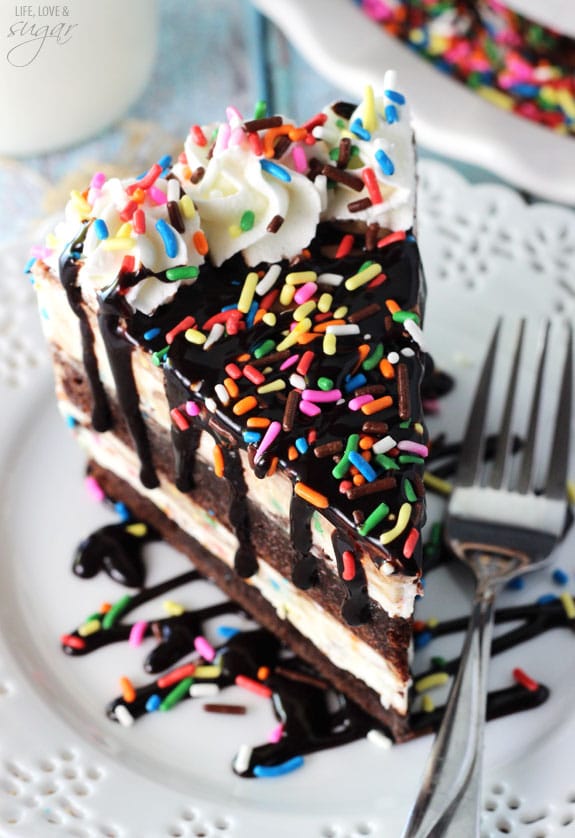 You might also like
Red, White and Blue Ice Cream Cake
Oatmeal Chocolate Chip Cookie Ice Cream Cake
Oreo Brookie Ice Cream Cake
Banana Pudding Ice Cream Cake
Red Velvet Ice Cream Cake
Key Lime Ice Cream Loaf

Print
Recipe
Cake Batter Fudge Brownie Ice Cream Cake
Author:

Prep Time:

20 minutes

Cook Time:

20 minutes

Total Time:

40 minutes

Yield:

14

Category:

Dessert

Method:

Oven

Cuisine:

American
---
Description
This Cake Batter Fudge Brownie Ice Cream Cake combines all of your favorite treats into one glorious dessert! Layers of chewy brownie and creamy cake batter ice cream are topped with hot fudge sauce, whipped cream and sprinkles.
---
Ingredients
18.4 oz

box brownie mix (or similar size), plus ingredients listed on box

8 oz

cream cheese, softened

1/2 cup

sugar

1/2 cup

milk

1 3/4 cup

dry funfetti cake mix, toasted

8 oz

Cool Whip

5 tbsp

sprinkles

1/2 cup

+

4 tbsp

hot fudge sauce
---
Instructions
Make the Brownies
Make brownie batter according to instructions on back of box.
Grease two 8-inch pans (preferably springform pans, see above) and line the bottoms with parchment paper to allow for easy removal. Bake at temperature on box, reducing baking time to about 20 minutes.
When brownies are done baking, allow to completely cool.
Make the Cake Batter Ice Cream
Once the cake has cooled, make the ice cream. Beat cream cheese until smooth.
Add sugar, milk and cake mix to cream cheese and mix until completely combined. Mixture will be thick and sticky.
Fold in the cool whip and sprinkles. Mixture will be thick.
Assemble the Cake
Line the sides of an 8-inch springform pan with parchment paper. The parchment paper should stick up above the top edge of the pan, since the cake will probably be a little taller than your pan. If you want, put a cardboard cake circle in the bottom of the pan. If not using a springform pan, you pan put some plastic wrap in the bottom of the pan and up the sides and use it to lift the cake out of the pan when it's done. You should be using the same 8-inch pan you used for the cake. Not all 8-inch pans are exactly the same size. Your cake needs to fit in this pan.
Put the first brownie layer in the bottom of your pan.
Spread 1/4 cup of hot fudge sauce on top of the brownie.
Add half of the ice cream and spread into an even layer.
Drizzle 2 tbsp of hot fudge over ice cream and gently work it into the ice cream to create a little of a swirl.
Add second brownie to the pan.
Spread 1/4 cup of hot fudge sauce on top of the brownie.
Top with remaining ice cream.
Add remaining 2 tbsp of hot fudge and gently work it into the ice cream to create a little swirl.
Allow ice cream cake to freeze completely, 6-8 hours.
When frozen, remove from springform pan and remove parchment paper from sides.
Drizzle with additional hot fudge sauce and top with whipped cream and sprinkles.
---
Notes
Makes 12-14 servings.
To Store: Keep this cake frozen in an airtight container for up to 2 weeks. Let it sit at room temperature for 15 minutes before you slice it. This allows the brownies to soften up a bit, making it easier to cut through.
Nutrition
Serving Size:

1 Slice

Calories:

465

Sugar:

40.9 g

Sodium:

285.9 mg

Fat:

25.6 g

Carbohydrates:

59.6 g

Protein:

5.1 g

Cholesterol:

43.2 mg
Keywords: cake batter ice cream, how make ice cream cake, brownies with ice cream
Enjoy!

This post may contain affiliate sales links. Please read my disclosure policy.