This post may contain affiliate sales links. Please read my disclosure policy.
This Banana Pudding Ice Cream Cake is what my dreams are made of! Moist vanilla cake is paired with smooth banana pudding ice cream, and then stuffed with chunks of banana and vanilla wafer! A banana lover's ultimate vice.
Want to try some more easy ice cream cake recipes? Take a peek at this Homemade Ice Cream Cake Recipe and this Copycat Dairy Queen Ice Cream Cake!
Banana Pudding Ice Cream Cake
So here's a little fact about me: I would consider myself an introvert. Some may be surprised to hear that, but it's true. With some people that isn't always the case – I kind of feel like food bloggers are "my people" so it can be less true with them – but generally speaking, it's true. Put me in a room of strangers and I usually want to retreat. My fear of rejection is real.
I tell you this as a preface to a story.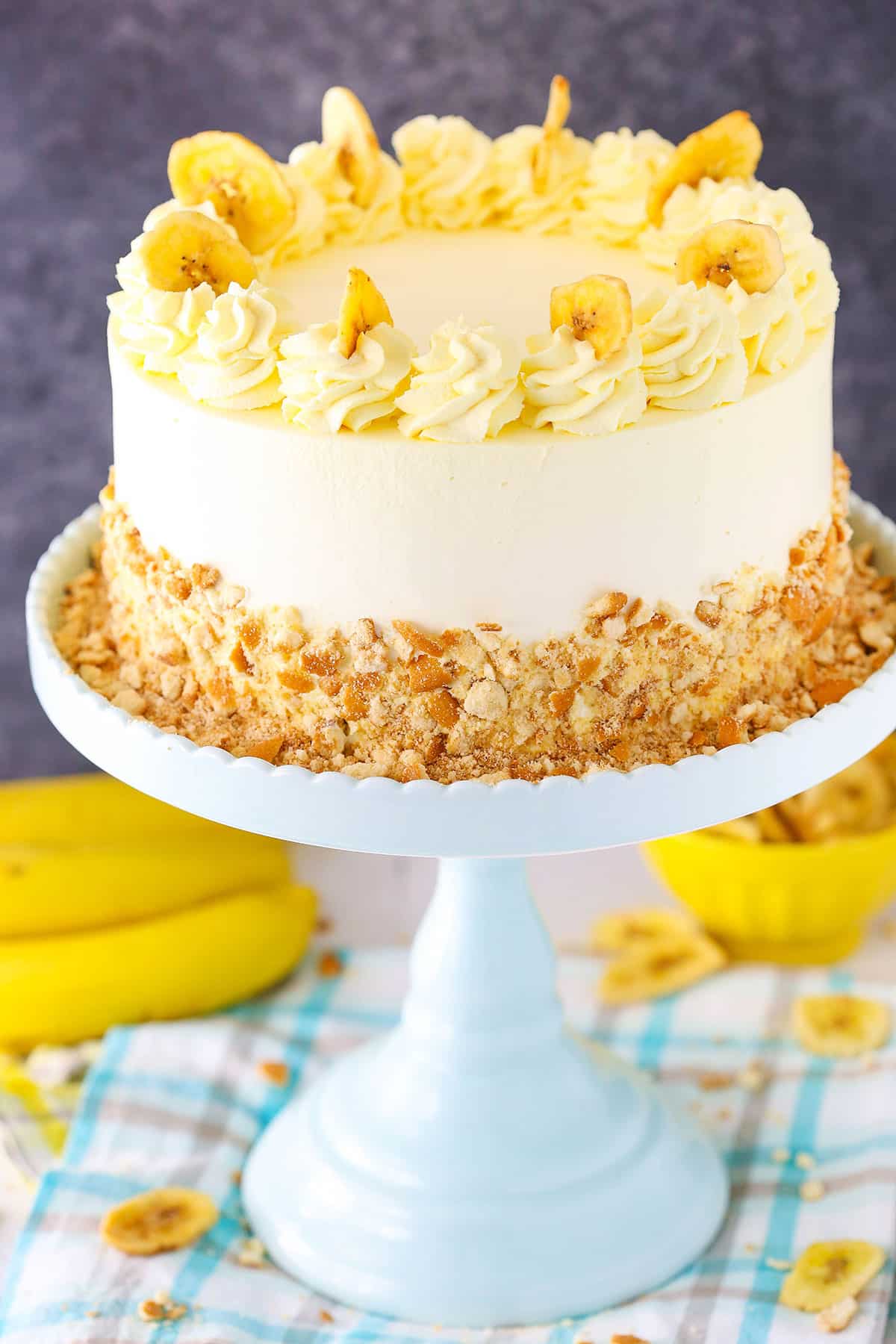 So a few weeks ago I walked into the gym like usual. Book in hand (I typically read while doing cardio), heading to the locker room to store my things. When I was putting things in a locker, I set my book down on the bench. It was called, "Following God With All Your Heart", by Elizabeth George. I'm a big fan of her books, by the way. Anyway, the woman standing near me, a couple lockers down, noticed the title and said, "That looks like a good book." I was just starting the book that morning, so not really knowing if it's a good book or not yet, I said, "I hope so!" 🙂
I went on about my workout and kept feeling this strong feeling like I should've said more. Like maybe she was interested in reading a great book about following God and I'd totally missed an opportunity. Truth is, even though I didn't know about this book, one of my very favorites from the same author is called, "A Woman After God's Own Heart". Such a great book! And if someone was looking for something along these lines, that is definitely the one I recommend.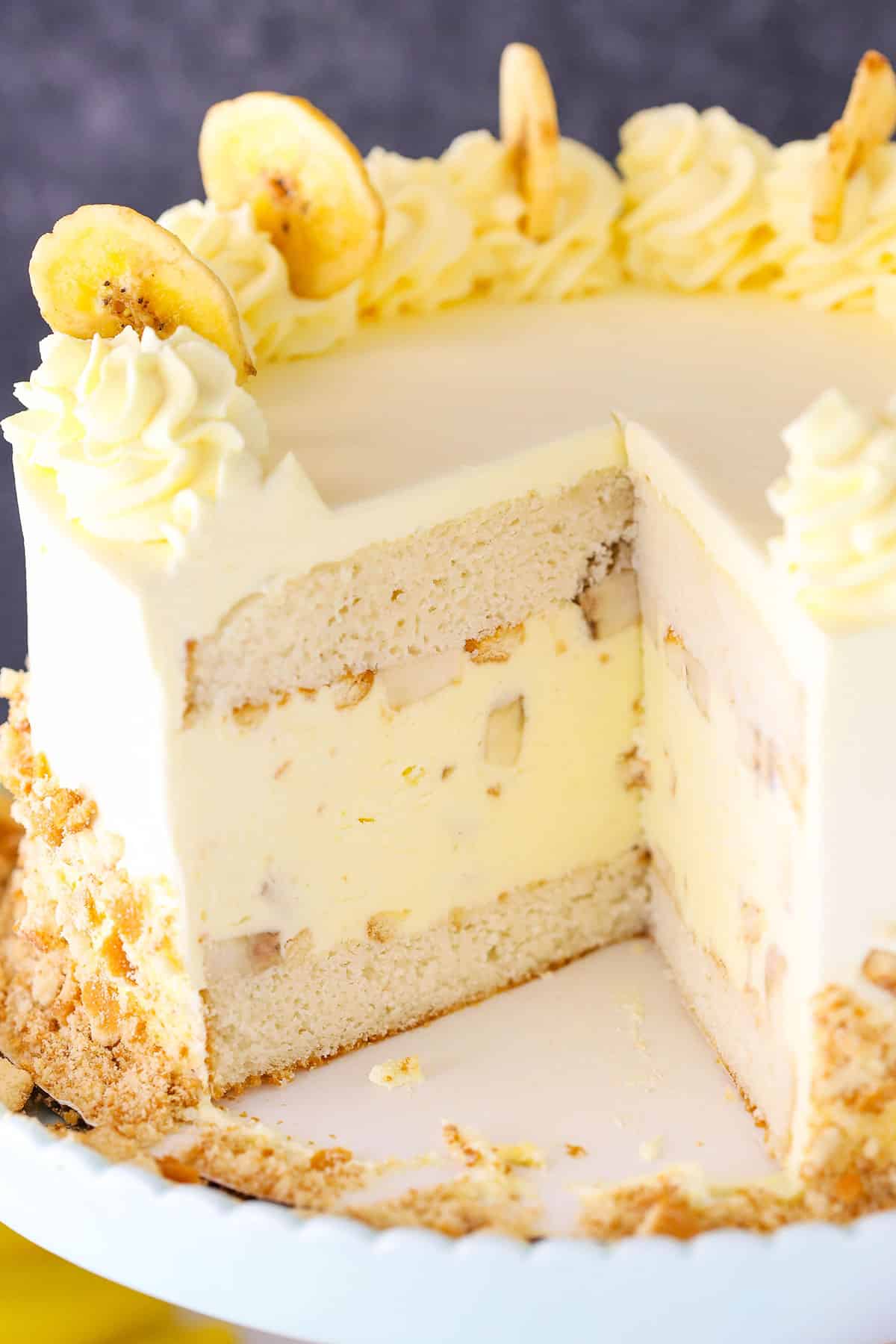 So I kept working out and when I was on one of my usual weight machines, I looked up and realized that the woman was on the cardio machine directly in front of me. I felt that strong feeling even stronger. I was feeling almost compelled to tell her about the book that I thought she should really read, if she wanted to read something.
But then, I am the person that fears rejection. What if she thought I was totally crazy for approaching her? It seems somewhat irrational when I look back, but I was truly torn between talking to her and this fear I had.
When I finished my workout, I went into the locker room to get my things. This feeling kept getting stronger. I knew I would walk right past her as I walked out of the gym. I knew I needed to stop and say something to her. It was almost painful not to.
I walked right past her. Fear was winning.
As I kept walking towards the door, the feeling got stronger. My insides were screaming at me that I was missing this opportunity.
I got all the way to the doors, stopped, turned around and walked back. I felt ridiculous because I was sure she'd already seen me walk by to leave, but I had decided to talk to her – ridiculous or not.
I walked up to her. She smiled and took off her headphones and I told her about the other book and how it'd be a great one to read and that I knew it was wonderful. She smiled and said, "You have done what the Lord wanted of you today. Thank you."
You guys I literally was holding back tears until I got in my car. I'm crying now again remembering it. I've heard stories of people feeling these kinds of things, but I have never personally felt the Holy Spirit so strongly as I did that day. It really was almost a compulsion. I don't know if it affected that woman very much (I didn't get her name, sadly), but it definitely affected me. I'm so glad I didn't walk out the door without taking to her. And in that moment, I knew I was exactly where I was meant to be. I knew I hadn't missed the opportunity.
And selfishly, with the hubs and I having made lots of big decisions over the last couple years and having been struggling with trying to start a family as well, to feel so strongly that I was where I supposed to be at that moment was so reassuring. And I was SO glad I didn't miss it. I wish I could feel that strongly every day. 🙂
However most days I'm just chillin' with a big fat fork and an awesome cake like this Banana Pudding Ice Cream Cake. 🙂 Good thing I go to the gym (most days).
You guys this ice cream cake really is amazing. The hubs and I are big, big banana fans and even bigger banana pudding fans. This cake hits the mark right on the head.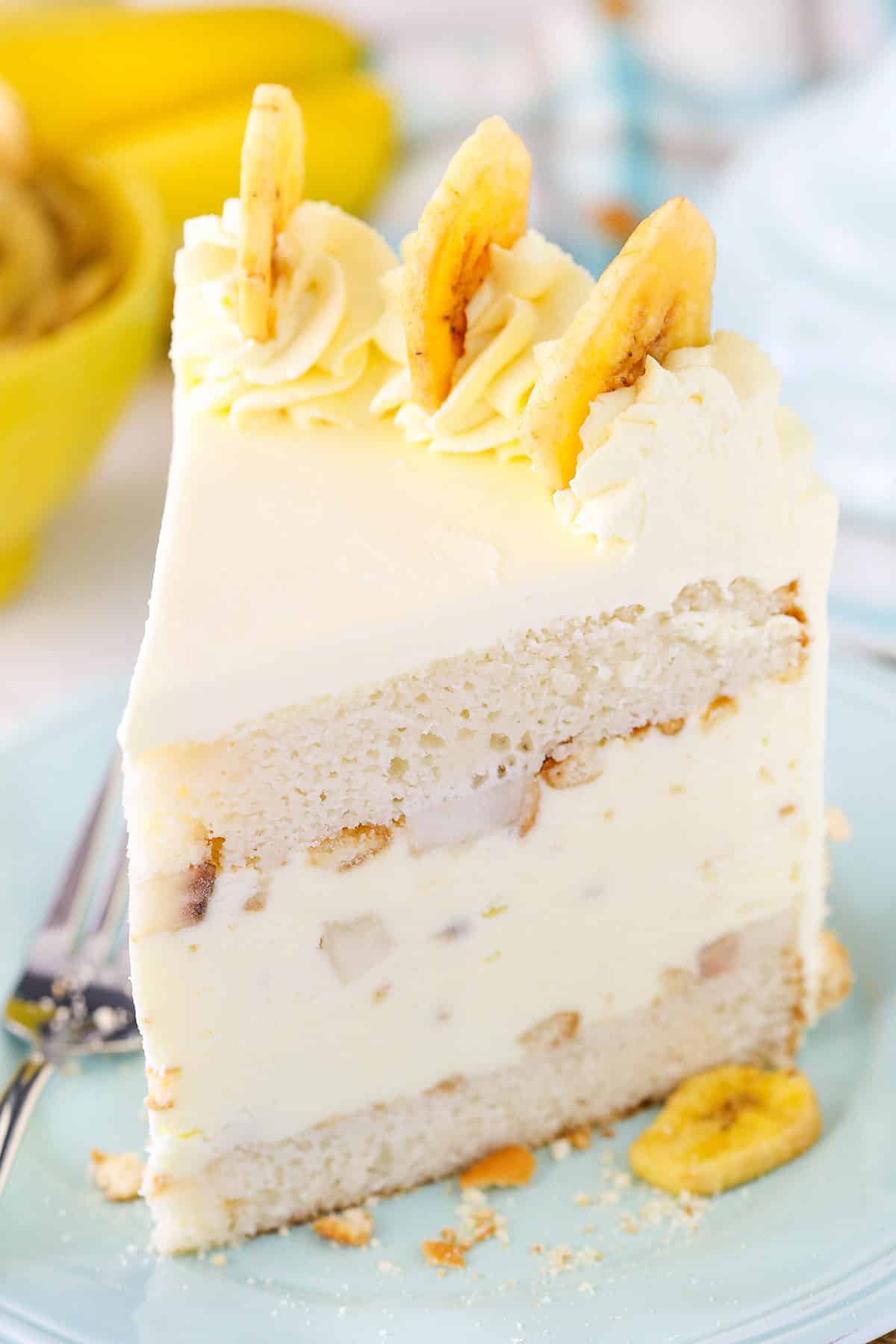 The cake layers are a wonderfully moist, light vanilla cake. Sandwiched between the cake layers are a no churn ice cream that tastes just like banana pudding! I used banana pudding mix to ensure that it has that delightful flavor then stuffed it with fresh bananas and vanilla wafers – just like the traditional dessert!
The cake is frosted with a vanilla whipped cream, then finished off with banana chips (optional) and crushed vanilla wafers around the bottom. It makes a beautiful presentation and is absolutely delicious! It freezes fairly firm, so I'd suggest letting it sit out for about an hour before cutting into it.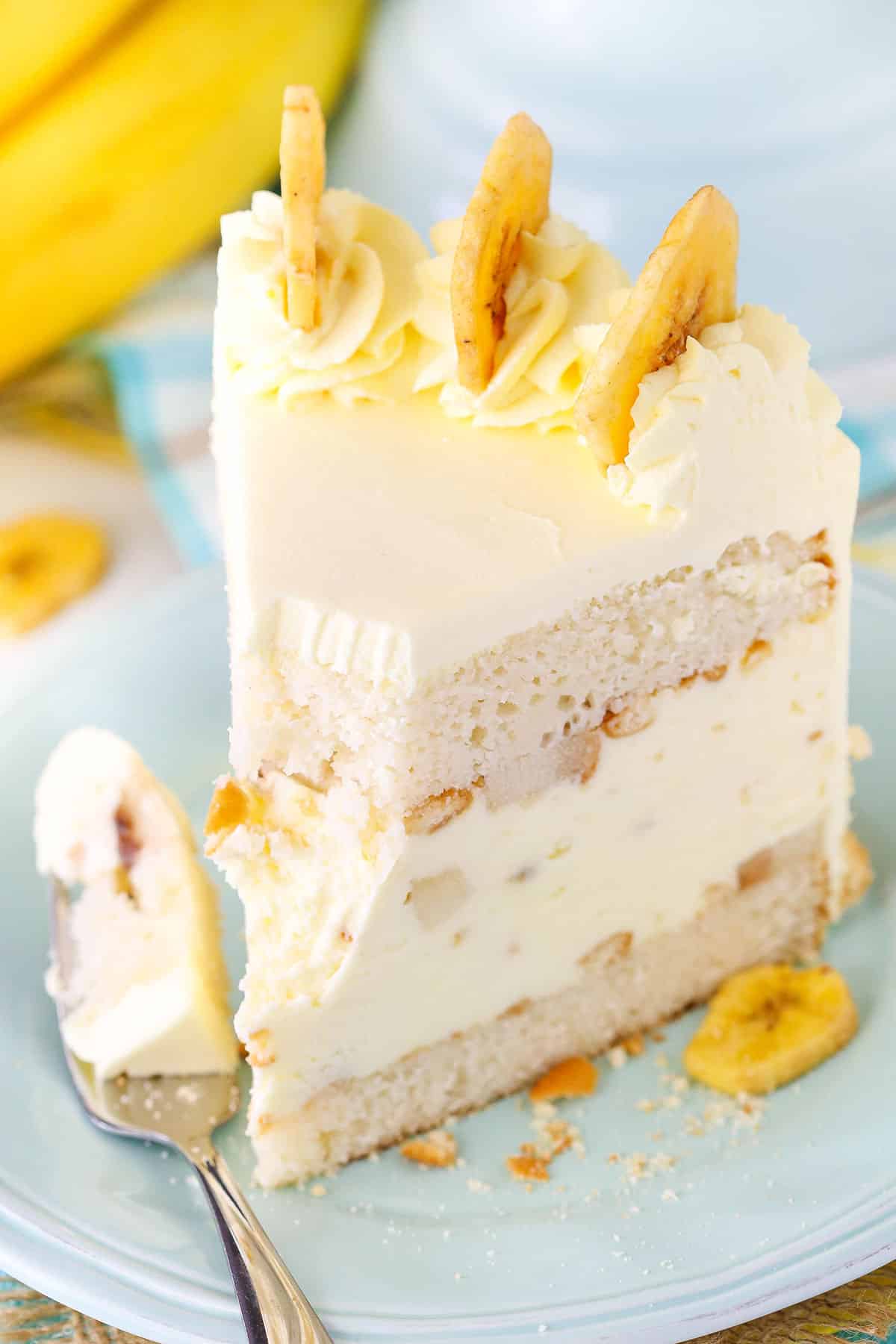 More Banana Dessert Recipes
Looking for more banana dessert recipes? Check out these ones!
Enjoy!
This post includes affiliate links.
Print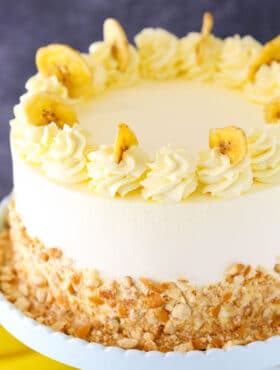 Recipe
Banana Pudding Ice Cream Cake
Author:

Prep Time:

30 minutes

Cook Time:

30 minutes

Total Time:

7 hours

Yield:

14-16

Category:

Dessert

Method:

Oven

Cuisine:

American
---
Description
This Banana Pudding Ice Cream Cake is made with moist vanilla cake, smooth banana pudding ice cream, and chunks of banana and vanilla wafer! Yum!
---
Ingredients
CAKE LAYERS
6 tablespoons

(

84g

) unsalted butter, room temperature

3/4 cups

(

155g

) sugar

6 tablespoons

(

86g

) sour cream

1 teaspoon

vanilla extract

3

large egg whites, room temperature

1 1/4 cups

(

163g

) all purpose flour

2 teaspoons

baking powder

1/4 teaspoon

salt

6 tablespoons

(90ml) milk

2 tablespoons

(30ml) water
ICE CREAM
3/4 cup

milk

3.4 ounce

package dry banana cream instant pudding mix

8 ounce

cream cheese, softened

1/2 cup

(

104g

) sugar

1 1/2 cup

heavy whipping cream

3/4 cup

powdered sugar

2

large bananas, chopped

18

vanilla wafers, crushed
WHIPPED CREAM FROSTING
2 1/4 cups

(540ml) heavy whipping cream, cold

1 cup

(

115g

) powdered sugar

1 1/2 teaspoon

vanilla extract

10

–

12

drops yellow food coloring

1 cup

vanilla wafers, crushed

9

–

10

banana chips, optional
---
Instructions
NOTE: 8×3-inch springform pans are best for building this cake so that you can easily remove the cake once it's been assembled. If you do not have a springform pan, line your cake pan with clear wrap before adding your parchment paper and cake board. You can use the clear wrap to lift your cake out of the pan once it's assembled and frozen. You want to make your cake layers in the same pan you'll use for layering the ice cream and cake together so that the cake layers fit in the final pan you use for layering. In lou of using a cake pan to build the cake, you could also use cake collars.
TO MAKE THE CAKE LAYERS:
1. Prepare an 8 inch springform or cake pan with a parchment paper circle in the bottom and grease the sides. Preheat oven to 350°F (176°C).
2. In a large mixing bowl, cream butter and sugar together until light in color and fluffy, about 3-4 minutes. Do not skimp on the creaming time.
3. Add sour cream and vanilla extract and mix until well combined.
4. Add egg whites in two batches, mixing until well combined after each. Scrape down the sides of the bowl as needed to be sure all ingredients are well incorporated.
5. Combine dry ingredients in a separate bowl, then combine the milk and water in a small measuring cup.
6. Add half of the dry ingredients to the batter and mix until well combined. Add the milk mixture and mix until well combined. Add remaining dry ingredients and mix until well combined. Scrape down the sides of the bowl as needed to be sure all ingredients are well incorporated.
7. Pour the batter evenly into the cake pan and bake for about 29-31 minutes, or until a toothpick comes out with a few crumbs.
8. Remove the cake from the oven and allow to cool for about 3-5 minutes, then remove to a cooling rack to cool completely.
TO MAKE THE ICE CREAM:
9. When the cake is cool, make the ice cream. Combine the milk and pudding mix and whisk until well combined and smooth.
10. In a large mixer bowl, combine the cream cheese and sugar and mix until smooth.
11. Stir in the pudding mixture until smooth. Set aside.
12. In another mixer bowl, add the heavy whipping cream and powdered sugar and whip on high speed until stiff peaks form.
13. Gently fold about 1/3 of the whipped cream into the cream cheese mixture until combined, then fold in the remaining whipped cream.
14. Gently fold in half of the chopped bananas and 1/3 of the crushed vanilla wafers until combined throughout.
ASSEMBLY:
15. Line the sides of an 8-inch springform pan with parchment paper. The parchment paper should stick up above the top edge of the pan, since the cake will probably be a little taller than your pan (see this example). If you want, put a cardboard cake circle in the bottom of the pan. If not using a springform pan, you pan put some plastic wrap in the bottom of the pan and up the sides and use it to lift the cake out of the pan when it's done.
NOTE: You should be using the same 8-inch pan you used for the cake. Not all 8-inch pans are exactly the same size. Your cake needs to fit in this pan.
16. Cut the dome off of the top of the cake layer, then cut the cake into two layers. Place the first cake layer into the bottom of the pan.
17. Sprinkle half of the remaining chopped bananas and another 1/3 of the crushed vanilla wafers over the cake layer.
18. Spread the ice cream mixture evenly over the bananas and wafers.
19. Sprinkle the remaining chopped bananas and crushed vanilla wafers over the ice cream and pat them down into the ice cream so they are flush with the ice cream.
20. Top the ice cream with the other layer of cake.
21. Freeze cake until firm, 6-8 hours or overnight. Once frozen, remove from springform pan and remove parchment paper from sides.
22. To make the whipped cream frosting, whip the heavy whipping cream, powdered sugar, vanilla extract and yellow food coloring until stiff peaks form.
23. Frost the outside of the cake with the whipped cream, then pipe a border around the top edge.
24. To finish off the cake, press crushed vanilla wafer crumbs onto the sides of the cake and top it with banana chips, if desired.
25. Freeze the cake until ready to serve. Allow to thaw for 45 minutes to an hour before serving.
---
Nutrition
Serving Size:

1 Slice

Calories:

563

Sugar:

38.4 g

Sodium:

251.2 mg

Fat:

33.8 g

Carbohydrates:

60.4 g

Protein:

7.4 g

Cholesterol:

87.2 mg
Keywords: banana pudding cake, banana pudding cake recipe, banana ice cream cake
Categories