This Banana Pudding Cheesecake is made with a vanilla wafer crust, loads of mashed and sliced bananas, and banana pudding mix! It's got the best banana pudding flavor you could have in a cheesecake and it's completely addicting!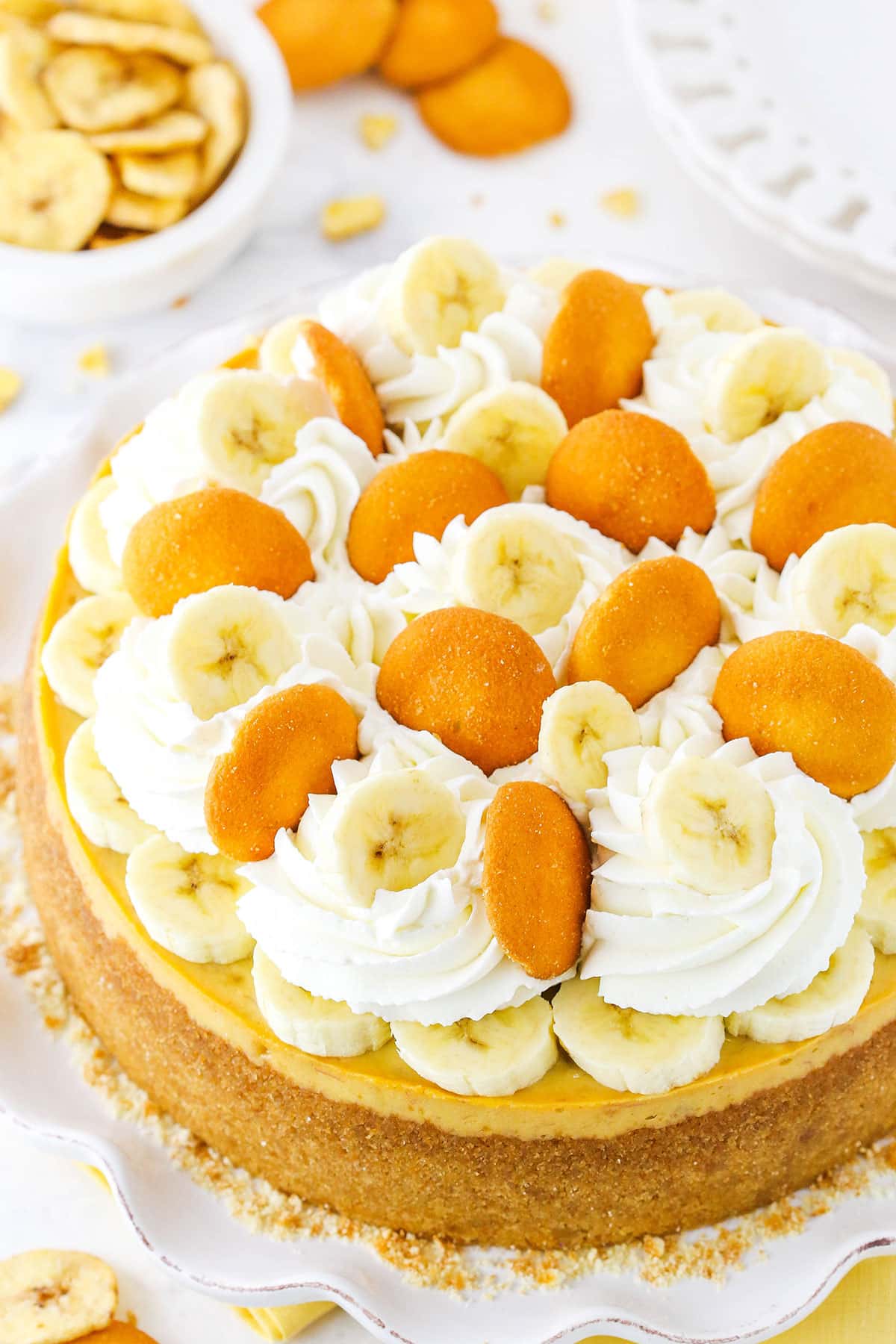 Banana Pudding Cheesecake
So this Banana Pudding Cheesecake was only the third baked cheesecake that I ever shared on this site and that was back in 2014. It was the first cheesecake that I spent a bunch of time testing and learned so much about cheesecakes. That's a big statement considering the number of cheesecake recipes I have now. They are one of my favorite things to make! I guess you could say that this cheesecake was the beginning of my love for making and testing fun new cheesecakes.
Given that it was posted almost 6 years ago exactly, I thought it was time to give it a facelift and a little extra love. If you love banana pudding, you will LOVE this cheesecake! It's full of legit banana pudding flavor. There's lots of banana – both in the filling as the "pudding" and as sliced bananas on top, and plenty of vanilla wafers – both in the crust and on top. You're definitely going to want to try it.
As far as changes to the recipe, I didn't really change much. It was pretty darn good from the beginning. I did decide to add a little sour cream to the filling. I'm a big fan of some sour cream in cheesecakes. It adds to a more creamy texture and and nice flavor. And then I increased the amount of crust. I love a good, solid crust.
How to make Banana Pudding Cheesecake
To get started with this cheesecake, you'll make the crust. Since vanilla wafer cookies are key to banana pudding, they make up the crust. Combine some cookie crumbs with a little sugar and melted butter, then press them into your springform pan.
The filling is fairly straightforward. Combine your cream cheese with the sugar, flour and dry banana pudding mix. It will be a sticky mixture that's a little thick, but that's ok. It'll work itself out as you go.
Next, add the sour cream. It starts to break up the sticky filling a little bit. Then add the eggs one at a time.
Keep in mind that when mixing ingredients together for a cheesecake filling, you want to mix on LOW speed. A higher speed will incorporate more air into the mixture and can lead to air bubbles, which can lead to cracks. Be patient and use low speed.
Finally, you'll add in the vanilla extract and mashed bananas. Pour the filling into your crust and then get your water bath ready.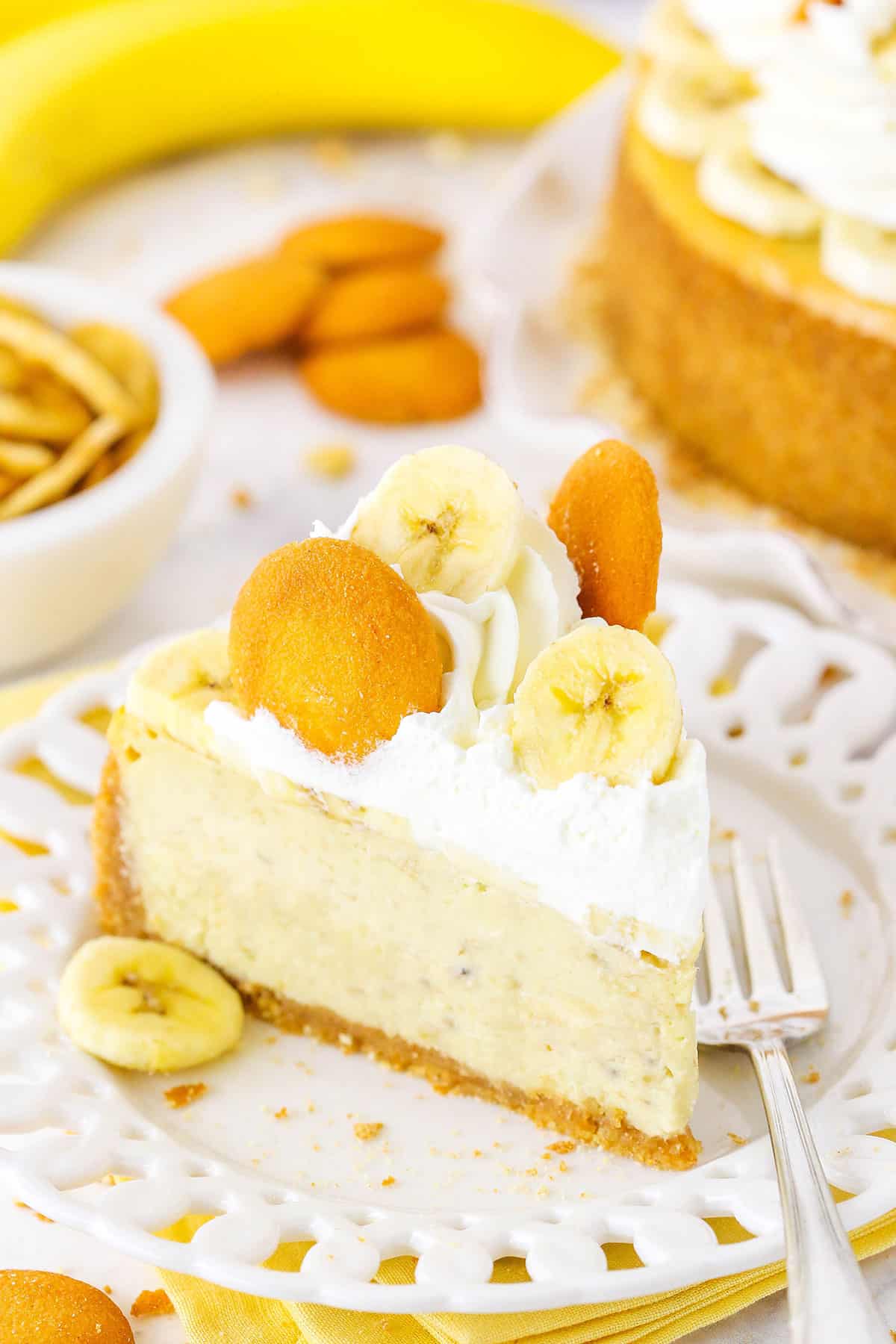 How to Use a Cheesecake Water Bath
I know most aren't big fans of a water bath. They add some extra steps and seem like a pain. But they really do make a difference in how a cheesecake turns out. If you were to bake this one without it, it would brown more around the edges, likely crack and fall a good bit in the center when it cools. You work so hard on a cheesecake, don't miss out on a beautiful result by not taking the few extra steps. If you need a little help with setting up your water bath, or often have trouble with leaking, check out how I set my springform pans up for a water bath for some tips and tricks.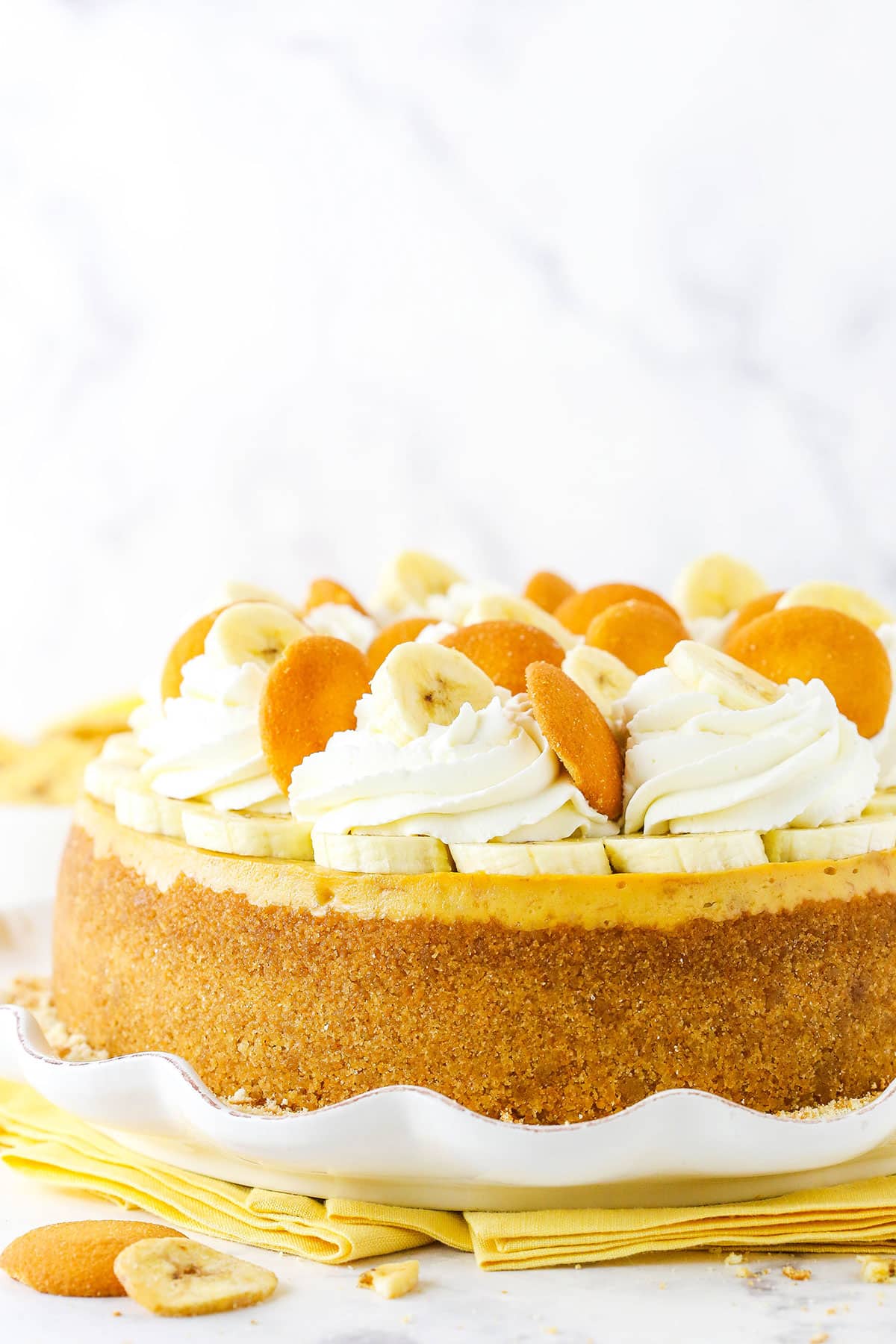 Baking Method
When baking the cheesecake, you'll first bake it for about an hour and a half. You're looking for edges of the cheesecake to be set and the inner couple inches to be somewhat set, but still a little jiggly.
Because of the eggs in a cheesecake filling, it's similar to a custard. Therefore, you don't want to over bake it and end up with cracks. So, you bake it until it's mostly baked, then turn off the oven but keep it closed for another 30 minutes. The residual heat continues to finish cooking the cheesecake while also beginning to slowly cool it. It ends up cooked, but not over baked.
The final step is to continue the slow cooling process by cracking the oven door and letting it cool for another 30 minutes. After that, refrigerate until cool and firm, then add the whipped cream and some fresh bananas and vanilla wafers.
A Must Try Banana Dessert!
The final cheesecake is thick, creamy and full of flavor! I'm a big lover of banana flavored anything and this is definitely a favorite. In fact, my husband's co-workers got to eat the remainder of this cheesecake and deemed it one of my best!
If you are looking for an awesome banana dessert, this is it! And for more great tips on baking cheesecake, check out my post on how to make a perfect cheesecake.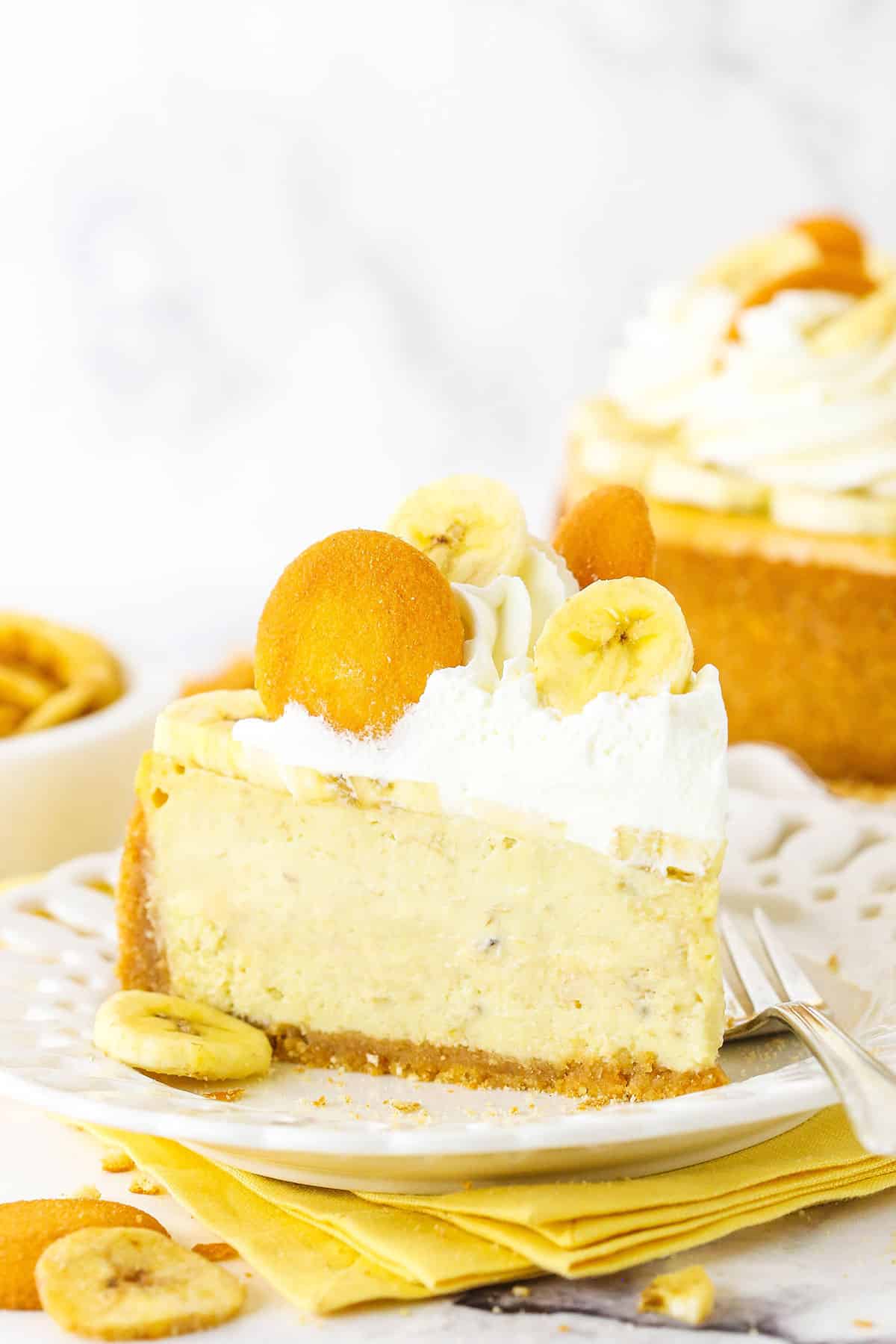 More Great Banana Desserts
Moist and Chewy Banana Cookies
Easy Banana Bread
Banana Cream Pie Cupcakes
Banana Cream Cheesecake
Mini Banana Pudding Cheesecakes
Overnight Baked Banana French Toast Casserole
Bananas Foster Cheesecake
Banana Pudding Ice Cream Cake
Banana Split Layer Cake
Caramel Banana Layer Cake
Print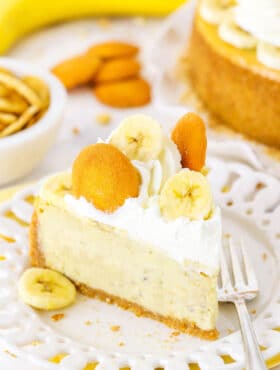 Recipe
Banana Pudding Cheesecake
Author:

Prep Time:

1 hour

Cook Time:

2 hours 15 minutes

Total Time:

3 hours 15 minutes

Yield:

12-14 Slices

Category:

Dessert

Method:

Oven

Cuisine:

American
---
Description
This Banana Pudding Cheesecake is made with a vanilla wafer crust, loads of mashed and sliced bananas, and banana pudding mix! It's got the best banana pudding flavor you could have in a cheesecake and it's completely addicting!
---
Ingredients
CRUST
2 ¼ cups

(

302g

) vanilla wafer crumbs

5 tbsp

(

65g

) sugar

10 tbsp

(

140g

) salted butter
CHEESECAKE FILLING
24 oz

cream cheese, room temperature

1 cup

(

207g

) sugar

3 tbsp

(

24g

) all-purpose flour

3.4 oz

instant banana cream pudding mix, dry

1/4 cup

(

58g

) sour cream

3

large eggs, room temperature

1/2 tsp

vanilla extract

1 cup

mashed ripe bananas (

2

–

3

bananas)
TOPPING
1 ¼ cups

(300ml) heavy whipping cream, cold

6 tbsp

(

43g

) powdered sugar

1 tsp

vanilla extract

2

–

3

medium sized bananas

11

vanilla wafer cookies, whole
---
Instructions
CRUST
Preheat oven to 325°F (163°C). Line a 9-inch (23cm) springform pan with parchment paper in the bottom and grease the sides.
Combine the crust ingredients in a small bowl. Press the mixture into the bottom and up the sides of the springform pan.
Bake the crust for 8-10 minutes, then set aside to cool.
Cover the outsides of the pan with aluminum foil so that water from the water bath cannot get in (see how I prepare my pan for a water bath). Set prepared pan aside.
CHEESECAKE FILLING
Reduce oven temperature to 300°F (148°C).
In a large bowl, beat the cream cheese, sugar, flour and pudding mix on low speed until well combined and smooth. Mixture will be sticky. Be sure to use low speed to reduce the amount of air added to the batter, which can cause cracks. Scrape down the sides of the bowl.
Add the sour cream and mix on low speed until well combined.
Add the eggs one at a time, mixing slowly to combine after each addition. Scrape down the sides of the bowl as needed to make sure everything is well combined.
Add the mashed banana and vanilla extract and mix on low speed until well combined. Mixture will be a little lumpy
Pour the cheesecake batter into the crust.
Place the springform pan inside another larger pan. Fill the outside pan with enough warm water to go about halfway up the sides of the springform pan. The water should not go above the top edge of the aluminum foil on the springform pan.
Bake for 1 hour 30-45 minutes. The center should be set, but still jiggly.
Turn off the oven and leave the door closed for 30 minutes. The cheesecake will continue to cook, but slowly begin to cool as well.
Crack the door of the oven for 30 minutes to allow the cheesecake to continue to cool slowly.
Remove the cheesecake from the oven and water bath wrapping and refrigerate until cool and firm, 5-6 hours or overnight.
TOPPING
When cooled and ready to serve, remove the cheesecake from the springform pan and place on a serving plate.
To make the whipped cream, add the heavy whipping cream, powdered sugar and vanilla extract to a large mixer bowl and whip on high speed until stiff peaks form.
Place a layer of sliced bananas on top of the cheesecake, then pipe a layer of whipped cream swirls on top.
Finish off the cheesecake with a few more banana slices and vanilla wafers. The fresh banana slices are best when added just before serving.
Cheesecake is best when stored well covered in the fridge for 3-4 days.
Nutrition
Serving Size:

1 Slice

Calories:

733

Sugar:

30.3 g

Sodium:

609.1 mg

Fat:

57.6 g

Carbohydrates:

46.1 g

Protein:

11.5 g

Cholesterol:

200.6 mg
Keywords: banana pudding cheesecake, banana dessert, easy cheesecake recipe, water bath cheesecake
Categories
Enjoy!
This post may contain affiliate sales links. Please read my disclosure policy.