August 22, 2016
Avocado Key Lime Pie
This Avocado Key Lime Pie is wonderfully creamy and perhaps the best key lime pie I've ever had (big statement!). It's also the perfect dessert centerpiece for a "Dinner En Green" party celebrating delicious California avocados!
This post is sponsored by the California Avocado Commission, but all opinions are my own.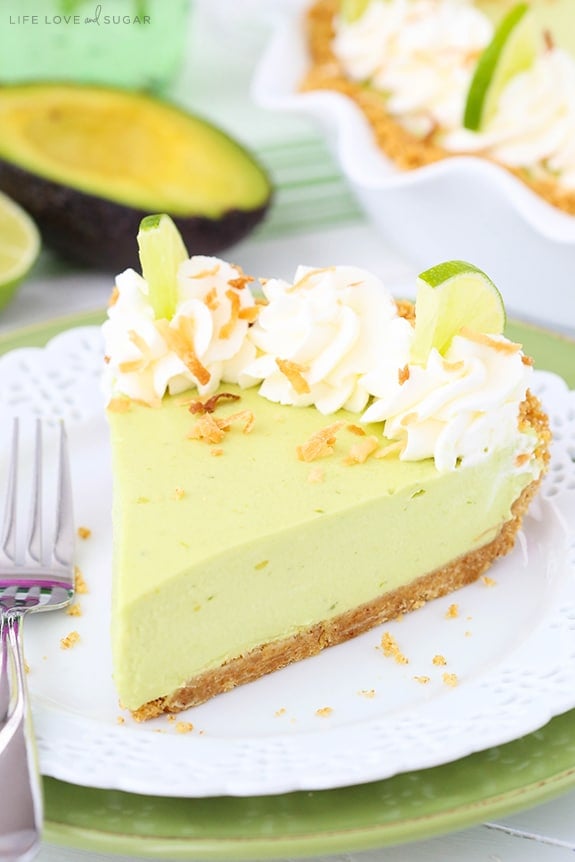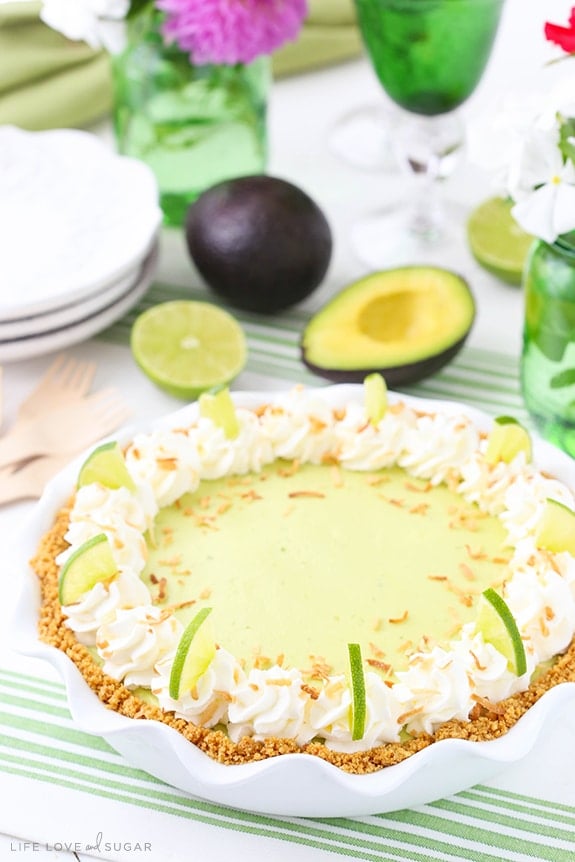 Have you ever heard of a "Dinner En Blanc"? I had never heard of it, but it's all about having a wonderful meal at an all white dinner party. The California Avocado Commission thought it'd be fun to put a spin on it and turn it green. Of course I agree with the green spin – not only is it the color of avocado, but I think it's kind of the color of summer. One of my favorite parts of summer is that things are green and colorful and alive!
Naturally, my favorite part of a dinner party is dessert. 🙂 Nobody ever asks me to bring anything but to dessert to a party or gathering and I'm always happy to oblige. I decided to feature avocados in a wonderful key lime pie with a coconut whipped cream.
I have always been curious about including avocado in dessert. Like, would you taste it? What would it do to the texture of the dessert? Given that lime and avocado goes together like chocolate and peanut butter, I thought a key lime pie would be the perfect thing to try.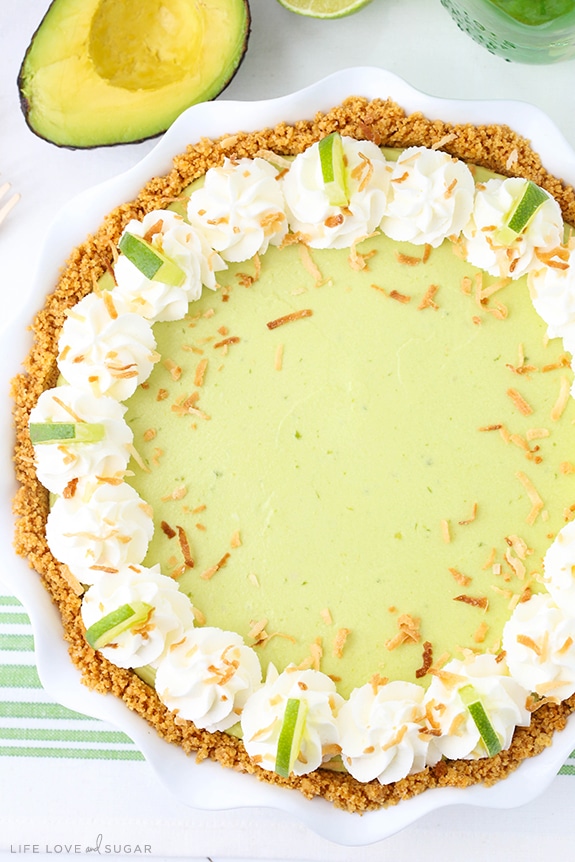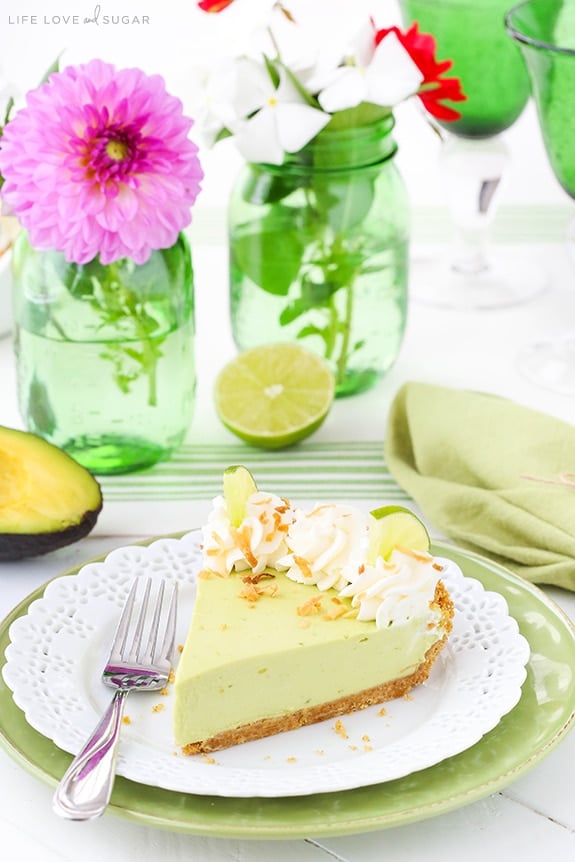 You guys, this pie DOES NOT DISAPPOINT! It's so darn good! I wasn't kidding when I said it might be the best key lime pie I've ever had. You don't even taste the avocado (not that I'm mind if you did) but it makes the creamiest pie! I'm seriously so in love with the texture. My father in law was visiting when I made it and even he was dying over how good it was. I was impressed with the large size of the several slices he cut for himself. Of course I was thrilled to have a another dessert eater in the house. 🙂 When I mentioned such, his response was, "Well I don't always have this big of a sweet tooth, but everything you make is so good."
I mean, talk about brownie points! 🙂 He basically ate the whole pie. Best. Ever.
But of course there's more to an excellent green party than dessert. There's the tablescape and the rest of the menu to think about.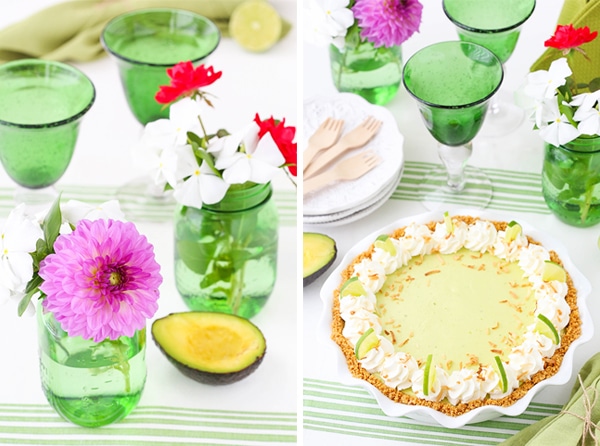 Need a few ideas? Yea, me too. You definitely will need a good guacamole. This Fire Roasted Corn Guacamole sounds pretty delish and I love the corn in it. This Sourdough California Avocado Grilled Cheese (open faced) is super similar to how my husband loves to eat his avocado. He makes it as a snack all the time. And this Salmon with Cilantro Avocado Salsa looks like is should definitely make an appearance. Yum!
As far as the decor – one of my favorite things next to dessert – you should totally pull out all the green party supplies. 🙂 I had a fun green party pack to use that included a nice green and white table runner, some super fun green mason jars that I thought were perfect for flowers, some pretty green cocktails glasses and lovely little green votives. Some green plates and napkins were finishing touches that I already had and added the perfect finishing touches. And to tie in the avocados, you could even have a few placed around the table. I love the look of fresh fruit and veggies on a tablescape.
So there you have it – everything you need for a fabulous green party! It's time to get your California avocado on and throw a par-tay before the summer is over! 🙂 You definitely want to make this pie!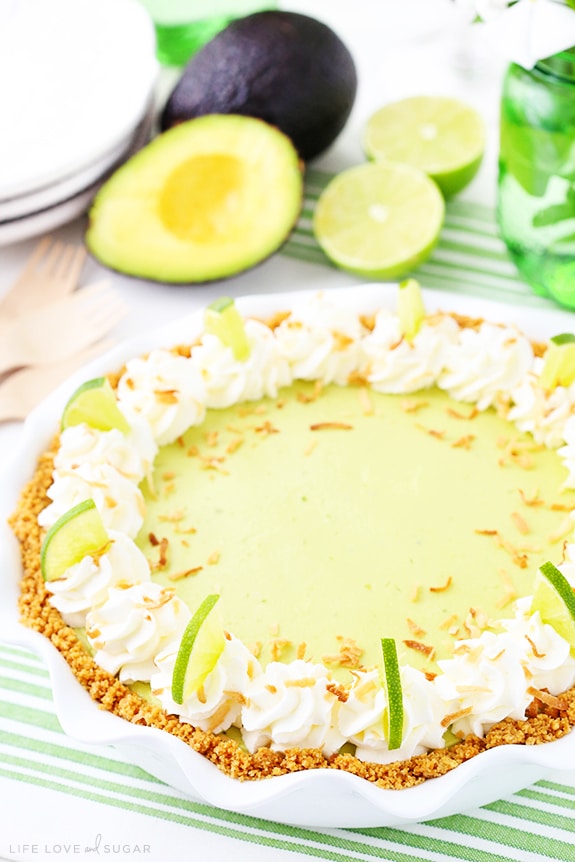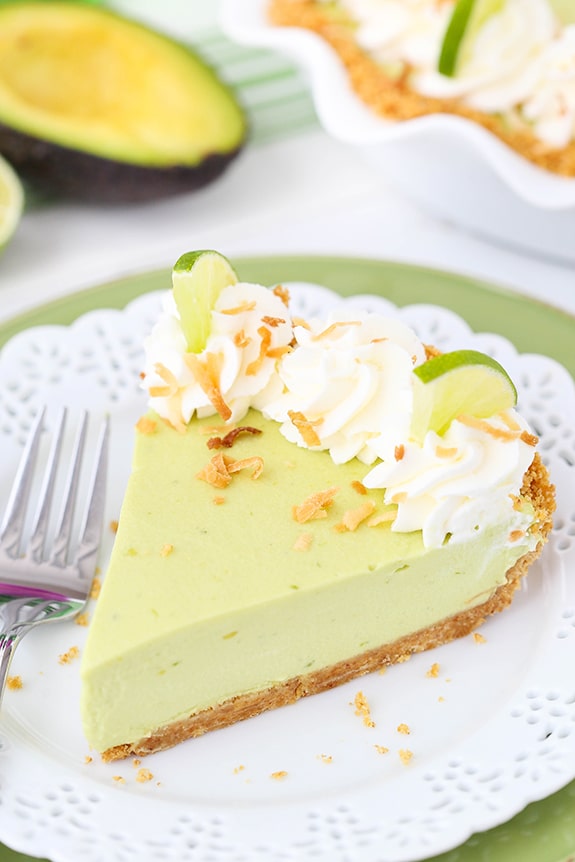 Avocado Key Lime Pie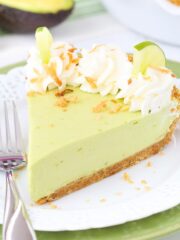 Yield:

12

-

14

Slices

1

x
Category:

Dessert

Method:

Oven

Cuisine:

American
Ingredients
CRUST
1 1/2 cup

s (201g) graham cracker crumbs

2 tbsp

(26g) sugar

1/2 cup

(112g)  butter, melted
PIE FILLING
8 oz

(226g) cream cheese, room temperature

1

avocado

1/2 cup

(104g) sugar

3 tbsp

(45ml) key lime juice

3/4 cup

(180ml ) heavy whipping cream, cold

6 tbsp

(44g) powdered sugar

1/2 tbsp

lime zest
WHIPPED CREAM
1/2 cup

(120ml) heavy whipping cream, cold

1/4 cup

(29g) powdered sugar

1/2 tsp

coconut extract
Lime slices
Coconut
Instructions
1. Grease an 8 or 9 inch pie pan and preheat oven to 325°F (163°C).
2. Combine graham cracker crumbs, sugar and melted butter in a medium bowl and mix until combined.
3. Press the crumb mixture evenly into the bottom and up the sides of the pie pan, then bake for 8 minutes. Set aside.
4. Add cream cheese, avocado, sugar and key lime juice to a food processor and puree until smooth and well combined. Set aside.
5. Add the heavy whipping cream and powdered sugar to a mixer bowl and whip until stiff peaks form.
6. Gently fold the avocado mixture and the lime zest into the whipped cream.
7. Spread filling evenly into the crust and refrigerate for 4-5 hours, or overnight, until firm.
8. When ready to serve, make the whipped cream. Add the heavy whipping cream. powdered sugar and coconut extract to a mixer bowl and whip until stiff peaks form.
9. Pipe swirls of whipped cream around the edge of the pie. Finish pie off with lime slices and toasted coconut, if desired.
Enjoy!