August 21, 2017
Blackberry Lime Lush
This Blackberry Lime Lush is made with a shortbread crust, layers of lime and blackberry filling and whipped cream! It's a fun and easy dessert that's almost completely no bake! Plus, I'm in love with the flavors!
This post is sponsored by Walkers Shortbread, but all opinions are my own.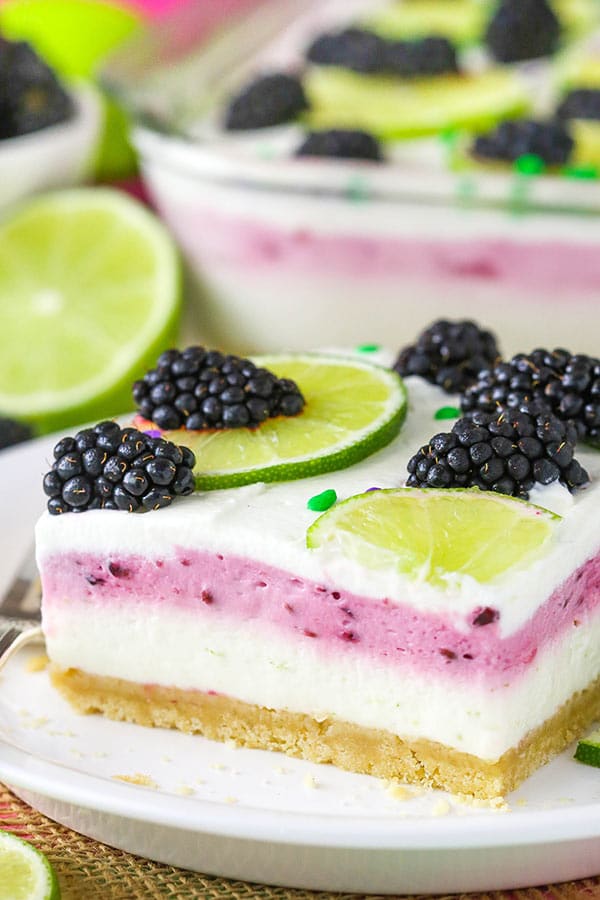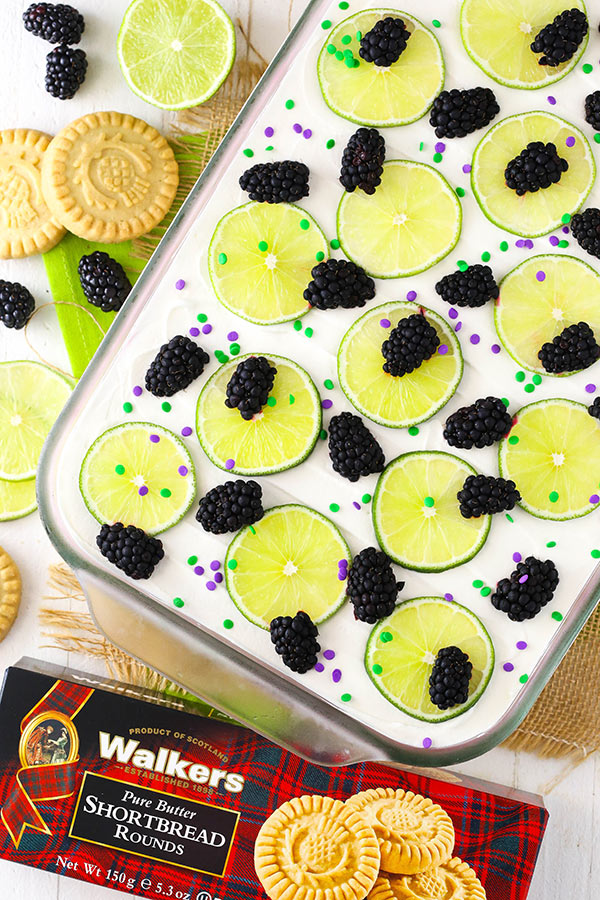 So if you aren't super familiar with what a "lush" is, allow me to explain. They have become an increasingly popular dessert and are typically no bake (except for maybe the crust) with layers of delicious flavors of filling. I would say they are quite similar to an icebox cake, the main difference being that icebox cakes tend to be layered with cookies or graham crackers or something similar whereas a lush doesn't have those same cookie layers.
In this lush though, we still get some of the tasty flavor of those cookies in the crust. This lush uses the wonderfully delicious Walkers Shortbread for the crust. If you've never tried their shortbread, you really do have to. They are seriously the best shortbread around. So buttery and delicious. Dangerous too, because I could eat an entire box in one sitting before I even realize it.
Plus, they're made in Scotland and being an Outlander fan (SUCH an awesome show!) I love all things Scottish. It just makes sense. 😉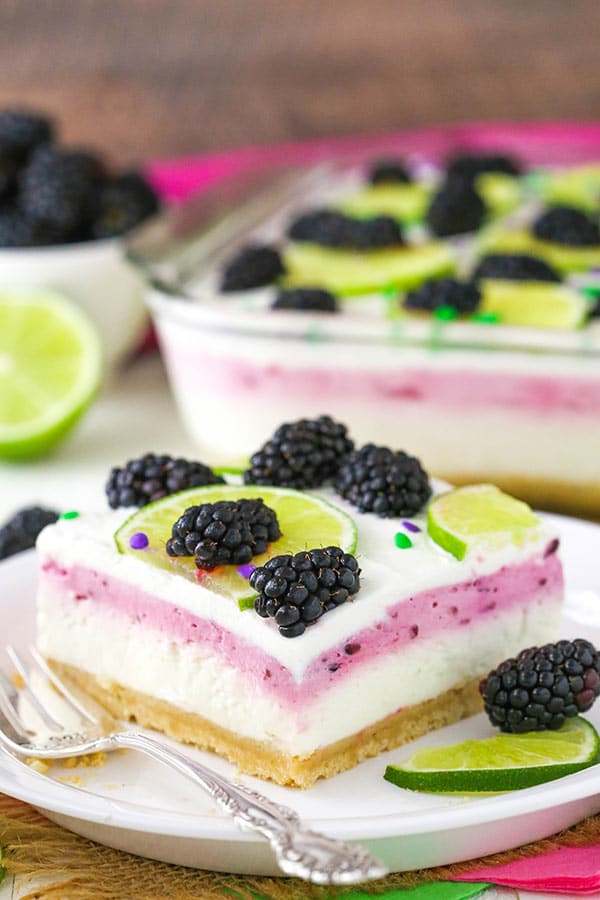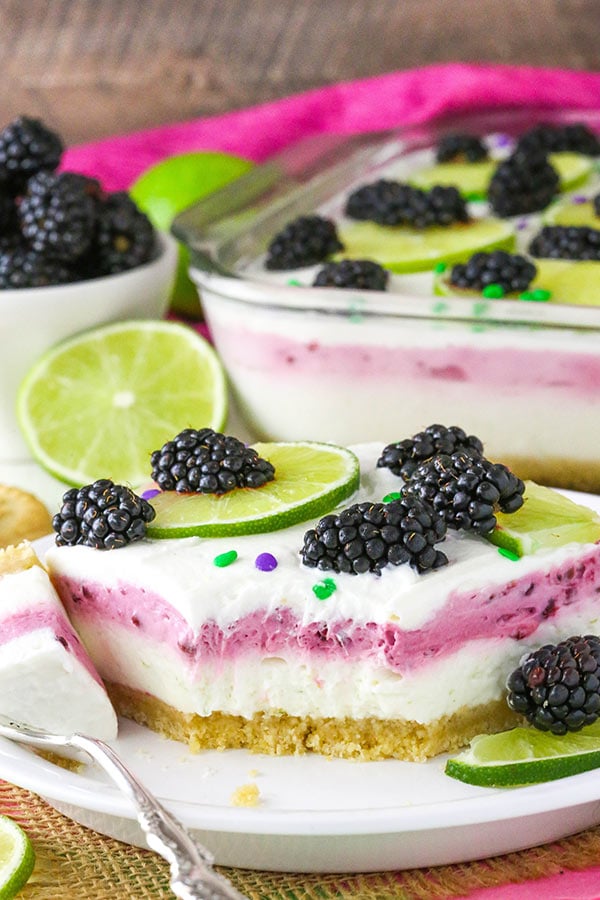 For the crust of this lush, I actually used the Walkers Shortbread Rounds, which are my favorites! They are SO buttery, it's like the best thing ever. In fact, they are so buttery and awesome, you don't have to add as much butter to the shortbread crust as you would with something else. Plus, they make an absolutely delicious crust. I bake the crust quickly because it makes it a little firmer when you cut into the crust later, but you could avoid that step if you prefer.
On top of the crust are the two mousse layers. One is lime and the other is blackberry. This is actually a flavor combo that I've never shared on the site before and let me tell you – I'm loving it! So, so good! They are made by making an easy mousse made with a base of cream cheese and whipped cream. The lime layer is flavored with some lime juice and zest and the blackberry layer is made with some homemade blackberry pie filling.
The blackberries are mashed and then cooked over the stove with some sugar and cornstarch to thicken it. Cooking the blackberry mixture is the way to go because it removes some of the moisture, allowing you to add more blackberry flavor to the mousse without thinning it out too much.
To finish off this lush, there's a thin layer of whipped cream and some blackberries and limes for decor.
This lush was a BIG hit with all of us! Not only are the flavors delicious, the lush itself is so smooth and creamy. And that crust! My goodness, the buttery shortbread is perfection with the fruity layers. We loved it and I know you will too!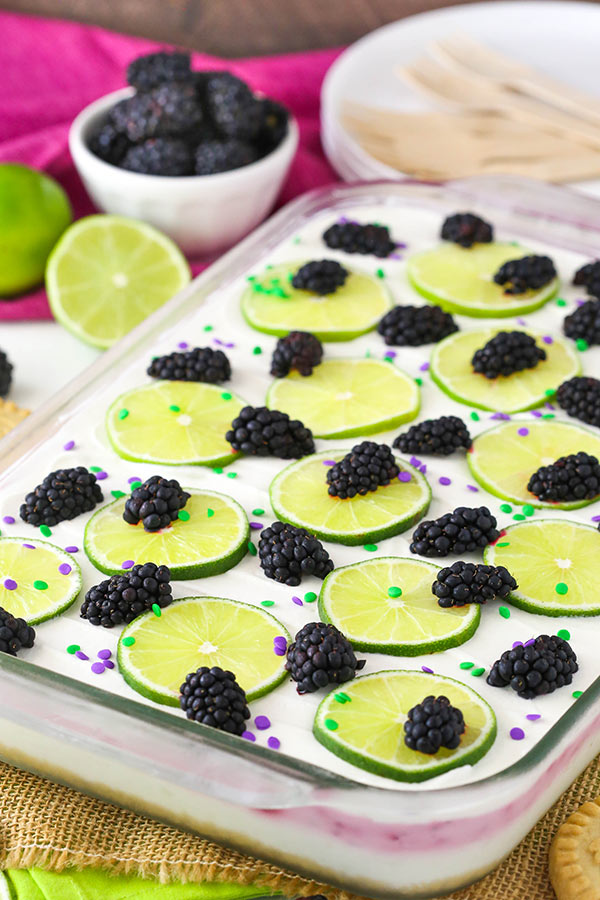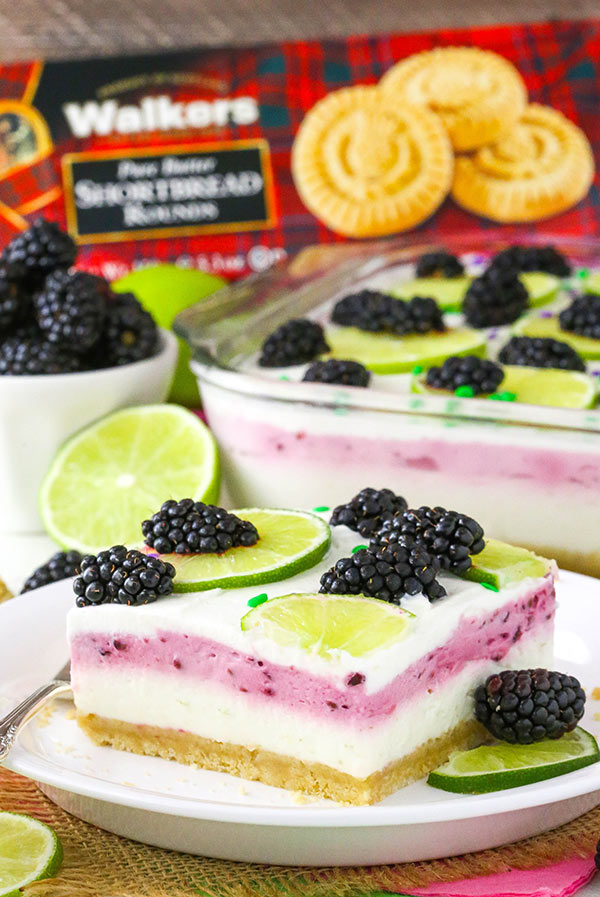 Blackberry Lime Lush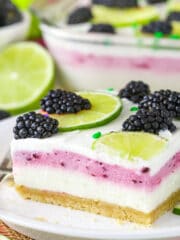 Yield:

12

-

15

Servings

1

x
Category:

Dessert

Method:

Oven

Cuisine:

American
Ingredients
CRUST
2 1/4 cup

s (302g) Walkers Shortbread Rounds crumbs (from two

5.3 oz

packages)

3 tbsp

(39g) sugar

3 tbsp

(42g) salted butter, melted
BLACKBERRY FILLING
2 tbsp

(26g) sugar

1 1/2 tbsp

cornstarch

1 tsp

water

1 cup

s (144g) blackberries, mashed
MOUSSE
20 oz

(565g) cream cheese, room temperature

1 cup

(207g) sugar

2 tbsp

(30ml) milk

2 1/2 cup

s (600ml) heavy whipping cream, cold

1 1/4 cup

s (144g) powdered sugar

1 tsp

vanilla extract

1/4 cup

(60ml) lime juice

2 tsp

lime zest
WHIPPED CREAM TOPPING
3/4 cup

s (180ml) heavy whipping cream, cold

6 tbsp

(43g) powdered sugar

1/2 tsp

vanilla extract
Blackberries
Lime slices
Instructions
1. Preheat oven to 325°F (163°C). Grease a 9×13 inch pan.
2. Combine the crust ingredients in a small bowl. Press the mixture into the bottom of the prepared pan.
3. Bake the crust for 10 minutes, then set aside to cool.
4. To make the blackberry filling, combine the sugar, cornstarch and water in a medium-sized saucepan over medium heat and stir to combine. Heat until the mixture is wet and the sugar begins to melt.
5. Add the mashed blackberries and stir into the sugar mixture.
6. Continue cooking and stirring until the mixture is thickened, about 5-7 minutes.
7. Remove from heat, then pour the mixture into another bowl and refrigerate until cool. You should have about a 1/2 cup (89g) of the blackberry filling.
8. To make the mousse layers, add the cream cheese and sugar to a large mixer bowl and beat until well combined and smooth.
9. Add the milk and mix until well combined. Set aside.
10. In another large mixer bowl, add the heavy whipping cream, powdered sugar and vanilla extract. Whip on high speed until stiff peaks form.
11. Carefully fold about 1/3 of the whipped cream into the cream cheese mixture, then add the remaining whipped cream and fold until well combined.
12. Set aside about 3 cups of the mousse. Add about half of the lime juice and the lime zest to the remaining mousse and gently fold to combine.
13. Add the remaining lime juice and fold until well combined.
14. Pour the lime mousse on top of the crust and spread into an even layer. Place in the refrigerator while you work on the blackberry layer.
15. Add the cooled blackberry filling to the 3 cups of mousse you set aside earlier. Gently fold until well combined.
16. Drop spoonfuls of the blackberry layer over the top of the lime layer and then spread into an even layer.
17. To finish of the lush, add the heavy whipped cream, powdered sugar and vanilla extract for the whipped cream topping to a large mixer bowl. Whip on high speed until stiff peaks form.
18. Spread the whipped cream into an even layer on top of the blackberry layer and then top with blackberries and lime slices.
19. Refrigerate until ready to serve. Dessert is best for 3-4 days.
Enjoy!