This Chocolate Chip Cookie Ice Cream Cake is a fun cross between chocolate chip cookies and ice cream, and it's the perfect treat for summer!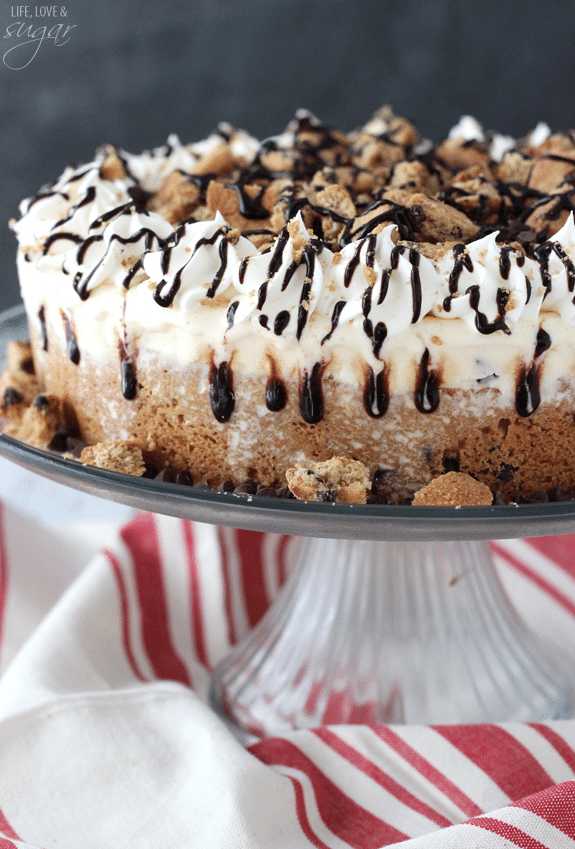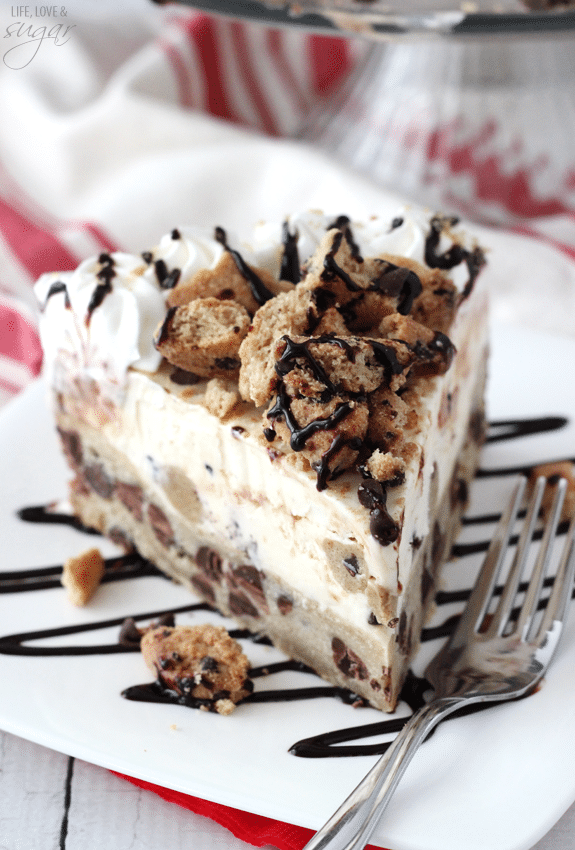 Chocolate Chip Cookie Ice Cream Cake
Speaking of summer, we enjoyed our first weekend out on the boat last weekend. The hubs had technically been out the weekend before without me, but we'll just pretend it was his first too.
We spent Saturday evening out and brought Jessie. She loved being out there as the sun was going down – less hot. 🙂 Then we went out with some friends for a bit on Sunday.
As usual, I got my first bit of sunburn. Not too bad, but a bit. I did use sunscreen, but that stuff comes right off in the water and right now the water is still so refreshing we had to swim. Not too cold, but cool. I'm sure in just a few weeks it'll get warm. Gotta enjoy it while we can!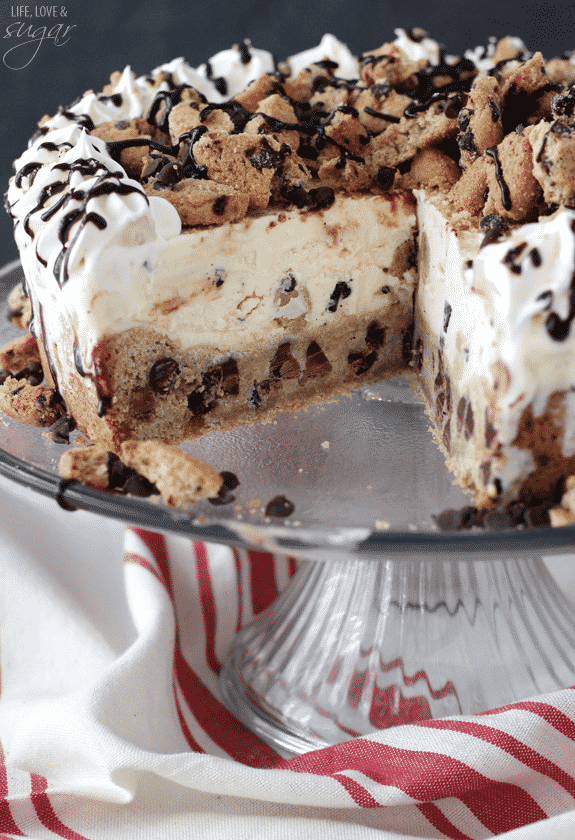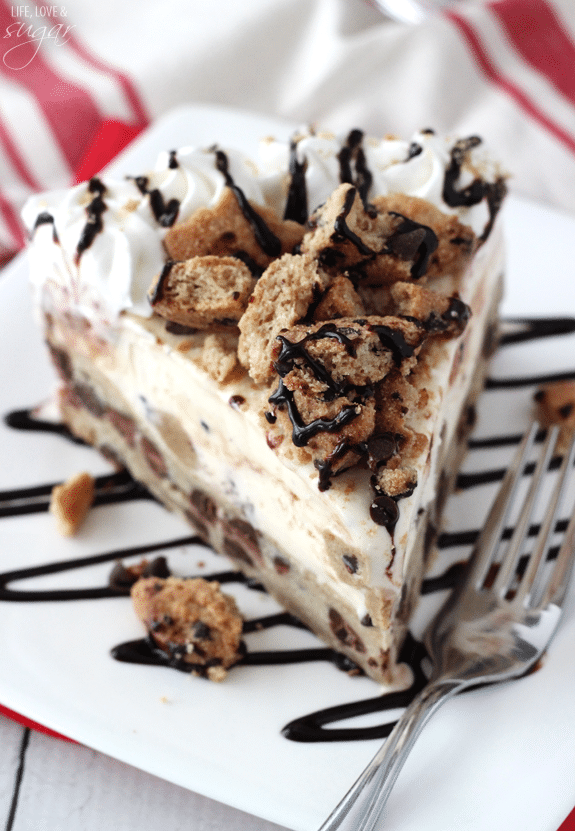 So this cake was actually born out of a love for chocolate chip cookie ice cream sandwiches. You know – the ones you can buy in the freezer at like, the gas station. Sounds glorious, right? But I always loved those as a kid so I decided it'd be fun to make a giant one!
Sadly this doesn't look like a sandwich. Well, it did the first time around. Problem was, the cookie gets pretty frozen. Cutting through one cookie on the bottom and eating it is fine. But two? Two makes an ice cream cake that goes everywhere when you try to cut it. Sad, but true.
So I remade it with one cookie layer and the ice cream. Much easier to eat and totally delicious! You'll still probably not want to use a plastic fork. 🙂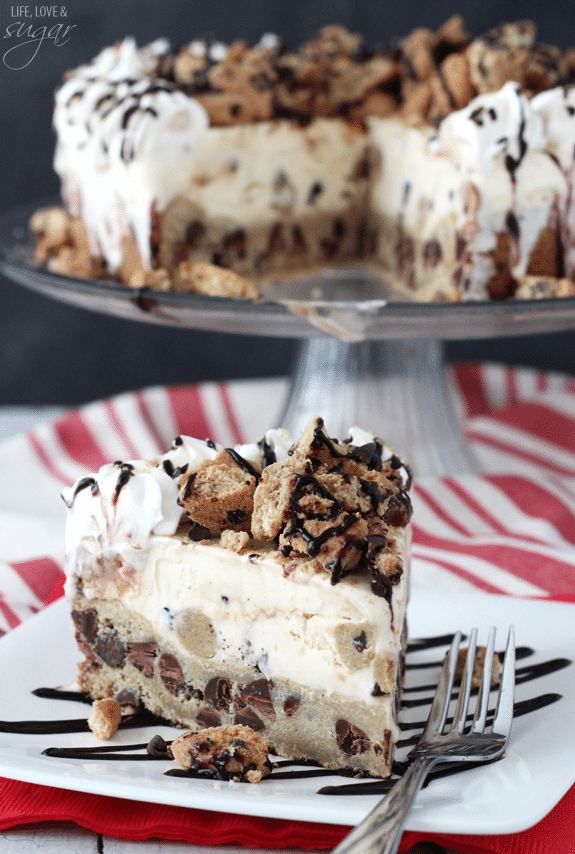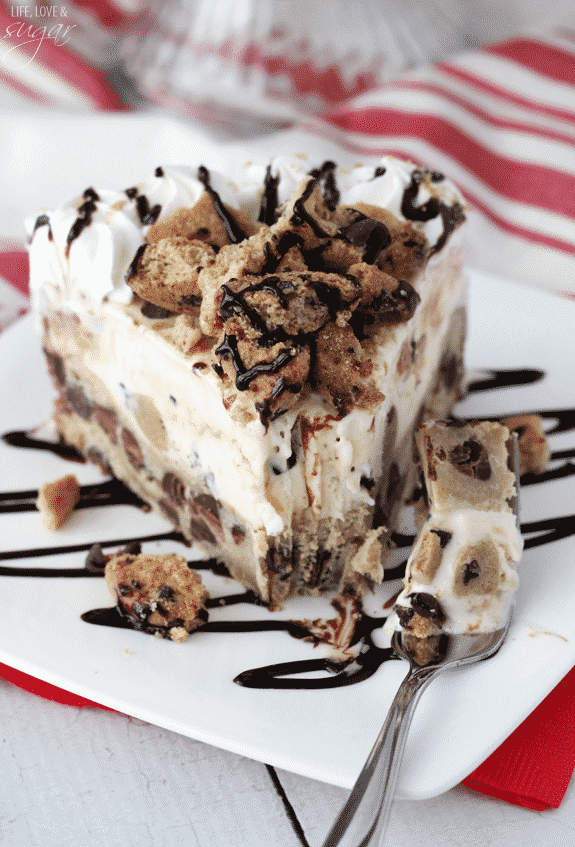 This bad boy has a layer of cookie (made from my favorite chocolate chip cookie cake), a layer of cookie dough ice cream, some chopped up mini Chip Ahoy, whipped cream and chocolate sauce. Boss.
Now normally I'd make my own no churn ice cream for an ice cream cake. It's the jam and I love it. But I switched it up this time just to keep it interesting and I went with store bought. It's just so easy.
I have to be honest with you though. I still love my no churn ice cream. It's the best. It's so much creamier than a lot of store-bought ice creams. So, if you want to go that route, here is the Chocolate Chip Cookie Dough Ice Cream recipe you'll want to use. It's an easy switch-aroo.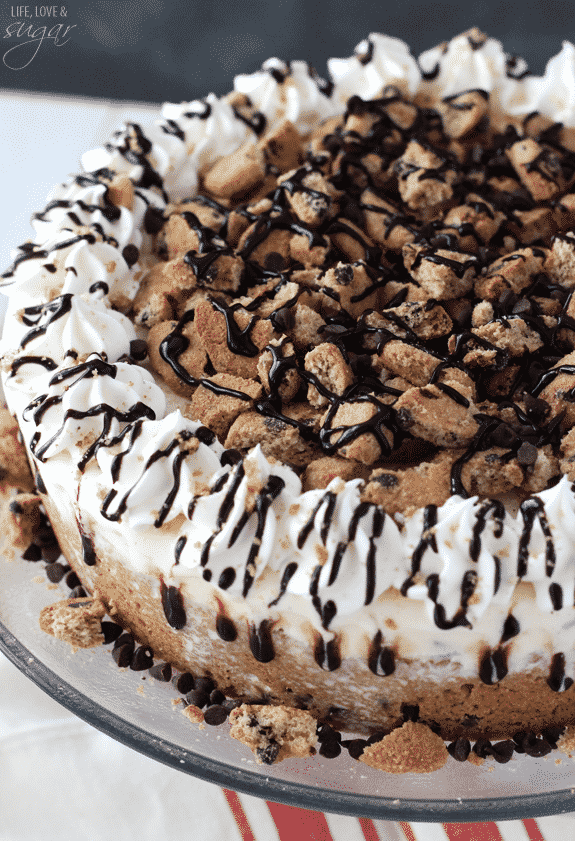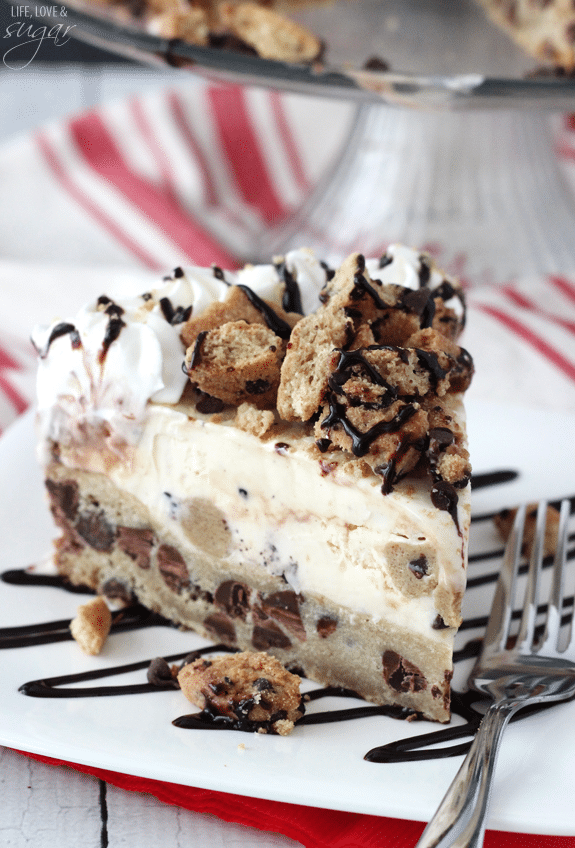 No matter which way you go with the ice cream, this baby is delicious! Such a fun treat that's sure to be a hit!
You might also like
Copycat Dairy Queen Ice Cream Cake
Oreo Brookie Ice Cream Cake
Chocolate Chip Cookie Dough Ice Cream Cake
Snickers Peanut Butter Brownie Ice Cream Cake
Oreo Cookies and Cream Ice Cream Cake
Hot Fudge Swirl Ice Cream Cake
Ice Cream Cake and Decorating Tutorial
Lemon Ice Cream Cake
Print
Recipe
Chocolate Chip Cookie Ice Cream Cake
Author:

Prep Time:

20 minutes

Cook Time:

18 minutes

Total Time:

38 minutes

Yield:

12-14 Servings

Category:

Dessert

Method:

Oven

Cuisine:

American
---
Description
This Chocolate Chip Cookie Ice Cream Cake is a fun cross between chocolate chip cookies and ice cream, and it's the perfect treat for summer!
---
Ingredients
3/4 cup

salted butter, room temperature

3/4 cup

dark brown sugar

1/4 cup

sugar

1

egg

1 1/2 tsp

vanilla extract

2 cups

all purpose flour

1 tsp

baking soda

1 1/4 cups

semi-sweet chocolate chips

1.5 quarts

Cookie Dough Ice Cream

4 oz

Cool Whip
Mini Chips Ahoy
Chocolate Sauce (I used Smucker's Chocolate Sundae Syrup)
---
Instructions
1. To make the cookie, preheat oven to 350 degrees. Line the the bottom of a 9 inch springform pan with parchment paper.
2. Cream butter and sugars together until light and fluffy, about 3-4 minutes.
3. Mix in egg and vanilla extract.
4. Add flour and baking soda and mix until completely combined. Dough will be thick.
5. Stir in chocolate chips.
6. Press the dough into an even layer in the bottom of the cake pan. Bake for 18-20 minutes or until the edges are slightly golden.
7. Remove from oven and allow to cool mostly in the cake pan, then transfer to cooling rack to cool completely.
8. While cookie finishes cooling, take ice cream out of freezer and allow it to soften.
9. Place cooled cookie back into springform pan.
10. Top cookie with ice cream and spread into an even layer. Place in freezer to freeze completely.
11. Once frozen, remove cake from springform pan. Pipe edges with whipped cream.
12. Fill in the top of the cake with chopped chips ahoy cookies and drizzle with chocolate sauce.
13. Freeze until ready to serve. Thaw for about 10 minutes before ready to serve.
---
Nutrition
Serving Size:

1 Slice

Calories:

403

Sugar:

30.6 g

Sodium:

237.5 mg

Fat:

20.3 g

Carbohydrates:

52 g

Protein:

4.9 g

Cholesterol:

40.2 mg
Keywords: chocolate chip cookie cake, chocolate chip cookie cake recipe, cookie ice cream cake, cookie cake recipe, ice cream cake recipe, homemade ice cream cake, how to make ice cream cake, easy ice cream cake recipe, best ice cream cake
Enjoy!
This post includes affiliate links.
This post may contain affiliate sales links. Please read my disclosure policy.